I asked Uncle Walt, "Do you just really like Jimmy Buffet or is that a parrot on your head?"
(This picture was recently taken in Ocho Rios, Jamaica, while he and I were on a Caribbean Cruise)
The parrot kept repeating, "Polly want a selfie!"
My Traveling Uncle
Last year, in November, I called my Uncle Walt to tell him, "Happy Birthday!". He turned 82 years old and he's still going strong.
He's my traveling uncle. He's always had wanderlust. He's been to over 70 countries during his lifetime. He was in the Navy for a few years and he said he loved being at sea.
After that he worked for the government, as a "silly-vilian". Well, that's what I called him. I was in the military at the time. (And he is kinda silly sometimes 😁) . But he is very funny most of the time and has many interesting experiences to share.
He'd look for job openings which required travel. He wasn't too finicky about what job he did, as long as he could travel.
He's an avid reader. He's knowledgeable about geography and history and he keeps current with the news and political scene.
He still travels and he still drives a car. He helps his 92-year old sister (My Aunt Helen) go get groceries.
He knows about a million songs and their lyrics and he sings all the time.
He has countless stories to tell about the travels and experiences he's had during his lifetime. And he rarely tells the same story twice.
He speaks some Spanish. He spends quite a bit of time in Panama.
Even though single and fancy free to roam the world, he's always cared about the family. He's always stayed in touch with everyone, including all his nieces and nephews. He never married but said he almost did once, to a German girl, named Heidi (But that's another story!).
Our paths (his and mine) have crossed often, throughout the years, in many different places, and we've shared a lot of good experiences together. And he's been a good influence in my life in many ways.
So while I was on the phone talking with him, we talked about traveling and I casually mentioned to him that I'd like to go to the Caribbean for my next trip. I didn't have a plan to go anytime soon, but thought I'd like to see that area of the world next.
So about a month later, early in January, Uncle Walt called me and said he had found a good deal on a 10-day cruise to the Western side of the Caribbean and asked if that's something I'd like to do.
I'd never been on a cruise before, so it sounded very appealing but I didn't know if I could get time off from work. I told him I'd find out and call him back.
Luckily, I was able to get the time off. So I called him and said it was a go and he immediately made the reservations for us.
The cost to each of us for the six-country, ten-day cruise was only $750.00 each. That's only $75 a day.
To those of you who have been on cruises before, you probably know that that is a great price for a room with a balcony for ten days.
Uncle Walt's been on several cruises before, so he told me what to expect all along the way.
Costa Luminosa
The cruise ship we boarded was an Italian ship called the "Costa Luminosa", shown here docked at Roatan, Honduras, our fifth port on the 10-day, six-country cruise.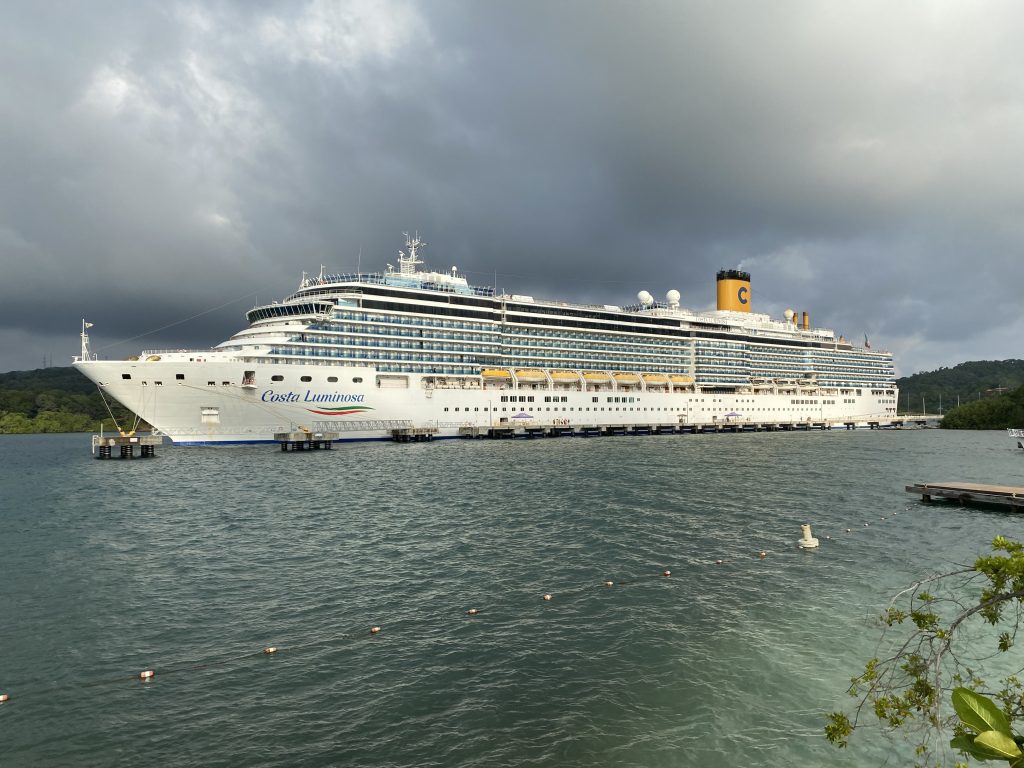 Since this was my first time to do the cruise, I had nothing to compare it to. But I really enjoyed every minute of the cruise and I'll do it again someday.
The ship was creatively-designed, easy to get around and find everything we were interested in doing.
The activities and amenities were plentiful and well-thought out, practically covering all the needs of each and every passenger.
Outside our cabin door was a mailbox, in which the crew members would place the daily activity sheet the night before. This sheet is actually a 6-page sheet, unfolded.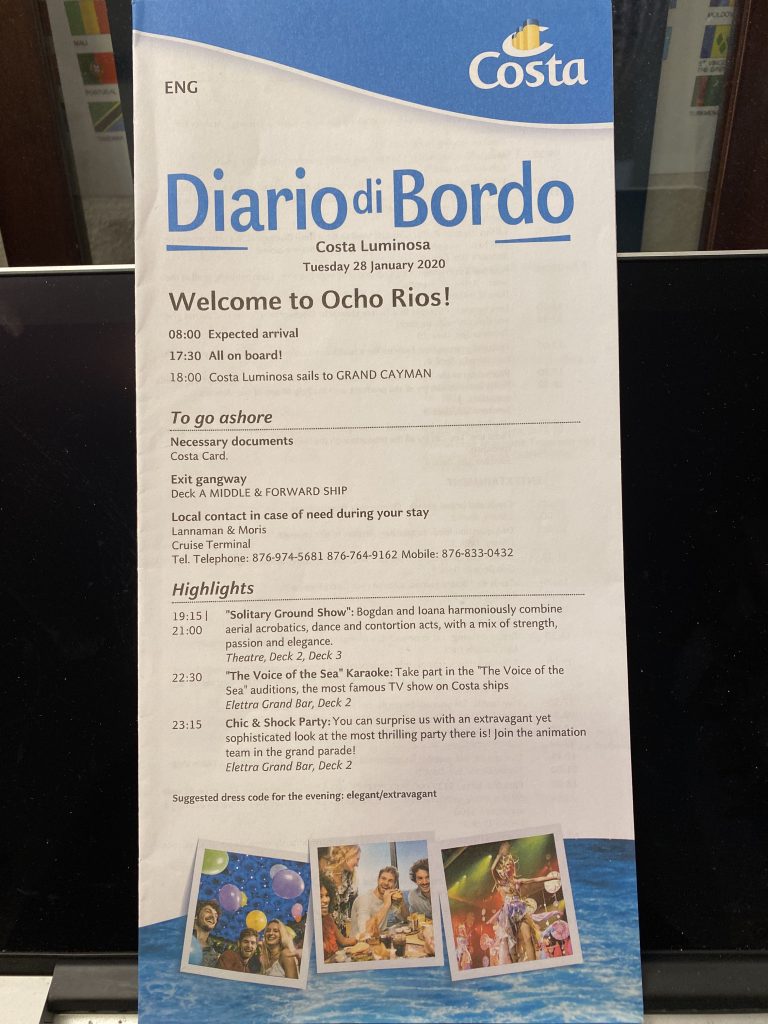 So we would take a look at all that was available and choose to participate in as much or as little as we wished to do, in addition to any of the onshore excursions we may have already signed up for.
The daily activity sheet informed you of everything you needed to know to get you through the day successfully.
They used quality materials throughout the interior. It was beautiful, ornate, dramatic, colorful, and shimmering with various styles of lighting. I think the lighting influenced the name of the ship, or vice versa, the name of the ship inspired the lighting.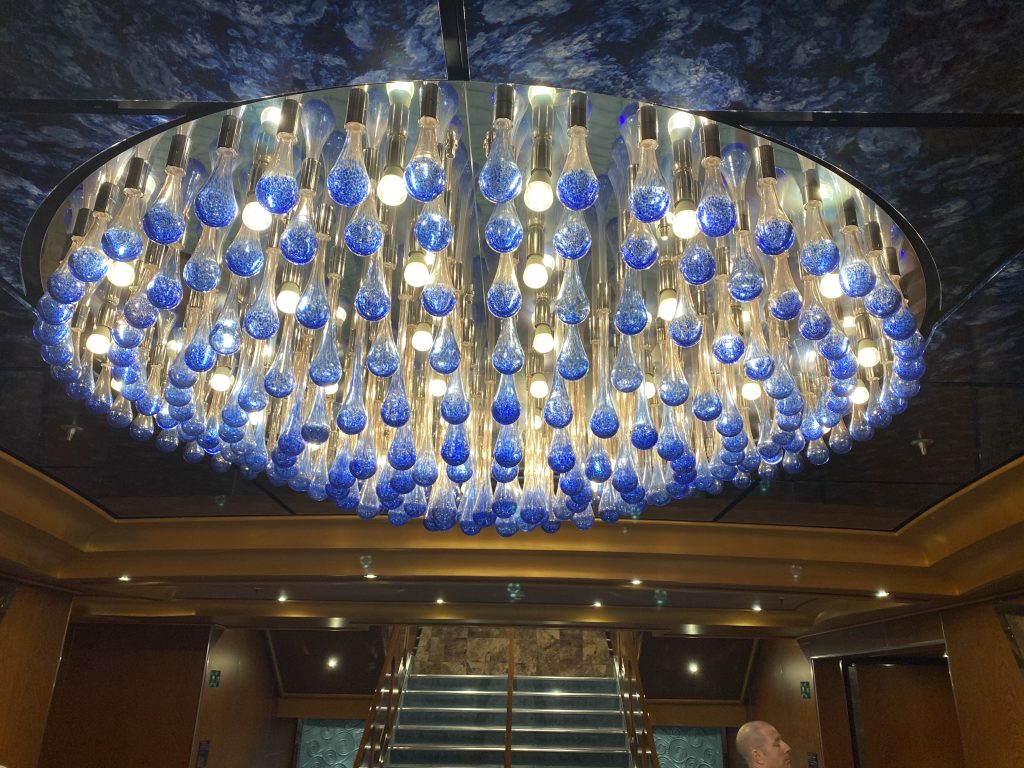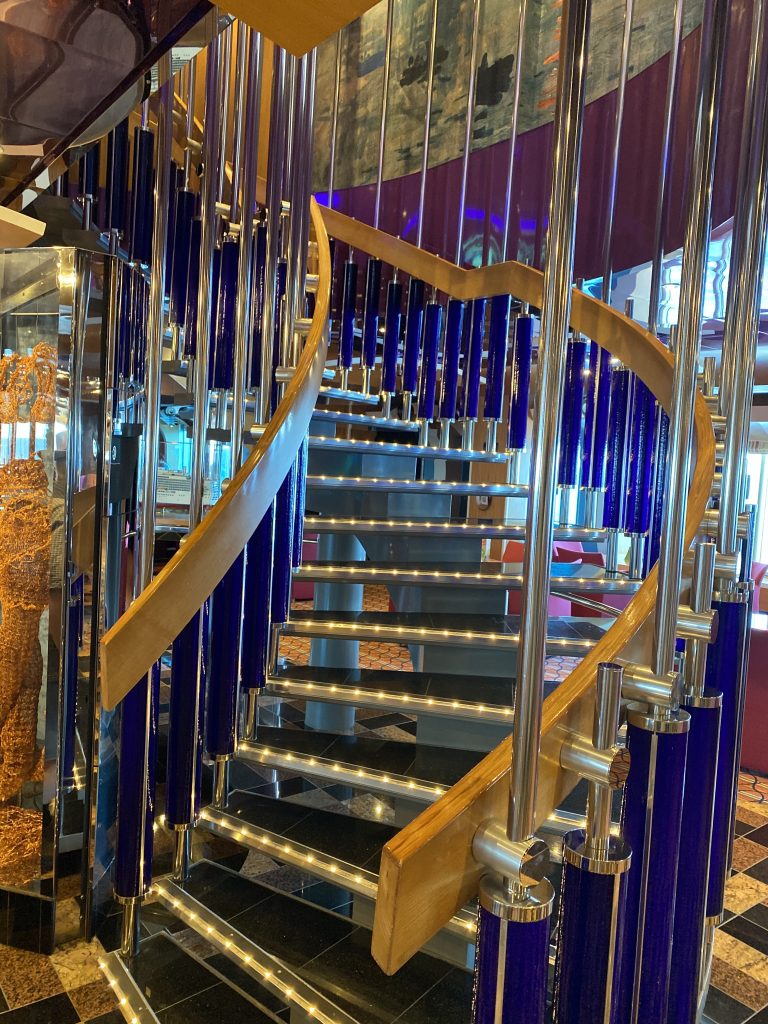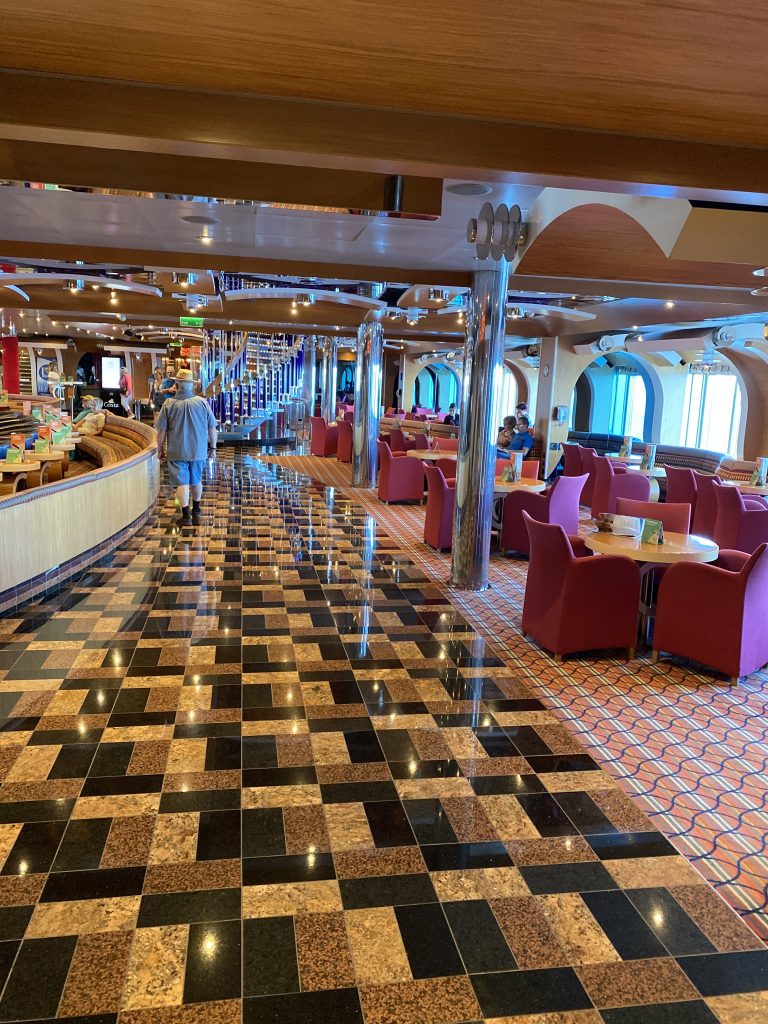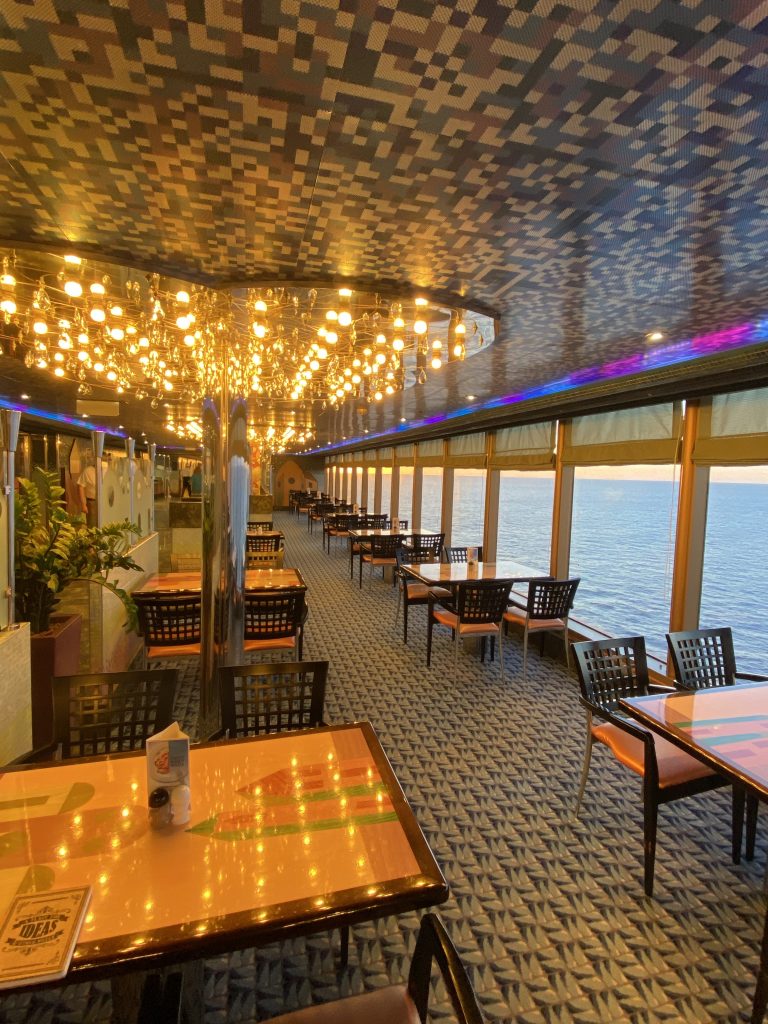 The food was delicious and available from early morning to late evening. We had this gorgeous view of the water from any table at which we sat. It was so serene and pleasant.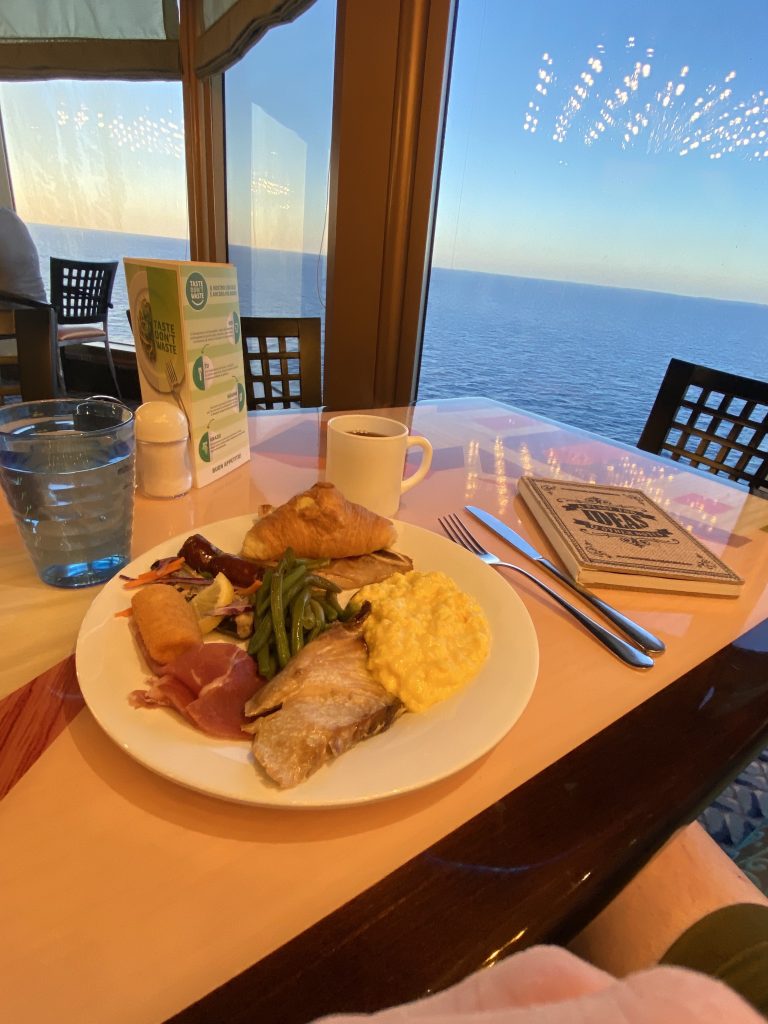 It wasn't unusual to have this variety for breakfast. It's just one of the creative ways I filled my plate every time we ate: scrambled eggs, hush puppy, tilapia, prosciutto, green beans, sausage links, piece of cheese and a pork chop partially hidden under that croissant.
There was so much to choose from and they would introduce something new to the menu each day. I didn't hear anyone complaining about the food.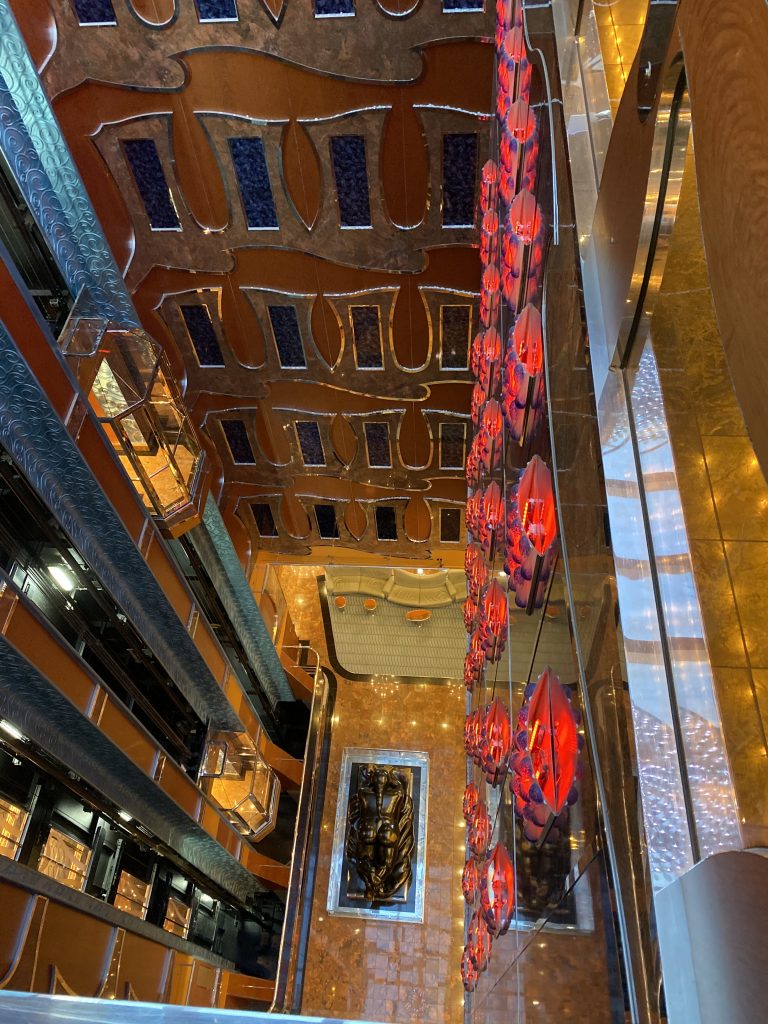 The view (above) is an atrium (the Central Hall) with glass elevators that lead you down to the serpentine bar (below) on the second deck of the ship.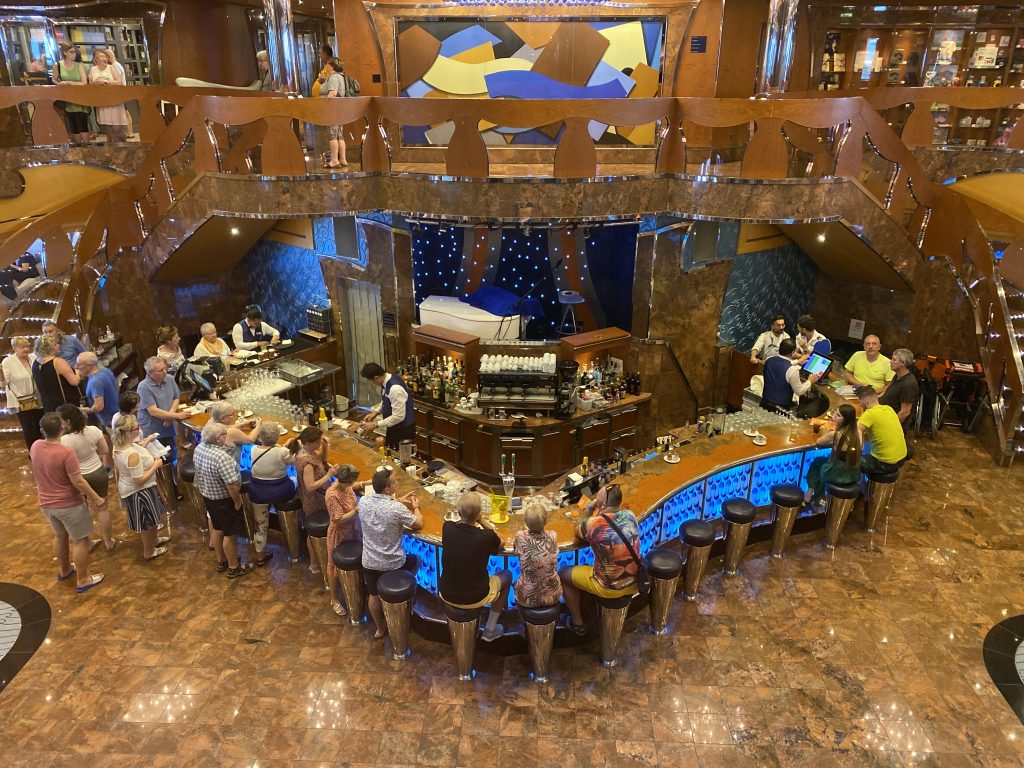 The rectangular, black sculpture at the bottom of the Central Hall is a sculpture, called the "Reclining Woman 2004", by Fernando Botero.
She's a cutie, ain't she? Lol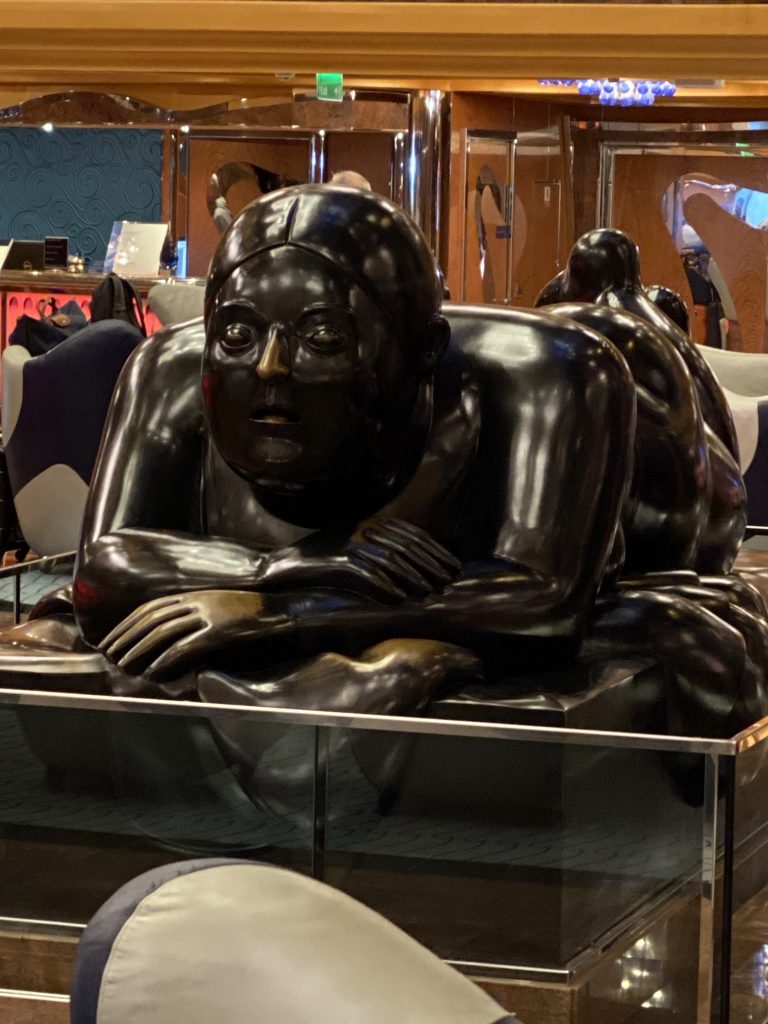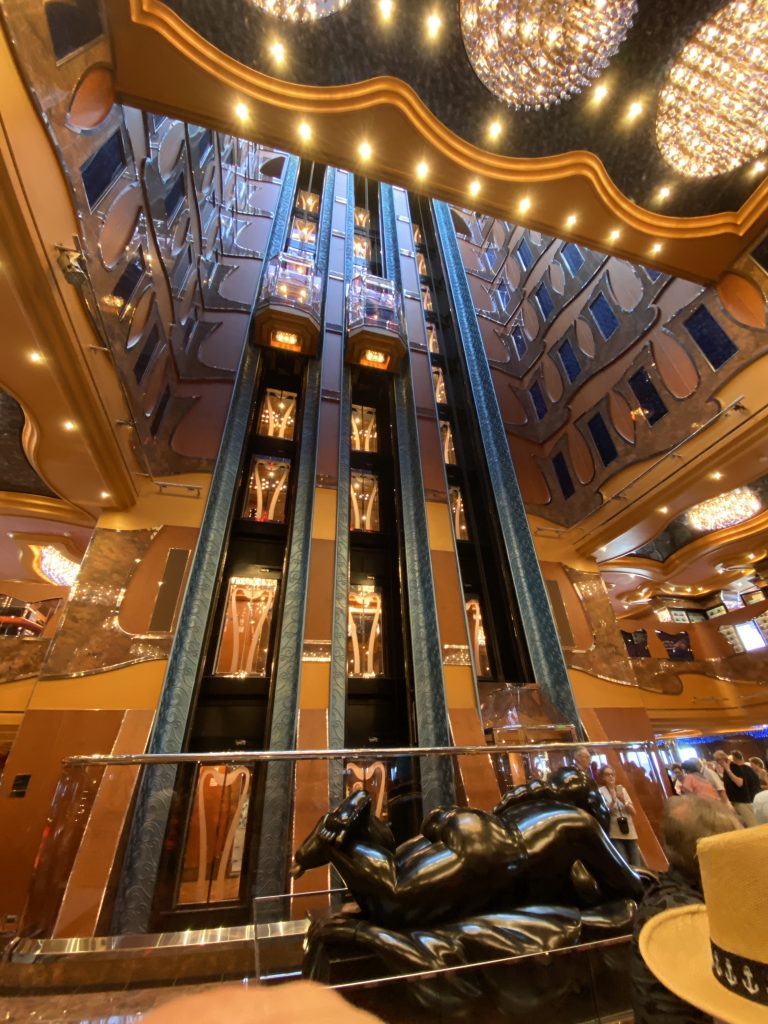 My Uncle was first to notice that many people had taken their picture with "Her".
He pointed out the worn spot on her "right cheek". 😁
Basketball Court
I play basketball everywhere I travel. So one of the first things I did, after we checked in to our cabin and hung up all our clothes, was to go check out the basketball court on the top deck of the ship.
It was late when I first saw it. I was glad to see it lit up. I knew then that I could play anytime I wanted to, day or night! Yeeeaaahh!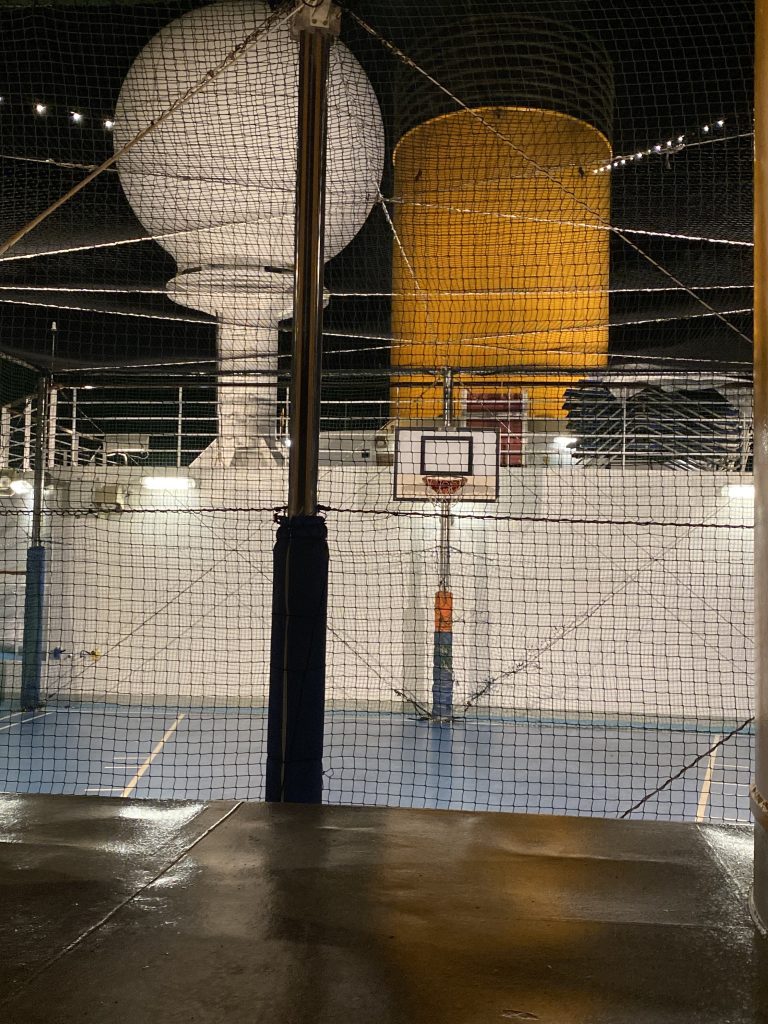 A couple days later, I finally got up there to get a little "Sea-Air" time.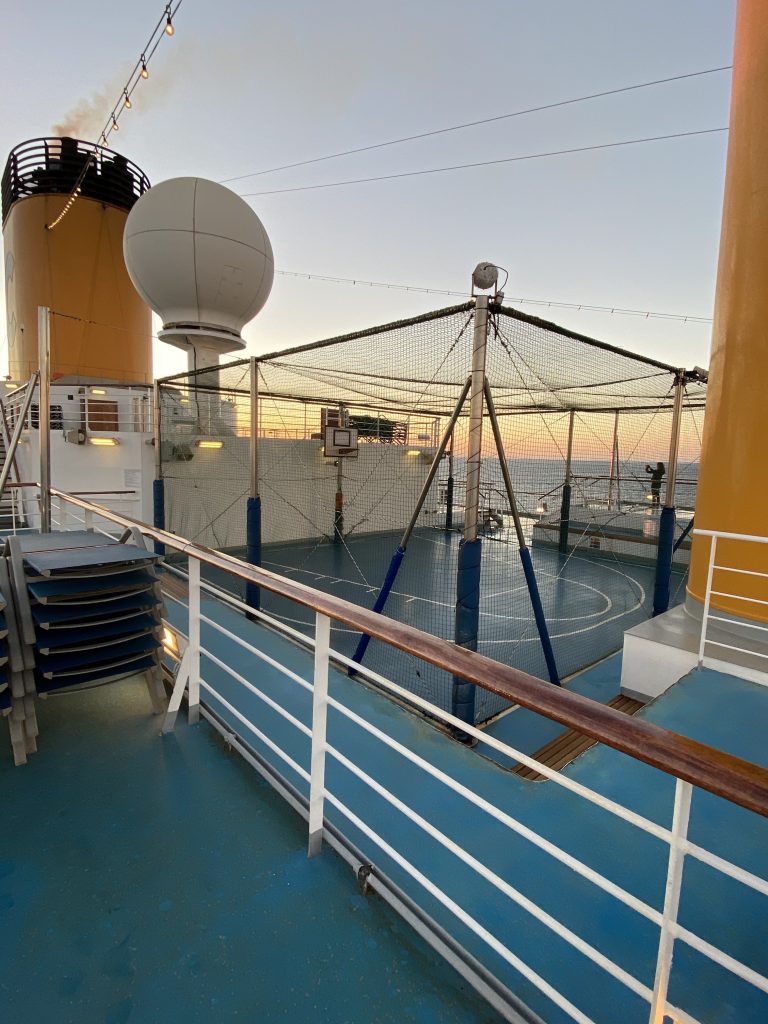 The view was awesome up there. I took this picture early in the morning after playing ball for a while. The ship was heading West and this is a view to the East toward an unspectacular sunrise.
In the Asian Zodiac, I'm a tiger.
While I was in that basketball cage, I was making some wild and fierce moves.
You might say "I was movin' like a caged tiger". Lol
(I don't know where all that came from. Just ignore me.) 😆
But I had a good time. It was inspiring to be up there playing ball.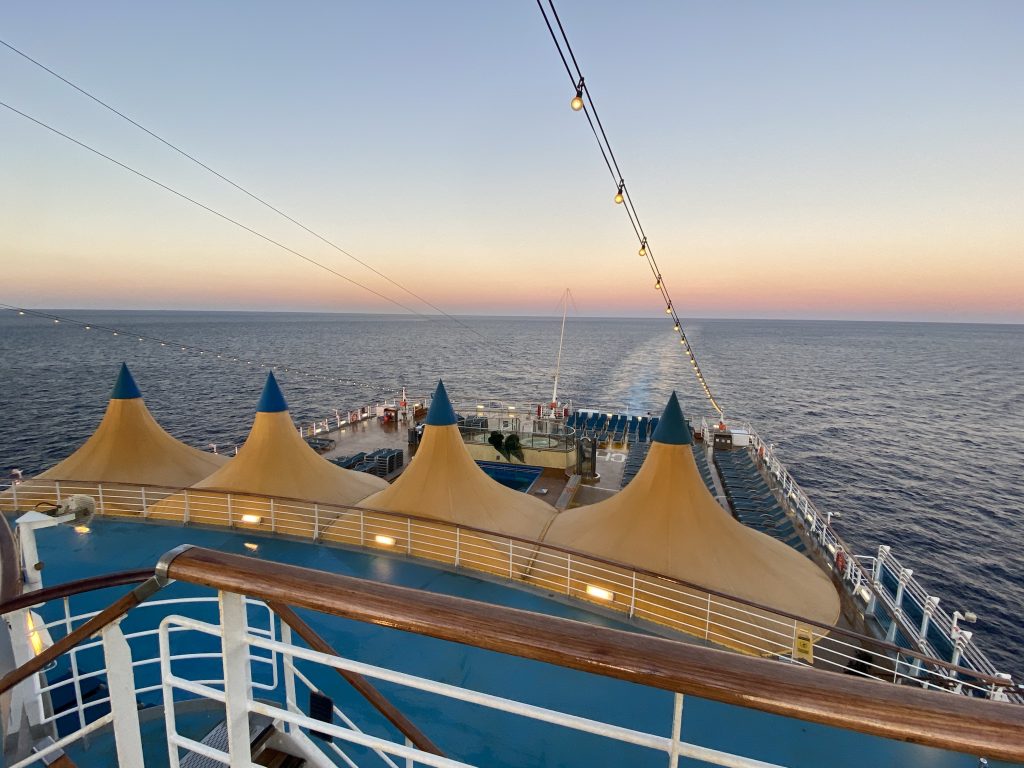 The basketball court just happened to be directly above our cabin.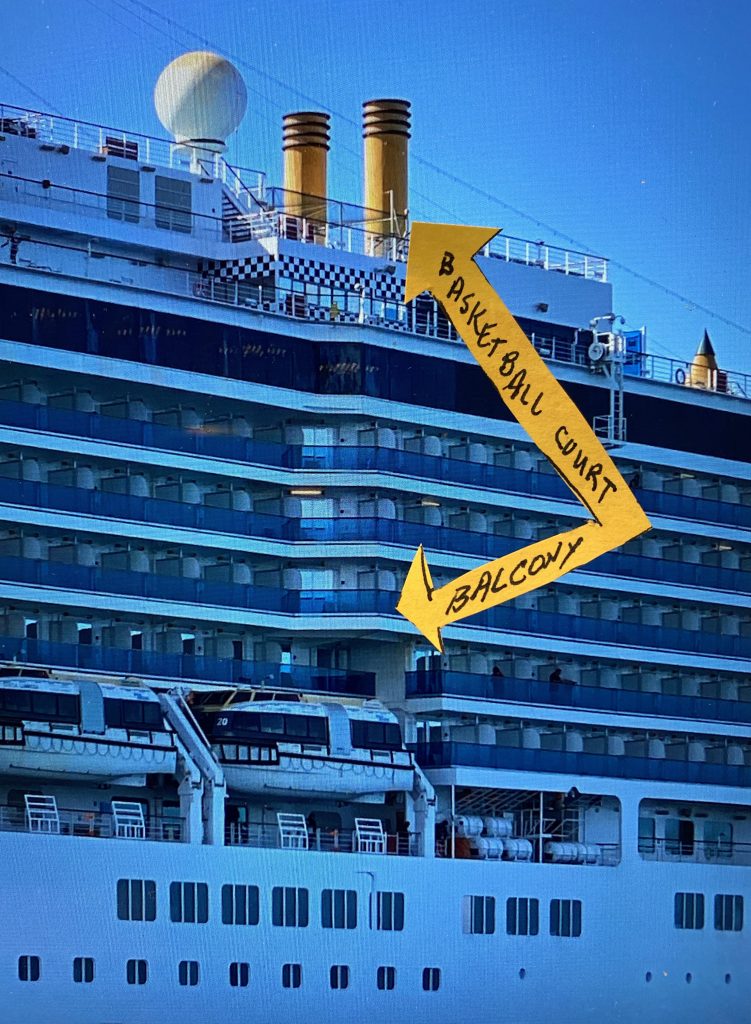 (Btw, the crew only installs those big yellow signs (above) for certain "special people" on the cruise.) Everyone else fends for themselves.
Our balcony wasn't perpendicular to the side of the ship. If you notice, it was on an angle.
What that meant was we could see to the side of the ship, and toward the front of the ship, at the same time (see below).
We didn't plan it that way. They just selected the room for us when we made the reservation. But we liked having the balcony angled like that. It gave us a better view.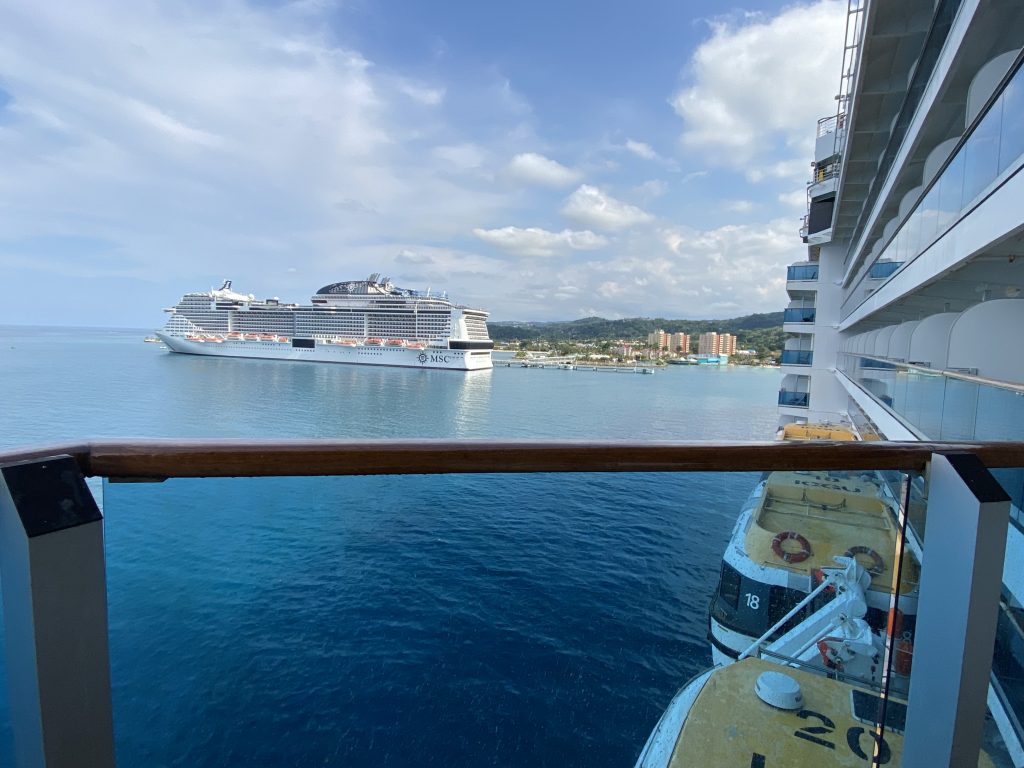 I played basketball at night too, sometimes…….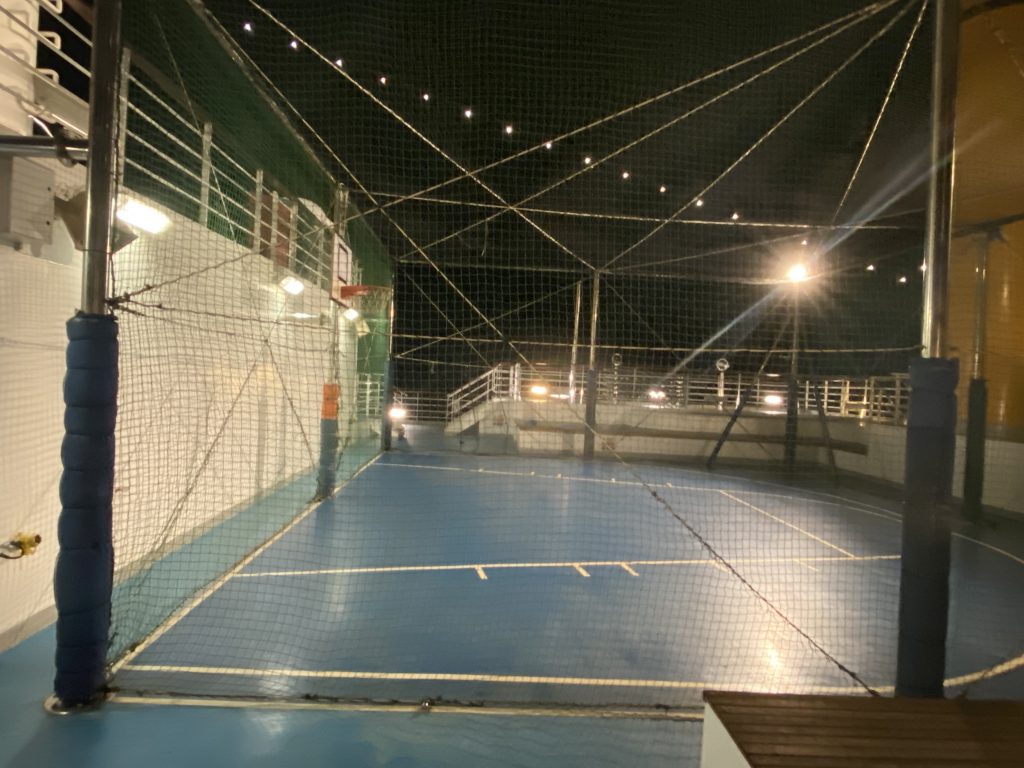 …….after the sun went down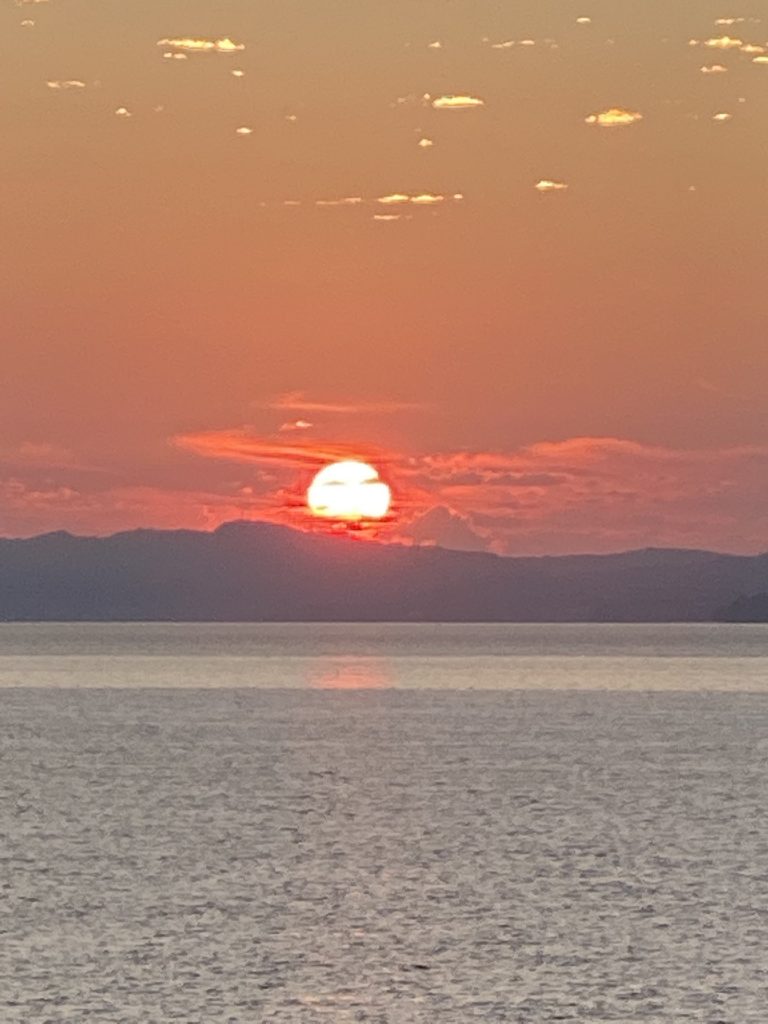 The cabin was not spacious, like a suite, but it was adequate size. It was a 2-person room with a balcony. The sliding glass door opens out to the balcony. There was a nice bathroom and an armoire.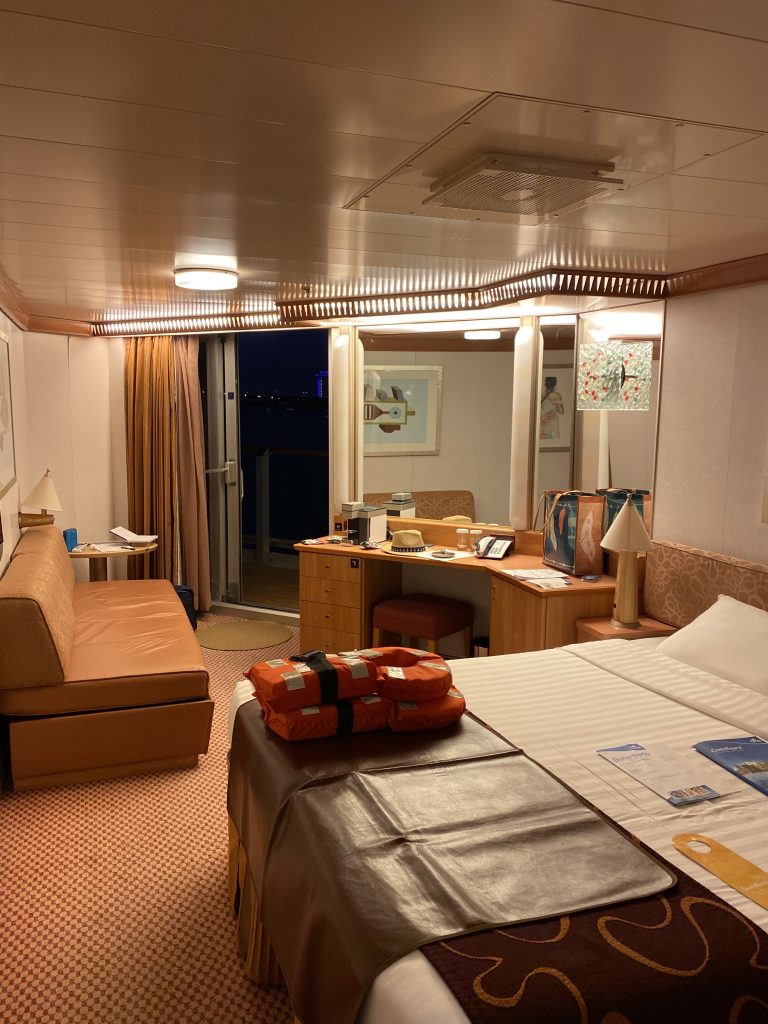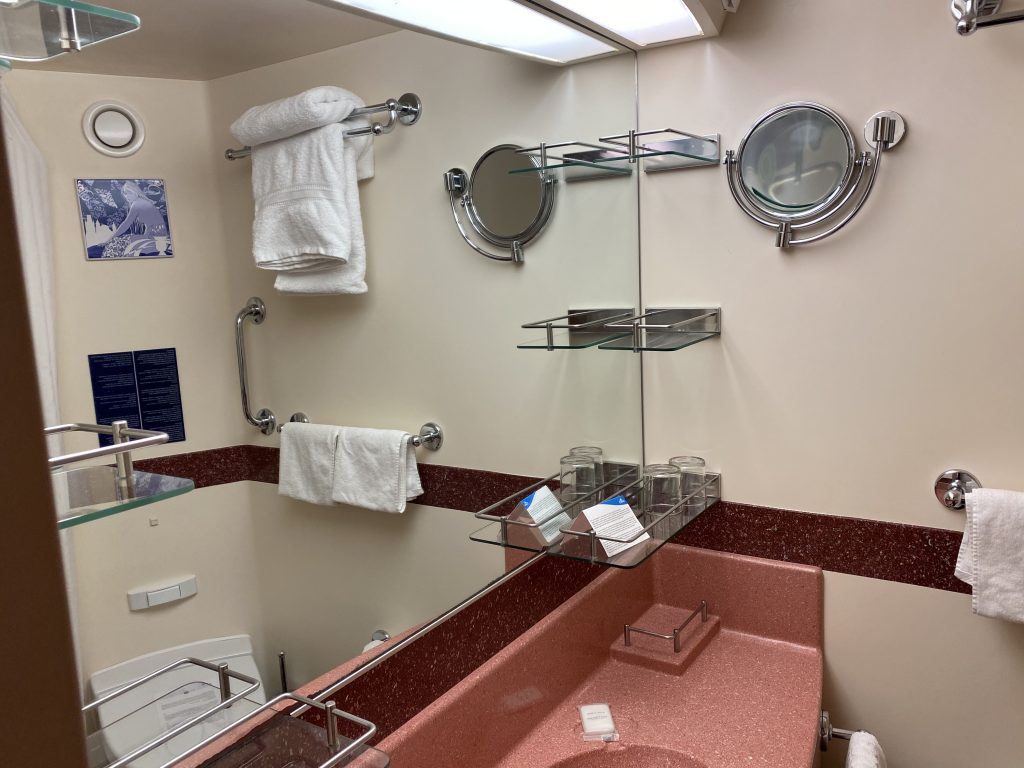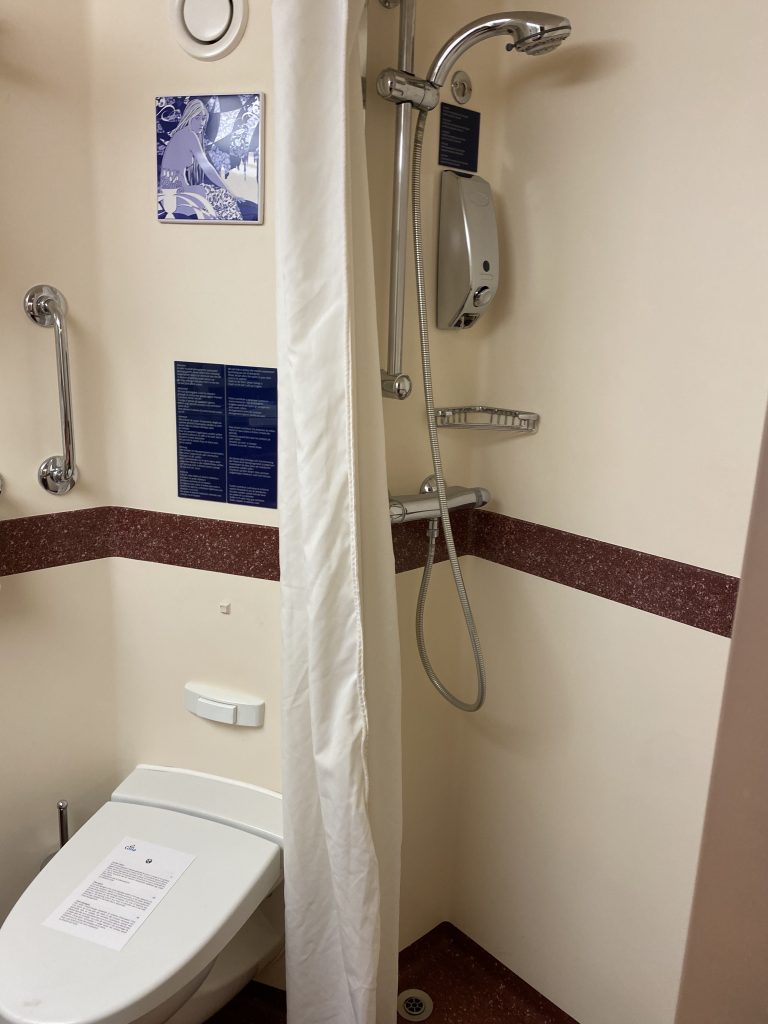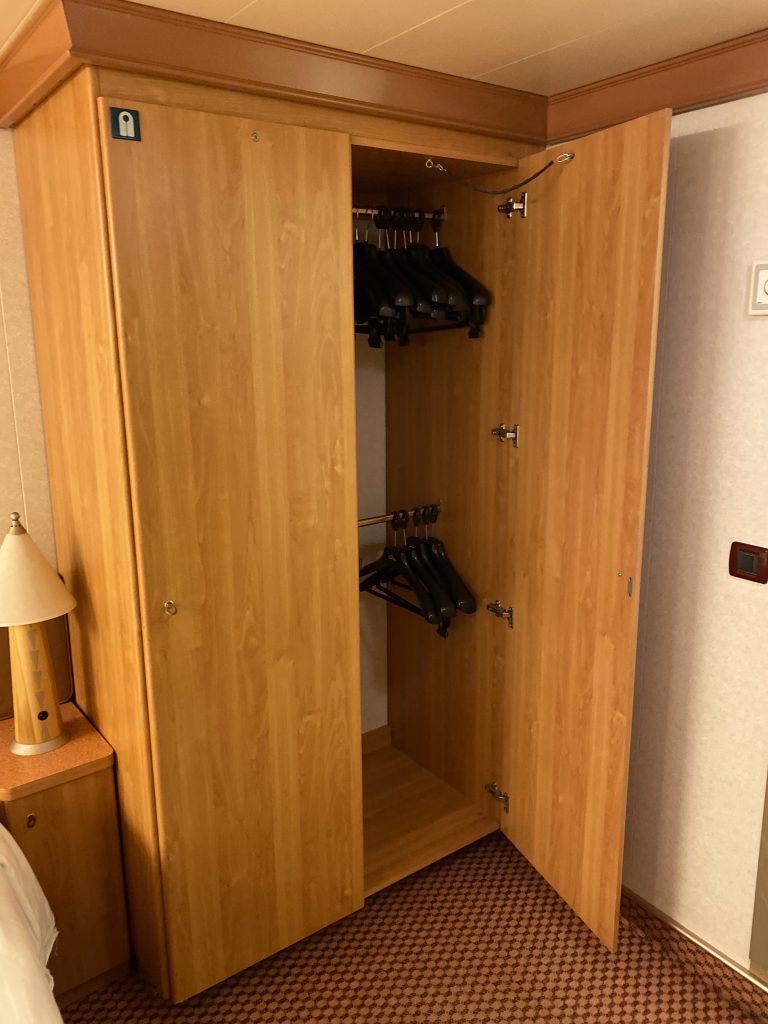 So the balcony provided us with a beautiful view of the water and the weather at all times.
We lucked out and had only glorious, sunshiny and warm weather all ten days. And the sea was mostly calm except for a couple nights when there were some whitecaps, making the ship bob and sway gently back and forth, and up and down.
It was barely noticeable, until I stepped out of the shower and tried to stand on one leg, while drying the other one.
Staying balanced was more of a challenge on those nights.
Uncle Walt and I spent a lot of time sitting out on the balcony on the days we were at sea, heading for the next port.
There were many activities available on the ship for those "down days" (days not at port somewhere), if you were so inclined. But we spent a lot of time enjoying the view from the balcony.
We talked about many things while we listened to music from my iTunes library.
During our talks, things being said would remind my Uncle of a story, or a song he knew and he would start singing it. If I had it in my iTunes library, I would find it and play it and we'd both sing it. It was fun.
My Uncle and I have been singing together, for the fun of it, off and on, for years.
So…..Cheers, Uncle Walt!
Thanks for your songs, humor and stories.
For all that you do.
For your concern over the years for all the family.
And for finding this super deal of a cruise to the Caribbean, which we were fortunate to be able to do together.
(Especially in light of the recent happenings associated with the Coronavirus. Soon after I arrived back in Seattle, I started hearing the report about the cruise ship in Europe being quarantined.)
I appreciate you.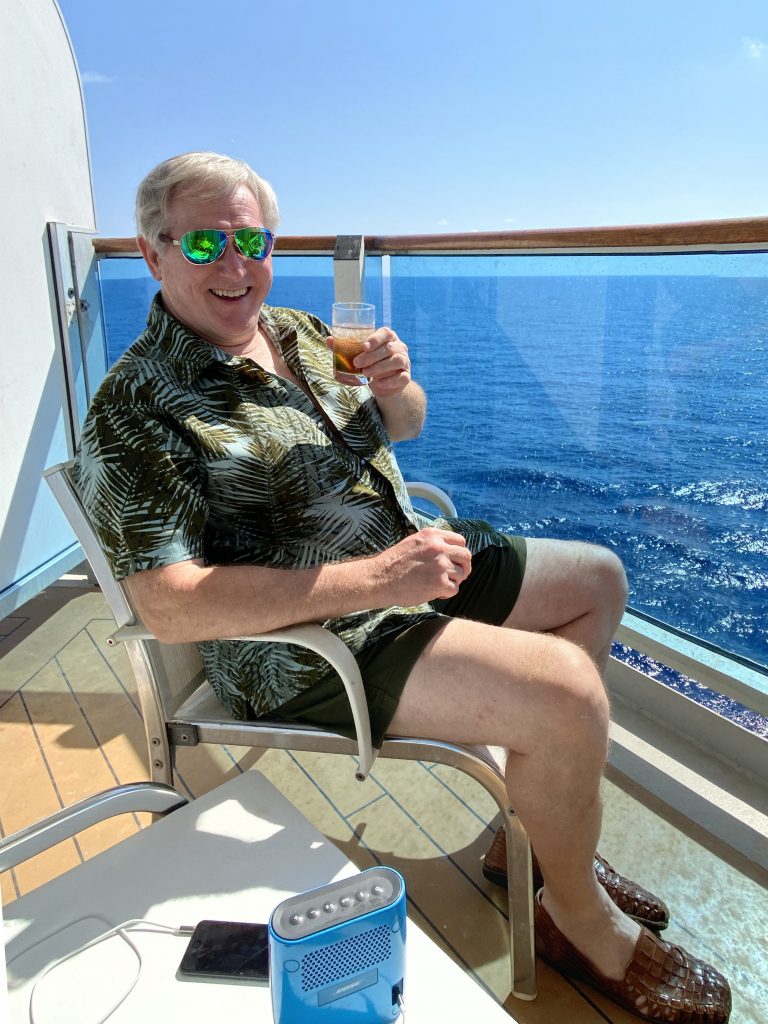 Next……..The Cruise!
During the ten-day cruise, we docked at six countries:
Nassau, Bahamas
Ocho Rios, Jamaica
Grand Cayman, Grand Cayman Islands
Belize City, Belize
Roatan, Honduras
Cozumel, Mexico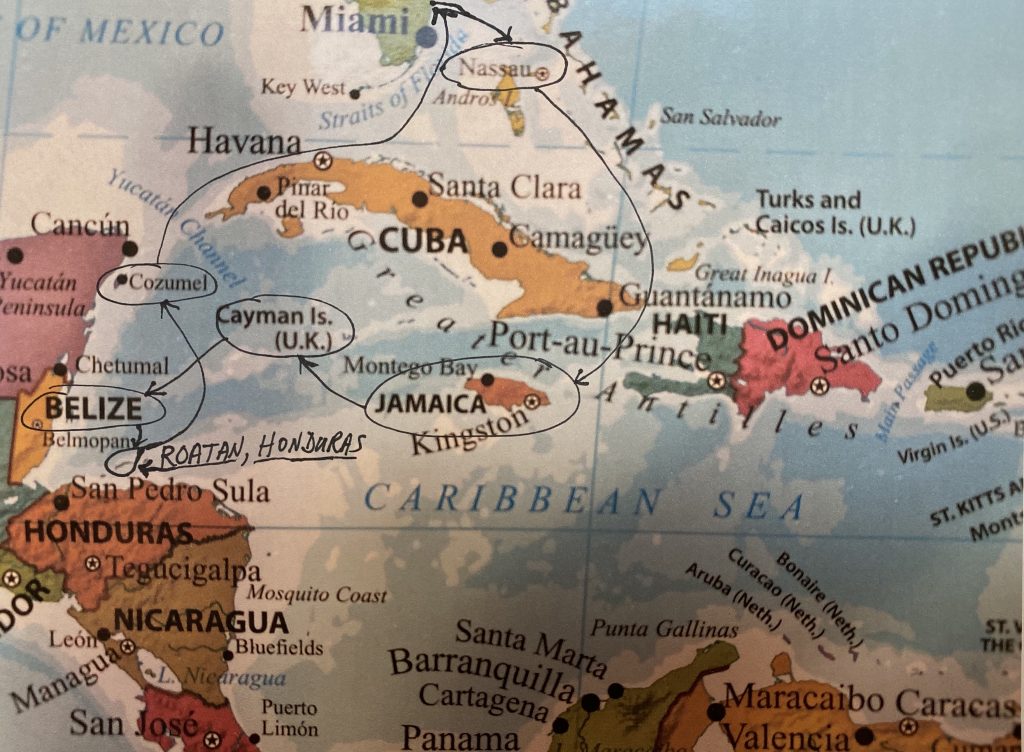 The cruise ship only stayed one day at each port. Uncle Walt and I signed up for a few excursions while we were at each place. The other days we were at sea.
As always, I hope you enjoy each post and learn something from them, whether or not you have already been on a cruise before.
NOTE: This post ("Here's To You, Uncle!") is the first of a series of posts all about the cruise.
I prepared this list for ease of navigation to and from each post. You can scroll up and down, as usual, but with this list you can click on any post in any order: