Cozumel, Mexico – Day 9 (2/2)
At Sea – Day 10 (2/3)
(Note: I'm bundling these two Days of the Cruise because the last day, Day 10, was a day at sea and was uneventful, as we headed back to Ft. Lauderdale.)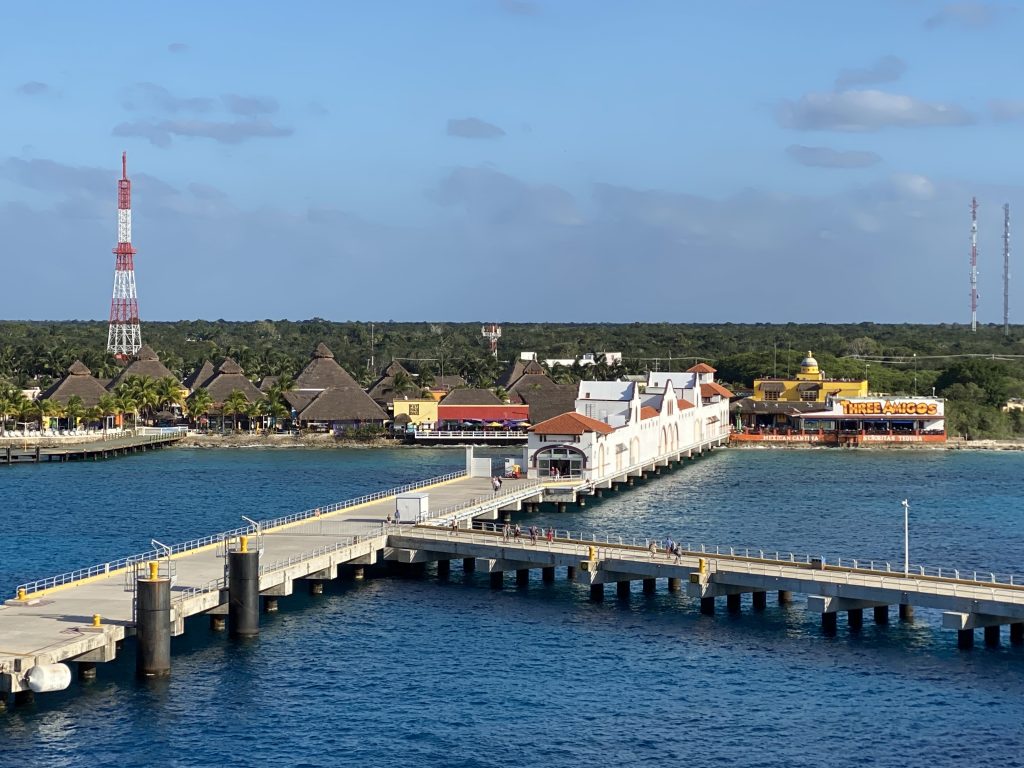 This is the view of Cozumel Island, the most popular destination in Caribbean (Mexico).
This dock was long………a long walk to shore.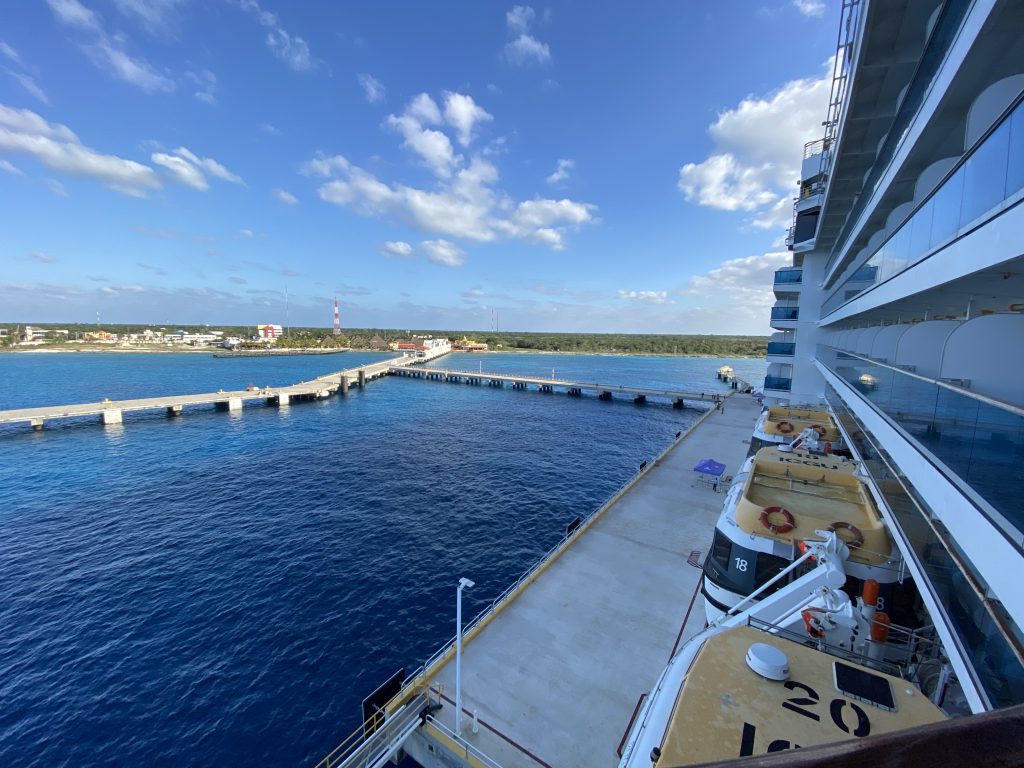 From the balcony, before we disembarked, I watched a local entrepreneur giving the passengers a ride to shore on his bicycle carriage.
I liked that idea, so I said, "Let's ride the bike, Uncle Walt!" "My treat!!"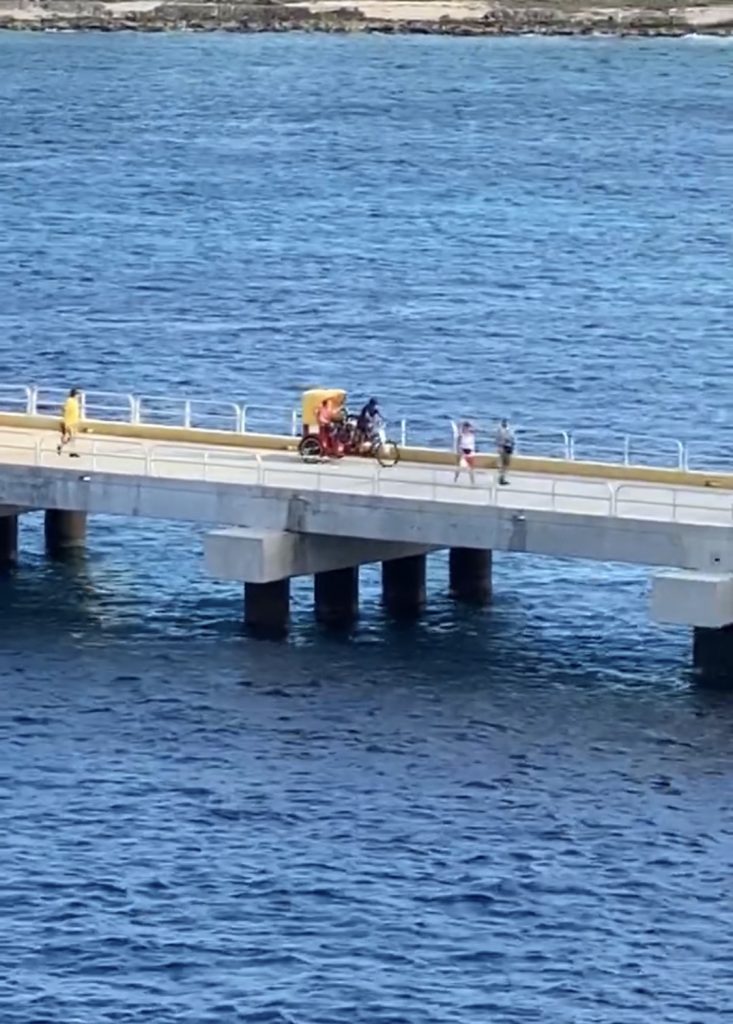 The guy said the ride was free but I could tip him. So I gave him $15.
Was that too much or too little? I think most would say that was too much.
He's no dummy. The ride was not even two minutes long so if everyone paid him that much he could make $450/hour. But then everyone is not as generous as I am. And he isn't always able to give 30, two-minute rides, every hour.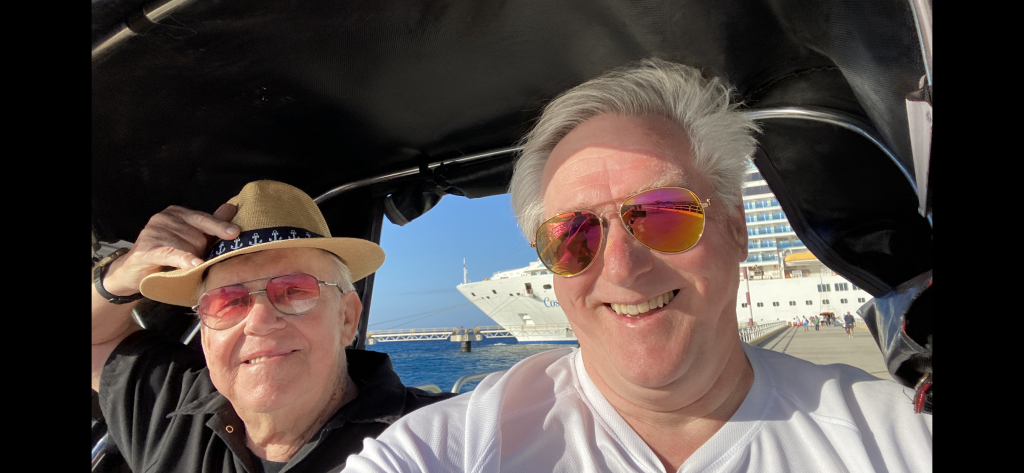 I agree it might be a little higher than most people would pay but I don't care. He started my day off in a fun way with a ride to the shore, and saved Uncle Walt and I the walk. So I wanted to do something for him, in return, that I think he would appreciate just as much.
Should I have paid him more?
This was our last port to visit before we started to head back to Ft. Lauderdale, Florida.
Loved the turquoise water here….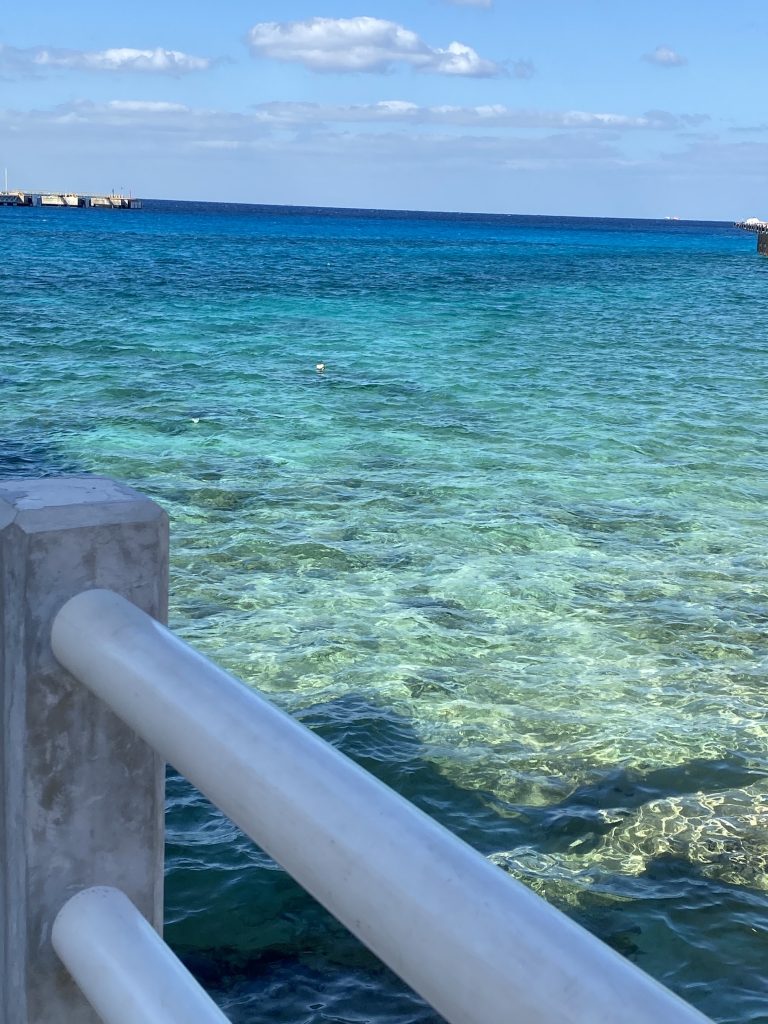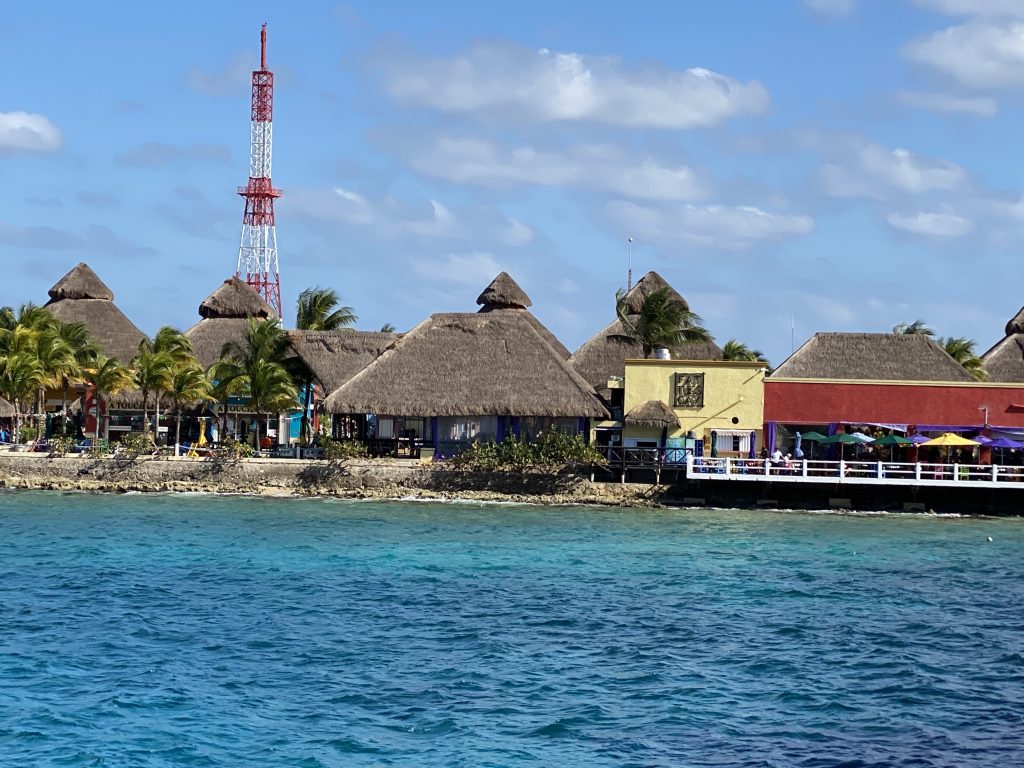 Uncle Walt and I didn't sign up for any excursion in Cozumel. We thought we'd like to rent a car and drive around the perimeter of the island and see it all.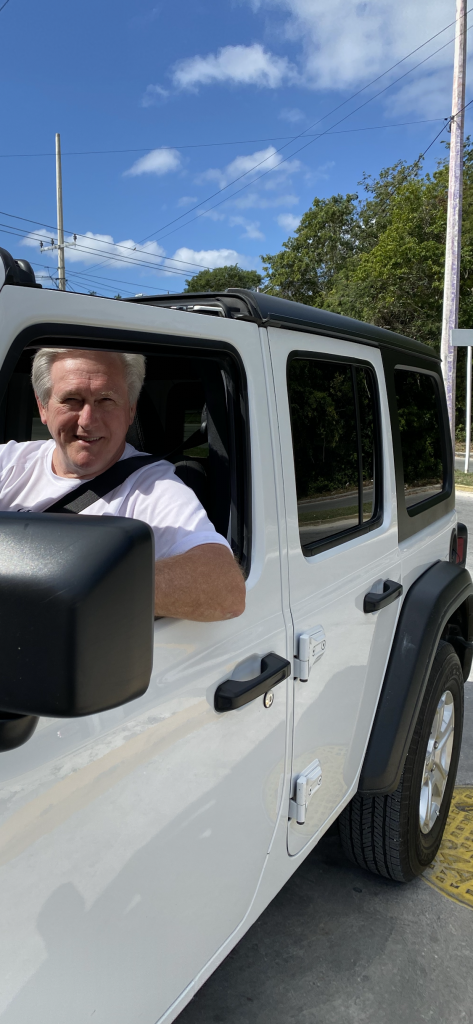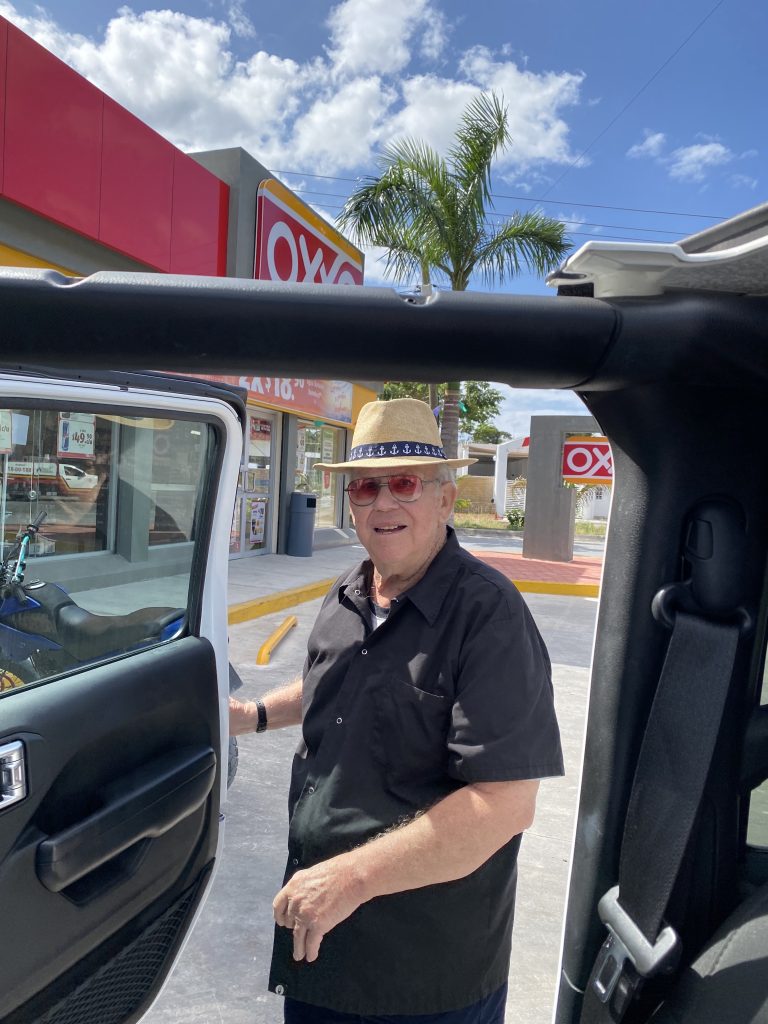 So that's what we did. But the ride was not very inspiring for either of us. There wasn't that much to see and we couldn't see the ocean for much of the time because the road was too far away from it, or it was obscured by trees.
So we stopped one time to have a beer and eat something but that was about it.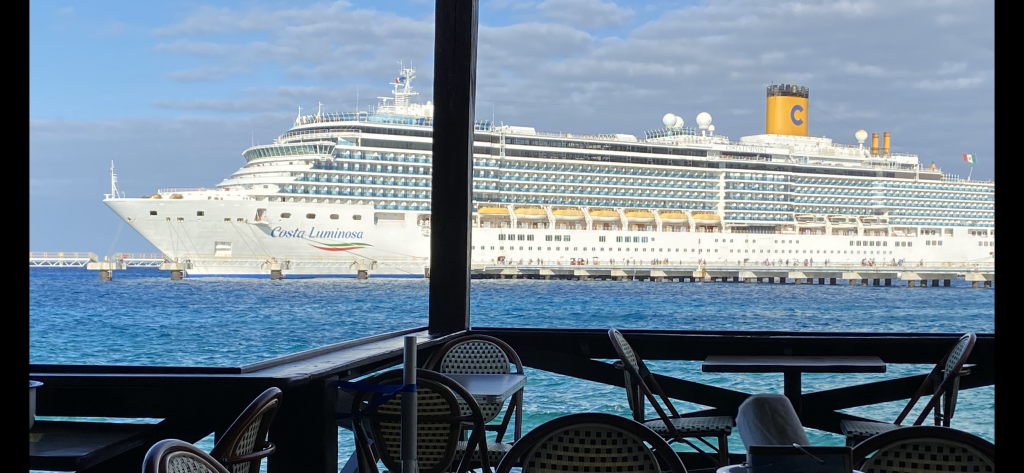 Then we headed back to the ship a little early, rested a little, had dinner and returned to the cabin to watch Super Bowl 2020.
Last view of Cozumel, as we pulled away and headed out to sea.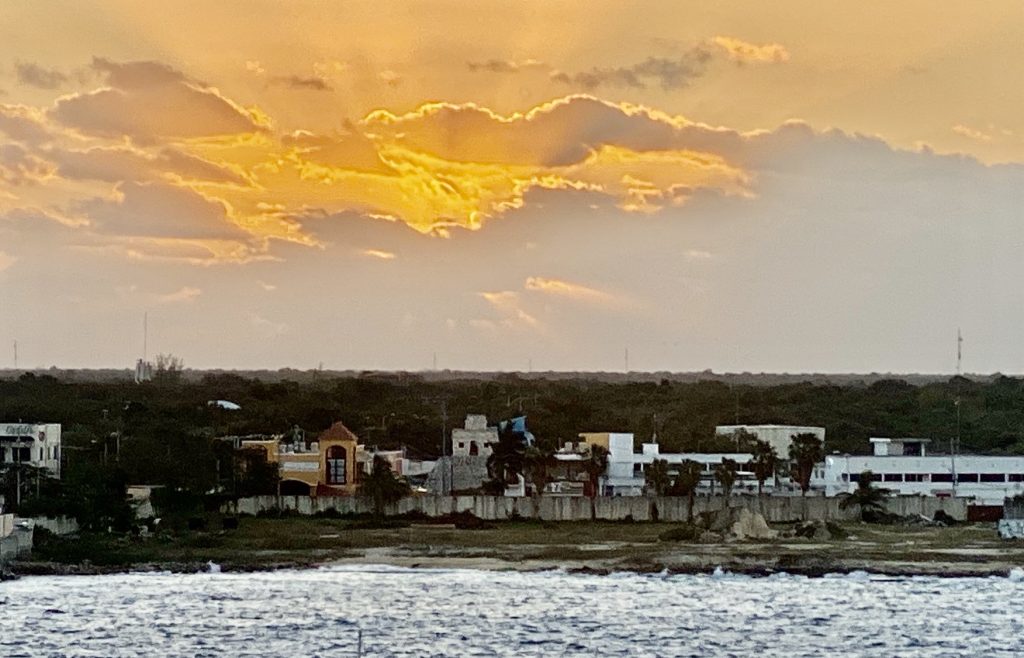 At Sea…..Day 10 (2/3)
The next day (Day 10 – (2/3), our last day of the cruise, was a day at sea, as we headed back to Ft. Lauderdale, Florida.
We just chilled. I have nothing to say about the last day of the cruise.
We just slept, we ate, we talked (about the trip) and sang out on the balcony, drank a few rum and cokes, and we prepared for disembarkation the next morning.
All in all, it was a great cruise and Costa Tours is a great company.
We were fortunate to have taken this tour just before the Coronavirus broke out. But I hope they nip this in the bud and we can get back to normal. Because I'll definitely be going on another cruise some day.

This list (below) is provided, to you, for ease of navigation to and from each of the posts in this series: