At Sea – Thurs. (1/30)
I woke up about 04:15 a.m. and tiptoed out to the balcony deck with my camera to capture yet another quiet moment in living color.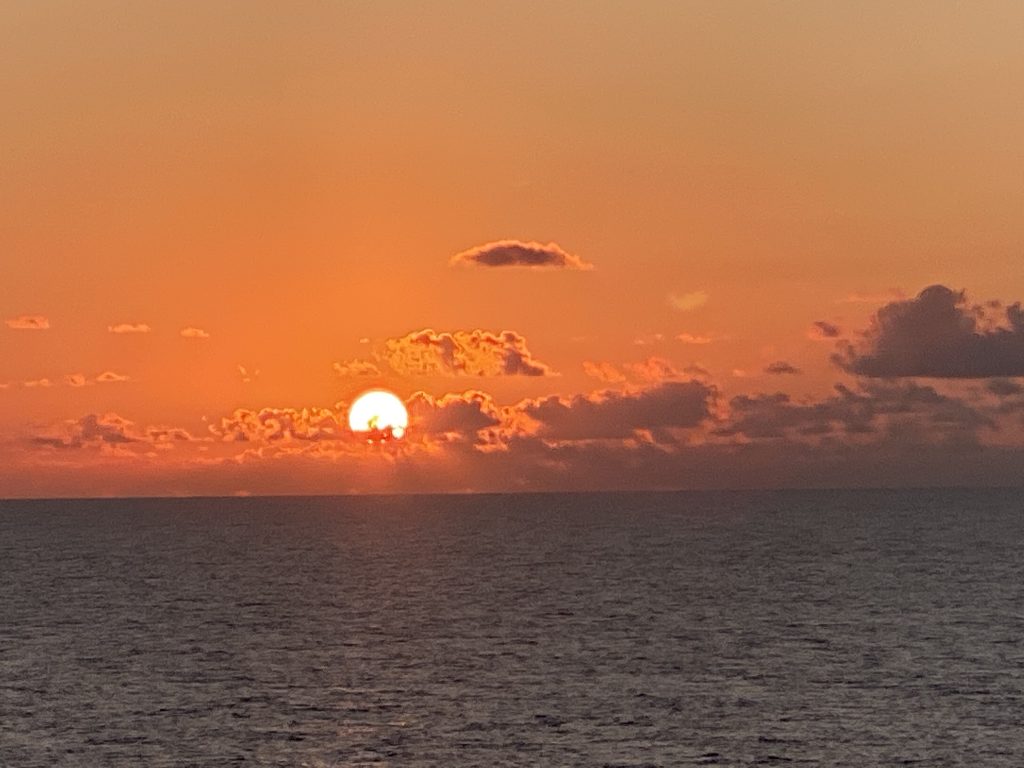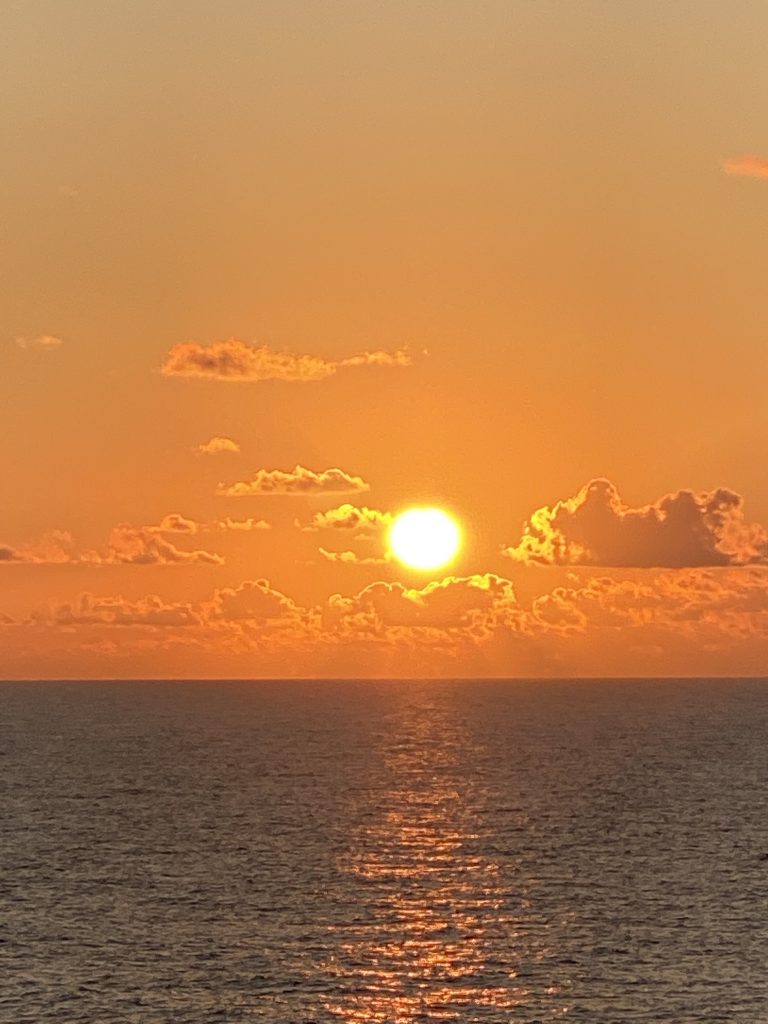 Went back to sleep until 0800 a.m. Then I got up and made a beeline for the "Tiger Cage" (the basketball cage) to get some "Air Time on the High Seas" (to play basketball).
After that, Uncle Walt and I had a late breakfast, got back to the room about Noon and went straight out to the balcony to just chill for a little while before we started a full-blown exploration of the ship. We hadn't done that yet.
Uncle Walt asked me, "What time is it?
I said, "It's about 11 am."
He then asked, "Where in the world is it 5 pm?"
I said, "It's 5 pm in Banjul, Gambia."
He said, "I knew it was 5 o'clock somewhere. You want a cuba libre?"
I said, "Yeah, thanks! And let the music and the story-telling commence!!"
So while he fixed the drinks, I looked through all of the music in my iTunes Library. That's when I realized I didn't have a good selection of music from this area of the world to listen to. 😏☹️
But I started with a CD of some Brazilian music by Carlinhos Brown.
My favorite song on that CD is a song with a cool base line and stirring rhythm, called "Lagoinha".
And, of course, a little later on, I switched it over to music by Lizz Wright., my favorite singer in the World. I have everything she sings.
Her music goes well, no matter what country you're in. It's world-class music. She has thousands (if not millions) of fans from many countries all around the world.
After a drink and a few stories, or maybe it was a story and a few drinks (I'm unsure now), we set out to look around the entire ship.
Uncle Walt mentioned he wanted to go down to the Ice Cream Parlor and get some gelato. So we did and I got a banana split.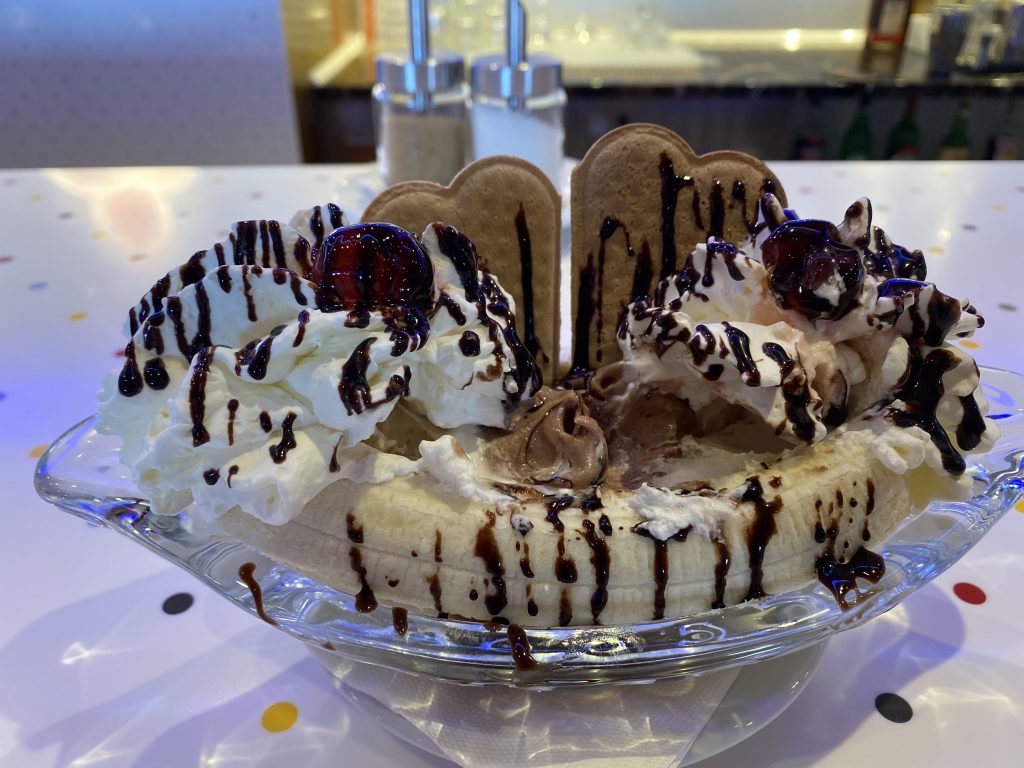 At one point we were walking the perimeter of the ship and Uncle Walt started taking about "Flying Fish".
I stopped and jokingly asked him, "Do you mean frying fish?"
"You don't actually believe fish can fly, do you?"
He stopped and looked at me dubiously, as if to determine whether I was joking or not. Then, he said, "No, I mean flying fish!" And he proceeded to tell me all he knew about flying fish.
I looked back, still grinning in disbelief, and asked him, "How many of those Rum and cokes did you have?"
"Do you also have visions of birds swimming under water?"
(Btw, I already knew that there were flying fish. I was just playing around. You do believe me, right?)
He stopped by the railing and pointed to the area where they usually fly, and he said, "Just watch there."
It took about 15-20 minutes to see them but eventually they did appear.
I saw them.
Uncle Walt had been validated! 😆
So we moved on! It was almost time for dinner.
And then back to the music, the stories, the rum and cokes, and the varied scenes from the balcony in the balmy, breezy, sea air.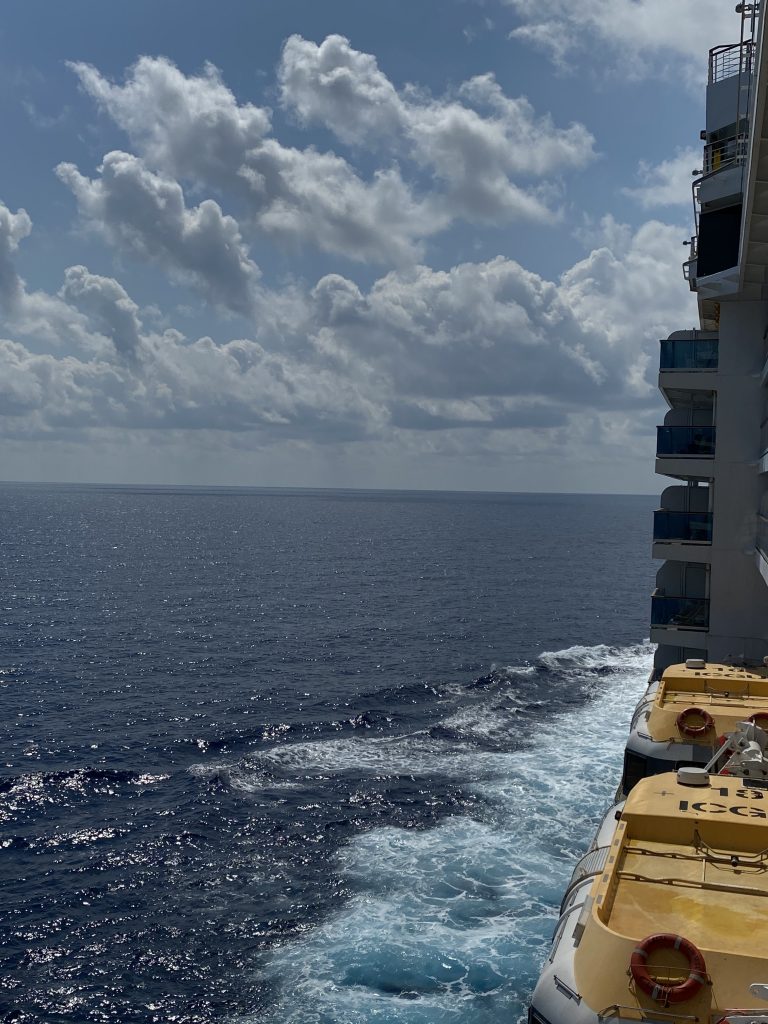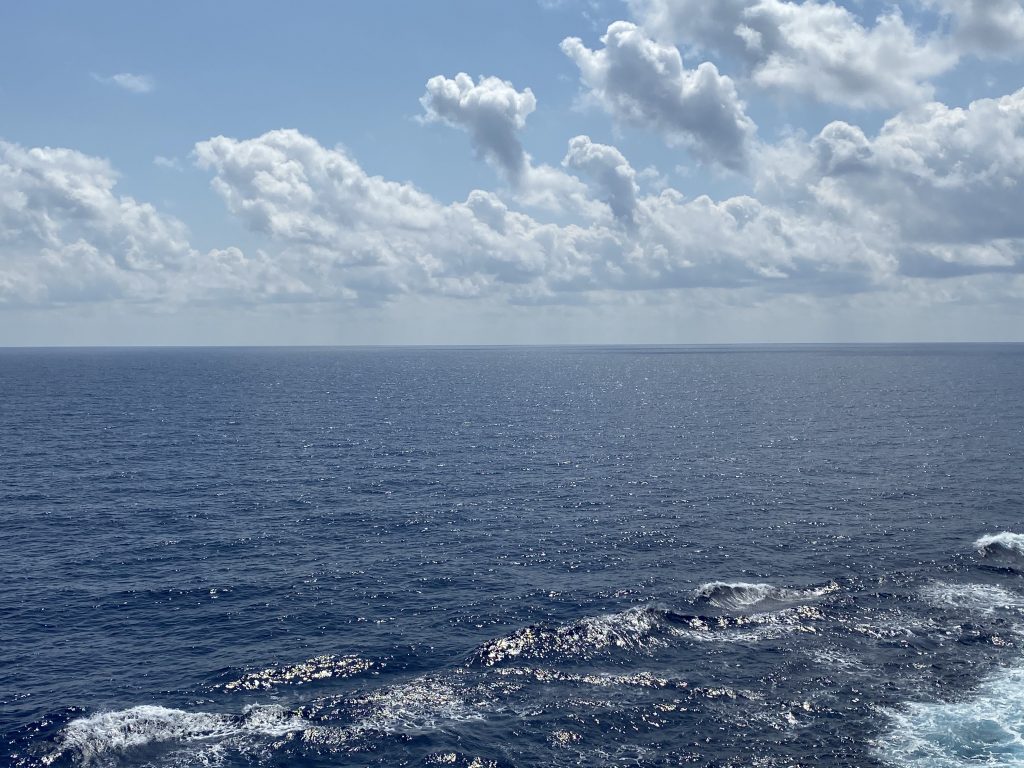 Next Stop……..Belize City, Belize – Day 6 (1/30)
This list (below) is provided, to you, for ease of navigation to and from each of the posts in this series: