This Sound Bytes Series has been a lot of fun for me to put together.
Lizz's music, the travel and sight-seeing around the Puget Sound, the people I met along the way, and the opportunity to share it all with you.
It's been all about the beauty of the Puget Sound and the beauty of the sound of Elizabeth Lacharia Wright's (Lizz Wright's) music.
I love both sounds.
When I first conceived the idea to do this, I knew I wanted to end the series with an aerial view of the Puget Sound above the San Juan Islands. (It's at the end of this post….as Sound Bytes #6).
I also wanted to write a song called, "Love At First Sound", for this final post of the series. (It's also down below.)
The song would be about the instantaneous affinity I felt for Lizz's voice and her musical style, the second I heard her sing the first four notes……(🎶 "The moon and you" 🎶)……from the song, "Reaching For The Moon".
I mentioned this in Sound Bytes # 1…."Seattle and the Sounds". I was blown away by her sound and the way she sings. That was five years ago and I still am inspired by her music, now, just as much as when I first heard her sing.
She outshined EVERY other voice I had ever heard in my life.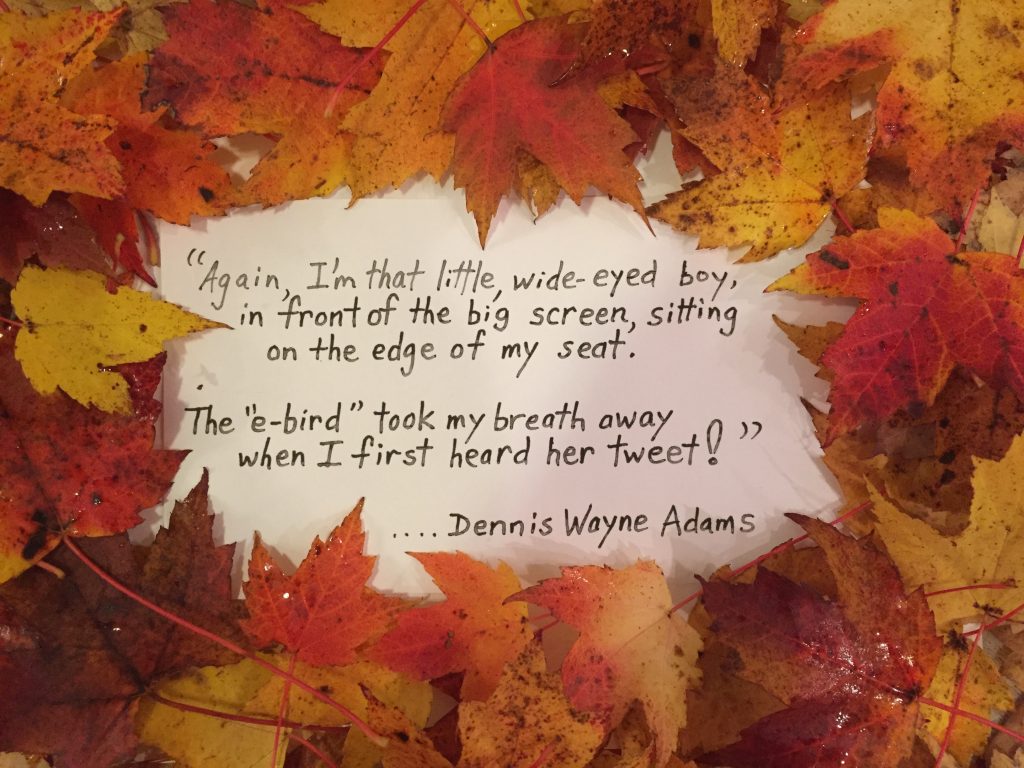 ("e-bird" is a nickname Lizz uses sometimes on her facebook page).
(BTW, it takes a real humble guy to quote himself, doesn't it?) 😂
And, likewise, when I first saw the Puget Sound I was in awe of the beauty of it.
It was "Love at First Sight of the Sound" and I knew I wanted to come back here and live some day. So I did. I love it here.
Writing "LOVE AT FIRST SOUND"
So while I was working on each of the previous posts in this Sound Bytes Series, one day I was inspired to write the song.
I wrote the lyrics about a month ago. But I just put the music to the lyrics a couple weeks ago.
I remembered a song I wrote when I was 27. It was a church song I called "Happy Cause Jesus Is Mine".
When I wrote it, I was in the Air Force and I was studying Basic Korean at the Defense Language Institute (DLI) in Monterey, California.
At that time, I attended a Korean church, to immerse myself in the language and culture. I understood only a little bit but the important thing was to get the exposure to the language.
I was curious how they would sing my song in Korean so I took it to one of my Korean professors and asked him if he could translate it to Korean for me so I could sing it in English and Korean. I wasn't able to do it myself at that time. He seemed happy to oblige me.
This is the original paper, onto which I wrote the chords and lyrics to "Happy Cause Jesus Is Mine".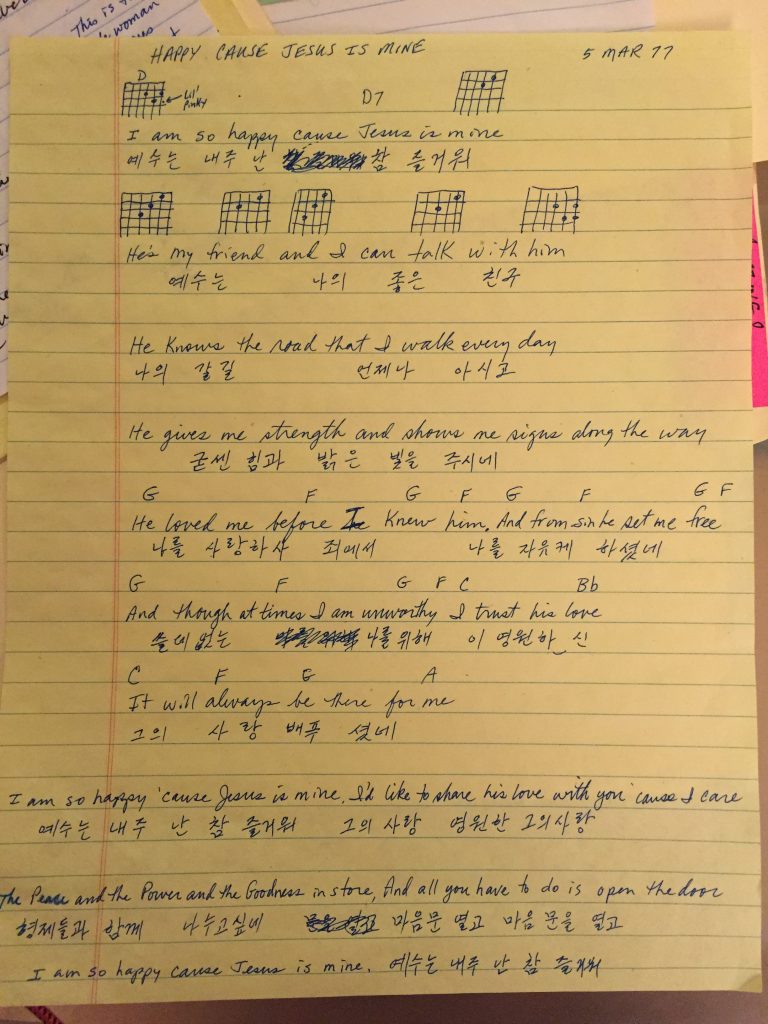 I usually wrote my songs on a yellow legal pad. I wrote the Korean translation underneath the English lyrics.
I'm not a religious person but I am a believer and I'm spiritual. But this is the only church song I ever wrote.
As I recalled "Happy Cause Jesus Is Mine", I thought that the music would fit well together with the lyrics I had already written for "Love At First Sound".
So I "stole the music from myself" and started working the lyrics into the music.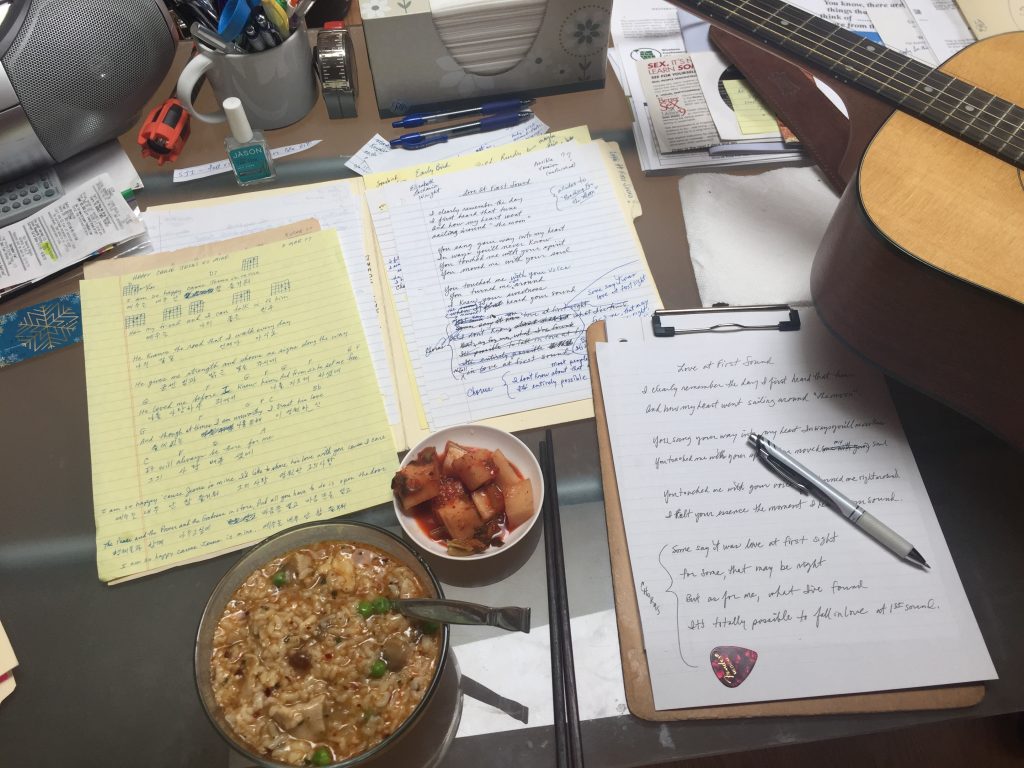 Break time!
While I was putting the music to the lyrics, I got hungry and needed a break anyway. So I made a rice gruel with chicken and peas and some hot Chinese chili sauce and I ate that with the Korean GGak Du Gi (Radish) Kimchi.
Writing the song, "Love At First Sound", made me think of all the sounds that I immediately loved as soon as I heard them:

…the sound of a fire cracklin'
…the sound of silence in a still forest
…the sound of falling snow
…the sound of falling rain
…the sound of water streaming
…the sound of thunder and lightning
…the sound of whispering pines
…the sound of whispering winds
…the sound of a bamboo grove blowing in the wind
…the sound of crashing waves
…the sound of chirping birds
…the sound of embers burning and hissing
…the sound of a newborn baby's cry
…the sound of the "e-bird's tweets" 😊
Freshly Falling Snow
Have you ever listened quietly to the sound of freshly falling snow?

Every time I see snow falling, it has a way of rendering me motionless and creating a desire within me to be in it and be very still and just listen.
In a previous post (Seconds of Pleasure), I mentioned the feeling of elation I feel about waking up to a freshly fallen snow. So beautiful and so pristine!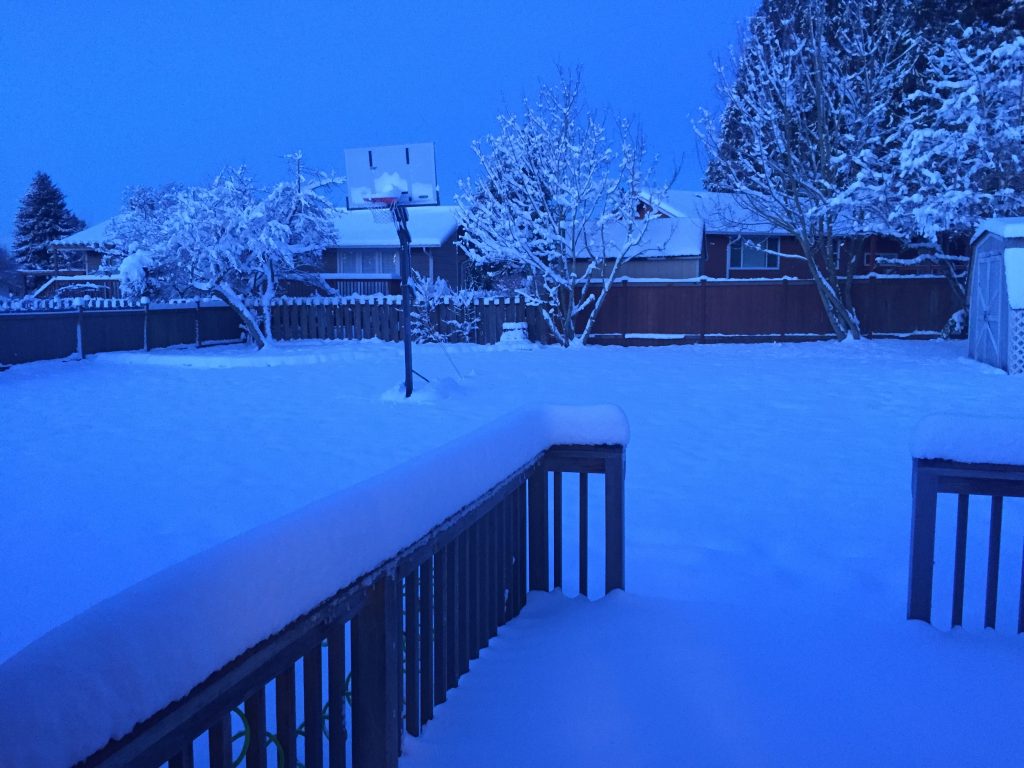 One day, I was thinking about that, and decided to make another playlist of Lizz's songs, and call it "Freshly Fallen Snow".
It would include only the songs (currently 45) that Lizz sings that give me this feeling of elation every time I hear them. So pristine! So beautiful!
Of those 45 songs, Lizz wrote 18 of them.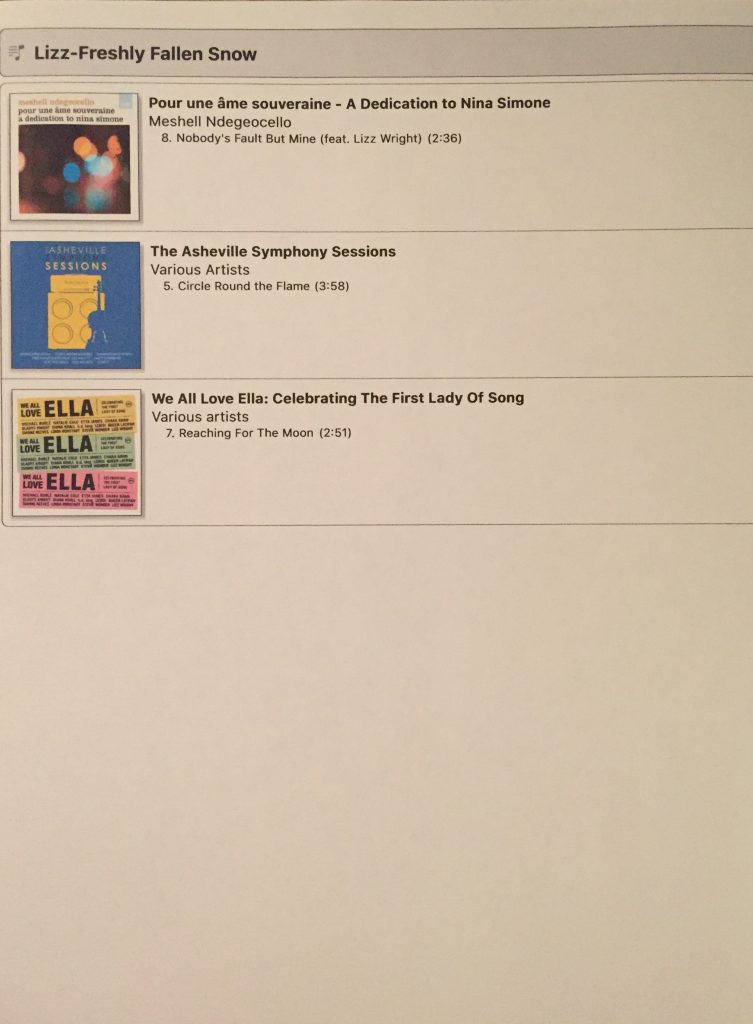 So now I have six playlists of Lizz's songs. I listed them, below, in the order that I listen to them most frequently:
Freshly Fallen Snow
Seconds of Pleasure (Sighsmic Activity)
(You don't need to, but if you want to view those playlists, just click on the gold playlist title, or titles, you are interested in and they will take you to a previous post where the playlists are presented.)
BUT FOR NOW I GIVE YOU……………..
"LOVE AT FIRST SOUND"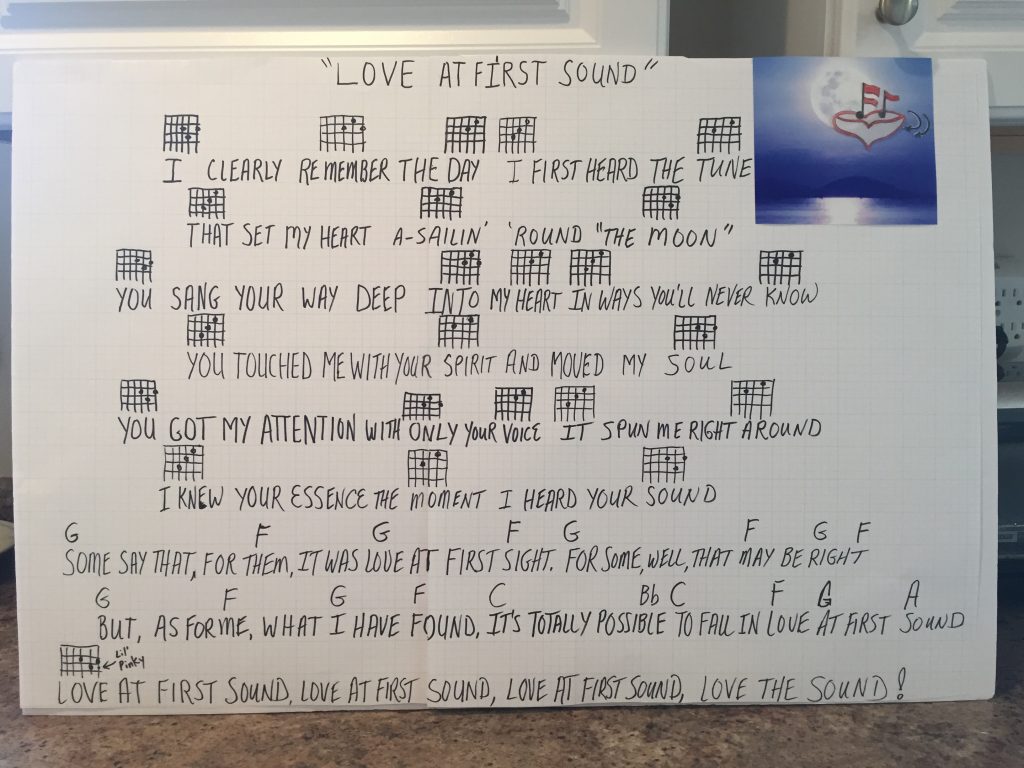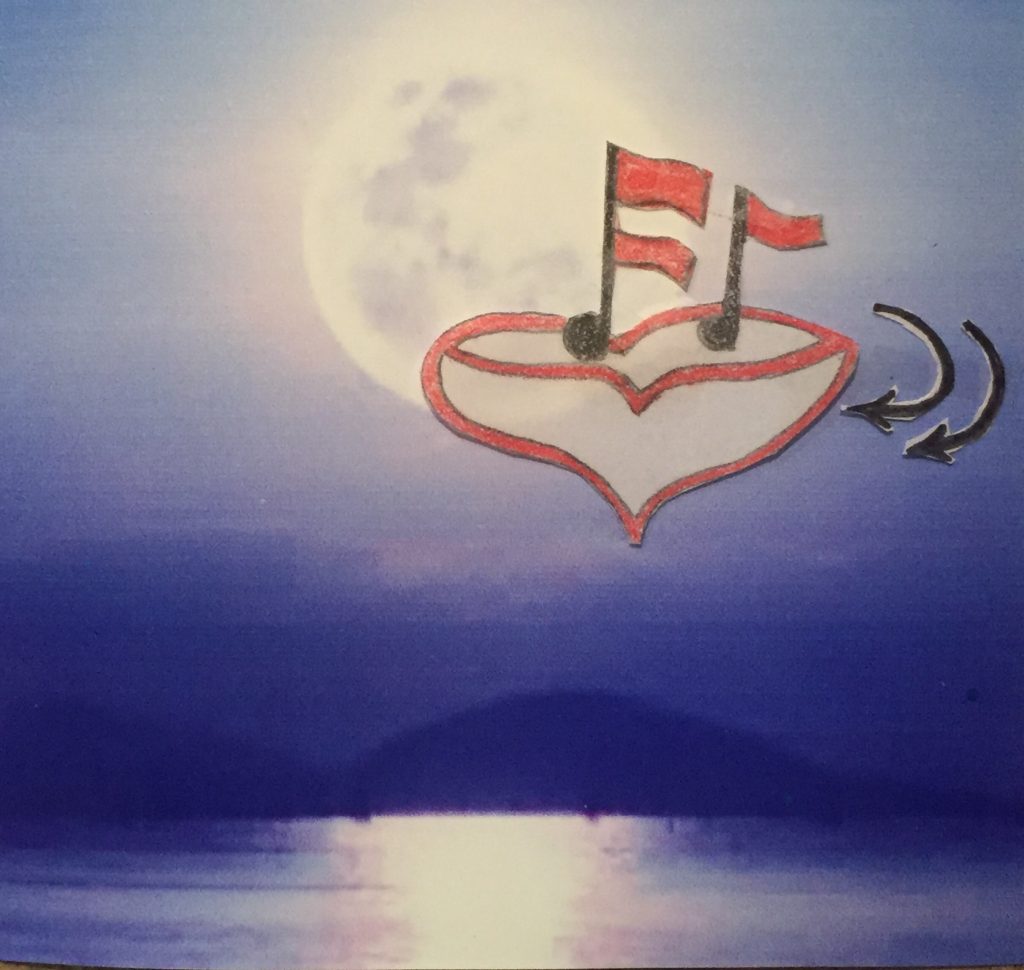 The part of the lyrics that says, "I knew your essence the moment I heard your sound", means that I immediately heard sincerity, focus, and strength in Lizz's voice. But as the song continued, her confidence, artistic passion, self-determination, a sense of autonomy, the beauty deep in her soul, and the unique style and talent at her command, shone brightly as well.
Since that time, my affinity for her music altered my life's path and she and her music ("You can't separate the salt from the stew…"…to quote her from a song she wrote, called "Salt"), continue to move me and inspire me even to this day.
So for the past five years, I have followed her progress, attended her shows as often as I could, bought all her music, written a few songs about her (this is the 4th one) , followed her facebook page, and I've shared a lot about her in many of my posts.
My first impressions were right. She is all those things and more. That's why she will always be so amazing to me. She sets the bar pretty high.
A little while back, she mentioned on her FB page that she is working on CD #7. I'm eager to see what she comes up with on this CD.
In April, 2018, I went to Paris to see and hear Lizz sing. She sang a song called, "No More Will I Run", written by her friend, Toshi Reagon, and said that she hoped to record it some time.
I really liked the song and the way Lizz sang the song. I recorded it that night. I'm hoping Lizz will be able to include the song on #7.
To hear it, click the triangle below:
No More Will I Run
Now, I've come to the end of this series. I hope you have enjoyed the images and the songs in each post.
I once said I didn't have a favorite Lizz song. That it was a 71-way tie for first because I like all of her songs. But while writing this series I decided I do have a favorite cover and a favorite Lizz original.
The favorite cover is "Reaching For The Moon", because that's where it all started for me. That song made me aware of Lizz's music and I'm so glad I became aware of it. So I started the Series with that song.
The favorite Lizz original is "Dreaming Wide Awake". I really like the concept of the song and and the soothing, sensual, sleepy and dreamy way she sings it, as if she is in a dream, and likewise the way the musicians add to that dreamy state. (And maybe because the initials of the song are the same as the initials in my name! 😊 )
So I have chosen to end the Series with "Dreaming Wide Awake". I overdubbed it onto the video of the biplane ride over the San Juan Islands. The biplane ride video was long, even after I edited it, so I overdubbed four of Lizz's songs onto the video, in this order:
"What Would I Do Without You"
"Singing In My Soul"
"When I Close My Eyes"
"Dreaming Wide Awake"
I always think of the first two songs together. They beg the question, "What would I do without you singing in my soul, Lizz?"
I often think about that. Her music has changed and enriched my life in very specific and positive ways. 😊
Disclaimer: The biplane landing at the end of the video is out of focus a little…..(I wonder who did that?!?)…..so if you have a sense of humor and a good imagination, you might see that as a "part of a well-thought out plan by me to make it dream-like"….🤪😂
So, now, I give you the final Sound Byte….
Sound Bytes #6

P.S. I decided to make this list (below) of each post in the Sound Bytes Series and place it at the end of each post, to help you navigate more easily to and from each post: