San Juan Island is just one of the islands in the archipelago known as the San Juan Islands.
The four main islands, to which people frequently travel, are Orcas, Shaw, Lopez and San Juan Island.
(I got this map from the San Juan Island Visitors Bureau.)
In my last post, (Sound Bytes #5…."Orcas Island (Continued)", I mentioned that I didn't leave Orcas Island as soon as I thought I would, to get to San Juan Island. The rainy weather on Orcas delayed me one day. So I essentially had only one day to spend on San Juan Island, to do all the things I wanted to do.
I called ahead to let the front desk people know I would be getting in a little late that night.
I arrived at my motel, the Earthbox Inn and Spa, a retro motor inn, about 0820 p.m. on Day 2 of my three-day/two-night trip to Orcas and San Juan Island.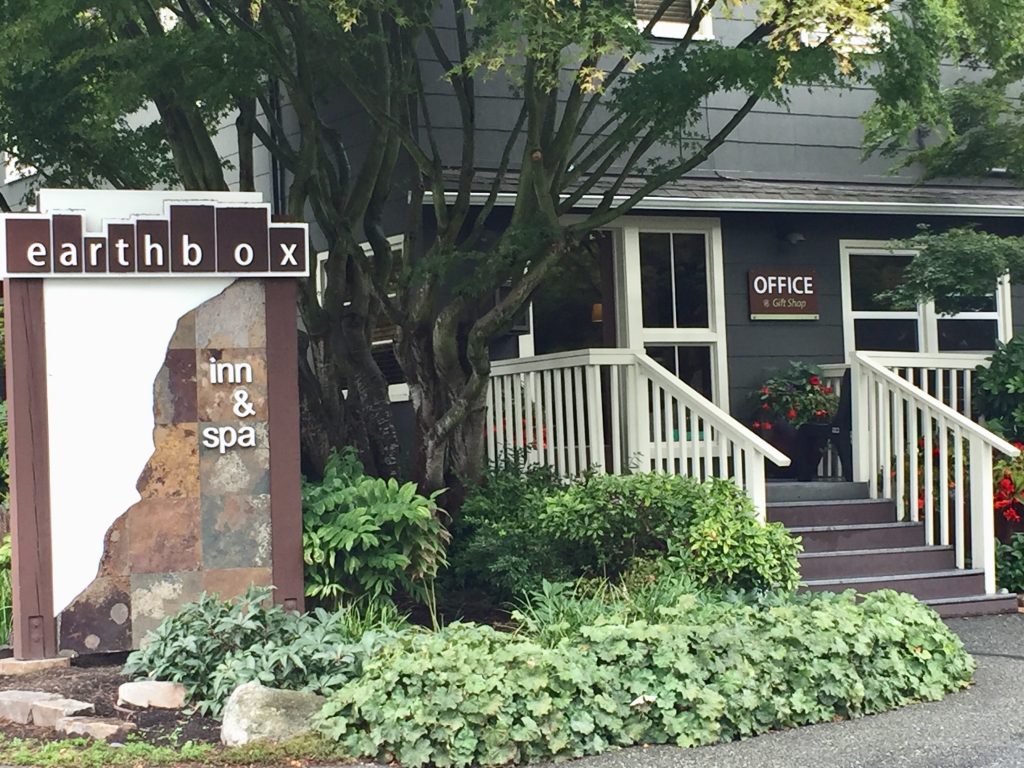 The rooms have been nicely refurbished and the staff was very helpful and friendly. I enjoyed my stay there. (Click on the link above and check out the info on their website.)
So far, it's my favorite place to stay on the island. It's only four blocks to Friday Harbor and the ferry terminal.
I woke up early (about 7 a.m.) the next morning (Day 3), looked out my window and saw it was raining.
Before I left home to head for the Islands, I pulled some leftover Korean food from the fridge, put it in a cooler on ice and put it in the car. I hoped to find a place along the way, where I could have a little picnic outside.
But I had carried it with me until this day, Day 3, and it looked like rain all day, so I decided I should have it for breakfast before leaving the motel and touring the island.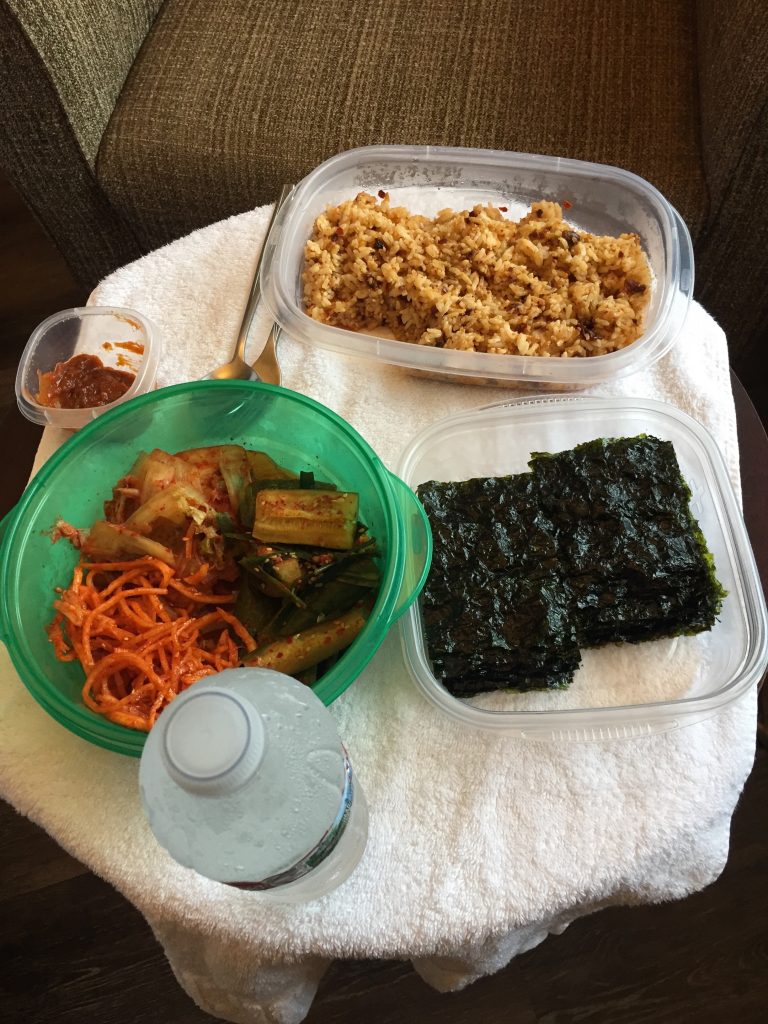 White rice flavored with sesame oil, sesame seed, and a Chinese chili sauce to spice it up a little bit. Cabbage kimchi, cucumber kimchi, and seasoned dried squid. Dried and salted seaweed. Oh, and that little container holds a hot bean-pepper paste.
I don't do mild-anything! I like it hot.
Not too shabby for breakfast, right? 🤪
Well, it suits me just fine. 😃
Cruising' around the scenic byways of the island
I was scheduled to catch the 10 p.m. ferry back to Anacortes, which allowed me a full day to drive all around the island. The down side to that is I wouldn't get home until two in the morning.
So I hit the road after breakfast. I headed south from Friday Harbor, on Cattle Point Road, toward Cape San Juan.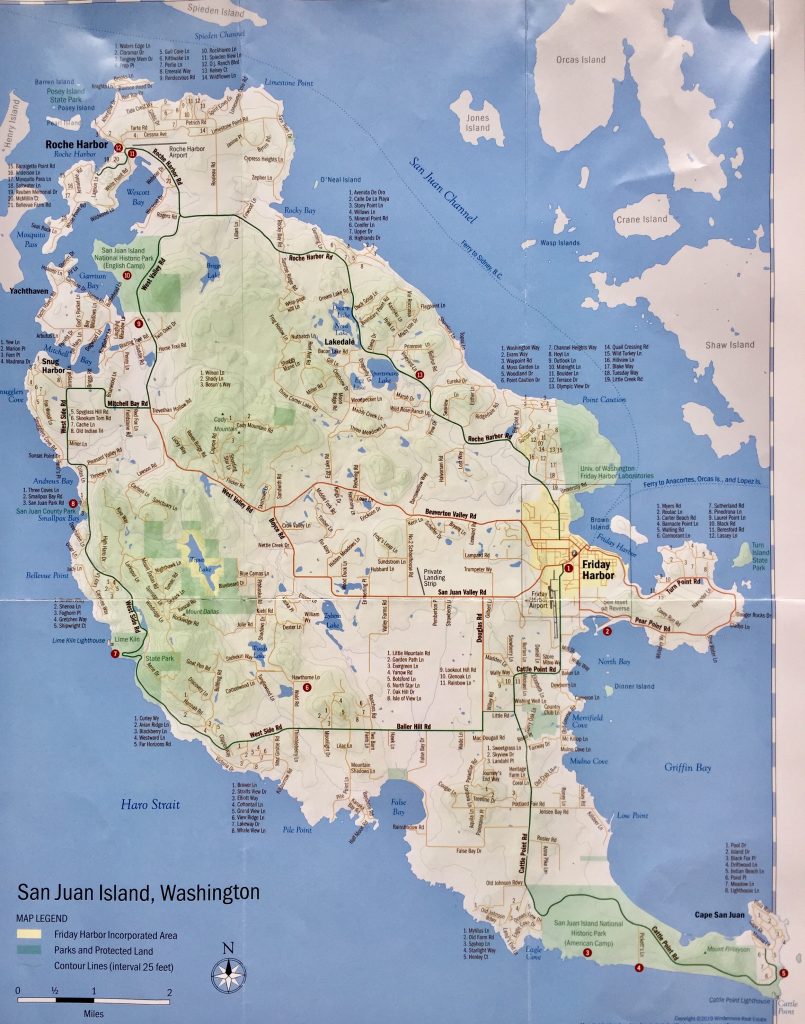 Just south of Friday Harbor, I stopped to capture this pastoral scene…..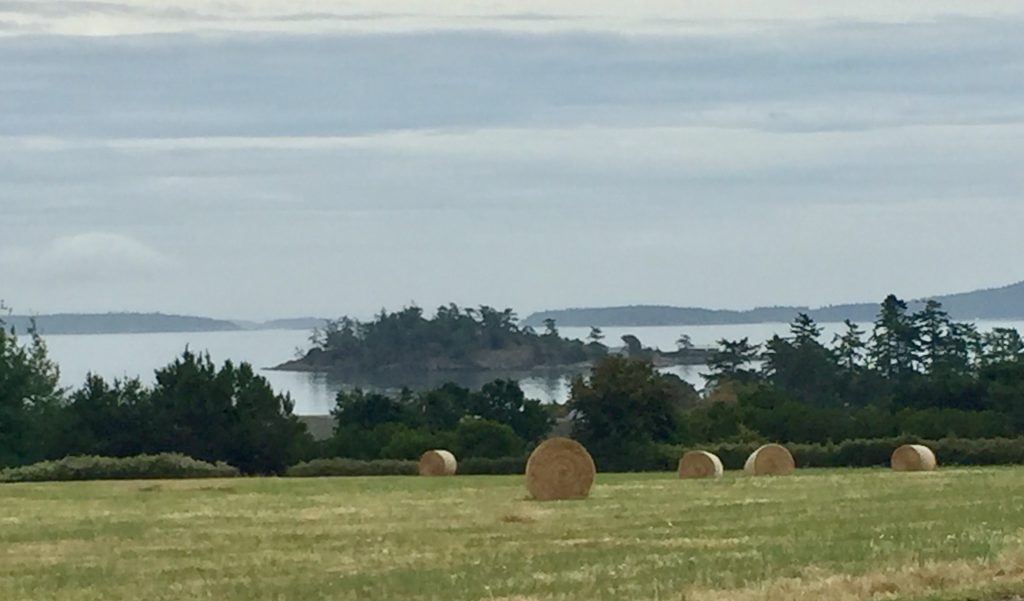 As I got closer to Cattle Point, the road got closer to the water so the view along the coastal road reminded me a little of Hwy 1, which runs along the West Coast, from California to Washington. I've been up and down that several times and I never tire of seeing it. I don't think this was as spectacular as Hwy 1, but still beautiful and so seeworthy, nevertheless.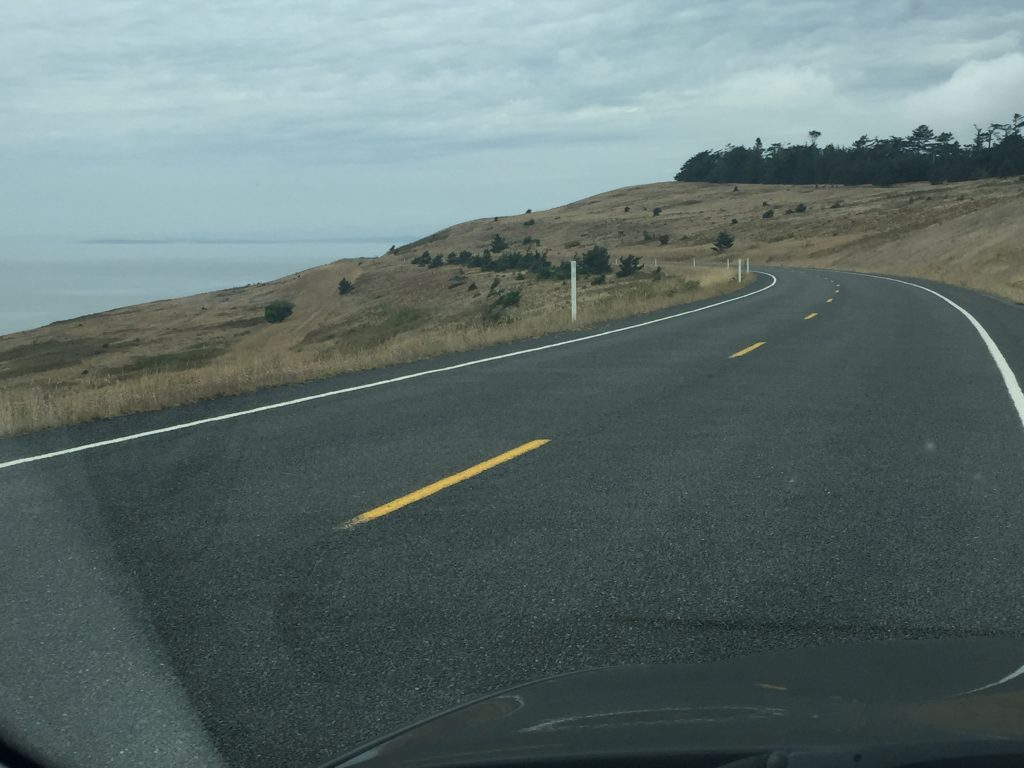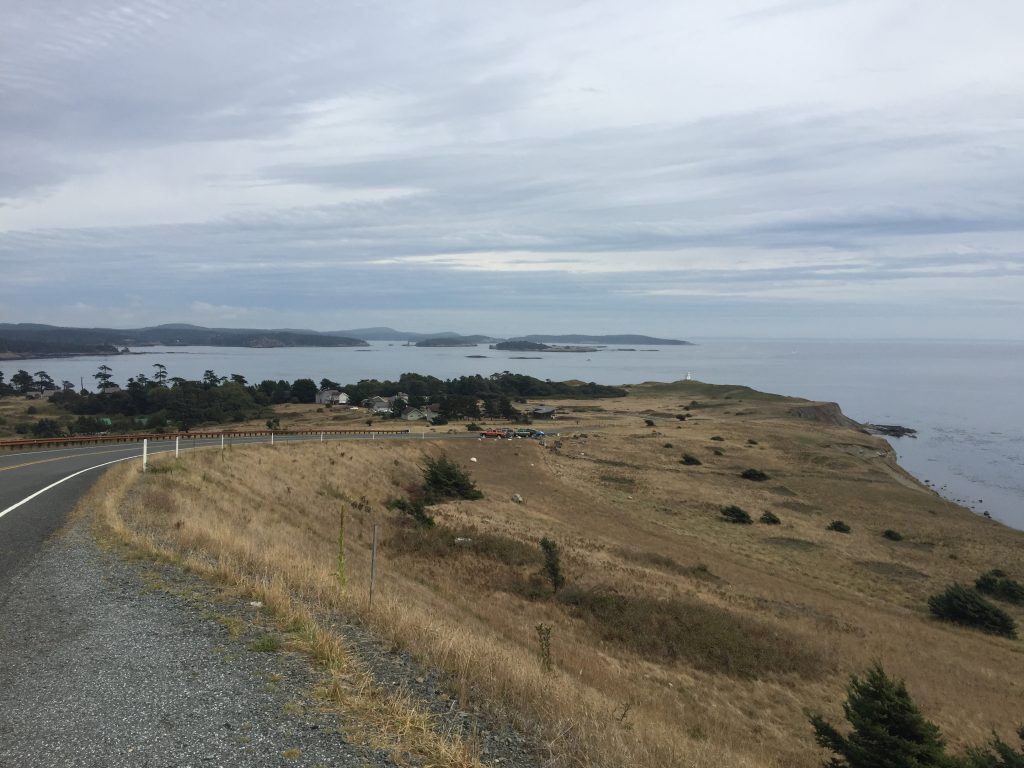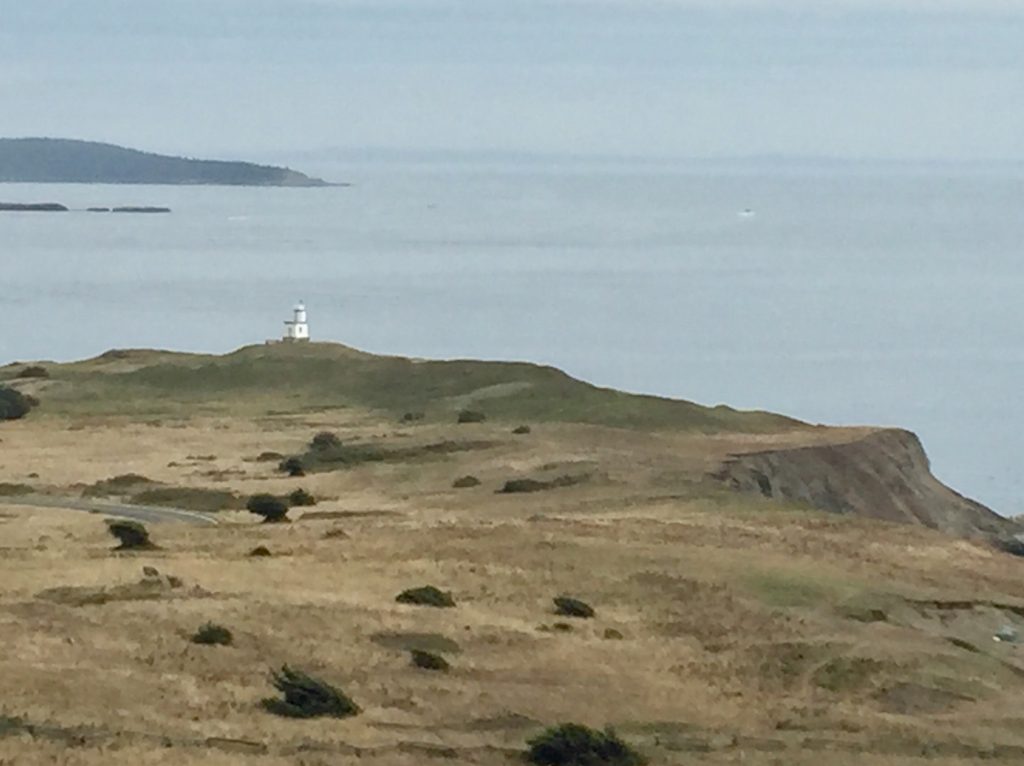 Above is the Cattle Point Lighthouse. I don't know why cows need a nightlight!?!?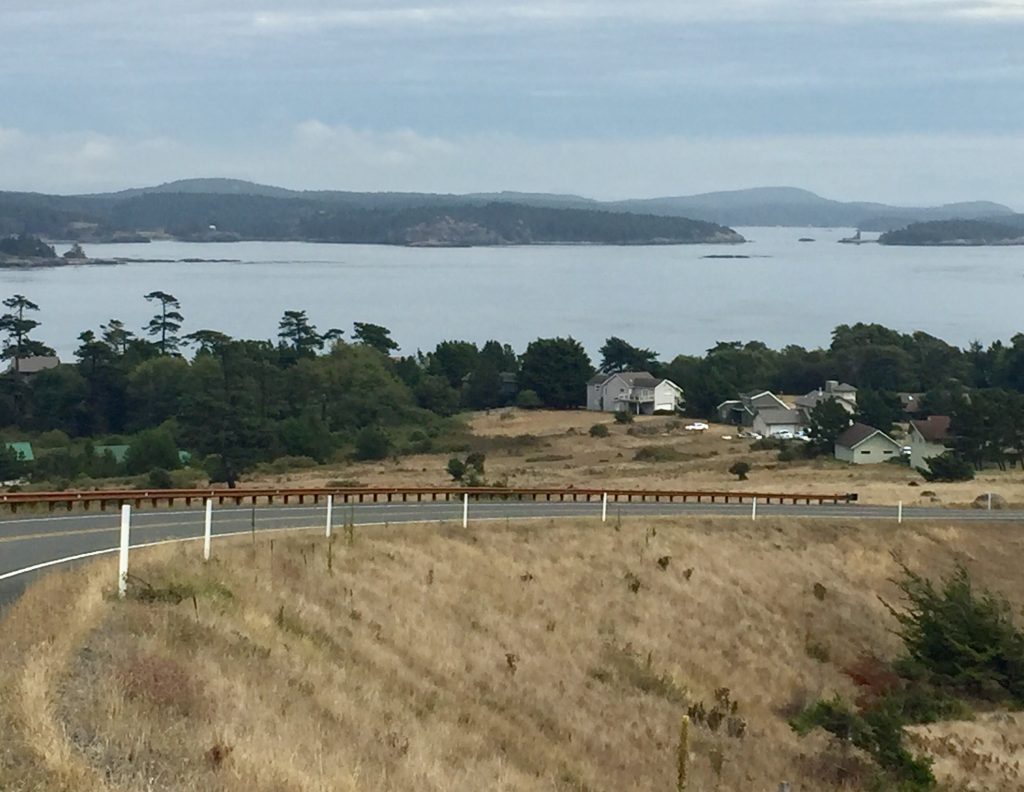 I turned around at Cattle Point (just down the road to the right) and headed toward the West side of the island, the next leg of my day trip.
I suddenly panicked the moment I noticed my car was overheating….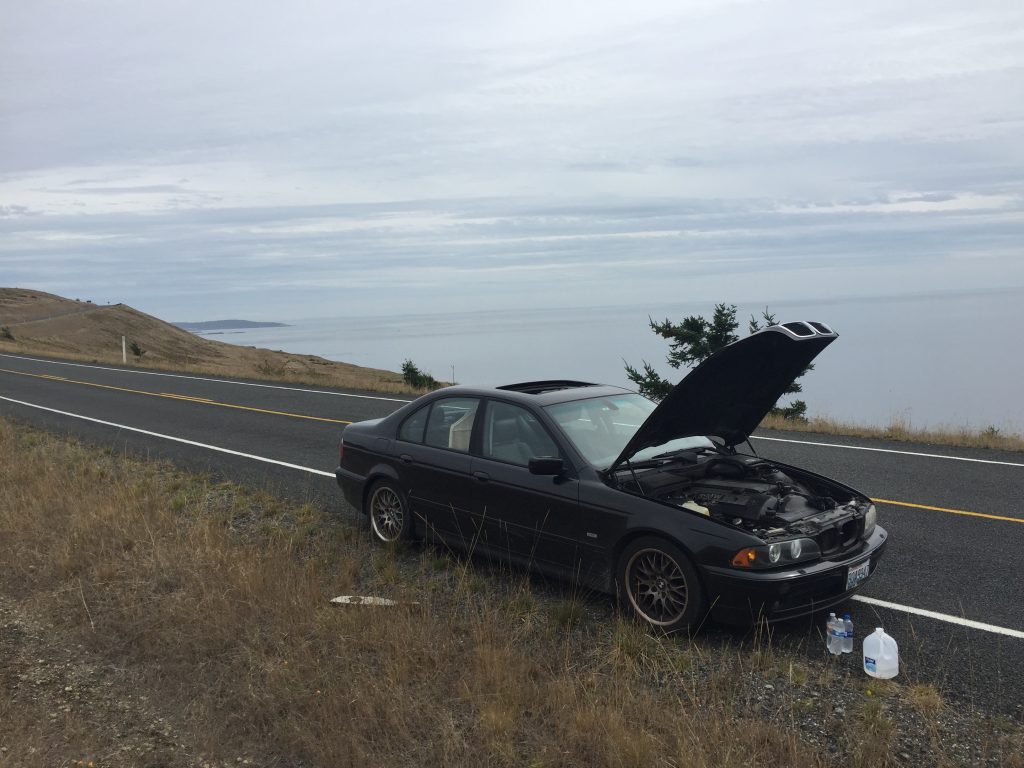 …..I only had three bottles of water. I didn't know if that would be enough to get me back into town or not.
Just then a car was approaching slowly. The car pulled up closely and a lady rolled down her window and asked if I needed help. I told her my radiator had overheated. She said she had about a third of a gallon of water that I could have.
The water she gave me, plus the water I had, was just enough to get me back to town to add some anti-freeze so I could keep moving on down the road the rest of the day.
I'm thankful for her kindness.🙂
So I headed west toward the Lime Kiln Lighthouse, an area known as a great place to watch for whales.
If I had been here on Day 2 (the one day I had good weather), like I planned, I would have kayaked out there or joined a whale-watching tour. But since the weather wasn't so good and I had less time, I got back on the road again and headed northwest for Roche Harbor.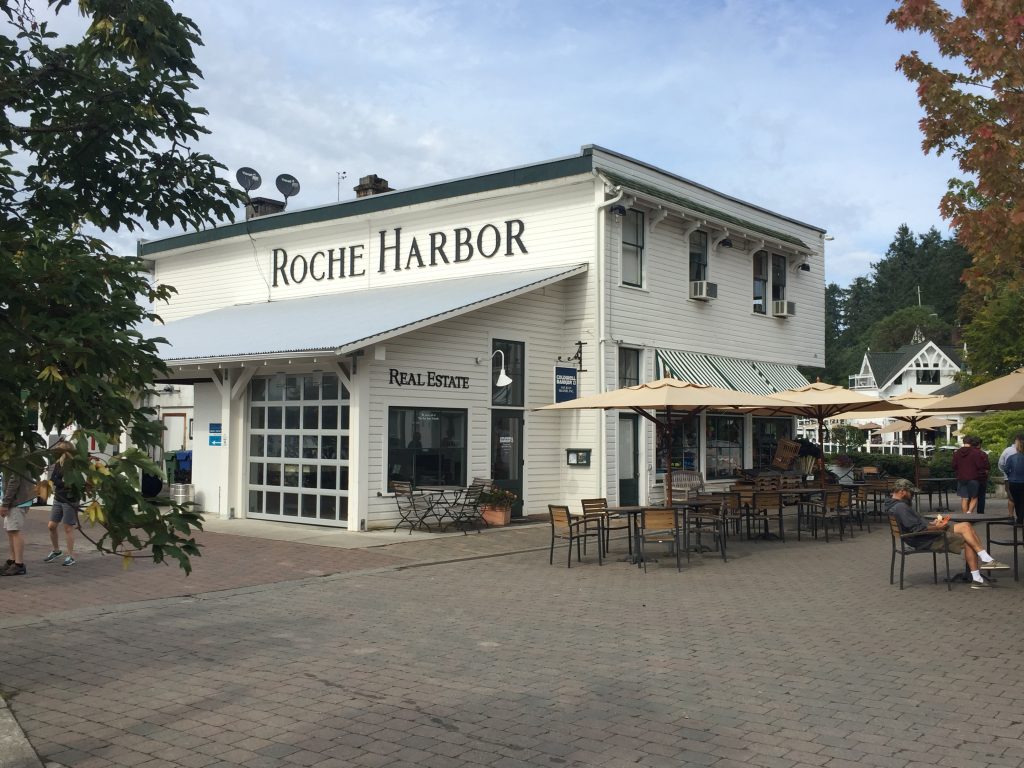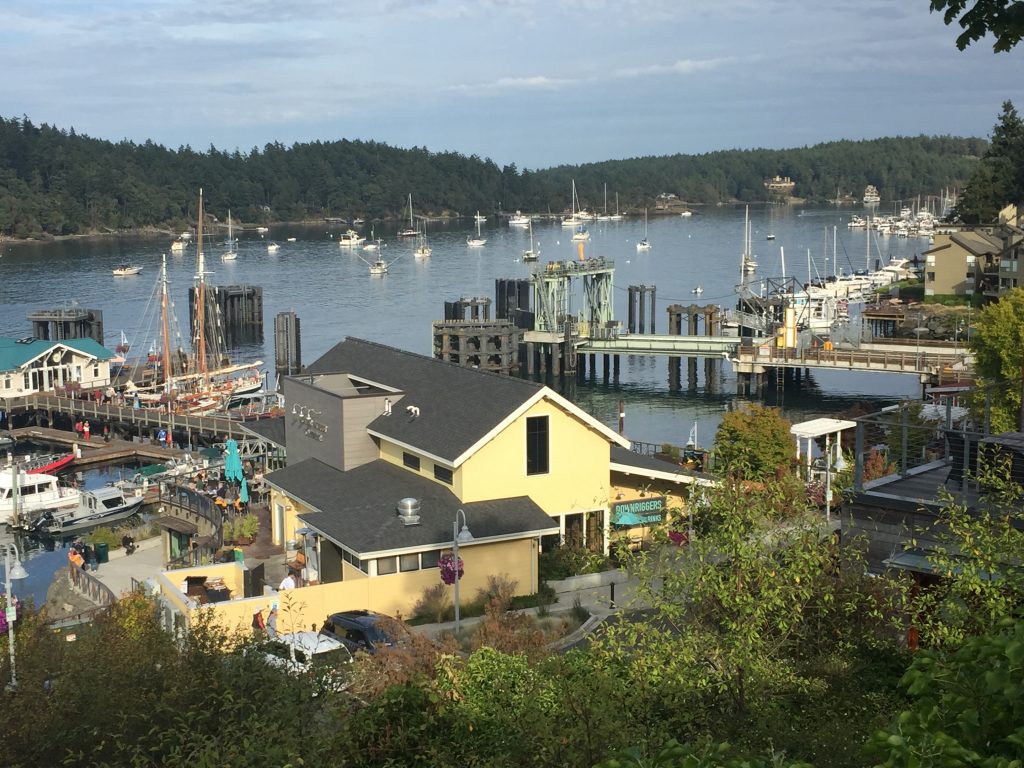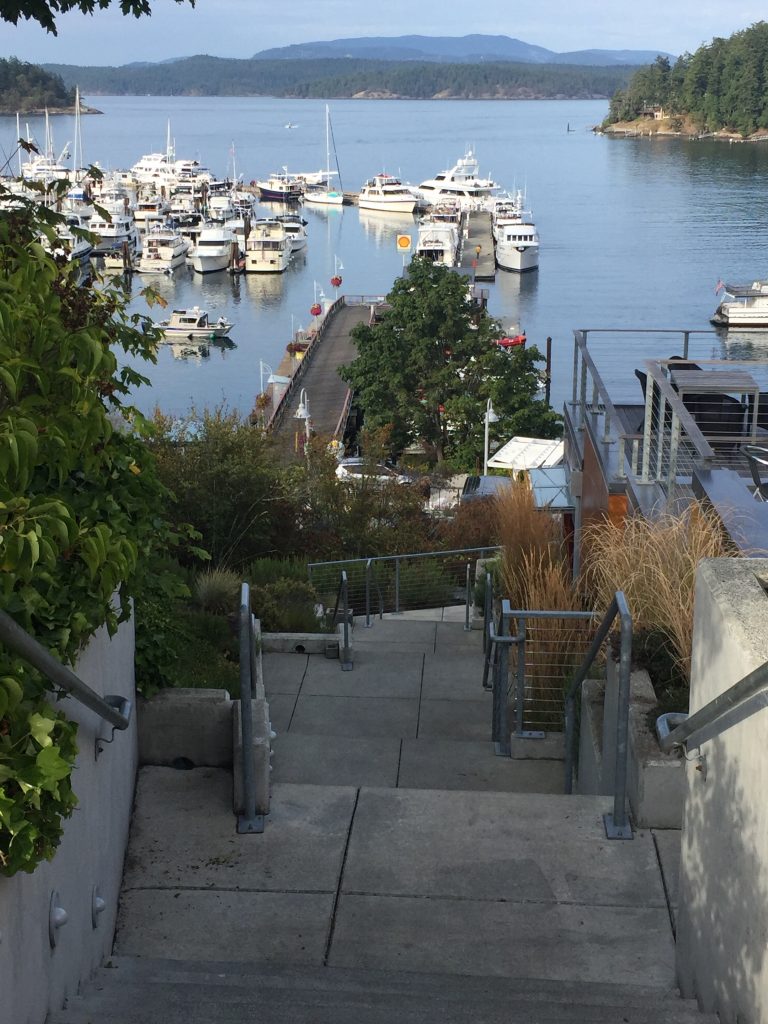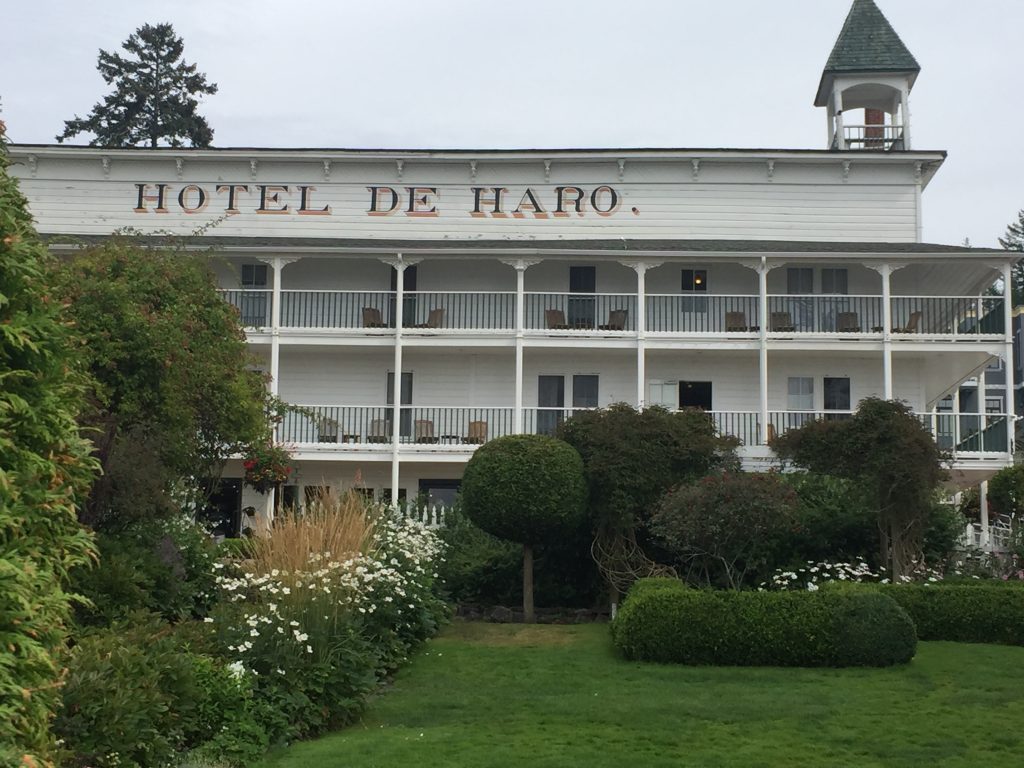 I didn't stay there long. I walked around the area and took it all in and then I got in the car and headed back to Friday Harbor.
It was early evening so I wanted to finish out the day at Vinnie's restaurant in downtown Friday Harbor.
Julie, the receptionist at the Earthbox Inn, where I stayed the night before, recommended Vinnie's when I told her I wanted to have a good fish dinner before leaving San Juan Island.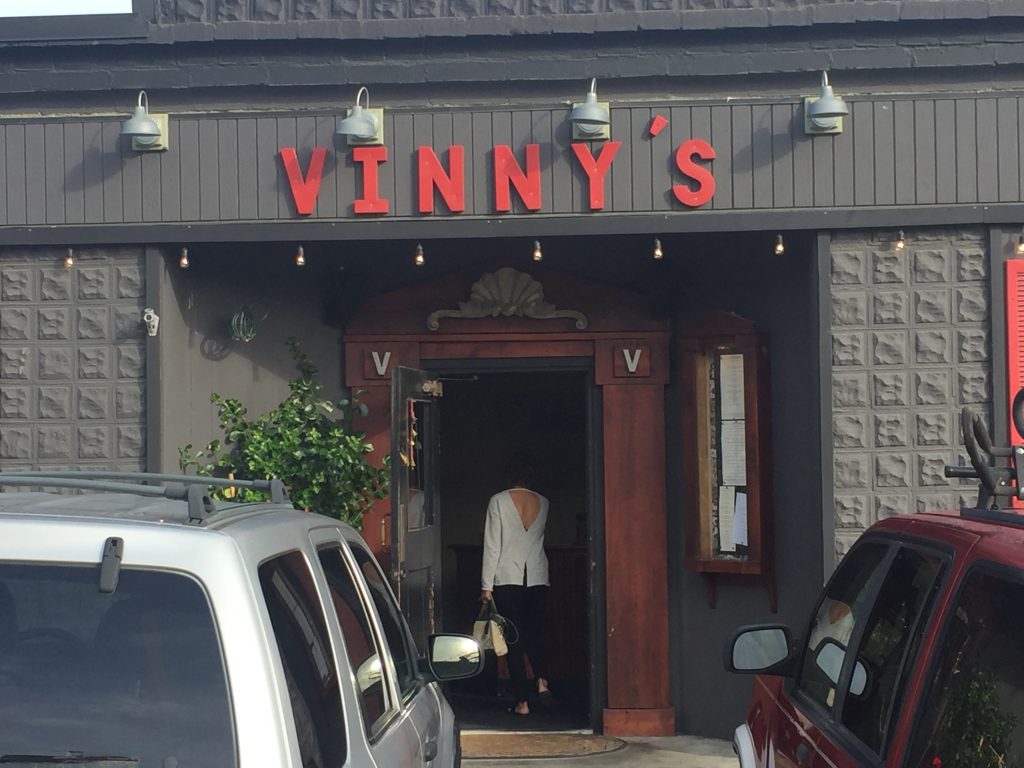 It's about two blocks from the ferry terminal. And it was as good as Julie said it would be.
So I left Vinnie's and I was going to get in the queue to catch the 10 o'clock ferry when I saw a ferry employee directing traffic. I told her I was catching the 10 p.m. ferry and asked if it was too early to park there.
She told me there was room on the next ferry and asked me if I'd like to leave early so I could get home early?
I jumped on the opportunity and left the harbor.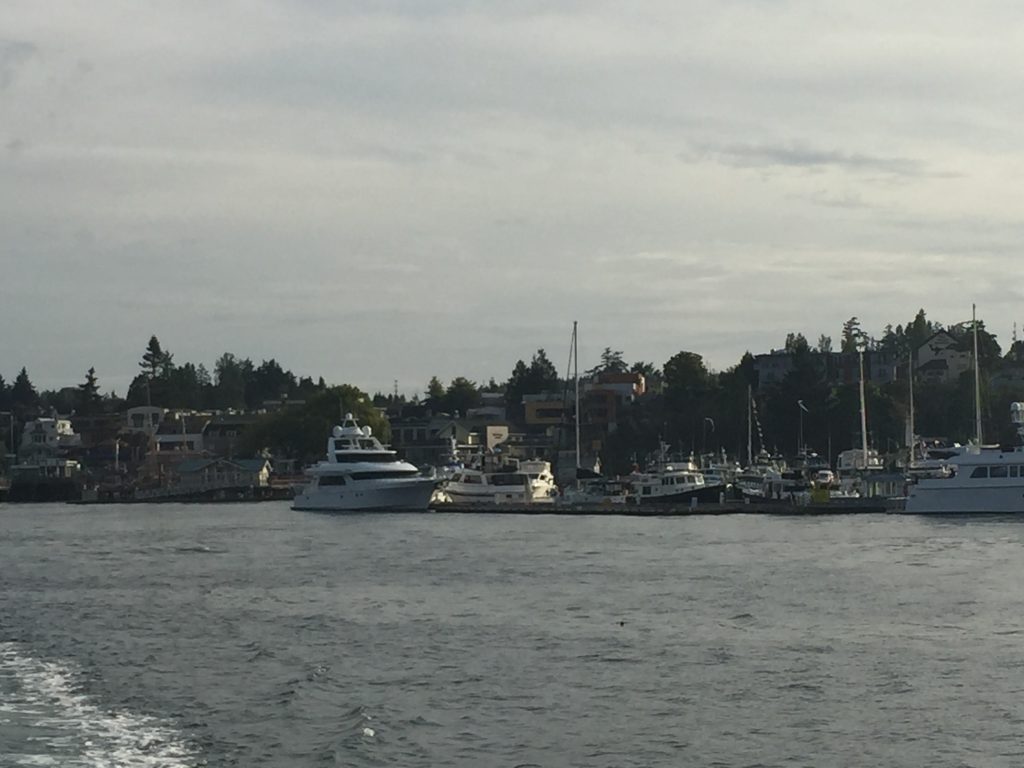 I ended up getting home at 9 p.m. instead of 2 a.m.🙂
The following is Sound Bytes #4…."San Juan Island"
If you get a chance to do so, visit Seattle and the Puget Sound area. This beautiful area is a National Treasure for all the world to see.
AND Lizz Wright is a National Treasure for all the world to hear.
The song you are about to hear is called, "Speak Your Heart". It's a Lizz original and it's a beauty. She's a very talented and passionate songwriter, in addition to being the fabulous vocalist that she is.
Sound Bytes #4…."San Juan Island"
Lizz Wright…."Speak Your Heart"
If you like what you hear, there are many more videos of her singing on you tube, but you can also go to lizzwright.net to see her tour dates/places where you might want to go to see and hear her live.
You won't be sorry. It's uplifting and calming to see and hear her sing in person and a unique experience you won't forget.

P.S. I decided to make this list (below) of each post in the Sound Bytes Series and place it at the end of each post, to help you navigate more easily to and from each post: