(Photo taken from Mt. Erie lookout point.)
In "Sound Bytes (Intro)", I explained how the idea for this Sound Byte Series was spawned.
I wanted to pair together and share the beauty of the Puget Sound, my favorite place, and the beauty of the musical sound of Lizz Wright, my favorite singer.
In the previous post, "Sound Bytes #1 (Seattle And The Sounds)", I showcased the Puget Sound area around Seattle, and Lizz Wright singing "Reaching For The Moon", (my favorite cover of all the covers that she does).
In this post, I share some views of the Puget Sound, from two mountain tops in the Anacortes area, where the Anacortes Ferry Terminal is located, and some views of the Puget Sound from aboard the ferry, while I was on my way to San Juan Island. It's one of the ways to get to the San Juan Islands.
I also share the musical sound of Lizz Wright, singing " I'm Confessin' ", in "Sound Bytes #2". I know you're going to like it.

Anacortes Ferry Terminal
I left my house and arrived at Anacortes (middle right on the above photo I copied from the San Juan Islands Official Visitor's Guide).
I arrived about 15 minutes before the ferry was scheduled to leave for the Island. I thought I could just drive up to the ferry, get on, and be on my way to Friday Harbor.
I had looked at the ferry schedule online, the night before, and there were about six or seven ferries going to the Island the next day, so I thought, with so many ferries going, it should be no problem.
That was my first mistake……..thinking!
"Think but verify" is now my new mantra.
This ferry and the next two ferries were full. I had to wait four hours before there would be another ferry I could catch to begin my adventure.
So I had some time to kill before I left Anacortes for San Juan Island. I thought to myself, "Why not start my adventure here? It's beautiful here in Anacortes."
I went to Starbucks to get a cup of coffee and google the area around Anacortes on my laptop.
By the way, I recently broke up with Starbucks…..
…..but we're still good friends!
(Seriously, though, I was spending way too much money at Starbucks so I cut back on the over indulgences there.)
During my search, I found a couple of small mountain tops in the Anacortes area where I could get some pictures of the Puget Sound.
They are Mt. Erie and Cap Sante.
First Stop…..Mt. Erie
I drove up to Mt. Erie first. There is also a hiking trail but I wasn't prepared to hike it.
The word lazy comes to mind. But also expediency comes to mind. I only had three and a half hours left to do both mountain tops so I chose expediency.
It was about a 20-minute drive South to Mt. Erie from the ferry terminal and about a 15-minute drive West from the ferry terminal to Cap Sante.
I drove up to Cap Sante second. You can also hike up to Cap Sante.
Then I went on to the ferry terminal, arriving a little early.
Views of the Sound from Mt. Erie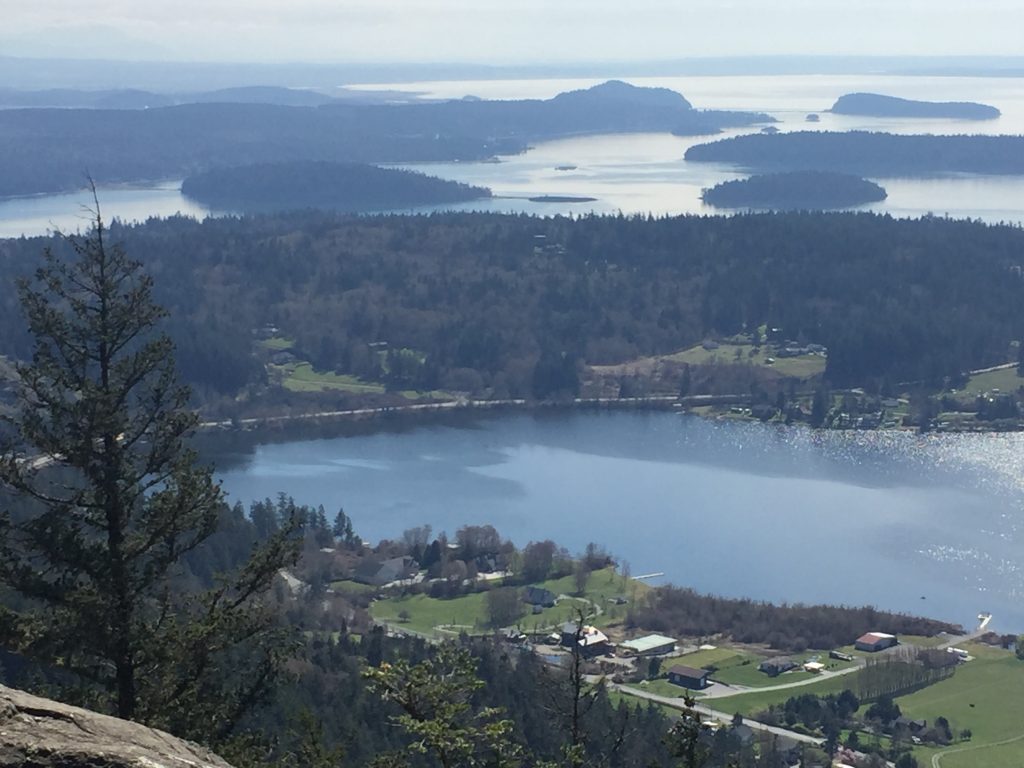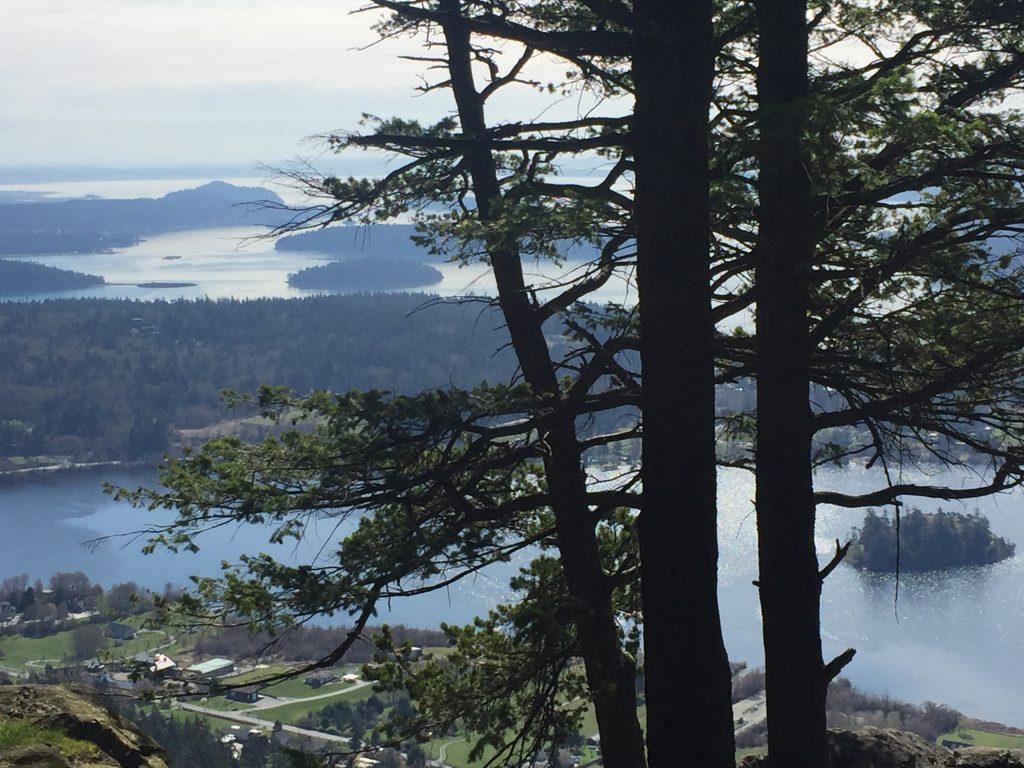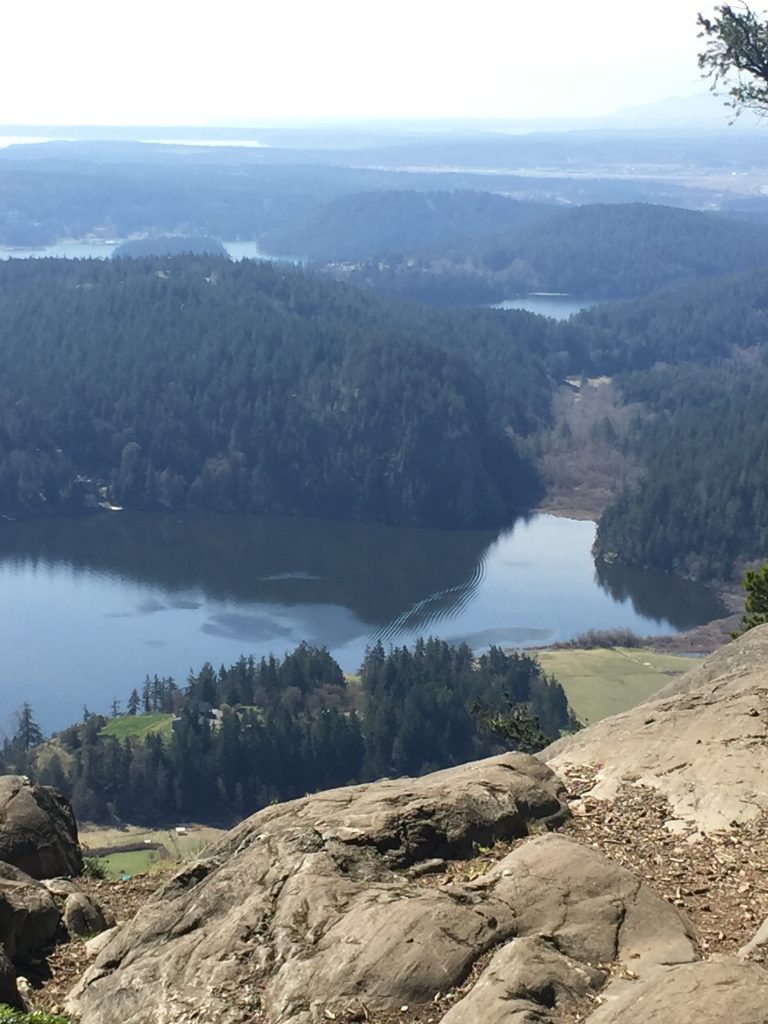 Views of the Sound from Cap Sante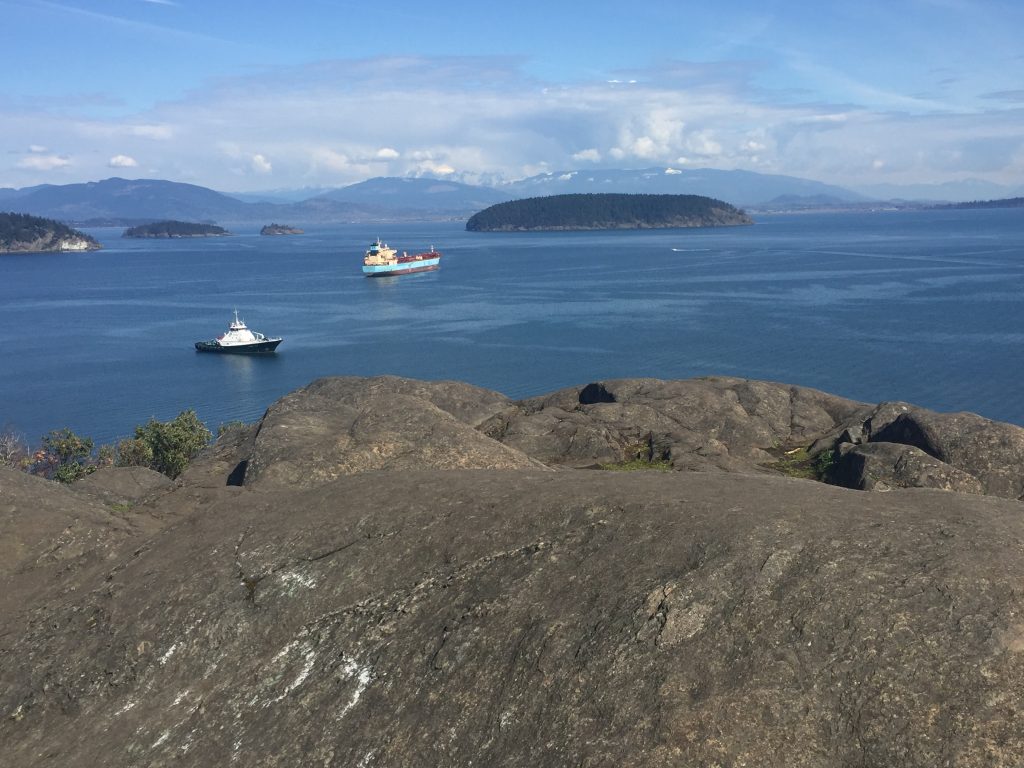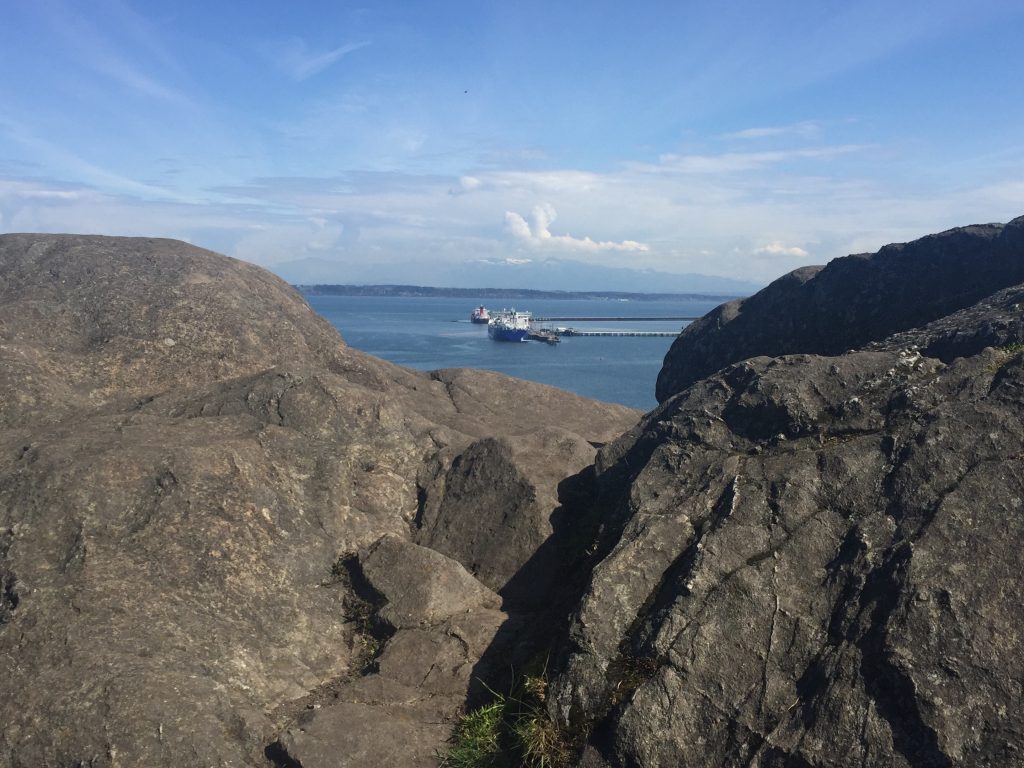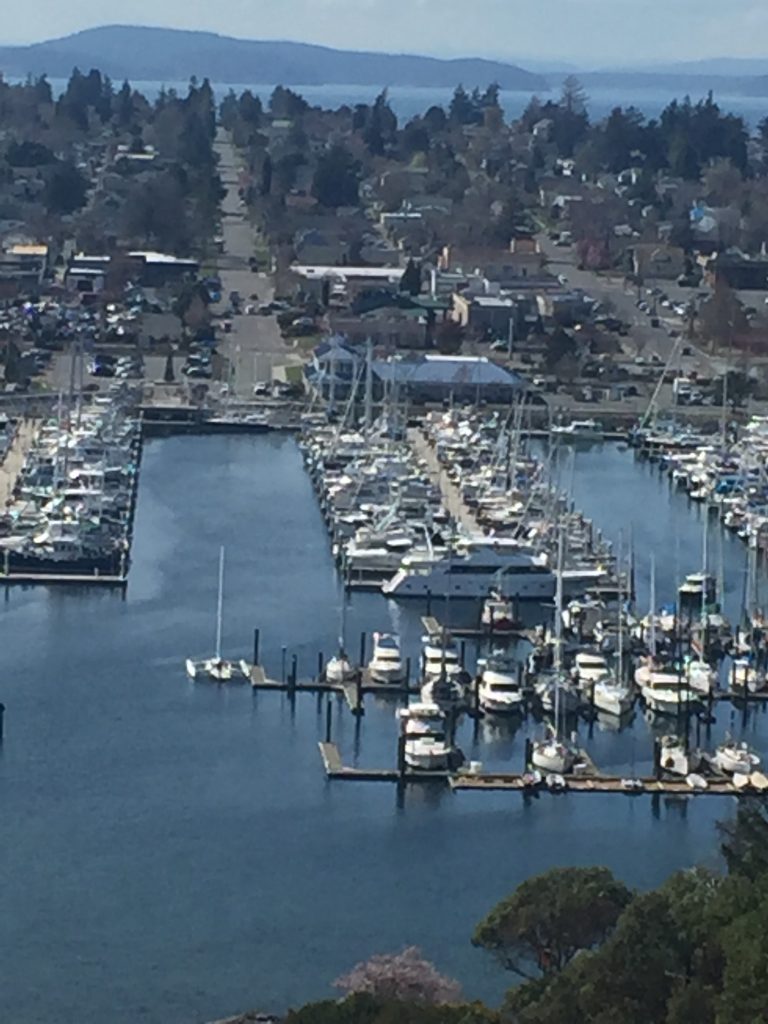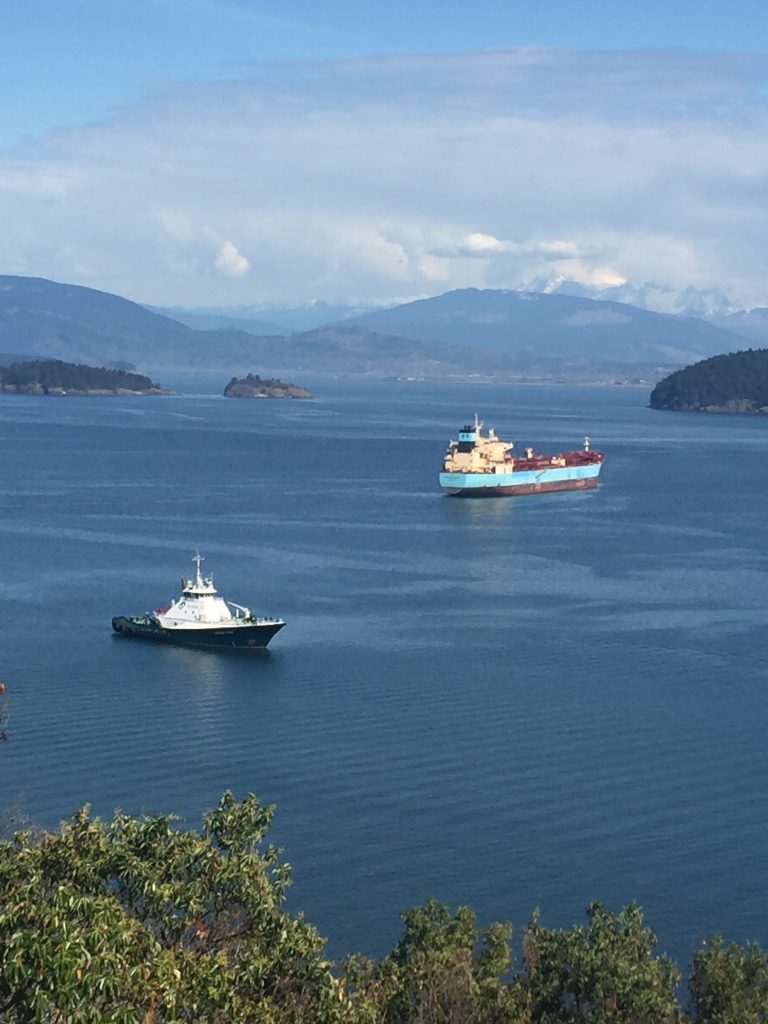 So all this beauty around me and I hadn't even boarded the ferry yet for the San Juan Island. The Sound was so beautiful to look at from Anacortes.
But there was much more to come. I was excited about doing this new Series.
Friday Harbor
The ride, from Anacortes to Friday Harbor on San Juan Island, took a little over an hour. The weather was beautiful and sunny.
I thought I caught a glimpse of a tail of a whale rise slightly above the water for only an instant.
So I got my camera ready but then I didn't ever see it again.
(That was really a whale of a tale, right?)
On the ferry to San Juan Island
(Click on the above link for a short video of the ferry ride to Friday Harbor.)
(Click on the link above for a short video from the rear of the ferry)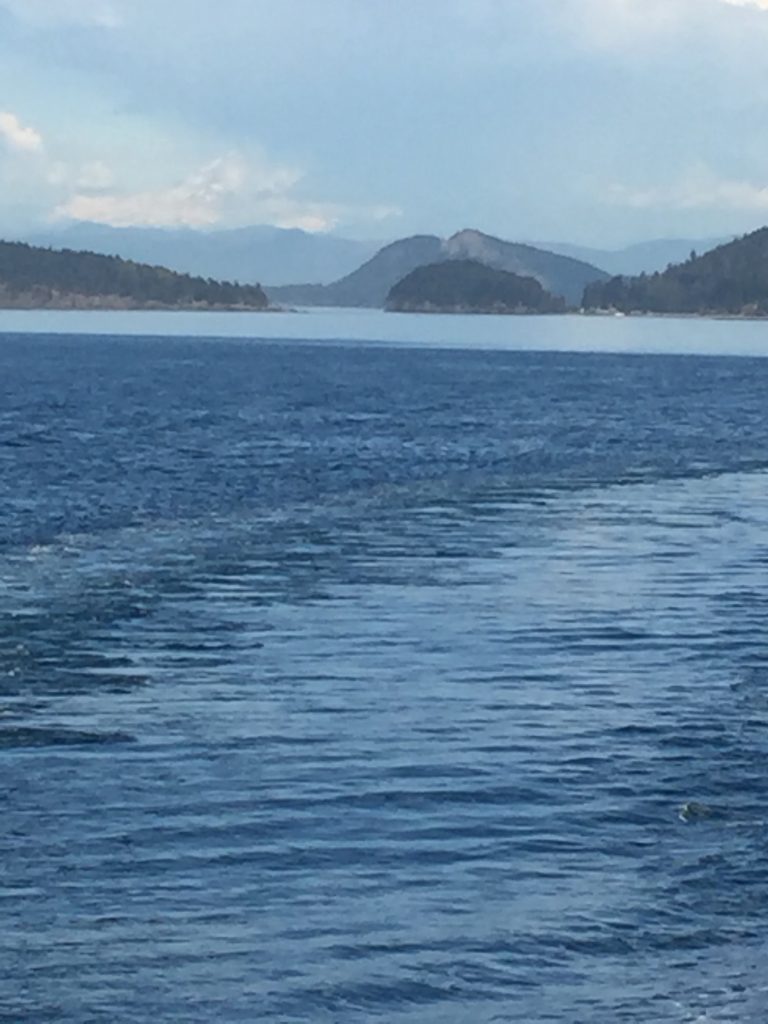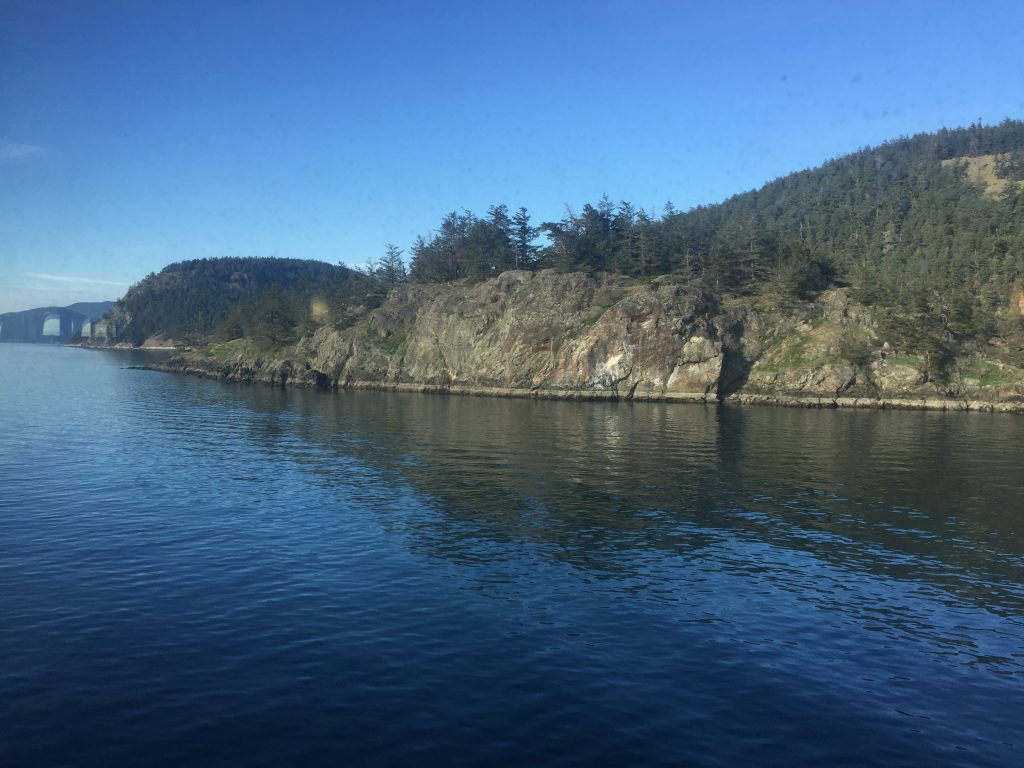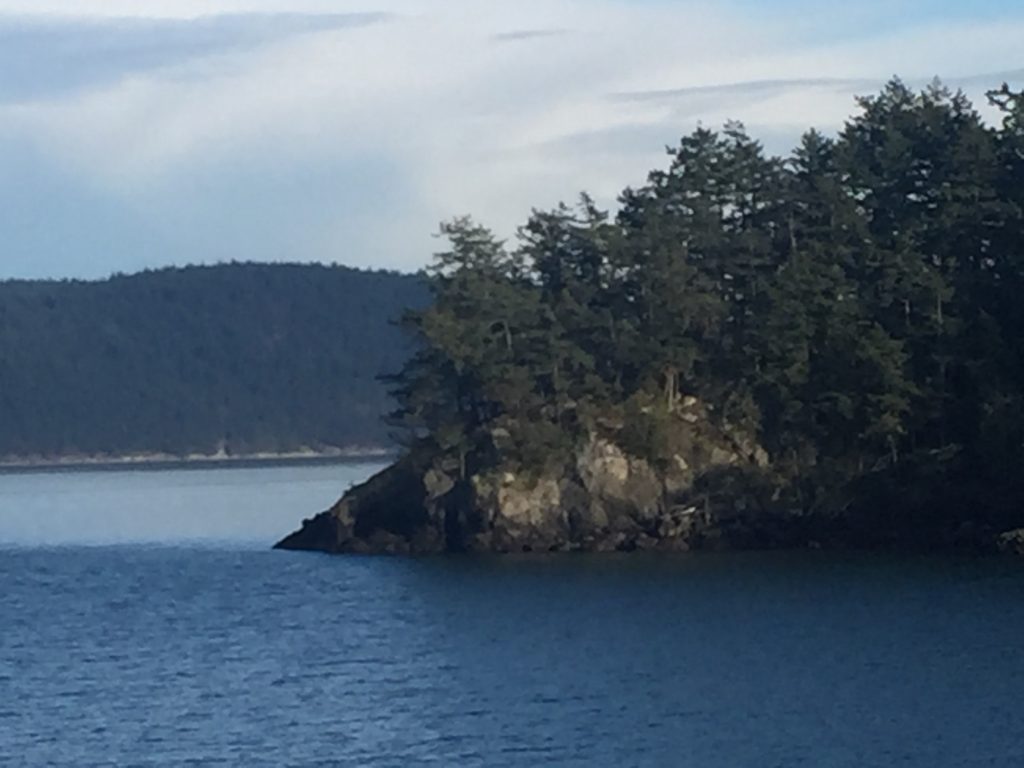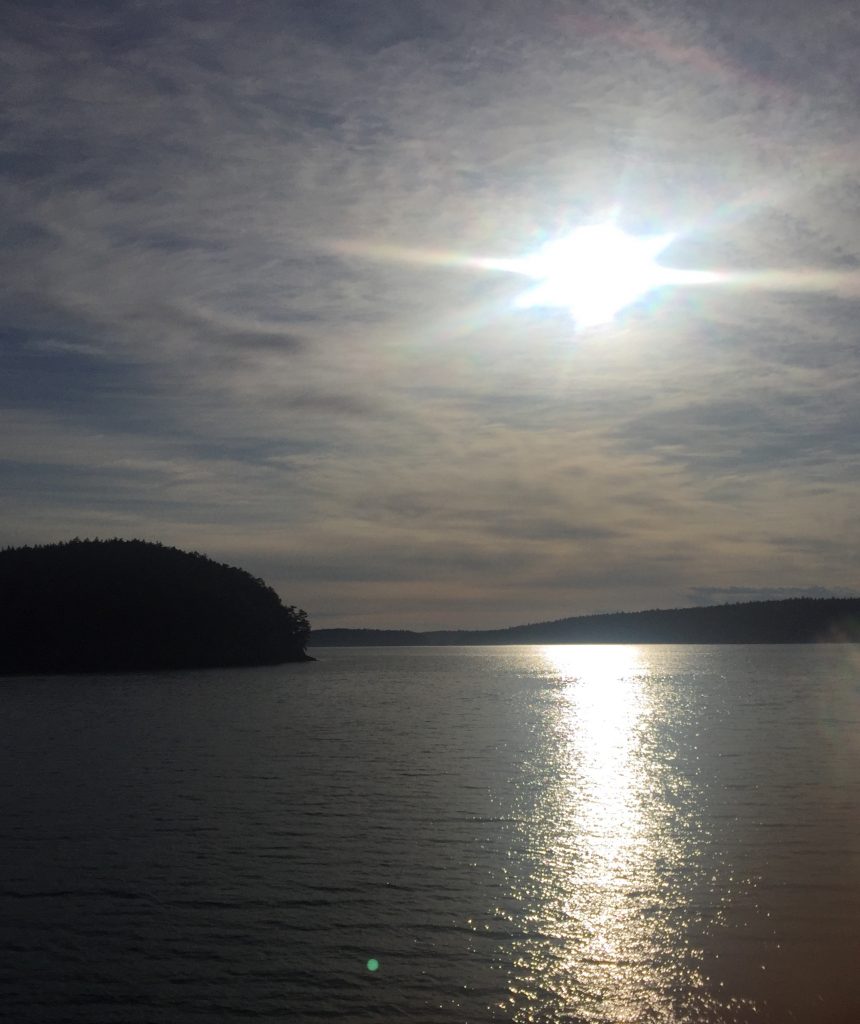 By the time I got to the island, I only had time for a leisurely dinner.
I had read about a restaurant called, "Backdoor Kitchen", in the magazine, "SEATTLE", which sounded like a great place to eat so I definitely wanted it to be the first restaurant that I tried on the Island.
The article mentioned it was hard to find. Kind of hidden from the main stream.
It was hard to find. I asked a local passerby and she pointed me in the right direction.
This is what the entrance looks like (minus the Daddy-long-legs).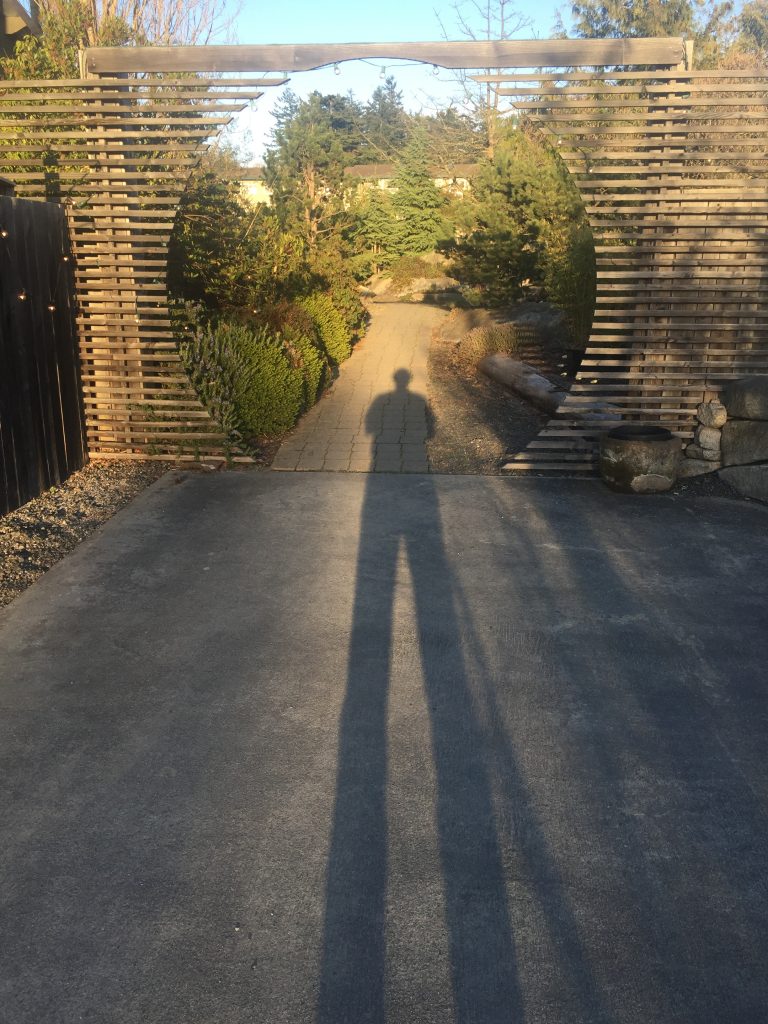 If you see this you know you're there. Just go through the gate and turn left. It's a brick pathway that leads you through the outdoor seating to the back door, which is the entrance. Thus, "Backdoor Kitchen".
I'm so glad I went there that night. The food was perfect and really hit the spot.
I had the oysters for an appetizer……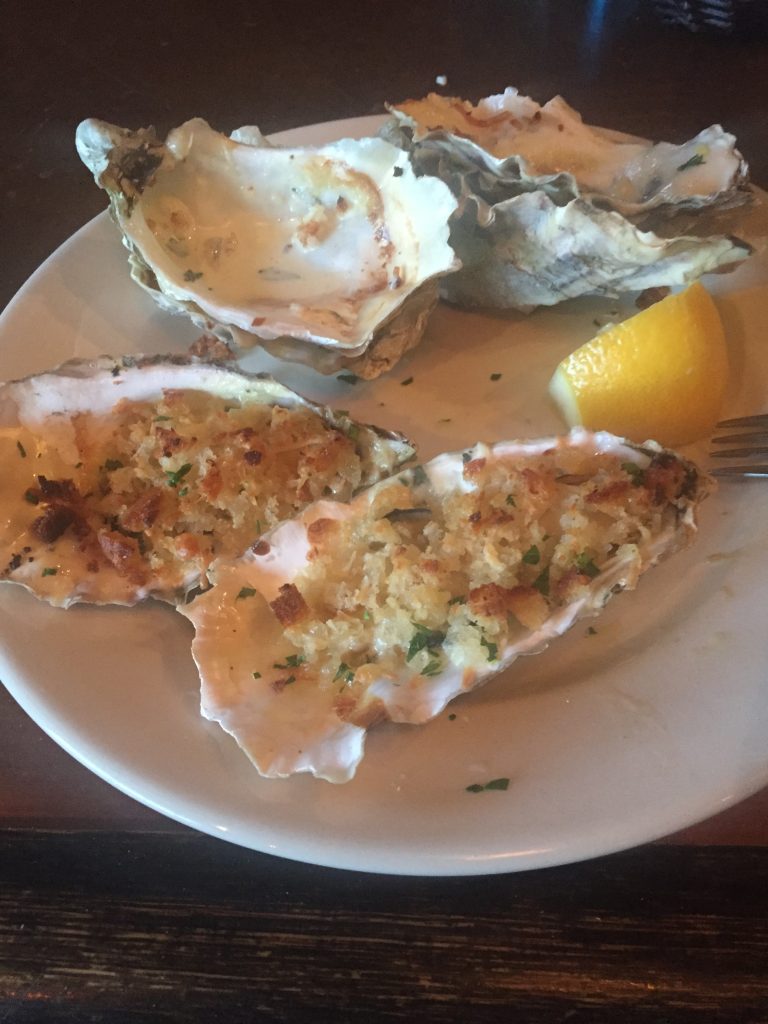 and the pan-seared scallops for the main dish.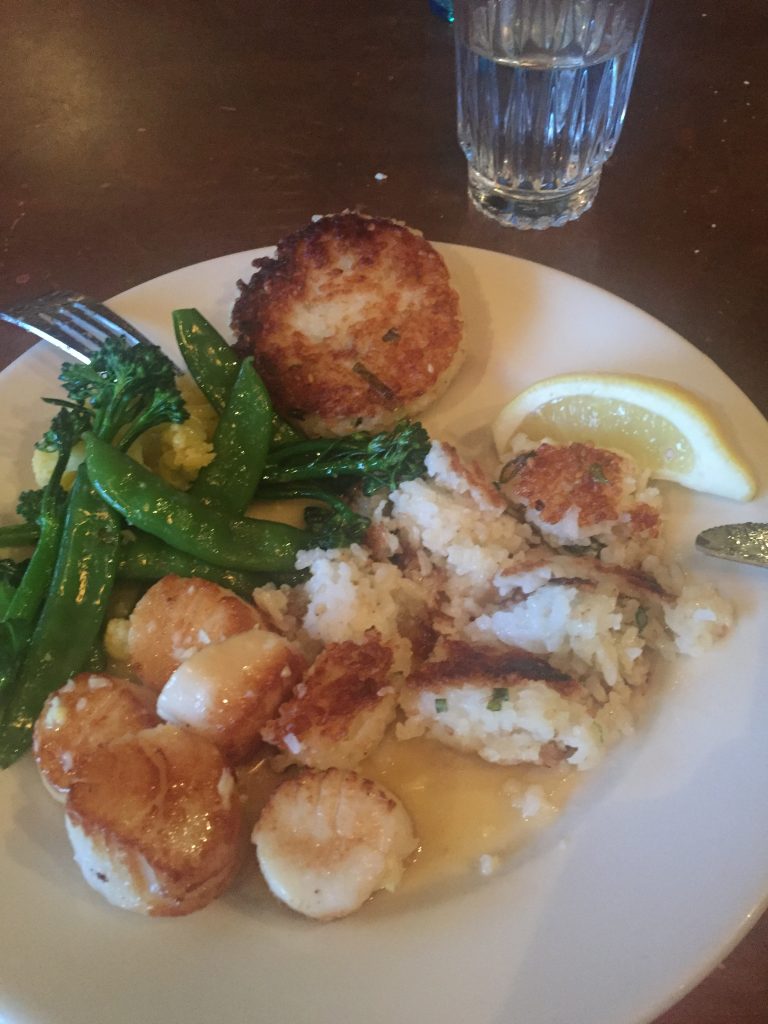 The waitress/bartender/great conversationalist/all-around nice person Sophie, served me a "Number 3" from the bar to complete my meal.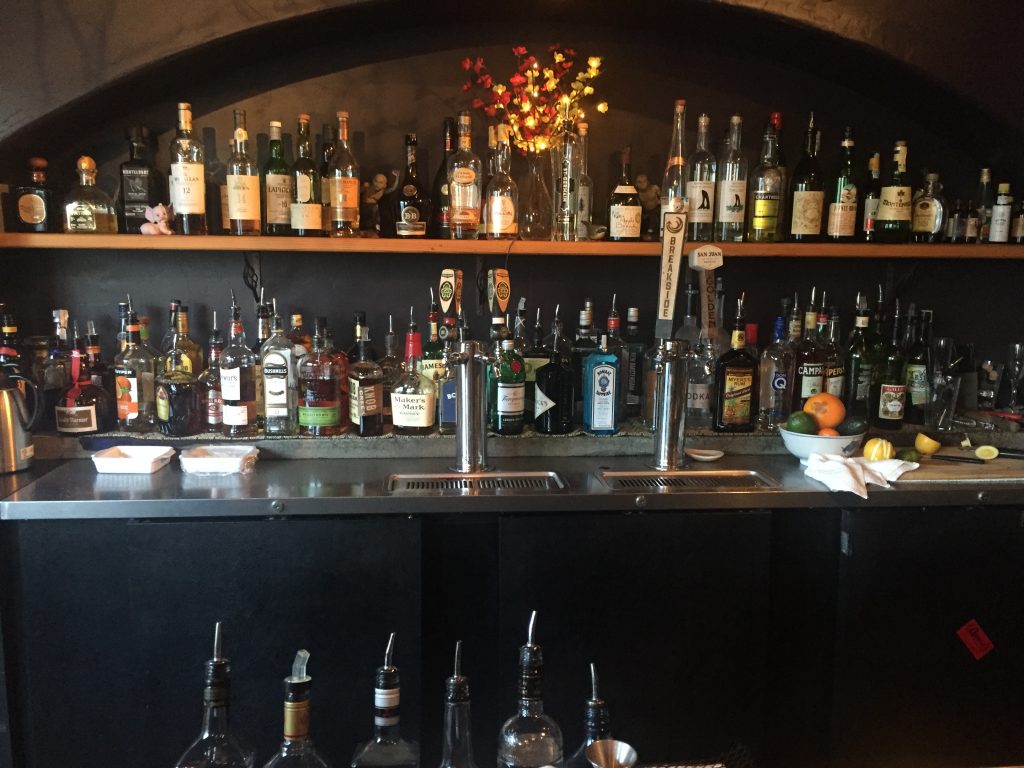 I sat at the bar to eat because the place is small and the seats were already reserved when I got there.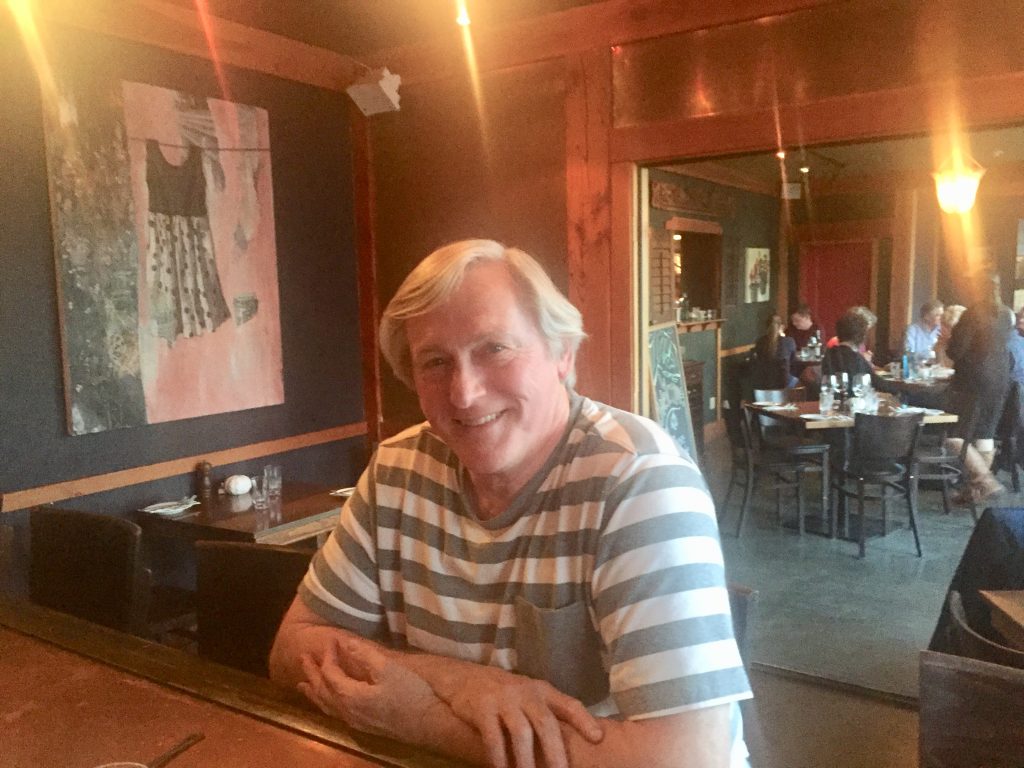 Originally, this post was going to be about San Juan Island, but because I lost so much time waiting for the next ferry, I only had time for dinner. Then I had to go get in line for the ferry to return to Anacortes, and then on home.
I decided to make this post about the beauty of the Sound around Anacortes.
Sound Bytes #3 will be about the musical sound of Lizz Wright.
Sound Bytes #4 will be about San Juan Island.
So I learned an important lesson on this trip, my first trip here: Make reservations for the ferry in advance. Don't think you can just drive up, get on and go.
This was just a day trip, but when I got back home I felt refreshed and renewed, as if I had been on vacation for a month.
I also thought how good and how easy it is to treat oneself this way often.
It only takes a day and a few dollars, every once in a while, to defy ordinary and give yourself this kind and generous gift of beauty and relaxation.
So now I give you "Sound Bytes #2":
Disclaimer: A little bit of Lizz's song got cut off at the end.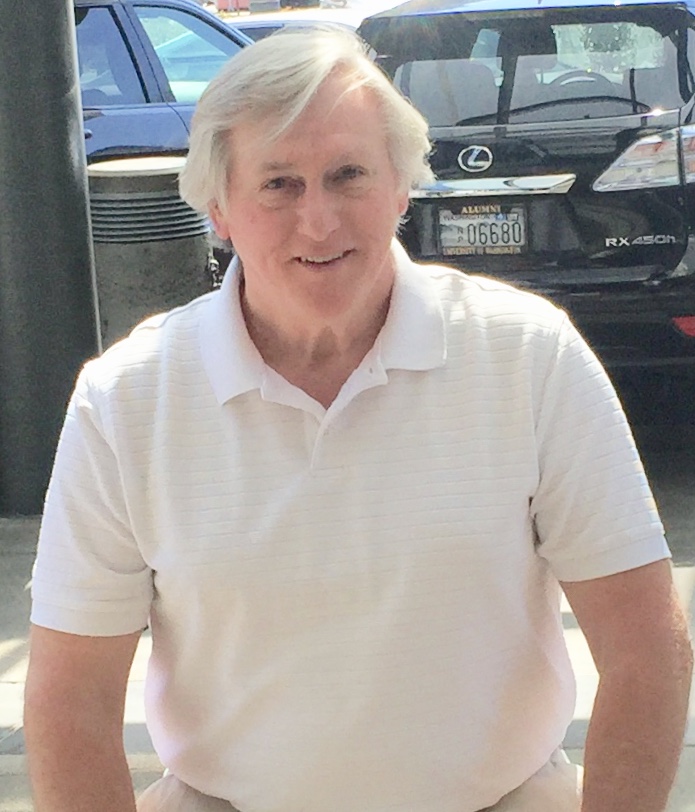 I'm "learning as I go" here, so I was unable to correct it this time.
But if you loved the song like I do and you want to hear the whole song, go to youtube.com/Lizzwright/I'mConfessin'. Or buy her CD called, "Dreaming Wide Awake". It's the 5th song on the CD.
P.S. I decided to make this list (below) of each post in the Sound Bytes Series and place it at the end of each post, to help you navigate more easily to and from each post: