What's cookin' in the good ole USA?
Well, I'm glad you asked!!
Today (Labor Day, 9/7/20), using the above "ingredients for life", I'll be making simple, savory selections for summer to share with my little seven-year old granddaughter, Evie.
It's a kind of farm-to-table dining experience for just the two of us, and it's happening in the back yard by the garden.
You might even call it "Gardenside Gourmet". 😀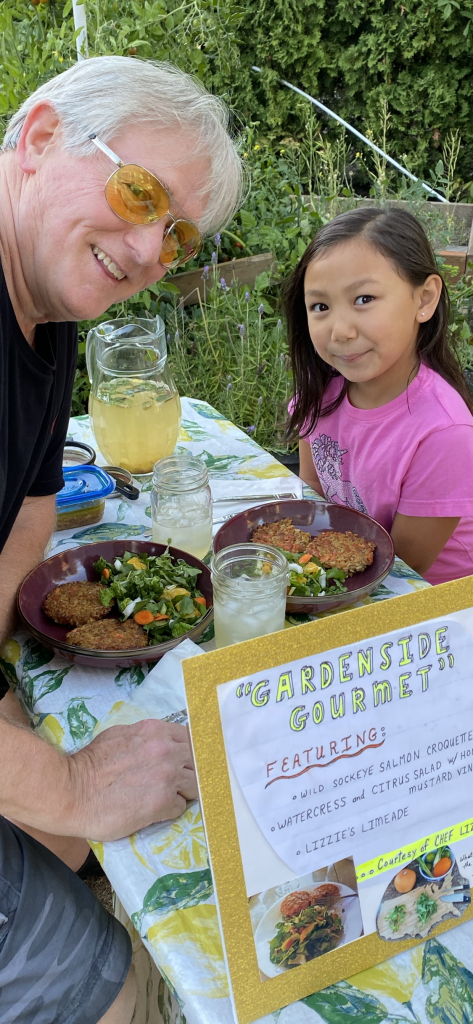 Last April, my son, Tim, designed and built the garden…..
…..and Evie was out there watering it from the beginning…..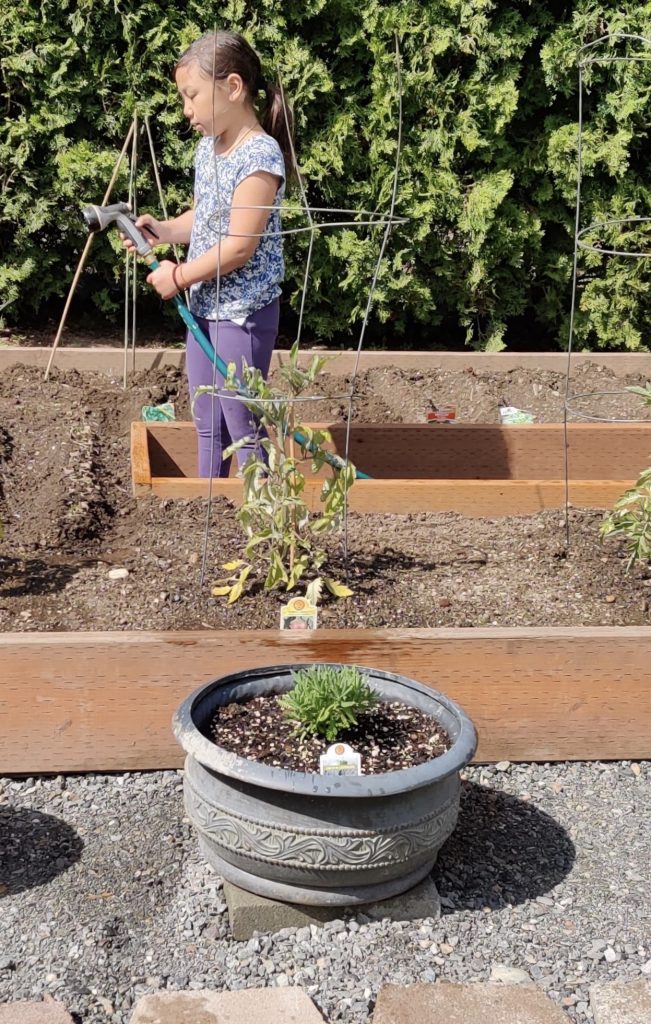 He built the garden, and around that same time, he designed and built the cabinets and countertop to fit around his burner and grill…..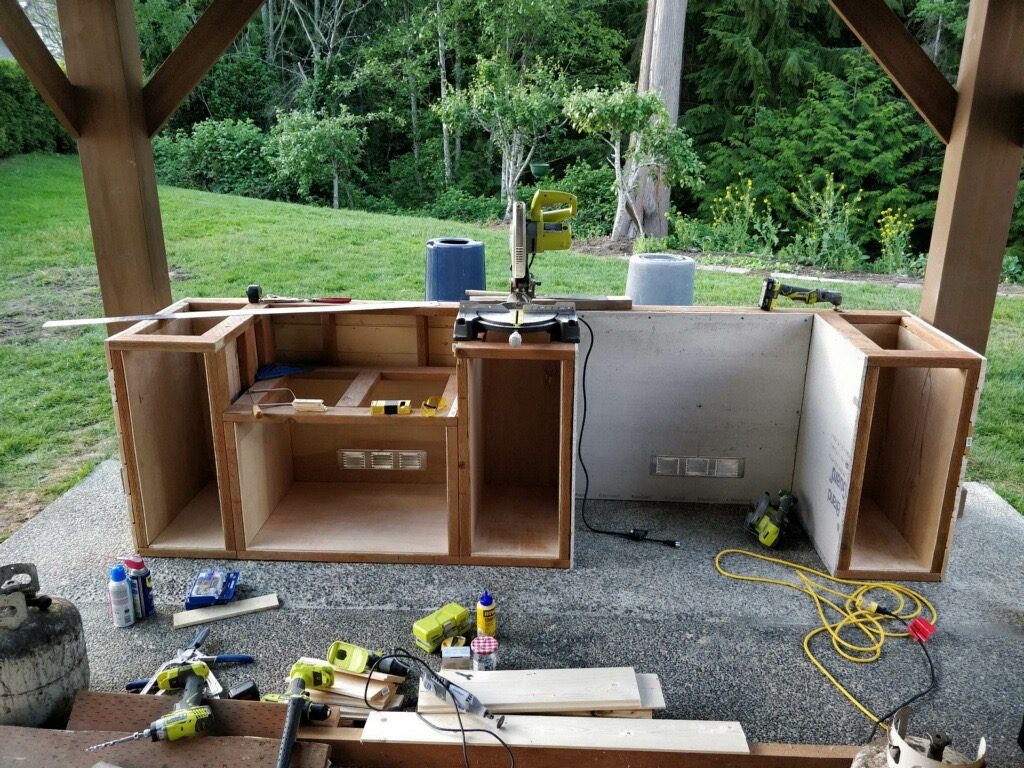 Since then the garden has flourished…..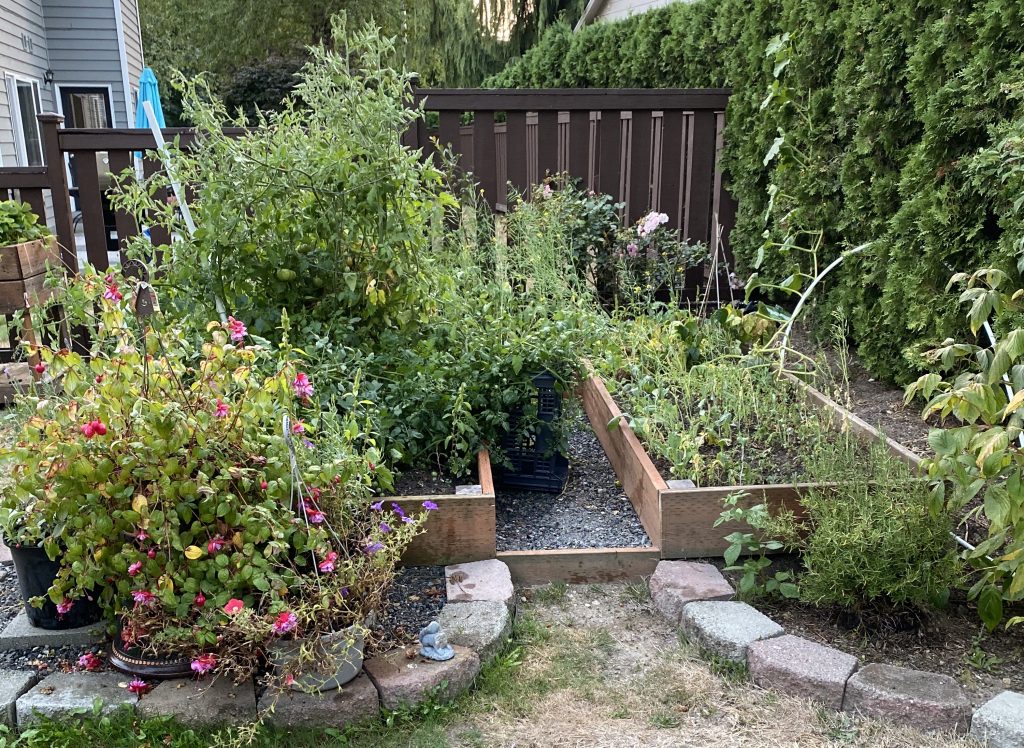 ….and the BBQ counter is finished…..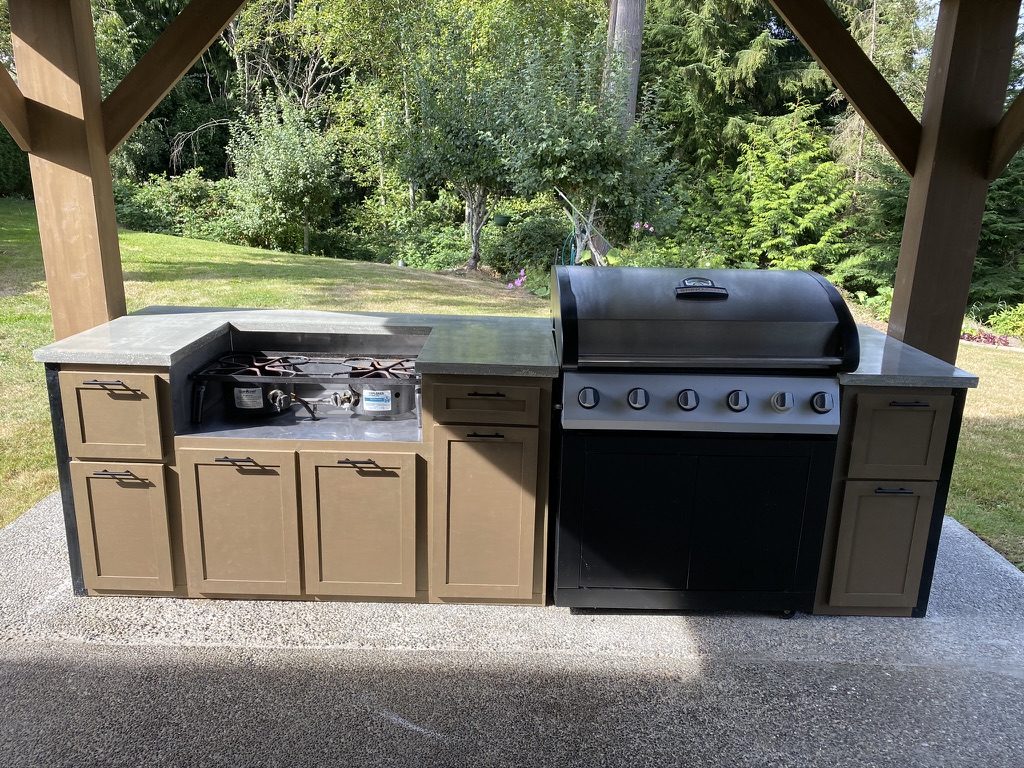 He designed it to have a concrete countertop.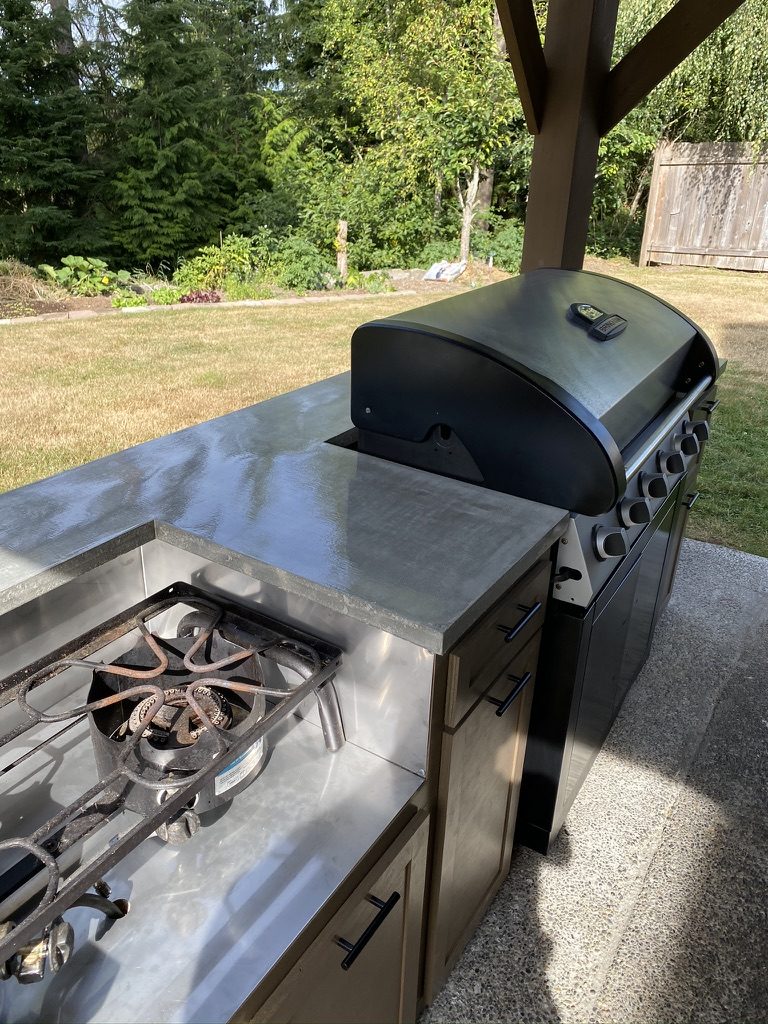 By the way, he also built the overhead structure to cover the patio so he could be out there cooking anytime of the year, no matter what the elements.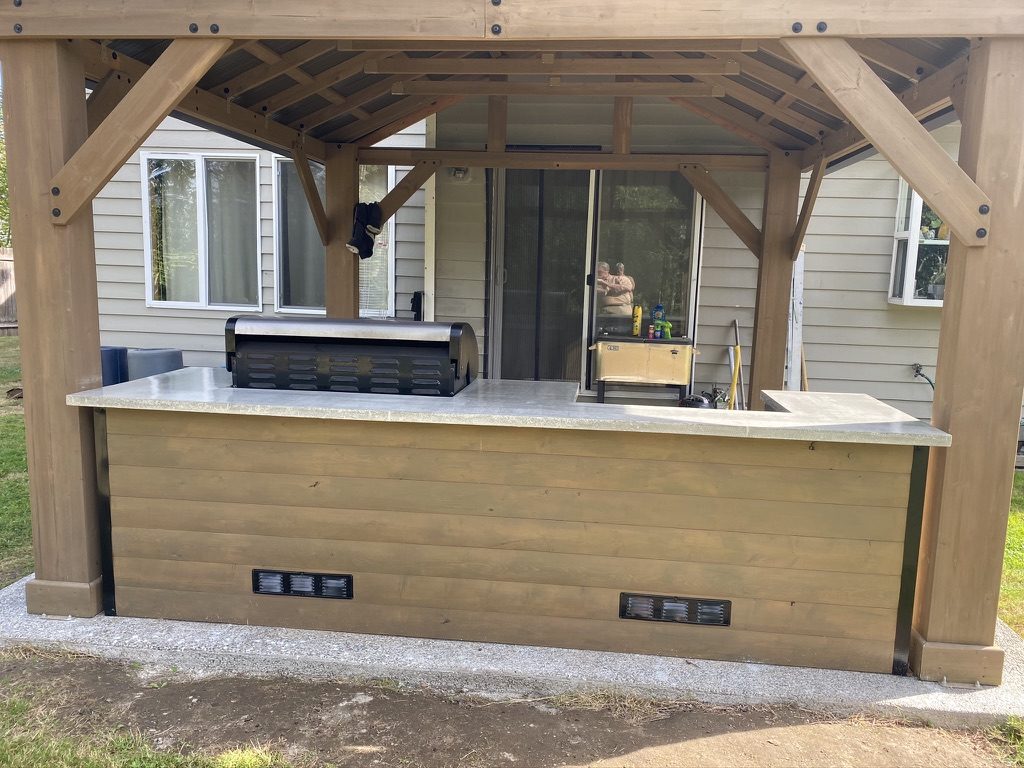 When Tim gets an urge to do something, he learns all about how to do it, and then he just does it!
Nothing stops him. He's a "renaissance kind of guy".
But he's really more than that. He's a good family man and he shares all the household duties and child care with Pauline, my daughter-in-law, who equally shares all those duties and care and is a great blessing to this family. They are a good team.
He has great leather skills and an entrepreneurial mindset.
He also likes to cook healthy meals for himself and the family. That's one thing we do well in our family. We all truly enjoy and celebrate together the bountiful supply of delicious food the Earth provides for us.
So I didn't just wake up one morning and decide to have lunch in the garden with Evie.
The idea came to me through a series of related thoughts and ideas. (That's usually how it works for me.)
Idea/thought #1……The garden
Idea/thought #2……I like to cook too. I make my own meals 99% of the time, using fresh ingredients, and as little processed food as possible. I have about 70 food magazines and cookbooks (I know that's nuts!), so I'm always referring to them for "the next best idea" for supper each evening.
Most of the time, these days, I eat only one meal, in the evening. For two and a half months now I've been intermittent fasting, 20-4. That means I only eat during a four-hour period from 5 p.m. – 9 p.m. (a time frame I chose).
So far it has been working out well for me. I lost 14 pounds during the first two months, but then I plateaued.
That signals to me that I should move on to phase 2. I'll continue the fasting but I'm going to begin a new, fairly intensive exercise regimen consisting of specific exercises I especially want to do.
Anyway, back to cookbooks!!
I enjoy browsing through them. I learn a lot about cooking and I marvel at the creativity involved in creating a good recipe.
Once in a while, I get creative, but most of the time I just follow recipes that look like they might be reeeaaally good!
If I try them, and they really "hit the spot", I put them in a "Keeper" folder.
Idea/thought #3……So, during the past couple of months, while I was browsing Lizz Wright's FB page, to see what she's up to, which I do frequently because I'm a huge fan of hers (No Others Preferred!), I saw her share a "buttermilk biscuit" recipe, with her followers.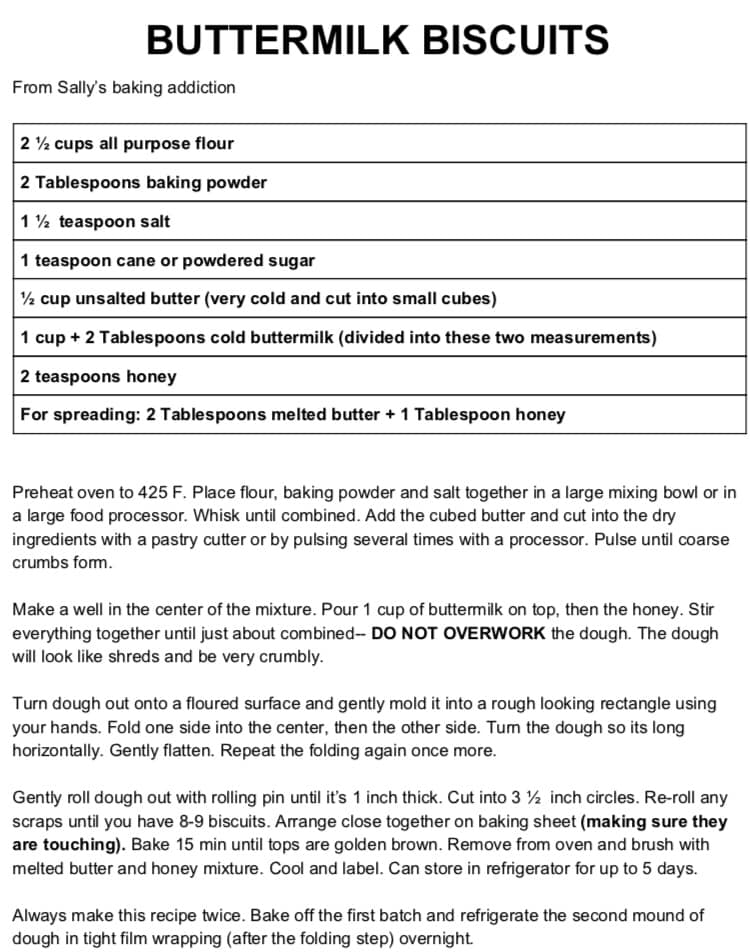 Idea/thought #4……Then on a different FB post, I saw the word CUISINE above the cabinets in her kitchen, in which she was standing with her beloved dog, "Deacon".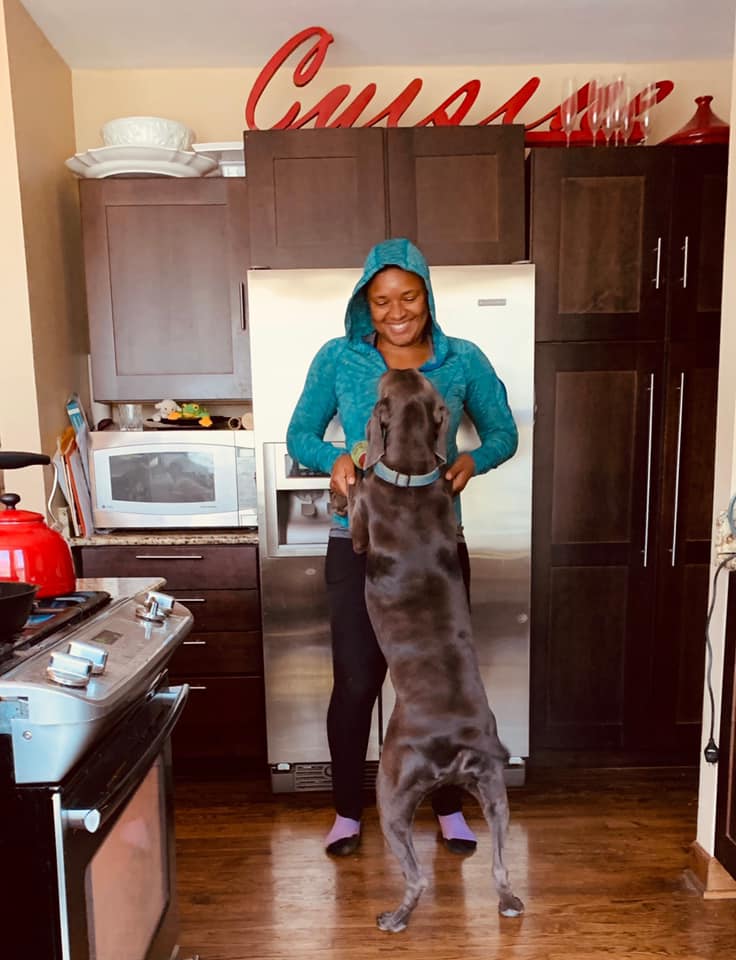 Idea/thought #5……Both of those posts reminded me of a time in 2014, when I first heard of Lizz.
I was so instantaneously enamored by her and her music, I wanted to know all about her. I discovered that not only was she intelligent, articulate, beautiful, and the "singer of my dreams", but she also had been to a culinary institute and had a penchant and talent for creating delicious recipes, preparing the food well, and presenting it in aesthetically-pleasing displays.
At that time, she had a "Space Book" account….NO!
It was "My Book Space"….NO!
"My Face"…..NO!….I'm kidding.
It was a "My Space" account. 😁
Remember "MySpace"?
Her account included some of her music and a food blog.
She called the blog, "Gardenside Gourmet". I thought that was a cool name for a food blog. So I looked through the blog and I printed out several of her recipes and I kept them. I have them still today!
As I browsed through them, I noticed that she pays attention to detail. At the end of her recipe for "Wild Sockeye Salmon Croquettes", she said this:

Did I mention that she has a warm sense of humor?
Soooo, those few thoughts and ……VOILA!!
"Lunch in the garden, with Evie, courtesy of Chef Lizz!"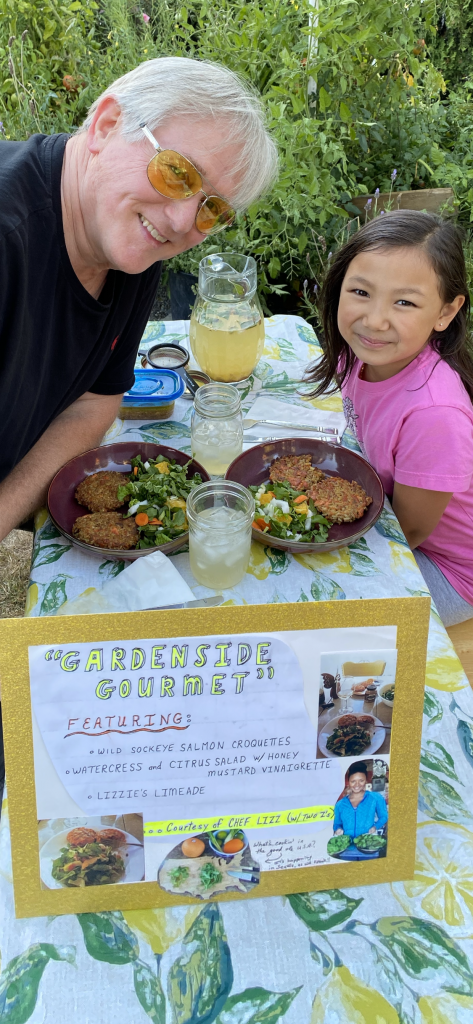 I had a lot of fun that day, starting at home, making the salmon croquettes, the watercress/citrus salad, and the limeade, from three of Lizz's recipes, while listening to "Lizzles", a playlist of Lizz's music.
Then packing it up and taking it over to Evie's house to set it up beside the garden for Evie's and my adventure of the day.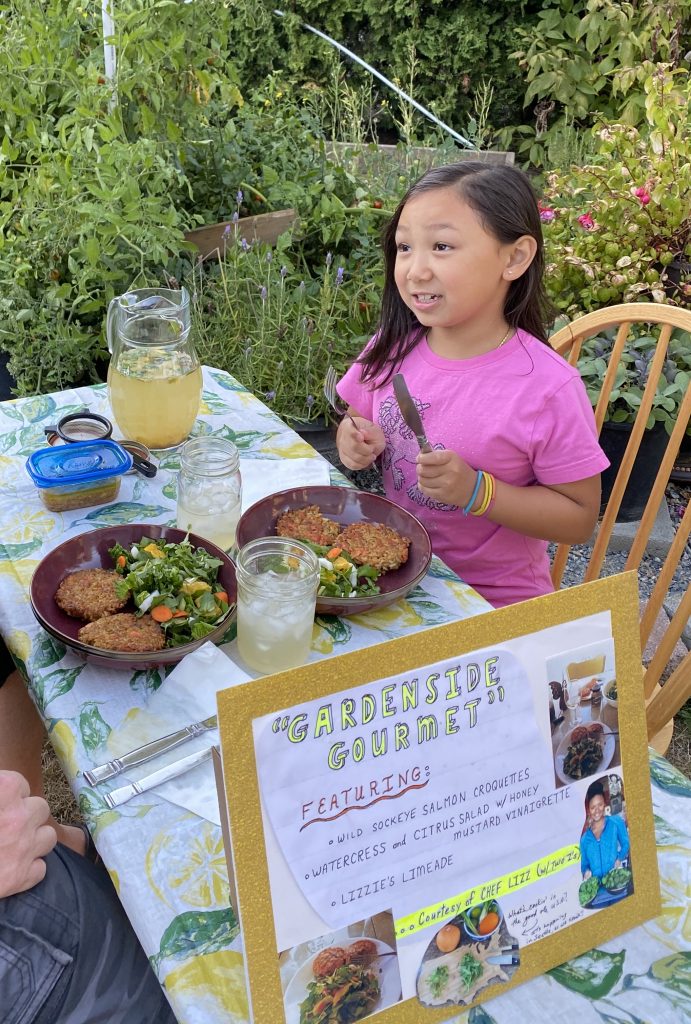 Evie said, "Grandpa, can we start eating?"
I said, "Yeah, let's get to it!"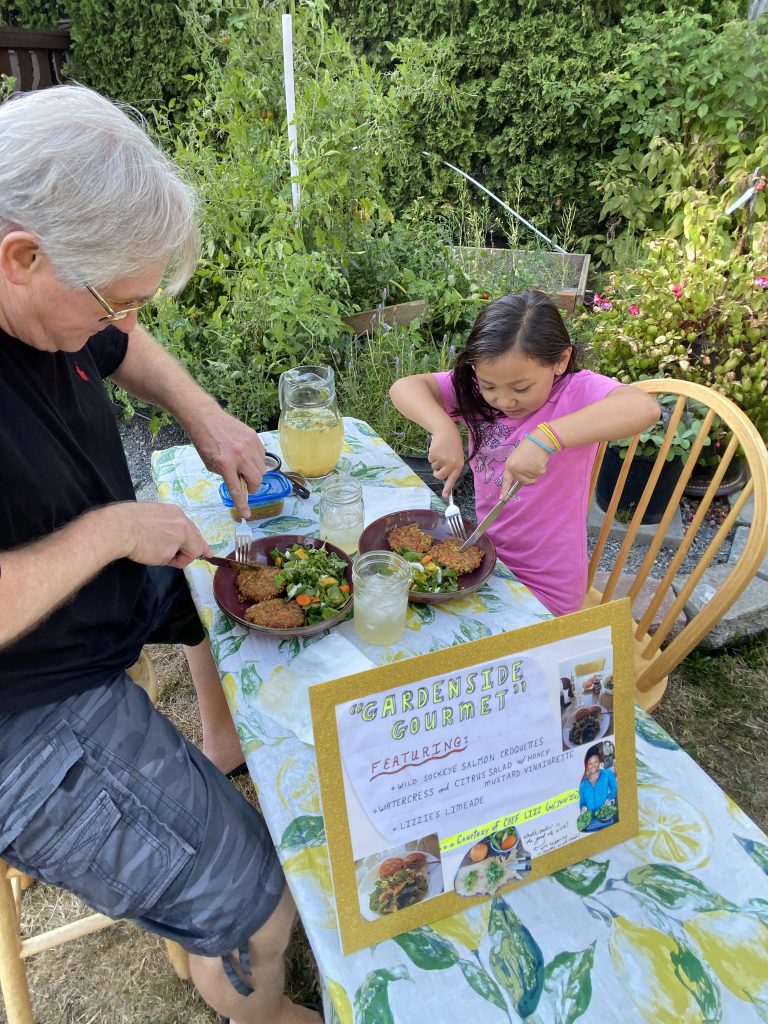 Then Evie said, "Grandpa, can you put some of that vinaigrette on my salad?"
"Of course", I replied.
I drizzled the vinaigrette all over her salad with a knife. (I forgot to bring a spoon).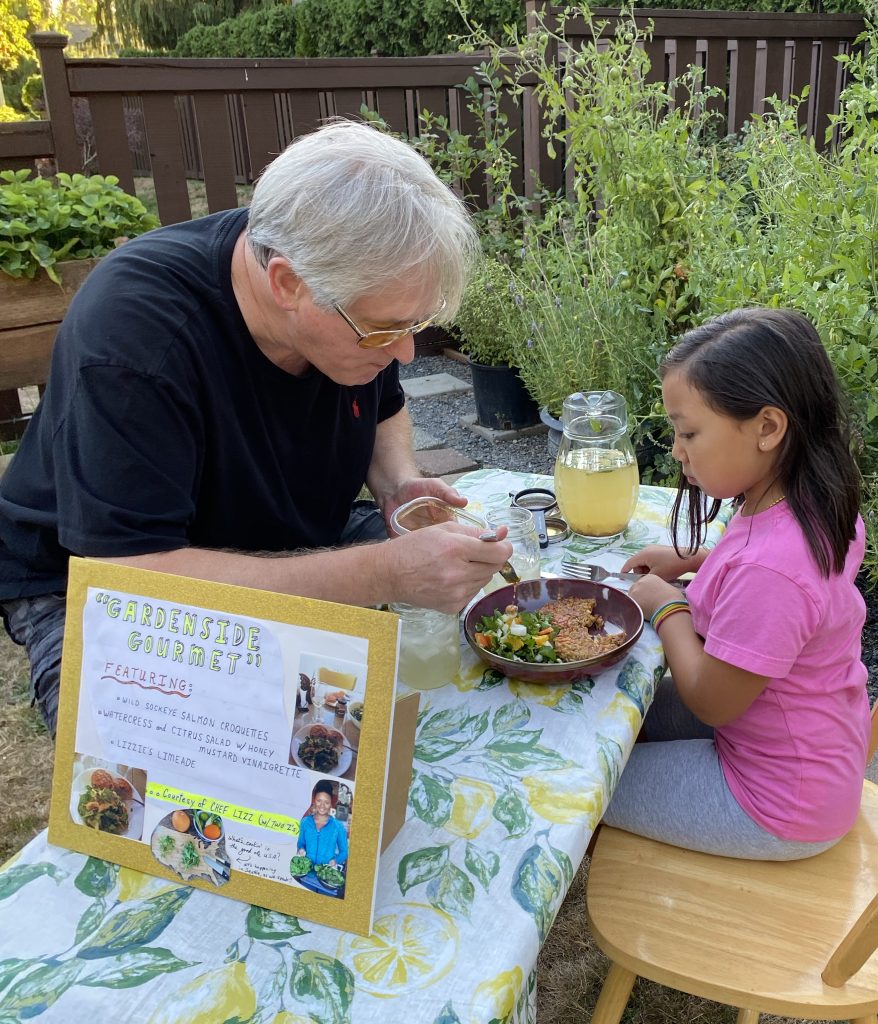 As we were chowing down, Evie said she really liked the vinaigrette and wanted to put it on her salmon croquette too.
I said, "Oh, why not? That sounds good to me too!"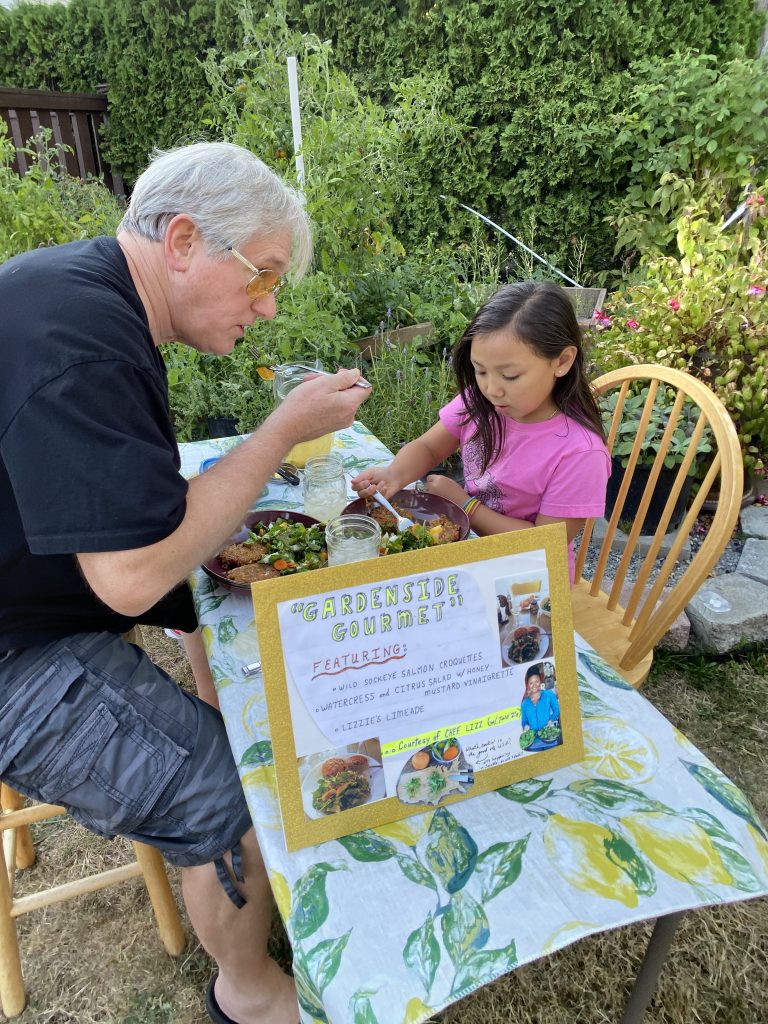 And so it went. Evie liked everything (and, of course, I did too!). She ate two croquettes and a "big ole mess of greens". Then she asked for more limeade (and sweetly asked if I could leave the leftover Limeade with her when I go back home).
We both agreed those three recipes were going into the "Keeper" folder.
Thanks Chef Lizz!
These recipes ARE keepers.
Lizz's music is food to my soul and her food is music to my soul.
I just love the beautiful world that surrounds her (Lizz).
Evie and I got to be a part of that world, today. 😊😊😊
P. S. I'm so grateful to God for all His many blessings he bestows upon us. For the great and bountiful harvest that feeds and strengthens us. For my son, Tim. My daughter-in-law, Pauline. For Evie. For Lizz.
And for the message and the harmonies in this song (below) by the Statler Brothers.
Idea/thought #6……"In The Garden" (by the Statler Brothers)
P. P. S. The next meal I'm going to try from "Gardenside Gourmet" will include….
Japanese Style Cucumber Breakfast Salad
Roasted Root Salad with Balsamic Rosemary Dressing over Tri-Color Quinoa with Sautéed Greens
Fresh Lemon Balm Iced Tea
Bear Wallow Crumble
If you are interested in any of these recipes, you might ask Lizz on her FB page, if she still has them and wants to share them.