"Nine Days In Paris"
Day 1…….Saturday
We left Seattle in three waves, on different flights, but we all arrived in Paris within a couple of hours of each other.
Tim, Pauline and Evie was the first group to leave Seattle and arrive in Paris.
Pauline's Mom and Dad was the second group to arrive shortly after them.
Then I arrived about two hours later.
After meeting up at the Charles Degaulle airport, we called for the Mercedes van to come and take us to the apartment in La Marais, the 3rd District in Paris………..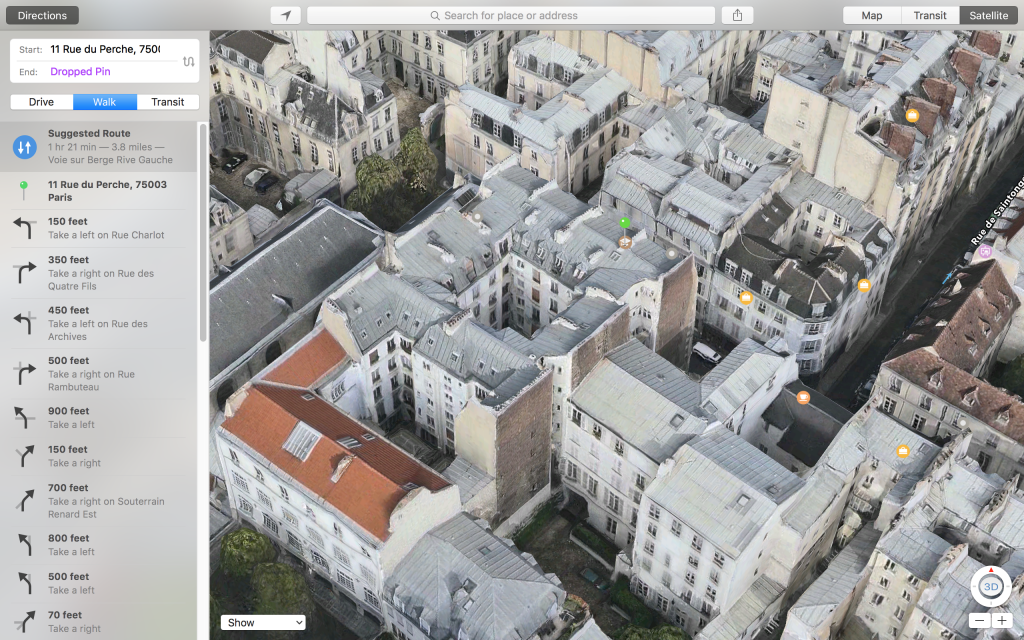 This is a screenshot of a satellite view of the apartment complex where we stayed in Paris. The green pin shows the building where our apartment was located.
We unpacked and then walked two or three miles to the market for fresh food to fix at home.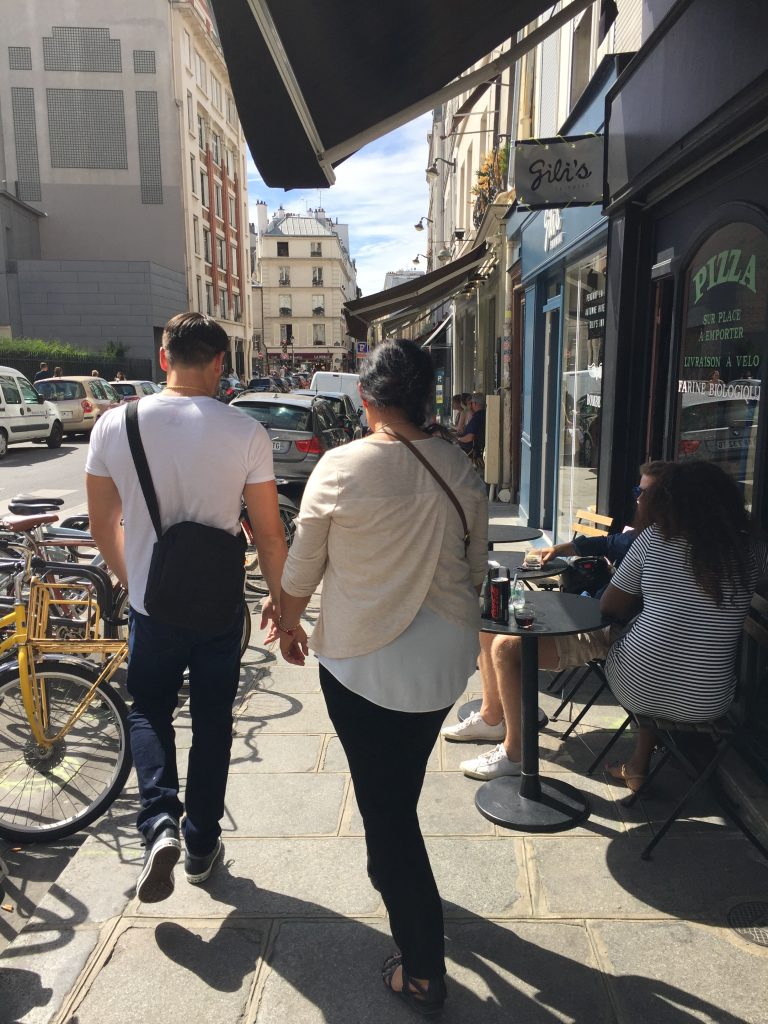 Tim and Pauline's Mom leading the way.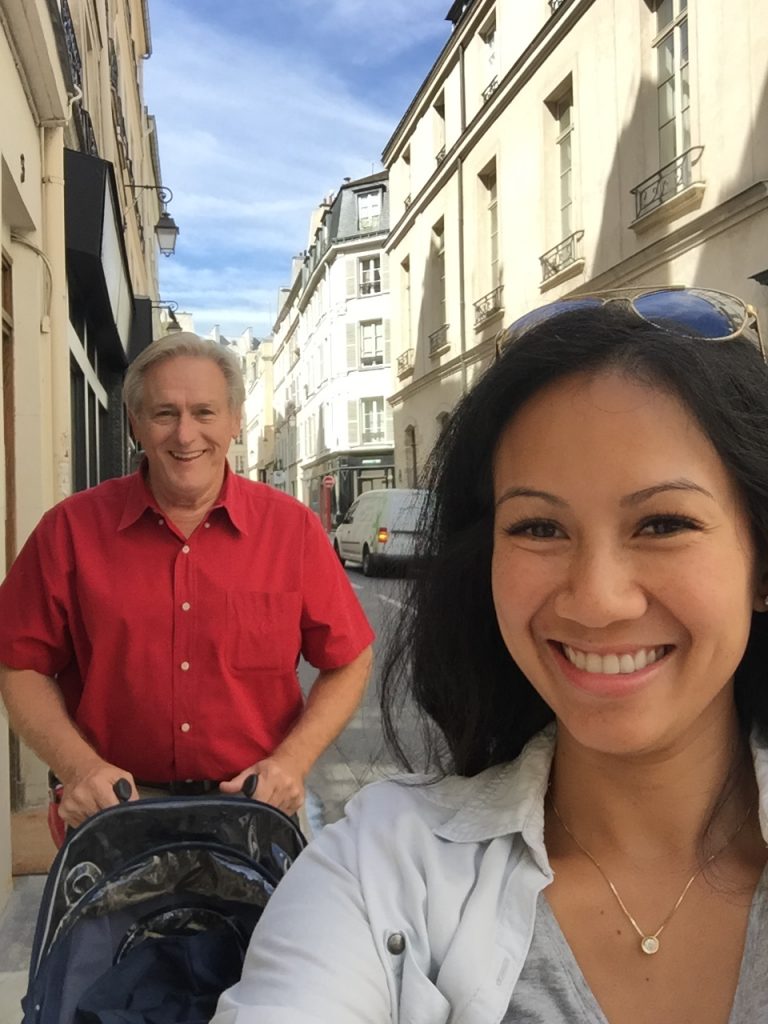 Pauline, Evie (unseen) and I following.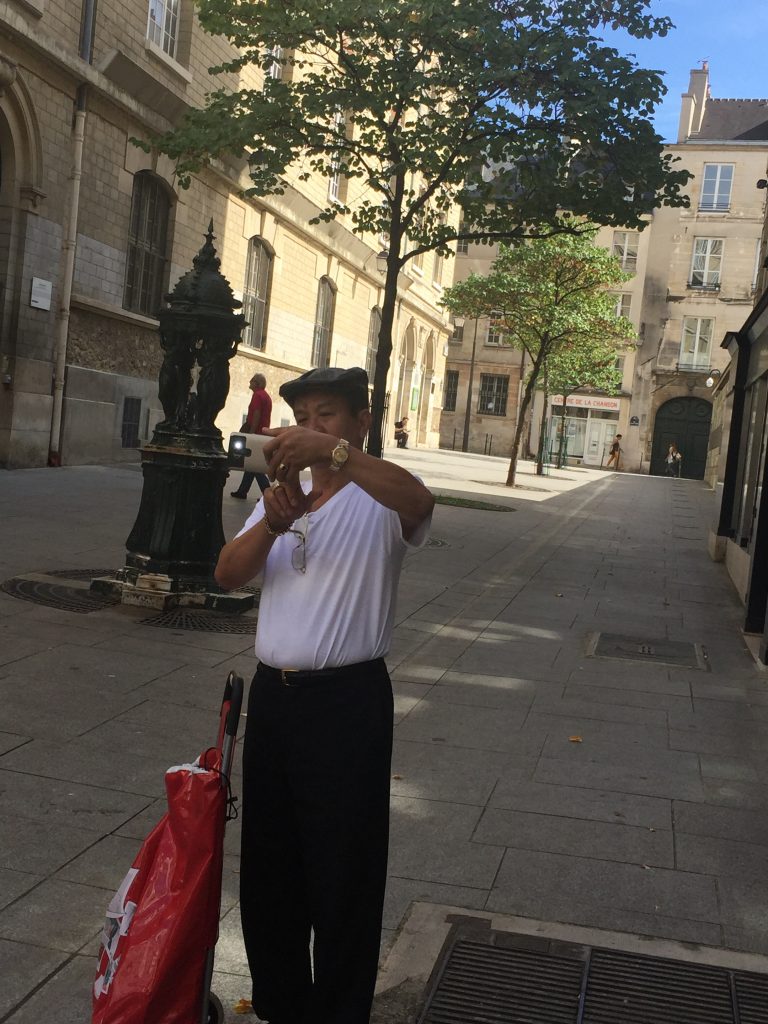 Pauline's Dad was walking parallel to us, on the other side of the street, trying to be sneaky and take candid videos of us walking to the market. (This developed into his MO during the whole trip).
We walked past Notre Dame and the Seine River……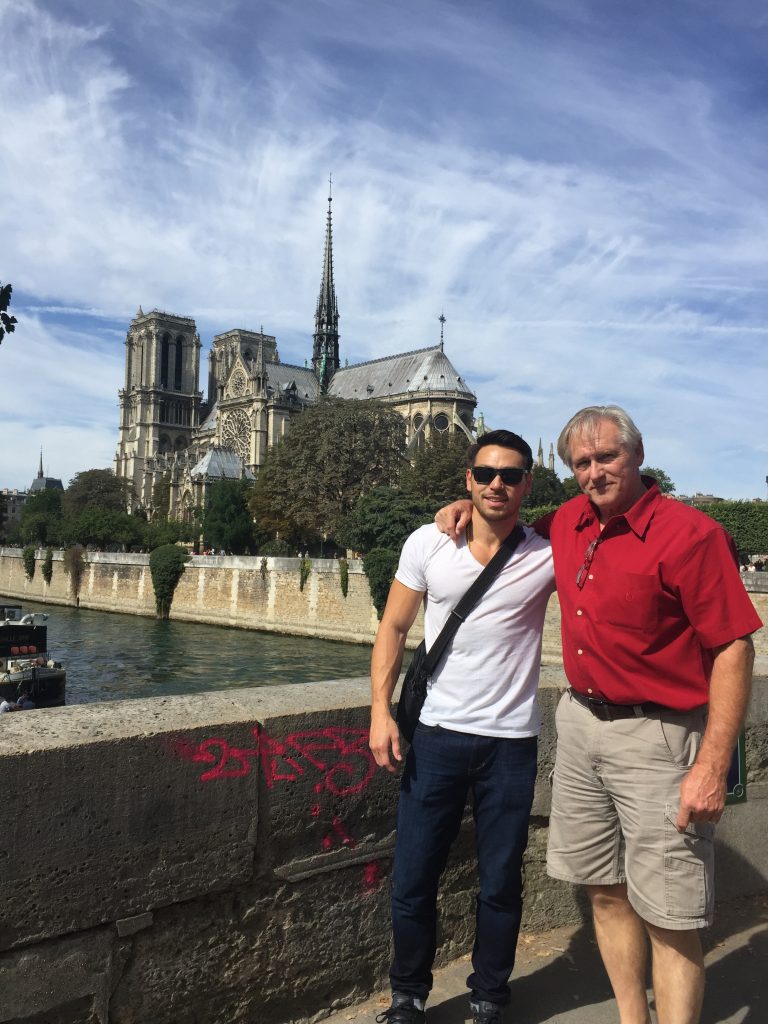 (My son, Tim, and I)
……drifted into and out of a lot of cafes, bakeries, and outdoor restaurants for an occasional snack or cappuccino…….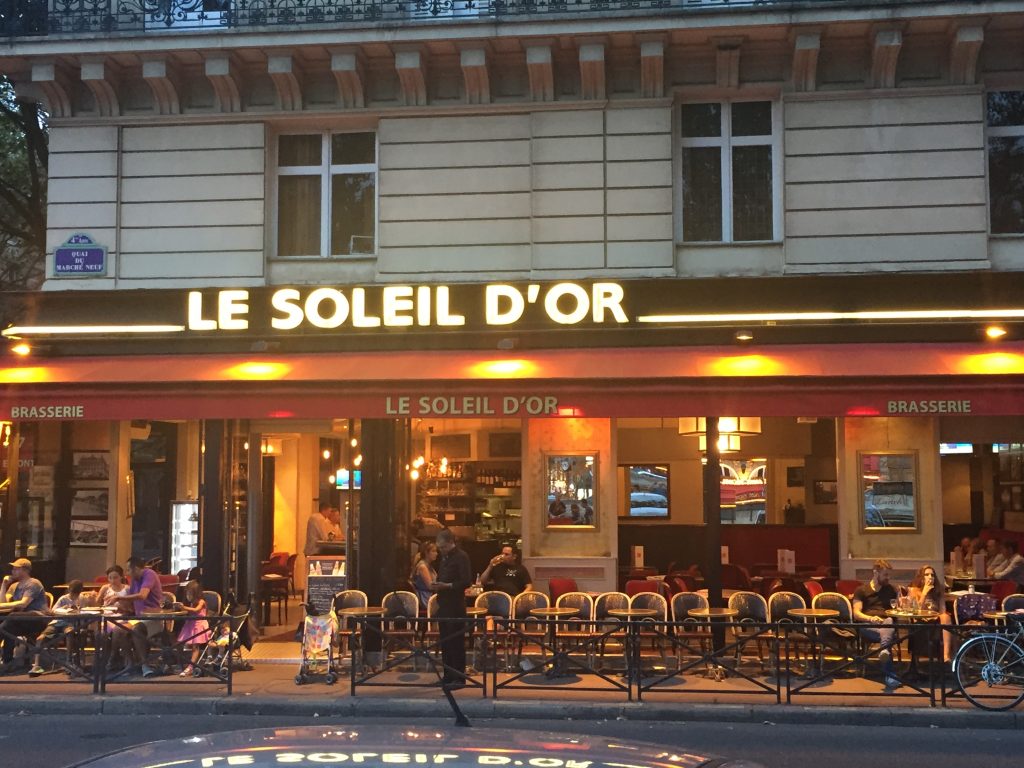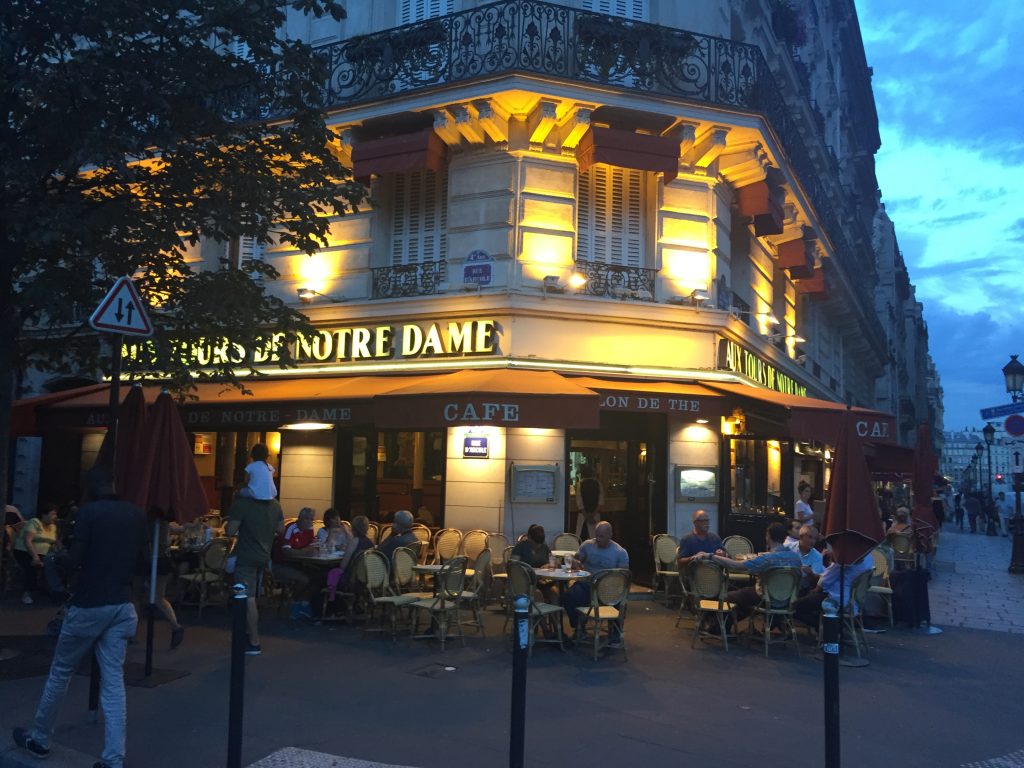 and then we walked back and had supper, took showers and just rested, grateful for our safe arrival and glad to be in Paris!!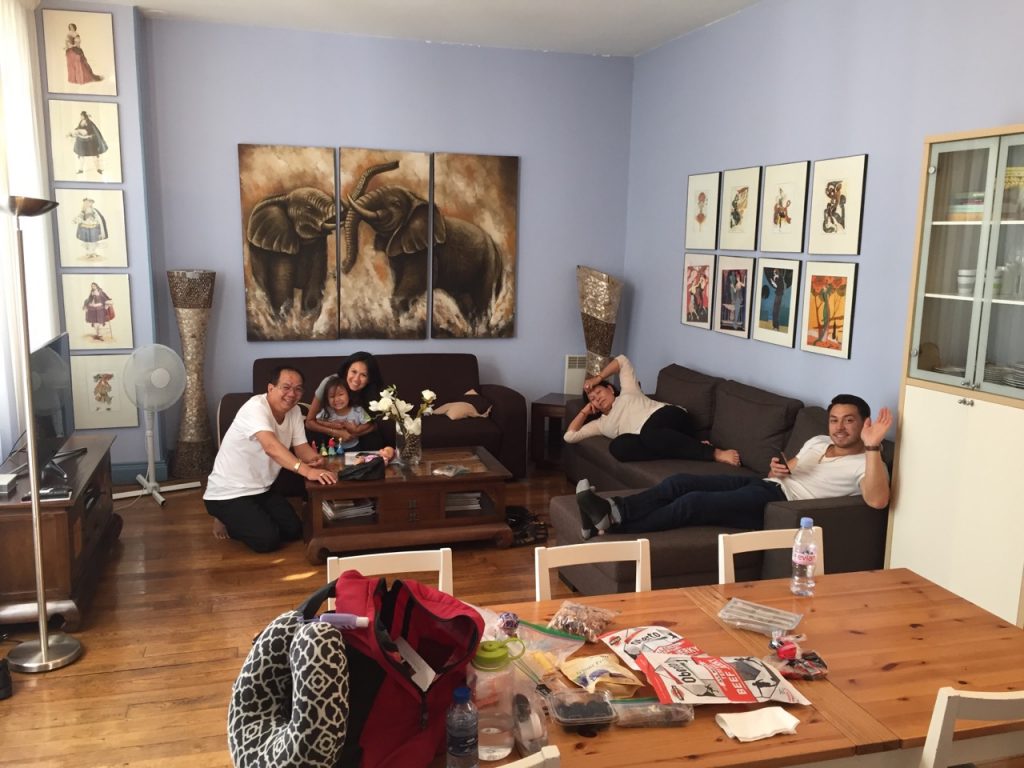 Day 2……Sunday
Everyone slept late to combat jet lag.
After everyone was well-rested we walked to the market and to a few other stores in the local area and did some simple shopping. Then we returned to the apartment and chilled until the evening.
The dinner cruise on the Seine River was the main attraction for the day.
I was sitting at the table familiarizing myself with the instructions and rules that we were to follow while we stayed at the apartment.
I put the binder aside for a moment and went into my bedroom to get my lap top out to google the address of the nearest camera shop so I could buy a 32-gig memory card.
When I got back with my lap top and sat down at the table with the binder laying on it, two little people had arrived mysteriously……
They were bound in the binder…….It's a mystery!
Maybe someday I'll solve it………………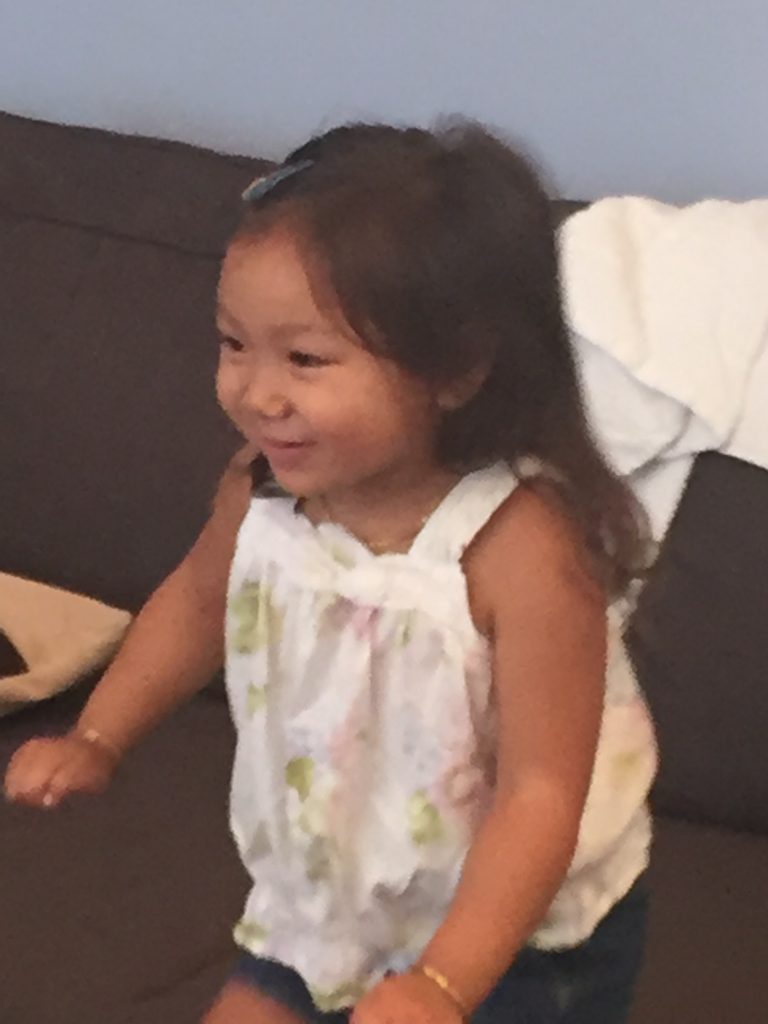 This is Evie, my granddaughter.
Next, I connected to WiFi and found a camera shop about eight blocks away.
Then I checked Lizz's Facebook page and found out she is going to be coming to Seattle again in Spring!!!!
A silent but powerful "Hey!!….hey ey ey ey hey yah" swelled up inside me, unbeknownst to everyone around me.
By the way, if that expression seems unfamiliar to you it's because it's not a common expression. I took it from one of Lizz's songs called, "The New Game", which is on her "Freedom and Surrender" CD.
(Click on either of the green links above to see and hear her sing the song. She co-wrote it with David Batteau and Larry Klein).
I adopted it as my "Warrior Cry" when I'm playing basketball 🏀 and I'm pleased with myself for making a particularly awesome shot. 🙂
But I also sing it out when I'm happy about something. I'm happy Lizz (with two Z's) is coming to Seattle!…..wait for it……..
…………… "Hey!!…hey ey ey ey hey yah"
They weren't selling tickets to her show yet so I'm watching and waiting for them to go on sale.
I also discovered that "Sweet Honey In The Rock" is coming to Seattle too and I immediately bought tickets to see them this month. I'll be seeing them on Saturday, the 17th of December.
They are part of my inspiration for the title of my song that I wrote about Lizz a couple years ago. (See my post called, "Lizz Wright: The Sweet Honey In The Rock").
Dinner Cruise on the Seine River
Later on that evening,  we all got ready and left the apartment, heading for the area where we would board the dinner cruise ship.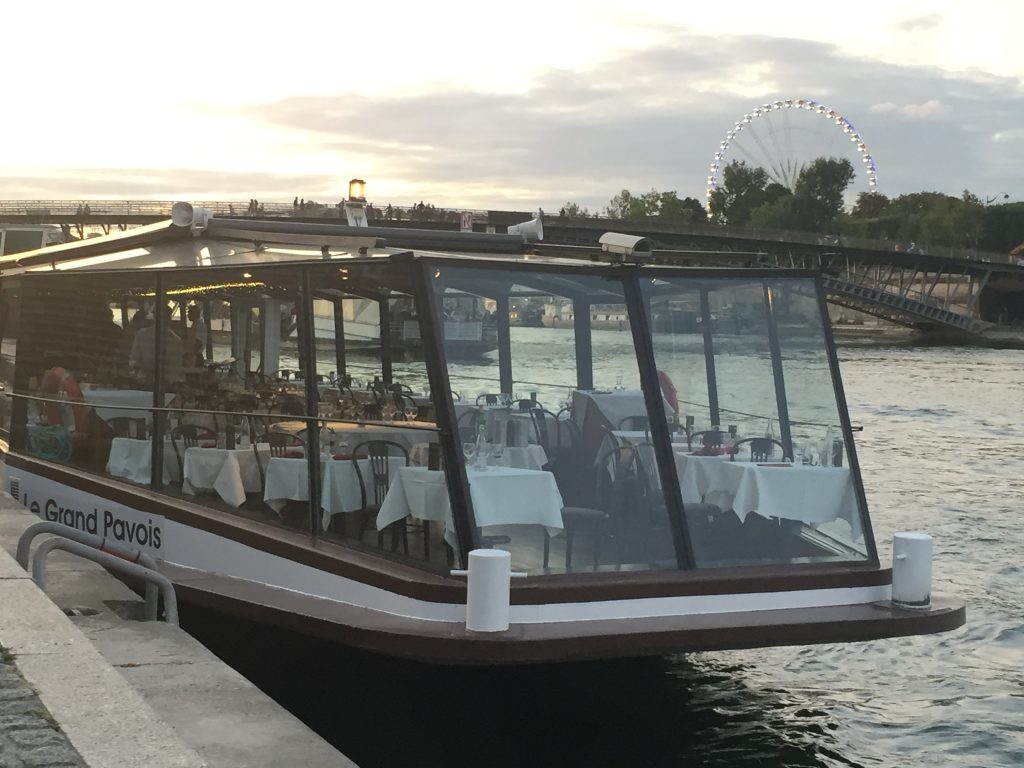 The weather was perfect and there was much to see along the river walk we followed.
From our apartment in La Marais, we headed south past the Notre Dame………..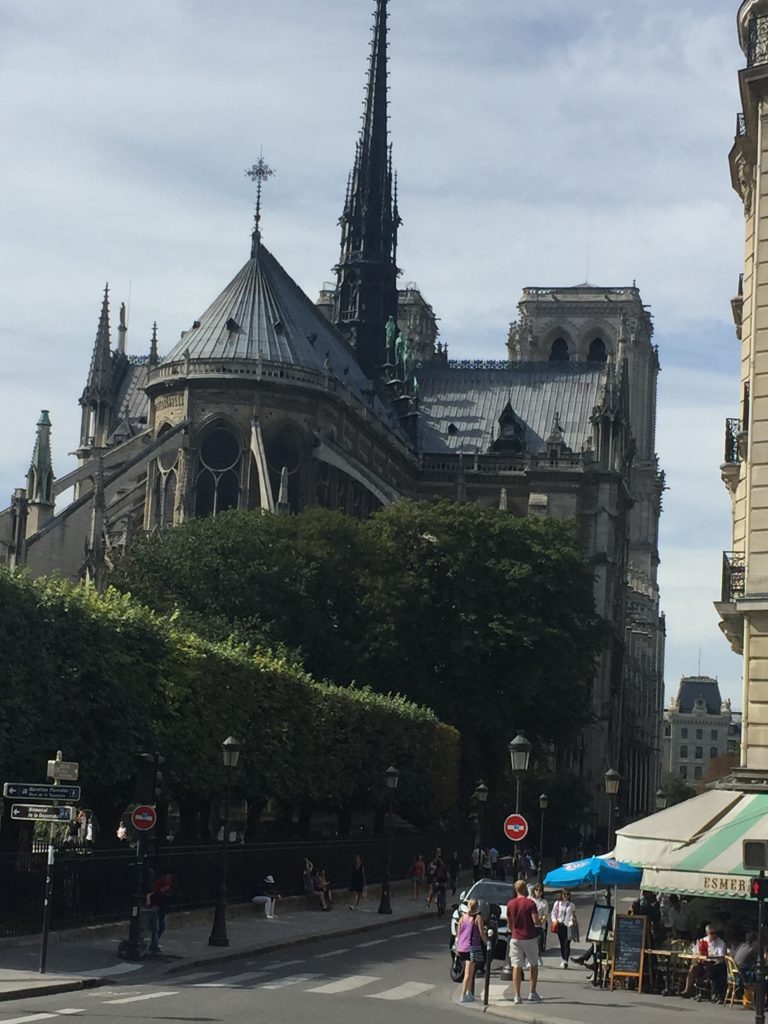 and walked along the Seine River, past The Louvre…………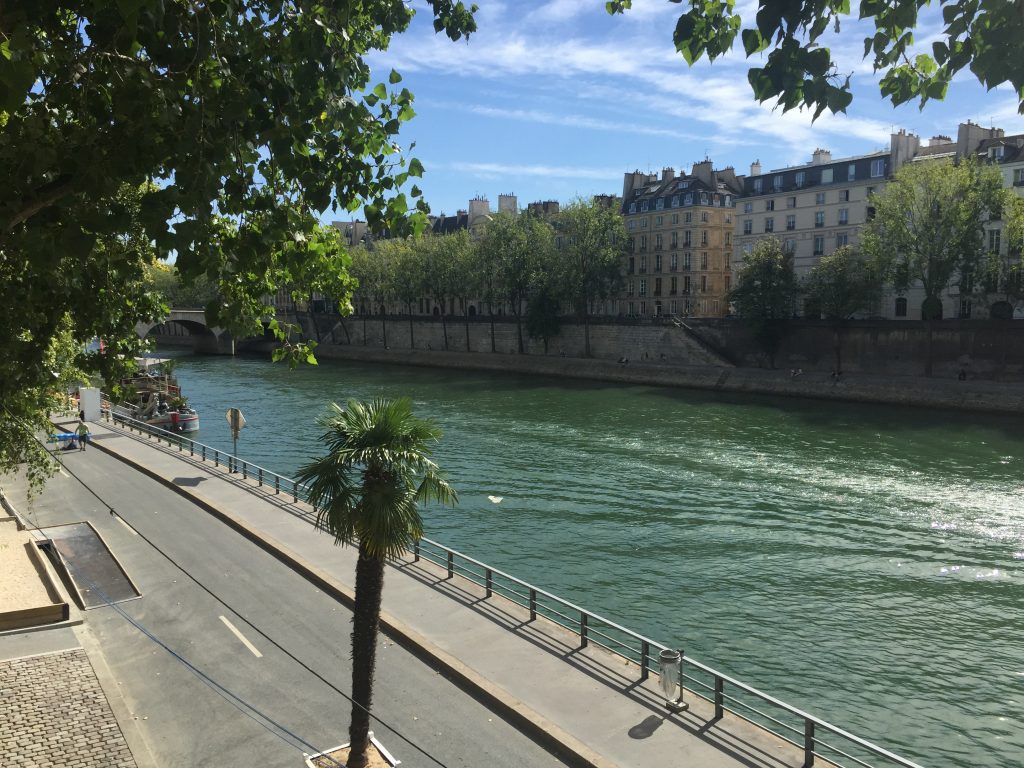 until we reached the dock, in front of the Museum of Orsay, where we would embark.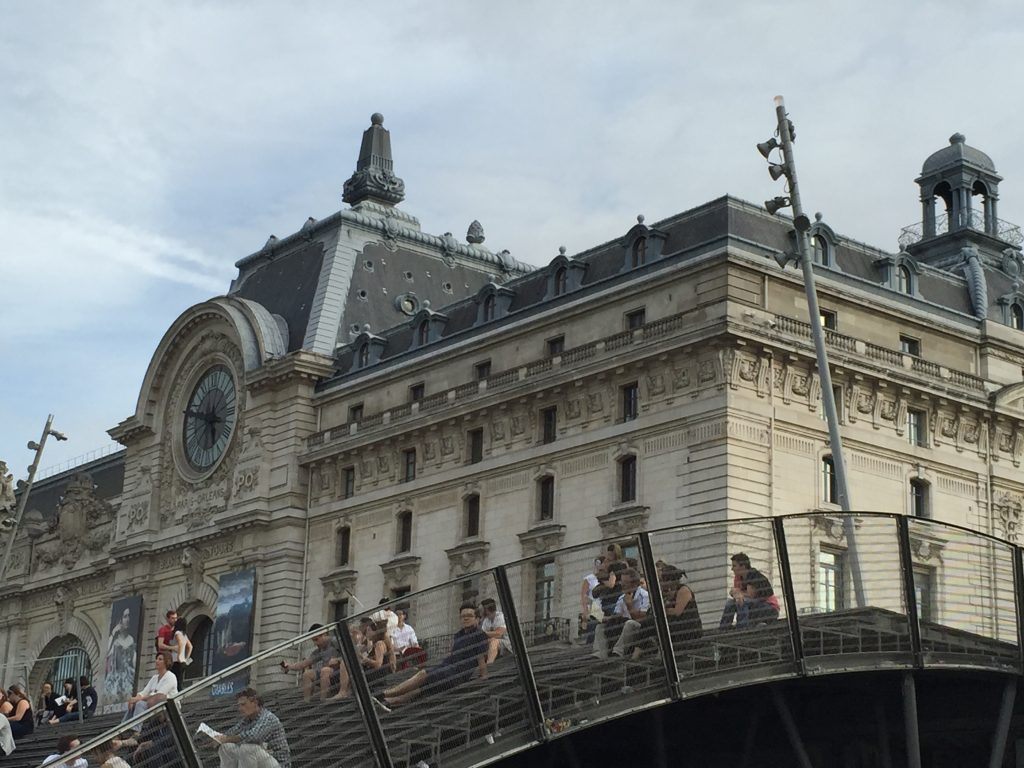 While we waited for the tour to start, Evie entertained herself on some basic shapes.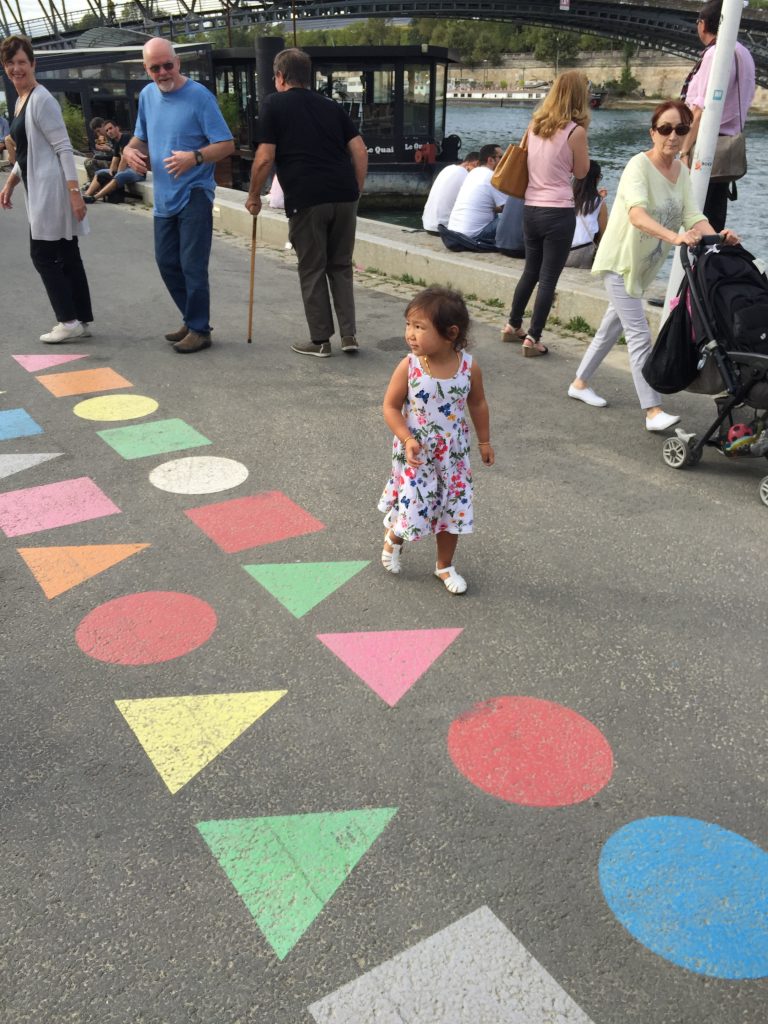 Then she said to her Mom and Pop, "Jump!!" They said, "How high?" (Their feet have left the ground but you can't see them so just imagine it.)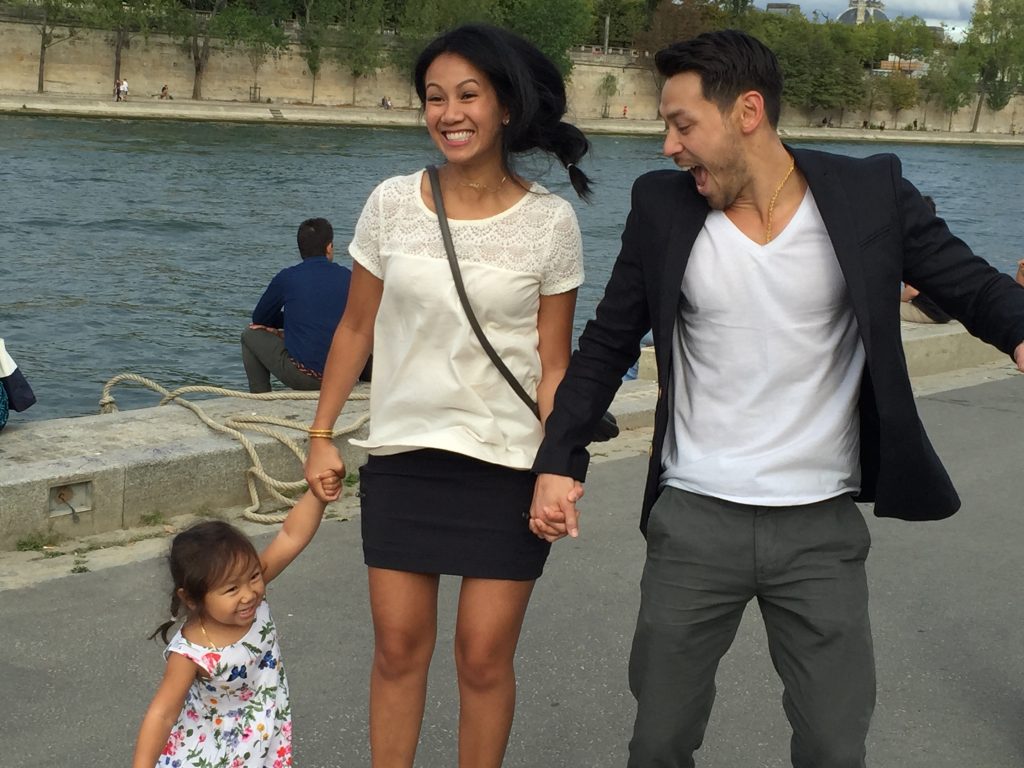 The dinner cruise signaled the real start of our planned activities in Paris and it set the tone for all the fun coming our way in the next few days.
The food was delicious and presented well…..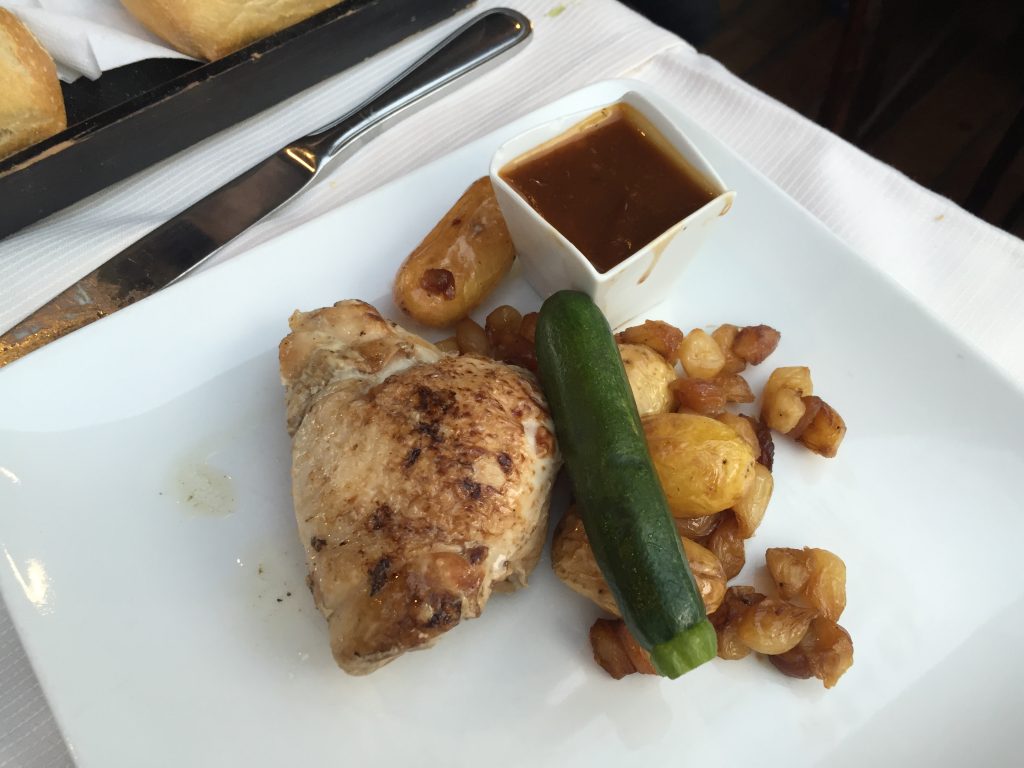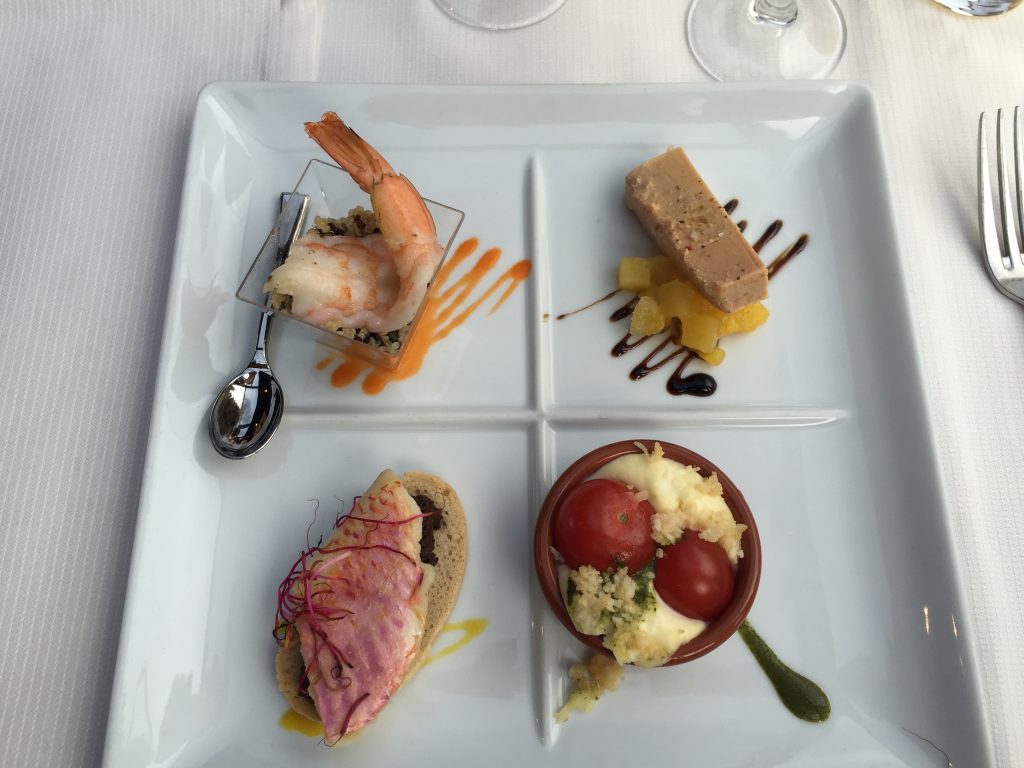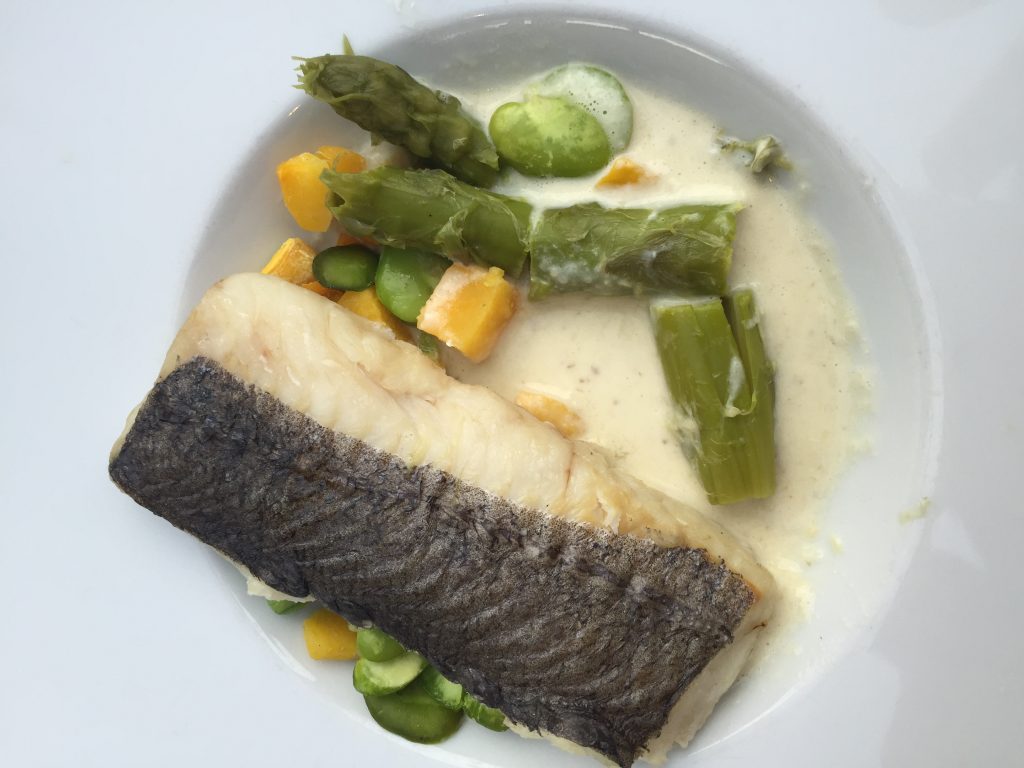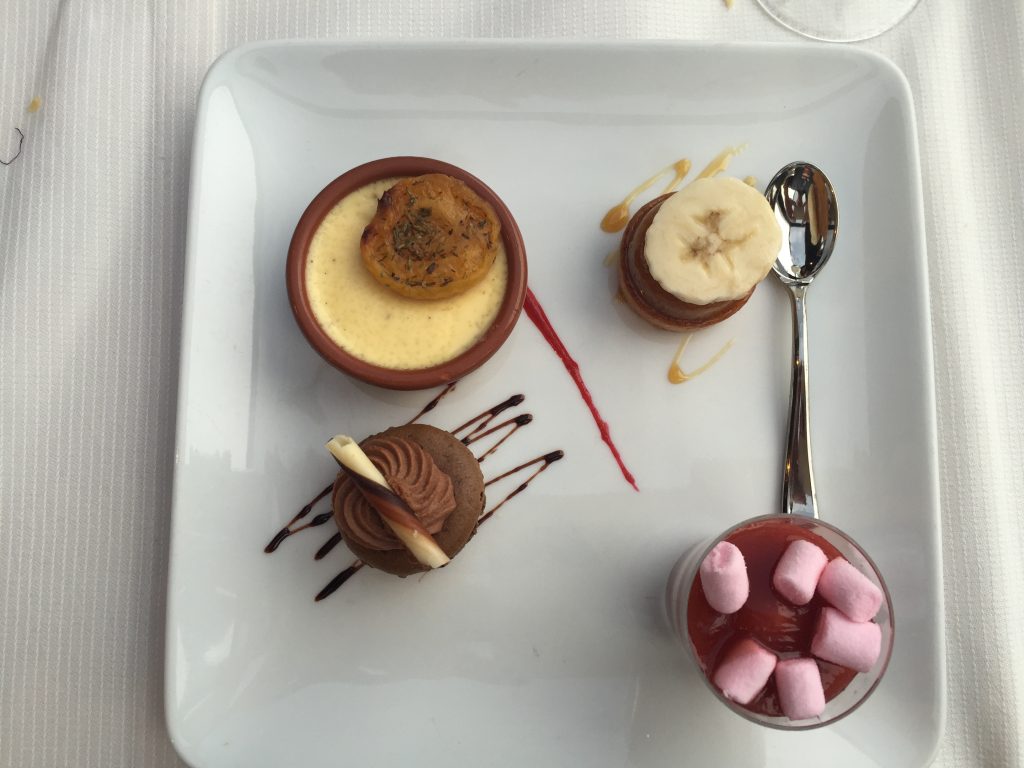 The dinner cruise ship went around the bend, past the Eiffel Tower first. Then it went back the other way past the boarding dock, and eventually arrived back at the boarding dock.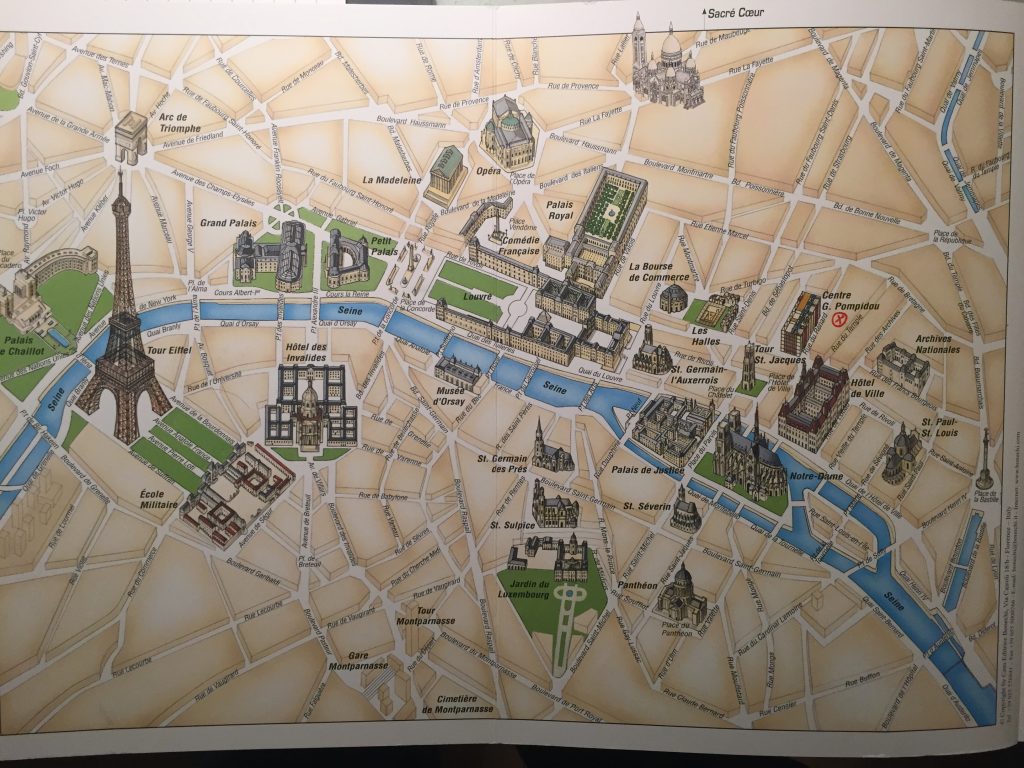 The Eiffel Tower is easily seen here from the river on the west side.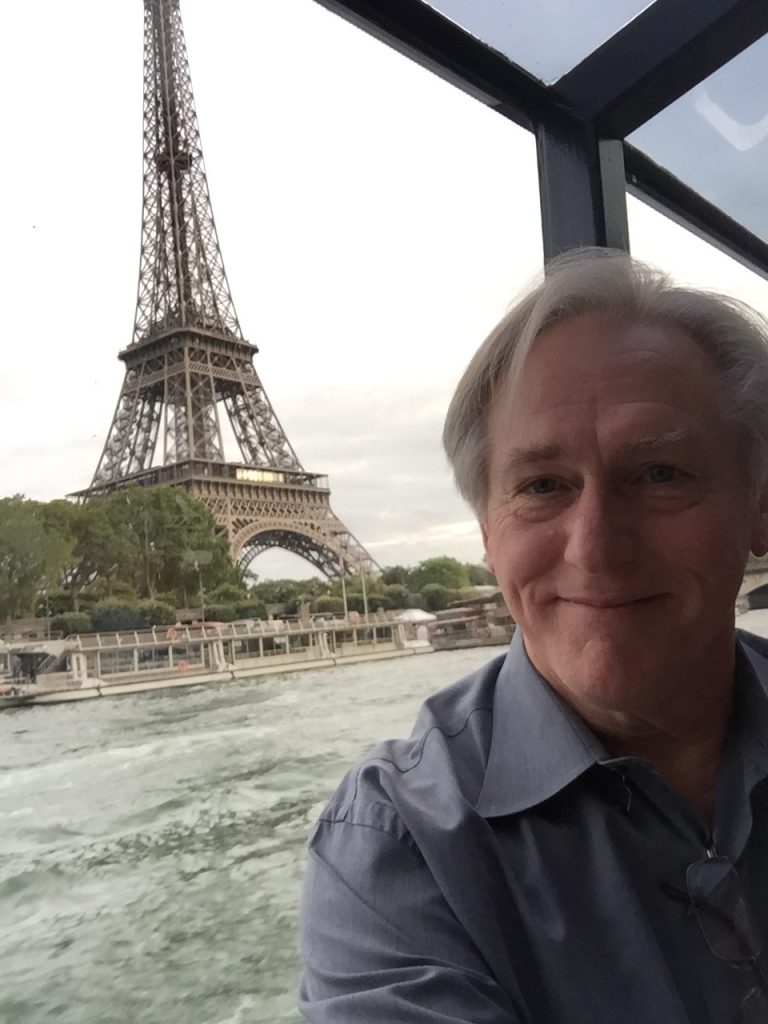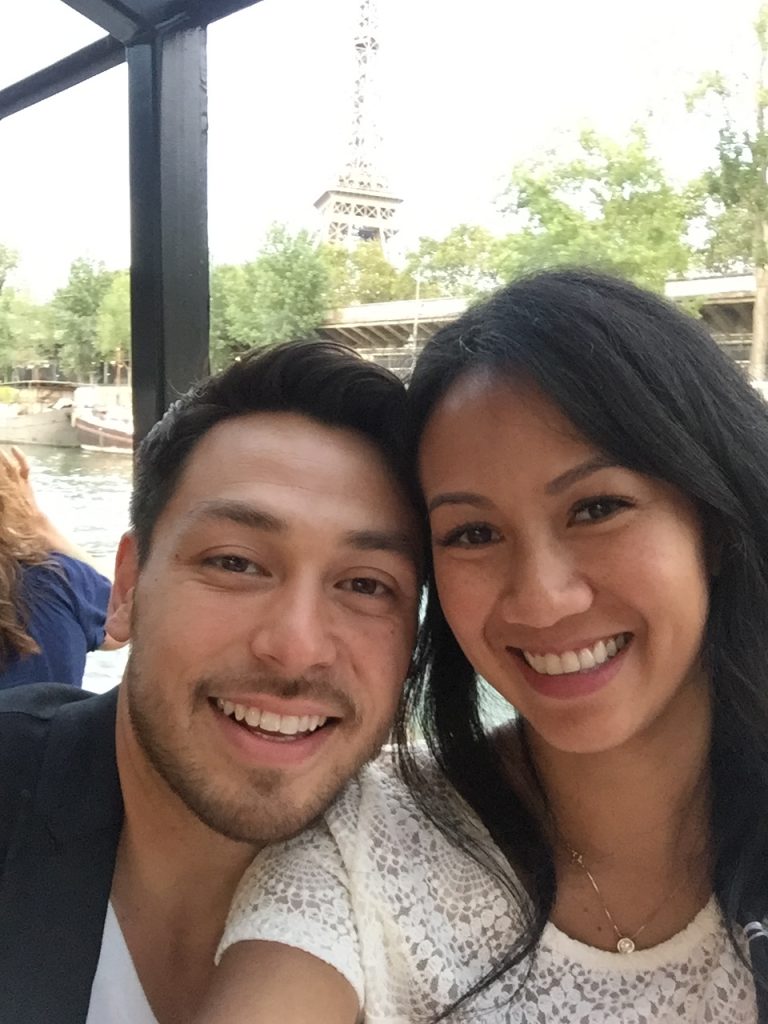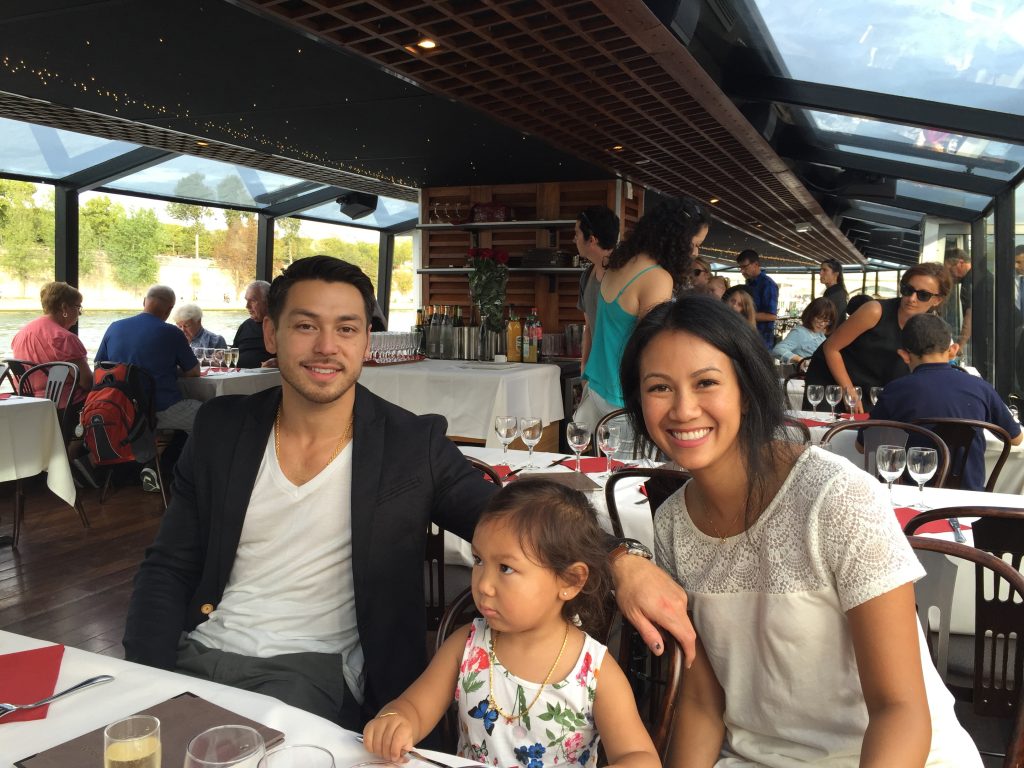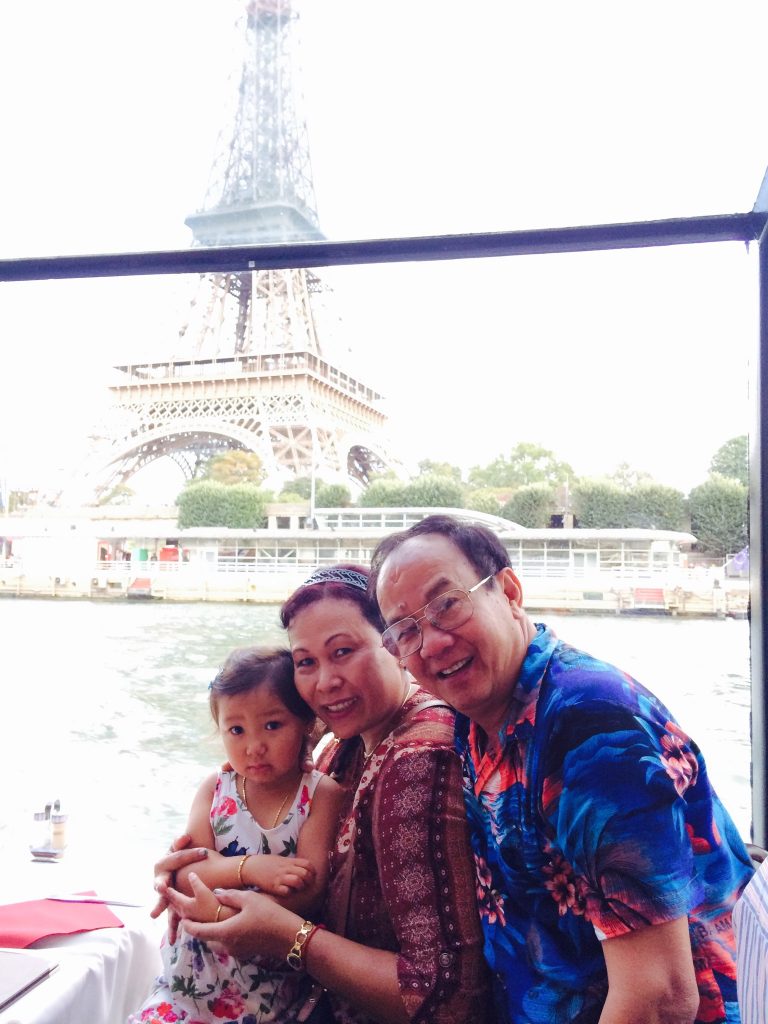 After the cruise ended, we started walking along the river, back toward our apartment.
As we crossed a bridge to get to the other side of the river, a beautiful sunset capped the end of the day splendidly for us.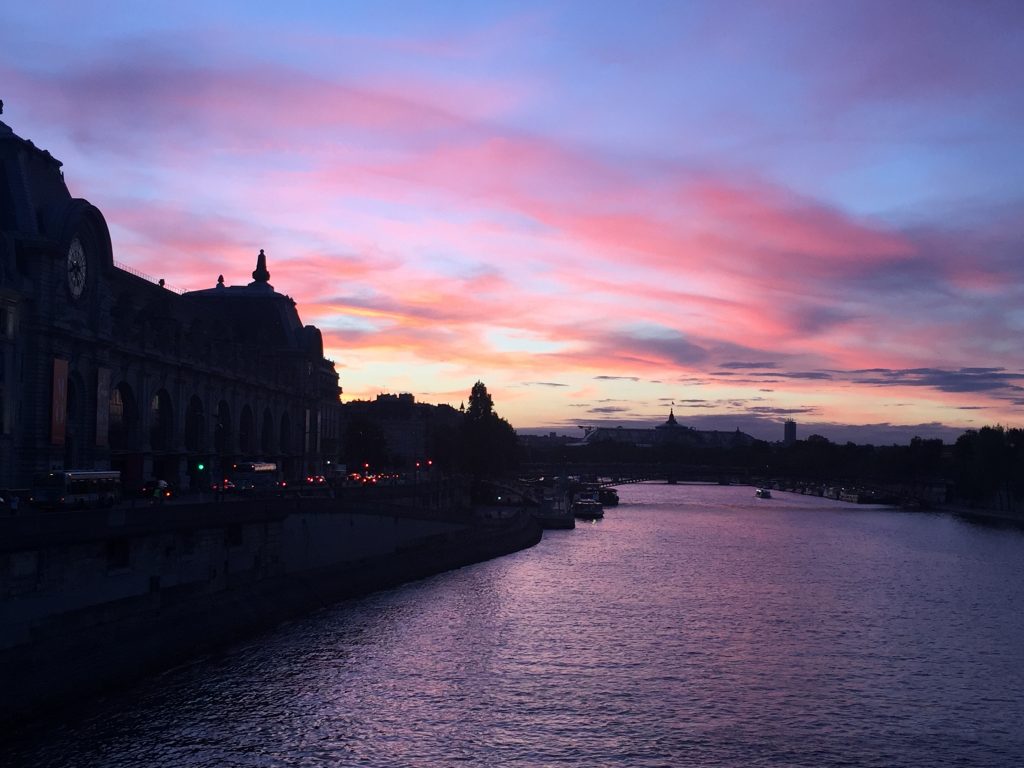 A little later we passed by the Conciergerie building, with its twin towers flanking Paris's oldest prison. Today it's a wing of the Palace of Justice.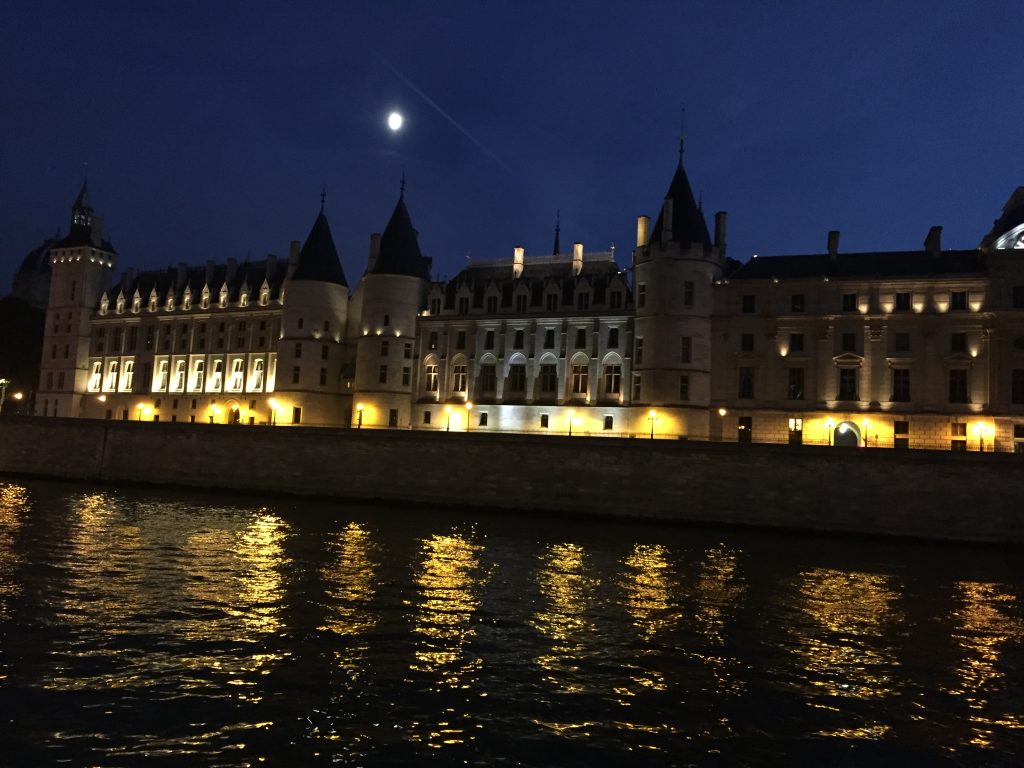 Day 3……..Monday
Our schedule was a little bit more ambitious on the third day.
We walked down to Notre Dame and toured the inside. We weren't supposed to take any pictures but everybody was. I took a couple. One of a stained-glass window…………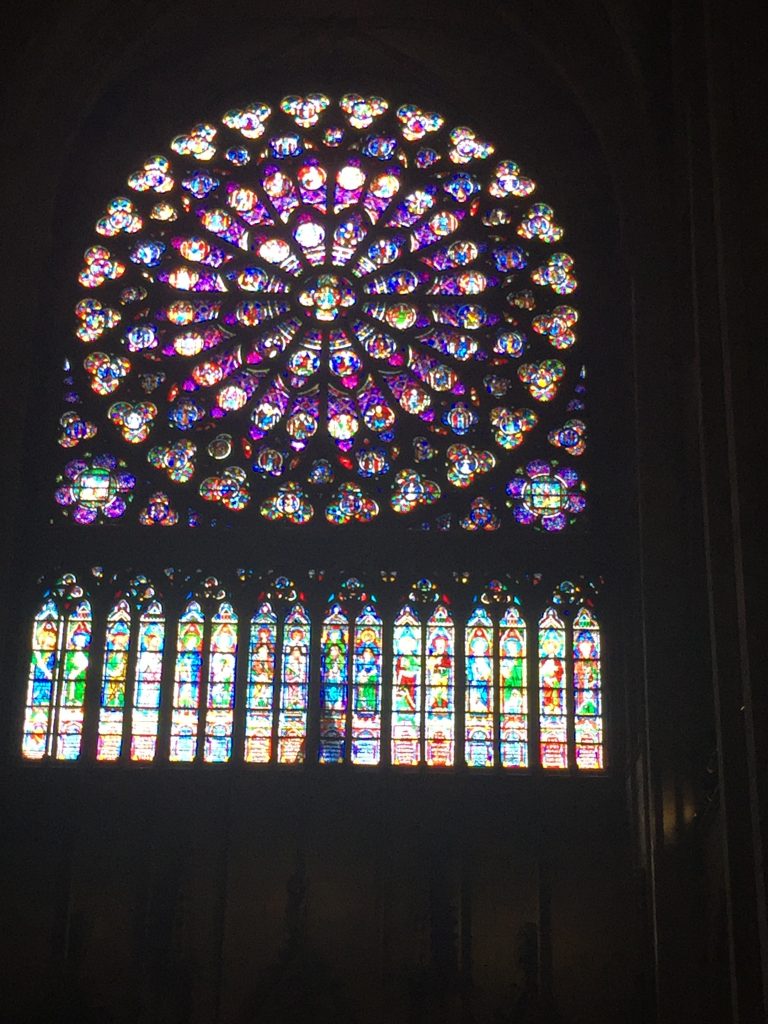 and another of an architect's model of the Notre Dame……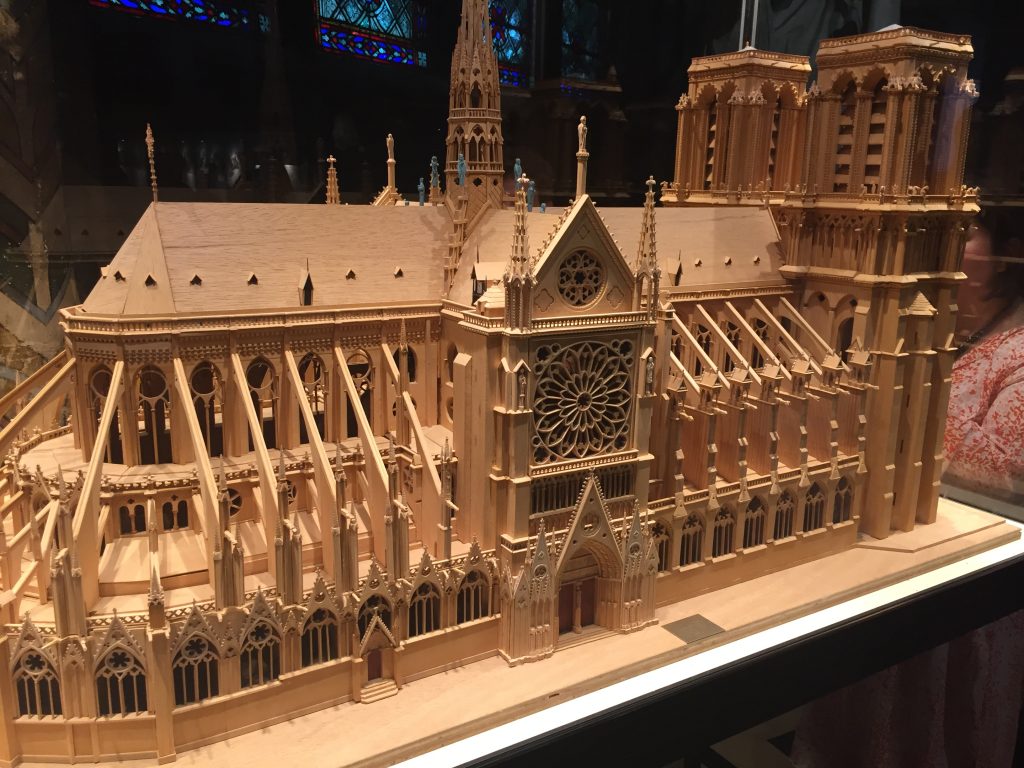 Then it was off to the Gardens of Luxembourg……….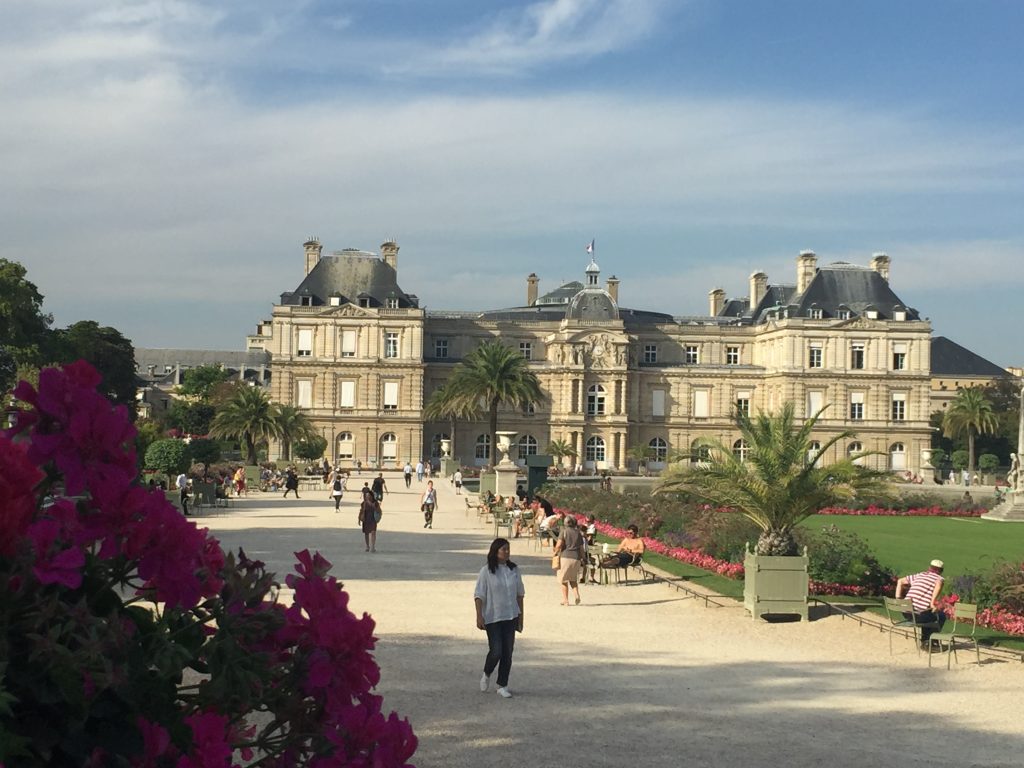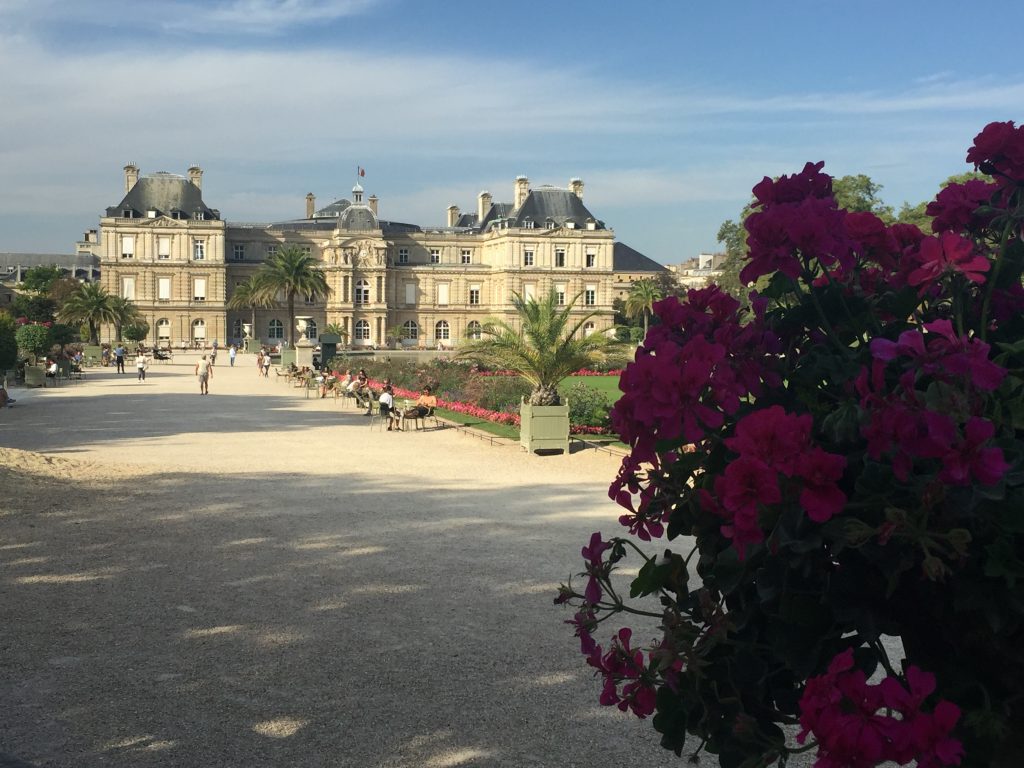 where there was a park with a kid's zip line for Evie to play on.
Evie zip lining at the Gardens of Luxembourg
The rest of the day was spent walking along the St. Germain and St. Michel Boulevards, shopping a little, eating a little, and taking pictures all along the way.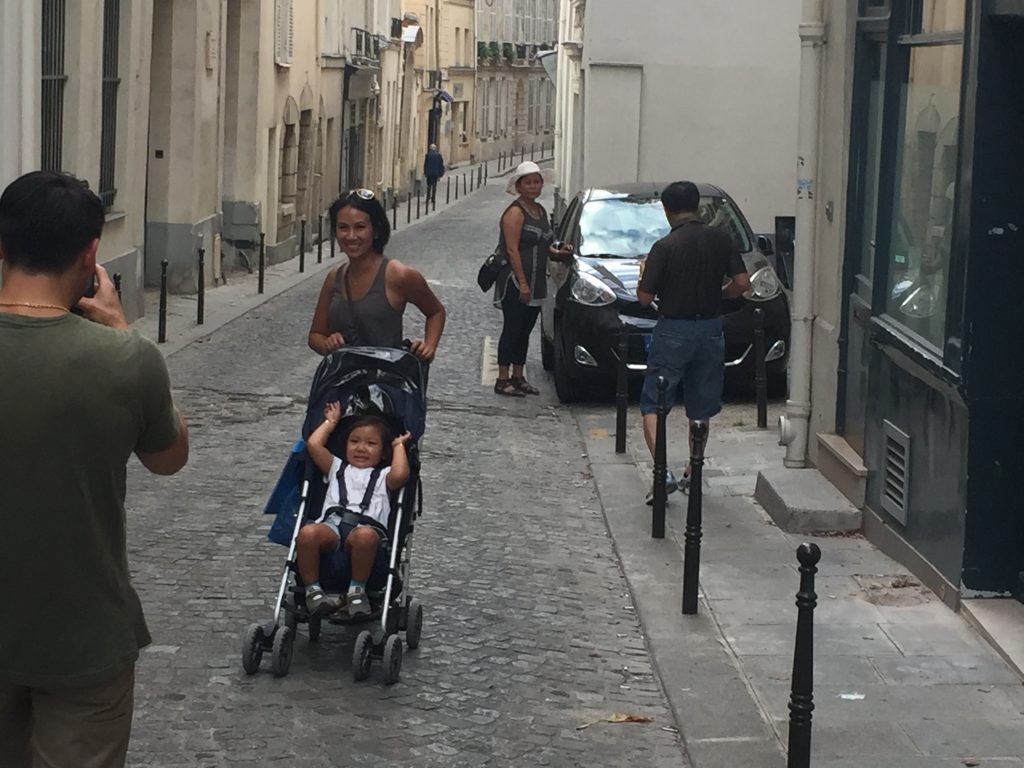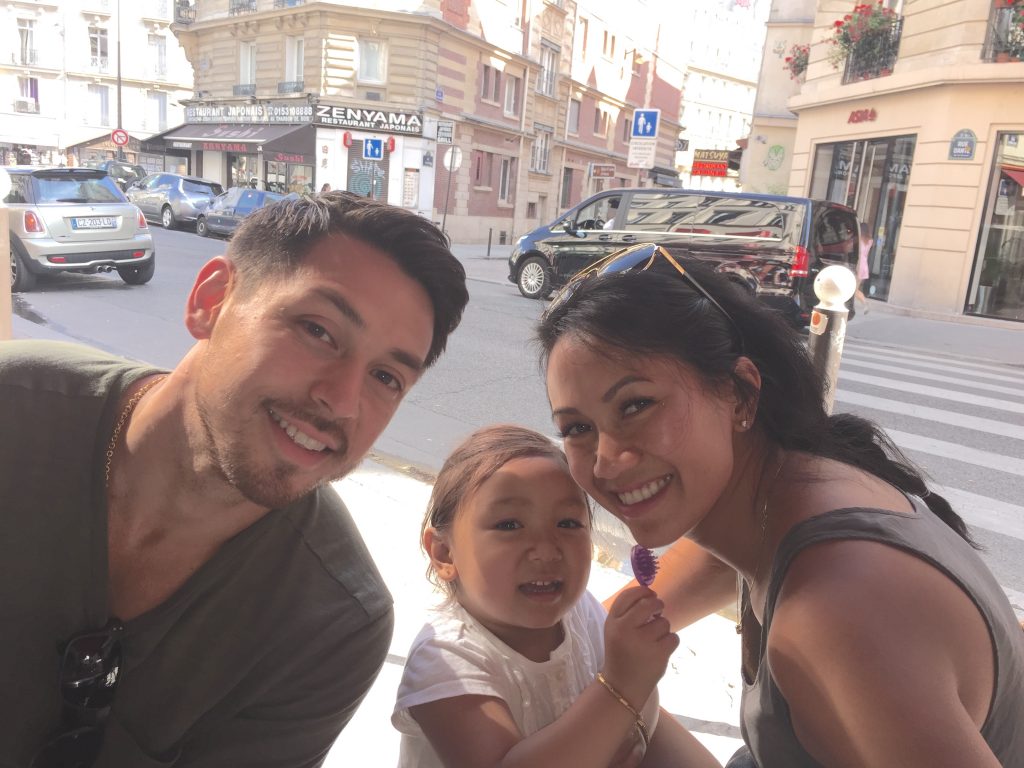 Day 4…..Tuesday
I started Day 4  by getting up early, before the rest of the clan and walking to a coffee shop that was one block away from the apartment.
I just loved these cappuccinos with the cookie spoon. (The best part about this "device" is that it required no instructions. You just look at it and you know what to do.)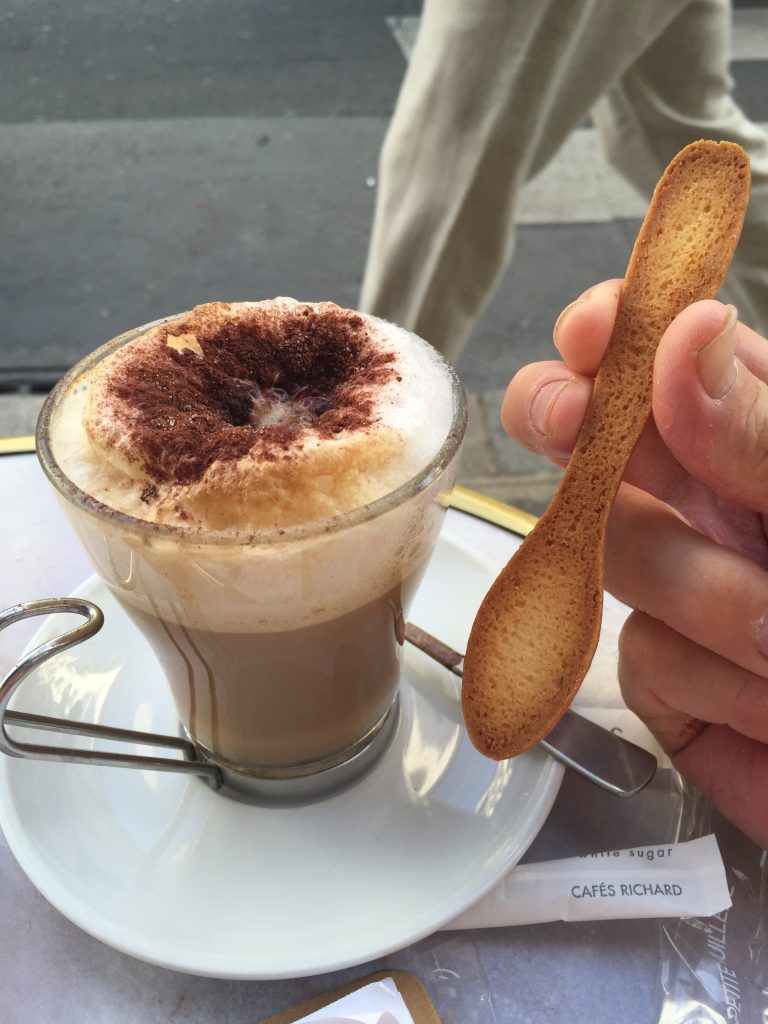 I also liked watching the people pass by and listening to the various languages they were speaking.
I felt simple happiness, knowing I was sitting in Paris having a cappuccino, without a care in the world, at least for a little while.
I was thinking about how travel and adventure exposes you to other countries, cultures, customs, food, languages, and ways of thinking, and thus opens  your eyes a little wider and expands your mental horizons a little broader.
That thought reminded me of a simple Korean proverb I learned long ago.
"A FROG IN THE WELL"……."우물  안의  개구리"
It is one of the well-known proverbs you hear in Korea quite often.
The adage alludes to  self-puffery. To one who thinks he knows all there is to know but really doesn't.
A frog in the bottom of a well may feel like he has mastered his Universe and is sovereign in his domain, but if he could just once get out of the well and see the outside world,  he would not be so full of himself.
Evie's daddy (my son), Tim,  and I sat together, drank cappuccinos, and talked about life.    🙂
This day we walked about 10 miles.
We started walking (from the area in the back of the photo and to the right a little) through the winding alleyways and local streets until we reached the Champ de Elysses, the beautiful boulevard seen below from the top of the Arc de Triomphe, where I took this photo.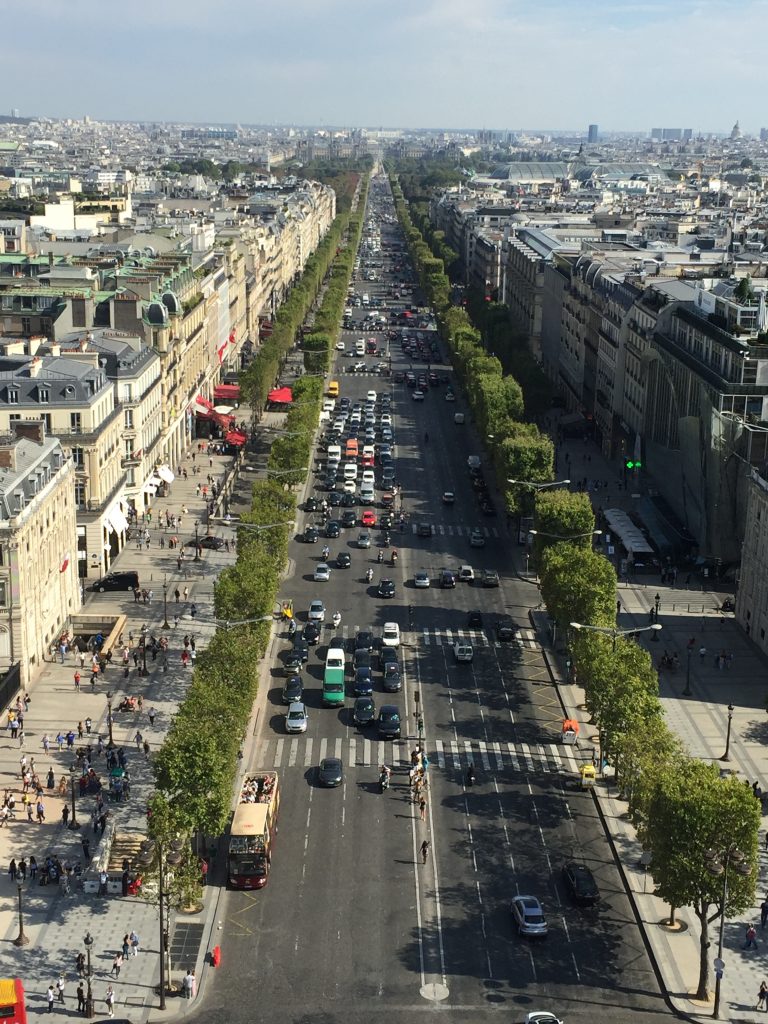 Along the way we stopped at an outdoor cafe to rest and refuel.
Then we stopped by a famous macaroon store called Lauderee (Pauline's favorite cookie).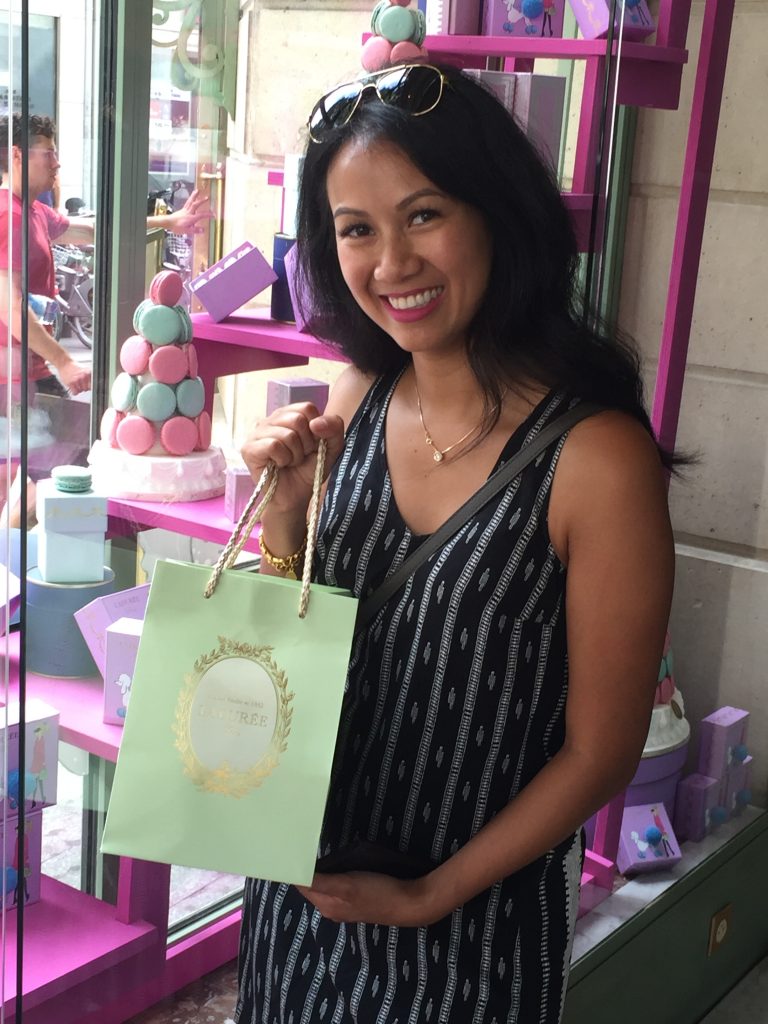 The next stop was the Arc De Triomphe.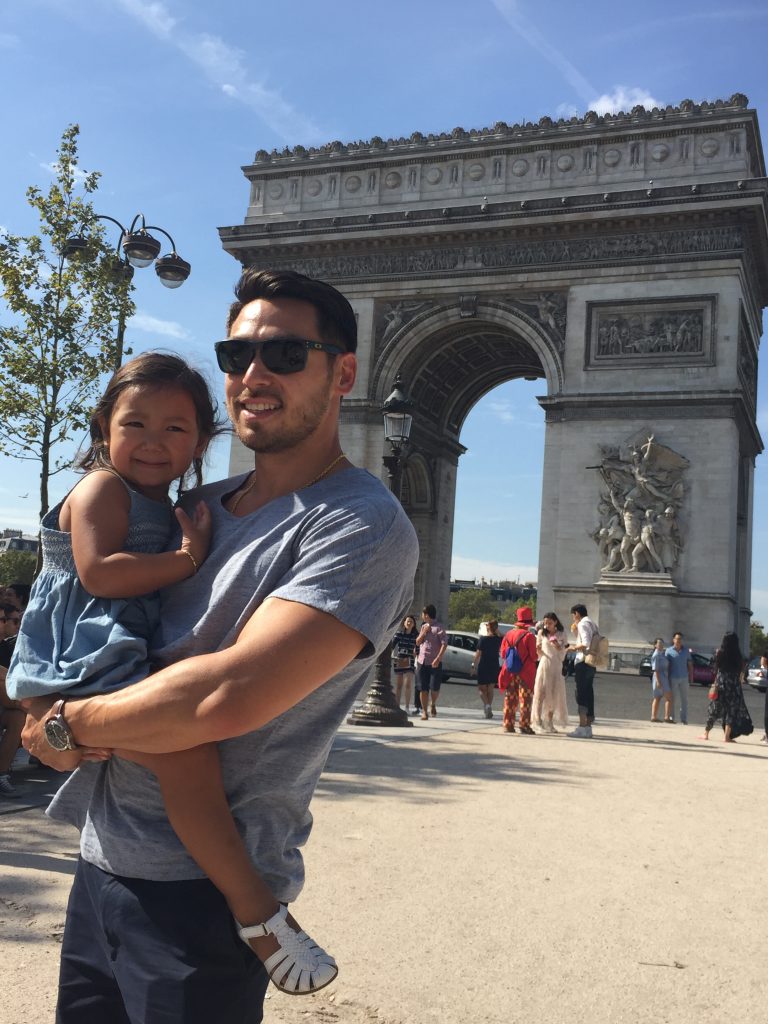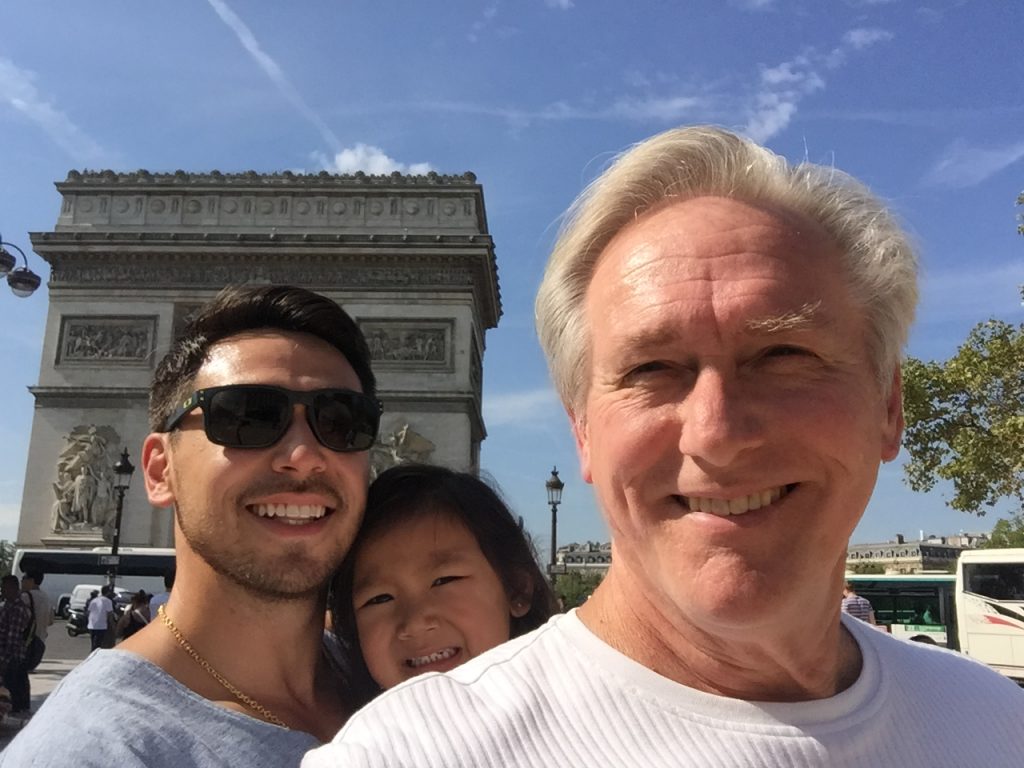 We walked up the 284 steps to the top of the Arch.
Evie's grandpa Suon found a place to rest  for a couple minutes (after walking all those stairs).  Evie saw him and joined him.
It's one thing to go to Paris and see the Arch of Triumph but it's totally another to  take a "power nap" on top of the Arch.
I have to say these two are defying ordinary!   😎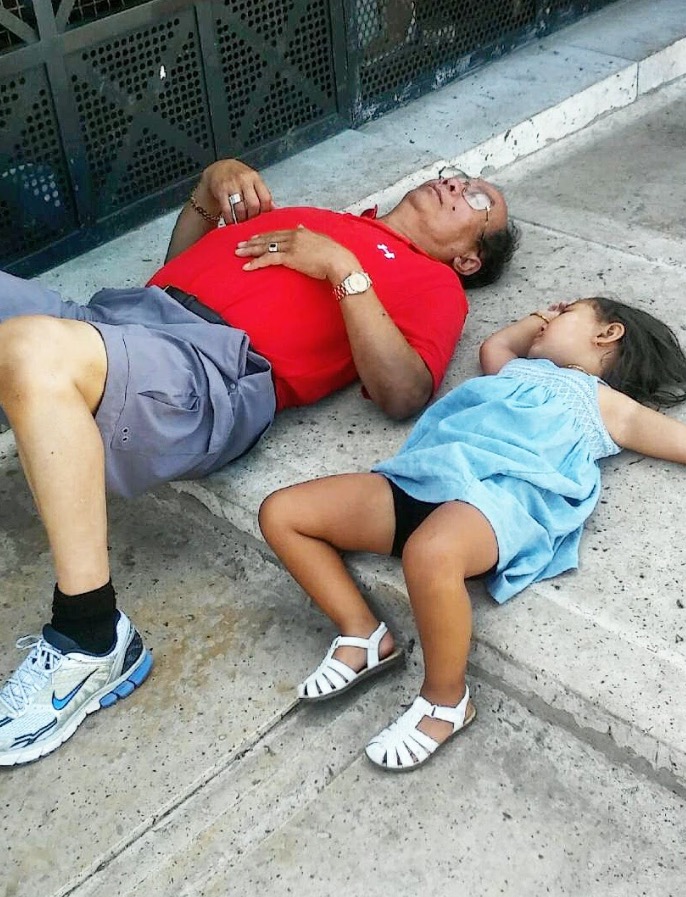 From the top of the arch you could see all of Paris in all directions.
From that vantage point you can see the Eiffel Tower, the Pantheon, Sacre Couer,  and several other popular sites.
We left the Arc of Triomphe, and started walking toward the Eiffel Tower.
As we got closer, we stopped at an area between the two wings of the Chaillot Palace, overlooking the central terrace, to take pictures of the tower………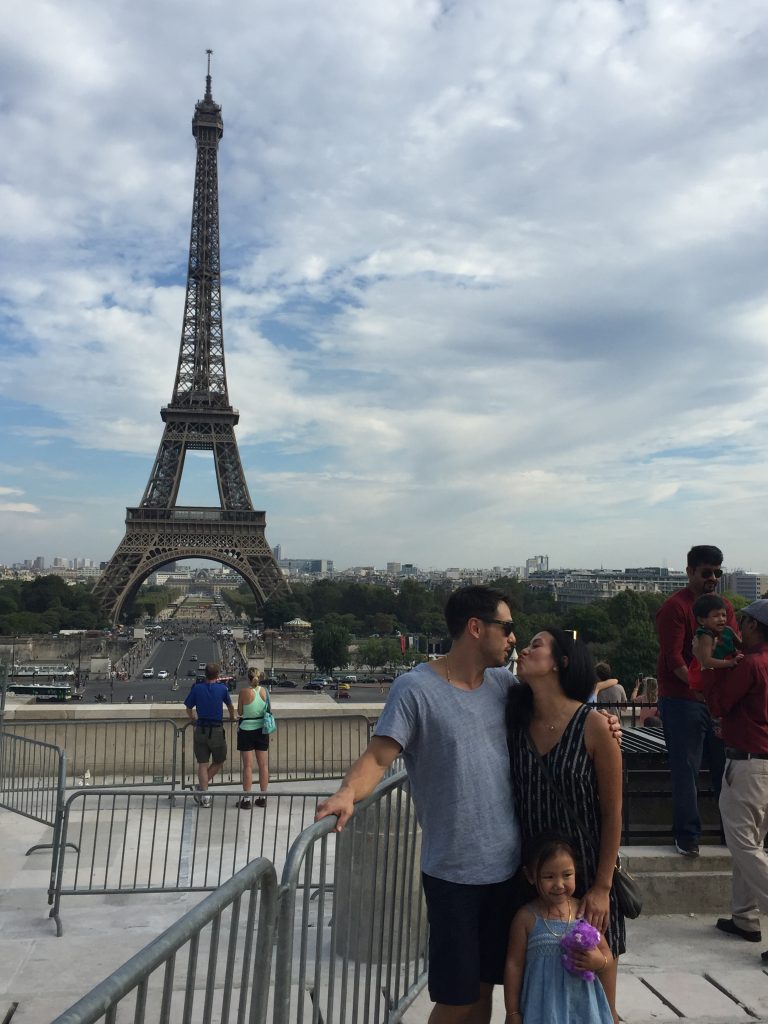 and then we took Evie to the park that was just to the right, amid that stand of trees.
Earlier when we were at Lauderee, I bought one pastry and saved it for later. At the park, I called Evie over to share it with me.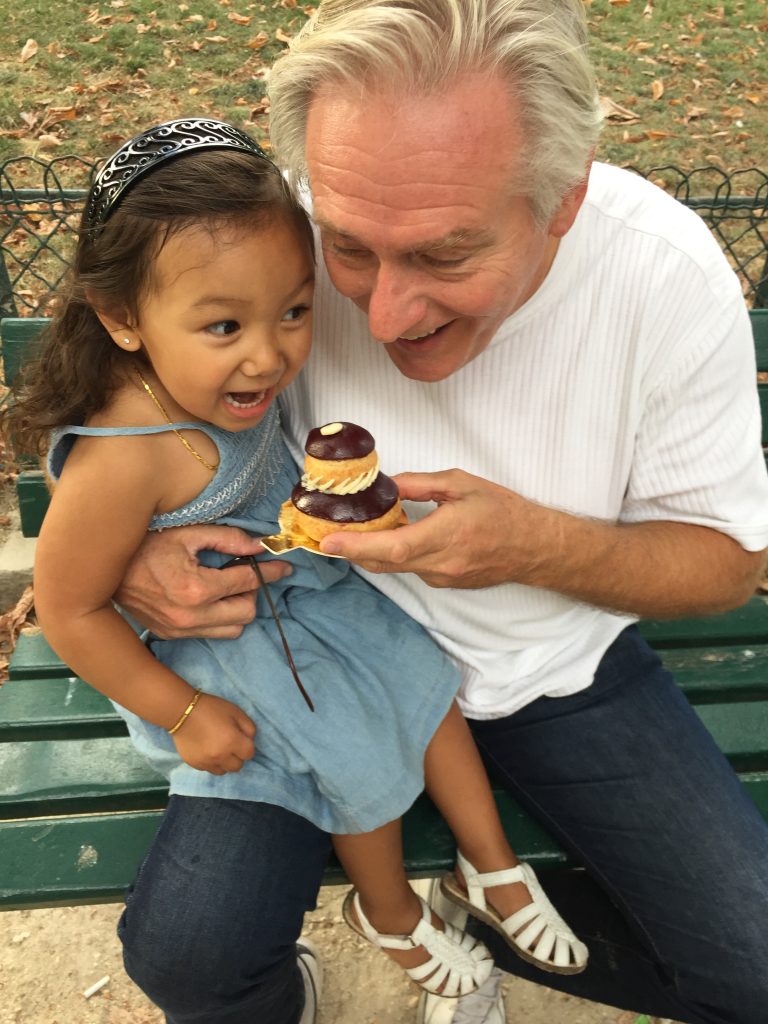 As we walked across the bridge toward the Eiffel Tower, we stopped to take  pictures again.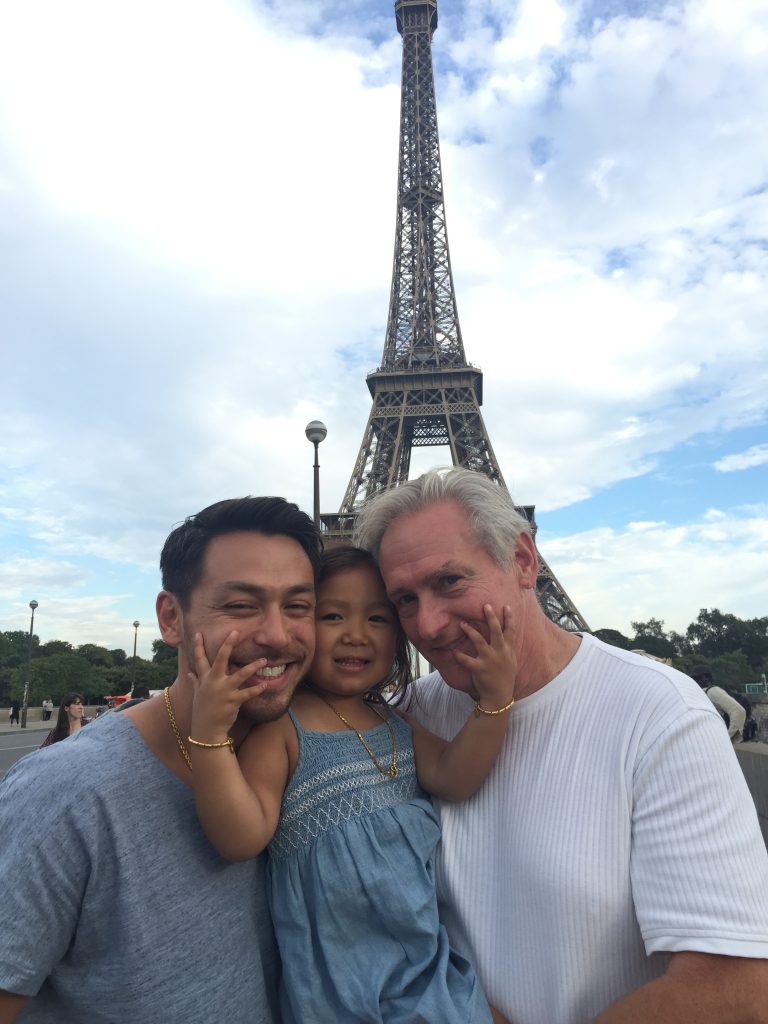 There were two young women who were also trying to take pictures.
They seemed to be having trouble figuring out the best way to get both of themselves in the pix in front of the Seine River.
I thought to myself, "Why don't they do a selfie of them selves-zies?
So I offered to take their picture. After that, I suggested they also do a selfie with the river in the background. I'm sure they knew how to do it but they just hadn't thought of it yet.
So in this picture I was showing the girl who had the camera,  how to do it…….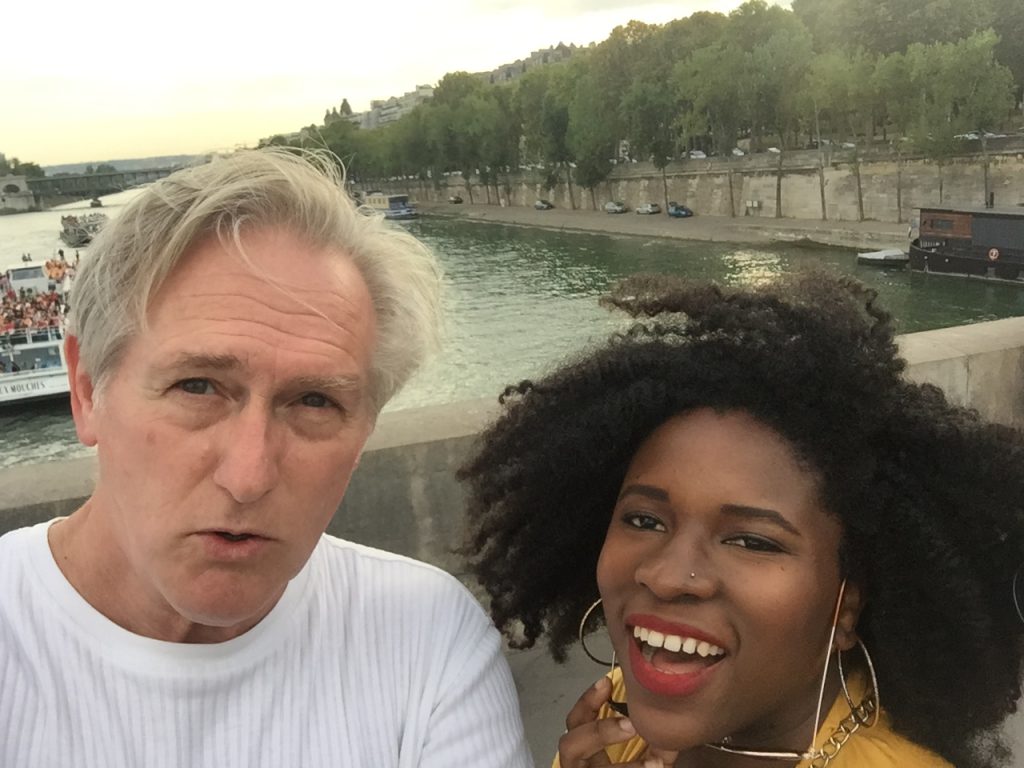 Then we realized we hadn't included her friend in the picture….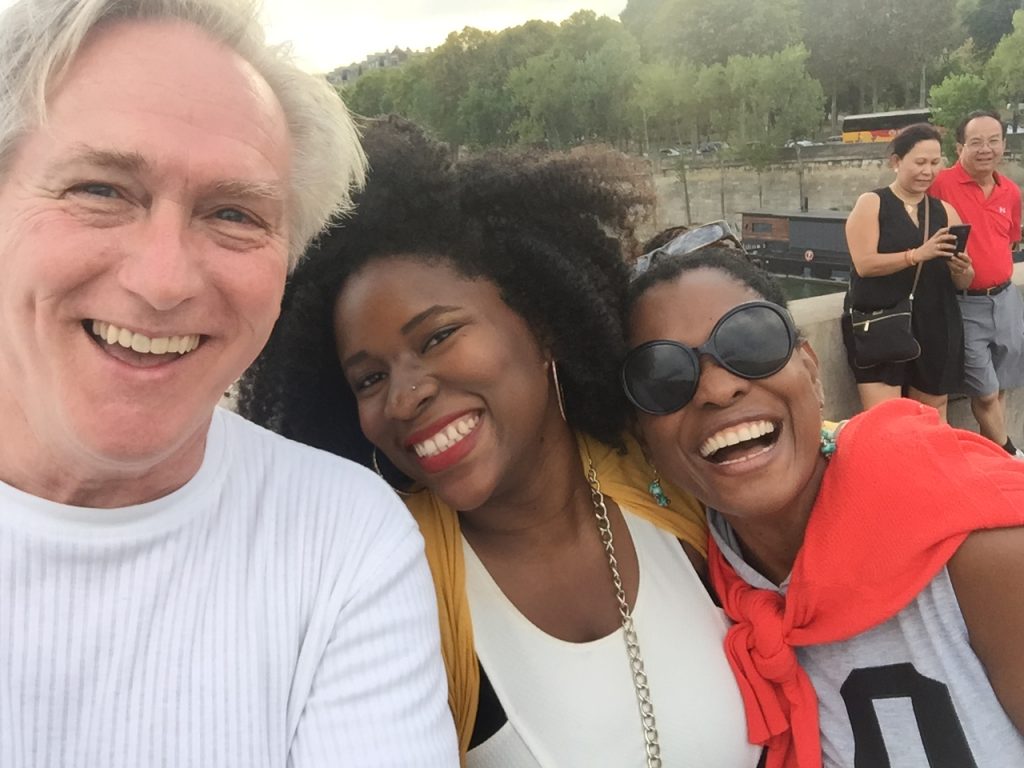 So we took one more and then "class" was over. They probably moved on to become great "Selves-zies" experts.
This simple thing made them happy and I was happy to help them too!
Usually it's the other way around. It's the younger, smarter, tech savvy ones "enlightening"me about something so simple like that.
Nevertheless, I was the "Hero" of the  moment. (Yes, I said HERO! It's my story!)
Well, it's funny how the mind segues

………..
That made me think of a time when I was 26 years old and I was studying basic Korean at the Defense Language Institute in Monterey, California. It was an intensive program.
We studied six hours a day, Monday through Friday, for 47 weeks. We studied for three hours in the morning (8-11a.m.) and three hours in the afternoon (1-3 p.m.). We had a two-hour lunch break.
I was real happy to be there studying Korean so I always went to class early (about 7 a.m.) and would stay late until about 5 p.m.. I could do that because the teachers were there during those hours.
My teacher, Miss Min, who was 59 years old and had never been married, would come to the classroom where I was studying after school and check on me to see if I had any questions.
I always had questions. She was always very helpful and kind to me.
One day, after a few weeks, she came to the room and asked me if I had any questions.
I must have been very frustrated with the language that day so I told her something to the effect of, "This doesn't make sense! Why do you say it this way? What is the cultural basis behind this expression? How am I to translate this?"
To my surprise, she started laughing at me.
I asked, "Why are you laughing?"
She responded, "It's nice to see other people suffer!"
I said, "Miss Min, that's not nice!" But by that time I was laughing too. I knew she was kidding.
Then she told me her story about coming to the U.S., not knowing any English.   She said she had a very hard time learning English and that "she had suffered greatly" and felt so out of place,  lost and unhappy, during her early years here. (By the way,  she already knew Korean, Japanese, and Chinese.)
There's more to her story but I'll save it for another time.
So getting back to how the mind segues

…….
I try to keep up with technology but I'm always behind the curve, silently suffering. (Awwww….)
But that day, it was nice to see that others (those two young women) "suffer" too. 
So, standing on the bridge over the Seine River by the Eiffel Tower, I paused for a nanosecond and fondly remembered my teacher and friend, Miss Min. She taught me a lot.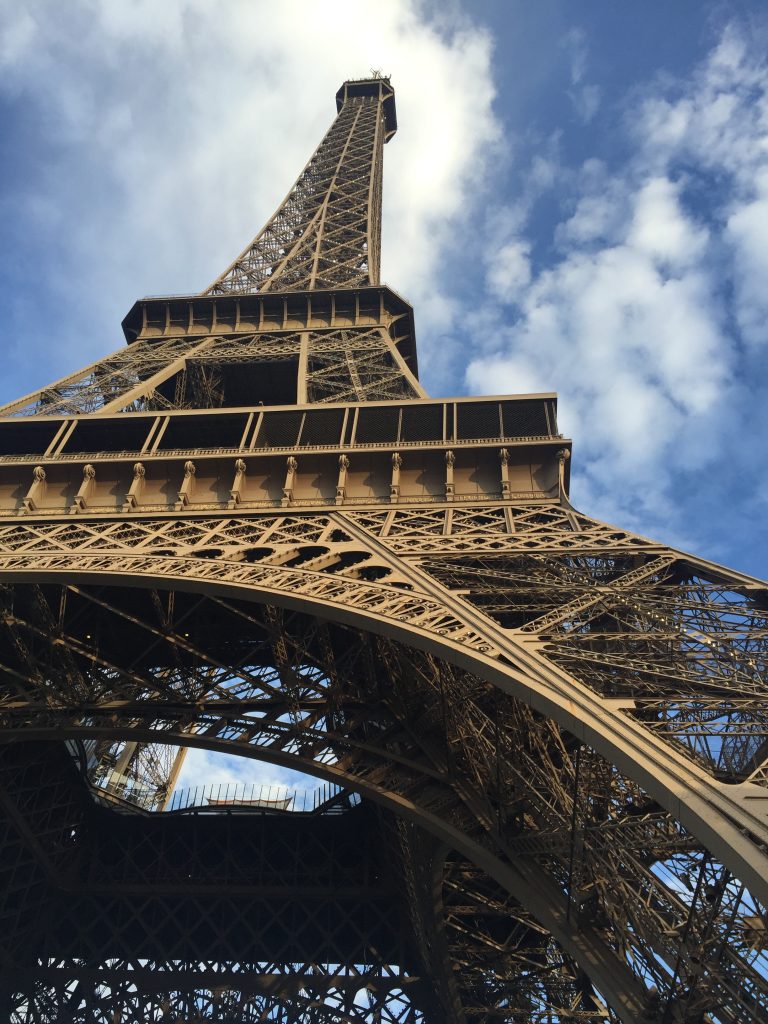 …….…..here it goes again! 
Now I'm thinking that, not only does the "mind segue ",  but due to the rapid pace of technology………..
……the "feet segway" too. ☺️
(Photo from an ad about the Paris Segway Tour)
Day 5……Wednesday
Yaaaaayyyy!! The J's (Jes and Jen) are here.
Jes and Jen were able to join us for four days.  It was nice to have all the family together at least for a few days.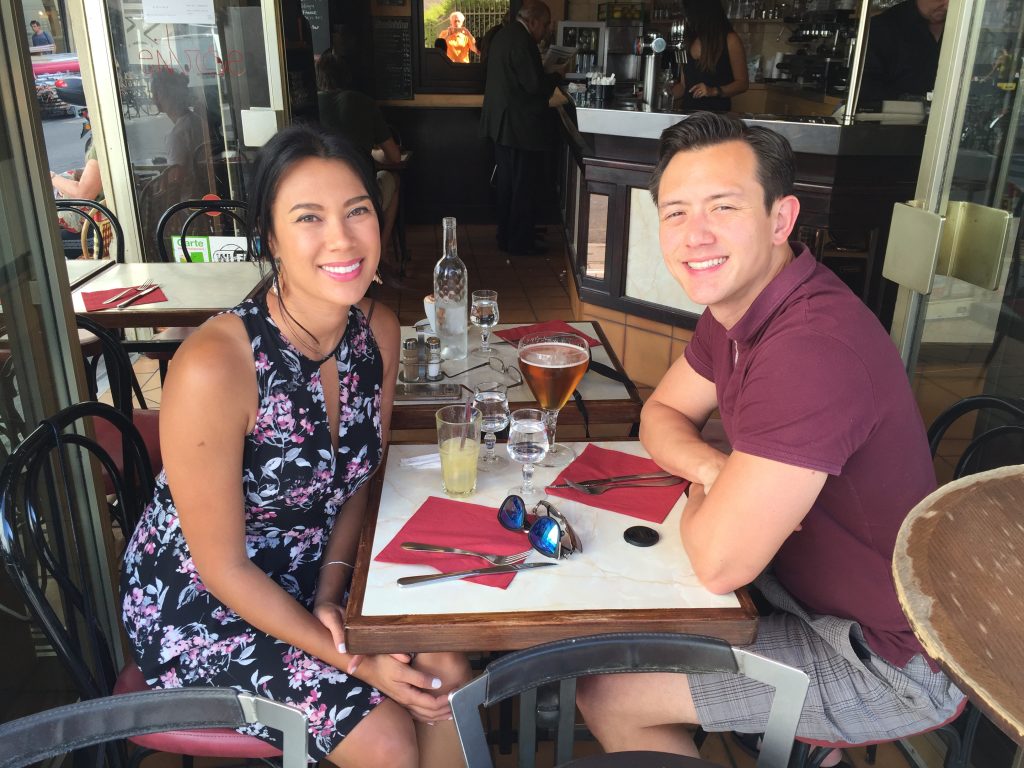 They got here early in the morning so I took them to breakfast at the open-air coffee shop that was one block from our apartment.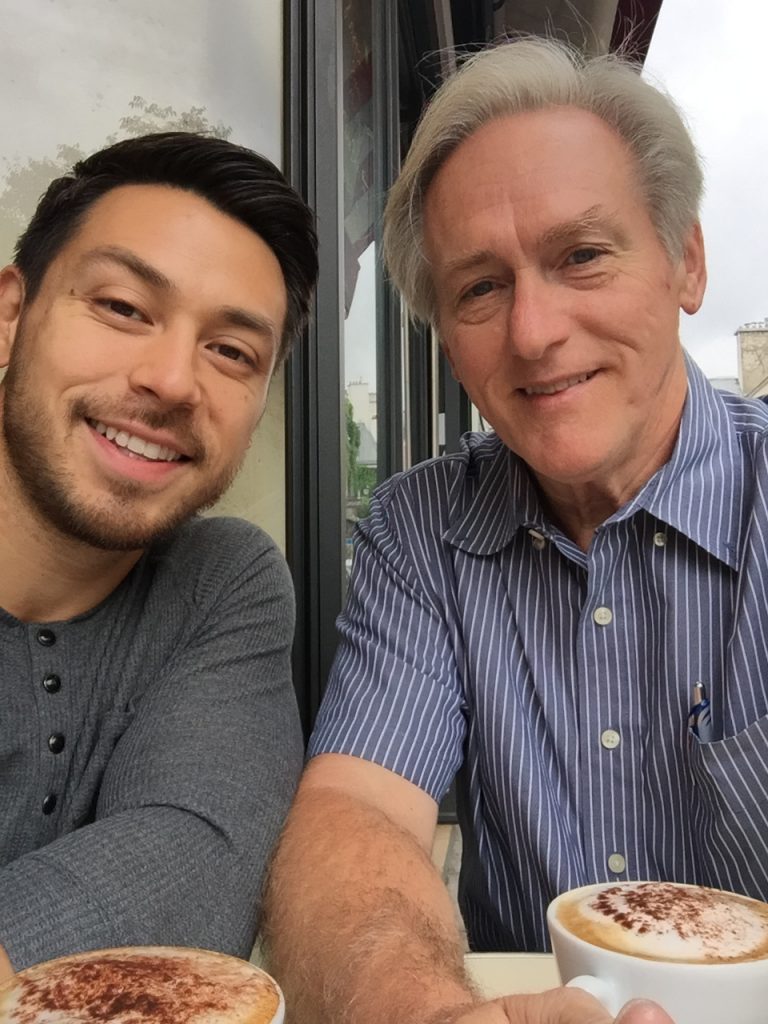 The same coffee shop where Tim and I enjoyed cappuccinos and discussed how to take over the world.
After that,  the J's,  tired from their trip, decided to take a long nap.
So I walked to the camera shop,  and Tim and Pauline walked to a leather shop.
It was a leather shop from which Tim had ordered leather and tools several times in the past. Tim makes leather goods and he thought it was a good chance to go and meet his suppliers in person while we were in Paris.
If you are interested, checkout some of Tim's leather work on instagram. His company is named Evelyn & Company.
After we got back, the J's were rested so the whole family got ready and we started our day.
We all started walking up the Champ de Ulysses again from the apartment.
Along the way we came across the National Conservatory of Arts and Industry (Musee des Arts et Metiers). It was founded in 1794 as a repository for the preservation of scientific instruments.
The J's and I wanted to check it out. The others waited for us outside.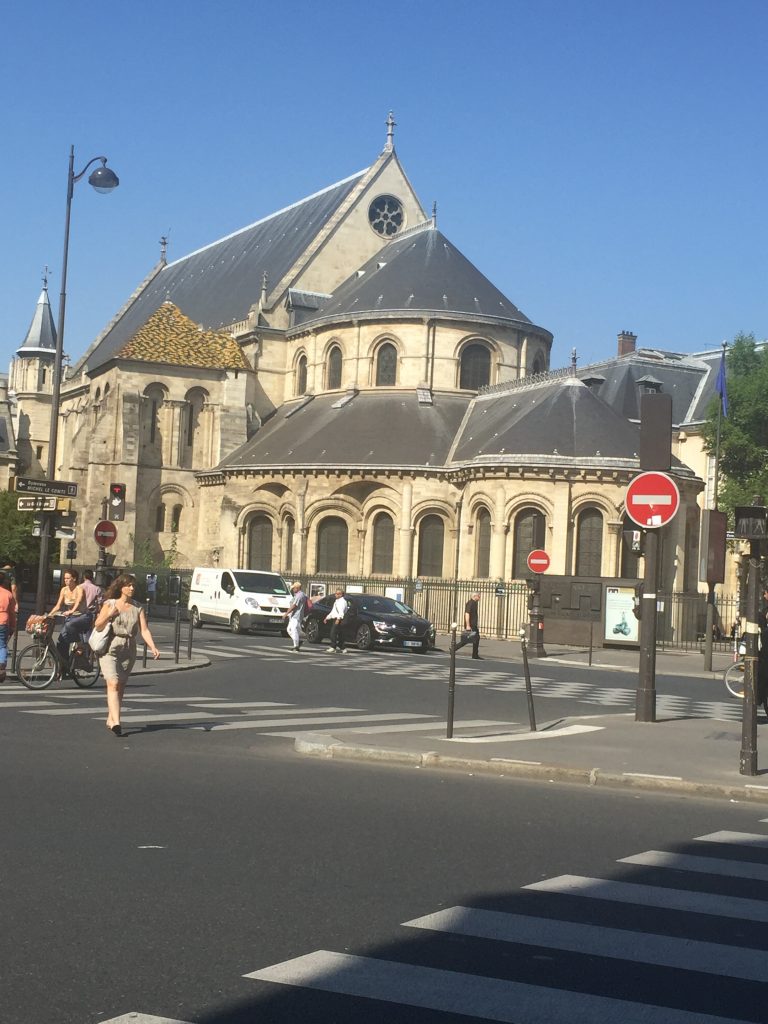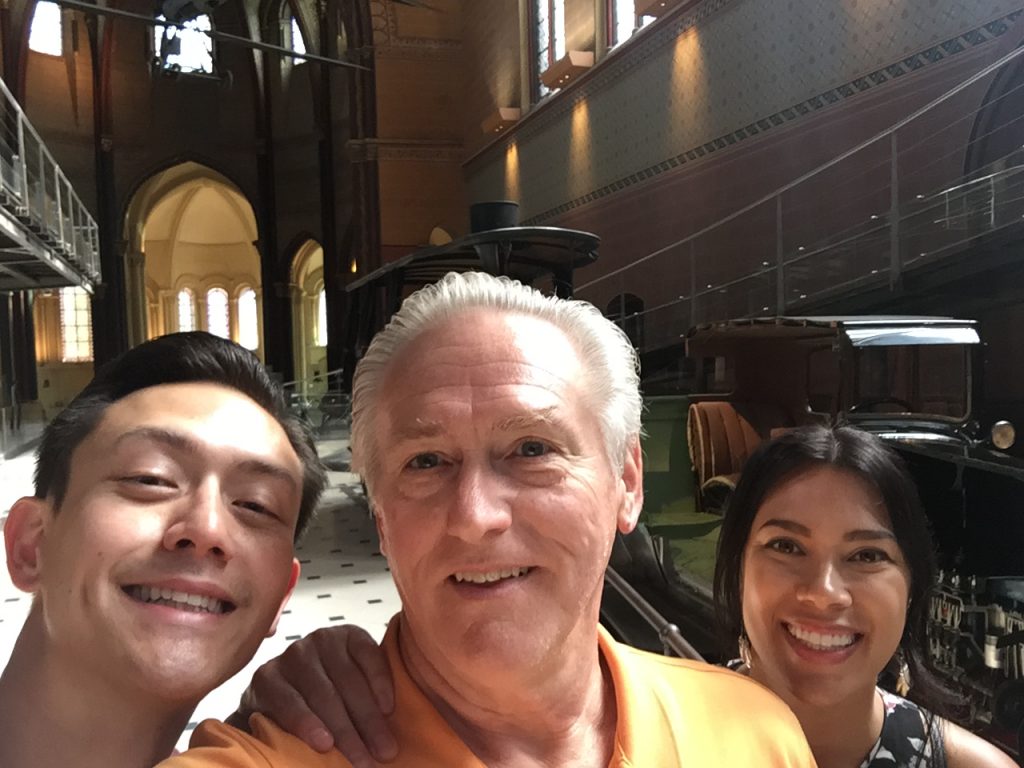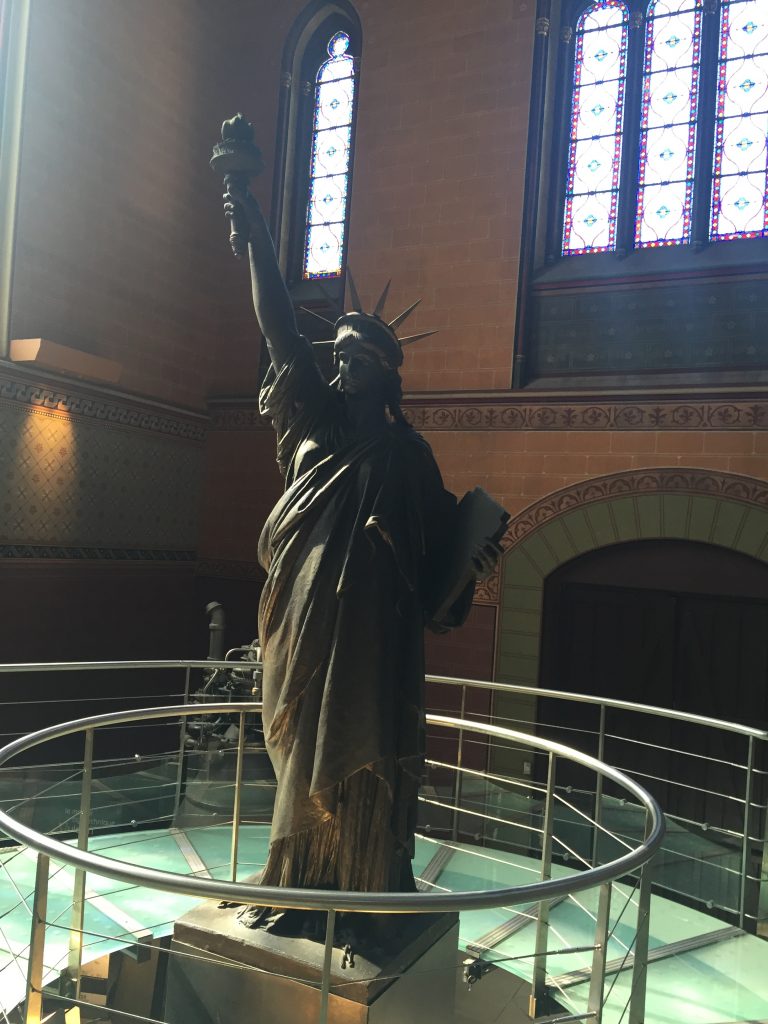 There was a small replica of the Statue of Liberty there. It was designed by a French sculptor named Frederick Auguste Bartholdi and built by Gustave Eiffel (whose company designed and built the Eiffel Tower). This one was only about 15′ tall.
The one on Ellis Island, given to us as a gift from the French, is much bigger. She's  151′ 11″ tall and she's kinda fat. Her waist is 35 feet in diameter.
Tim, Pauline, Evie, and Pauline's parents all wanted to go shopping at the Galleria Lafayette.
Jes, Jen, and I wanted to walk on over past the Arc de Triomphe to the Eiffel Tower.
So we split up into two groups. By the time we got there and got to the top, it was getting dark and rainy.
The Seine River flowing below the Eiffel Tower.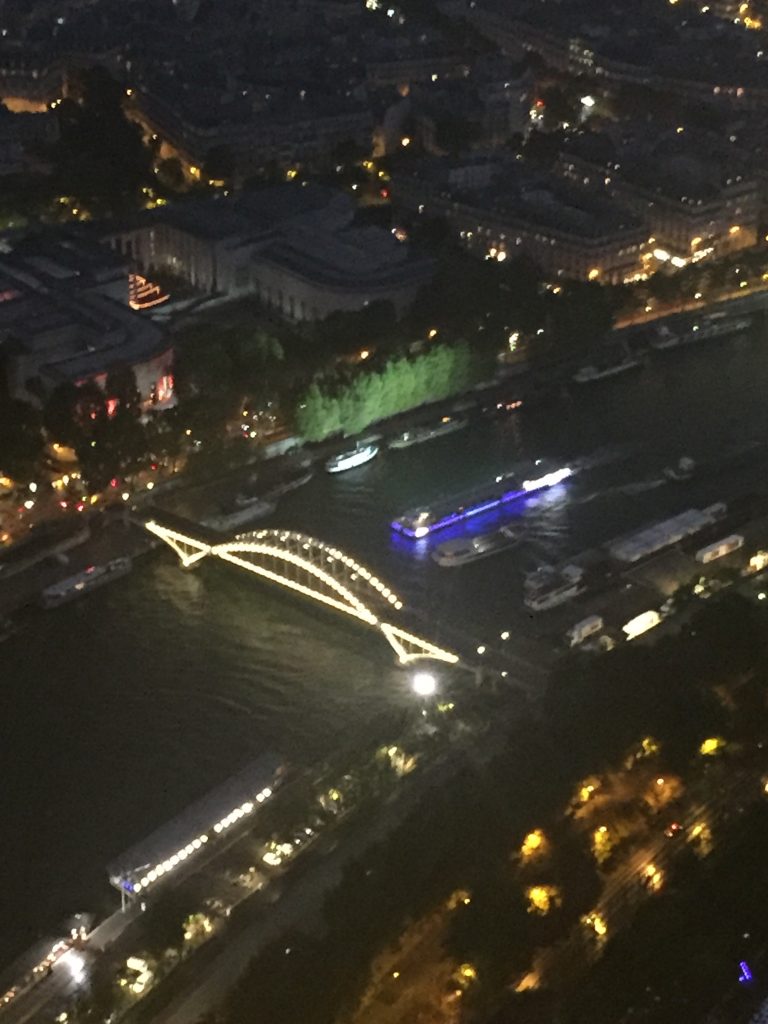 I could see the basketball court where I planned to play ball the next day. It was part of an athletic field just two blocks away from the Tower.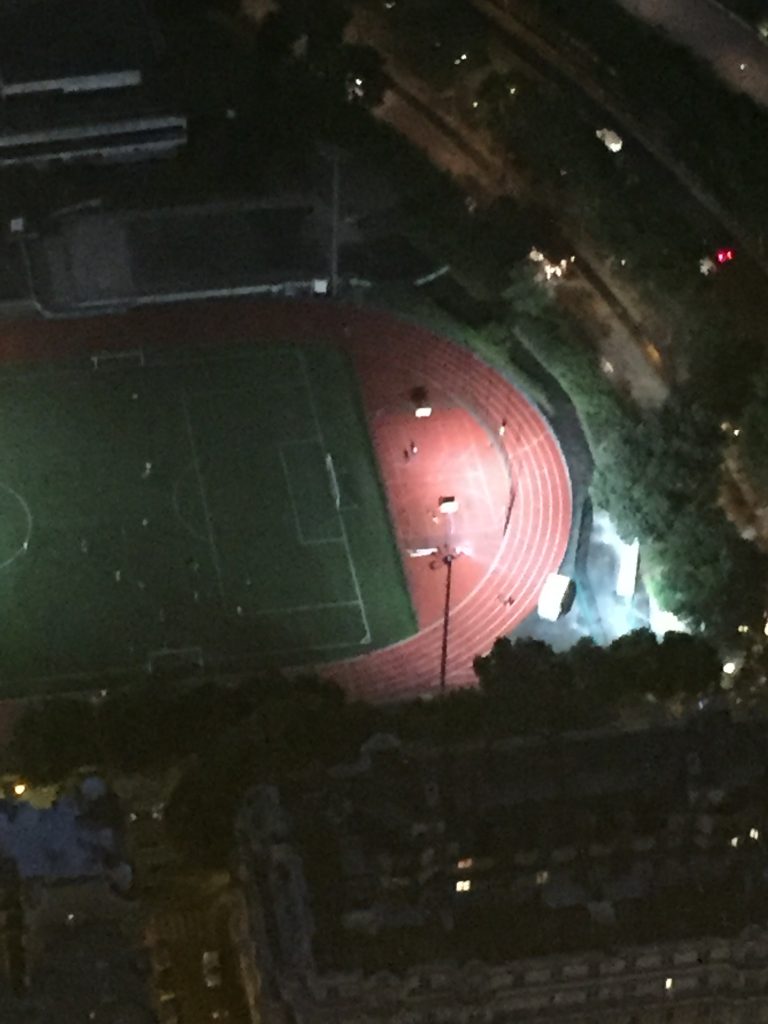 The 🏀 court is under the lights but hard to see in this picture (above).
I took this next picture the day I played ball there. What a cool venue to play ball at, huh?
"ET" sighting at the court!!
So Jes, Jen and I descended back to the ground from the top of the Eiffel Tower.
The Tower suddenly started to sparkle with white stars.
They "twinklize it" (I know that's not a word) for five minutes on the hour, every hour,  during the evening.
Next we walked to an open-air restaurant called Le Dome, which was near the Eiffel Tower, where we rejoined Tim, Pauline, and Pauline's Dad, Sam, for a late night feast of fine French food.
Pauline's Mom, Kimsam, had taken Evie back to the apartment. It was Evie's bed time.
Day 6……Thursday
I woke up to the glorious sound of rain falling and an occasional  intensely beckoning thunder clap!! I love the sounds of rain and thunder. You want my attention?...Just make it rain and thunder!
Because of the weather, I couldn't go play basketball that morning as I had planned to.
JJ and TP went to the Catacombs during the day.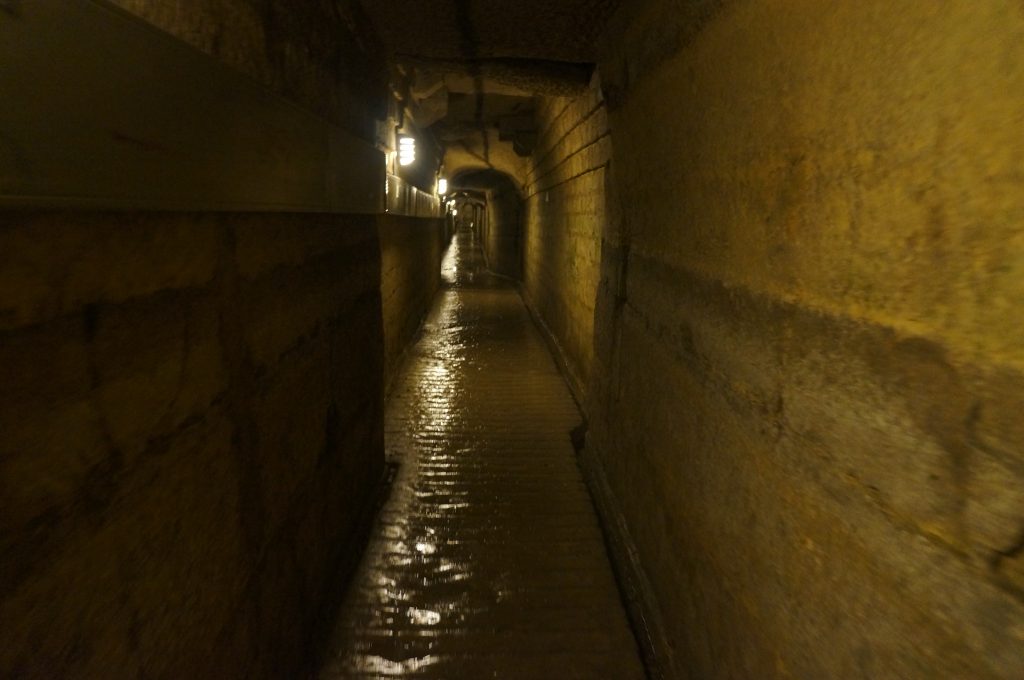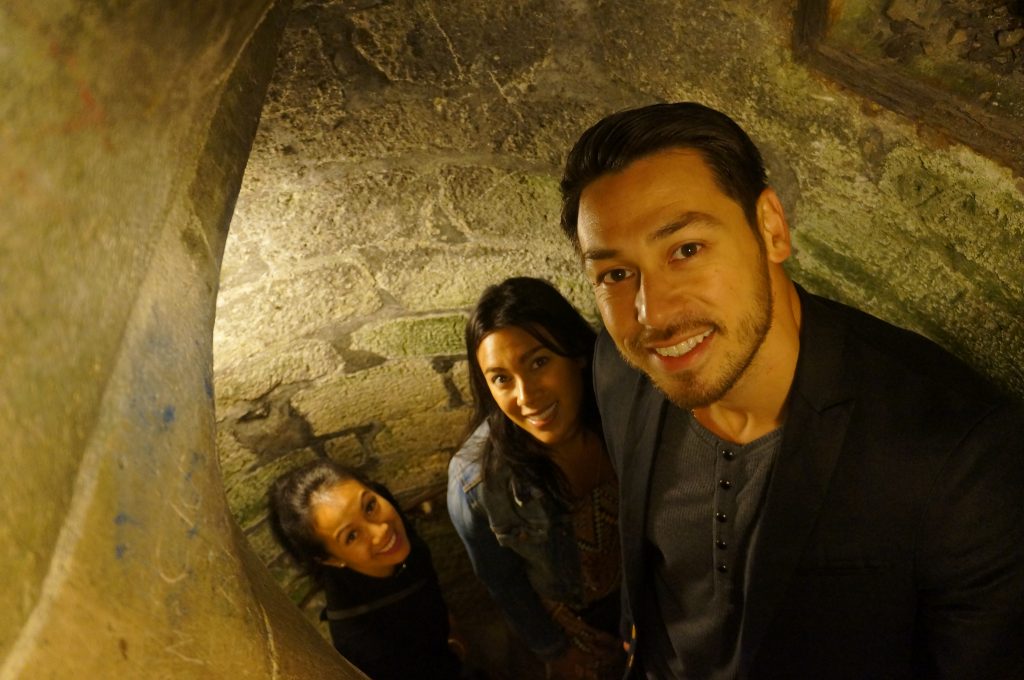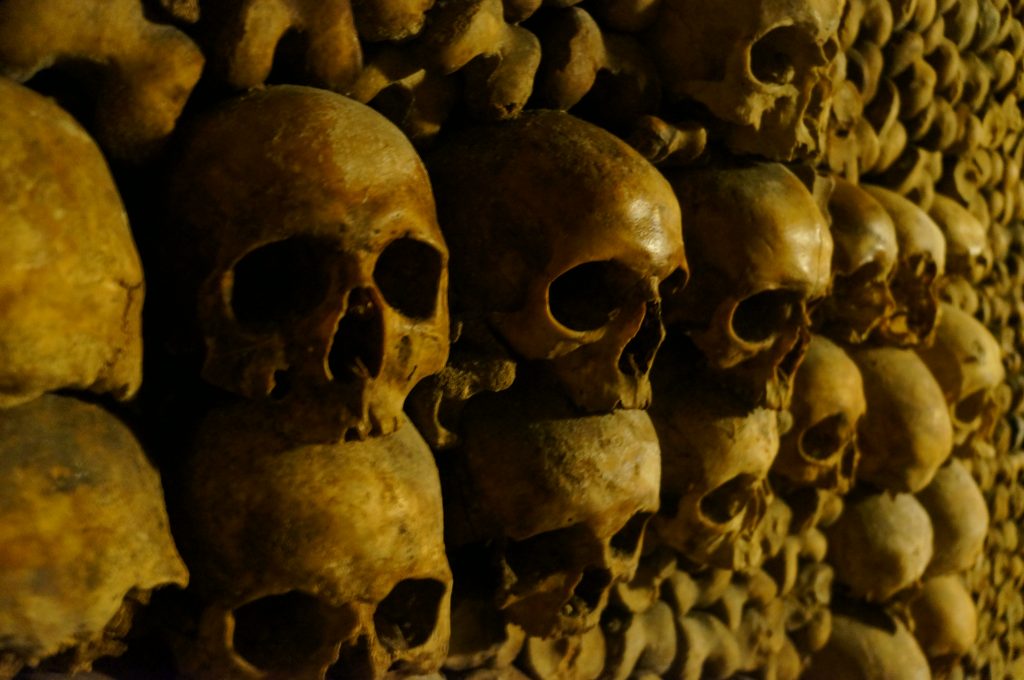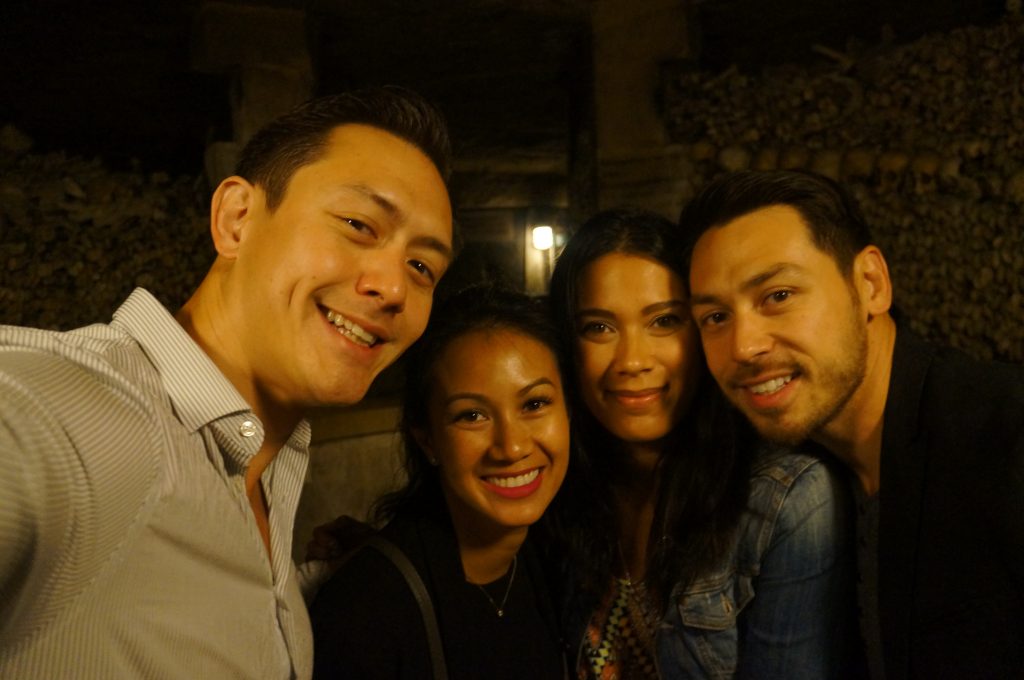 Pauline's parents took Evie with them, to meet up with some of their Cambodian friends who live in Paris.
I had no interest in seeing the catacombs so I decided to stay in for the day,  jot down some thoughts that would go into this post,  and do some laundry.
But, at some point, I fell under the magical spell of the rainfall symphony  happening outside my window, laid down for a minute, and then fell asleep after about 20 measures……….
🎼⛈⛈⛈⛈⛈⛈⛈⛈⛈⛈⛈⛈⛈⛈⛈⛈⛈⛈⛈⛈🎼…..💤💤💤💤💤……..
A couple hours later I woke up and called a friend of mine in the States and said, "I just took a nap…….(there was a moment of silence on both ends of the phone and then I continued) ……….in Paris!"
It was a little late and I thought the evening was about over, when I got a call from the kids telling me to meet them at a Jazz club called La Petite Journal.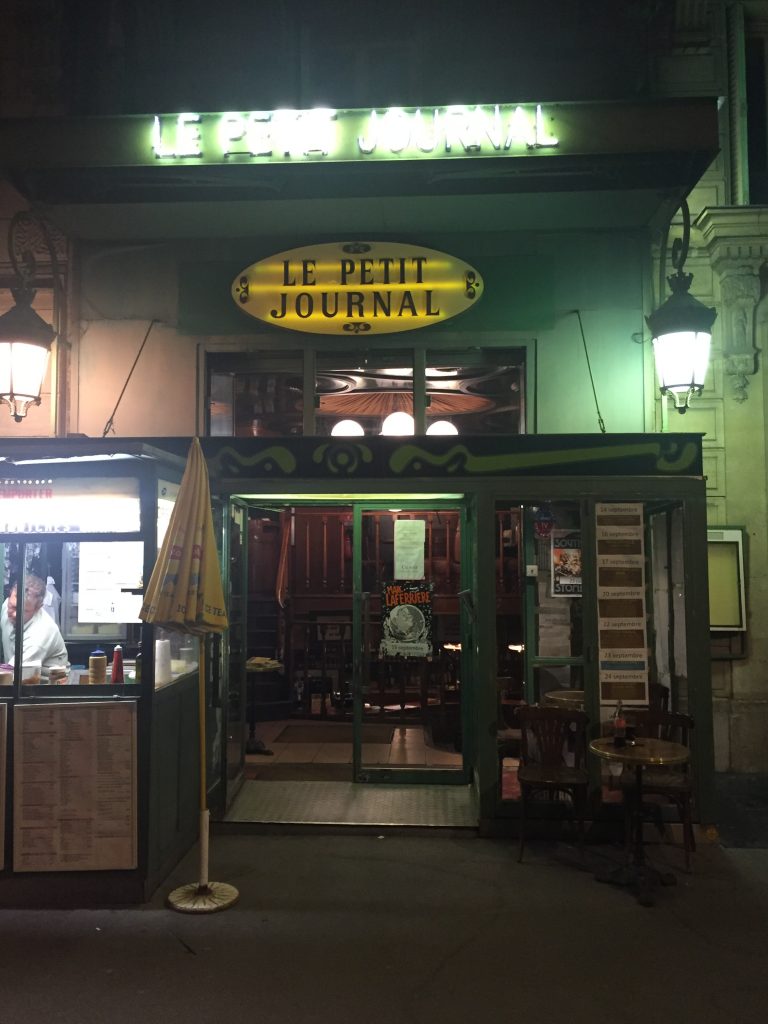 Inside the lobby there was some memorabilia and photos on the walls, showing that Quincy Jones, Jerry Lewis, Woody Allen, and Guy Lafitte, among others,  had been there at one time or another in the past.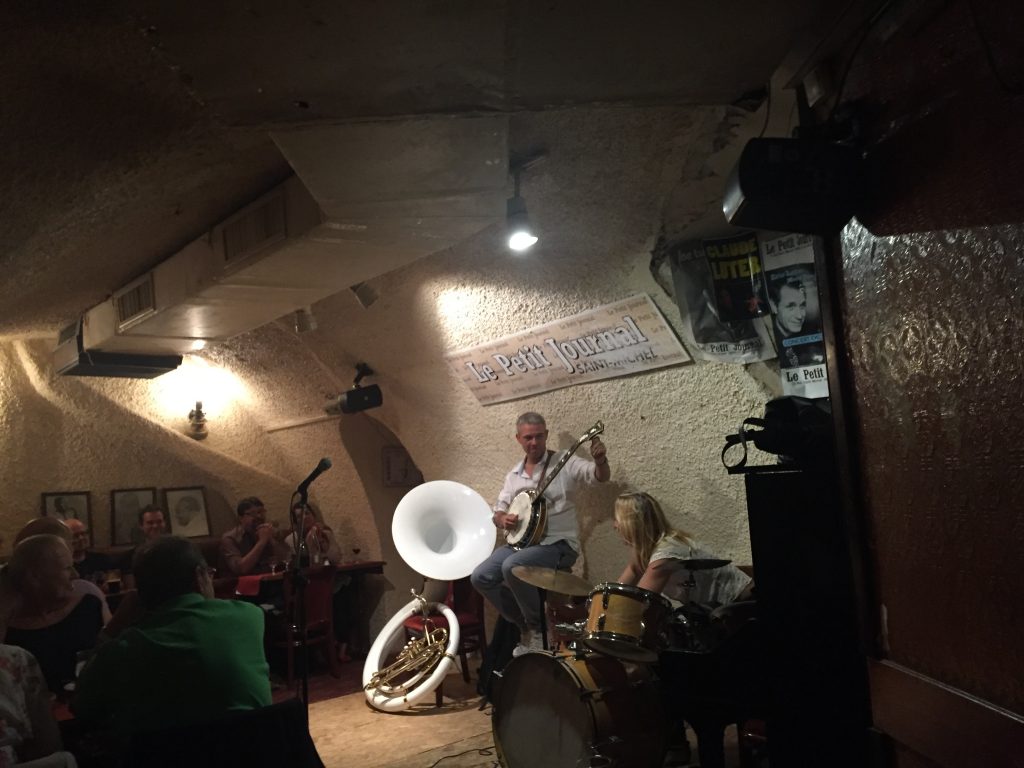 The Marc Laferriere Quintet happened to be playing that night,  and they played New Orleans Jazz.
The female drummer also played the washboard. We were kinda gettin' into it when she did her solo……😃
Day 7……..Friday
…Day trip to Versailles
We took a train to Versailles and spent a few hours there. There was a lot to see. The palace was once the seat of power. But now it is home to the Museum of the History of France.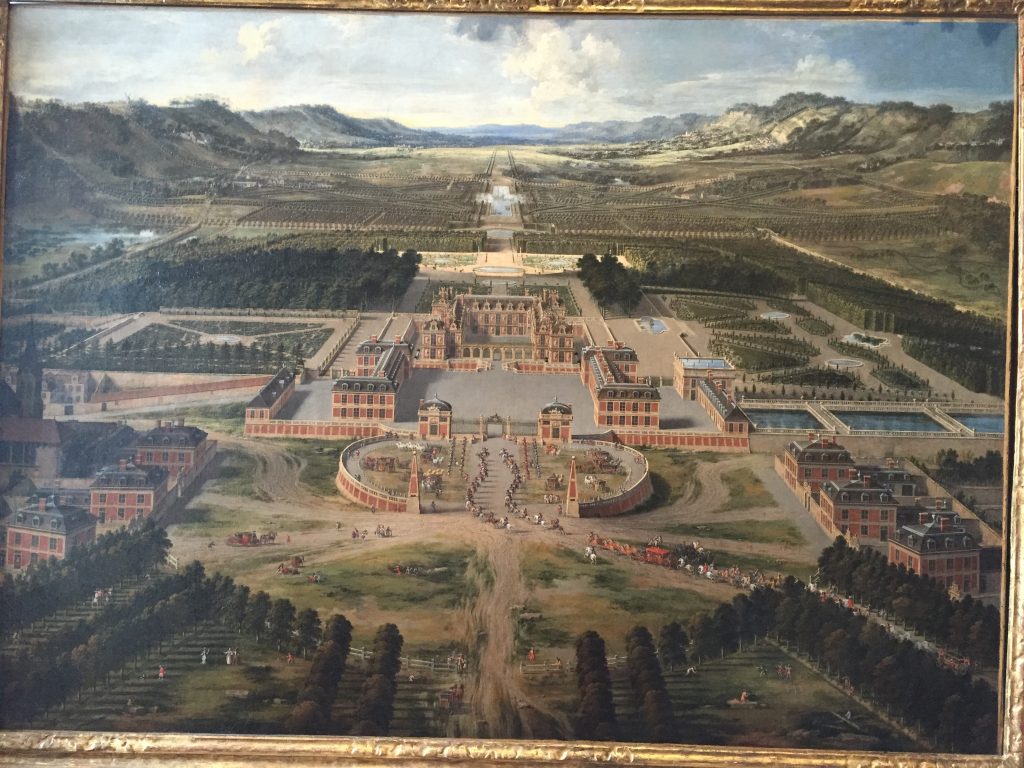 This was a painting in the palace that depicts the way it looked back during the 17th Century.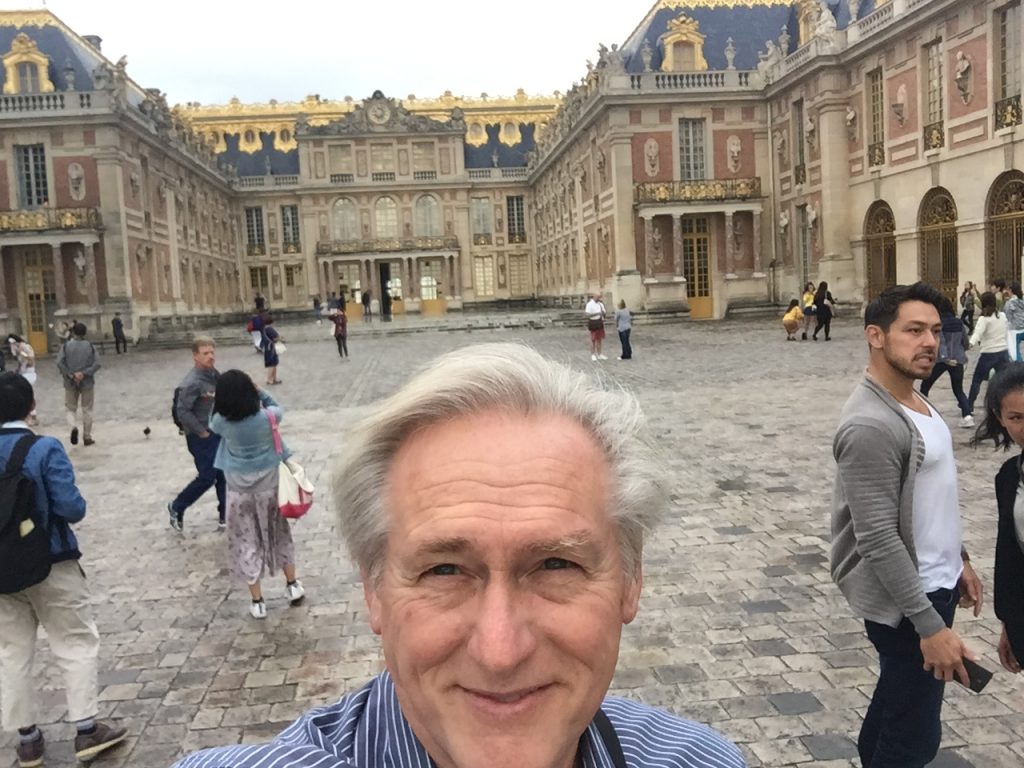 The Palace and the grounds were expansive. We walked through a lot of different rooms in the Palace. We saw the Gallery of the History of the Palace, which consisted of 11 rooms devoted to the history of the creation of the Palace of Versailles (including works, models, and videos, etc.)
There were ceremonial rooms, Louis XIV rooms, rooms for the daughters of Louis XV, the Gallery of Battles, and more. It takes a little time to see it all. But it's totally worth seeing. It's a great day trip.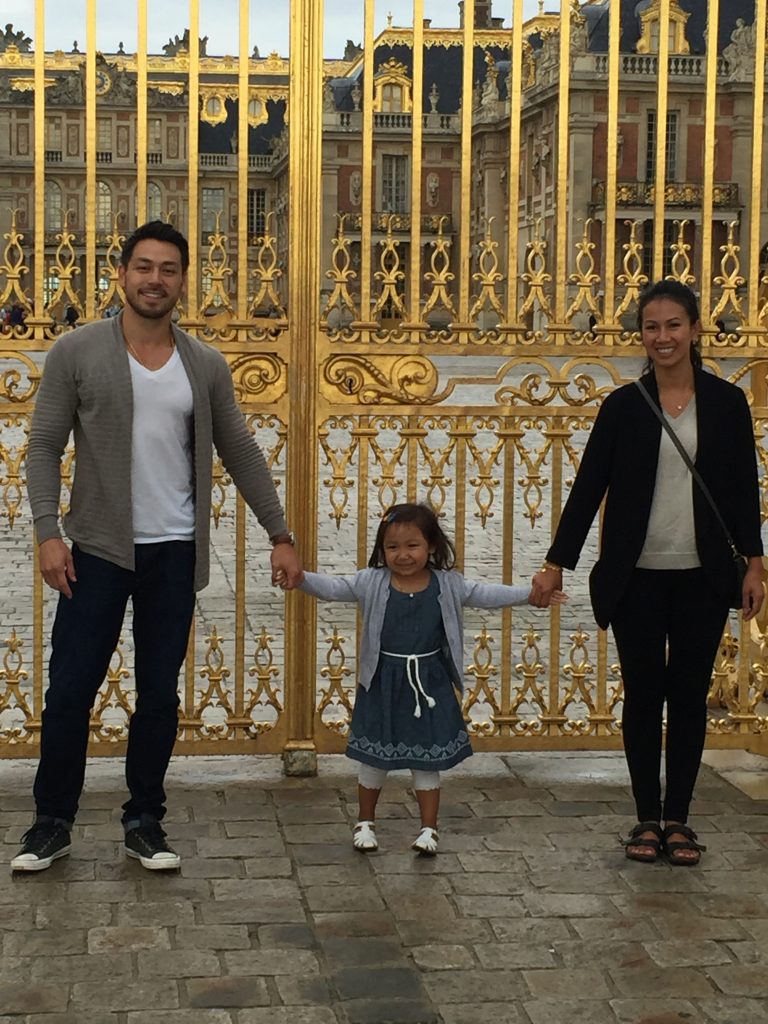 The hardest part was getting through these gates
We had to give the secret password to these formidable gate guards at the palace in order to get in. Don't let the middle one's size fool you. She's a force to be reckoned with.
We passed through the Hall of Selfies Mirrors. (That was before the digital age). I learned that, in the evening, the Hall of Mirrors was illuminated by 3,000 candles.
We passed through many, many rooms. The opulence is kind of overwhelming. There was a big crowd that day.
We walked out the back to the gardens and park area.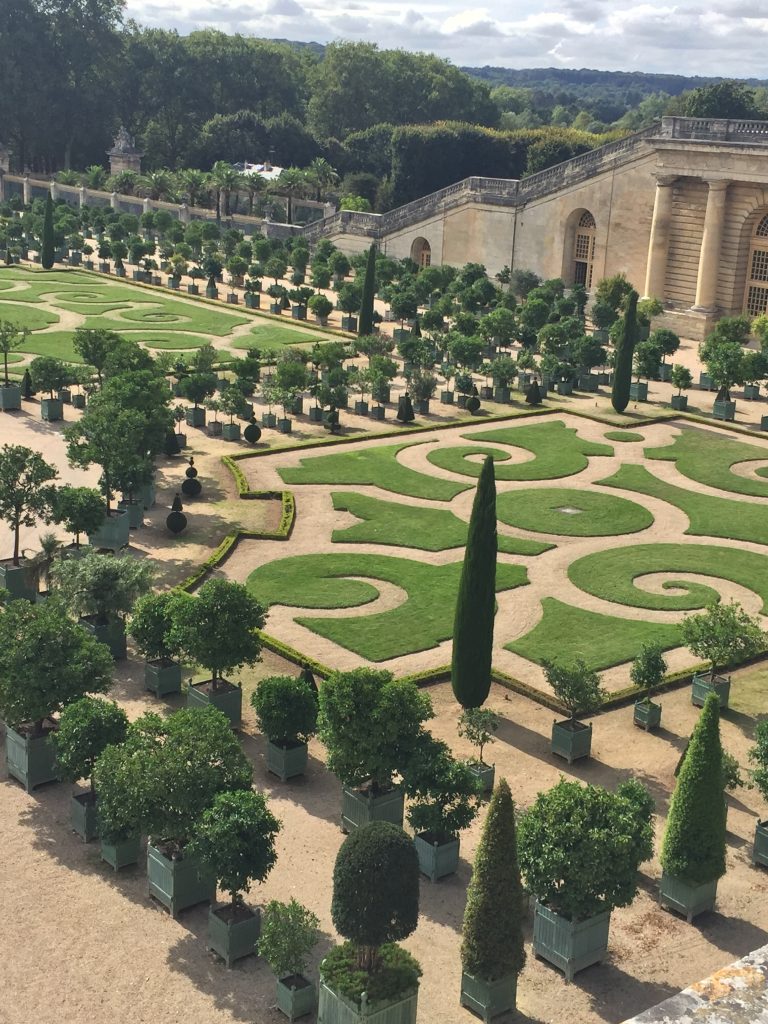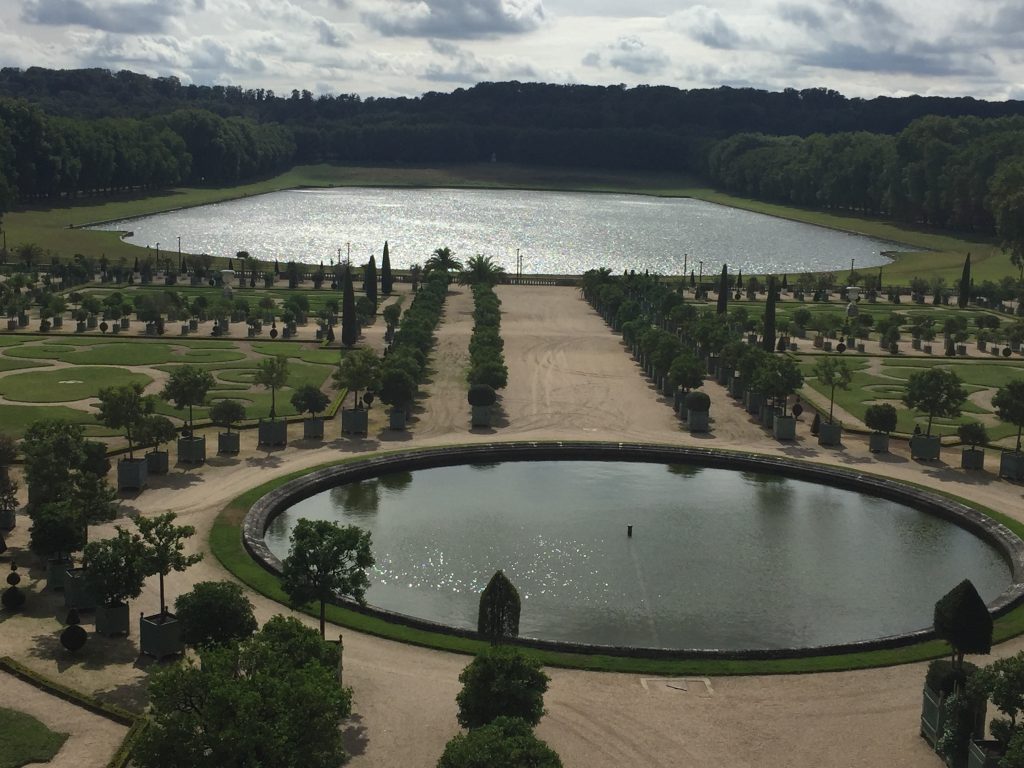 Above is the view of the Orangery
We had lunch outside on the steps leading down to Latona's Fountain and Parterre, with a view of the Great Lawn, Apollo's Fountain, and the Grand Canal.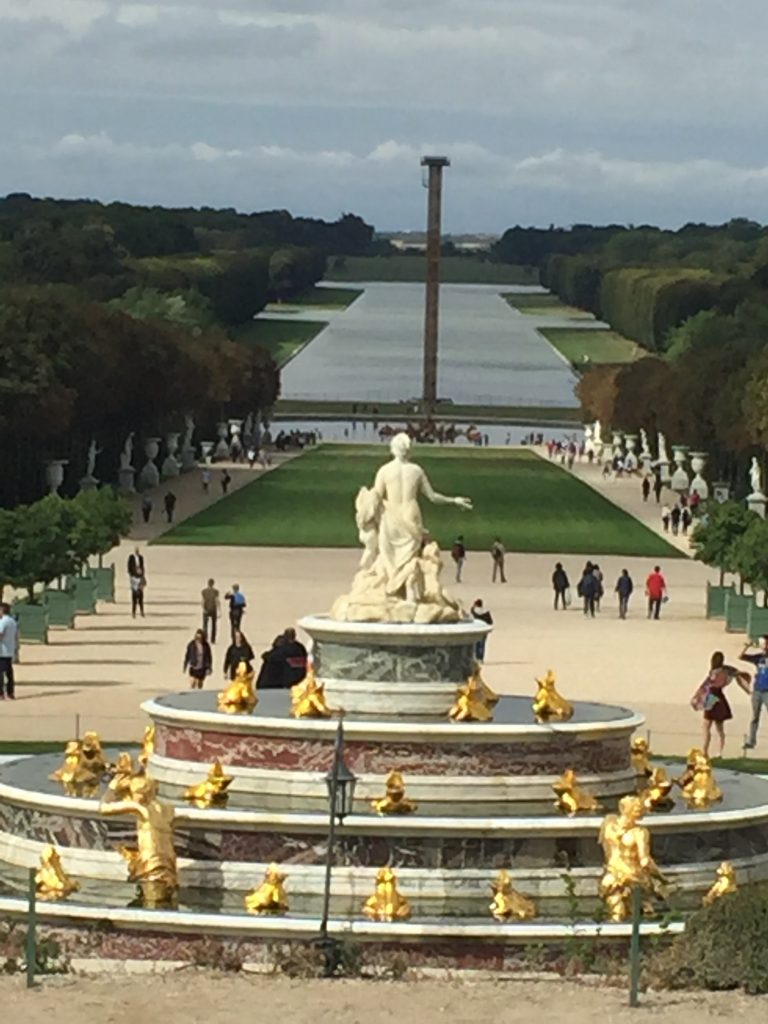 From there we rented two golf carts to see the rest of the grounds. Marie  Antoinette's hamlet was pretty far from the palace. It was a little northeast of where we are sitting in this picture, and beyond the stand of trees you see in the upper right side of the photo.
As we were returning from the hamlet, heading back to the palace, we passed by the Musical fountains and the musical water ballet started.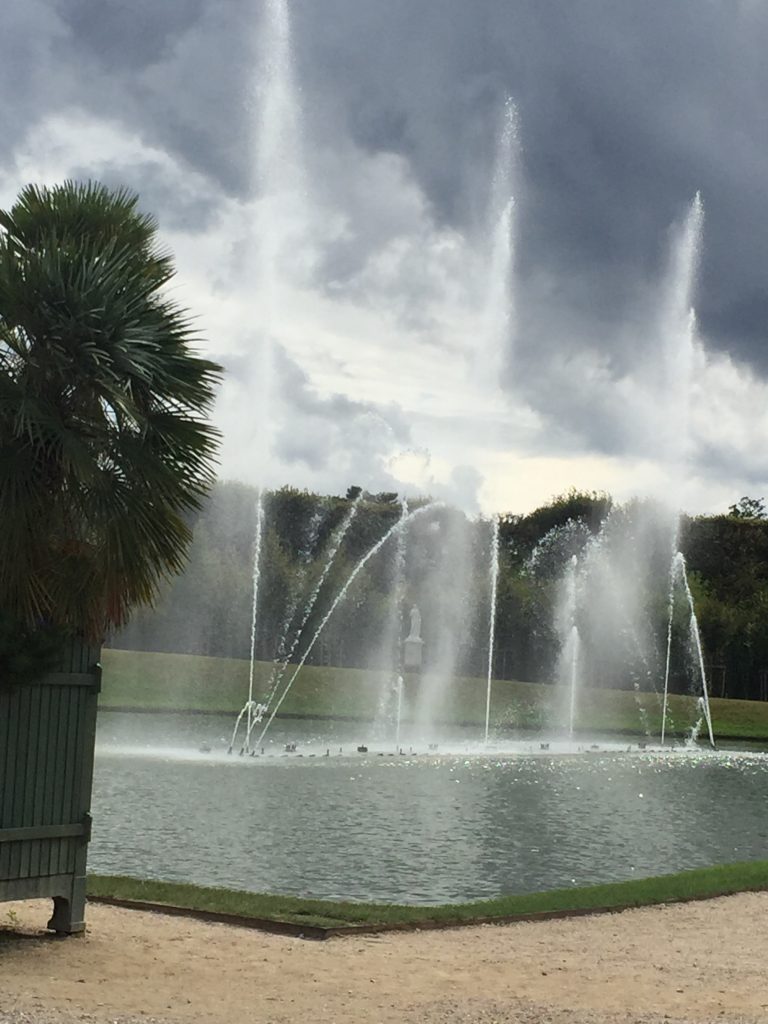 Then we walked back to the train station and headed back to Paris.
Day 8……..Saturday
Basketball under the Eiffel Tower
I woke up early to get to the court before everyone else so I could do a video clip playing by the Eiffel Tower. I had it all planned out where I'd set up the camera so the Eiffel Tower was looming above me as I had my fun.
The only problem with the plan is that two other guys arrived at the same time as I did. There were only two goals sharing the same court so I couldn't put my camera on their side of the court like I needed to do to get the view I wanted.
So when you look at the video clip all you can see is a portion of the observation deck on the Tower, just above the top of the building. You wouldn't know what it was unless I told you.
I didn't allow enough time to get a good video clip. Time was running out. We would be leaving in a couple of days.
Also the next night I wanted to get a video clip under the lights. But just as I arrived it started raining. And I found out there was a soccer game going on.  I couldn't have used  the court anyway, even if it wouldn't have been raining.
Essentially, I blew it!!
So, even though this is probably the worst video clip I've ever made, I still want to share it. There are a lot of awesome shots in this clip but to see them you have to be patient and tolerant and put up with all the bad shots I missed.
(Disclaimer: at one point in the video the camera decides to refocus and everything becomes blurry but you can still see what's going on. Then, at some point, where I make a shot throwing the ball from behind my back over my head, the camera suddenly refocuses and everything is clear again.)
Isn't this how all great movie directors started?
Someday I'll go back again and do it right. I liked Paris. I liked playing basketball in Paris.I liked a lot of things that make me want to go back there.
Until then, this video will have to do:
Moulin Rouge
This evening, JJ and TP wanted to go see a show at Moulin Rouge.
Mandoo Bar
But I already had planned  to do something different that evening, (aside from the fact that they didn't ask me to go with them 😒).
I had seen a photo that Lizz posted on her Facebook page of a Korean noodle house which she and her band had gone to while she was on tour in Paris a couple  months earlier.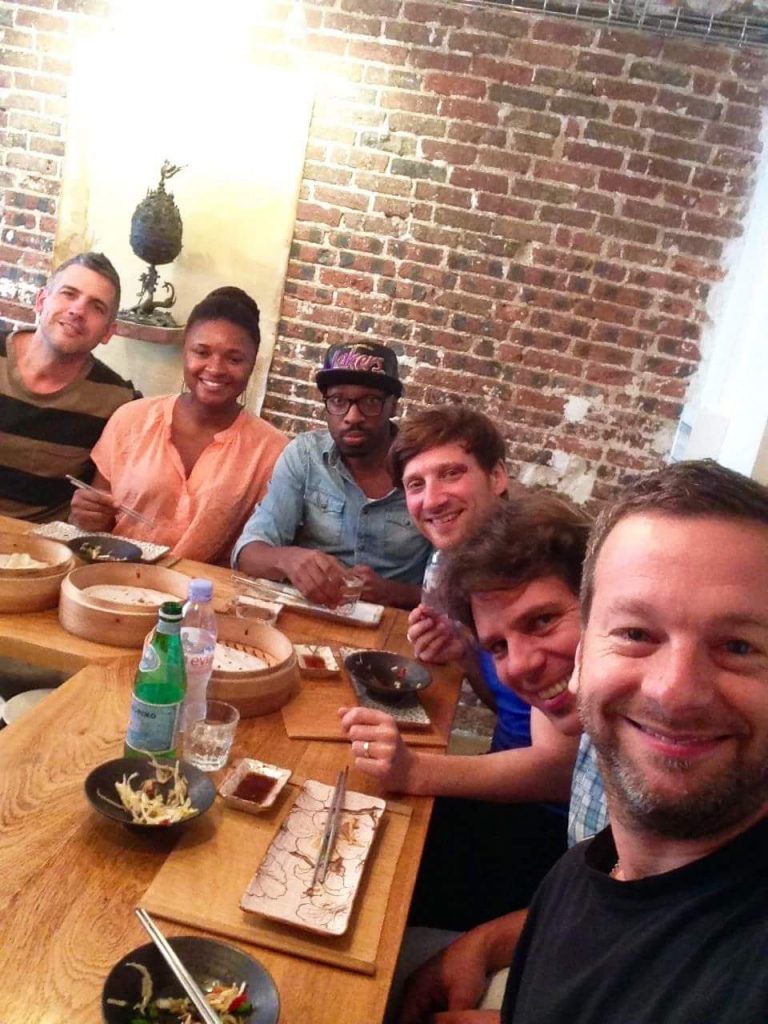 I was curious what led her to choose that particular Korean restaurant. So I googled "Korean noodle house" and I found it.
It was called the "Mandoo Bar". It's Korean-owned.
When I looked at their web site photo, I saw a Korean kayaggum (a traditional Korean stringed instrument) hanging from the ceiling. That interested me. I wanted to check it out for myself.
I thought maybe they would have someone sing and play the kayaggum while you ate the Korean dumplings. I saw and enjoyed  those kind of performances in Korea many times when I lived there.
I tried to get the kids to go with me. But they balked, saying "Dad, why would you come all the way to Paris to eat Korean food?" They had a point. But I had my reasons so I went anyway.
While I lived in Korea, I learned to love the sound of the kayaggum.
In my previous post called, "Living Dreams, Chasing Rainbows…..and Other Phenomena", I showed this picture of a kayaggum that the Musical Instrument Museum in Phoenix, Arizona, had on display there.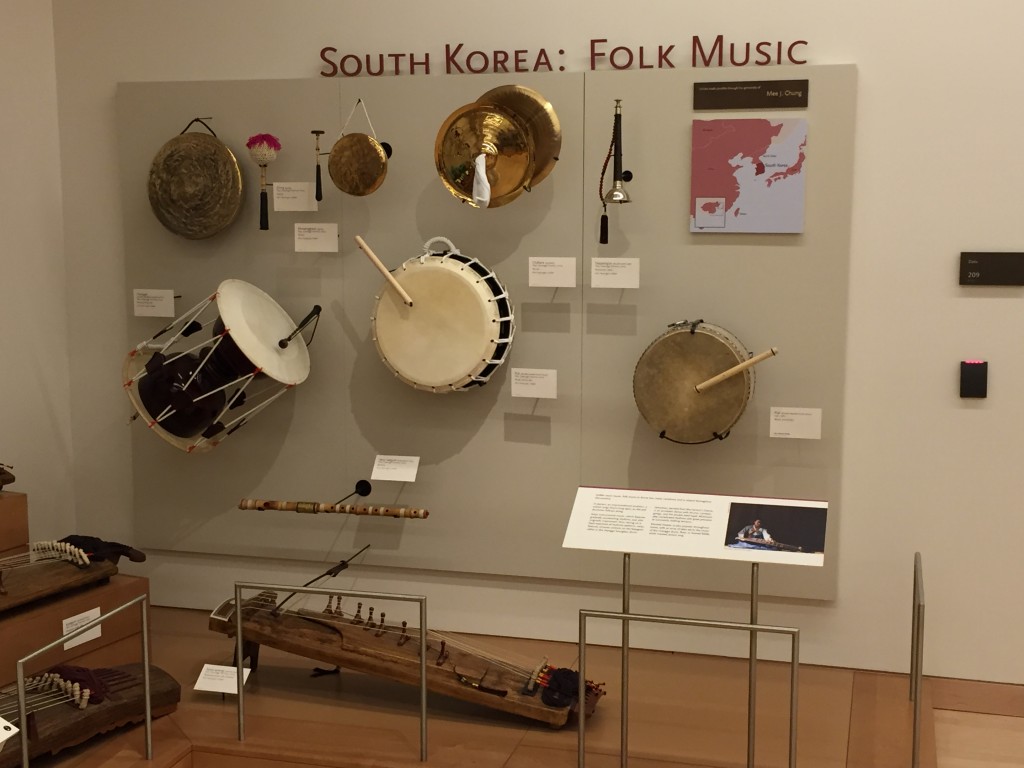 The kayaggum is the instrument on the floor in the middle.
Also, in a previous post called "A Fun Year, Musically! (Part 2)",  I  referenced the kayaggum  in the words to a song I wrote about South Korea, a long time ago, when I lived there. The song is called "Seems Like I've Been Here Before":
(……."the lovely maiden gracefully sings and plays those kayaggum strings"…….although a new sound to my ear, it seemed like what I always wanted to hear.)
Click on the arrow, below,  to listen to that song.
"Seems Like I've Been Here Before":
So when I arrived at the Mandoo Bar that evening, the first thing I noticed was that the kayaggum had been taken down from the ceiling.
I met the owner, Kim Kwang.  (In Korea, it's unusual to have only two syllables in their names. They usually have three).
I asked him why he had taken the kayaggum down but a  phone call interrupted our conversation and I never did find out why. Of course it doesn't matter why.  I was just curious.
I spoke with him in English and Korean about music and Korea and how he happened to come to France. He said he had lived there for about 10 years.
The mandoo was good but they didn't serve the various side dishes you usually get at other typical Korean restaurants. But I enjoyed the evening. It was interesting and fun to talk with Mr. Kim and listen to him and a couple of his Korean staff speak French to their customers.
I showed Mr. Kim the picture of Lizz and the boys in the band. He said,  "I remember them."
I said, "But did you know she's the best singer in the Universe?"
He said, "No."
I said, "She's a big deal! Just know that for the next time."
My mind just segued to that inspirational moment when I first became aware of Lizz (with two Z's), on the day when I heard her singing  "Reaching For The Moon and You"………in August, 2014.
(………although a new sound to my ear, Lizz (with two Z's), seemed like who I always wanted to hear.)
Day 9 ……Sunday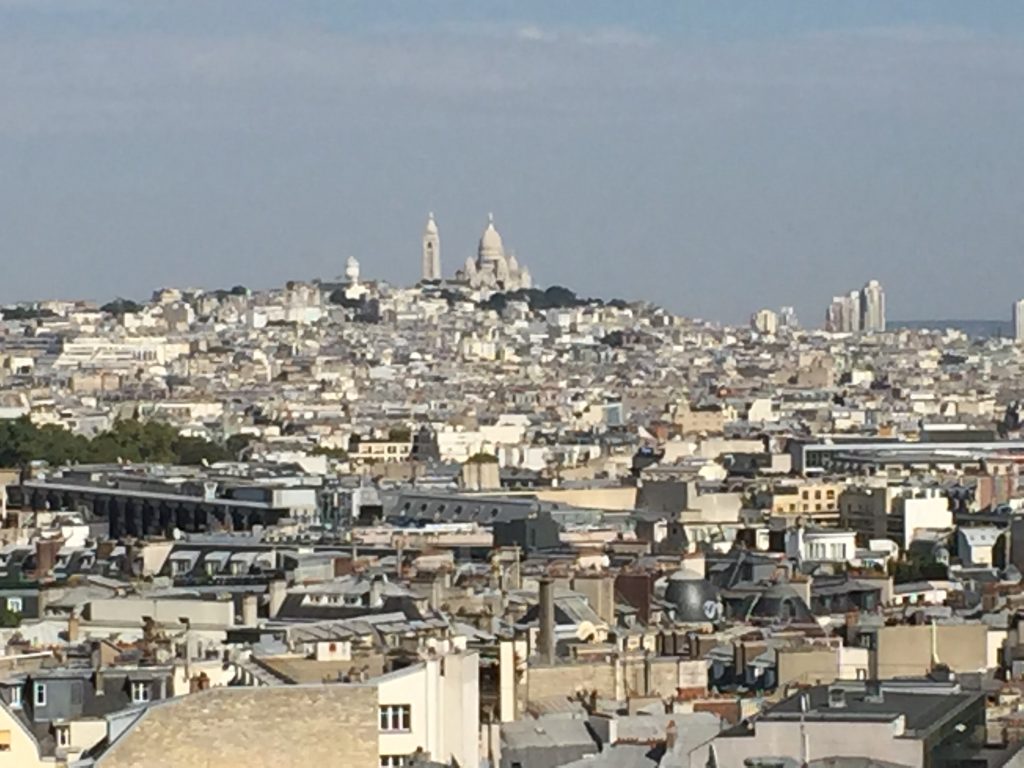 On our final day in Paris we wanted to go to Montmartre (above) to see the Sacre Coeur Basilica (below),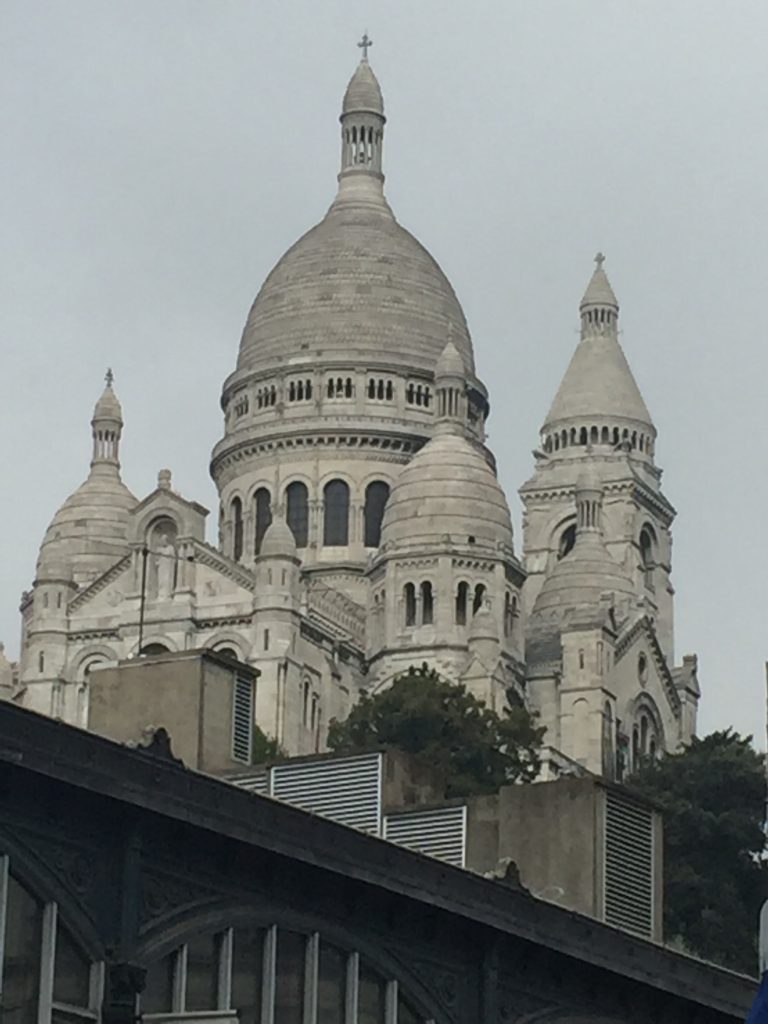 and to roam the streets all around it. It's one of the most picturesque quarters in Paris.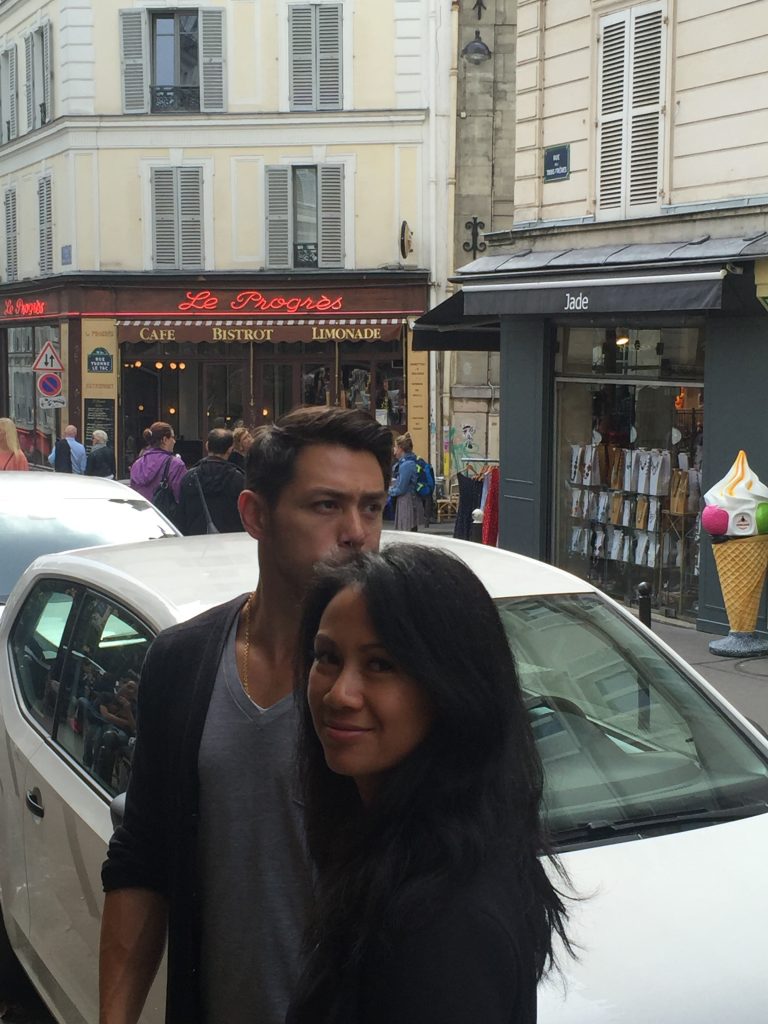 The Place du Tertre, an ancient city square there, is the heart of Montmartre. There are souvenir shops, art galleries, cafes and restaurants, and portrait artists. It's a thriving and fun place to amble through.
We started walking from the bottom of the hill, with the basilica in view, and slowly made our way to the top.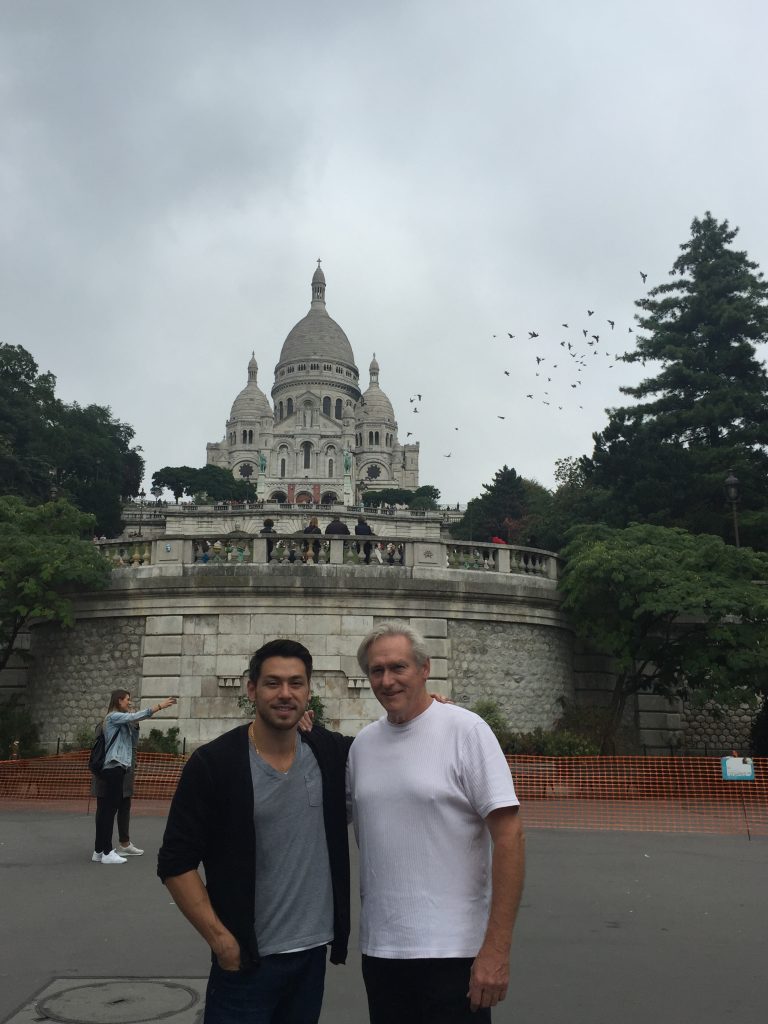 But before we reached the Place du Tertre, which is a little beyond the Basilica, we arrived at the front of the Basilica.
To my joy and surprise, there was a harpist, name Hugo, who was playing a French song that I have liked ever since I became aware of it while I was stationed in Korea.
The song is called "Ballade pour Adeline" (Ballad for Adeline). When we got to the top of the hill, he was right in the middle of playing the song. So I had already missed half of it.
I waited for him to finish playing it and then I approached him and told him that was one of my favorite French songs, and I asked him if he would mind playing it once more while I did a video of him playing it. He said he didn't mind.
So he waited for me to get my camera ready and then he said, "Okay?" I said, "Yes." Then he started playing.
"Ballade pour Adeline"  by Hugo.
If you want to hear more of Hugo, there are more videos of him on youtube.
The CD with "Ballade pour Adeline" is shown below.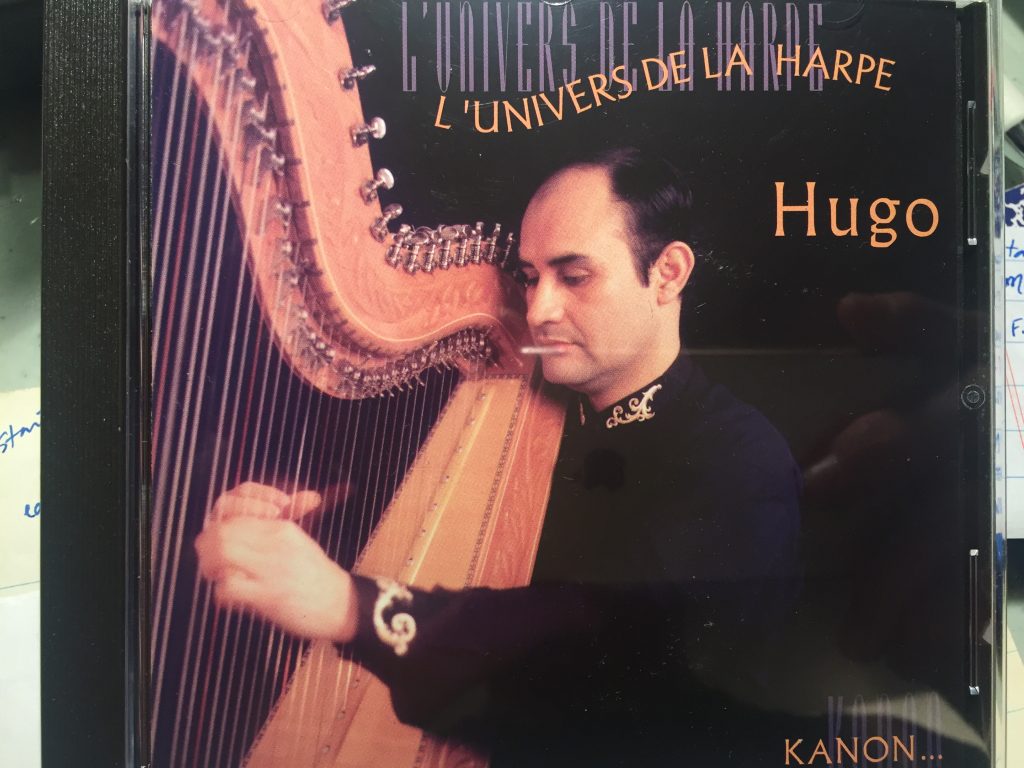 I bought three of his CD's that day and tipped him for indulging my desire to do the video. That was nice of him.
And finding him at the top of the hill playing a harp was the "Surprise of the Day". Thanks Hugo for sharing your music with the world.