Reaching For The Moon…………. (Photo: Courtesy of Nick D'amato)
"…..Gonna live my dreams, and chase rainbows, cause there might be a pot of gold. Just pay no mind to what the people say. Gonna live my life day after day."    
….from the song "Day After Day", written by Danny Britt.
In my previous post, "Your Presence Is Required", I mentioned the importance of being present, taking notice of things that interest you,  and then pursuing them.
So, pursuant to following my own advice, I planned a four-day weekend trip to Arizona and Texas.
I wanted to travel. I wanted to see and hear Lizz Wright sing again, in Phoenix, Tucson, and Austin. I wanted to take some pictures. To listen to music. To experience places that I had or hadn't been to previously. To tour the Musical Instrument Museum in Phoenix. To get a full-on, warm embrace from the sun (Seattle has been rainy and gray for three months now) while I played basketball outside in Tucson, Phoenix, or Austin, or all three.  To do a couple music videos for an ongoing project of mine. To test drive a convertible Chevy Camaro.  To watch the sunset from a mountain top. To stay in a luxury hotel at least one of those nights. To reach for the moon.
That's not asking too much for one weekend, is it?  🙂
Seattle to Tucson
So I got "all dressed up" and went to SEATAC to catch my flight to Tucson, first.
I had checked Lizz's tour schedule and saw she was performing in Phoenix, Tucson, and Austin, in that order.
So I thought how cool is that to be able to see and hear her sing, three times in a row, at different venues, all in one weekend!
I will never get tired of listening to Lizz sing, or talk, for that matter.
I also enjoy and appreciate the band members (she affectionately calls them "family" and "the brothers") who work so well together with her and are each talented in their own right.
So the plan was to fly into…..
…..pickup the rental car, go to the hotel and then drive straight to Phoenix for the first show.
But I arrived in Tucson around noon and it was too early to check into my hotel so I let them know that I would be getting in late that night after driving back from the show in Phoenix.
Tucson to Phoenix
The venue where Lizz was going to be singing in Phoenix was an auditorium that was part of the Musical Instrument Museum (MIM).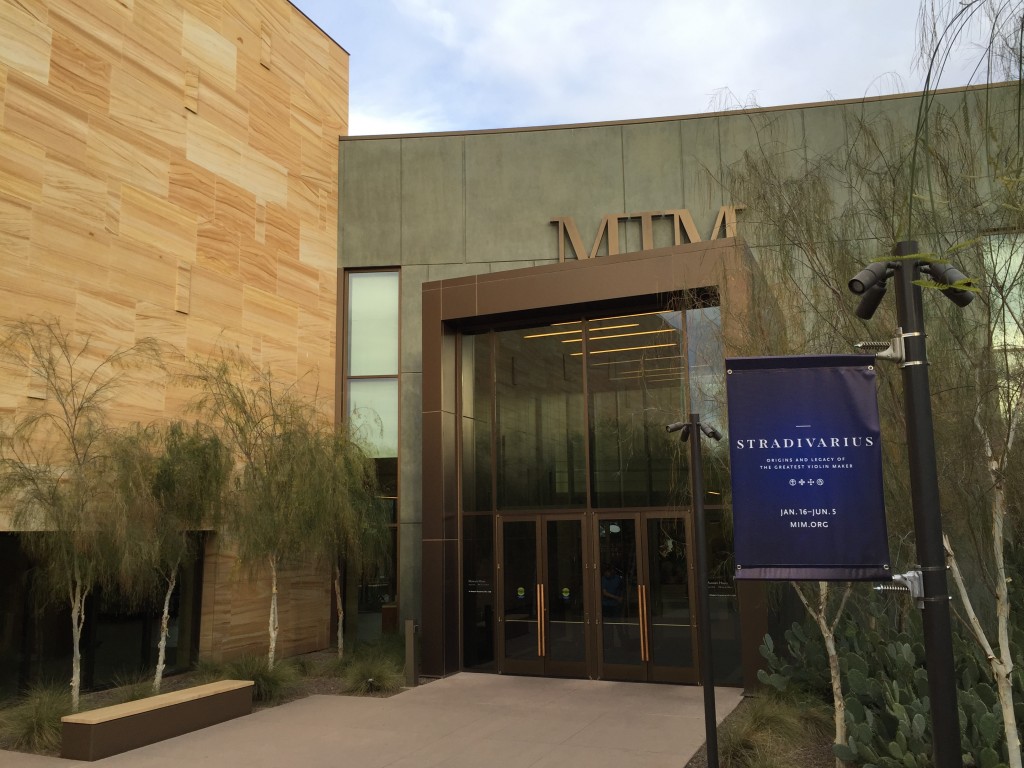 I timed it so I would arrive in Phoenix with ample time to look around the museum and then have dinner before her show started.
MIM is a very beautiful, expansive and unique museum, which was founded to show the diversity of music and musical instruments from every country in the world. They have a collection of over 15,000 instruments, 6,000 of which are on display at one time. I know because I counted them.  🙂
Strolling through the museum, "Journeying through the World", seeing so many interesting  musical instruments all in one place, reminded me of the universal need to create and listen to music, and the powerful and unifying affect it has on people.
Lizz has touched me that way, through her voice (her African-American instrument) and her music.
As I went up a spiral staircase to look around the African, Asian, European, Latin American, and U.S. galleries, my eyes were drawn to the floor to a  beautiful stone inlay of "the World", which some talented artists had created and seamlessly and flawlessly pieced together.
Below are a few photos of some of the instruments on display at the various galleries: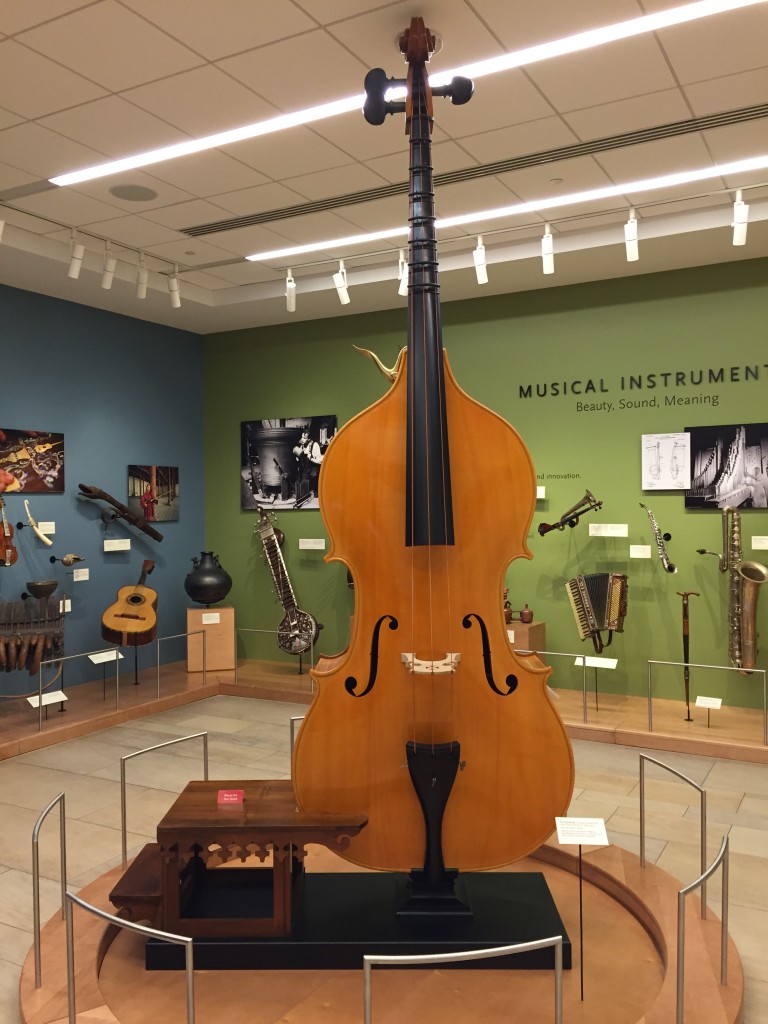 This 12-feet tall octobasse is tuned two octaves below a cello. It was invented and made to add depth to large orchestrations. It is the only one in the Western Hemisphere. There are only four in existence. How cool would it be to feel the vibe from the wolf note of this octobasse?
I just put a few of my pictures here to give you an idea of how it looks. If your interest is piqued, you could plan your own trip to MIM. (Click on MIM for more information).
THE LIZZ SHOW MUST GO ON! And it did. And I enjoyed it so very much. I'm just sorry that I have no recording or photos to share with you here. They said we couldn't take any pictures or video at Lizz's show. And we weren't allowed to in Tucson and Austin either. But I think someone should be recording this rich legacy that Lizz is creating in the here and now each and every time she performs.
Lizz is so unique and phenomenal. There is no one like her.
She is the "other phenomena" I am referring to in the title of this post, "Living Dreams, Chasing Rainbows……and other phenomena" .
Leigh Ann Henion,  a writer living in North Carolina,  wrote a book called, "Phenomenal". It was a story about the author trusting her instincts, following her passions, and venturing out on a global trek to rekindle her sense of wonder as she chased migrations, auroras, eclipses, and other phenomena, to ultimately discover how to go about willfully shaping her days into the life she most wanted to live.
I, too, am on a similar journey, keenly aware of the importance of "……being the expert witness of my own life"  (to quote a partial phrase I read and liked in Phenomenal), so that I will always be present and consciously trying to shape the days into a life I want to live. But another part of that is the question that always looms in my mind, "Is there one thing I should be doing really well and, if so, what is it?" "What was I born to do?" I seem to be chasing the answer to this question. 
I really enjoyed this book. Leigh Ann is a keen observer and she is so descriptive and detailed in the way she expresses her thoughts and extraordinary insights and truths she uncovers for herself along her journey.
Thanks to Leigh Ann for writing "Phenomenal" and thanks to Lizz for mentioning it on her Facebook page, and for being so phenomenal herself.
But if I happened to be in North Carolina and I ran into Leigh Ann Henion on the street, I think I would say this to her:
"So I heard you went all over the world chasing natural phenomena such as volcanic eruptions in Hawaii, butterfly migrations to Mexico, Catatumbo lightning strikes in Venezuela, bioluminescence in Puerto Rico,  Northern Lights in Sweden, wildebeest migrations in Tanzania, and the total eclipse of the sun in Australia. Is that right?"
Then when she replied, "Yes!", I would then query:
"But have you ever heard Lizz Wright sing?"
If she said, "No", I would say, "Well then you ain't seen nothing yet! You better hurry up and go see her!!  It'll change your life."
So Leigh Ann is chasing all sorts of natural phenomena.
I'm chasing the phenomenal Lizz and the answer to the question, "How best can I serve this world?
So I wonder who or what is Lizz  chasing.  🙂
From Phoenix Back To Tucson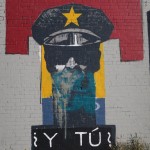 I got in late from Phoenix so I slept late on Saturday morning. Then I got up and drove around the city to check out the location and parking situation near the Rialto Theater, the next venue where Lizz would be singing that evening.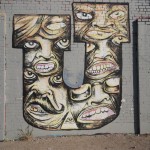 Next I checked out the basketball courts I found on Google maps before I left Seattle and I picked the one that I liked best. I was going to get some "Air time in Tucson", a little later on, under the noon day sun and do a video clip of it too.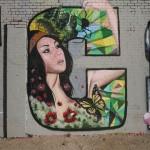 After that, I talked to the hotel staff to find out which mountain overlook was preferred by people to watch sunsets. They told me to go west to Gates Pass. Later that afternoon I was able to see the sunset, do a video clip of a song I wrote, and have dinner all before showtime.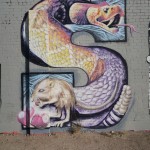 At Gates Pass, I was sitting on a rock on the side of the mountain, watching the sunset flame up. But that wasn't the best part.  I was having a rum and coke, while sitting on a rock on the side of the mountain, watching the sunset flame up.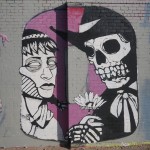 But that wasn't even the best part. While I was having a rum and coke, while sitting on a rock on the side of the mountain, watching the sunset flame up, I was quietly listening to Blue Rose, Dreaming Wide Awake, Eternity, Fire, and Somewhere Down The Mystic, on my little but mighty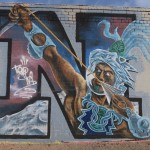 Bose speaker. Those are all songs written by Lizz Wright. She is a great songwriter and truly an artist. As I was sitting on a rock on the side of a mountain, having a rum and coke, watching the sunset flame up,  Lizz' music was tickling my auditory nerves. THAT was the best part.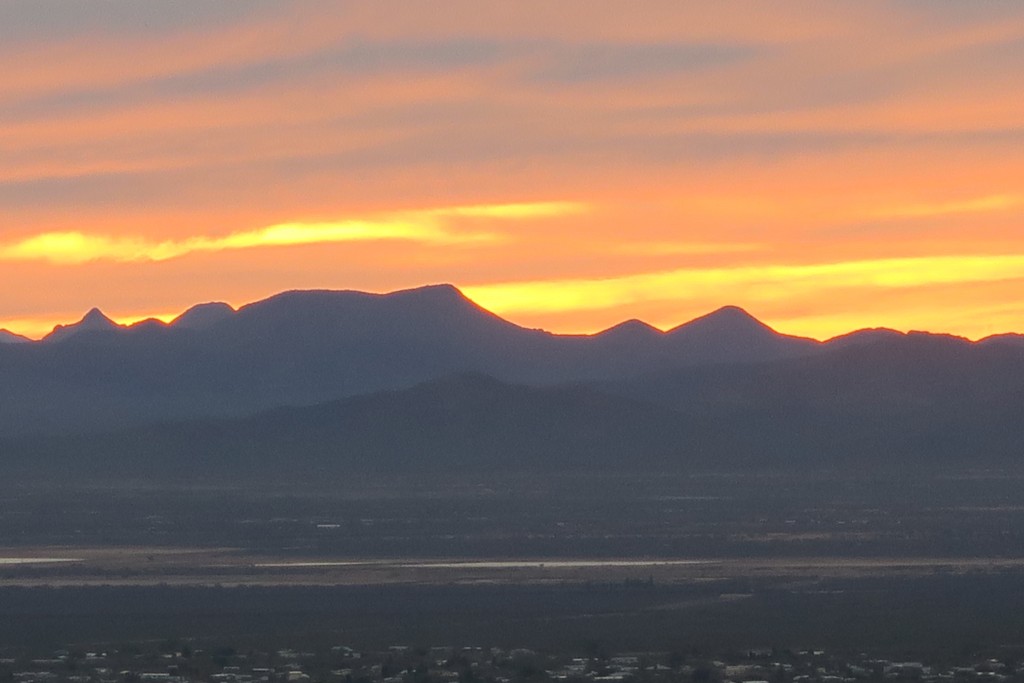 View of the sunset from Gates Pass, Arizona.
I've been making music videos  of this song for a few months now, wherever I travel. I'll eventually take snippets from each one and put them all together at some point. I included it in this post because it is something I set out to do on this trip.
Air Time in Tucson
Tucson to Austin
The next morning I flew to Phoenix, changed planes,  and continued on to Austin. I arrived about 1 p.m., and picked up my rental car, a bright red, 2015, convertible Chevy Camaro.
Am I too much?  🙂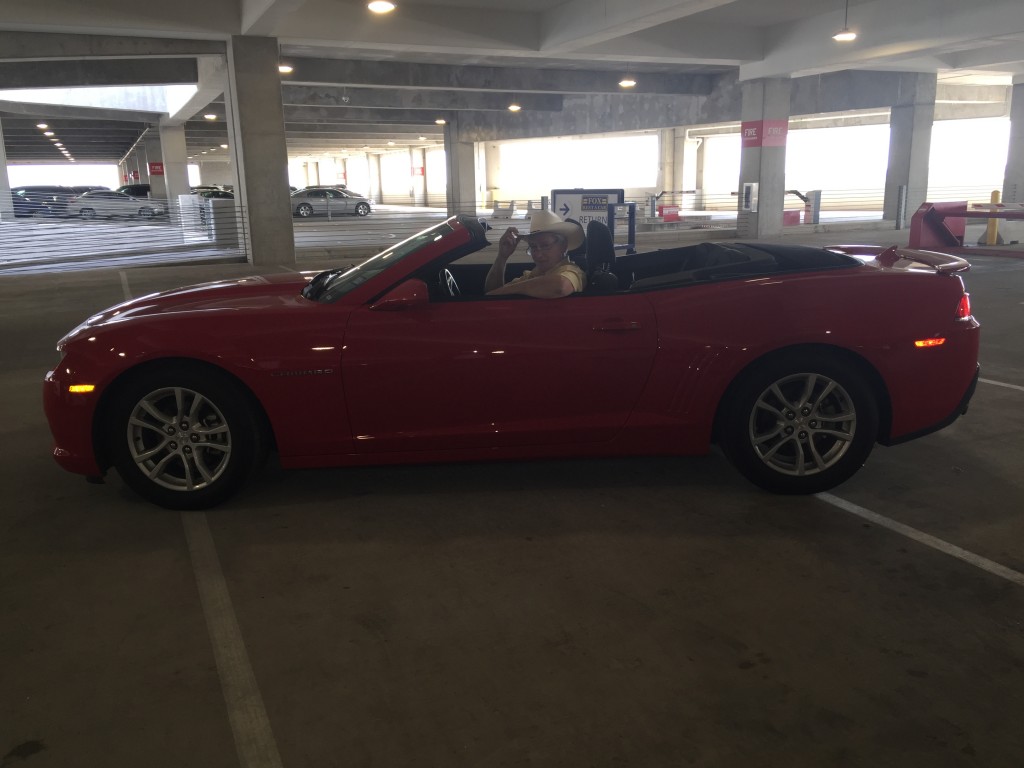 I have been wanting to test drive the Camaro for a while now. I like the look of it, with those sleek curves.
So I headed for the Hyatt Regency Austin, which is right across the river from downtown Austin. It's just a walk across the bridge.
After I checked into the hotel, I took a two-hour nap. I didn't get enough sleep the night before and felt a little tired. I love naps!! They regenerate me.
I woke up and went down to ask security if there was a rooftop or a room with a balcony at the top of the hotel where I could do a short music video up there. They agreed to it and a lady escorted me up to the room. I went out on the balcony and did my thing. It's the same song ("Somewhere a Carin' About You") that I did earlier in the blog. You don't have to listen to it again but you can check out the view. It was nice:
I did it in about five minutes and then we went back down the elevator to the lobby.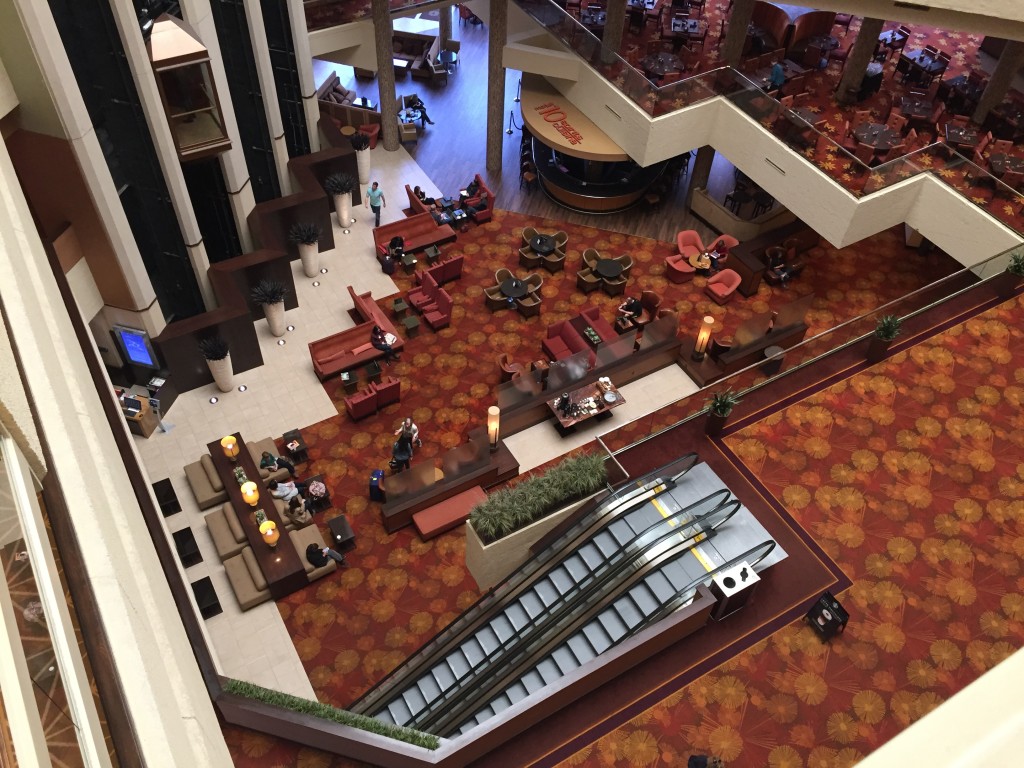 I did another video (of the same song) on this patio (below) that overlooks the river.
The patio area was a surprisingly quiet little oasis where I  re-read a few specific passages in "Phenomenal", to refresh my memory, had coffee and something to eat, and reflected on all I had seen or done so far on this trip.
The weather was gorgeous that day and evening. I ate a light dinner and headed to the One World Theater to watch my third and final Lizz show for the weekend.
Before I went in, I looked up and saw the sky was filled with stars, but I happened to see the "biggest and brightest star" from inside the building.
Lizz puts her heart and soul into each and every performance. She makes it look easy but I don't think it is. Anyway, I really enjoyed each of the three shows.  I can't remember which venue it was, but she sang Blue Rose one of those nights. That's the first time I heard her sing it live. I was glad to hear it.
I wasn't ready for it all to end. But I headed back to the hotel. The nighttime temperature was just right to be riding around in a convertible (did I mention it was red?  :)), with the top down, and the mighty little Bose speaker cranked up.
Monday – Time To Go
Before I headed to the airport, I had a little extra time available to me. So I decided I'd like to walk the city, even though I still had the car.
I have been "walking the cities" wherever I go, lately, and I find that I like to walk around them rather than drive. I always have a camera and my music.
I didn't sleep well the night before so I woke up at 5:30 a.m., got dressed, went to the Starbucks in the Hyatt lobby, had a bacon, gouda, and egg sandwich and a tall Latte. Then I headed across the bridge (below) to Austin. Along the way, I took these shots:
When you take shots in early morning light, or at dusk, the photos have a bit more ambience.
My goal was to walk to the Capitol and back, seeing whatever I could see along the way. It was about 16 blocks away from the hotel.
.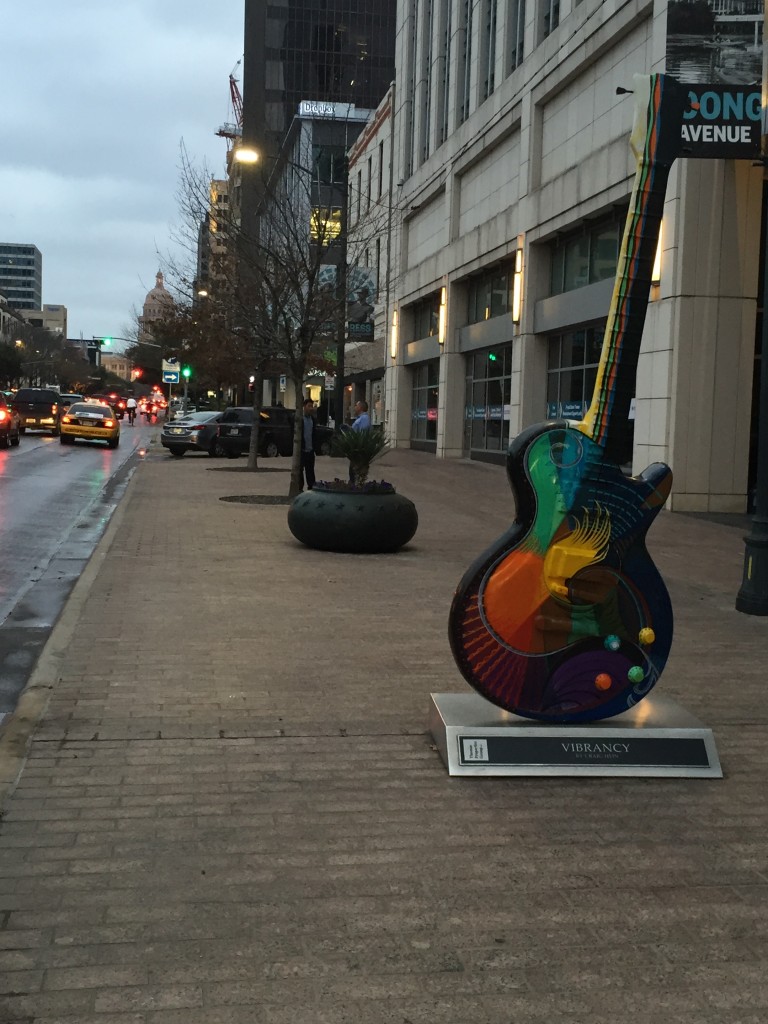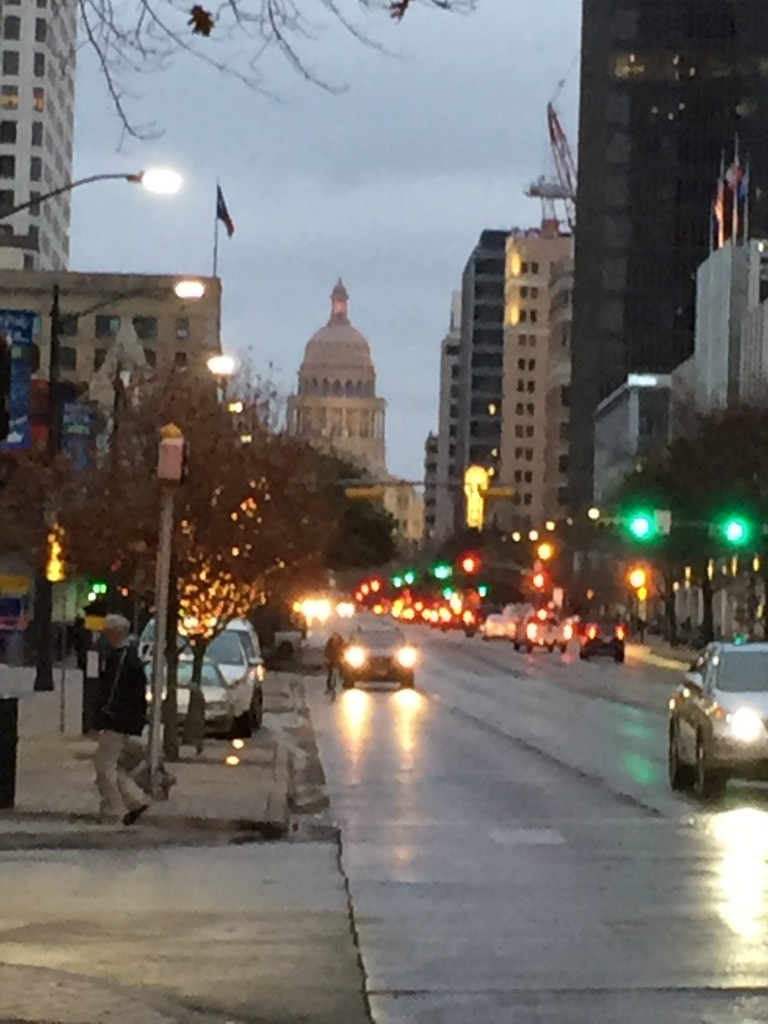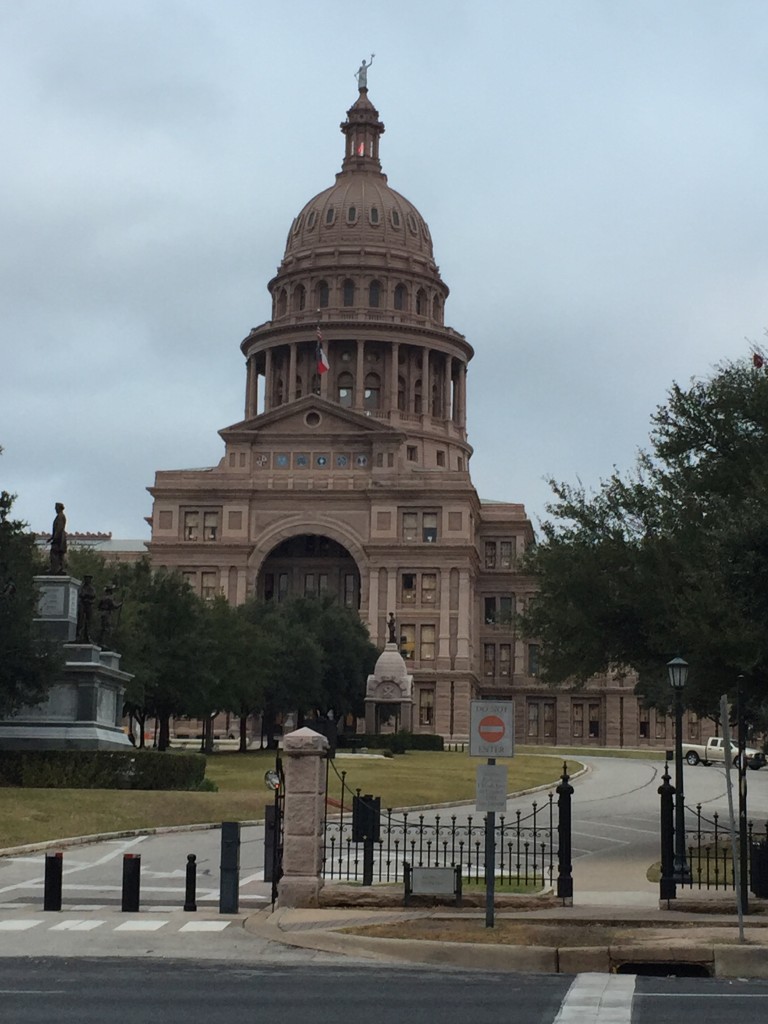 Capitol in Austin, Texas
On the way there I discovered a stoic  "entity",  watching over the city while the people slept: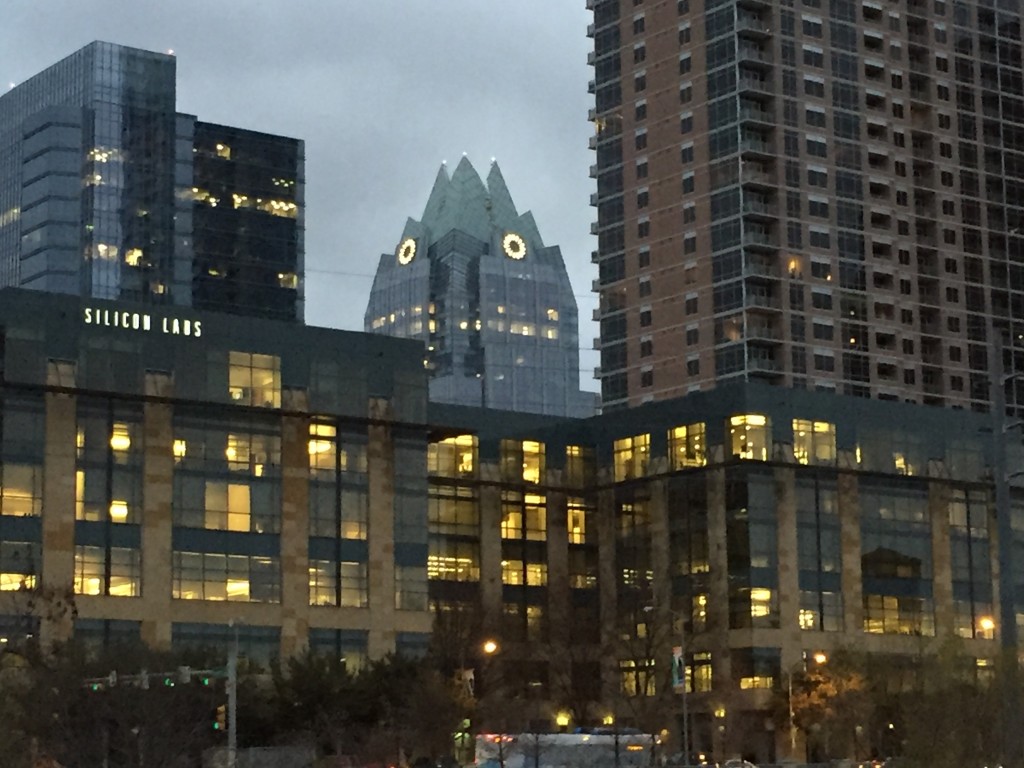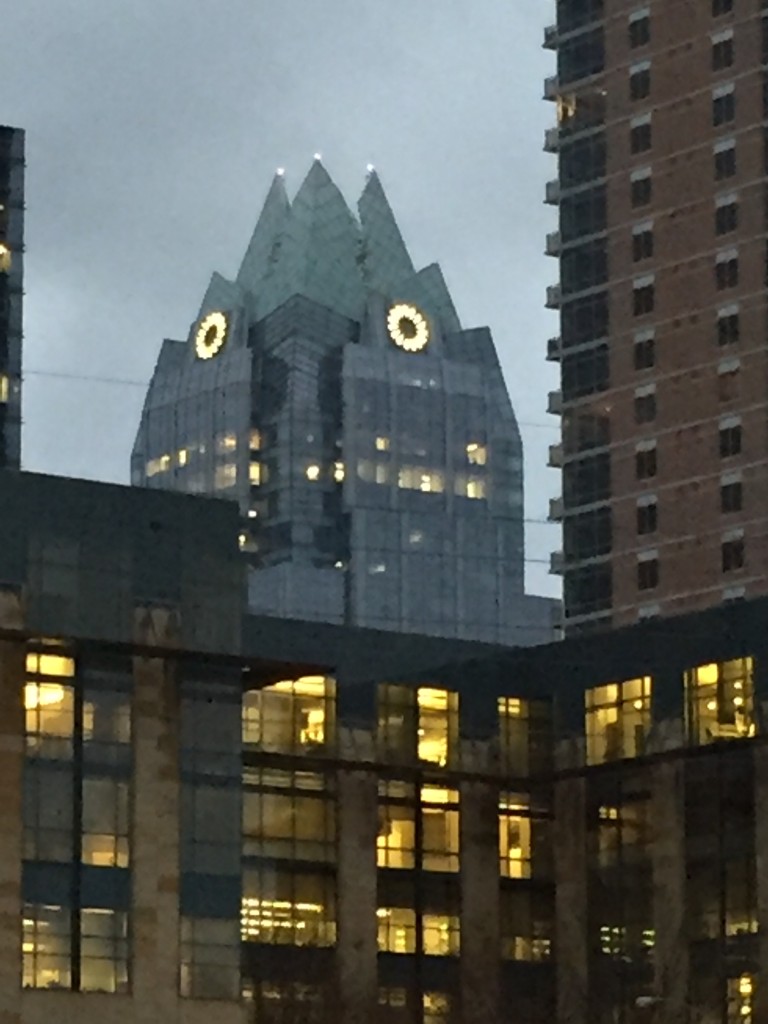 I was afraid to get too close so I zoomed in.
Now, at this point, I thought my time in Austin was just about over. But there were a few elements of surprise awaiting me.
Austin-Bergstrom International Airport
I "reluctantly" gave them their Chevy Camaro back. I kinda liked it. Then I found my gate and settled in to wait for departure. But I still had quite a while before I would leave.
Then I heard an announcement that our flight to Seattle had been delayed about three hours. That was the first surprise.
So I thought I'd go and get a cup of coffee. I walked to a vendor,  got a cup of coffee and sat down at one of the small,  high tables. I was almost finished with the coffee and starting to go back to the gate when I heard someone playing guitar and singing. It was coming from behind the wall of the coffee shop.
There were two guys playing guitar and singing harmony. They sounded good. They were playing at this space in the airport: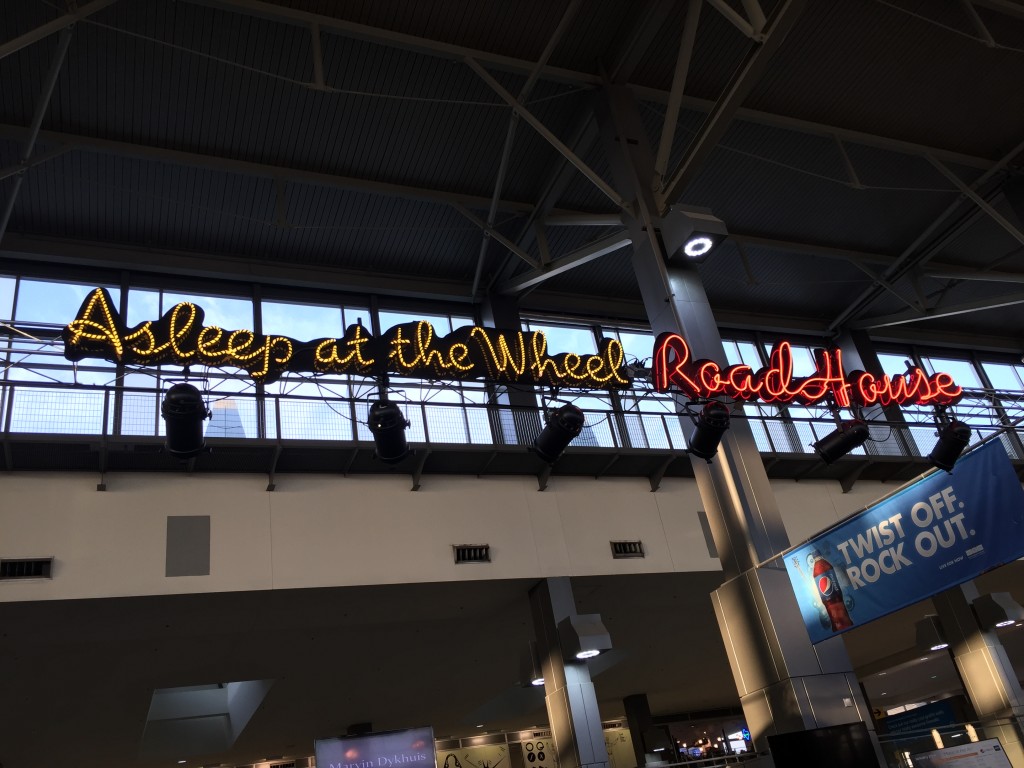 "Asleep at the Wheel Roadhouse"
That was the second surprise of the day!
I wasn't leaving for three more hours and they had just started playing and said they were going to play for three hours.
The two guys are Danny Britt and Marvin Dykhuis. (Click on their names to learn more about them.)
So I grabbed a table where I could see and hear them well. Then I ordered a rum and coke from a waitress named Belinda who called herself Julie.  (Suspicious? I know!) I confronted her with my suspicions too.
She was my waitress for the next three hours. She was experienced with work and people so she was a lot of fun. Seemed like she got along well with all of her customers.
Anyway, the rum was poured. The music started and it was good.  And I wasn't going anywhere.
The first song I heard them play was a song called, "Things That Matter Most To Me".
Marvin wrote it and he said it was still a work in progress but he went ahead and sang it anyway. I liked the concept, the melody and the hook. I asked him to sing it a second time and he did.
While I was recording these two fine troubadours, I noticed "Julie" (aka "Belinda") walked in front of the camera. So the next time she passed my table I "accused her of craving the limelight and wanting to be a star". Teasing back, she said seriously, "Oh I'm so sorry."  I quickly replied, "Oh no I'm just kidding!" But she didn't hear me. She had already walked away.
In the next song called, "Texas Eagle", you see "Julie" in the video to the right taking an order from a customer and then she walks toward the singers and turns to taunt me. She looks at me, and covers her mouth with her hand as if to say, so innocently, "Oh, I'm so sorry. Did I walk in front of your camera?"
It was that kind of occasional silly banter and the live music that made the whole time fun and before I knew it, it was time to get on the airplane.
But wait! There is yet another surprise!
I stopped recording Danny and Marvin and just listened to them. As I was listening, I looked around the space at all the people who were there. I looked over at the bar, which was called, "Ray Benson's Roadhouse"……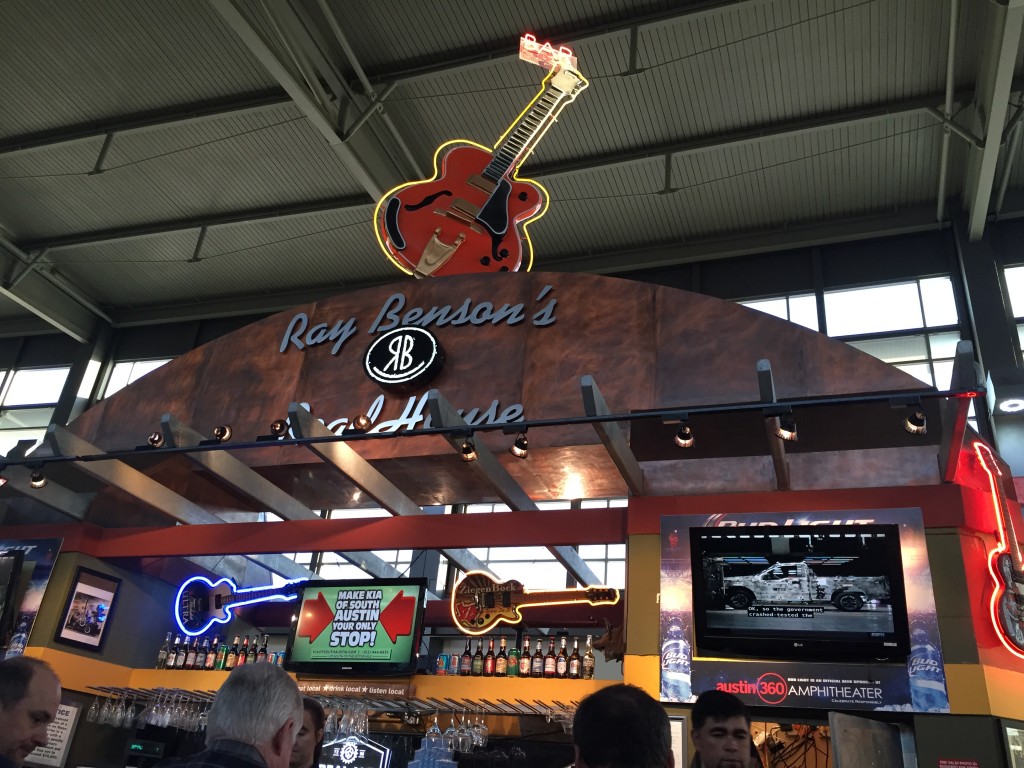 ……and I saw Nicholas D'amato sitting at the bar.
Nick is Lizz Wright's bass player. He's played bass for her for about seven years. But he also has other things going on. He's pretty busy and he's very talented. Check out the link to him (above).
So I went over and talked to him for a few minutes.  It was nice to run into him. He had been sitting there for awhile,  enjoying the  music too.
The night before, after the last Lizz show at the One World Theater, as I was getting ready to leave the venue, I saw Nick standing outside and asked him to take the photo of me that you saw at the beginning of this post where I'm reaching for the moon.
So, after talking with NIck, it was finally time to board the airplane and head back to Seattle.
Austin to Seattle
When I got back home, I was listening to Danny's and Marvin's CD's,  as I started thinking about how I wanted to cohesively assemble the ideas, photos, music and information I would put into this post.
At that moment,  a song Danny wrote, called, "Day After Day", started to play.
It had the feel of an "island song" and it had a  Cha Cha  beat. But you could two-step to it also. I loved the music immediately. Then I listened to the harmony and paid close attention to the words too.
It is about a guy taking a leap of faith and following his passion. He says he's going to live his dreams and chase rainbows and live his life day after day (which I interpret to mean living in the present).
Suddenly my brain started to boogie!! 
At that moment, I realized this song addresses the essence of everything I was going to write about in this post, as well as some of the experiences I had on this trip:
Desert skies on a star-filled night.
Mountains tall above the clouds where the air is clean.
Taking a leap of faith. Following your instincts.
Following your passion. Living your dreams.
Chasing rainbows. Chasing phenomena.
So I decided to use "Living Dreams, Chasing Rainbows" from the lyrics of the song to be the title for this post, and I added "….and other phenomena".
Leigh Ann Henion is doing it.
Lizz is doing it.
Nick is doing it.
Danny and Marvin are doing it and they are even singing about doing it.
They are all living their dreams.
While I was writing this part of the post I stopped for a minute to look at Lizz's facebook page to see if she had any comments about her time in Arizona and Texas, during this past weekend.
I saw this picture she had recently inserted. It made me think of a line in the song, "Day after Day":
"…Mountains tall. I gotta see above the clouds where the air is clean."
A couple of months ago Lizz mentioned on her facebook page something to the effect that she likes being on the mountain.
So this is another example of the things I like about Lizz.
She has integrity: the coincidence of thoughts, words and deeds. She follows through and does what she says is important to her.
So I left her facebook page and came back to continue my post.
But I first sat quietly and reflected on the following thought:
If my flight had not been delayed I wouldn't have gone for coffee. I wouldn't have heard Danny and Marvin singing. I wouldn't have bought their CD's. I'd probably never know about "Things That Matter Most To Me" and "Day After Day". And I wouldn't have ran into Nick either.
These "little surprises" may not seem like life-altering events (or are they?) but I think they all have significance. Noticing them was the result of my being in the present, witnessing and enjoying the moments as they passed my way. So……
"I delight in the significance of all things that come my way."
(You can quote me on that.)
So I thought the song, "Day After Day", was the final surprise of the trip. But it wasn't.
I checked my mail when I got back and I found a free book waiting for me:
It's a book by Chris Guillebeau, who has a website called, "The Art of Non-Conformity". This is his new book. It's an uncorrected proof that he has sent out to some of his customers, prior to the release of the finished copy of the book,  asking us to read it and asking us for our support of his message.
Chris is one of the best examples I know, of a person who decides what he wants and then makes it happen. One of his goals was to travel to every country in the world and he achieved it in ten years.
The significance to me of this book reaching my hands as soon as I got back from Austin, is that it is a book written to help people find the work they were "born to do" (the ever-looming question in my mind).  It's serendipity at work.
After reading it, will I have my answer? I don't know. But if I don't, I'll keep looking. I really think the answer is within me, not outside of me. But I will read it anyway. Because I like Chris and I like his writings.
So, back to "Day After Day".
I listened to it non-stop while I wrote this post. I couldn't get enough of it just like I can't get enough of Lizz's music.
I don't think Danny and Marvin sang "Day After Day" while I listened to them in the airport. I think I would remember if they did. So I don't have a video of that song.
So while I was wrapping up this post, I got the idea to end this post with a home made music video of "Day After Day".
I wanted to include my "peeps" (My Big Kids, including Evie, my three-year old granddaughter) in the video, but the J's were going to New York for a few days for a Valentine's Day getaway. So I waited until they got back so we could all do it together.
So the next weekend we did several videos of the song and we had a lot of fun doing them but none of them were quite right.
Finally, last night, we did one that we liked so we "quit while we were ahead", watched it together, and then I served them a dinner I had prepared earlier that afternoon.
I made chicken and dumplin's, collared greens, a corn and tomato casserole, and cornbread, with buttermilk coconut pie for dessert.
I am so grateful to all of My Big Kids for helping me out with the video: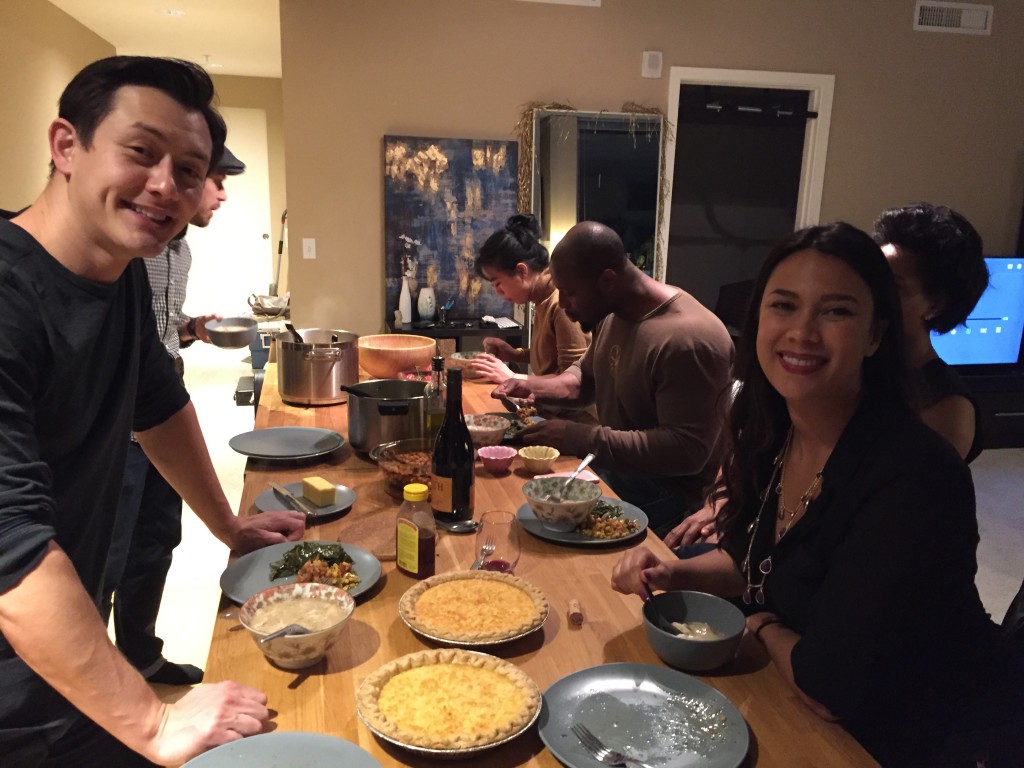 Jes and Jen (the J's)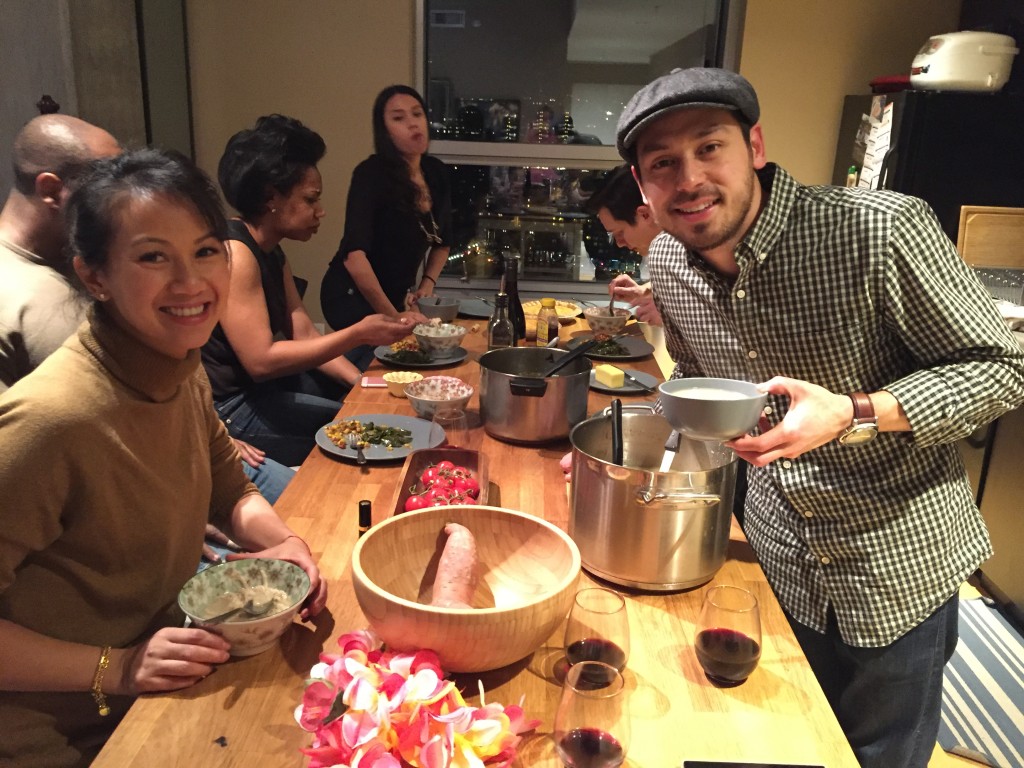 Pauline and Tim
 Oh! and Jax (Jen's cat).
The song is uplifting. I think you'll find yourself dancing  to the song, or singing along with it.
May you live all your dreams, starting today!
P.S. Thanks to Danny and Marvin for all the good music they make and share with the world.
P.P.S Actually I can't just thank them. I am grateful for everyone I have mentioned in this post, for letting their lights shine brightly and for the inspiration they have been to me.