That's Funny??…….I Always Thought It Was Bigger Than That!!
In a previous post,  "Weepless In Seattle",  I explained that I had incurred unexpected and excessive repair costs when my car broke down seven times in two months.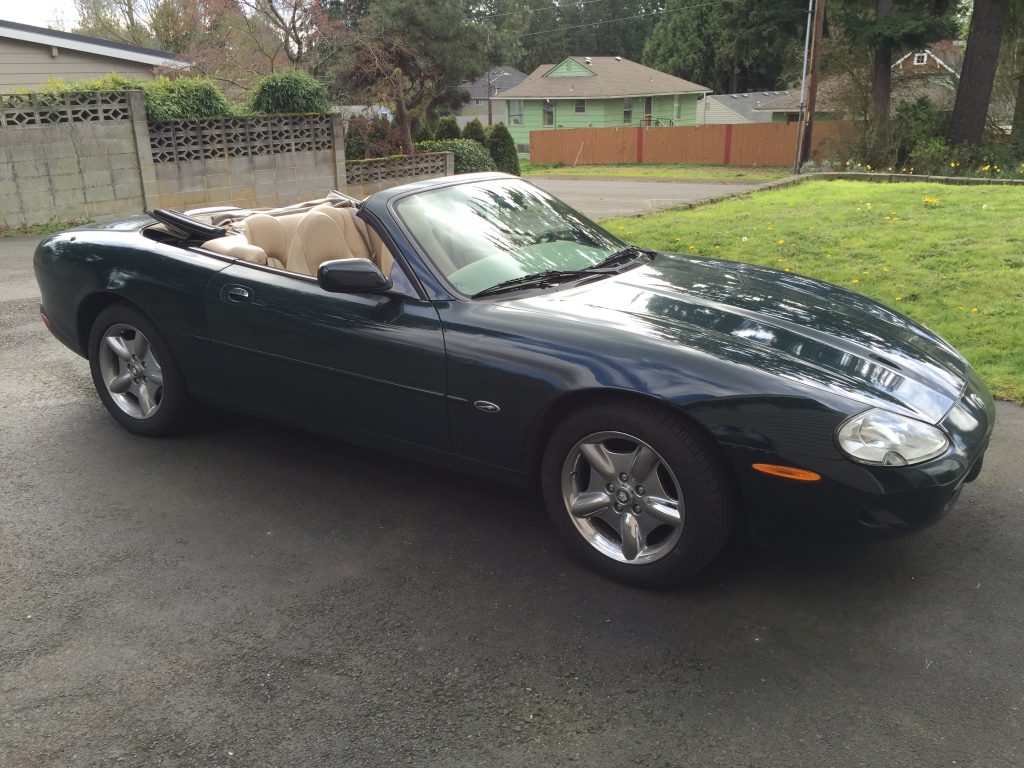 (This is the little troublemaker! Looks so innocent, right?)
I could have just pushed it over a cliff  😉  but then I wouldn't have had a loaner car to get to work every day.
Because of this fiendish one, I had to cancel all my trips to see and hear Lizz Wright sing. I'm not happy about that.
But I had one other trip, which I didn't cancel, because I already had planned it and paid for almost all of it, before the Jaguar started breaking down and costing me a lot of  money.
Furthermore, it was with the immediate family members. I considered it a rare opportunity. One I didn't want to miss out on. I felt fortunate that we could all go at the same time.
At the beginning of this year,  Tim and Pauline, my son and daughter-in-law, said they wanted to go to Paris, France, and Barcelona, Spain.
I said I wanted to go too.
Next, Pauline's parents "seconded that emotion".
Then all that was left to do was to urge Jen and Jes to figure out a way they could go. They wanted to go but they have a business and weren't sure if they could leave during September, the month we planned to go.
As it turned out, they were only able to meet us in Paris for four days. But, for those few days, we were able to enjoy it as a whole family, including little Evie, my three-year old granddaughter.
We planned to be in Paris for nine days and Barcelona for seven days.
While I was making my own airline reservations, and reservations for an evening dinner cruise,  for all of us,  for the second evening of our arrival, Pauline was making reservations for the apartments we would stay in, in both Paris and Barcelona. She also saw to it that we had transportation from the airport to the apartment in Paris. Then there were train tickets to purchase for our trip from Paris to Barcelona, et cetera, et cetera. Pauline did a fabulous job taking care of the group logistics of our trip. (Pauline runs circles around my logistical and administrative efforts.)
And while I'm giving kudos, I should mention that Pauline's Mom and Dad saved the group a lot of money by providing groceries and making sure we had many great home-cooked Cambodian meals, in between the meals we enjoyed in various French restaurants.
We loved getting out and tasting all the great delicacies that Paris and Barcelona had to offer but sometimes we also just wanted to stay in and eat "at home", after some of our long jaunts.
We walked everywhere we wanted to go. We only took the subway once and a taxi once. The "old folks" (not to mention any names but there were only three of us) took it all in stride and didn't need transportation. On one of the longest walks we did, on one of our adventures, we walked about eight miles. Walking is fun. You experience and see things you wouldn't ordinarily experience and see if you were riding in a car.
Pauline had made a list of places to see in Paris and in Barcelona. Most of the places are shown on this map and the circled red X was where our apartment was located.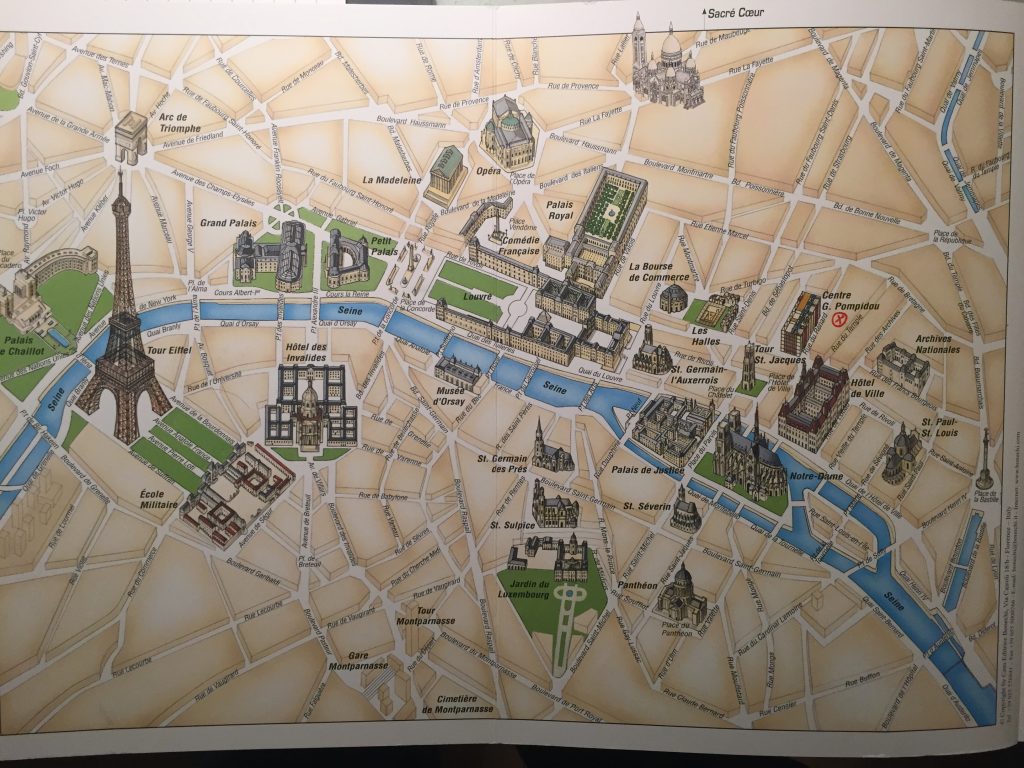 I was surprised how many places we were able to go just taking our sweet time, strolling through the city, and even taking the time to stop off at a playground once in a while to let Evie get out of her stroller and "kick up her heels" for a while.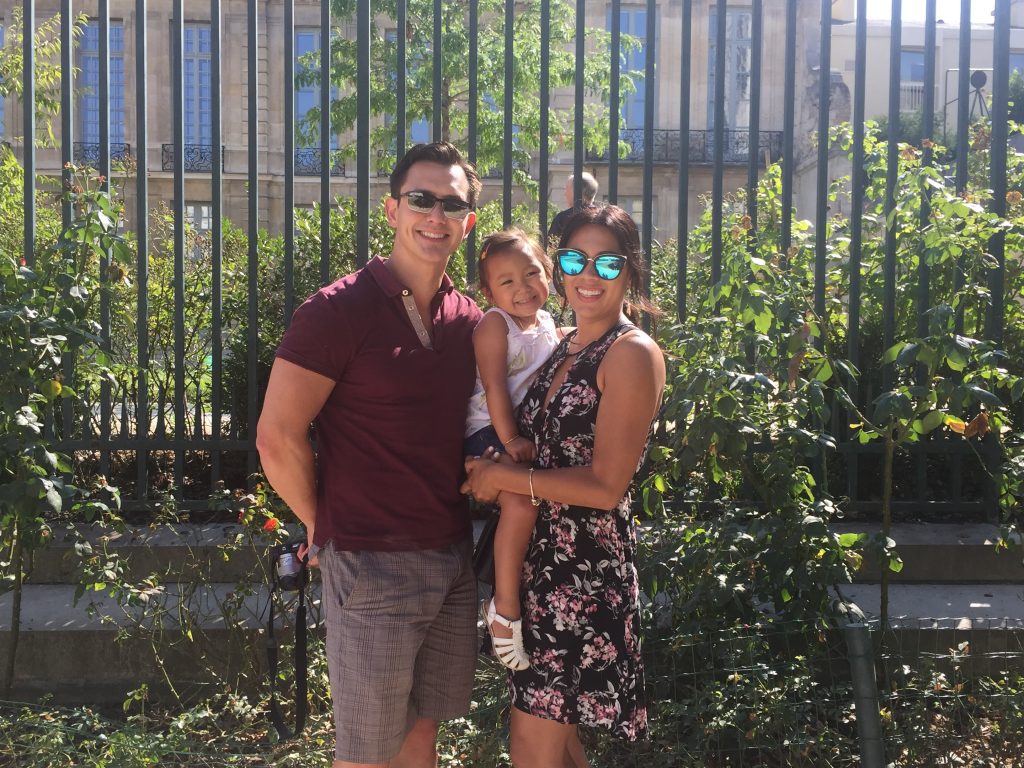 Uncle Jes and Aunt Jen with Evie posing outside a little park.
There were 14 places on the list for Paris.
We were able to see 11 of them in 9 days:
The Eiffel Tower (Tour Eiffel)…….it WAS bigger than that! The closer I got to it, the bigger it got!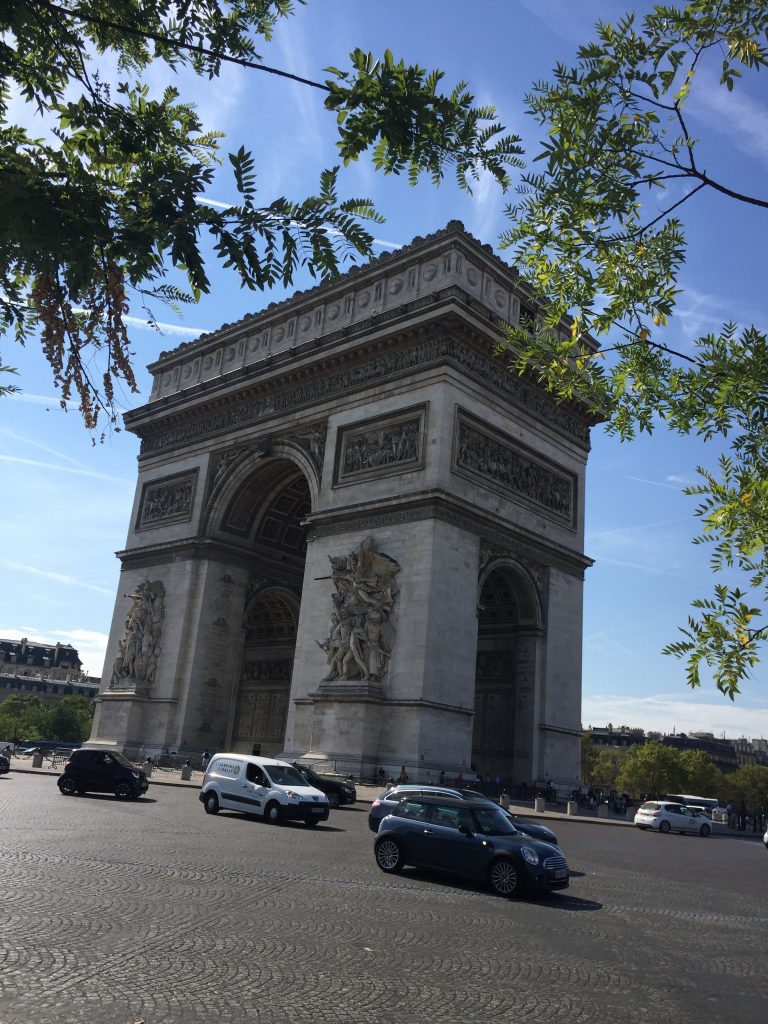 The Arch of Triumph  (Arc de Triomphe)    (284 steps up to the top)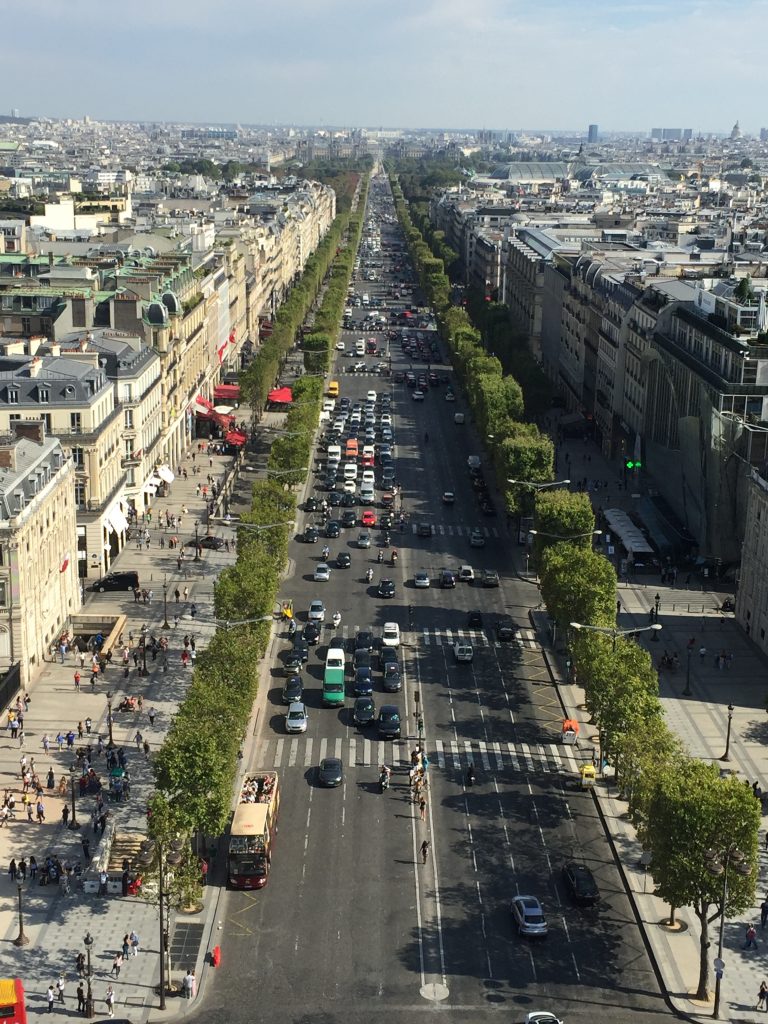 Champs-Elysees    (as seen from the top of the Arc de Triomphe, after climbing the 284 steps)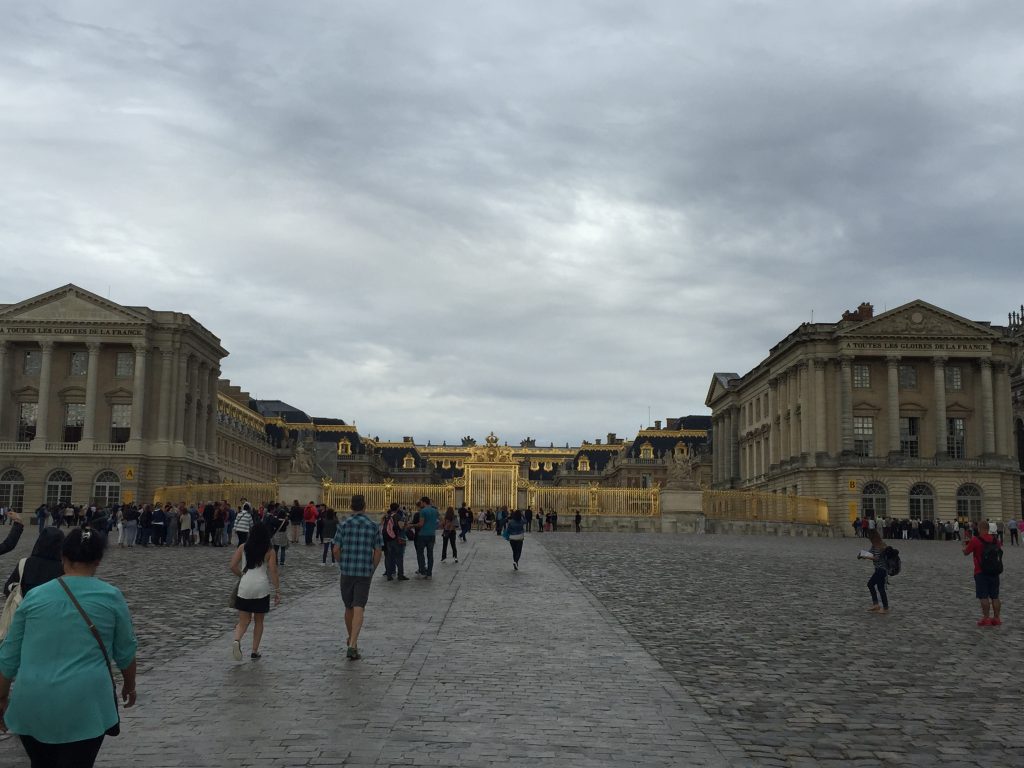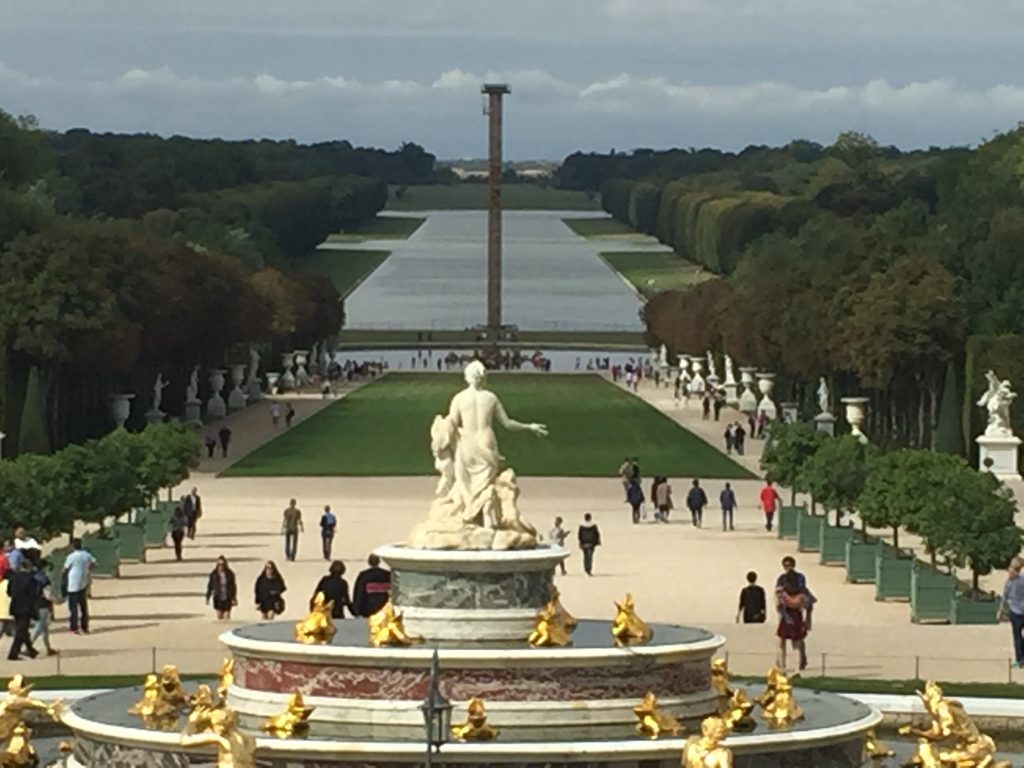 The Palace and Park of Versailles  (Chateau de Versailles)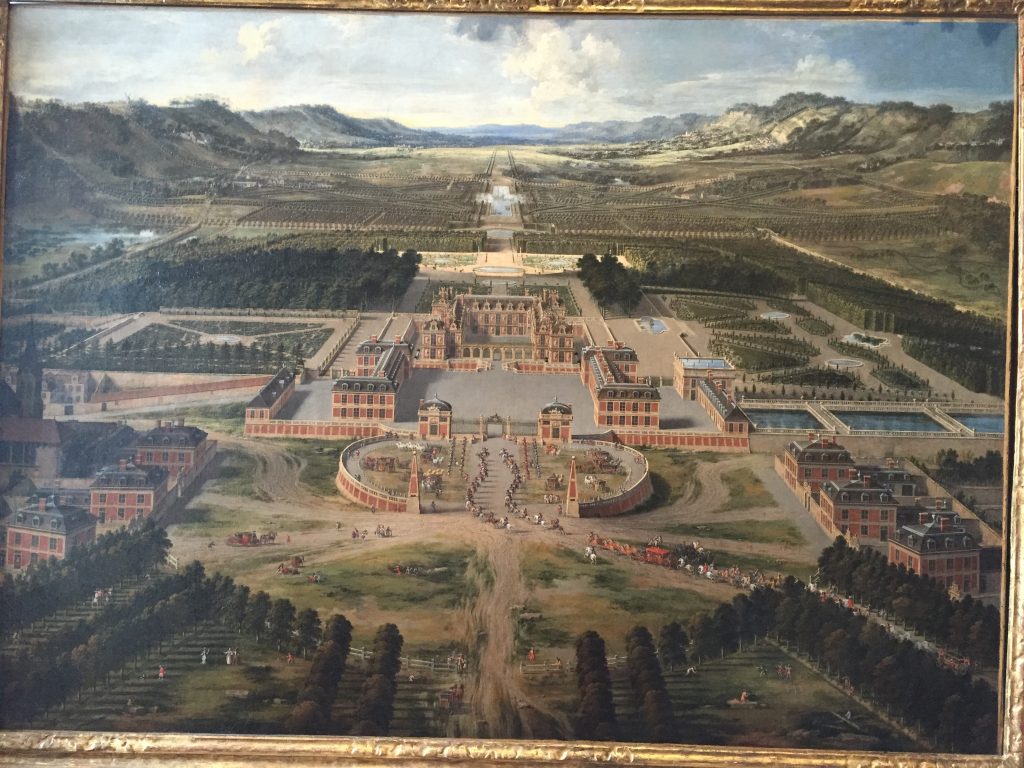 Photo on display in the Chateau, depicting the Chateau and its surrounding grounds as it looked "back in the day".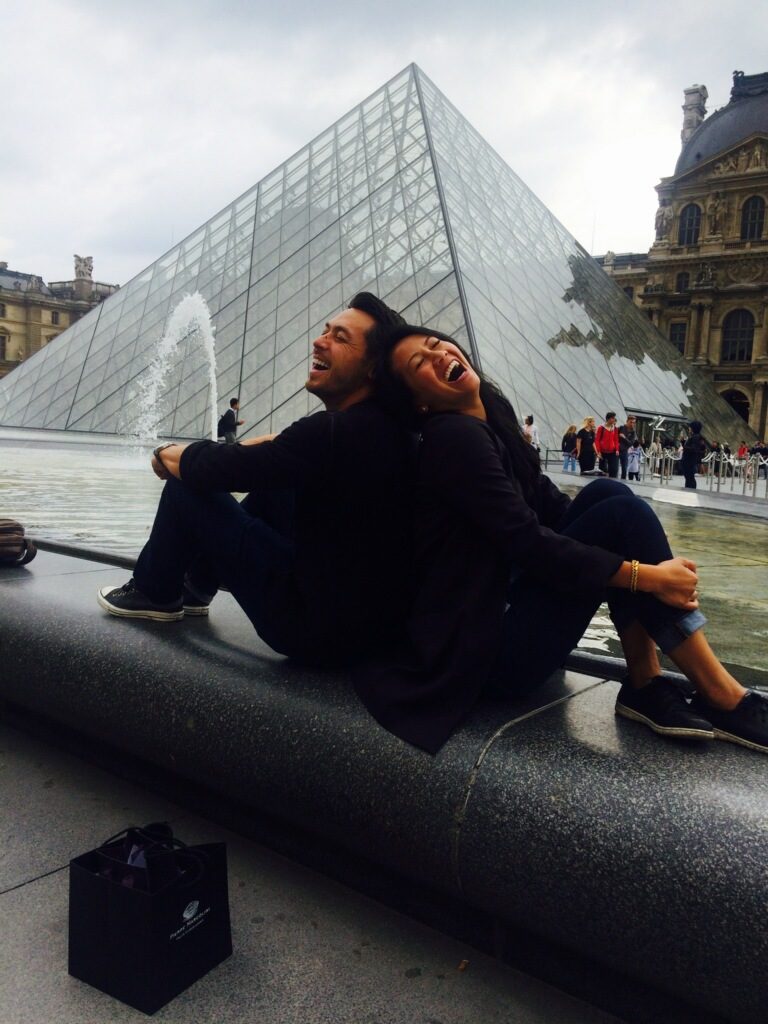 The Louvre (brought to you by laughter from Tim and Pauline)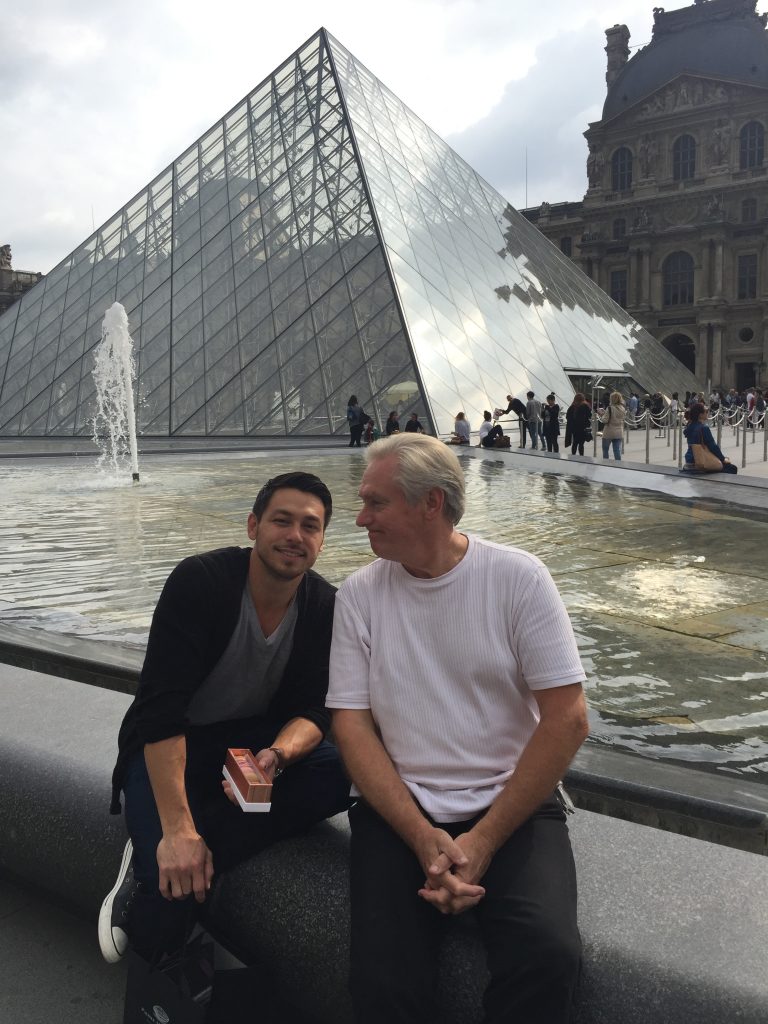 The Louvre (Tim and I)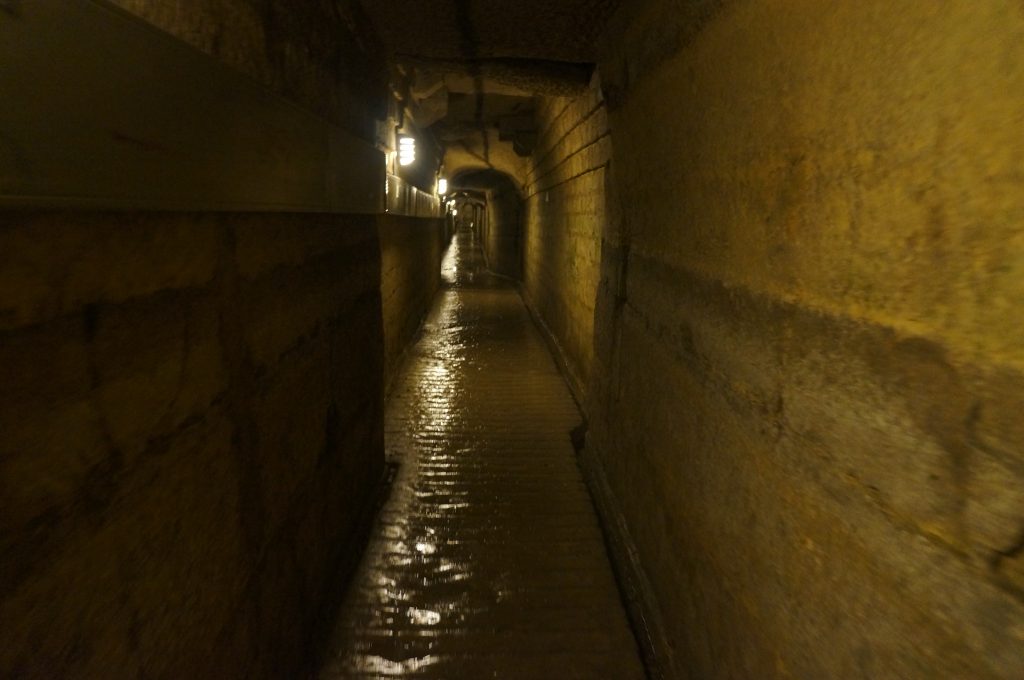 The Catacombs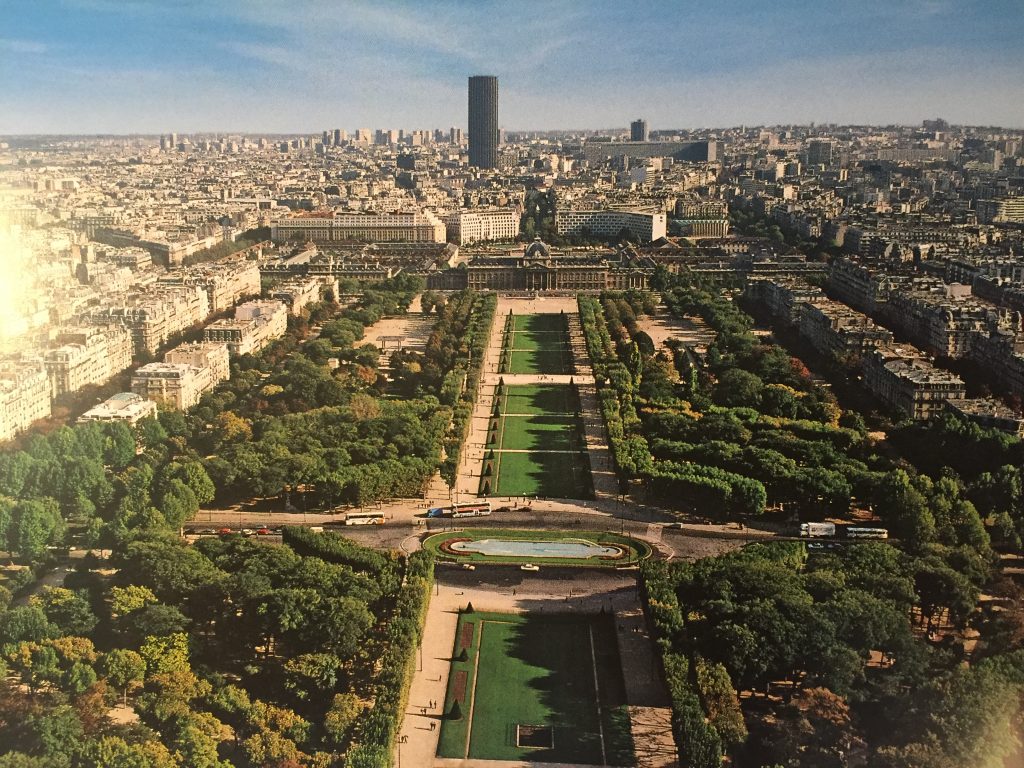 Champ de Mars   (Park seen from the top of the Eiffel tower. The park was once was a military parade ground.)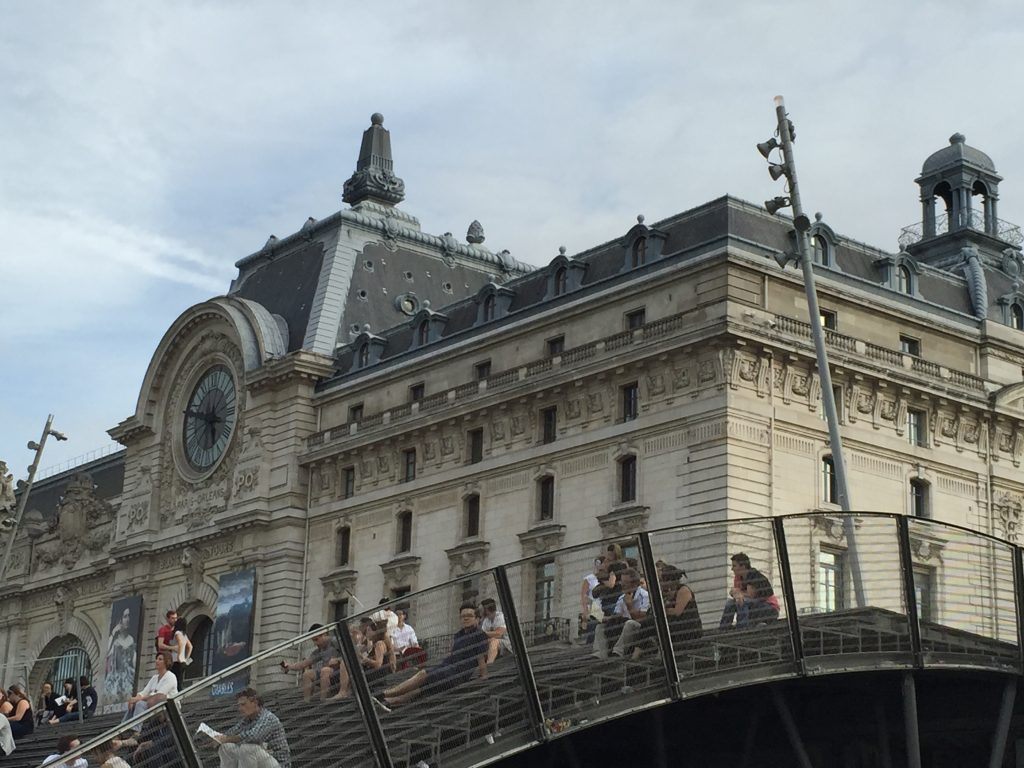 The Orsay Museum (Musee d'Orsay)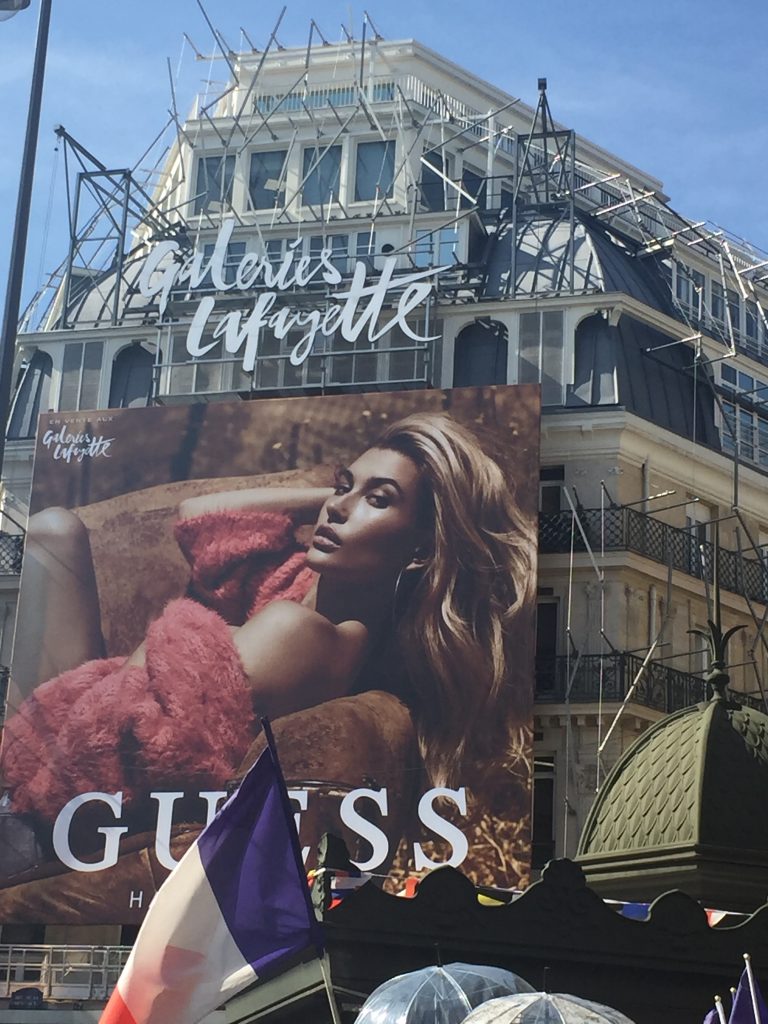 Lafayette Galleries  (Galleries Lafayette)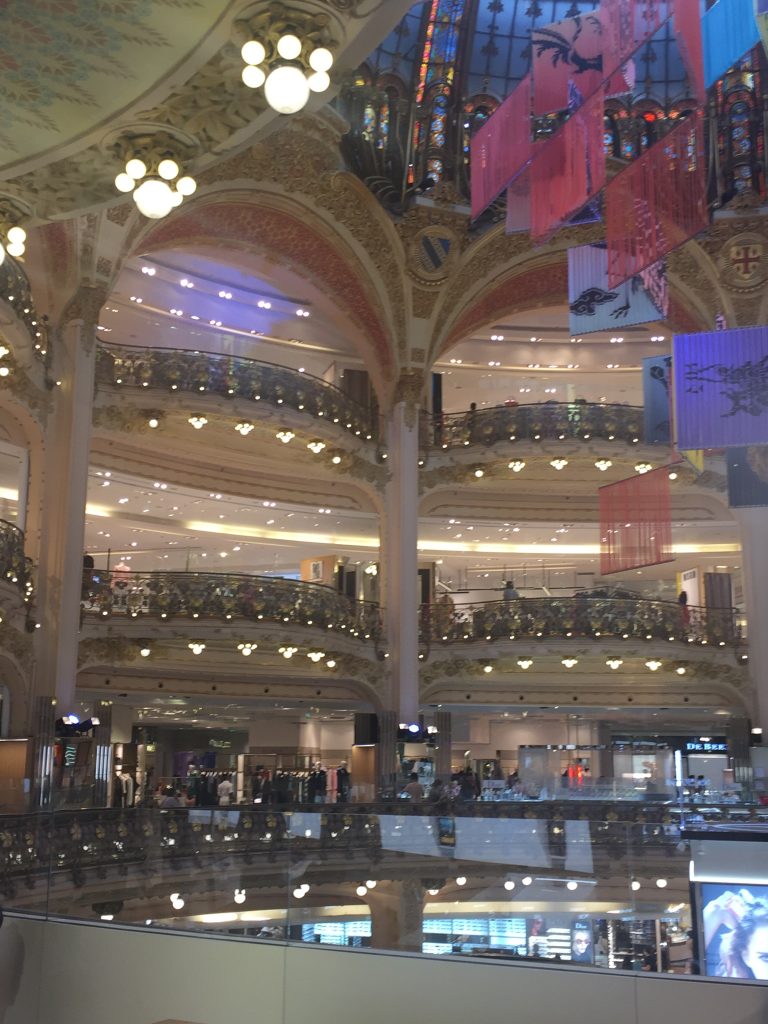 Inside the Galleries Lafayette…..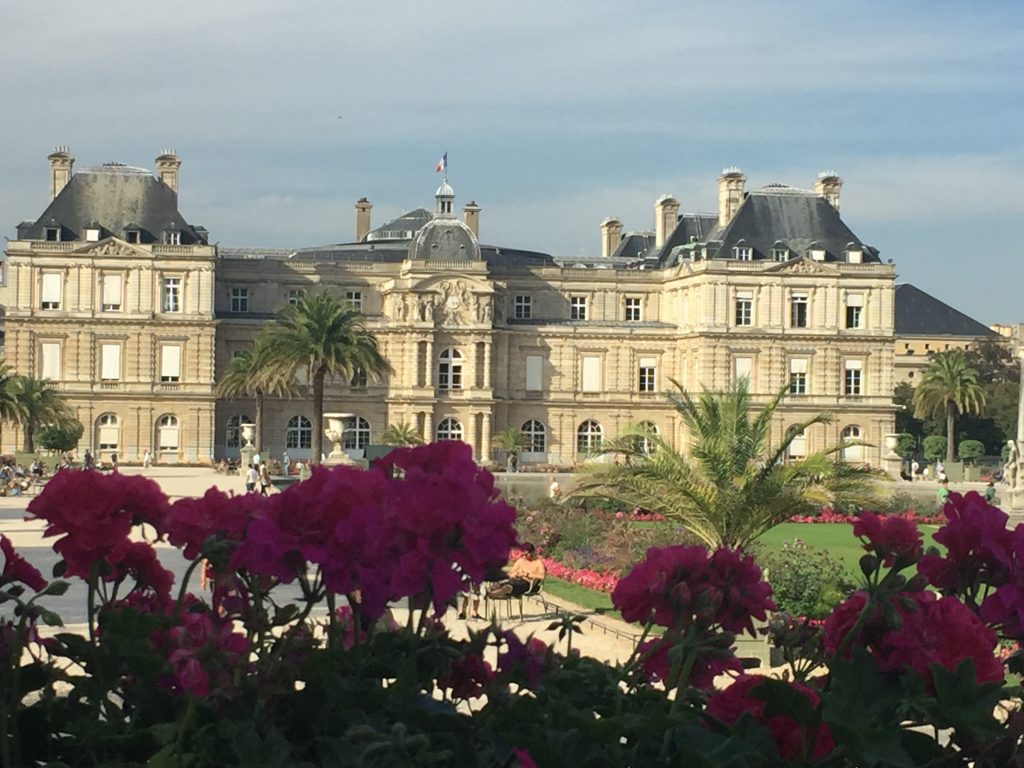 The Gardens of Luxembourg  (Jardins du Luxembourg)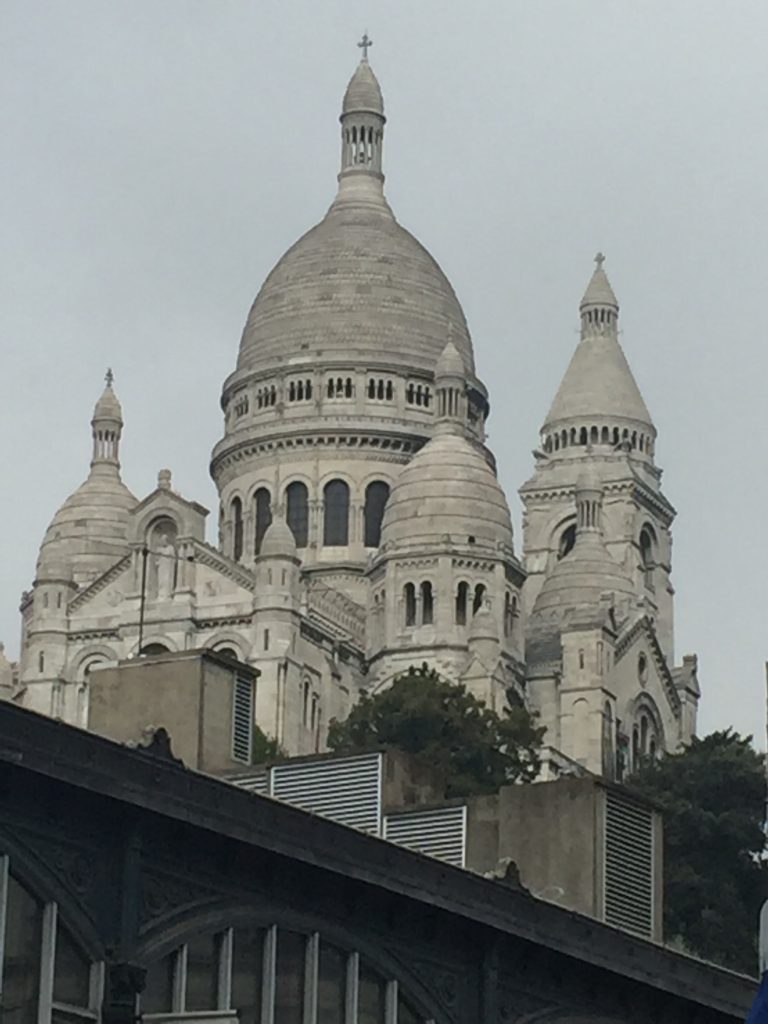 Sacred Heart Church on Martyr Mountain   (Montemarte, Sacre Coeur)
                                 ………..To Be Continued………
Note:  As I was writing this, I realized it was going to be too long to do in one post.    So I have decided to do it in three parts:
Paris & Barcelona (Part 1)…….(That's Funny??…..I Always Thought It Was Bigger Than That!!)
Paris & Barcelona (Part 2)……(Nine Days In Paris)
Paris & Barcelona (Part 3)……(Seven Days In Barcelona)