Summers in Seattle are always Super but the last two weeks (6/20-7/3), we had an atypical heat wave come through.
We often do have a couple of hot days, but usually not until August.
I don't have A/C so the temperature inside my house was unbearable and I had to take "evasive measures" to get out of it.
So, my son, Tim, and I decided to take Evie (8) and Ellis (3), my grandkids,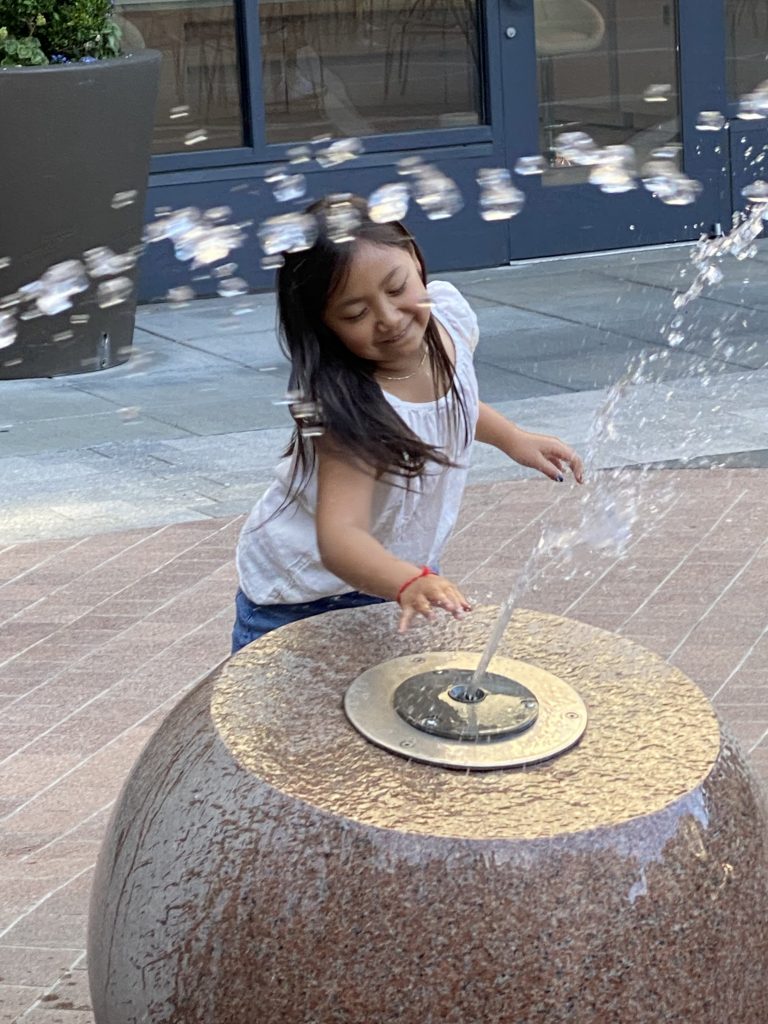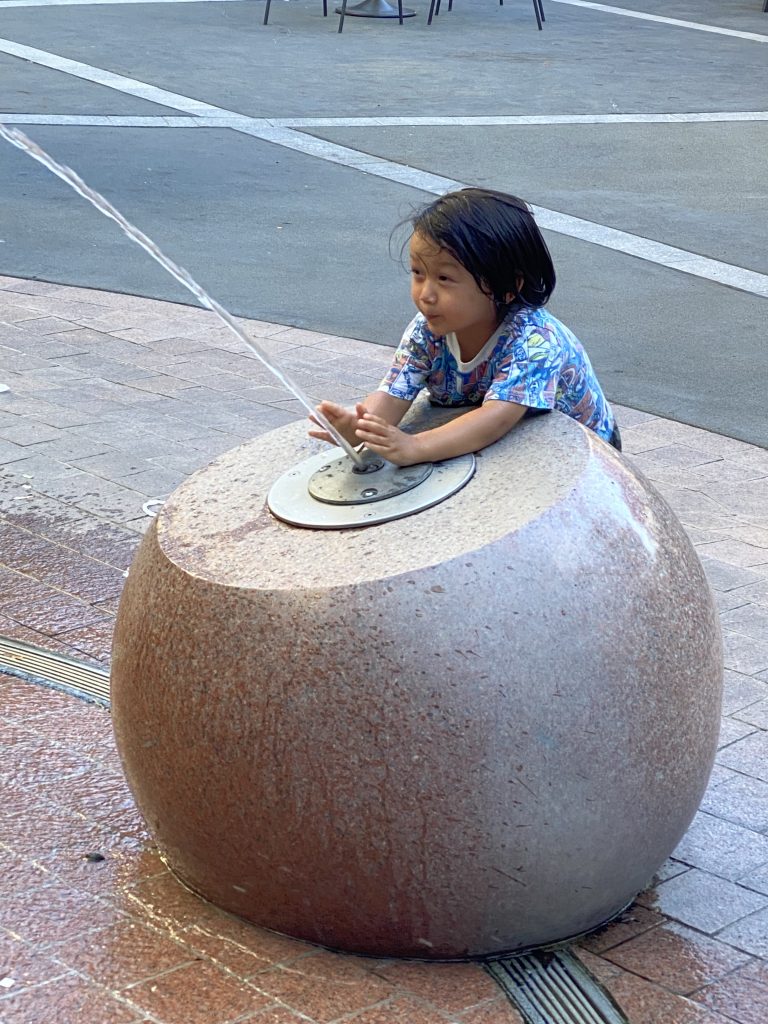 to Mathews Beach State Park to keep cool under the shade of a tree and let them play in the water along the shores of Lake Washington, until it cooled off at the end of the day.
Mathews Beach State Park
Before they got in the water they helped lather each other with sunscreen.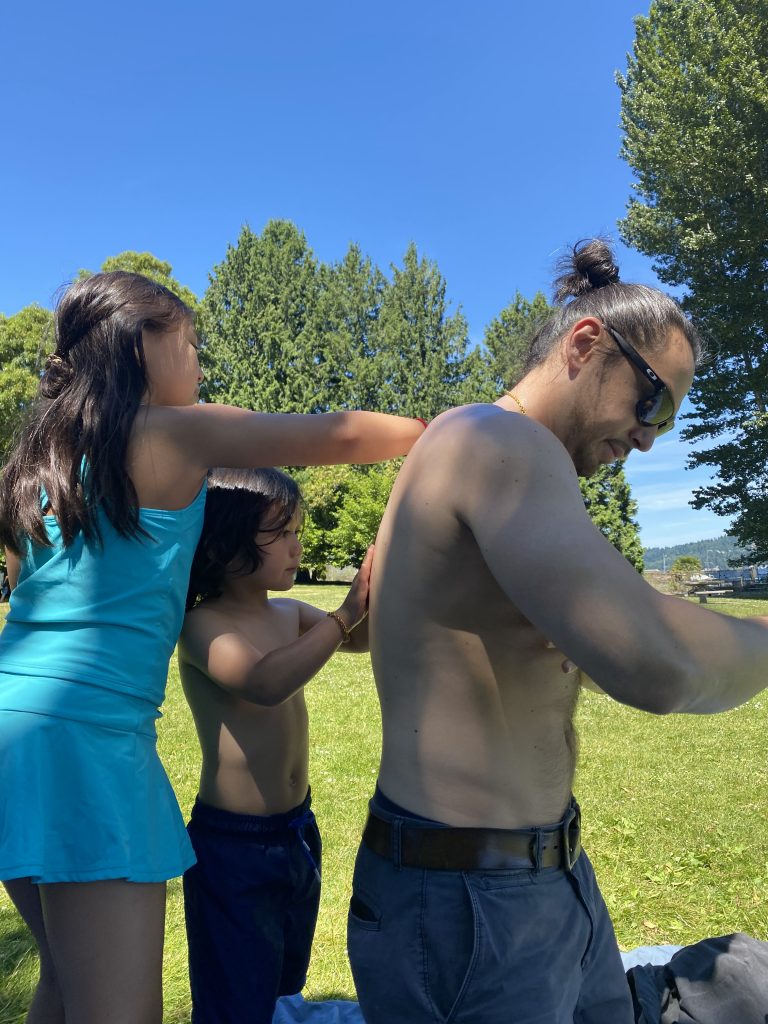 Then Ellis ran to the shore to make things in the sand,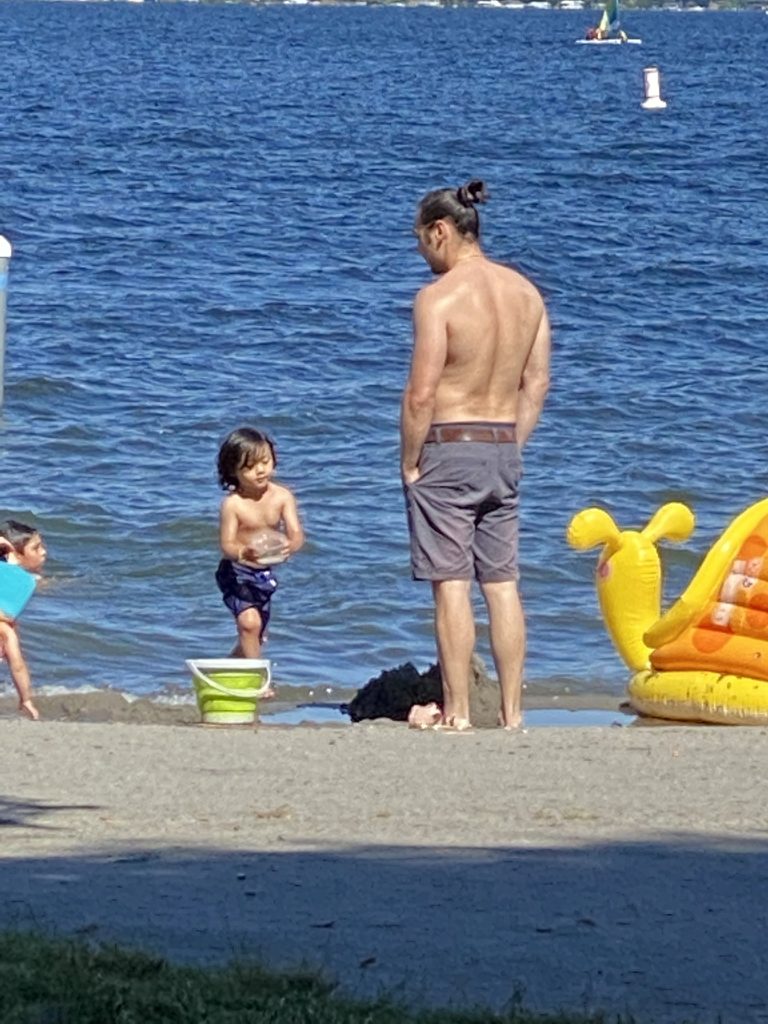 and Evie made a new friend and went to swim in the water with the friend. After a while they decided to sit in the lifeguard's chair for a few minutes.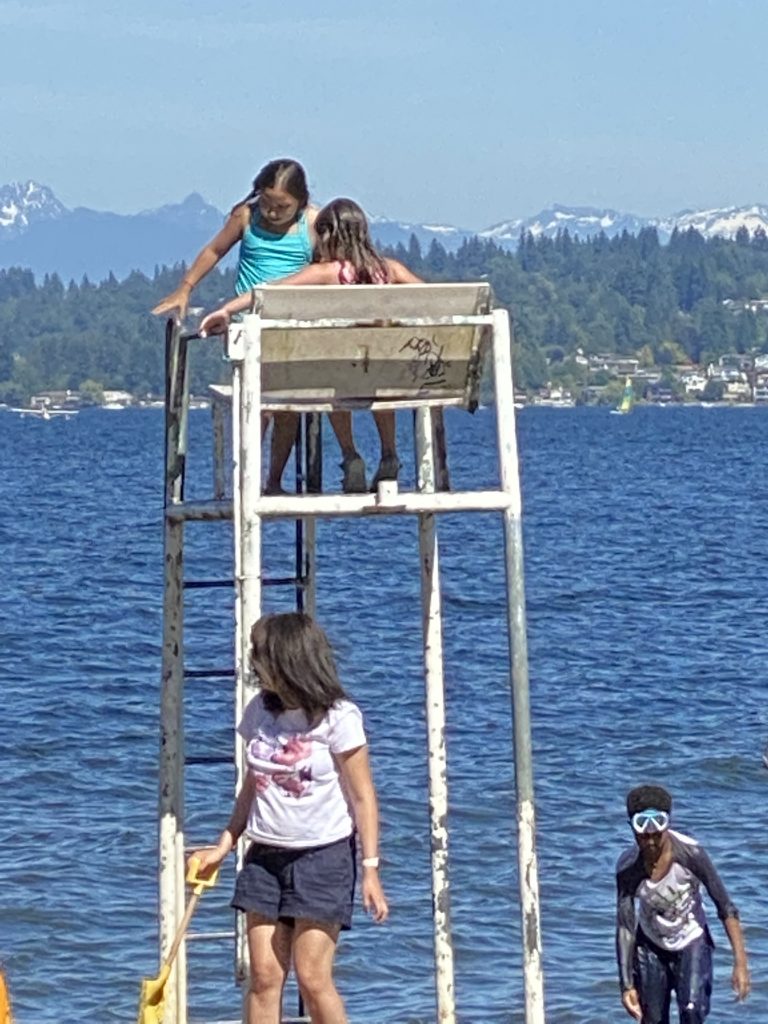 That's the Cascade Mountain Range in the background. This park is located in a beautiful place and it has a great view.
I used to jog and exercise in this park and play basketball outside, when I lived nearby. But I live about an hour north of here now. Even so, I still like to come here once in awhile.
Kizuki Ramen and Izakaya
About six p.m., the kids were a little tired and hungry. Evie wanted some ramen, so we left the park and headed for a Japanese restaurant, called "Kizuki Ramen and Izakaya", in the Northgate area, that serves a variety of great-tasting bowls of ramen.
As we left the restaurant and headed for the parking garage, we passed by a cool water fountain in the plaza in front of the restaurant.
ELVIS wanted to play in the water.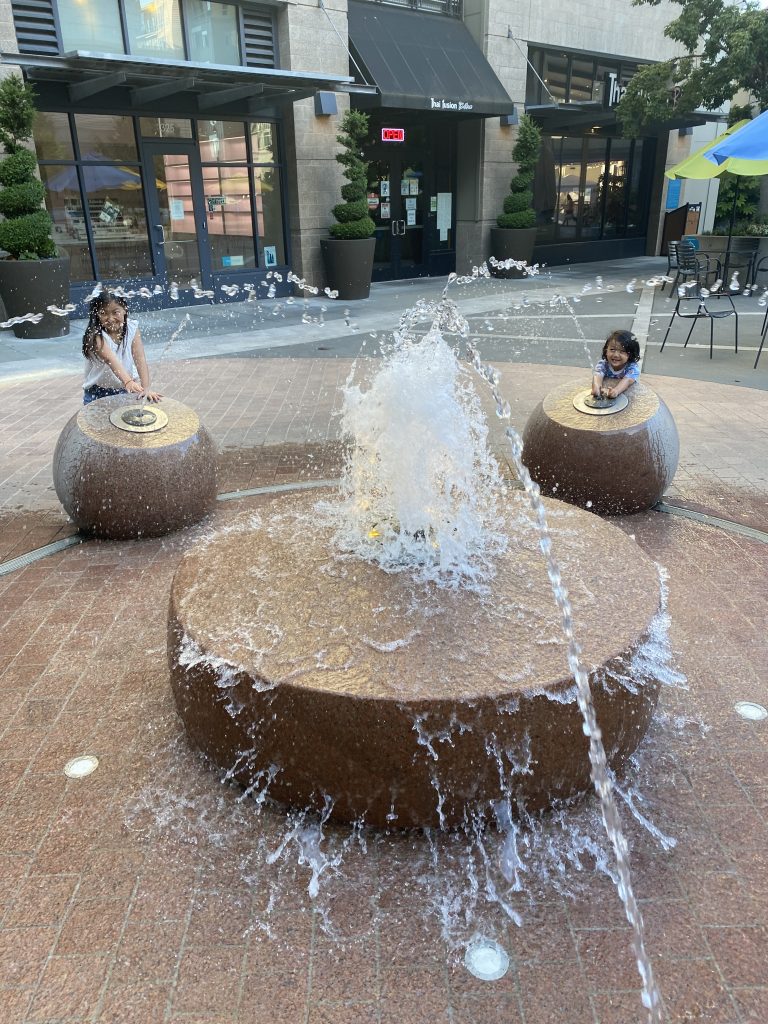 (Oh! When I refer to both Evie and Ellis in the same thought or sentence I often call them ELVIS, for short.)
You see the connection, right? El Ev is ? ELVIS? 😂😩
The kids played hard and had a lot of fun in the sun, so it's no surprise that they were ready to fall into a deep sleep as soon as we got back home.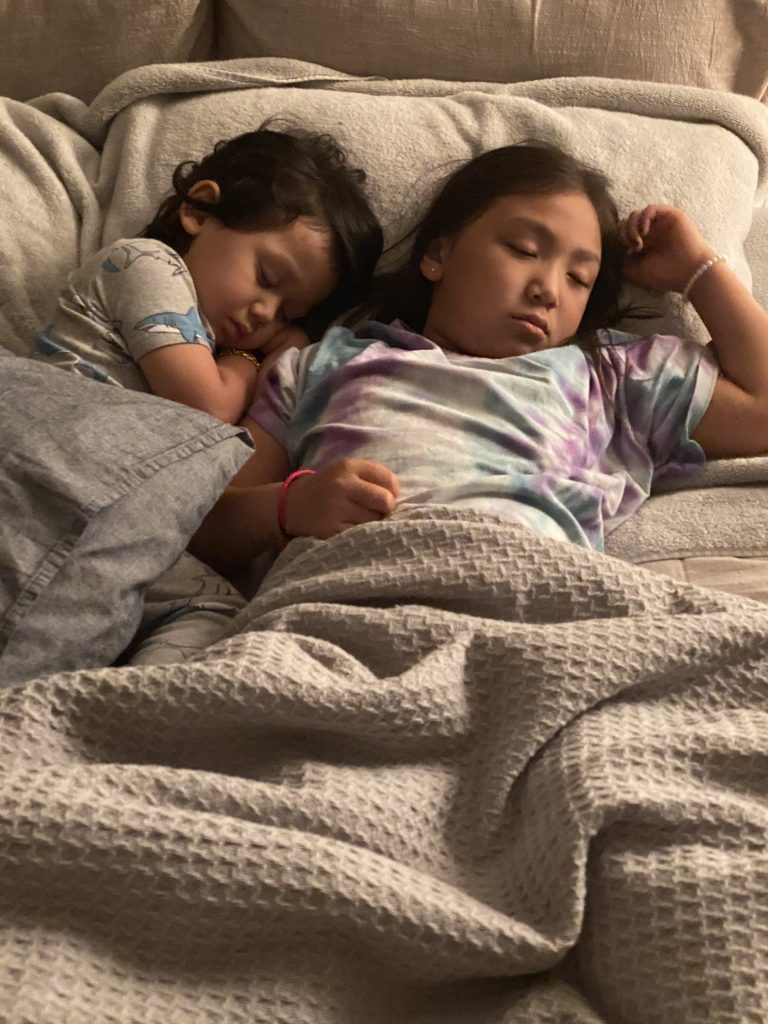 For that matter, Tim and I were pretty tired too.

Dropping anchor in Lake Washington
The next three days weren't unbearable but it was still hot, nevertheless.
So, "Cap'n" Greg, a friend of ours,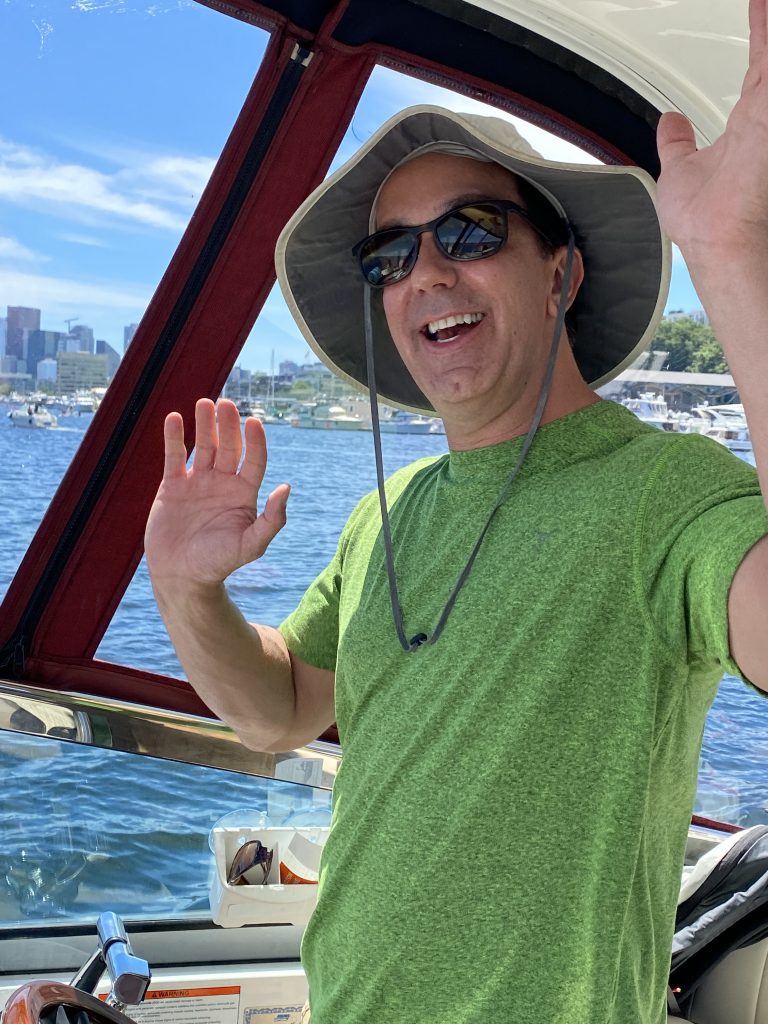 was taking his boat out on Lake Washington and asked Tim and I and the kids, and the J's (Jes and Jen), my other son and daughter-in-law, and one other friend, Nick and his little three-year old daughter Arith, to join him.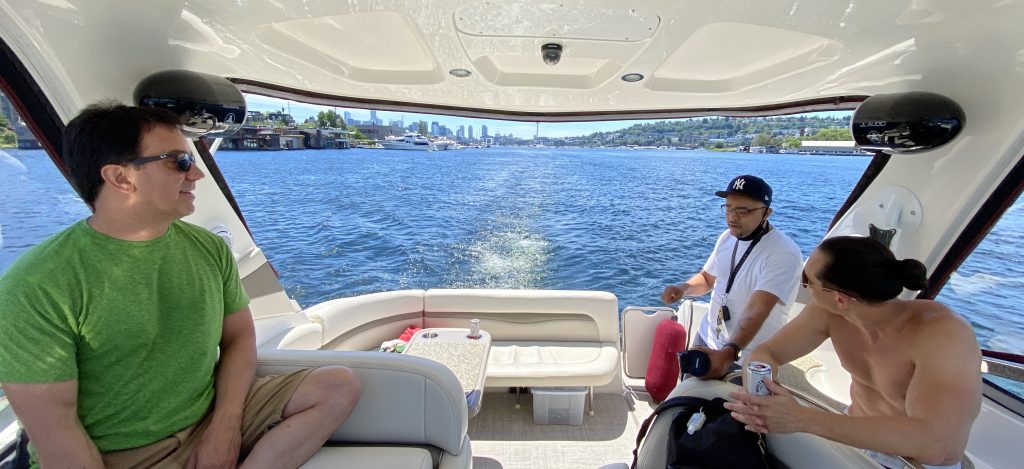 L to R: "Cap'n" Greg, Nick and Jesse.
"Cap'n" Greg has mad driving skills! He steers without looking! 😳🤪😭
Dropping Anchor
We anchored the boat here, a safe distance away from the throughfare that connects Lake Union and Lake Washington, so we could play in the water.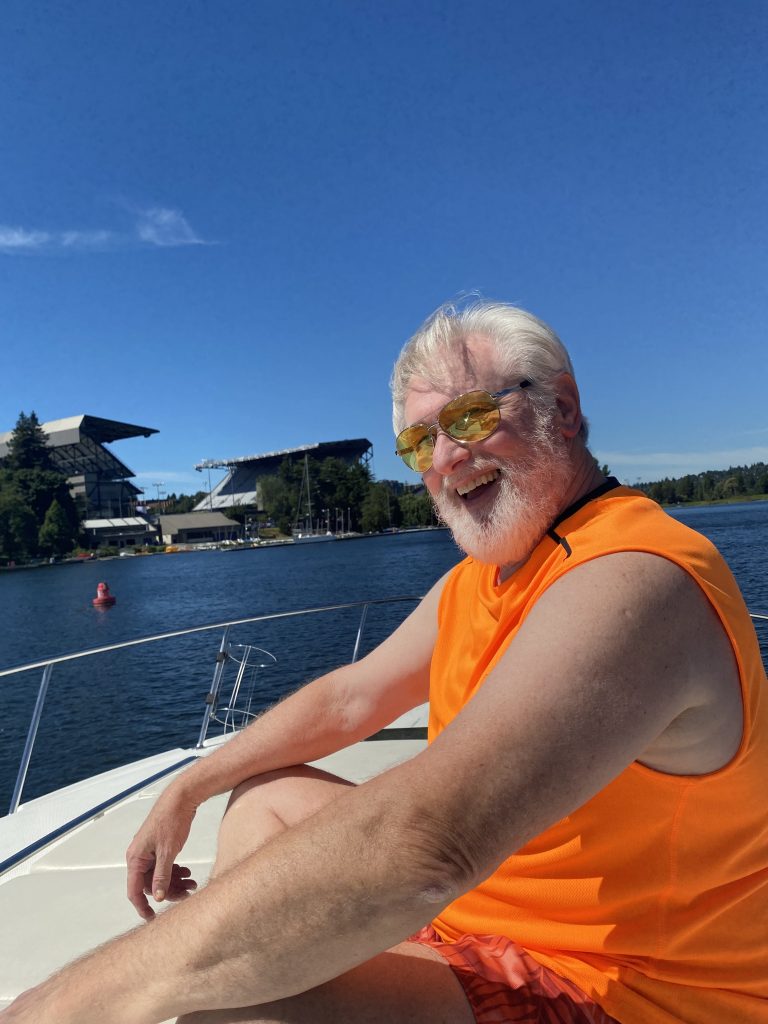 Behind me is the "UDUB" (University of Washington, UW) football field.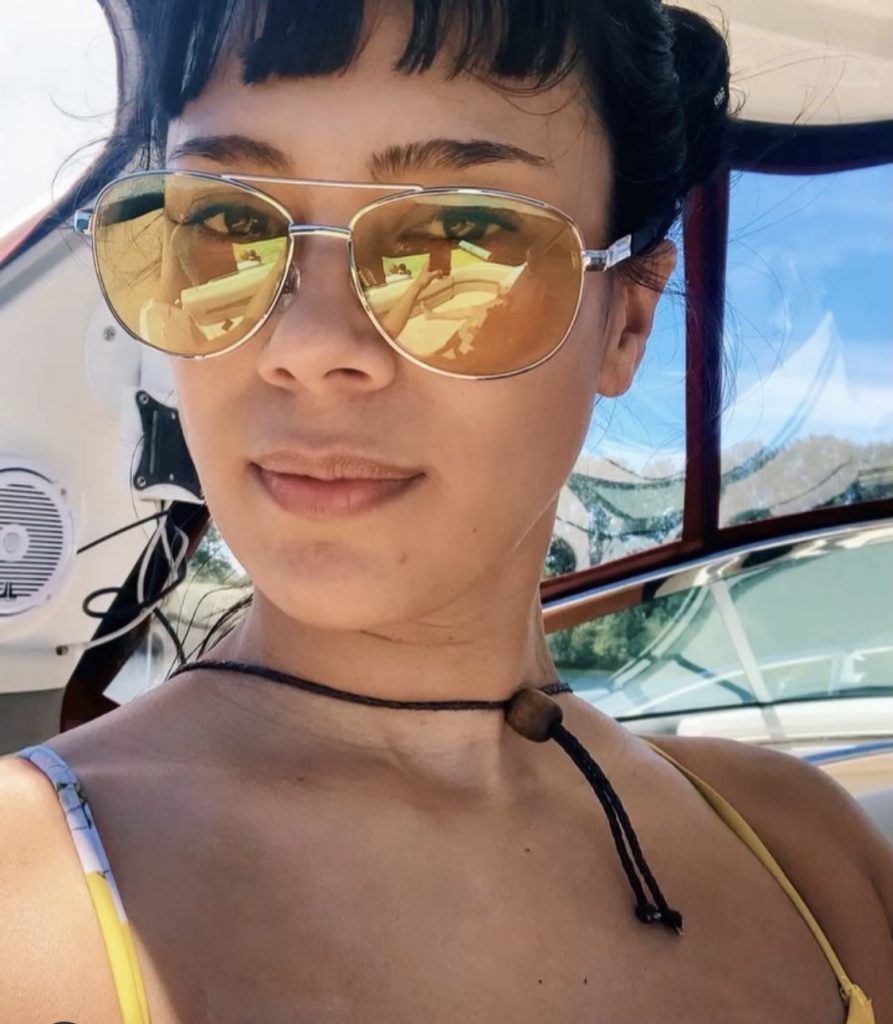 Auntie Jen checking out my sunglasses. I had to wrestle her to get them back.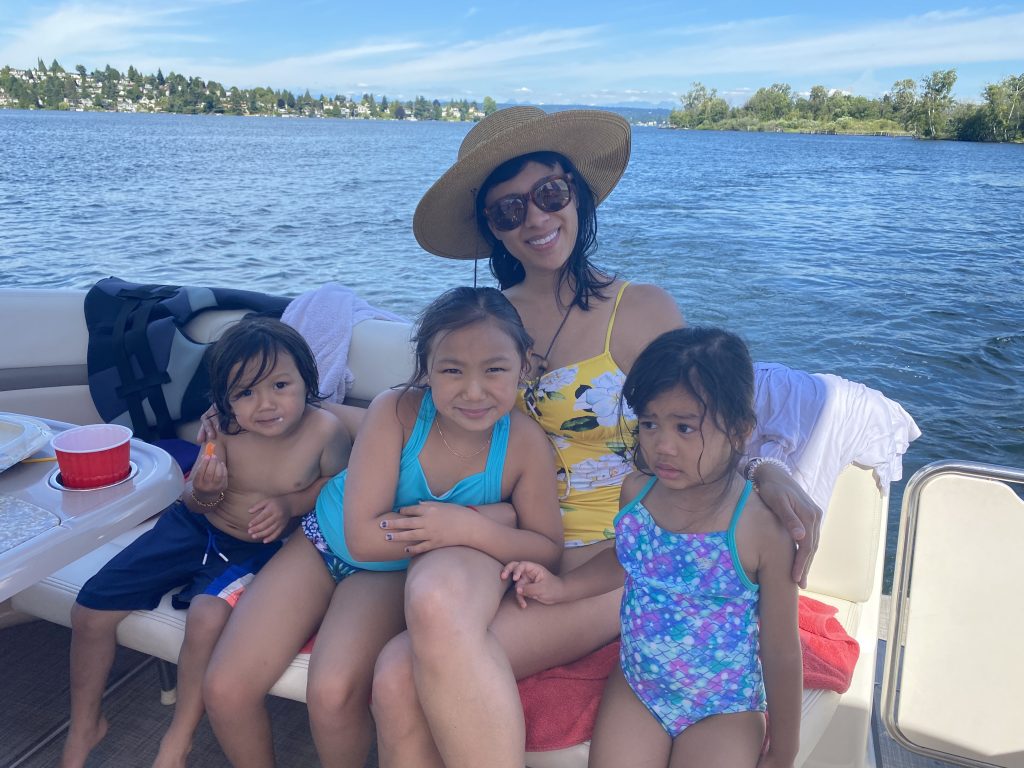 L to R: Ellis (3), Evie (8), Auntie Jen (12 going on 39), and Arith (3).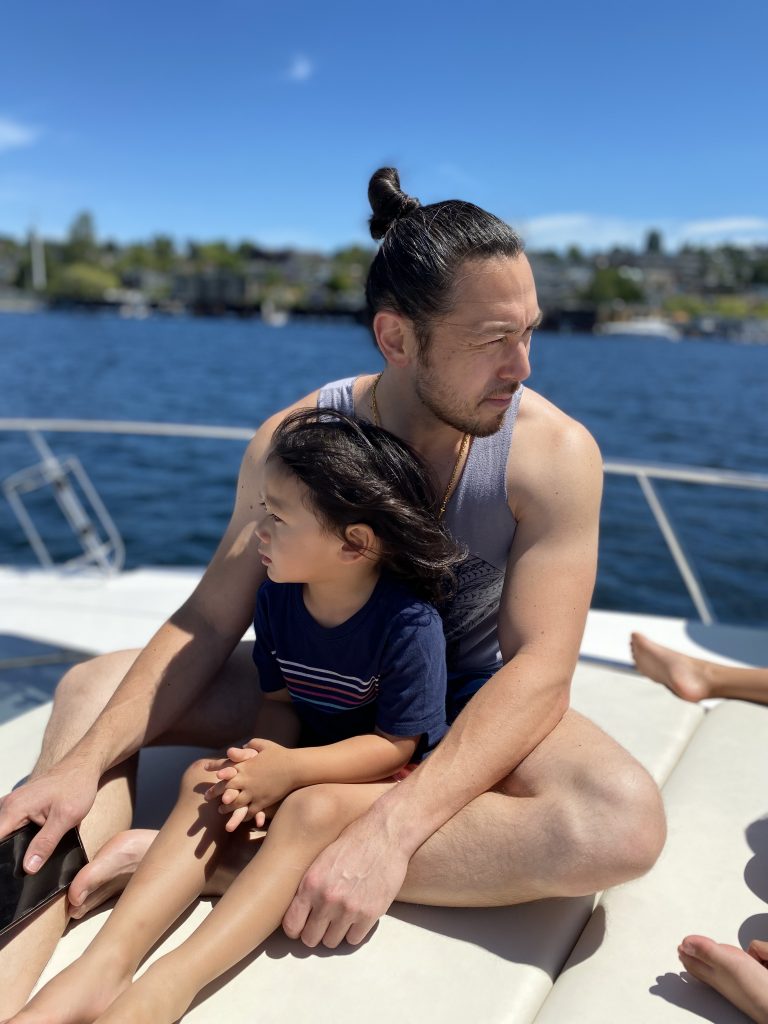 Tim and Ellis having a quiet moment. 😊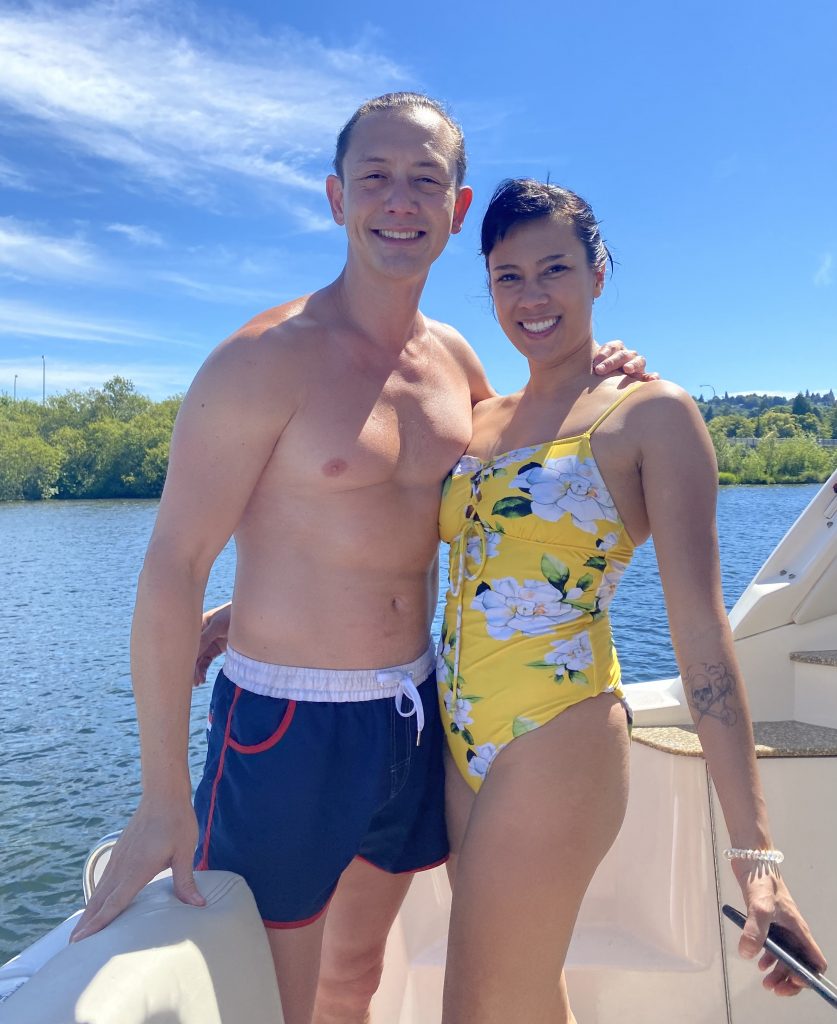 L to R: "The J's" (Jes and Jen)
After the J's were finished posing for me, they posed for each other too. And when they were looking at the pix and choosing which ones to upload to Instagram and Facebook, they noticed something funny, on one of the pictures of Jesse, that appeared unintentionally.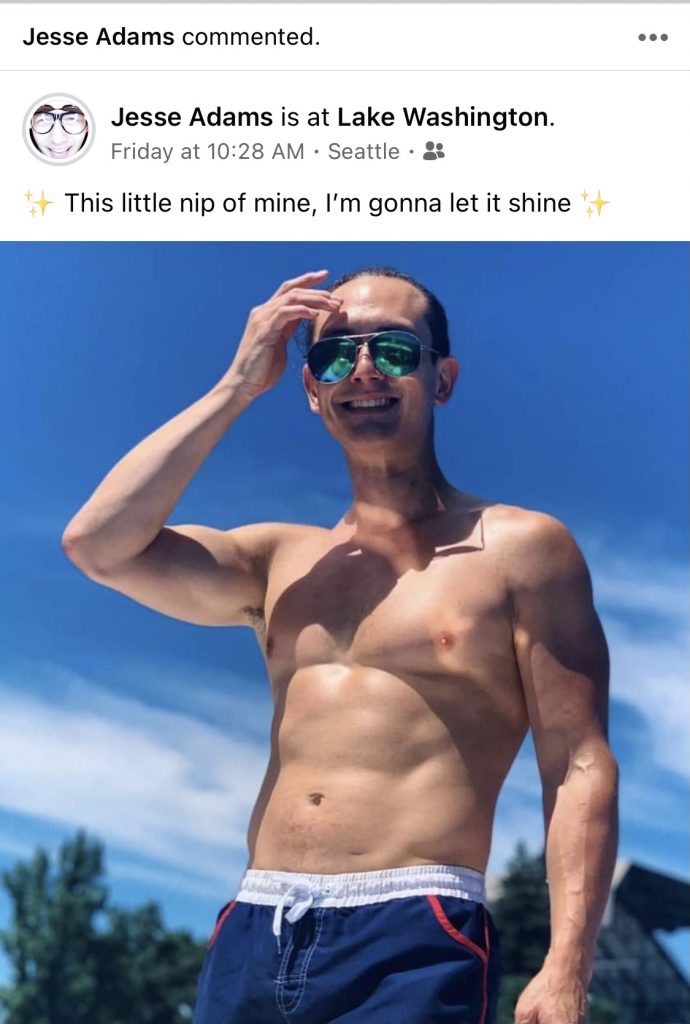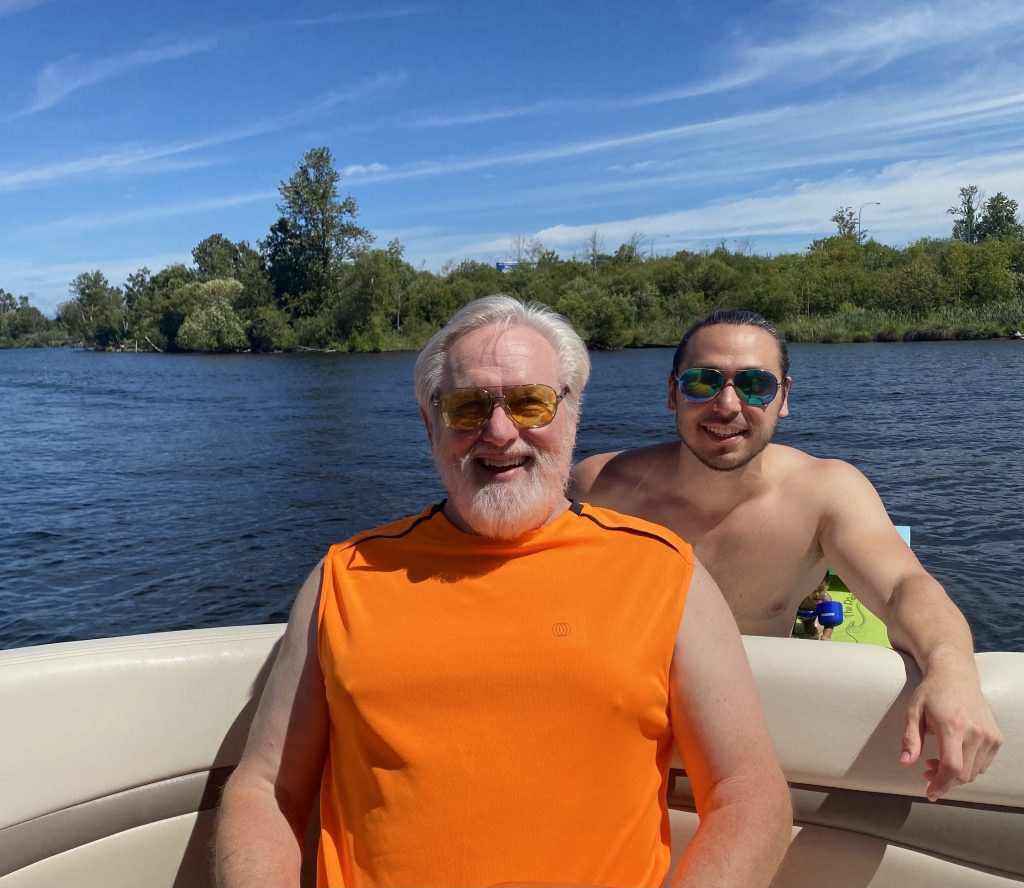 L to R: Me and Tim
"Cap'n" Greg had a "Lily pad" for the "kids" to play on, that he tethered to the back end of the boat.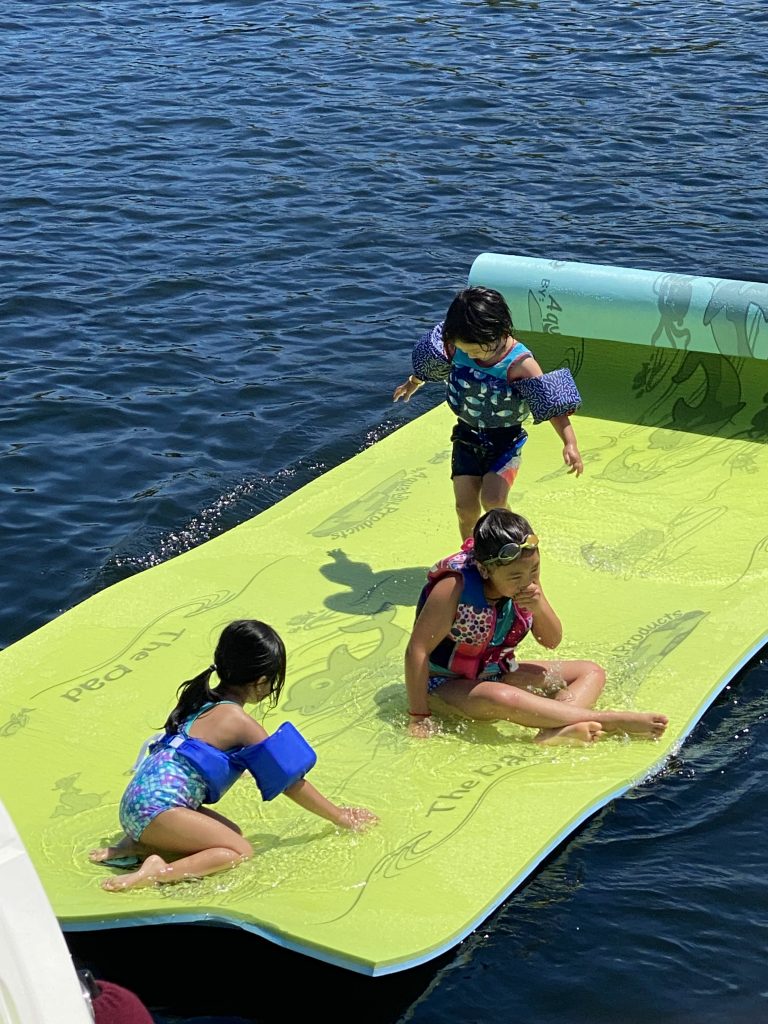 L to R: Arith and "ELVIS" (See explanation above, in orange blocks)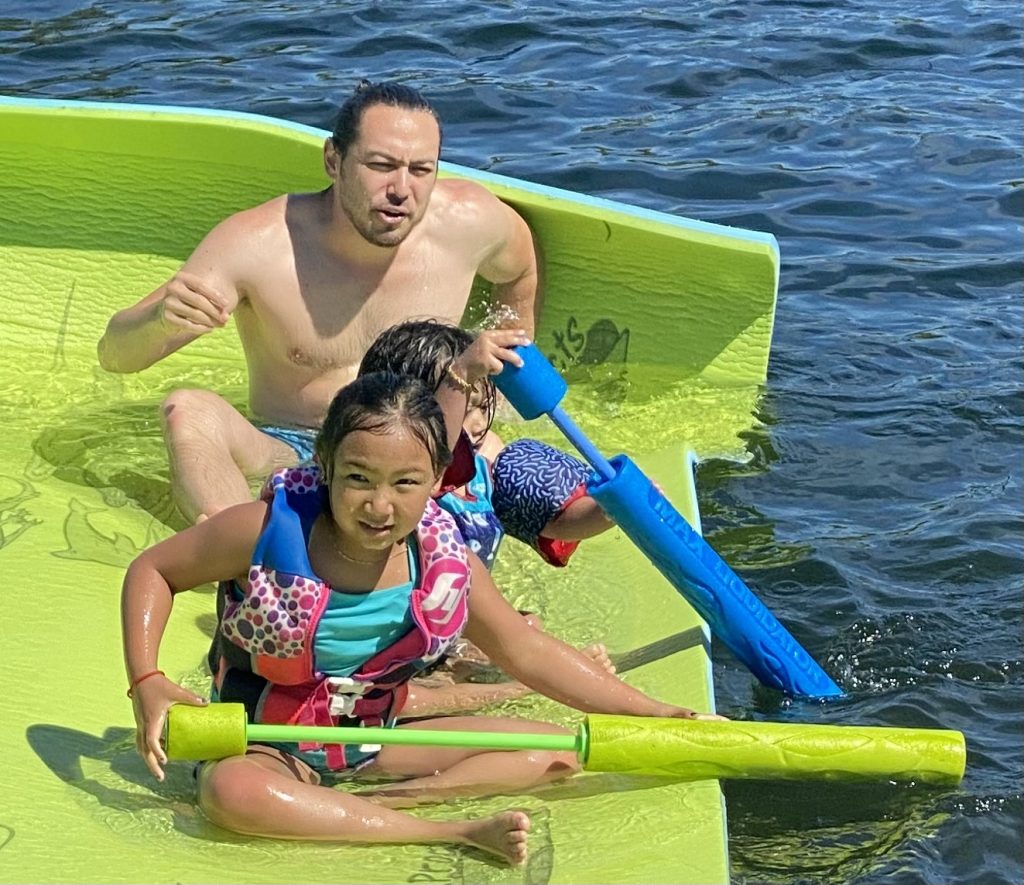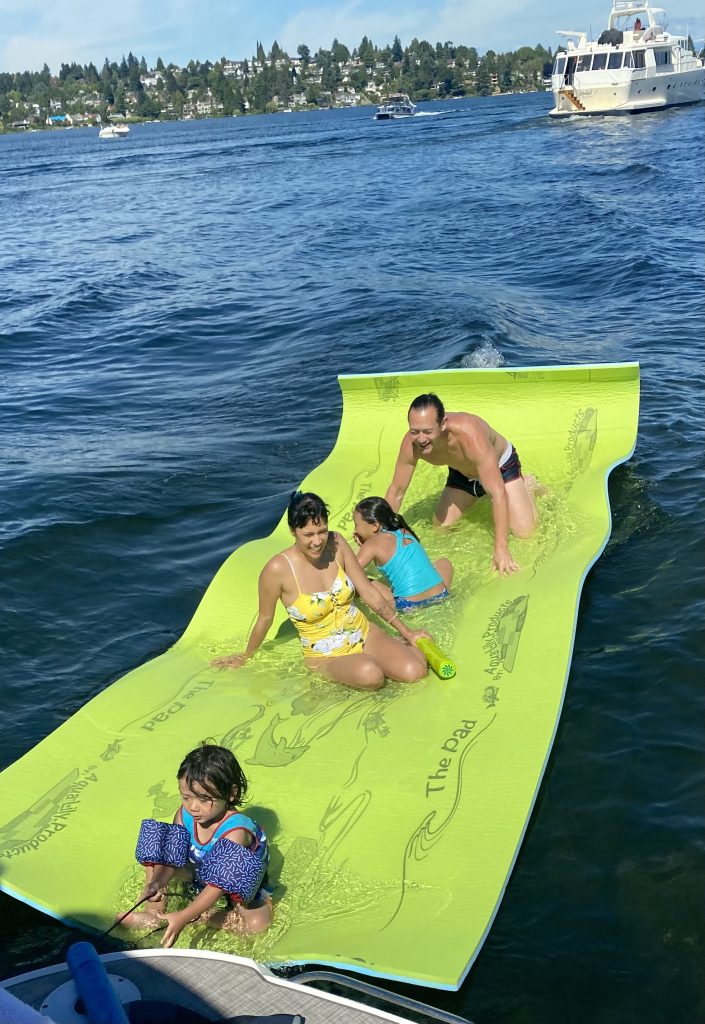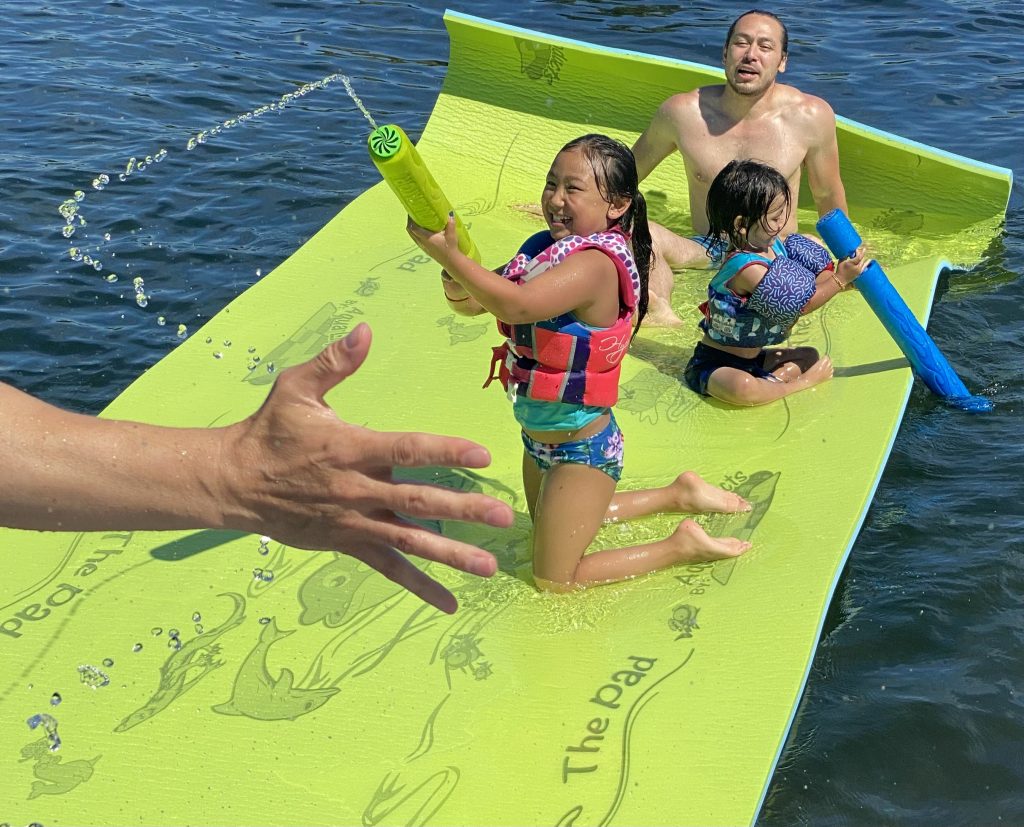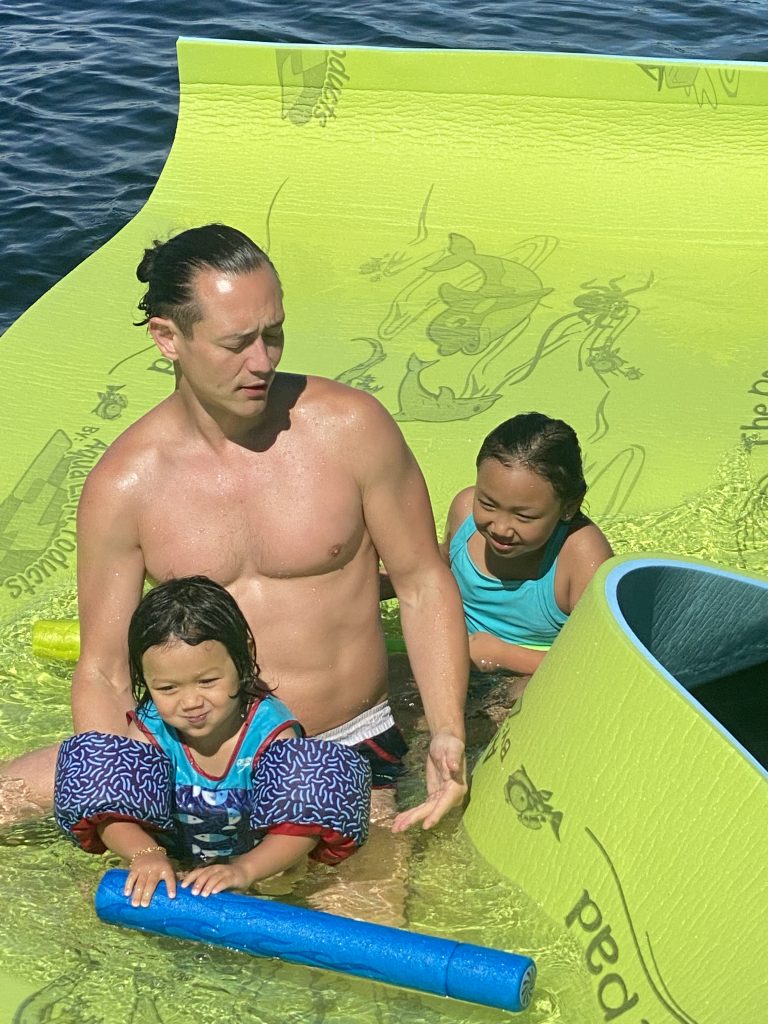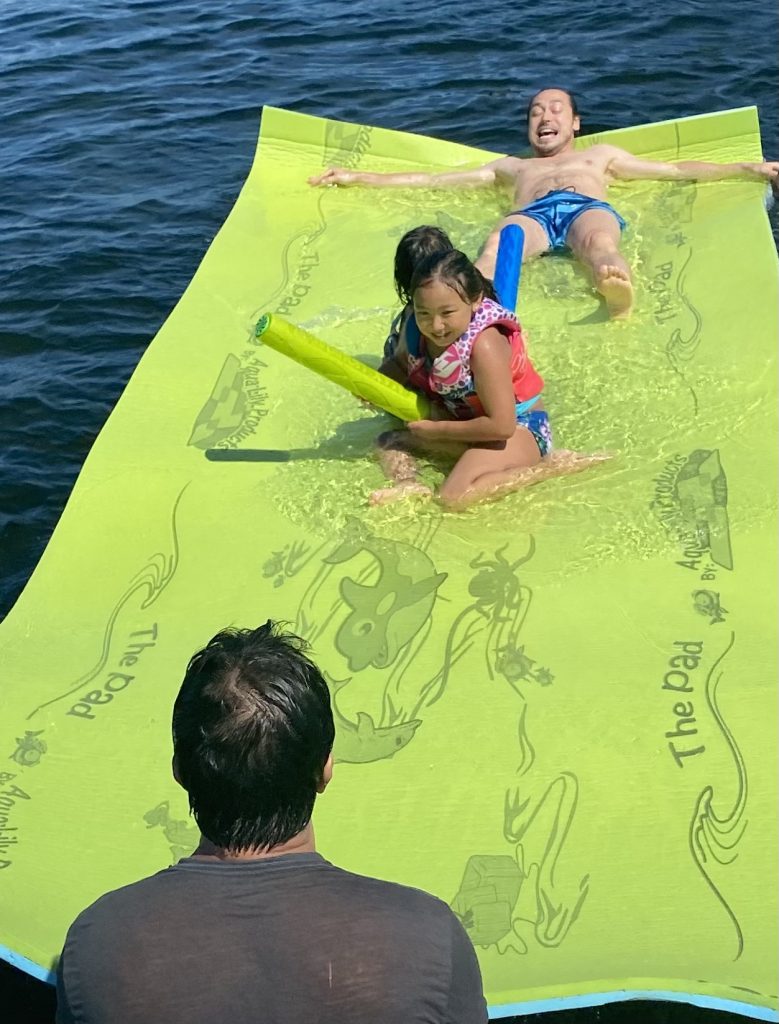 After that fun day on the water, we headed back to the J's for supper and then drove back home to Everett.
ELVIS Headed to Hawaii
Tim's wife, Pauline (my daughter-in-law), travels frequently for work. So she was leaving for Hawaii soon. She wanted to take "ELVIS" (for explanation, see orange blocks above) with her, but Tim couldn't go, so her sister went with her to take care of the kids while Pauline was at work.
So, three days later, they were off to Hawaii.
Escape From the Heat
The next day Tim and I suffered through one day of excessive heat in the house. The kind of heat that makes you not want to do anything but sit and stare.
We were staring at the weather app and it said it was going to be in the 90's for a few days and one day would be over 100 degrees.
What?!? 🤪😩…..That's not the Seattle we know and love.
That day, Tim was talking on the phone to Jes, and Jes suggested we go there and stay with them for a few days, until it cooled off. They have a condo with A/C in a high-rise building in downtown Seattle.
So we gladly did!!
The view from the balcony of the J's condo partially faces the downtown area
and partially the Puget Sound.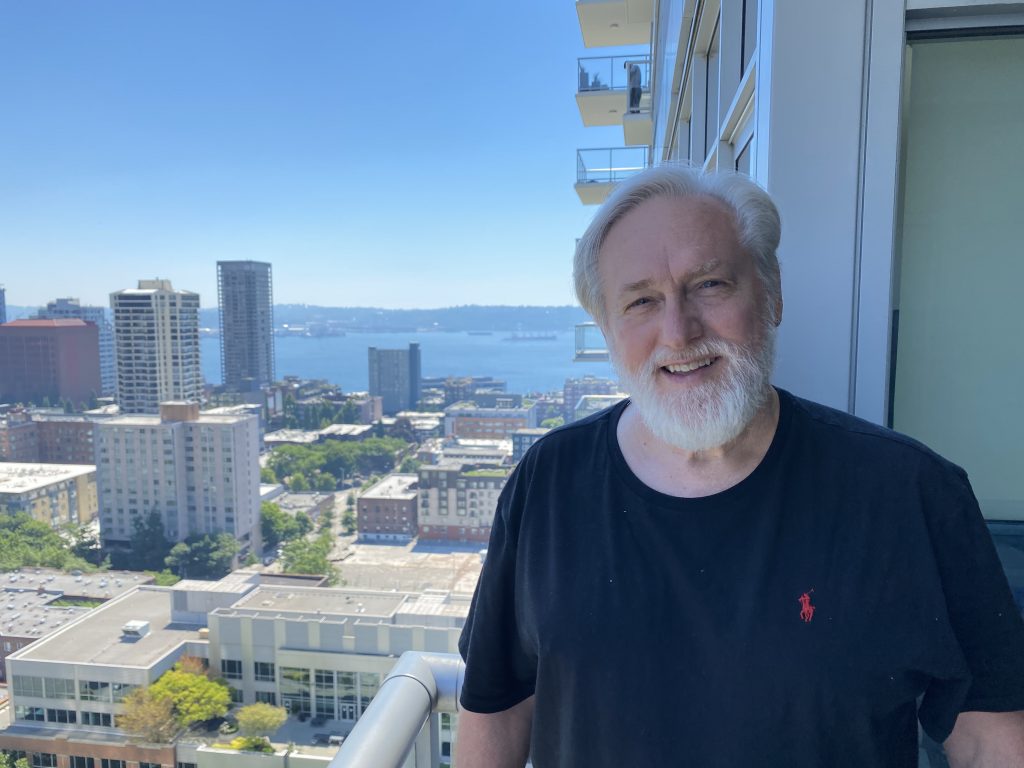 That was June 27, just three days before Tim's birthday (July 1) and just four days before Jen's birthday (July 2).
We were planning to have a birthday party on July 1, for both of them, on an outdoor terrace on the seventh floor of the J's building (see below),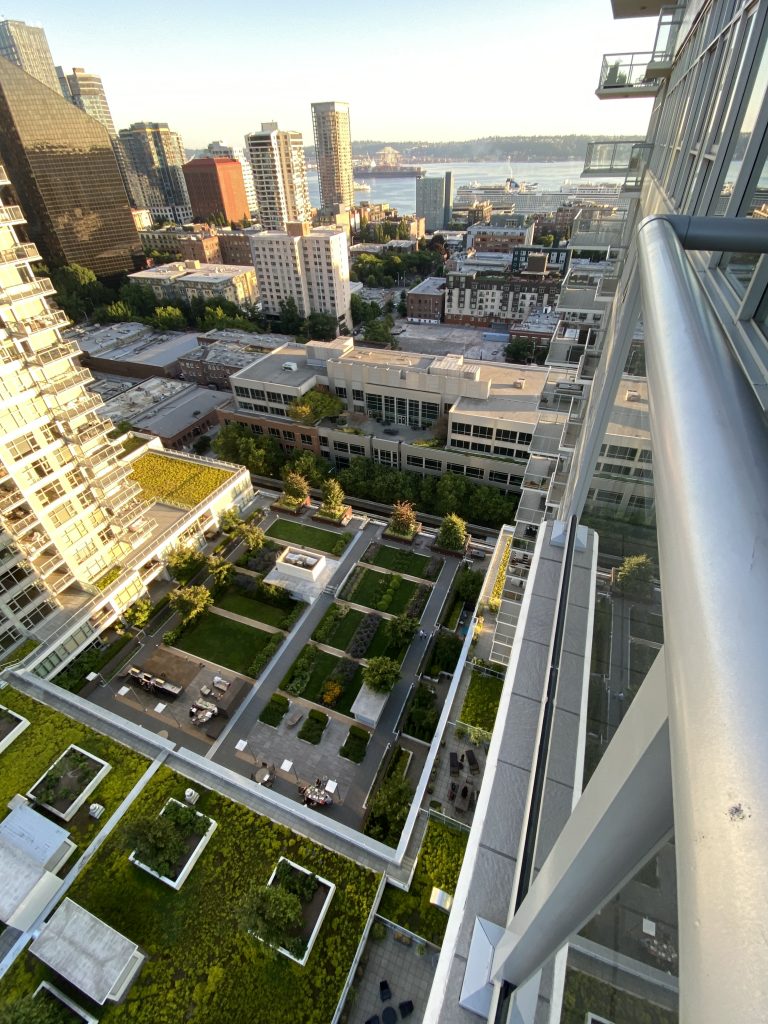 where there were grills for cooking, and tables, chairs and sofas for lounging, enjoying the food, and the evening, as well.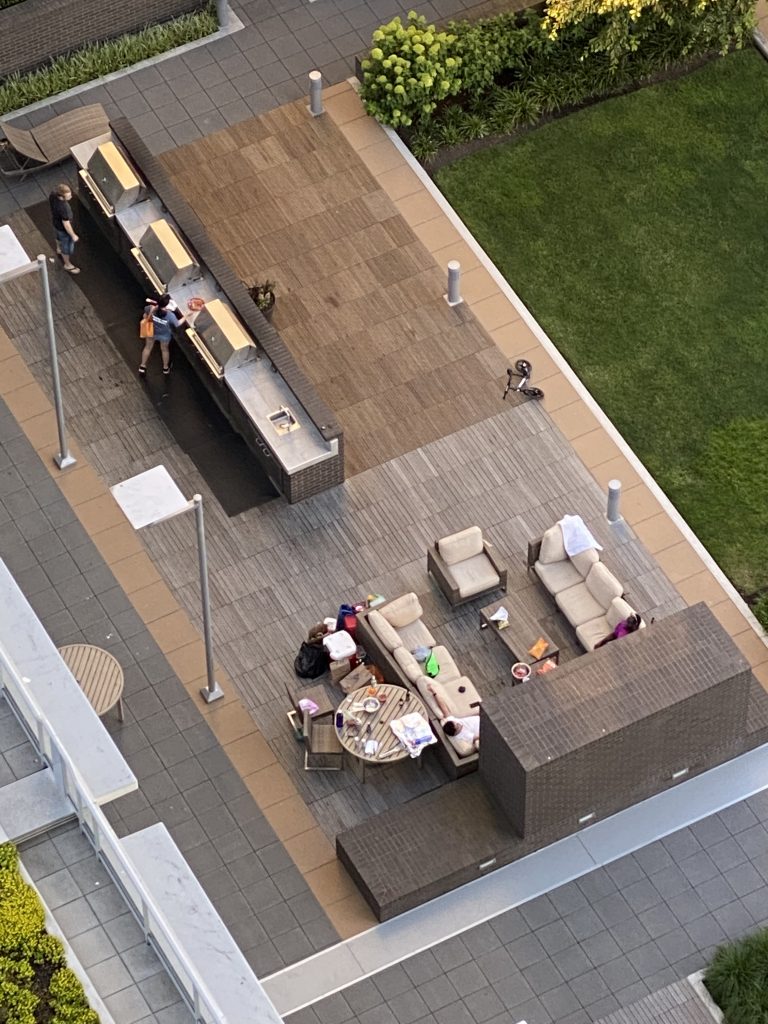 For the next three days, Jes and Tim went out to do stuff with friends, showed visitors around Seattle, and then came back home again to fix something to eat, with me, and then went back out again.
But I decided to stay in the cool condo and read a book I had brought with me.
I woke up early one morning, before sunrise, to get a picture of the city (before it woke up), from the room where I slept,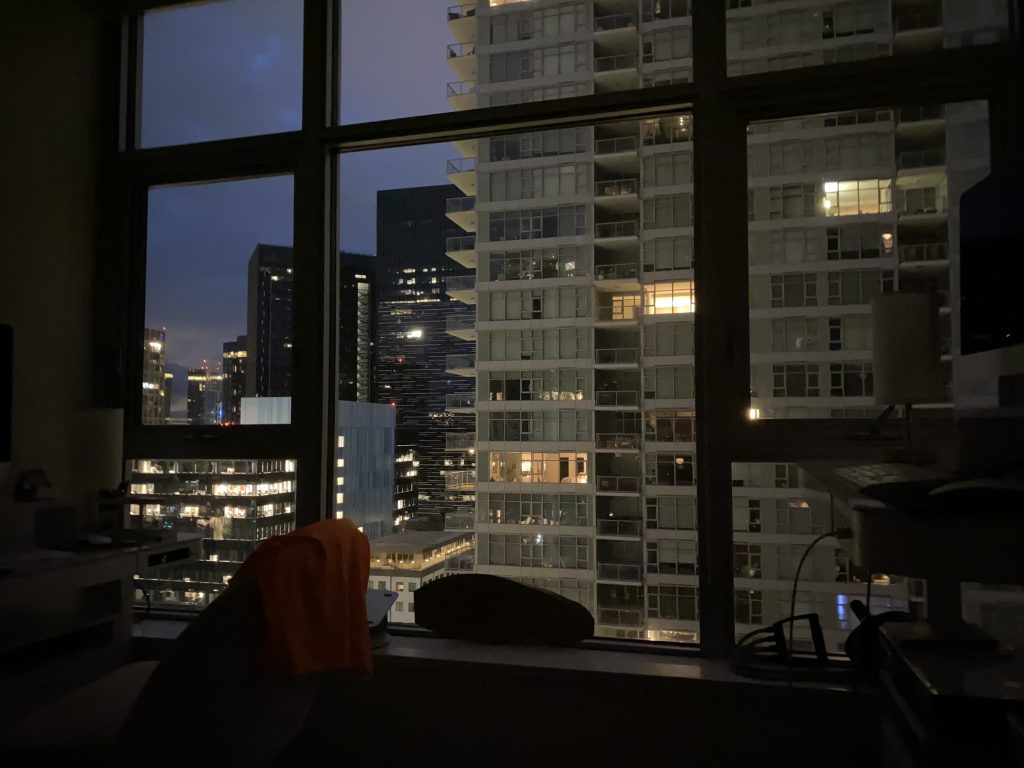 and from the balcony of the condo.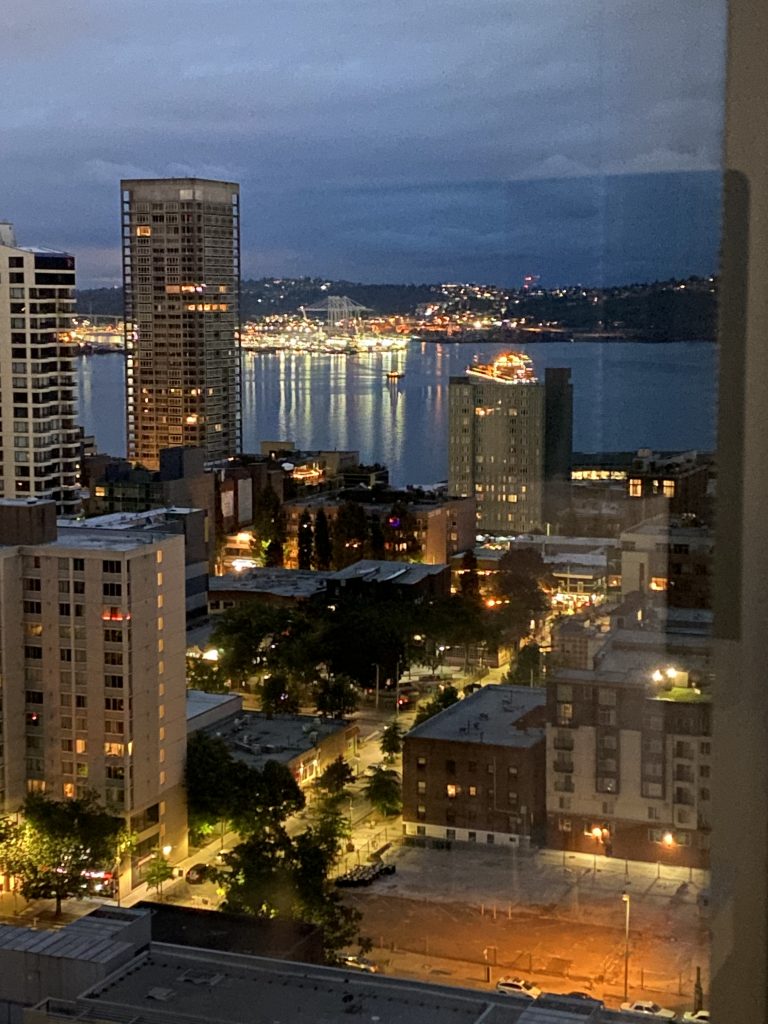 I also wanted to capture the mood of one evening, before sundown, from the balcony of the condo.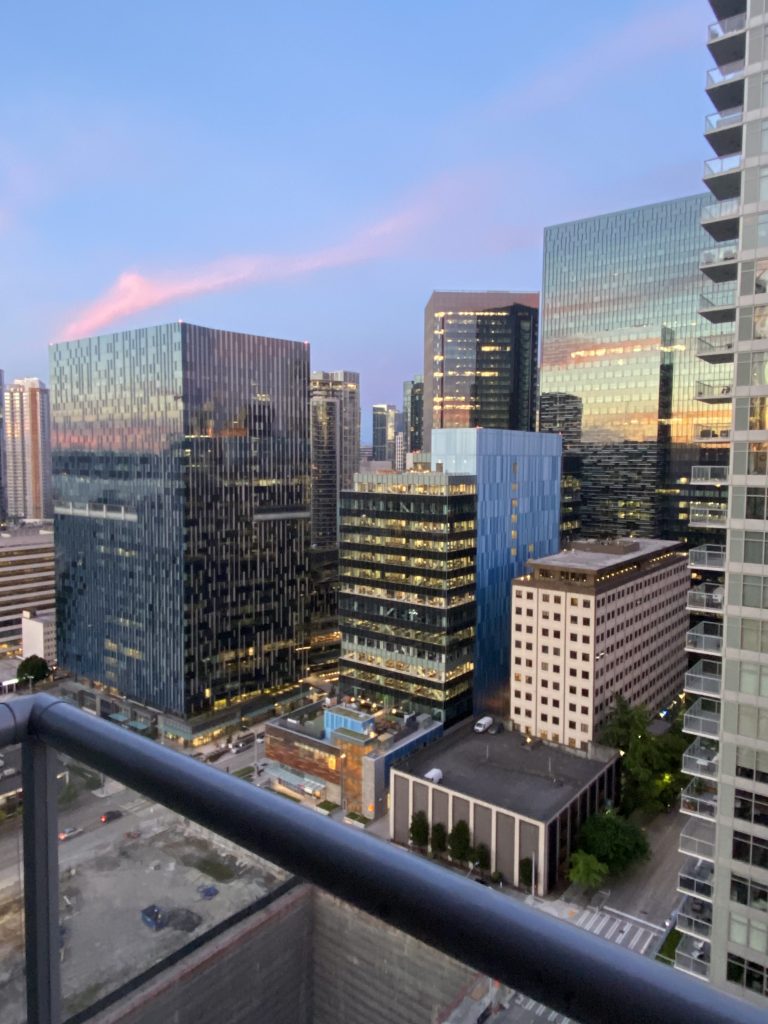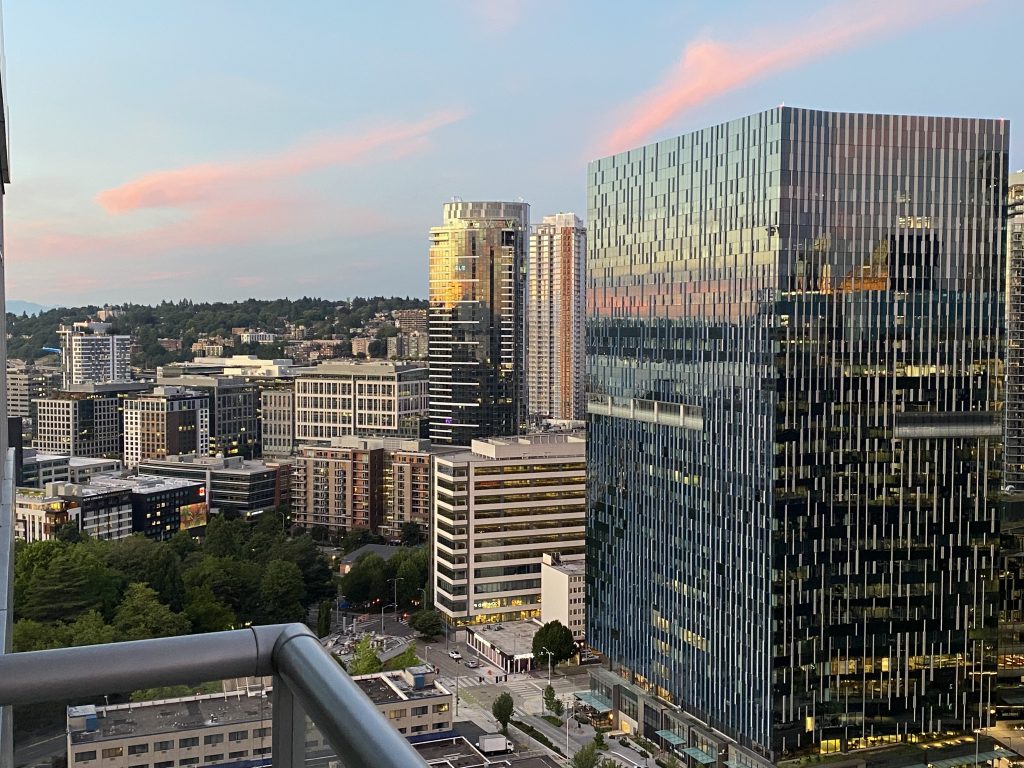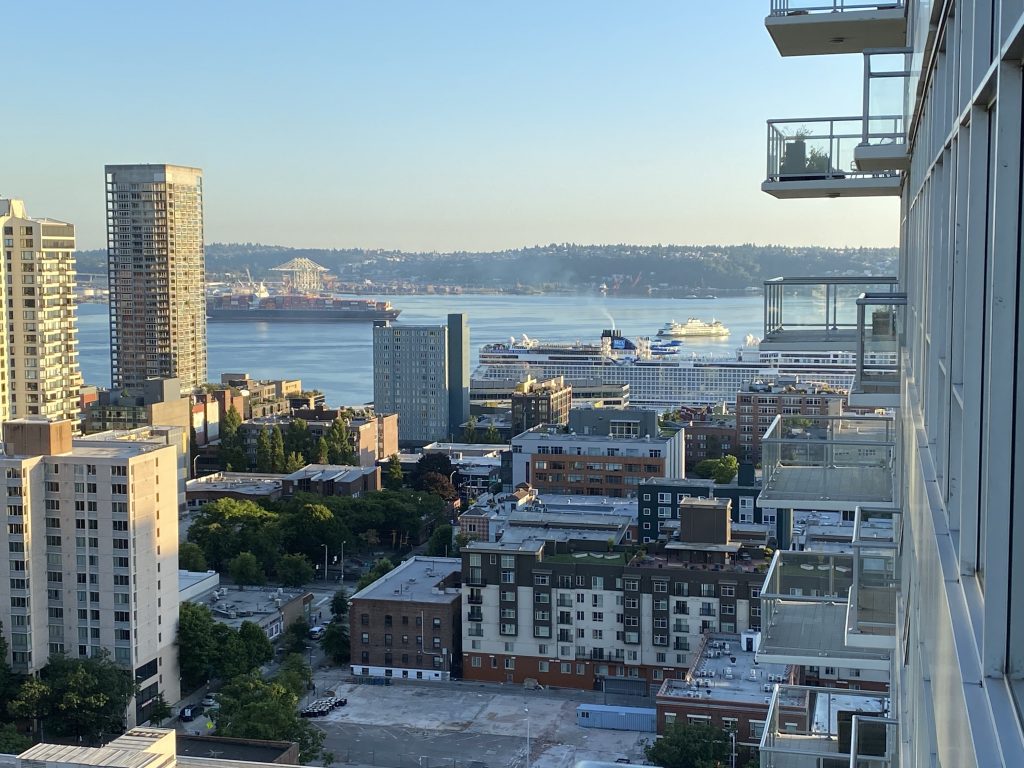 The Birthday Party
Tim and Jes talked about the birthday party and planned the menu. Tim previously had a successful burger business on Capitol Hill, in Seattle, for a couple of years, and he loves to cook.
Several friends (from their extensive network of friends) were coming to the birthday party. The last time they got together, Tim made a special kind of ramen for all of them and they loved it. So they said the next time they all get together, they wanted Tim to make gourmet burgers.
So Tim made gourmet burgers, this time, with arugula, carmelized onions, roasted garlic tomatoes, white cheddar, crispy bacon, brioche buns, and he put a garlic aioli on half of the burgers and a truffle aioli on the other half of the burgers.
The burgers were a great success. Everyone raved about how juicy and delicious they were and how Tim had "defied ordinary" that night.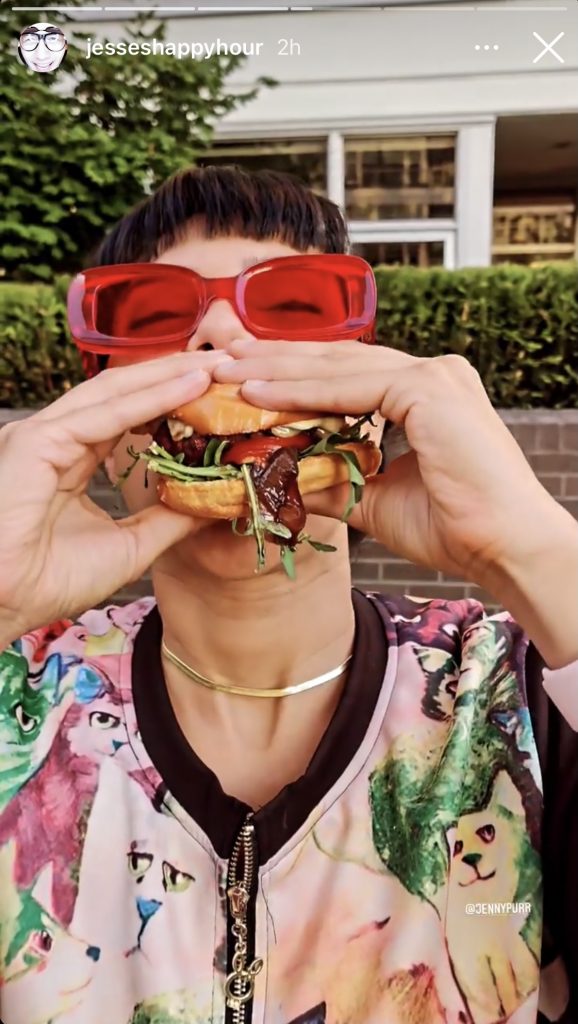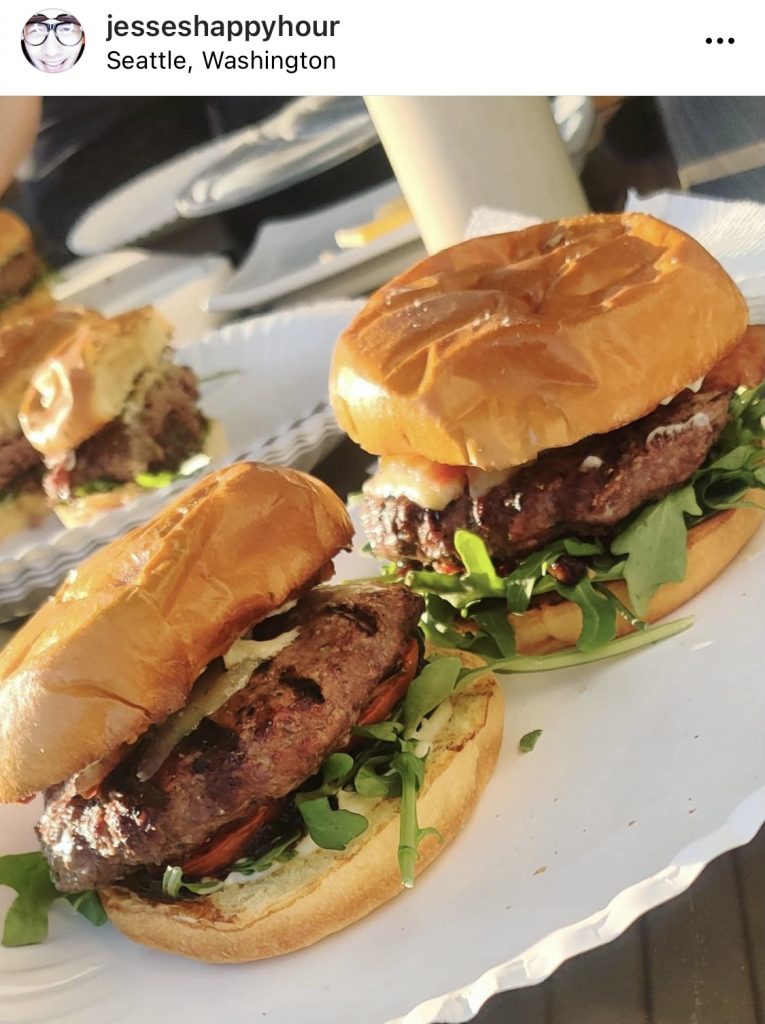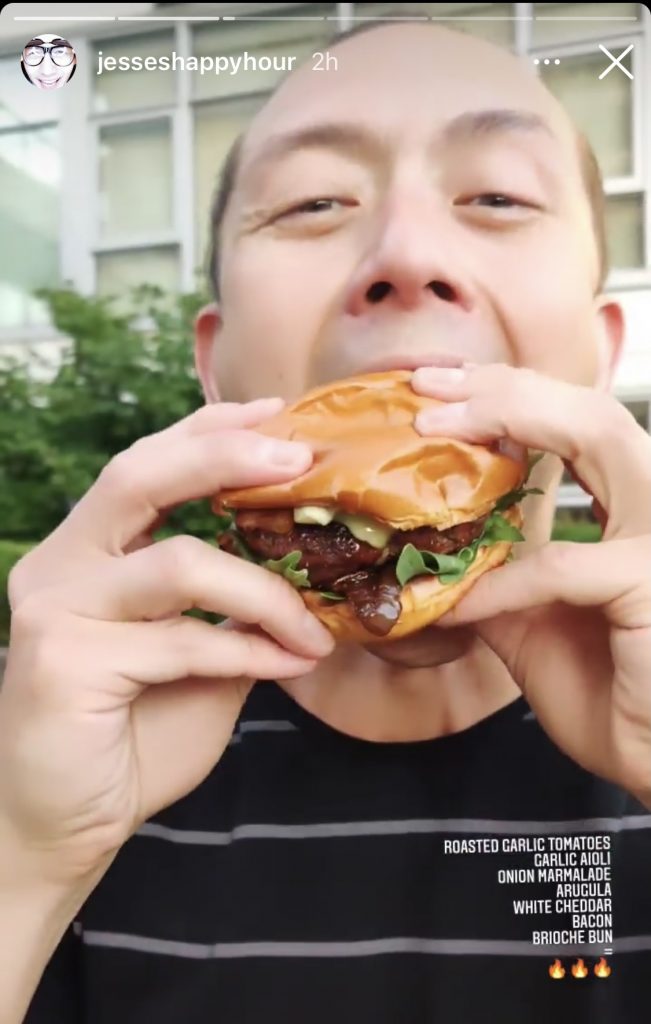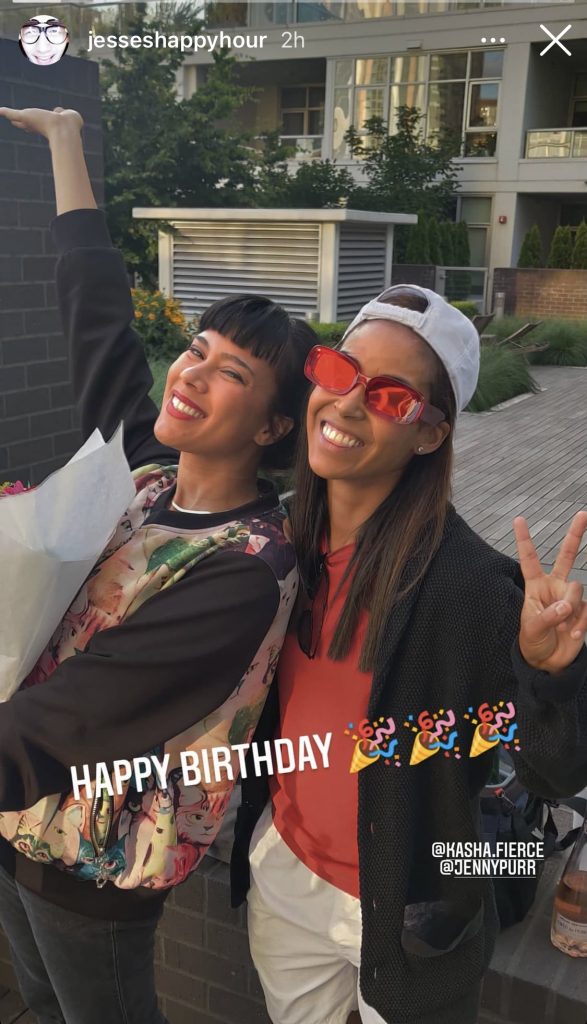 The weather was not bad that evening. It was refreshing.
As the friends gathered and the conversations picked up, we discovered that there were seven people there who had birthdays in July on the 1st, 2nd, 3rd, 4th, 7th and the 8th.
So we lined 'em up against a wall, took a photo of them, and then Jes posted this on Instagram….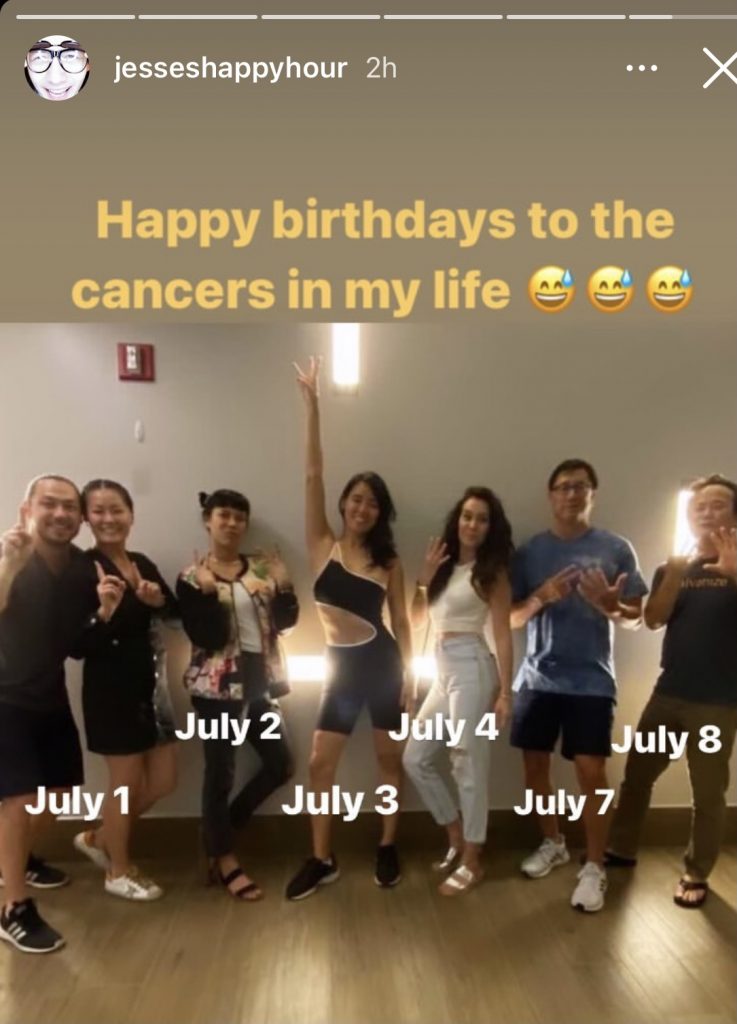 You see how No. 7 and No. 8 are holding two hands up because they needed both hands to make their number?
Do you see that?
Well, do you see the number one position? There is a guy and a girl in the number one position, because they both have birthdays on the 1st.
And do you see the number two position? There is one girl there with a birthday on the 2nd.
Both girls on the 1st and 2nd, only need one hand to express themselves, but they both used two hands.
So, was the 1st girl born on the 1st or the 11th?
And was the 2nd girl born on the 2nd or the 22nd?
I guess that, both, the girl on the 1st and the girl on the 2nd didn't get the "Hold up your finger/s" memo that day.
(No judgement here and I'm not naming names……just saying…….😁😆 )
It was a great evening sharing food and stories, catching up on each other's lives, and learning new things about our old friends.
But, alas, "All good things must come to an end", as they say. So, everyone bade their goodbyes and went their separate ways.
"The After Party"
Jes, Tim, Kasha, Michelle and I went back up to the J's condo on the 23rd floor, but the night was not over for us yet.
We all went up to the top floor terrace to look at the Space Needle and take some pictures too.
The Space Needle is beautifully lit up at night. Check these out…….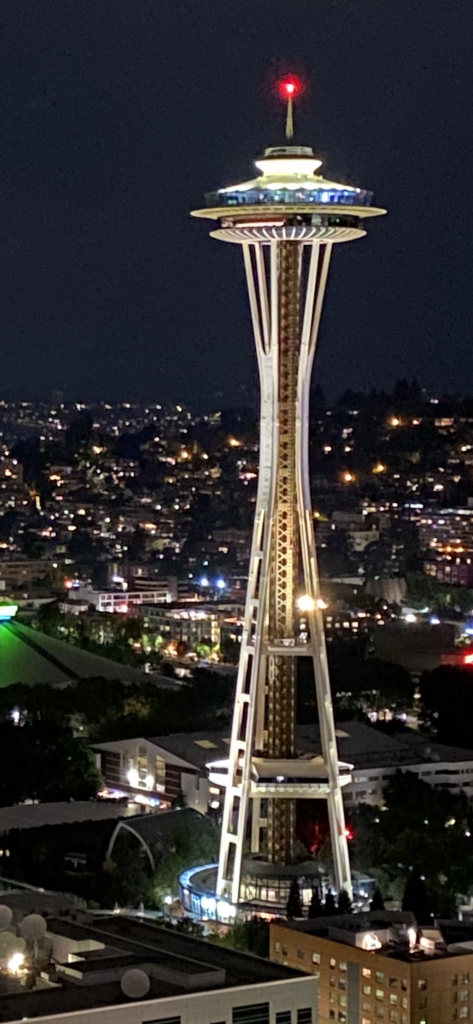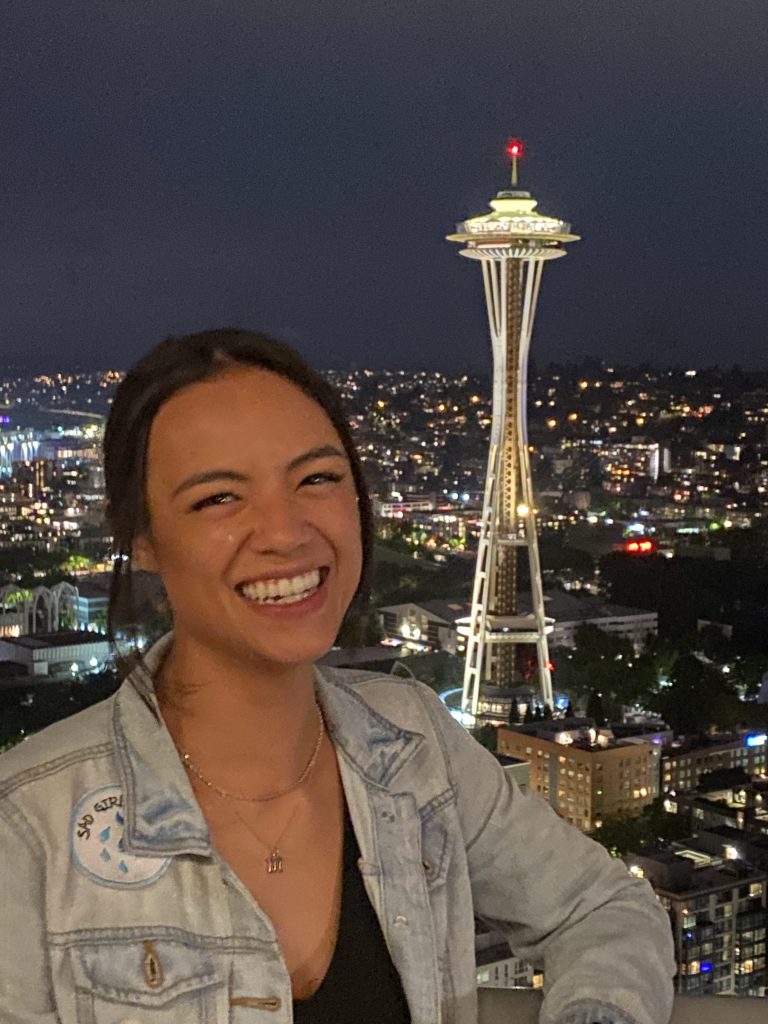 Michelle.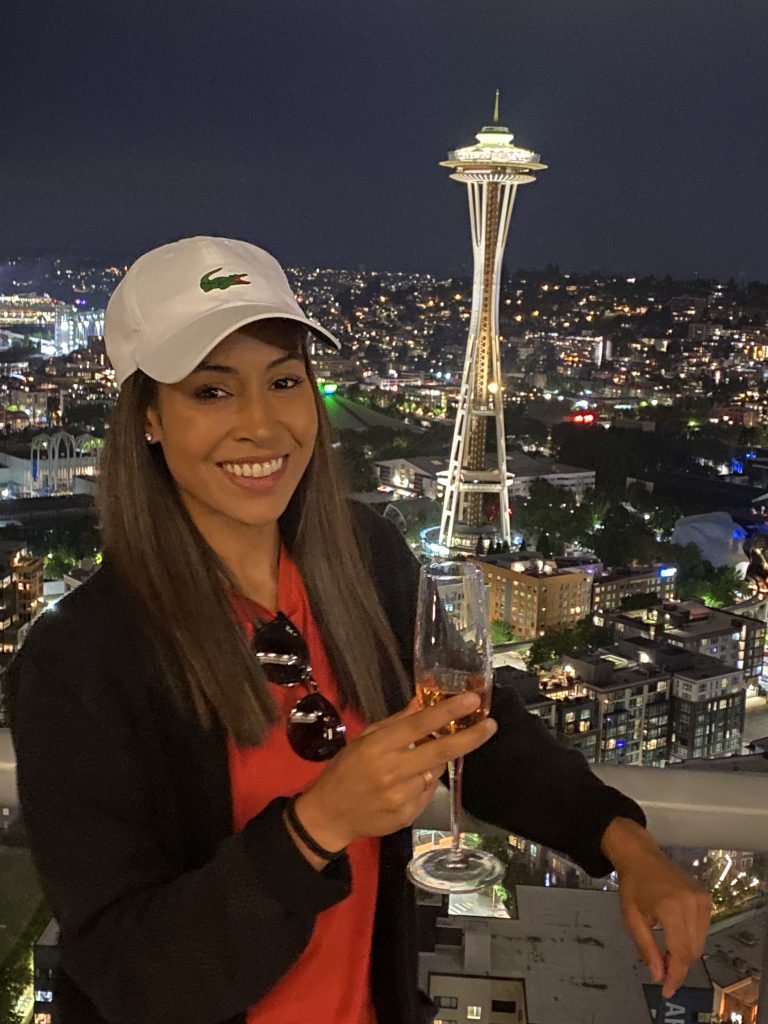 Kasha.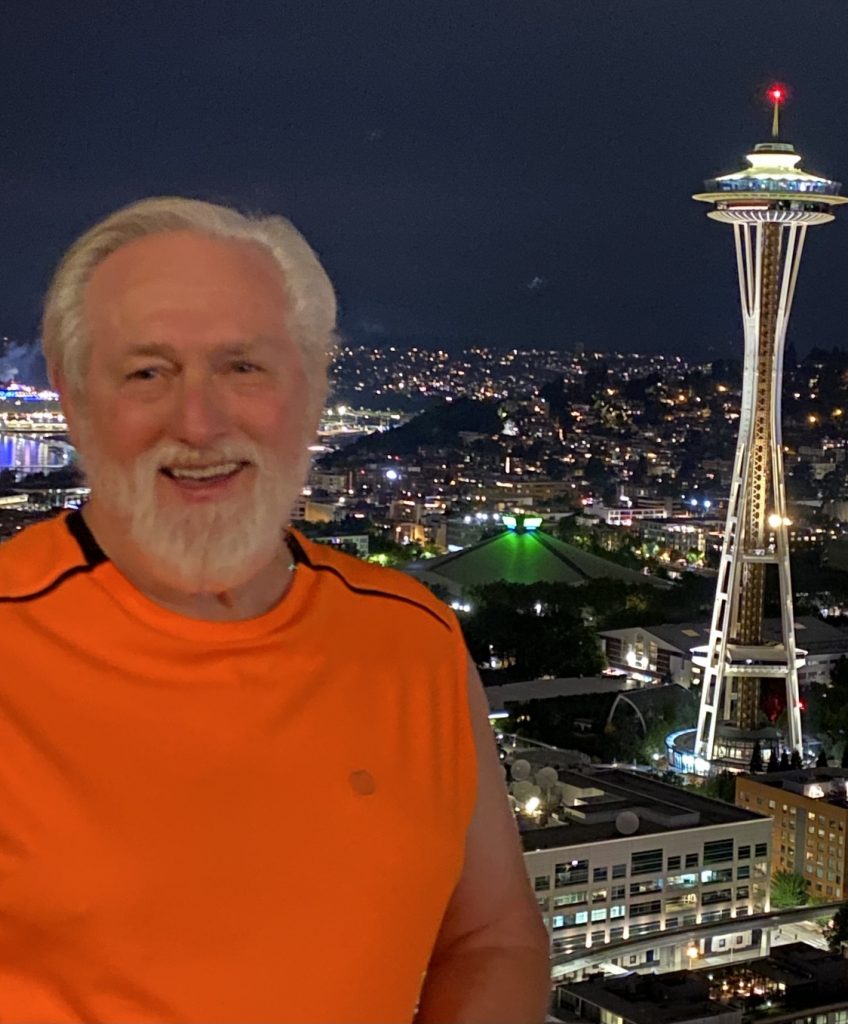 Me.
While Kasha, Michelle, and I were taking photos, the ongoing conversation turned to yesteryear, and I mentioned how Jes and Tim used to be awesome break-dancers in high school.
So that ignited some memory in Michelle and all of a sudden Tim and Michelle were trying to do their "old moves" on the patio while Jes, Kasha and I took videos of them.
Tim did a flare, a windmill and a turtle-top and Michelle did a handstand and a cartwheel. It was all very entertaining and fun to watch.
I took a few screenshots from the videos (see below) to give you an idea…..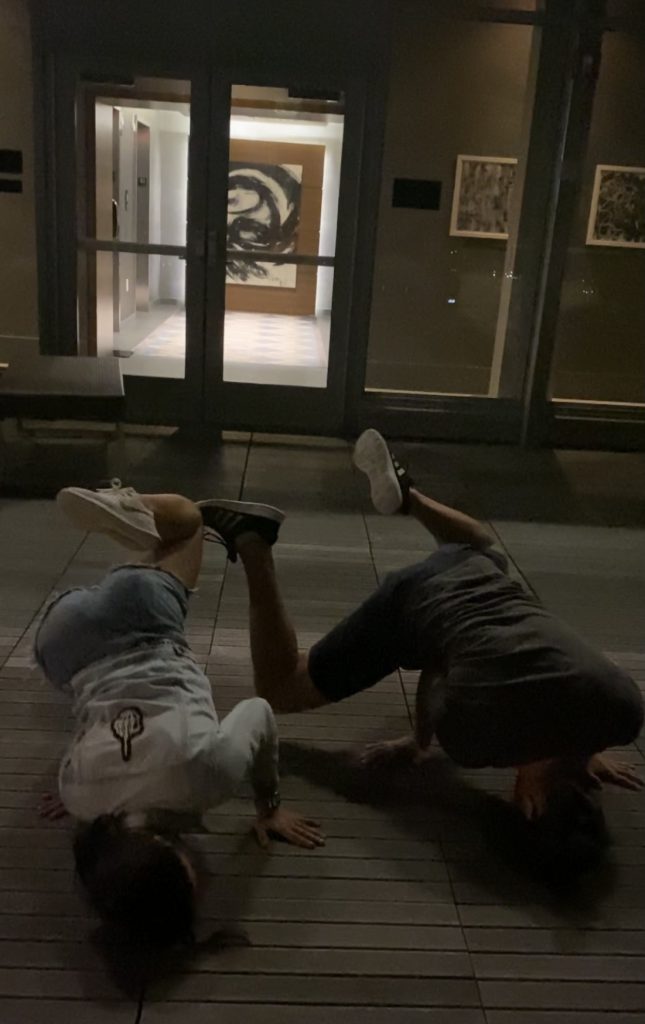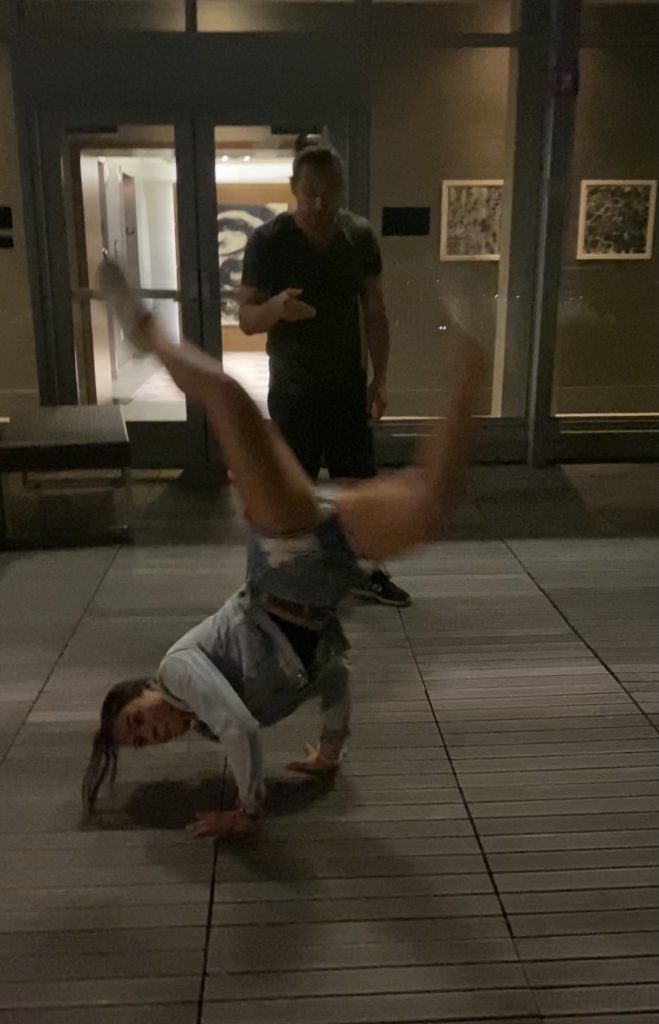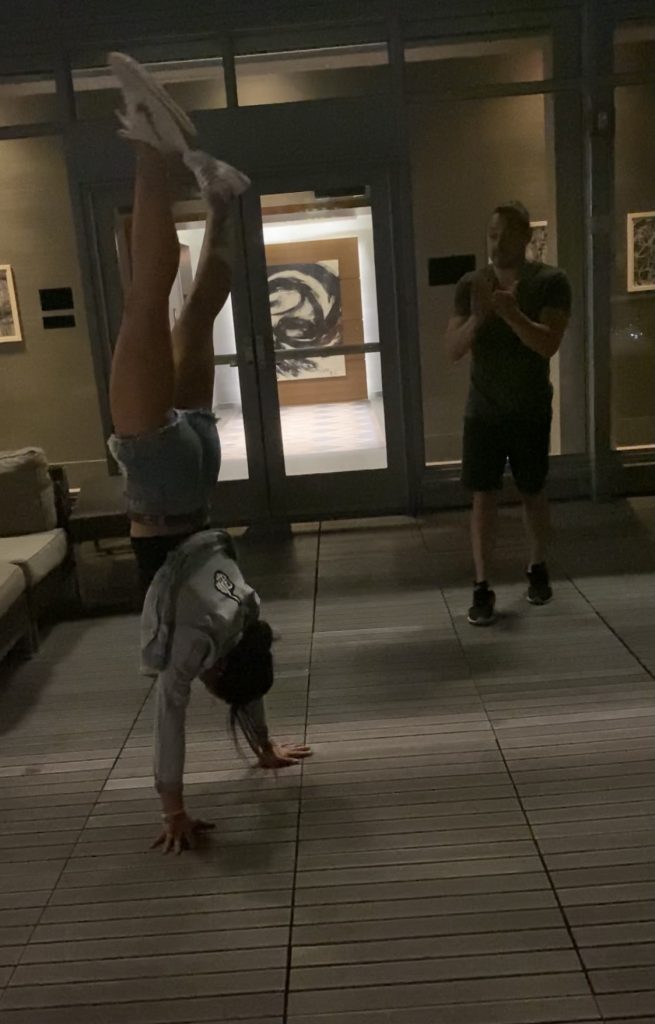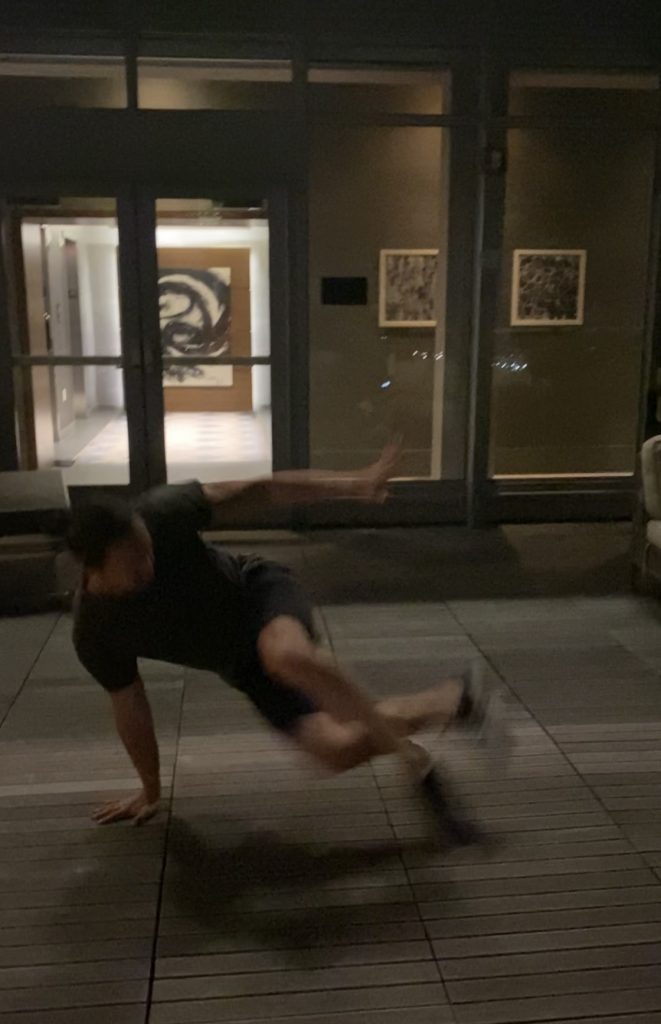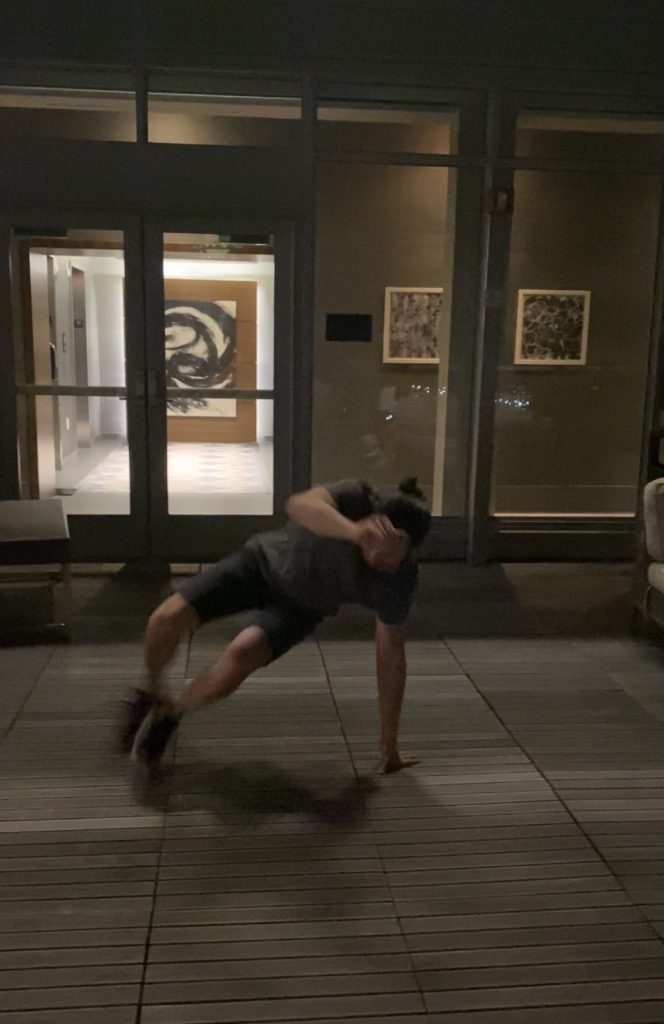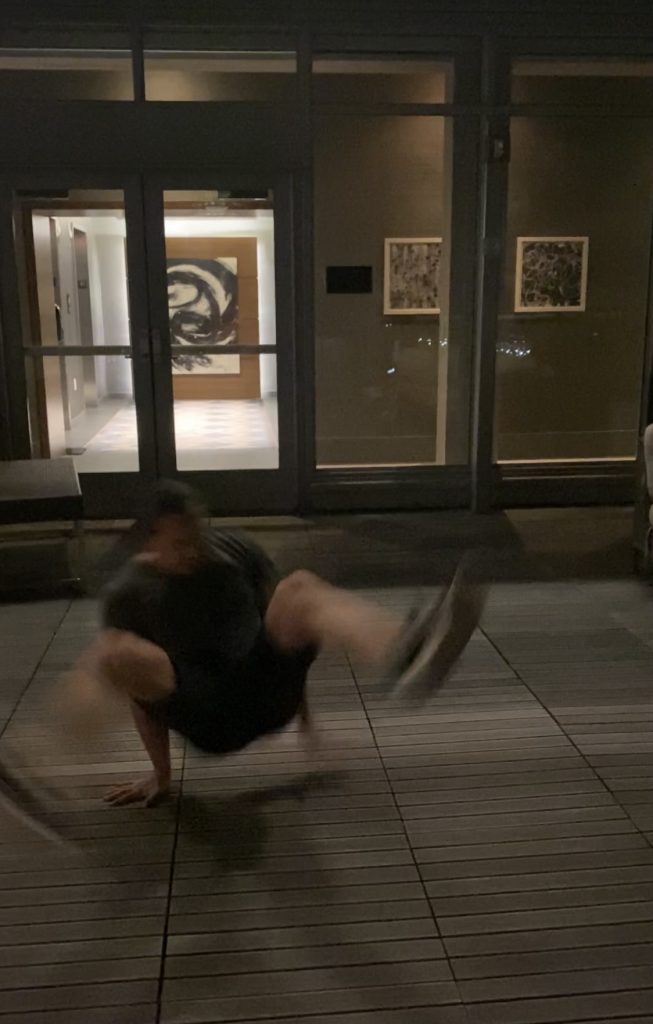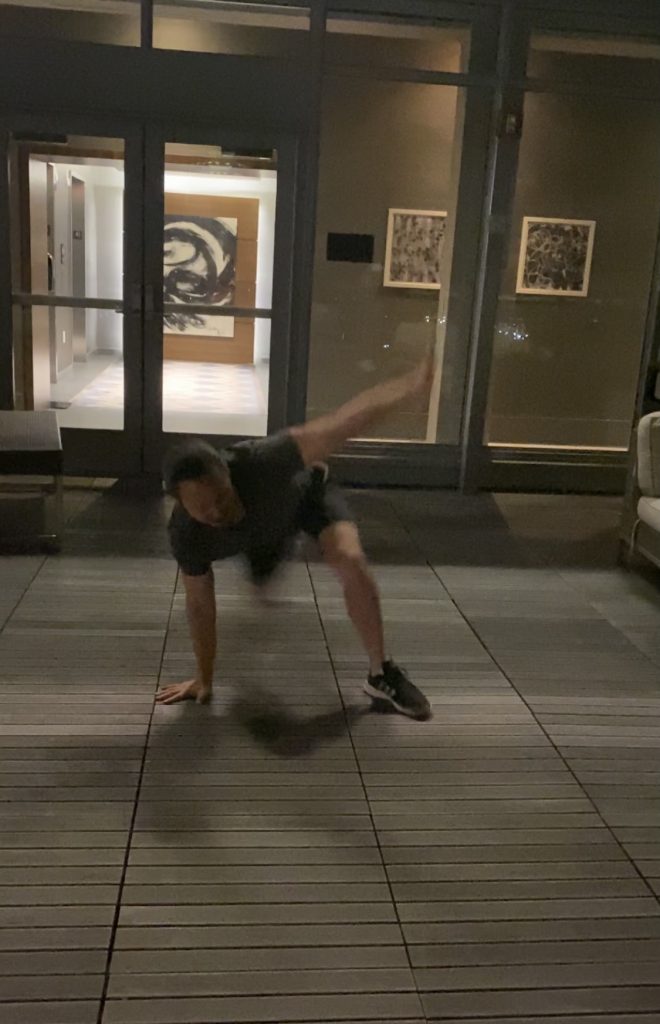 Amidst the high praises and laughter from the three-person audience (Jes, Kasha and I), I over heard a few sighs and groans of frustration coming from the mouths of our dazzling and fearless acrobats, about how they "Used to do THAT much better" and "I'm so out of practice", etc..
All I could think of was, "Welcome to my World".
It was really fun to watch them and a great way to top off the evening.
Deja Vu
Btw, three years ago, in February, 2018, I was writing a post called "The First Time Ever", which refers to Roberta Flack's song called, "The First Time Ever I Saw Your Face".
It also refers to The First Time Ever I Didn't Saw My Favorite Singer, Lizz Wright's, Face. (Click on the link to "The First Time Ever" and you'll understand that last sentence.
Anyway, I wanted to add a picture of me at the top of that post. So I chose this picture (see below).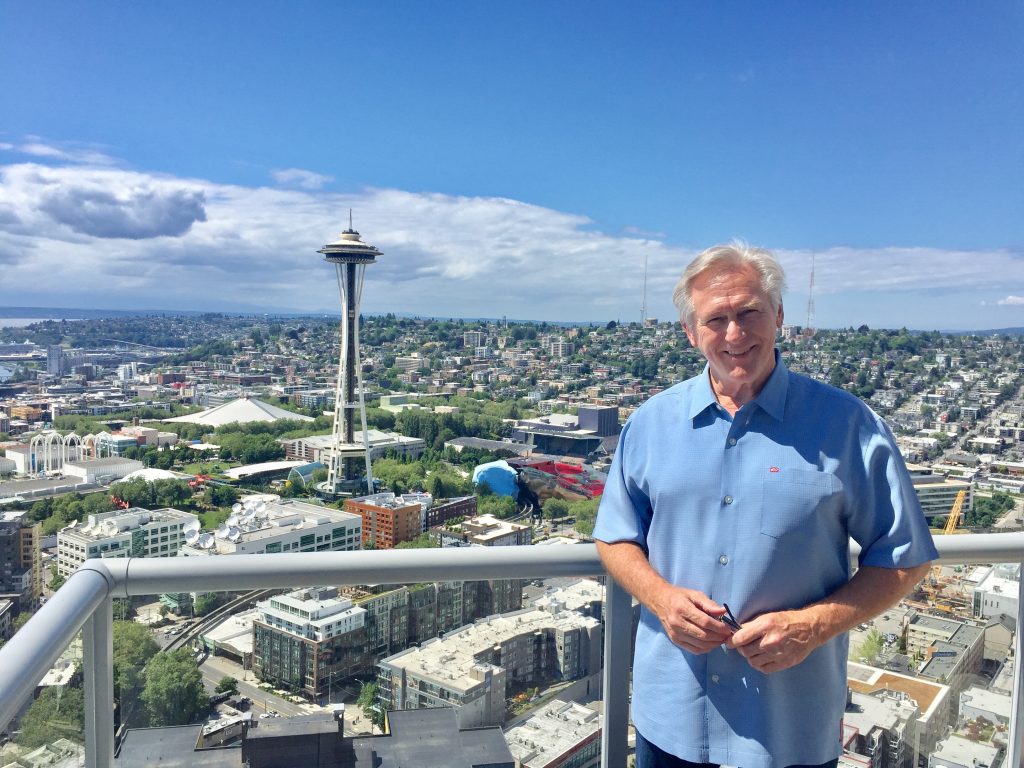 This picture was taken a few months earlier, in June of 2017. As I recall, I had been invited to a small get-together for lunch, which was going to be held in the community room on the top floor of a residential building downtown.
While I ate lunch, I noticed a balcony outside the community room with a stunning view of the Space Needle, so I went out there to take my picture with that awesome view. I knew I could find a place to use it in a future post on my website.
At that time, Jes and Jen lived in a different high-rise.
But just recently they moved into a condo in a new building downtown so I wanted to visit them and see their new space.
So on my first time ever to see their new space, they showed me the community room and a balcony with a stunning view of the Space Needle.
It suddenly dawned on me that this was the same balcony where I took that picture four years earlier. The picture I used in the post called, "The First Time Ever".
So, Jes and Jen, this really wasn't "The First Time Ever I Saw Your Space".
Whaaat?!? 😂🤣
July 2
The next day was a down day for me to stay in and read more of my book. The heat wave had diminished to a normal temperature for Seattle at this time of the year.
But Jes and Tim were out and about with friends all day. When they got back late in the afternoon, they started to prepare supper……
……….some Tomahawk steak with a power green salad!!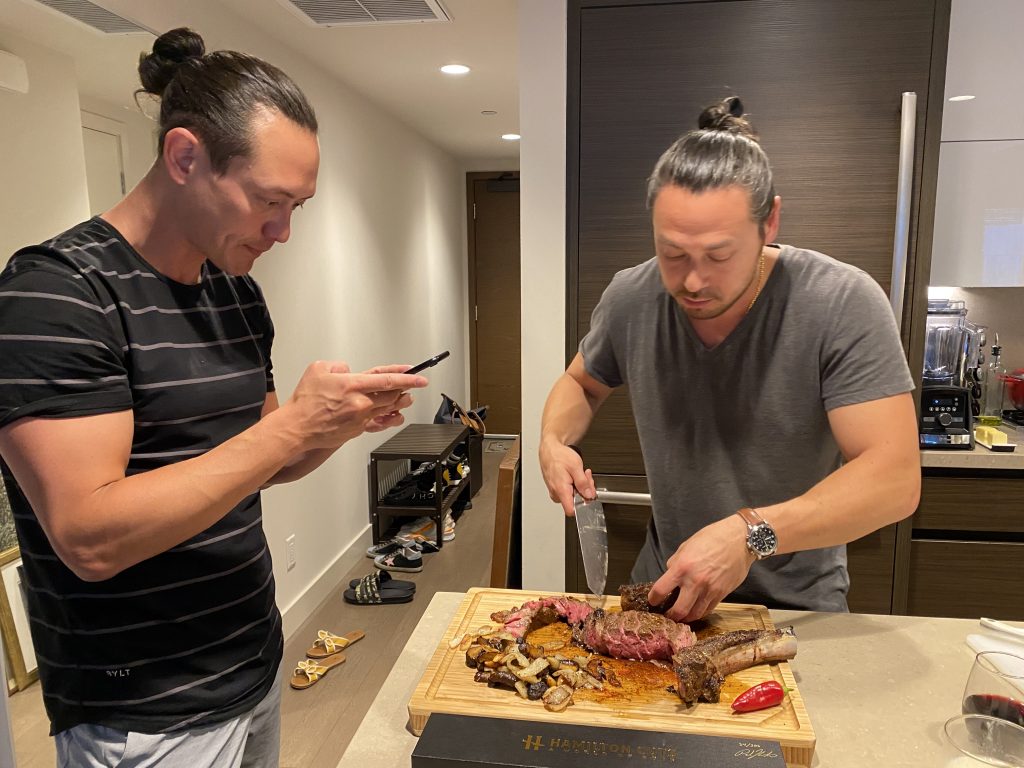 I get such a kick out of watching Jes and Tim perform their culinary magic.
Best of all, I get to feast upon whatever mouth-watering dishes they come up with. They know I live to eat and eat to live.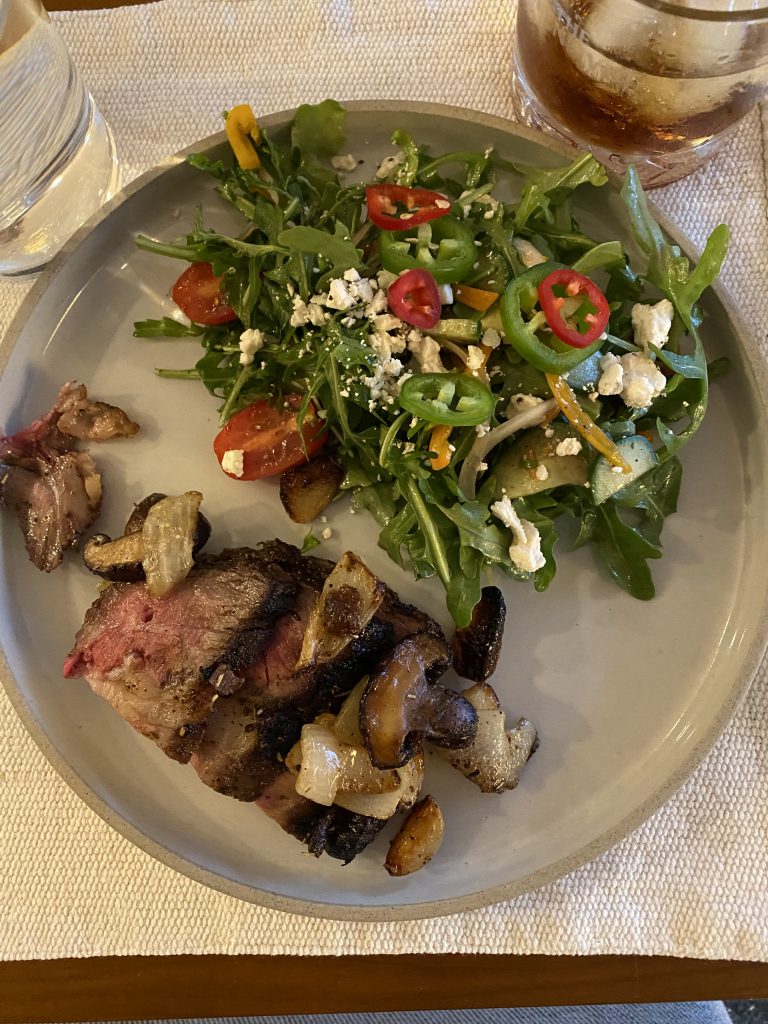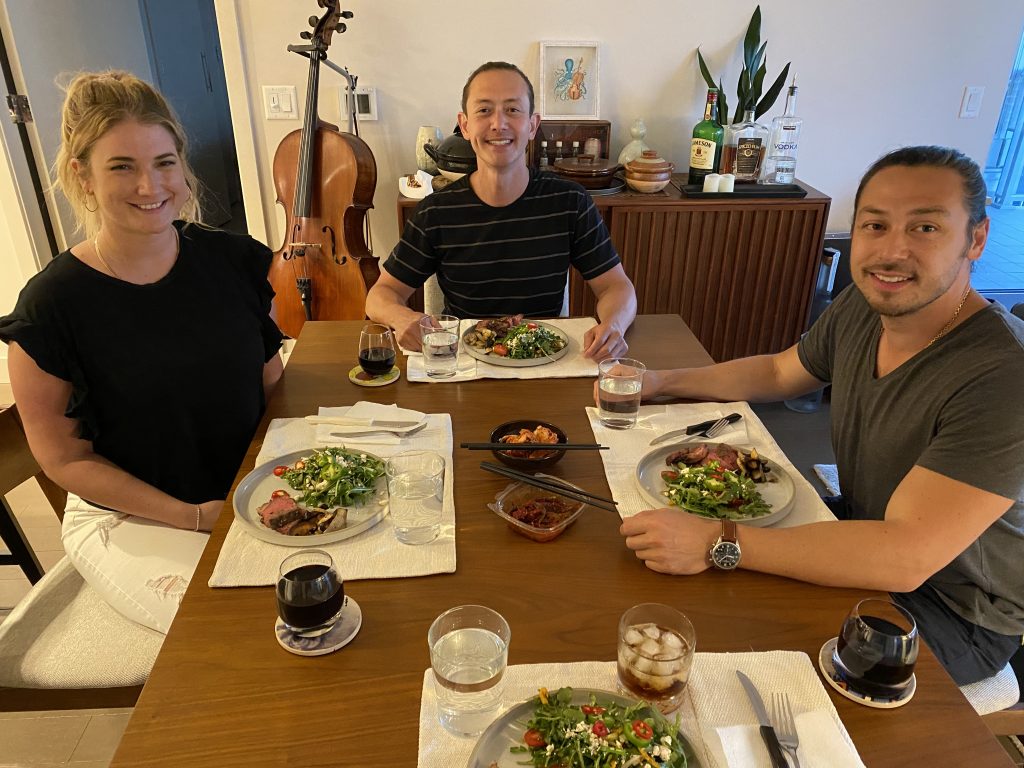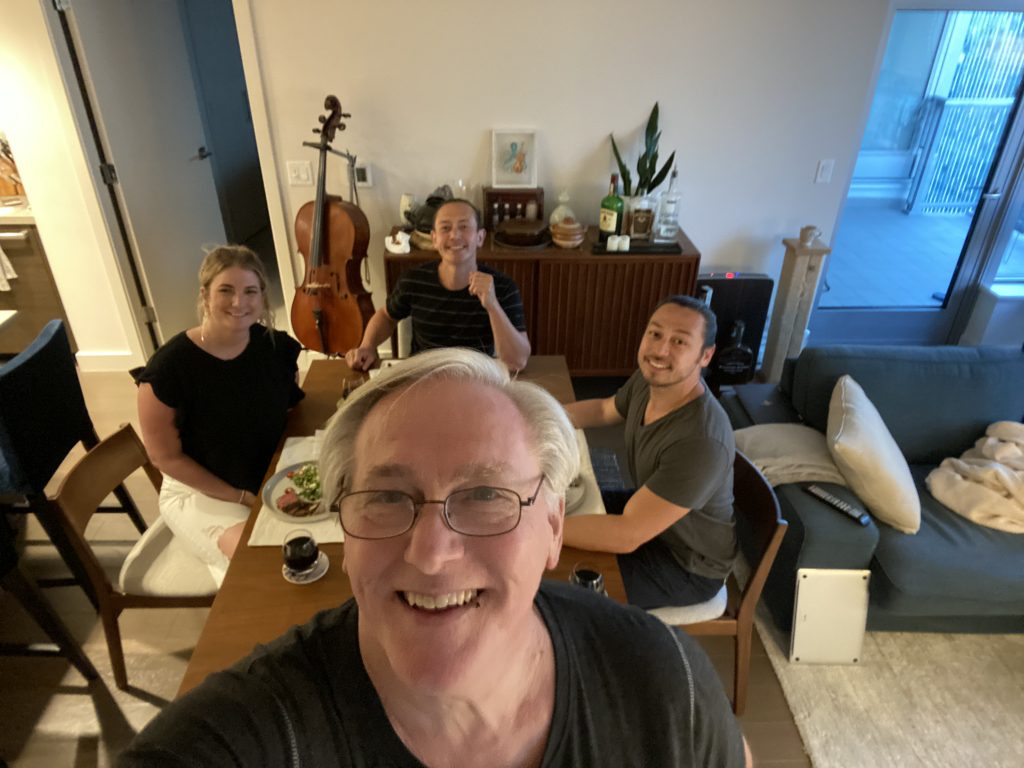 Did you notice? I decided to shave my beard off.
"Evasive Measures" To Beat The Heat
So we made it through the heat wave in all sorts of fun ways.
We sat under a shade tree of a beautiful park.
Played in the water of Lake Washington and Lake Union.
Hung out with people who are young, young at heart, fun, creative, musical, and have mad cooking skills.
Shared great food and drink over laughter and stories.
Took refuge in a few places with A/C, when available.
Went out to a restaurant to eat.
Finished my book while listening to my favorite singer, Lizz Wright, who I hope will be able to get back on tour soon, now that the pandemic is slowly lifting. And I hope she'll also be able to get back in the studio to finish #7 for those of us who eagerly await her next CD.
These are really just ordinary things to do, but I do appreciate them and they made a difference during this heat wave.