These days with so much information available to us we can see what others are doing from places all over the world. The activities run the gamut of simple to extreme, with the degree of difficulty ranging from a "no-brainer" to "requires unimaginable courage".
It can be very inspiring or it can make you feel inferior or superior. Feeling inferior can stop you in your tracks from pursuing what you thought you wanted to do.
But you don't always have to be the best at something. You only have to be the best you want to be at the things that you love. It's not always about competition. You don't need to see yourself as "in competition with others" if you are being yourself. You simply have to value those things you are good at and do them the way that is right for you. You'll get someone's attention when you do it for the right reasons.
I think I spent years thinking how great everyone else was and telling myself I wasn't that great.  That was a defeatist attitude to have and it hampered my desire to pursue some things. Perhaps that was my way of playing it safe rather than possibly find out I actually was not as good as everyone else. That sounds terrible doesn't it?
But as I look back on my life, there were times when I just did stuff and I didn't think about being second best. I did it because I wanted to. I had fun and now it's a great memory and good story to tell. I will be telling some of those stories.
Everyone is unique. No two people are alike. Each person should let their light shine.
I've been taking macro shots of flowers for the past three summers and I now  have about 600 pictures of flowers which I took within a about a 10-mile radius of Seattle. When I upload them to my computer and look at them up close and personal, I am in awe of the uniqueness of each one. I thought to myself, "Holy Macro! There's just no monotony in botany!" The combinations of color, texture, size and design seem to be infinite.
I have been wanting to do something creative with the flower photos but I still have not received my "cue" yet. So I decided to put some of them on the wall of my creation station (my office) so I can see them everyday. It's  similar to the principle of using a vision board to help manifest something real from just an idea: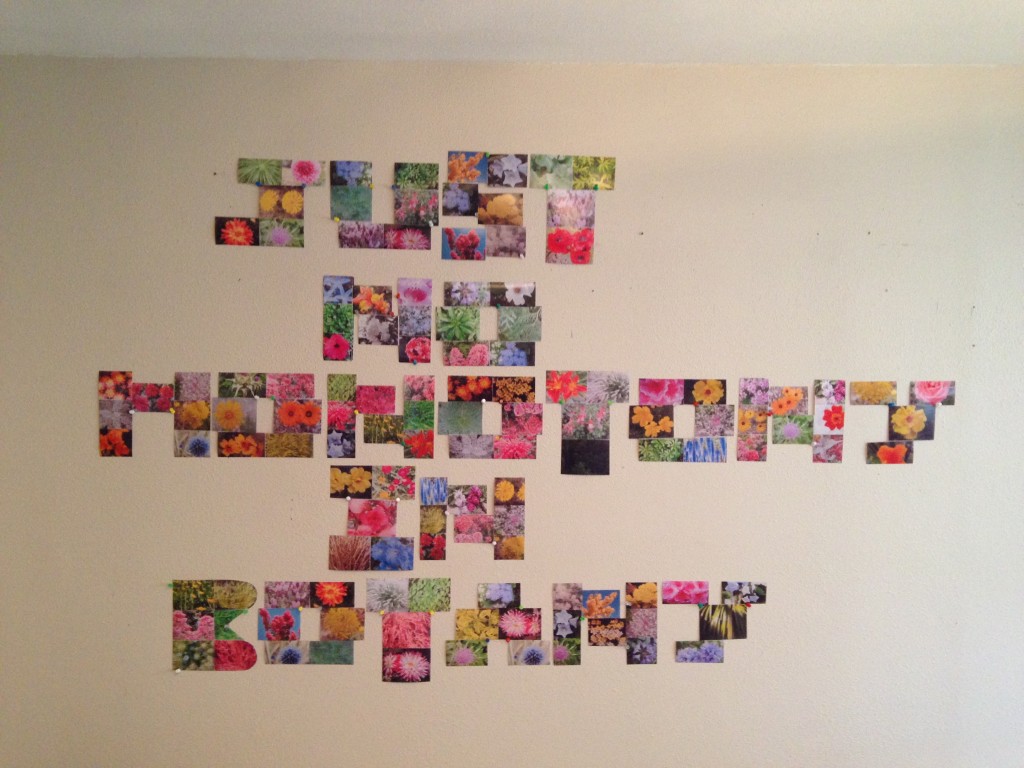 I like certain flowers better than others but I think they are all pretty awesome in their own way. Kinda  like people. Some of my friends like ones that I don't especially like. Does that make them any less beautiful or special? No. It just means they are different and they are less attractive to me. But many people do love them.
So believe in and value your own uniqueness and splendor. Don't compare yourself. Be your best. Let your light shine. Show people who you are.
Over the years, I've written songs and I mostly kept them to myself. Maybe I was afraid they weren't good enough or people wouldn't like them and then I'd feel rejected and blah, blah, blah.
But I no longer want to think that way. So I think now would be a good time for me to "walk the talk". I value my gift to be able to appreciate music. So I'd like to spotlight something of my own. I'd like you to know me a little better.
About 21 months ago, we had a brand new baby girl born into our family.
Evie is her name and she is my granddaughter. I was moved by the love of friends and family who had come to see her that day. That was my "cue".
About eight days later, I wrote this song for her. It's called "Little Bitty Pretty One":
I wrote it for Evie so she would know how much she was loved and I made it a waltz so that I could sing it to her as I waltzed her around the living room to help her fall asleep. Of course, I wrote it out of love for Evie, but also out of love for her Dad and Mom.
But I also wrote it because I can!! It's a gift I'm happy to have.
Just letting my light shine!….Just saying….