Last Thursday (June 29th), the day before I was supposed to fly to Aspen, Colorado, for the weekend, it was a hot sunny day here in Seattle.
I rushed home from work, put my gym clothes on, grabbed my basketball, and flew away in my "purrty cat" with the rag top down.
I like playing basketball in the sun and I don't like to waste even one sunny day by not playing.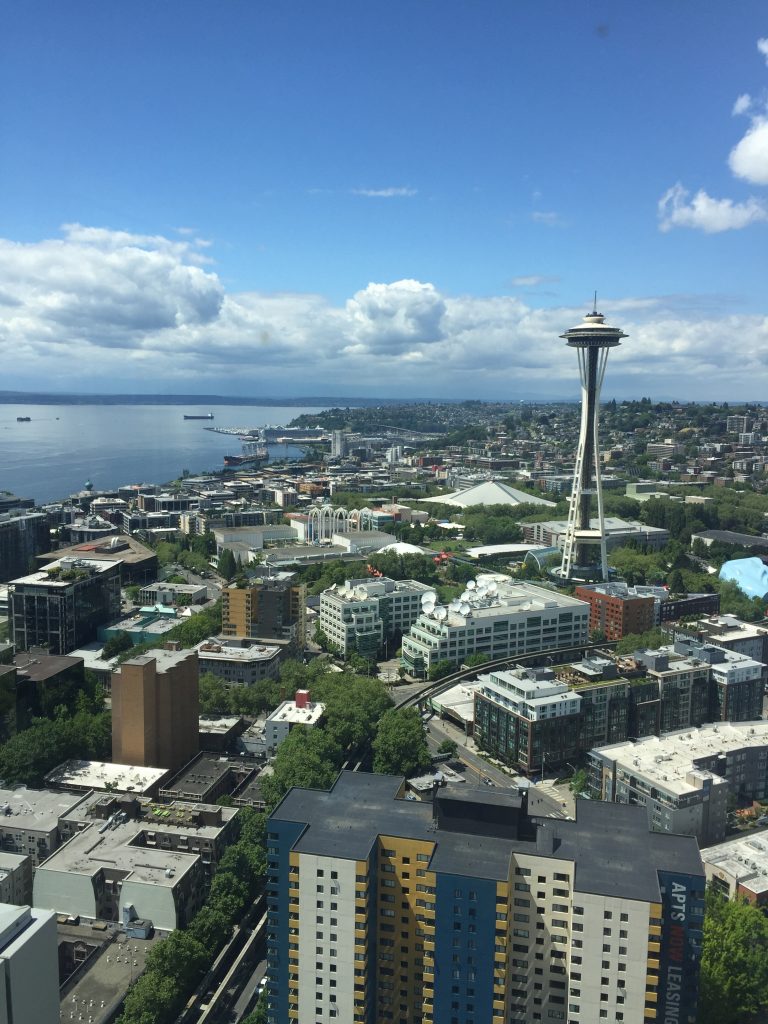 When I got there, there was no one on the court.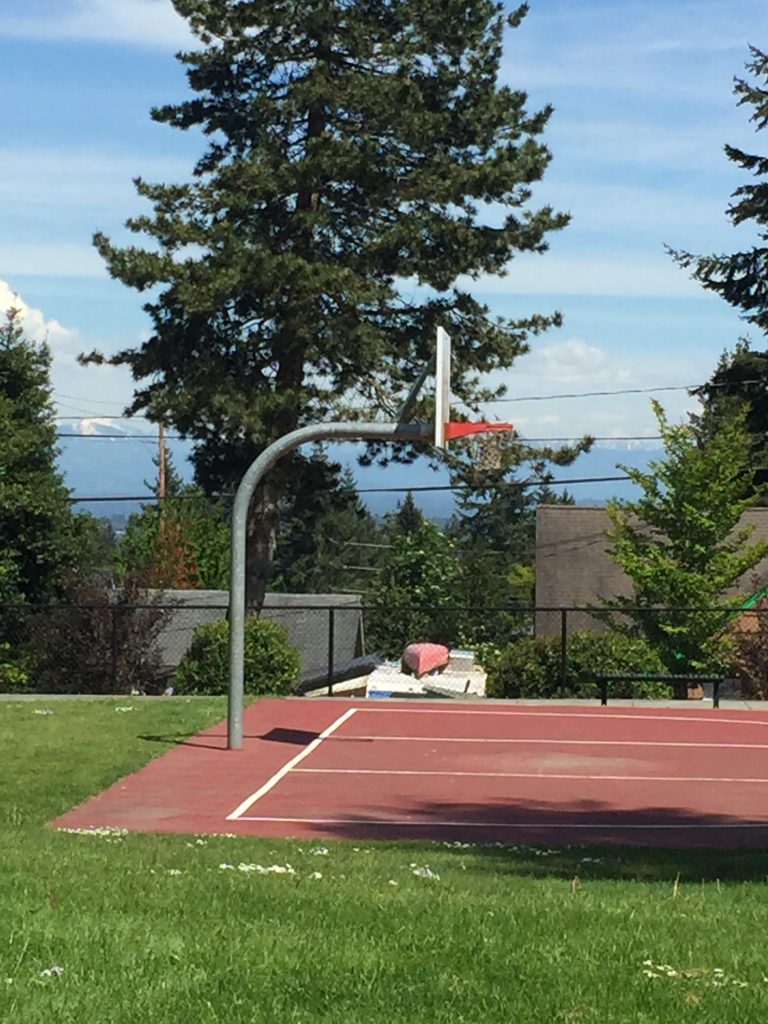 But the minute I stepped onto the court, about a dozen little kids came from out of nowhere to play too. They had all been there for awhile at the playground, but when I stepped up to the goal, I guess I was their cue, reminding them they wanted to play.
I saw a small rain puddle on the court and I used my foot like a broom to spread the water out so it would dry up quickly. As I did that, I told the kids what I was doing and cautioned them not to get their feet wet or they could slip and fall and hurt themselves badly.
They nodded in agreement.
Then I walked to the top of the key and started to turn around and shoot a jump shot, but my right foot was still a little wet and as I started to turn, it slipped right out from under me, and my whole body was slammed to the ground.
My right shoulder hit the ground simultaneously as my left hand reached down to the pavement to break the fall, and then the right side of my face hit the pavement.
I've never fallen like that on concrete before. It's not something I want to repeat, ever!
So two of the bigger kids rushed over to me, extended their hands to me to help me up, and asked if I was ok? I sat there for a few seconds and pondered that question. I myself wondered if I was ok.
I was bleeding a little bit over my right eye. My left wrist was starting to swell, and the right side of my face hurt a little bit. But I wasn't dazed or dizzy.
As I got up, I looked at the kids and said, "I didn't want to set the example of what not to do for you guys, but this is what I was talking about when I said this kind of thing could happen. So don't let it happen to you, ok?"  Then I said, "I'll be ok, but I need to go home and treat this."
So I left.
I had planned to play basketball at the Yellow Brick Park in Aspen, when I got there, but now I didn't know if I would be able to or not. My wrist was swelling.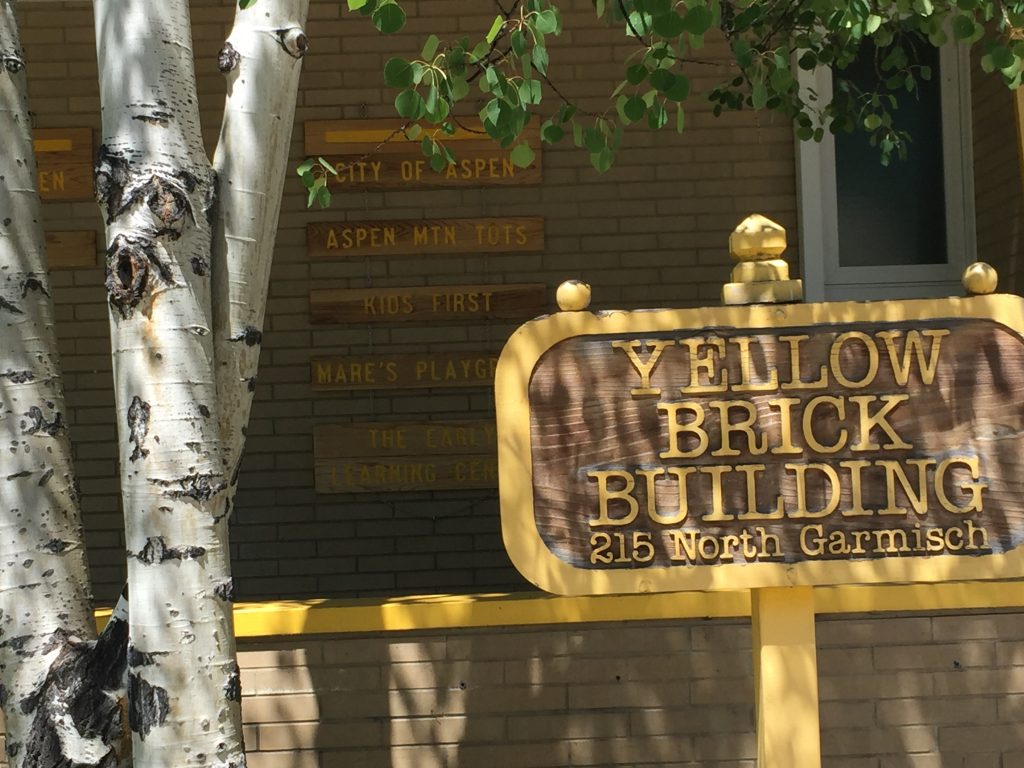 But basketball wasn't the main reason I was going there anyway. It is just something I like to do in any city I visit.
The main reason I wanted to go there that weekend was to attend the Aspen Music Festival, to see and hear Lizz Wright sing in a special event, "Ella at 100", to celebrate the 100th anniversary of the beloved American jazz and pop singer, Ella Fitzgerald.
In addition to Lizz, the program featured the Count Basie Orchestra, vocalists Patty Austin, Andra Day, Carmen Bradford, and Clint Holmes.
So, Friday night I flew Delta Airline into Denver, arrived about 11 p.m., rented a red Jeep Wrangler from Avis, and started to head up and over the Rockies toward Aspen about midnight.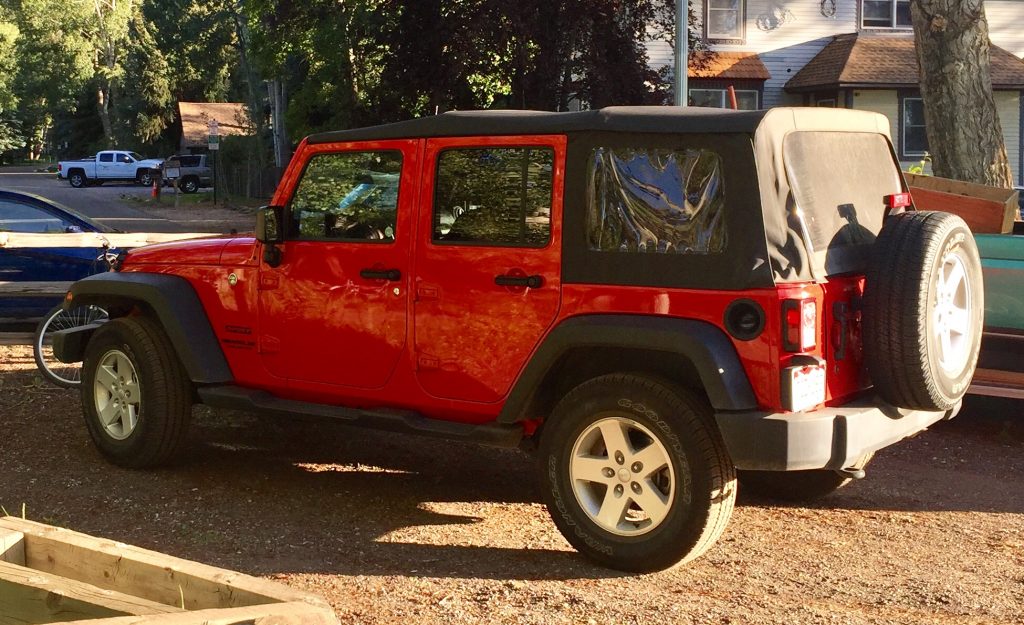 There was no moonlight the whole way so it was dark and I couldn't see the beauty of the mountains, not even the smallest detail or silhouette.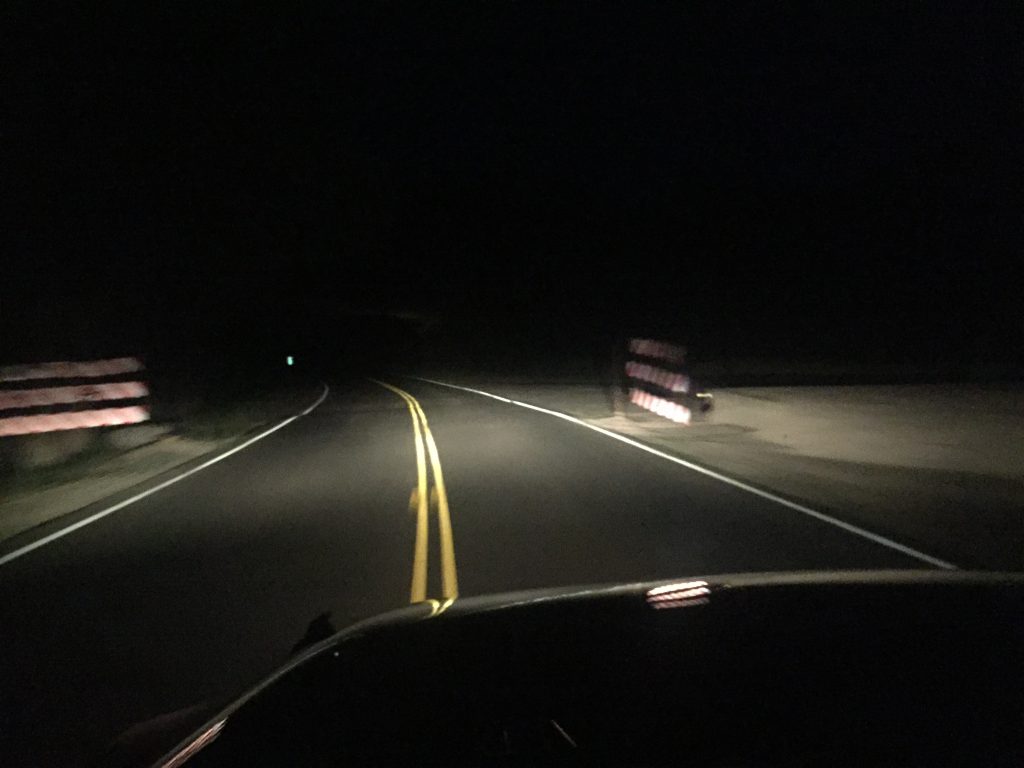 I've been over that road on several other occasions so I've seen it before but I always like to see it again. This night I couldn't.
So I selected Lizz from the artists in my iTunes library, hit shuffle and let her music (Salt, Dreaming Wide Awake, Orchard, Fellowship, and Freedom and Surrender) keep me company through the quiet, slightly eerie night.
I arrived in Aspen four hours later, at 4 a.m.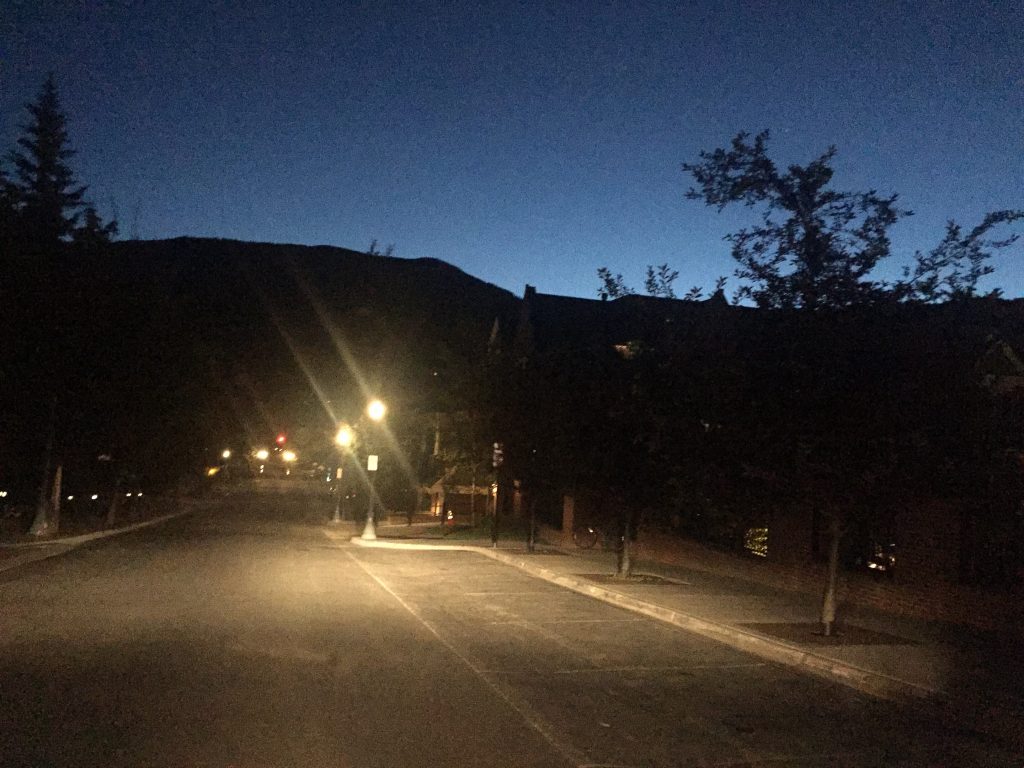 It was very quiet in town. Nothing was opened.
So I went straight to the St. Regis Aspen Resort…..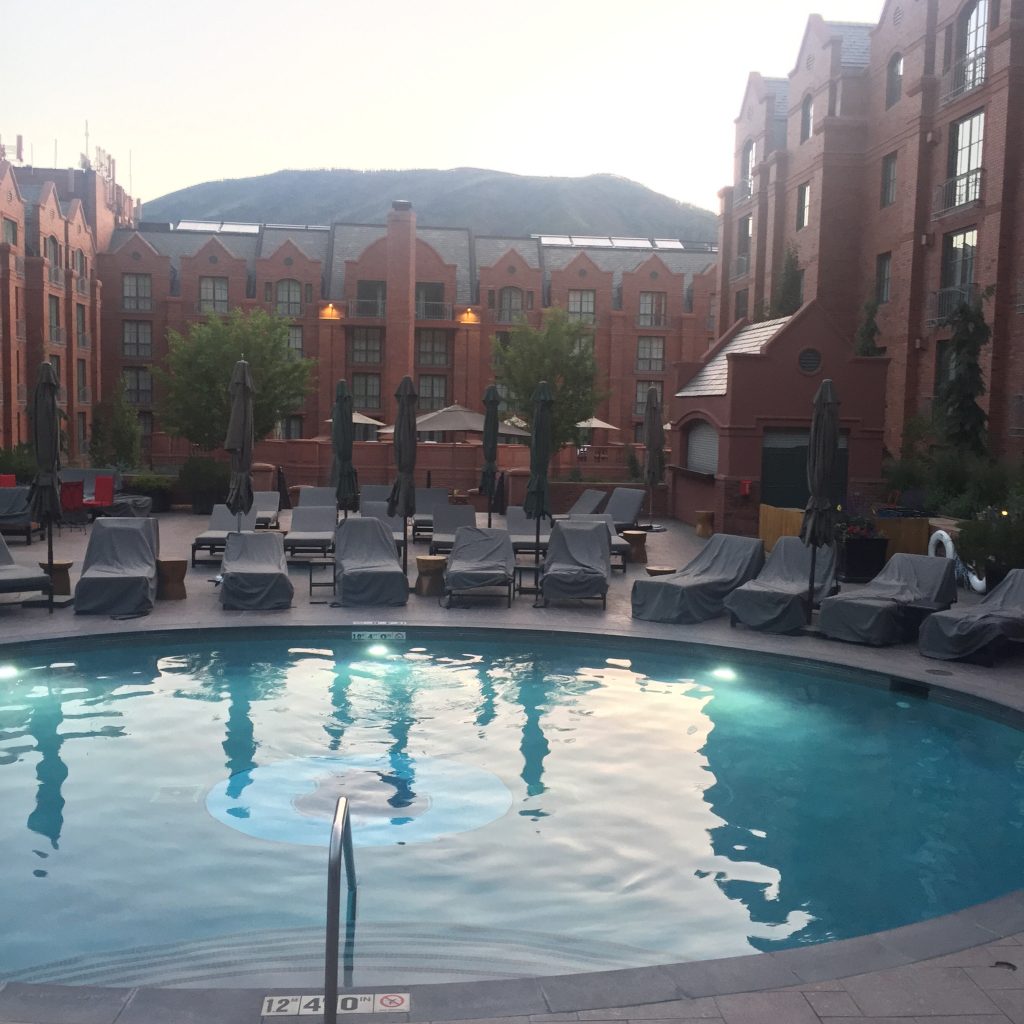 …….to see if they could let me in my room a little earlier than check-in time, which was 4 p.m., still 12 hours away.
A young lady working the desk, named Alejandra, told me to go relax by the fireplace, have a cup of coffee……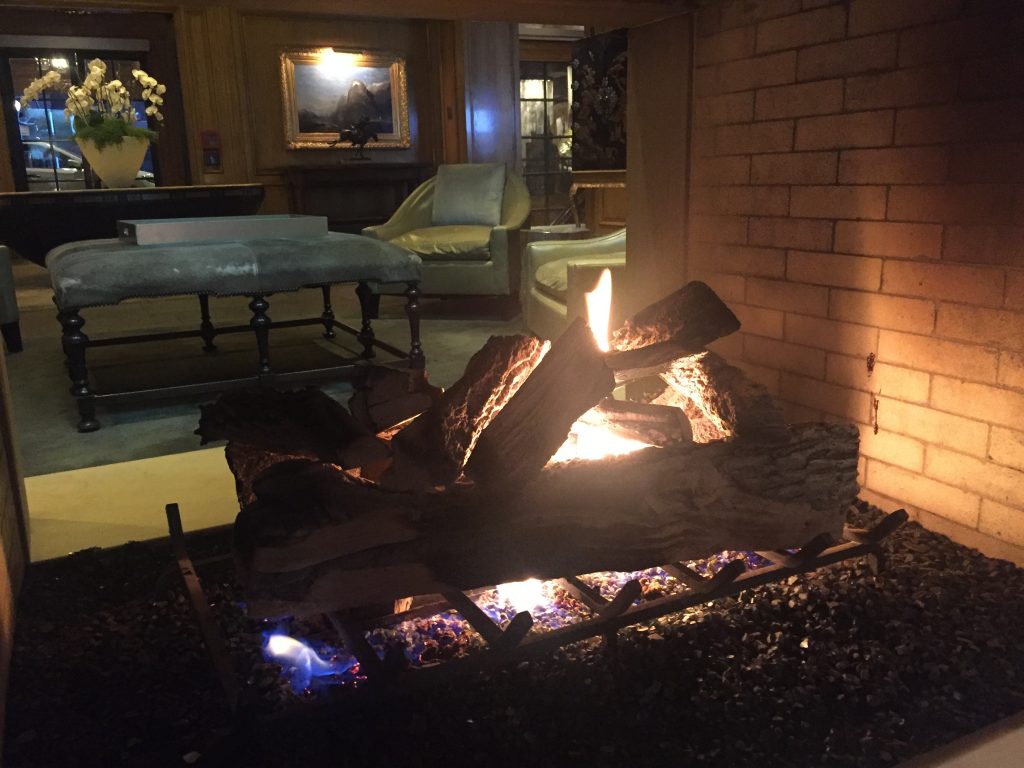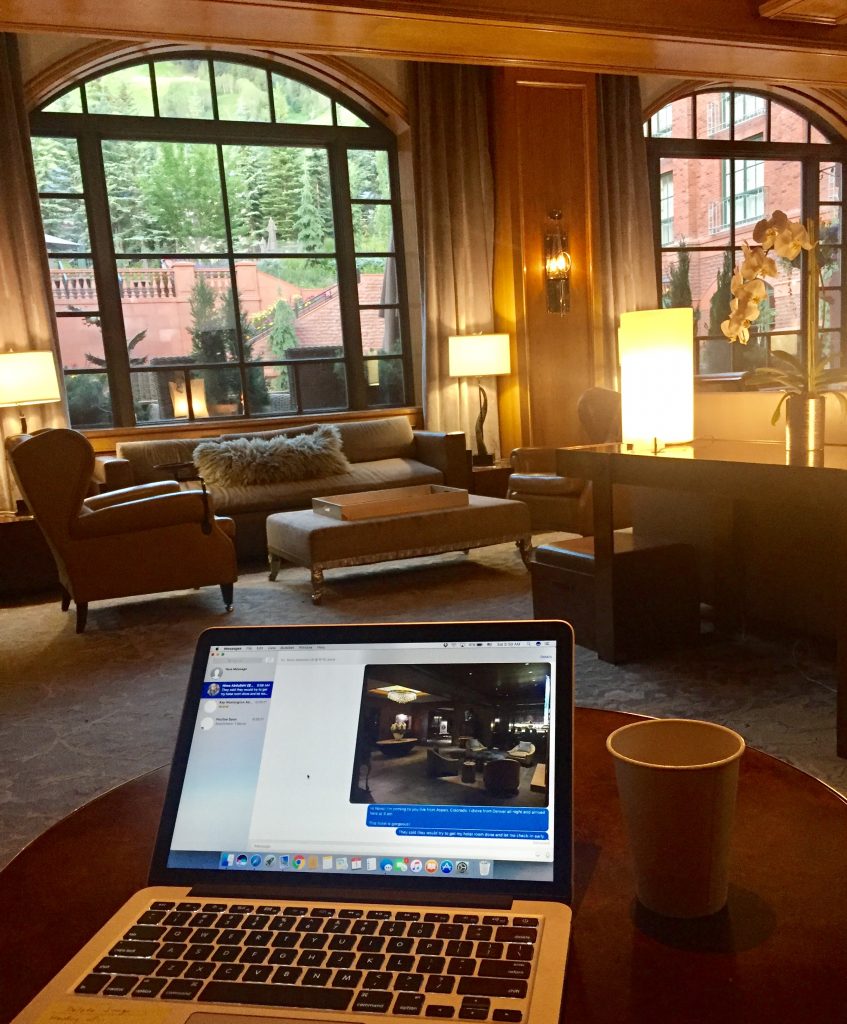 ……and she would see if she could juggle some things around and get me in a little bit early.
So I started working on this post to get a jumpstart on it, but also to keep from falling asleep in the lounge. That would not have been cool, no matter how tired I was.
I couldn't believe it but within three hours she had a room ready for me. That was "above and beyond the call of duty" and I was very grateful.
I thanked her profusely, went to the room, got a shower, and took a 3-hour power nap, so I wouldn't waste the whole day sleeping.
To my surprise, I woke up easily when my alarm rang at 10 a.m., eager to start my day.
I jumped into my basketball clothes and shoes, grabbed the ball, stepped out of the hotel and started to walk to the park, which was just a few blocks away.
I was wearing a new T-shirt with a message on it that I had asked my entrepreneurial neighbor, Sandy, to make for me so I could wear it mostly when I play basketball.
The front of the shirt reads, "I Wanna Be That Guy".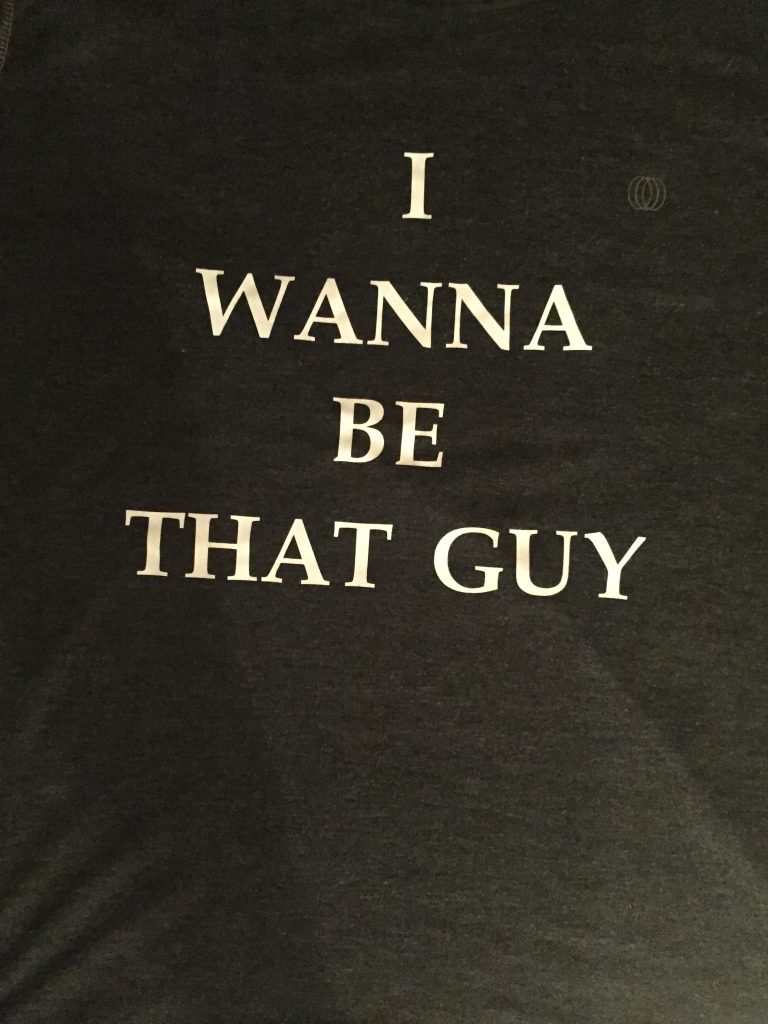 The back of the shirt reads, "Dreaming Wide Awake".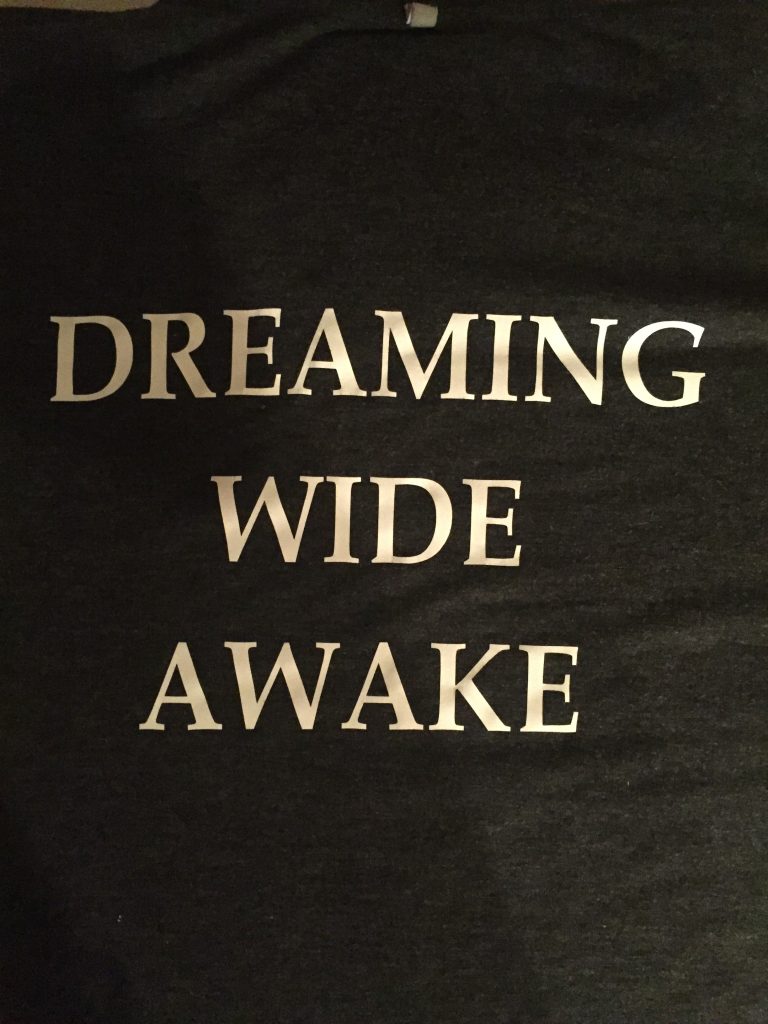 As I came out of the building, some lady was standing there and she saw my shirt and she said, "You are that guy!", with great conviction. I don't know what she meant by that but I took it to be positive.
Ten minutes later I was at this beautiful, slightly sunken court. Those small embankments around the court "catch and return" most of your bad shots that go astray. It's a cool feature.
This time I made three separate video clips of me playing basketball, instead of one long one. And each clip is only as long as the Lizz Wright song that I'm featuring.
The three clips feature Dreaming Wide Awake, Fire, and The New Game.
After I finished playing basketball, I walked on further, toward the Benedict Tent, the venue where Lizz would be singing that evening. I wanted to see the venue before the actual event took place.
Aspen is such a beautiful town to simply take a walk in. There are, of course, many clones of Aspen, and a lot of old growth trees all around.
I read an interesting article from Sunset magazine, written by Kathryn Cannady (October 2012 issue),  about why the aspen is so prolific over the autumn landscape of the West. She explained that the Aspen likes the rugged, arid, and high environments (between 5,000 and 12,000 feet) found in the West. And that Aspens regenerate from a common root system so they look alike and they are clones. A clone of aspens is considered a single organism.
She said the best time to see them is in the fall, when their leaves are shimmering with color. And that the leaves in a single clone of aspen will be identical, but from clone to clone the colors vary from yellow, gold and orange, and that is how you can tell where one clone begins and ends.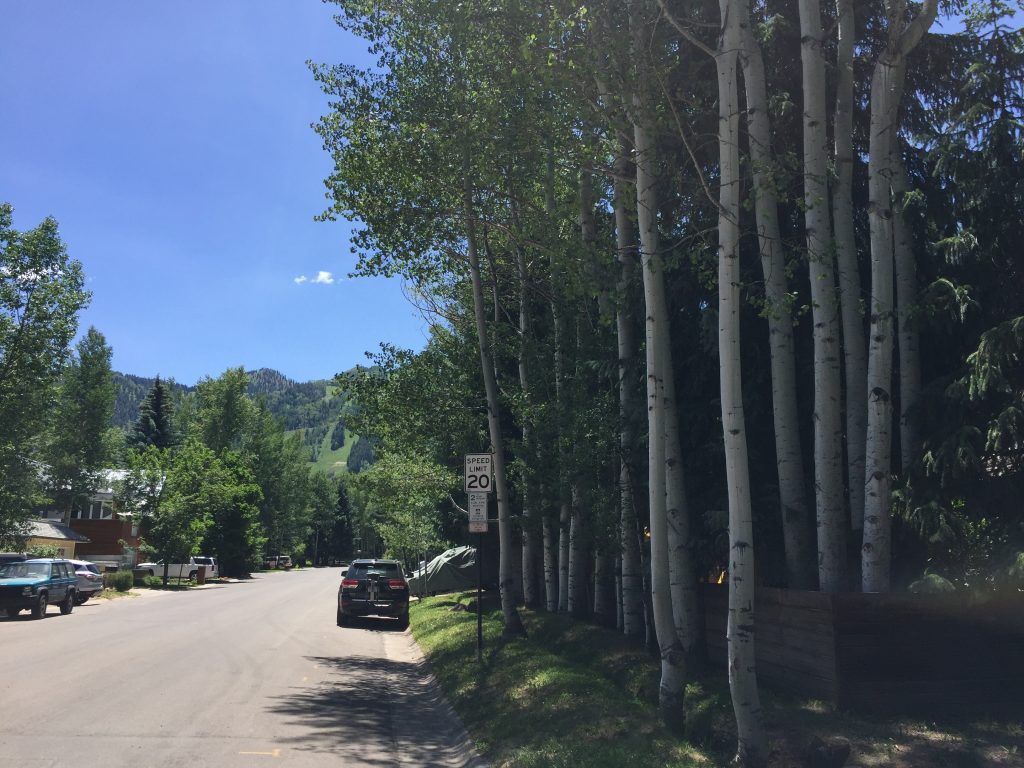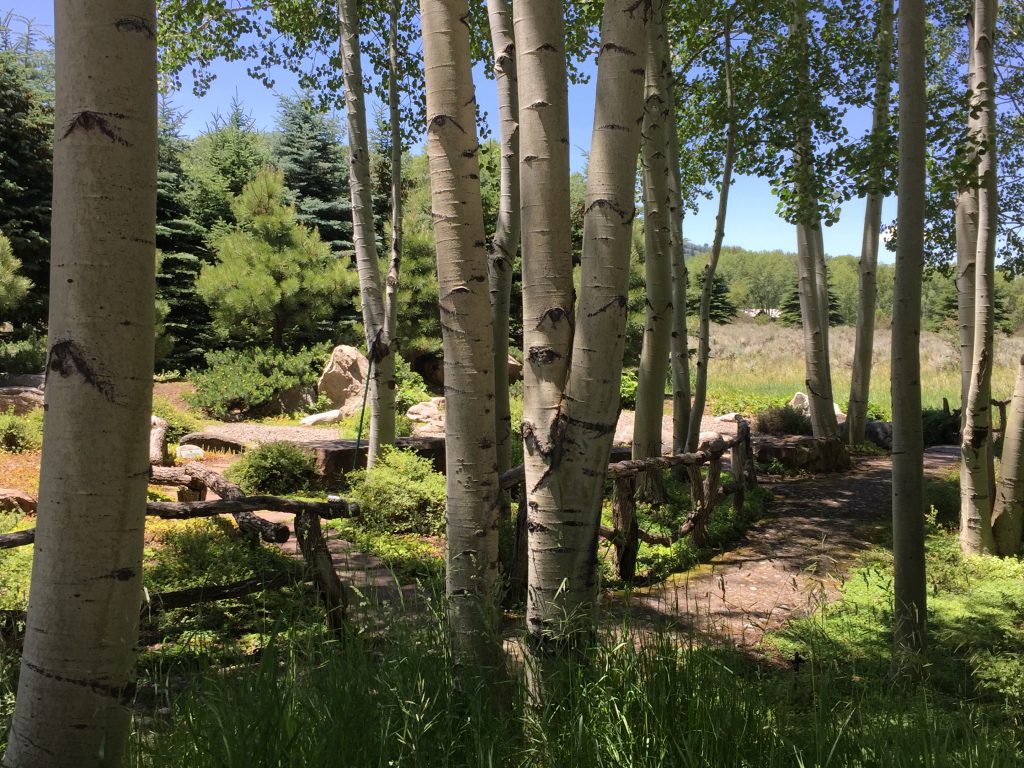 As I got closer to the tent, I could hear the Count Basie orchestra and Carmen Bradford rehearsing. So I got close to the tent and peeked through a crack.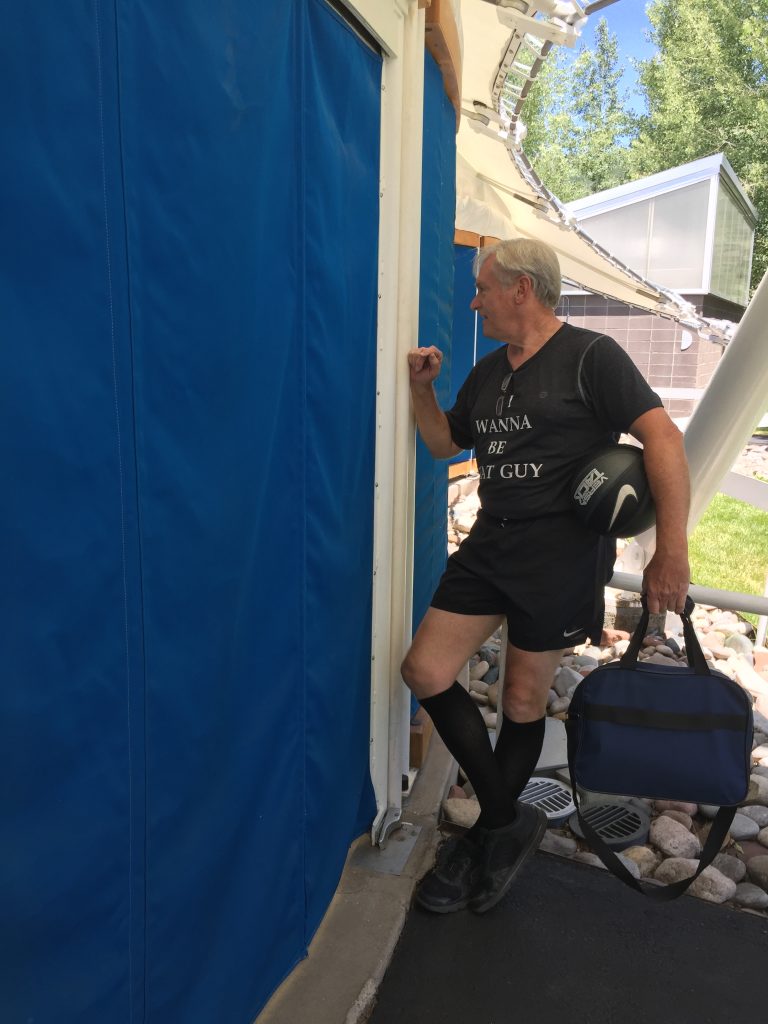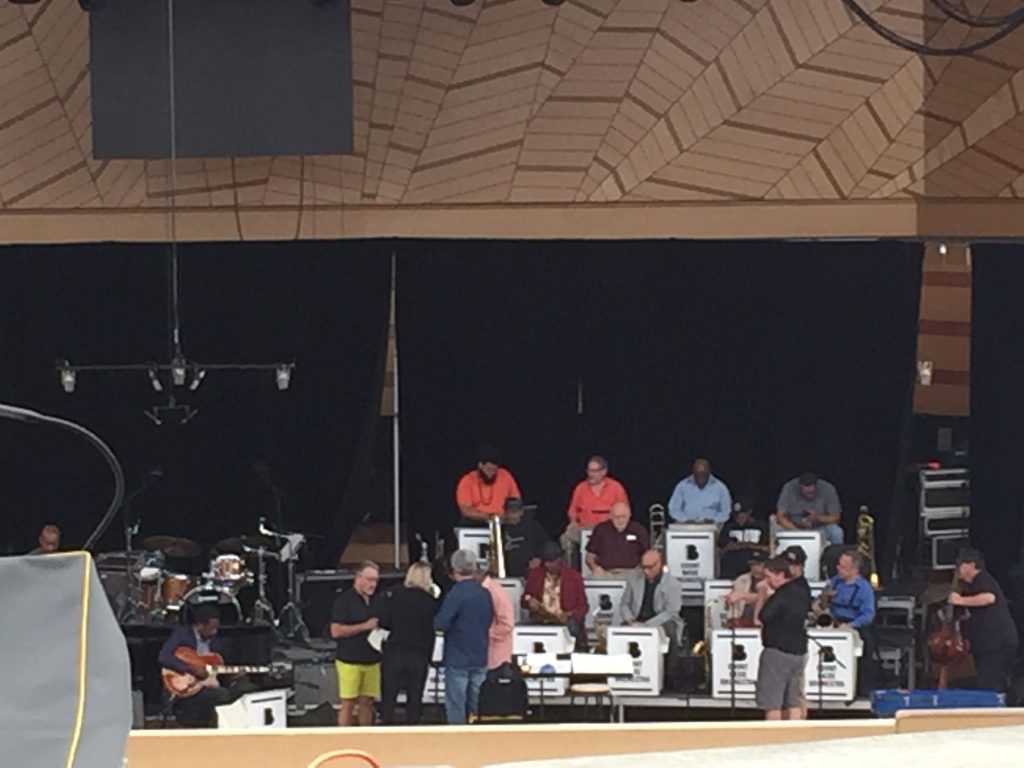 After that I walked back to the hotel, to the courtyard, and looked for an empty table so I could enjoy a meal outside. I love eating outdoors when the weather is nice.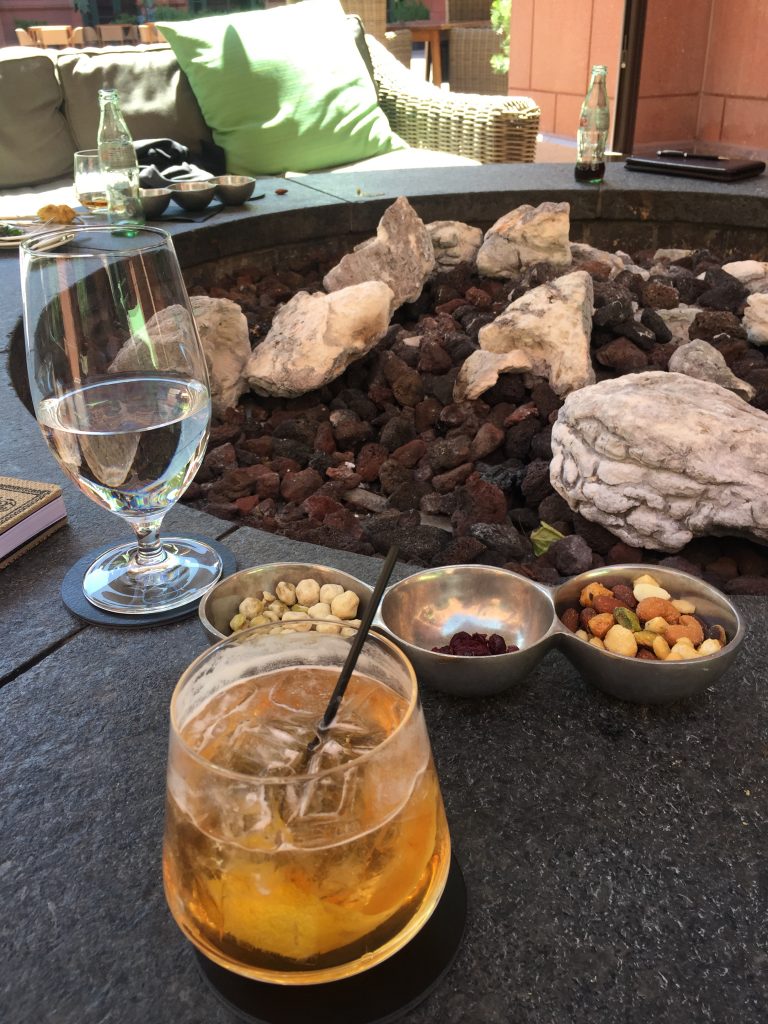 A couple who noticed I couldn't find an empty table, asked me if I'd like to join them. I said yes.
We had a good conversation while they finished their meal, as I was just starting mine.
I hadn't eaten anything all day so I was pretty hungry. I ordered the striped bass.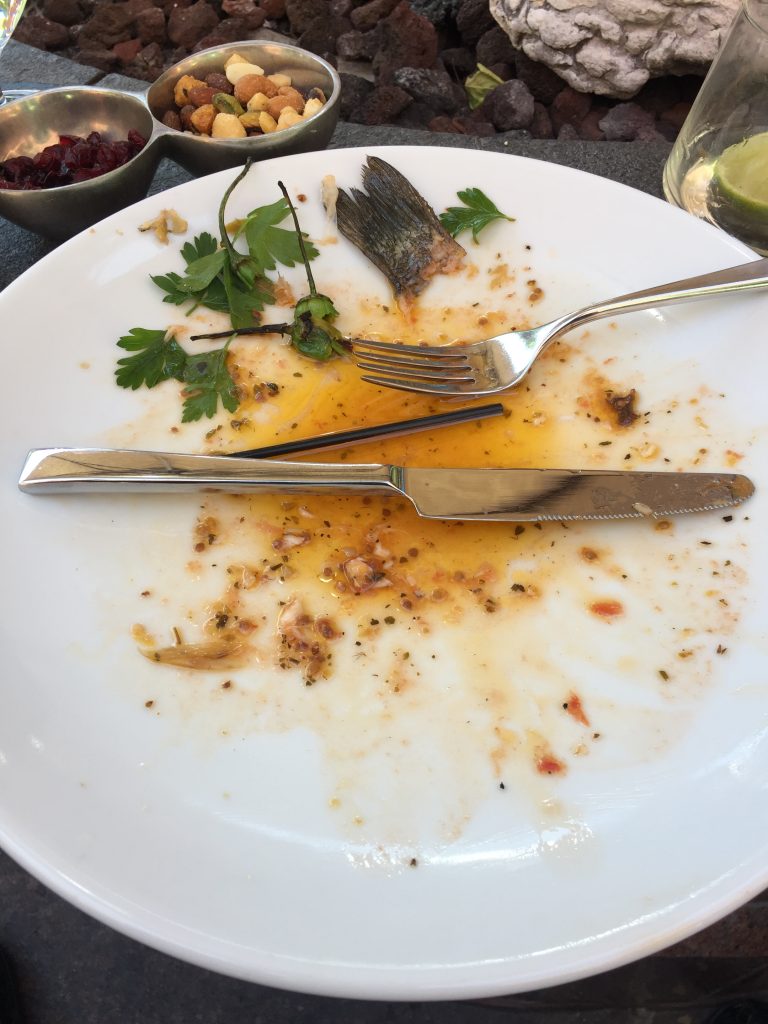 I didn't like it very much! 😉
I'm kidding. It really hit  the spot!
My waitress, Joanna Lim,  asked me if I would like anything else and I asked her to ask the bartender if he could make a Morning Glory for me. I told her how I liked to make a silent toast to my favorite singer, Lizz, whom I was going to see and hear that night.
She was touched by that and a few minutes later she and the bartender came out to my table, with a Morning Glory, in hand.
He was the kind of bartender they call Mixologists. The kind that really like making drinks for others, but also making up new drinks, and being challenged to make something that they have never heard of.
He is the first bartender who knew what a Morning Glory is,  and he had a more extensive recipe  for it than the one I had.
They both left, to attend to others, and I made my toast to Lizz…..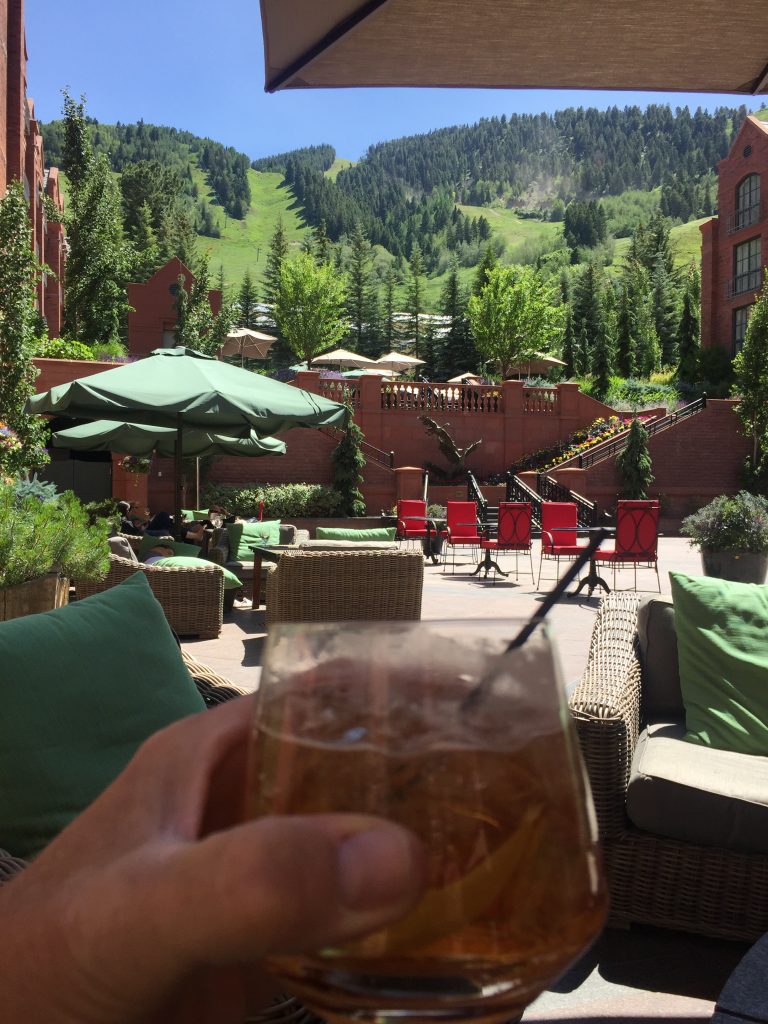 As I raised the glass to Lizz and the beauty all around me, these thoughts swirled through my mind:
To Lizz……whose raw talent, beauty, charm, sincerity and gratitude is an unrivaled and unbeatable combination that'll keep me in her tribe forever. She is entertaining but not showy or pretentious. The way she commands and controls her powerful and resonating voice, and the way she interprets each songs she sings, is flawless, fascinating and genius. The sincerity in her singing and in her thoughtful discourse is infinitely endearing to me.
That late lunch was more like an early supper.
After that,  I wanted to ride the cable car up to Sundeck, like I did the last time I was in Aspen, but when I got there it had already stopped running for the day. So I went to my room and got ready for the show, the main reason I was there.
Aspen Music Festival:   Ella at 100
As I walked over to the Benedict Tent, I came upon a signpost, with other destinations marked clearly.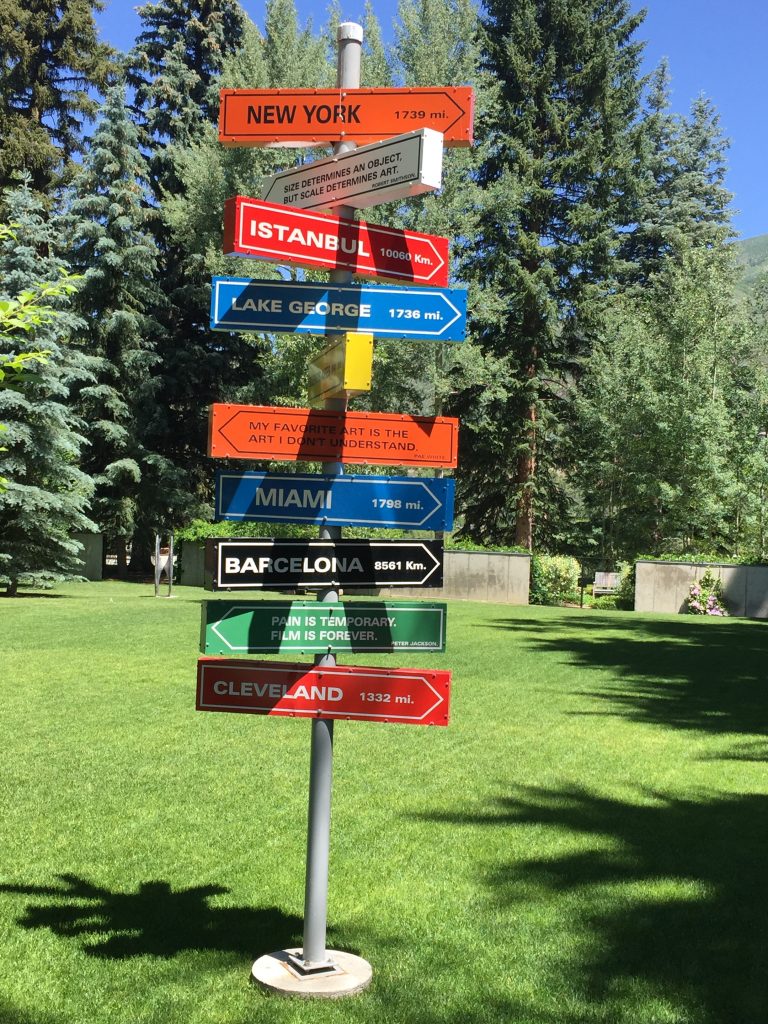 I could see my options were many, but I would not be deterred. There was only one place I wanted to be tonight.
I got to the tent about 7:30 p.m.  An hour early. But there were already a lot of people there too. Talking and having a glass of wine.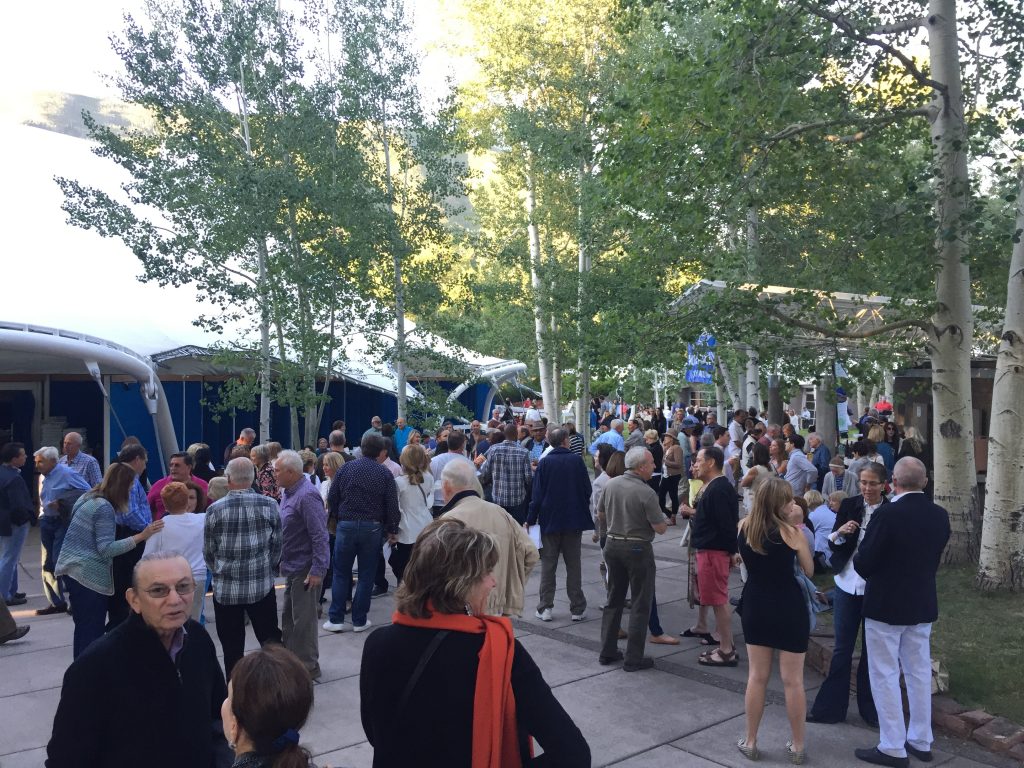 I walked over to a scenic little sanctuary I had noticed on my earlier visit that afternoon, so I could do a selfie.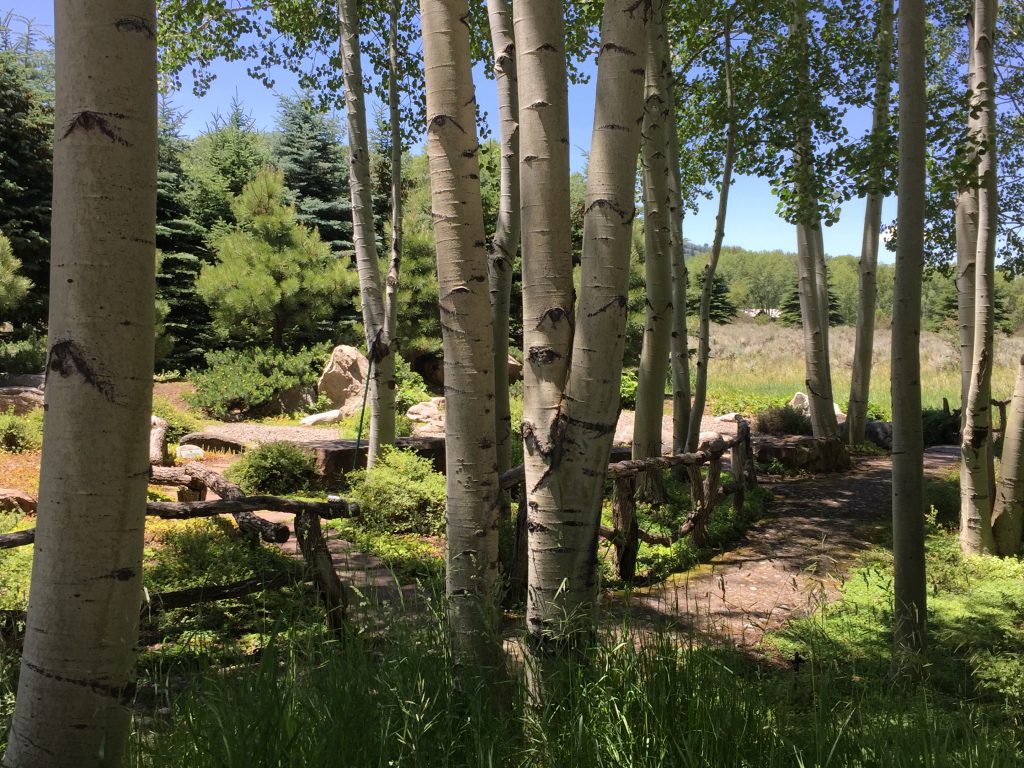 But I met one couple, named Chris and Paula, who were sitting there quietly talking about something.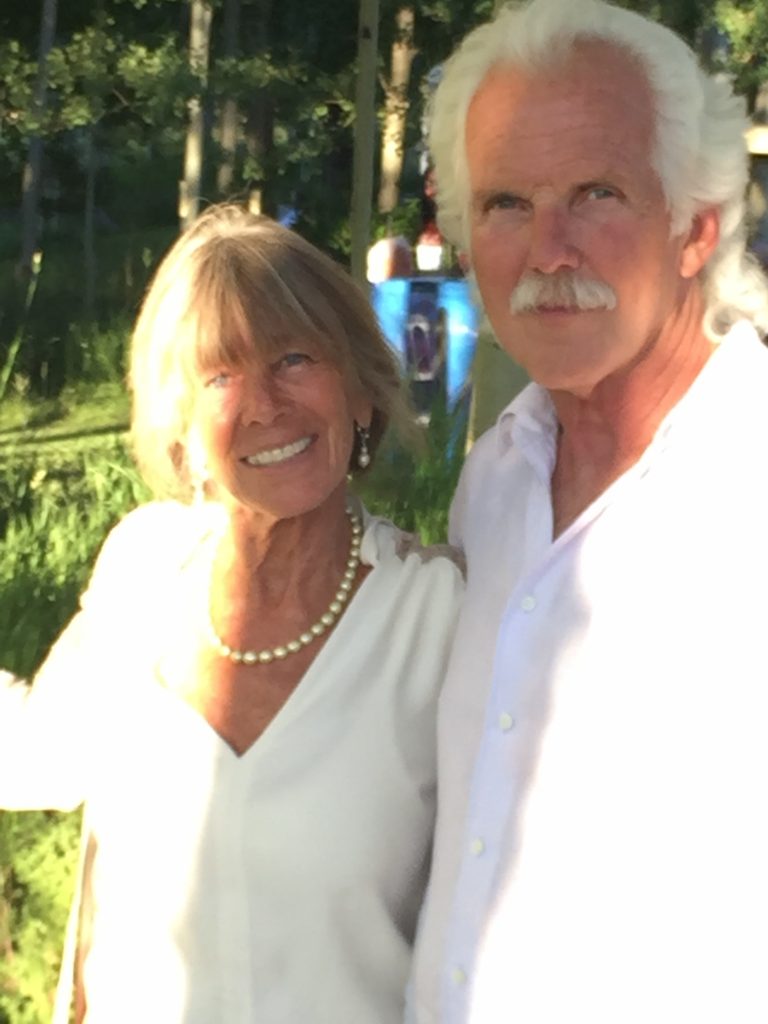 I introduced myself and then asked them if they would take my picture.
They said yes. As they took my picture, we struck up a conversation and got to know each other a little bit. Then I took some pictures of them and sent them to their email account.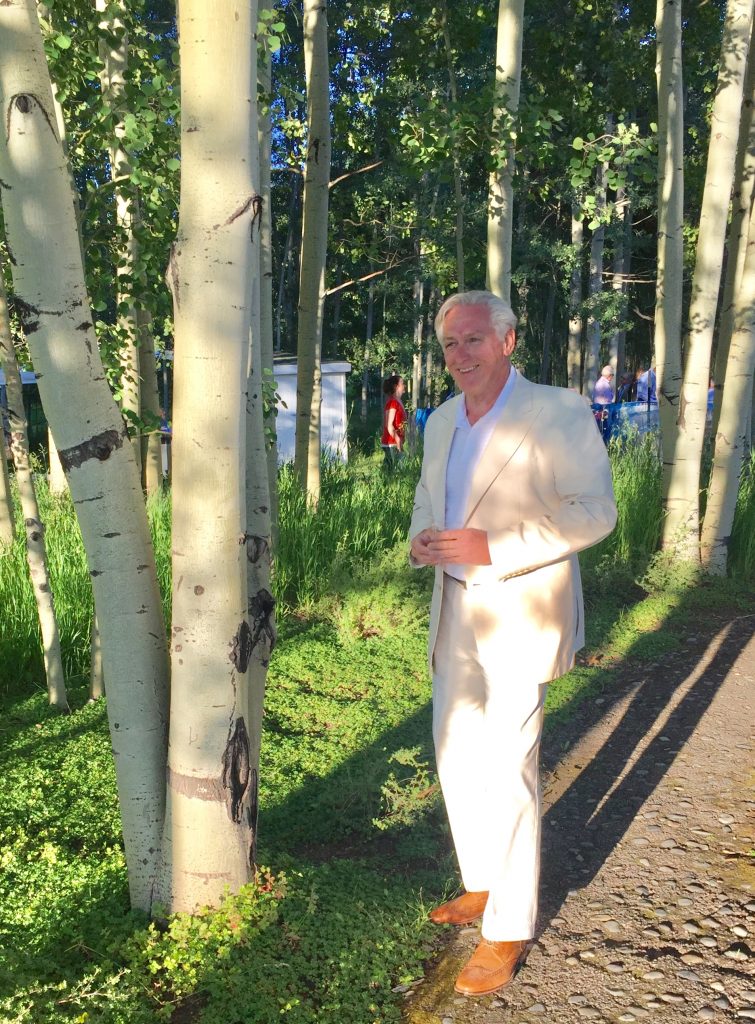 Then it was getting close to show time. The doors opened at 8 p.m.
As I sat down in my seat, I got butterflies in my stomach. I don't know why that happens every time I go to see and hear her, but it does. Lizz should have the butterflies, right? Not I.
I'm always so grateful anytime I am able to travel to see and hear her sing, and not have to wait until she returns to Seattle, which is only once a year, approximately.
So the show started. Patty Austin, Andra Day, Carmen Bradford, and Clint Holmes came out and performed first, with the Count Basie Orchestra and a small orchestra of a students selected from the Aspen Music School. Then Lizz came out. The moment I was waiting for.
I took a video of Lizz singing but I'm not real proud of the quality of the video. Sadly, it's out of focus.  The audio is much better but not as good as I'd like it to be. Lizz is amazing and she deserves better. So I have to apologize in advance to her and to everyone watching this. The reason I'm presenting it anyway is because I want to share with you her amazing talent and her part of the wonderful program I enjoyed that night.
The first clip she sings two songs: I Love You Madly and The Nearness Of You.
The next clip she sings two songs: I'm Beginning To See The Light and Embraceable You.
All of the other performers put their hearts and souls into their performances too and the audience loved each and every one of them.
As Lizz said on her Facebook page, "It was a blessed night of music and laughter in Ella's honor".
I'm glad I was there to witness that.
Before I close this post, I wanted to mention how much I liked staying at the St. Regis Aspen Resort. First, it's a beautifully designed and decorated hotel.  And all the staff I met were so conscientious and meticulous in the way they cared for me and the other people there.
I mentioned Alejandra previously.
Before I left Aspen, I wanted to do something nice for her to show my appreciation to her for getting me in a room so quickly.
So I talked to a young woman, named Daniella, who was a co-worker and friend of Alejandra. Daniella helped me decide what to give to Alejandra.
She made arrangements to have a gift certificate, for a manicure and massage at the St. Regis spa and massage parlor, waiting for Alejandra when she returned for work two days later. (Alejandra had finished work that day and left before I could say thank you.)
Then Daniella said to me, "Alejandra would not expect that and will really appreciate it. That was very thoughtful of you", as she handed me a card that allowed me to get a free massage at the same place.
Such a great weekend and I met a lot of nice people!
Sunday morning as I checked out of the hotel, the desk clerk handed me a card in an envelope.
It was from Joanna Lim, the waitress who took my order for the striped bass and the "Morning Glory".
It read: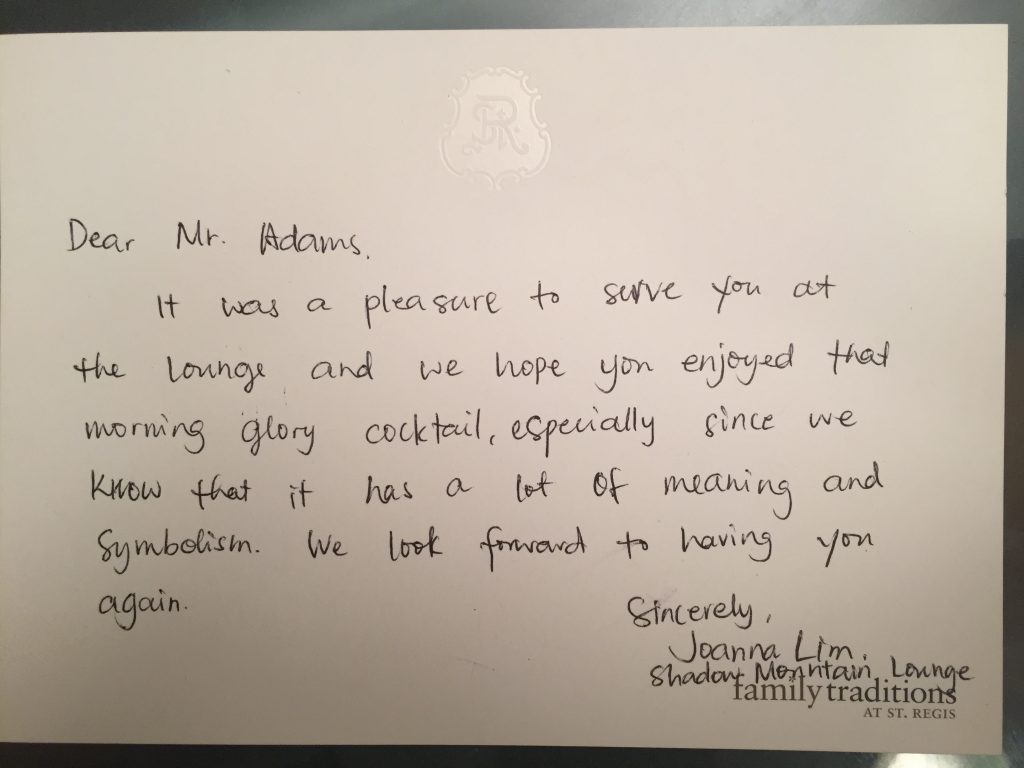 The actions of Alejandra, Daniella, and Joanna are three good examples of the genuine thoughtfulness and consideration expressed by all the staff at the hotel.
I'll be back someday!