I have been a huge fan of Lizz Wright for the past three years and have travelled to see and hear her sing as often as I could. It gives me great pleasure. I admire her and her music.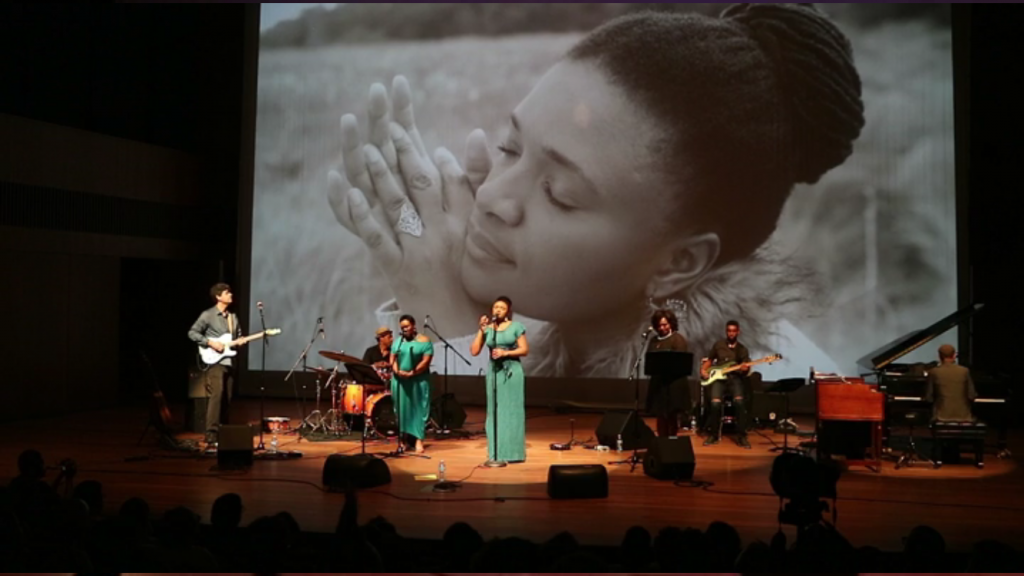 She offers her talents and gifts to create great musical productions in collaboration with others.
Lizz is socially conscious and lives her own life, in the present, with purpose and meaning. If she takes part in something, you know it will be a worthwhile and an important project or cause.
So, last week, when she announced on her FB page:
"I am dedicated to lifting up the importance of Truth, Racial Healing and Transformation, and I'll be performing in Chicago this Saturday at the Reva and David Logan Center for the Arts, to honor those who have been devoted to this cause"…….
…….I knew immediately that I wanted to be there to experience it.
Not only for the music but to also be aligned with the importance of the work to be done yet in this country if we ever hope to eliminate racism and inequality, and provide true freedom for everyone.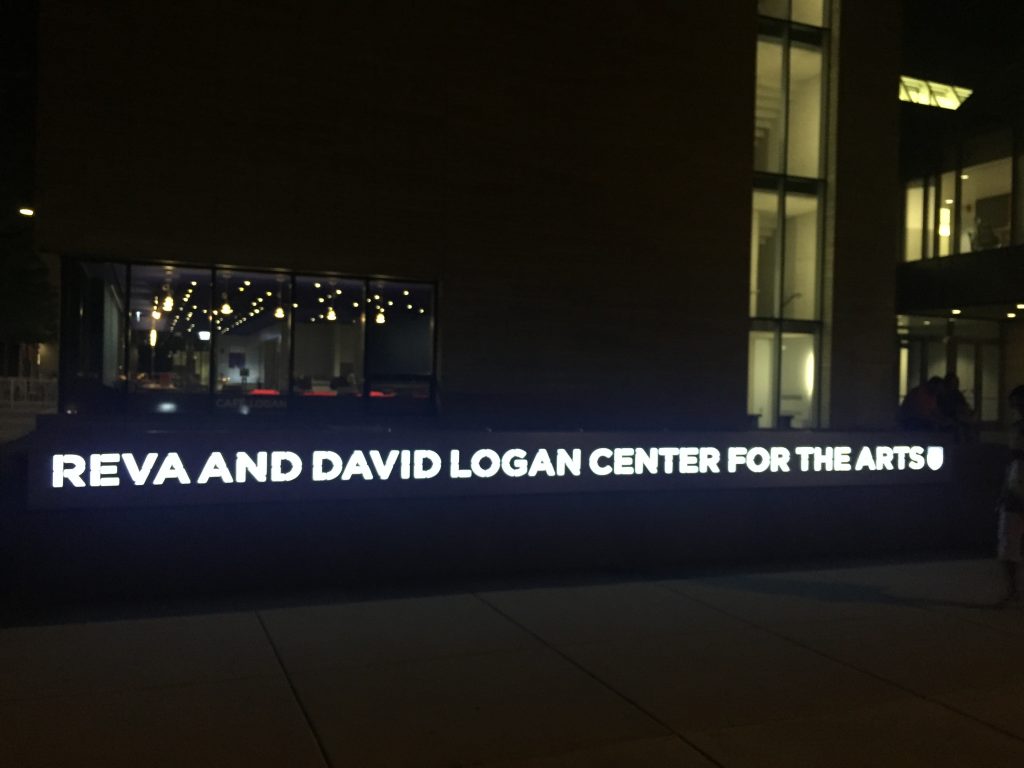 So, that same week, in another related FB page, Lizz explained:
"I am moved by the work of the W.K. Kellogg Foundation and Little Black Pearl and will join them on Saturday, August 19, in Chicago at the Reva and David Logan Center for the Arts for a special show in conjunction with the Truth, Racial Healing and Transformation initiative.
Truth, Racial Healing and Transformation (TRHT) is a comprehensive, national and community-based process to plan for and bring about transformational and sustainable change, and to address the historic and contemporary effects of racism. It seeks to unearth and jettison the deeply held, and often unconscious, beliefs created by racism – the main one being the belief in a hierarchy of human value."
So I quickly made all the arrangements to get there as soon as I could. But I knew I should dress for the show before I left Seattle so I could go straight from the airport to the Center.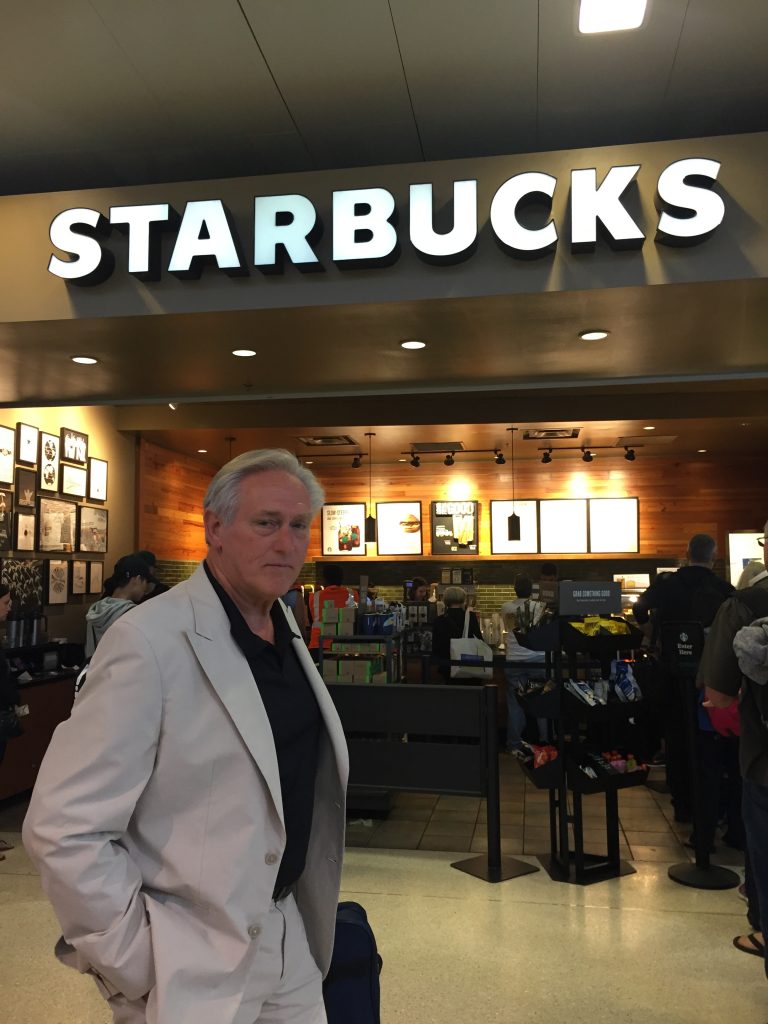 (At SEATAC airport starbucks before taking off for Chicago. Dressed and ready for the show!)
As it turned out, I barely made it on time.
I got there just 10 minutes before it started. (Exhale!….sigh of relief)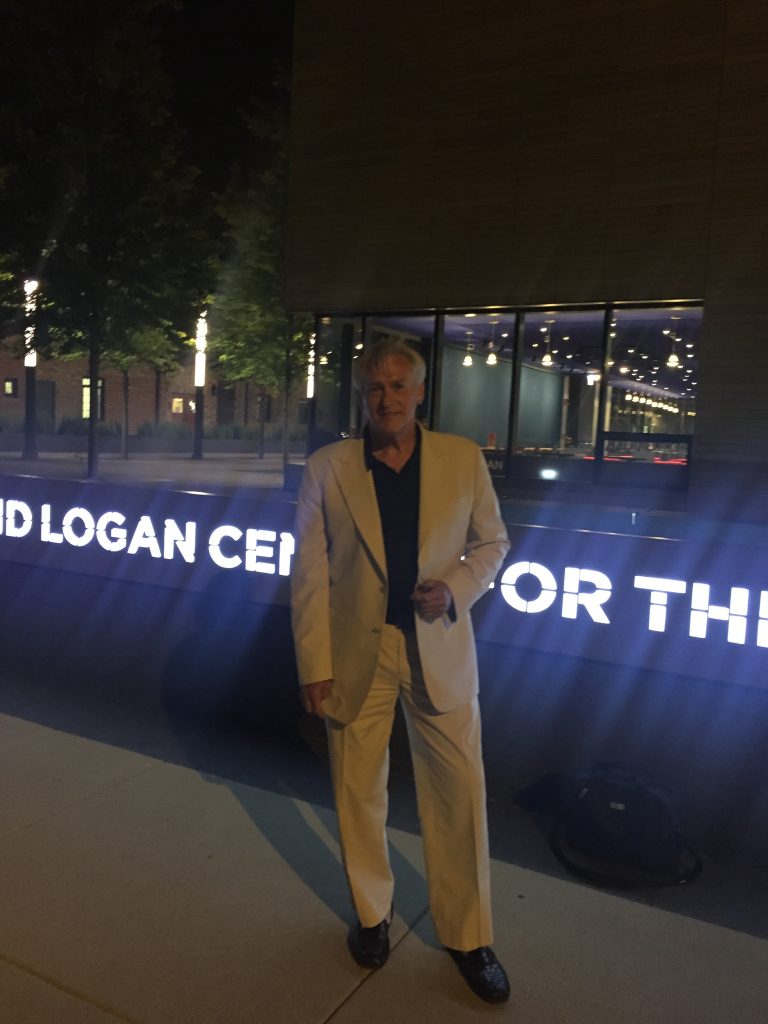 Before I left Seattle, I thought about how I wanted to spend the weekend in Chicago.
Of course, I would go see and hear Lizz sing at the Center. She's always the impetus for my travels.
And I would also play basketball early in the morning (a little after sunrise), and maybe a little later in the afternoon too, at whatever cool basketball venue I could find, like I always do when I travel.
But I also wanted to go to the Dusable Museum of African-American History.
I wanted to go to the Faie Art Gallery.
I wanted to have lunch or dinner at a restaurant called, Flavor,  and eat some cajun-creole Caribbean food.
Then lastly, I wanted to visit the Little Black Pearl Art and Design Academy and say hello to the "gardener" (Lizz), if she happened to be there in her "Happy Place". Have a juice or a smoothie at Carver 47 (the newly opened Juice Bar inside the Little Black Pearl) and use the Carver 47 wifi to work on this post for an hour or so. Step outside to look at the Total Eclipse of the Sun. Then head to the airport to return to Seattle.
Everything I wanted to do was all within a 10-block radius of the Little Black Pearl, except for the restaurant, Flavor. It was 45 minutes away by car.
So I stayed at the Chicago Lake Shore Hotel. It was close to everything. It wasn't fancy but it was clean and "in the zone" and it was adjacent to Lake Michigan and just south of the basketball court.
I was able to punch all the items on that bucket list. I had such a great weekend. Now I'll tell you all about it.
The Show
Sometimes after a show is over, you just want it to be replayed. This was one of those nights. I really enjoyed the whole evening. And I think everyone in the audience felt the same way.
In fact, this TRHT program reminded me of another trip I took to Asheville, North Carolina, a couple years ago to see and hear a program that Lizz put together in honor of Dr. Martin Luther King, Jr. on his birthday. She called it, "Old Landmarks: Celebrating Songs That Mark A Path To Freedom".
I wrote a post about it called, "Old Landmarks". If you like gospel music you might like to read and listen to that post. (Just click on the link above and scroll down the page.) There are some great music video clips of Lizz and the other singers whom she invited to perform that night. It was a very uplifting and meaningful evening too that I didn't want to end.
Now back to TRHT…..
The following video clip is of a young Latina named Sandra Antongiorgi, who opened the show for Lizz,  singing four songs, three in Spanish and one in both Spanish and English.
She sang each song very passionately but I liked this song the best:
Then Monica Haslip, the Executive Director of the Little Black Pearl, walked gracefully onto the stage and introduced Lizz:
By the way, I made several video clips for this post, but I'm only showing a few select ones here. But you still can see what a great evening it was for those in attendance.
Check Lizz' tour schedule at LizzWright.net if you'd like to be at one of her shows in the future. You'll be glad you did.
As I was flying to Chicago, I was wondering which songs she would select to do for the evening. I was secretly hoping she would do Painted Sky. She put it on her FB page as a music video a few months ago but I don't think she made it available for sale yet. She did select it, so I wanted to include it here too:
She also sang one of the songs that she wrote, herself, called, "Speak Your Heart". Her fans love it a lot.
The next two songs are early releases from Lizz's new CD coming out on September 15:
"Barley" and "Seems I'm Never Tired Loving You"
The idea for this show was born out of  a shared intention among caring and loving people, such as Monica and Lizz and the whole TRHT community.
Now, it's important to ask ourselves what we all can do, individually, or collectively, to make this a better world for all to live in.
I appreciate all those involved in putting this show together. It's been a blessing to me.
The next two days I began doing the things on my list.
"Bask'ing In The Sun"
I could hardly wait to play basketball at the beautiful venue (Sounding Bronzeville Gathering Space) I chose. It was right on Lake Michigan. I got up about  6 a.m. and I was out there by  7 a.m.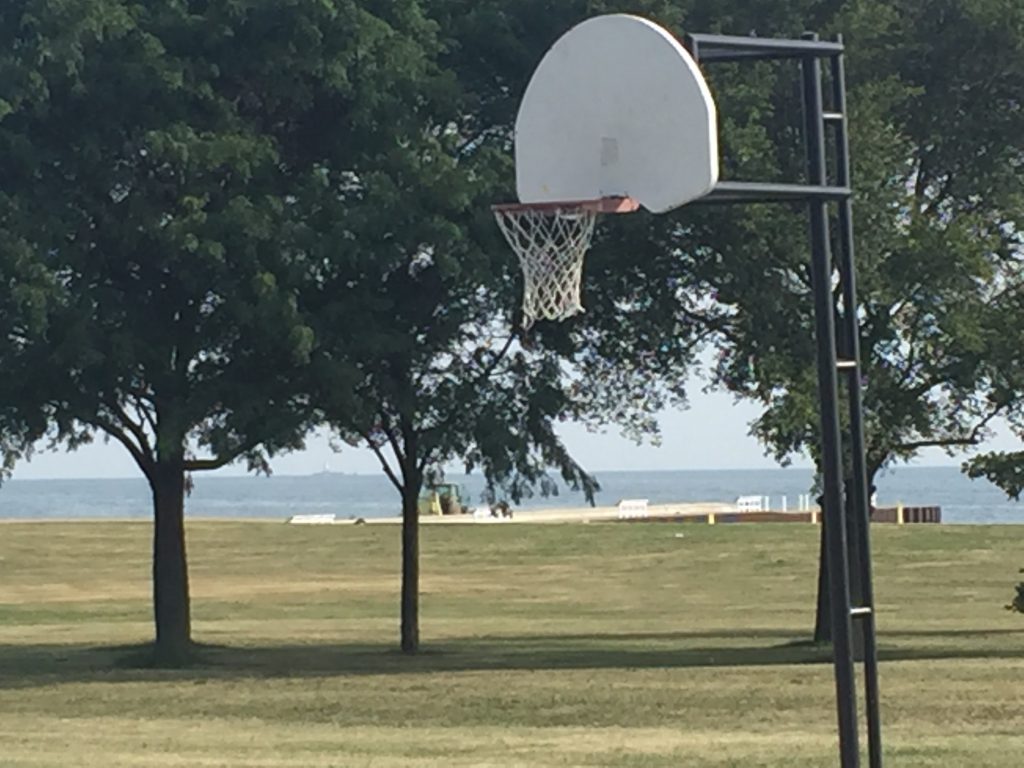 It was about 12 blocks north of my hotel.
When I got to 43rd St., I crossed over a very long foot bridge (see below) that took me over the railroad tracks, and across South Lake Shore Drive (Hwy 41). It was actually quite a fun adventure. I played there on Sunday and Monday morning.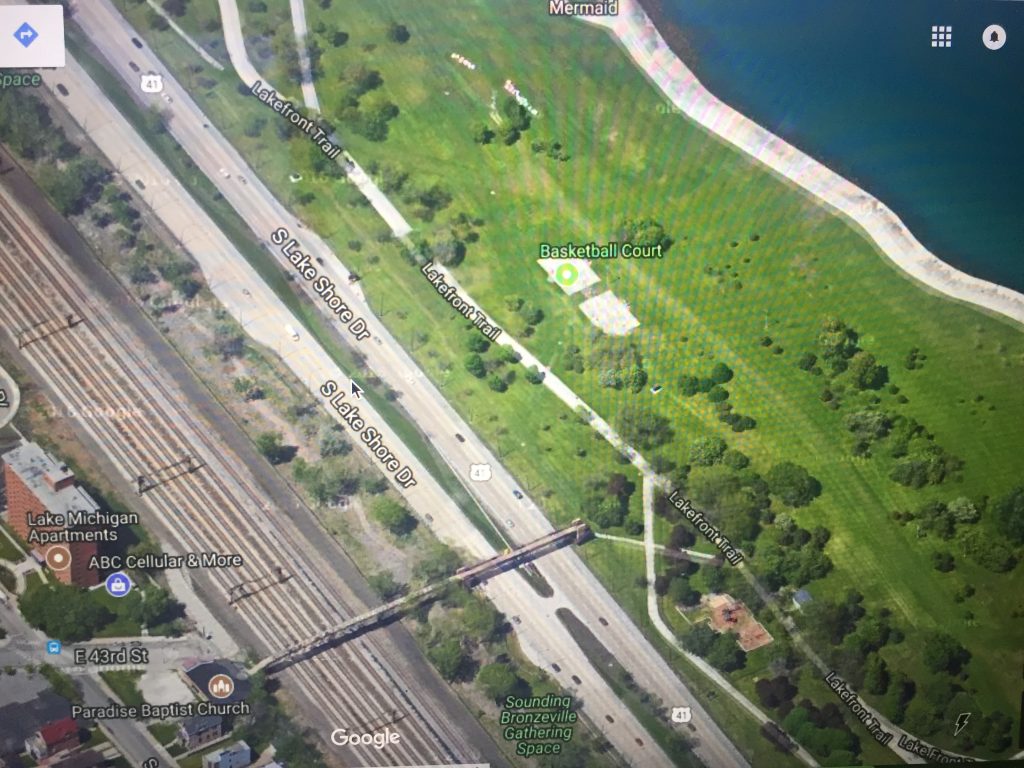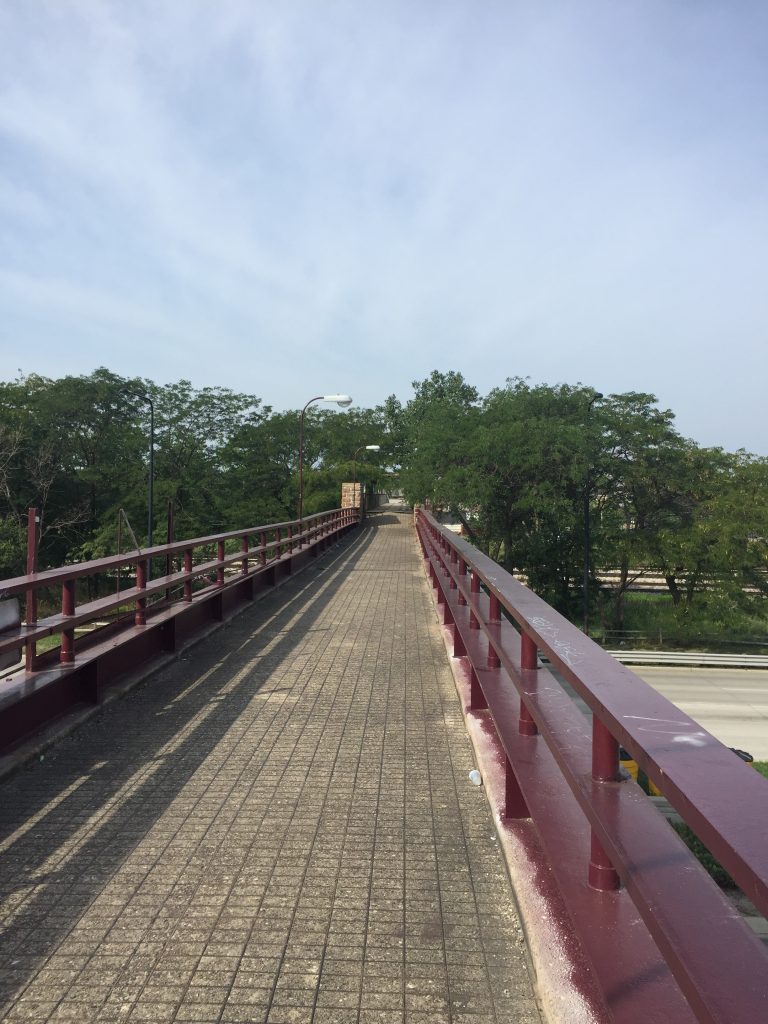 The foot bridge over the tracks and Hwy 41.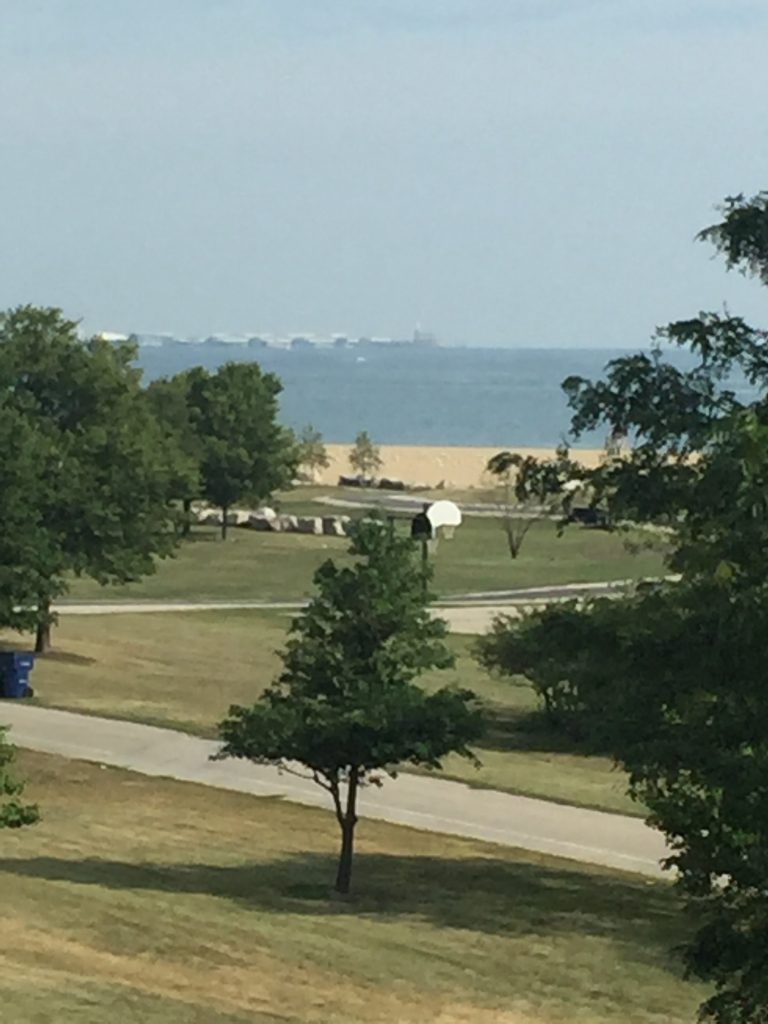 View of the court from the foot bridge.
The video clip below was taken on Sunday morning. I always listen to Lizz singing while I play basketball. This clip she is singing a Nina Simone cover, "Seems I'm Never Tired Loving You", one of the songs on her new CD that is coming out on September 15.
Enjoy!
By the way, I had this t-shirt made to promote Lizz.
I sincerely refer to her as a national treasure, a natural phenomenon, and an essential and precious element on this Earth.
I playfully refer to her as LiZ2 (Lizz with two Z's), a newly discovered element on the Chart of Periodic Elements, such as Gold (Au) and Silver (Ag), for example.
I first referred to her this way in a previous post called, "Heartless In Seattle". To see this, click on the link and scroll to the bottom of the page.
Someday she will be known as a National Treasure.
After B-Ball, I walked from the courts, over to some organic chairs and sat down for a while to just take it all in: the Lake, the joggers and walkers, the sunshine, the beauty of it all. I was so happy just to be here!! Amen!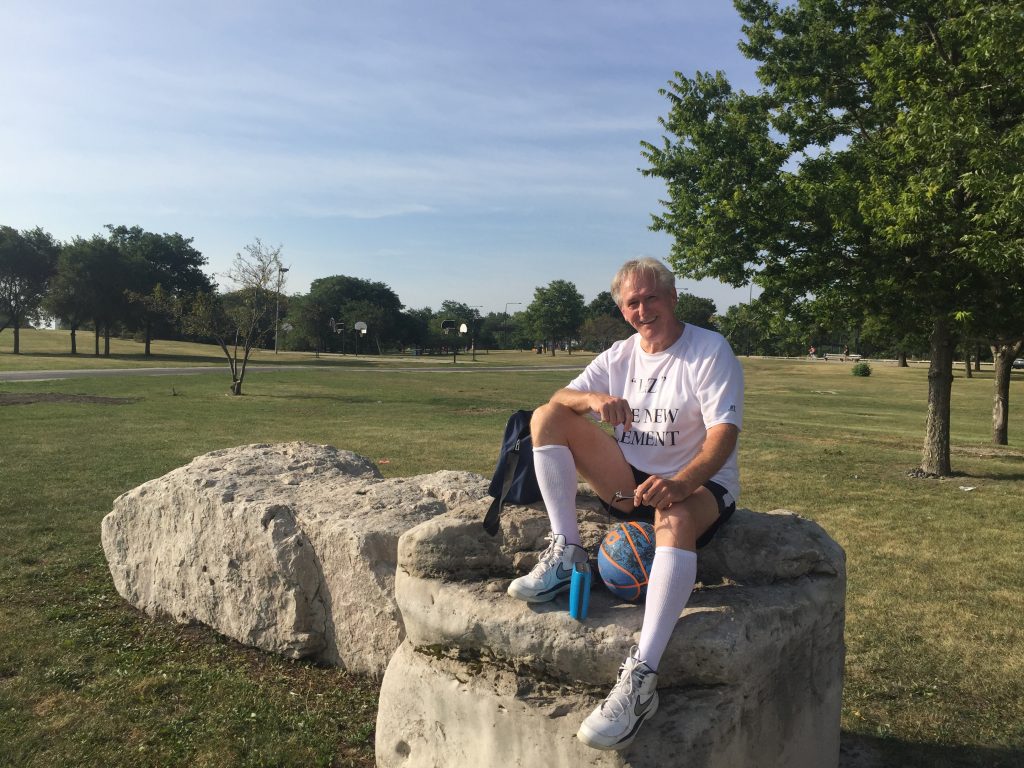 Two young women, Sheila and Tracey, happened by my piece of the rock, so I asked them to take this picture for me.
We talked for a while and I mentioned the Little Back Pearl and Sheila said she lived close to it. I told them I would be there on Monday. She and Tracy indicated an interest to go see it sometime.
So I told them about the juice bar and said if they wanted to meet me there, I'd buy!
But Monday morning, Sheila called to say they couldn't make it. Anyway it was nice meeting them. Sheila told me of two other restaurants in the area but I didn't have enough time to check them out.
Monday I came back again and played basketball but I didn't do a video. I just wanted to play.
Next stop, Flavor!!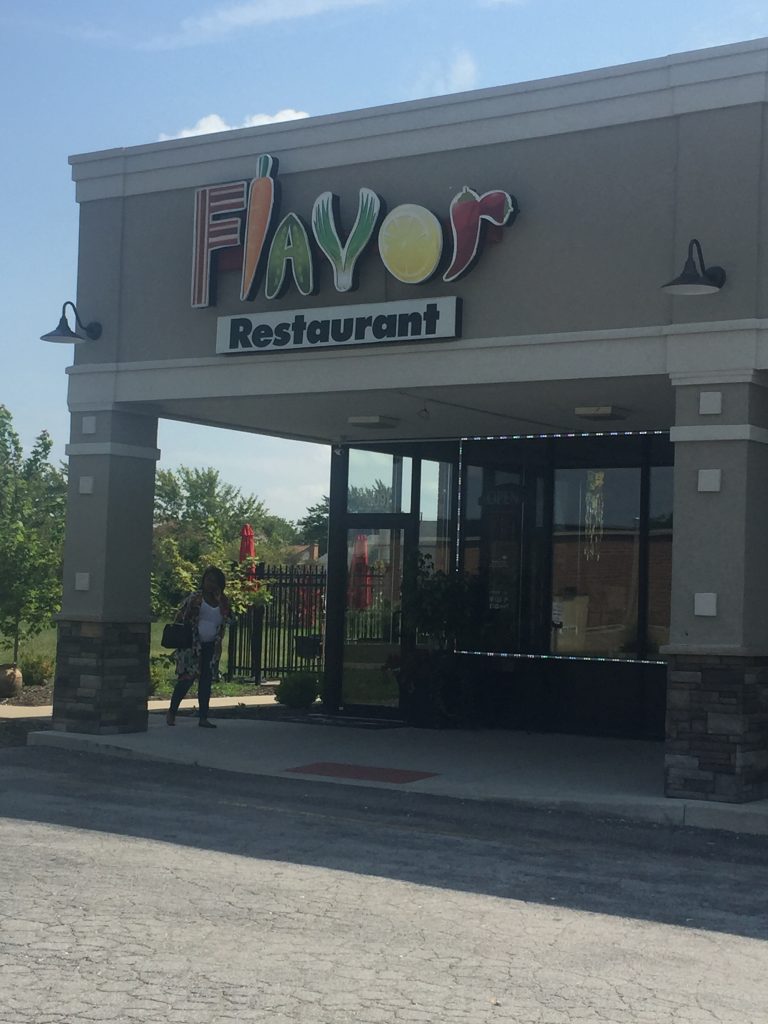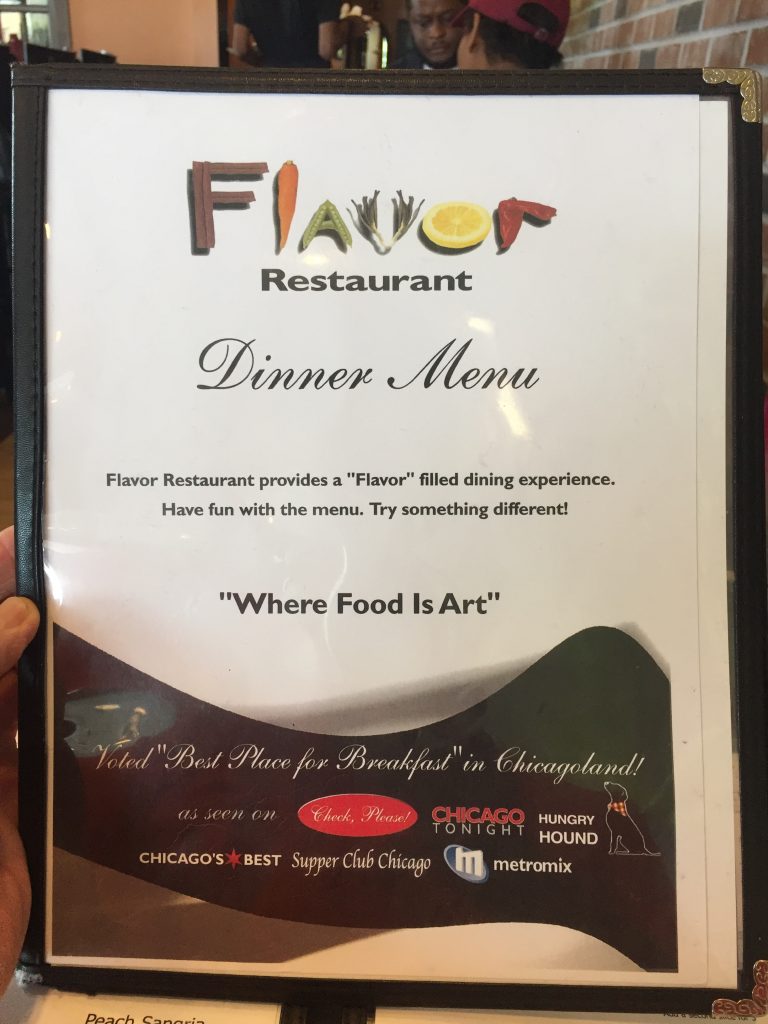 I worked up an appetite playing basketball and I didn't want to eat or drink anything until I got to Flavor. I wanted to try it all. Everything on the menu sounded so good.
I planned on ordering at least three entrees. I have only done that one other time, when I was about 14 and in the Smoky Mountains on a trip with the family.
After talking with my waitress, Jaylin, I had a plan. (Is that a winning smile or what?? 😊)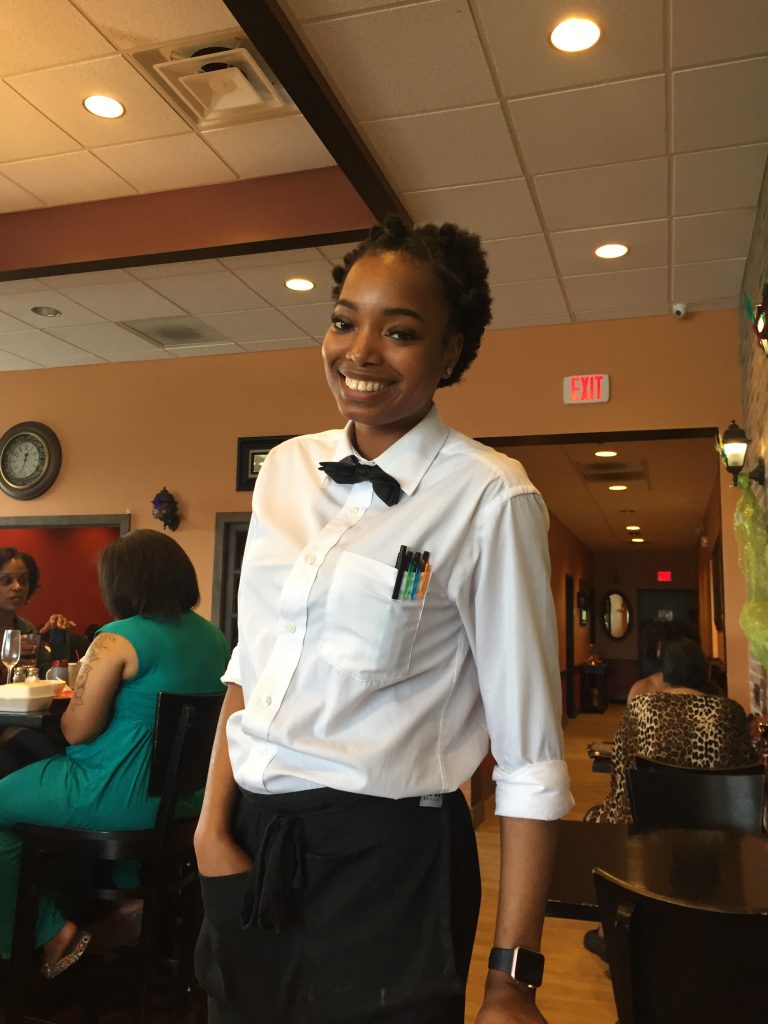 I'd start with the Smothered Shrimp and Grits and some Salmon Croquettes!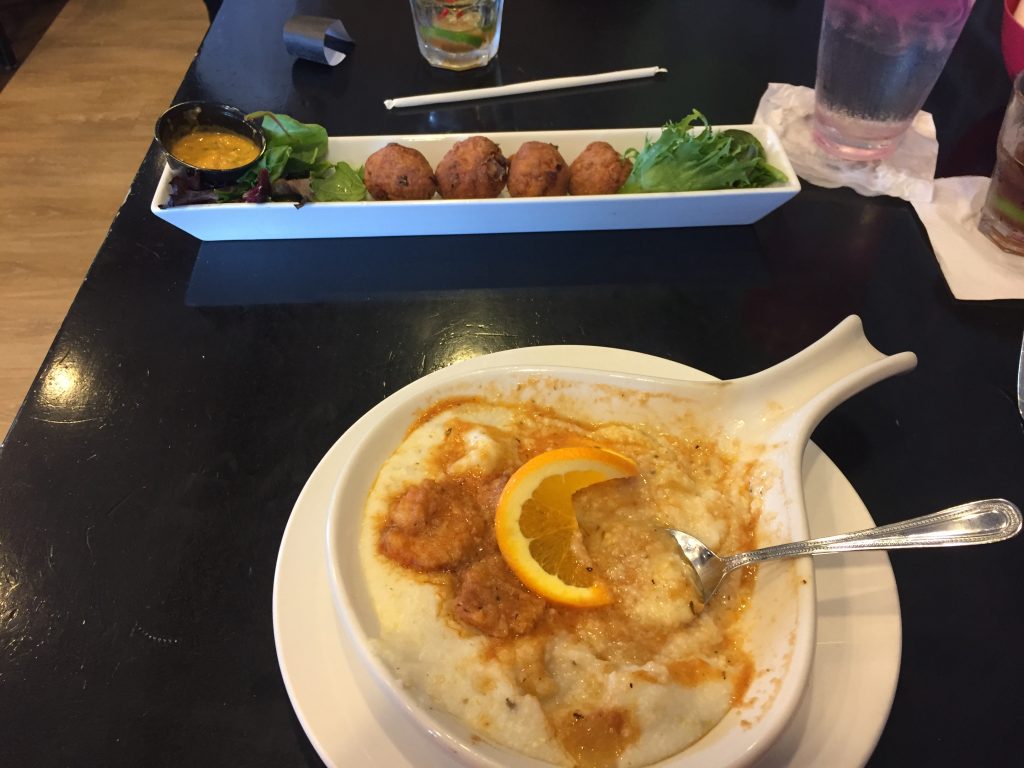 Next, I'd have Cajun Fried CatfishFilet with a side order of Collard Greens!
(OOPS!, I forgot to take a picture of it before I so quickly put it down!)
And lastly, I had a Waffle Flight!
I had never seen a waffle prepared like that.
Each quarter of the waffle was a different-flavored batter: Red Velvet, Georgia Peach, Banana's Foster, and Sweet Potato!! (I know you can't see it. The yellow says banana's foster.)
…Two thumbs up for the designer of the Waffle Flight!
It was busy that day, so Jaylin was busy.  So I told her to take her time with me and give me a few minutes between each entree. I didn't want to fill up too fast.  I was also loving the ambience there, created by the staff as well as the customers.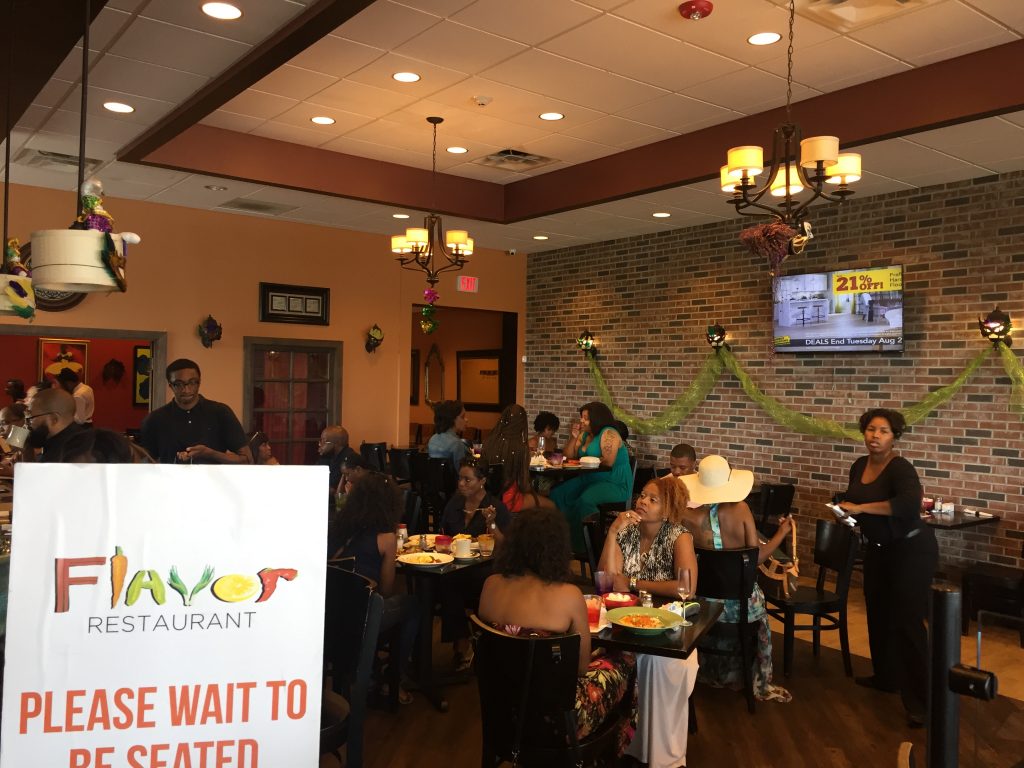 In between meals, good-hearted Malika, who was bartending that day, would bring a rum and coke to me.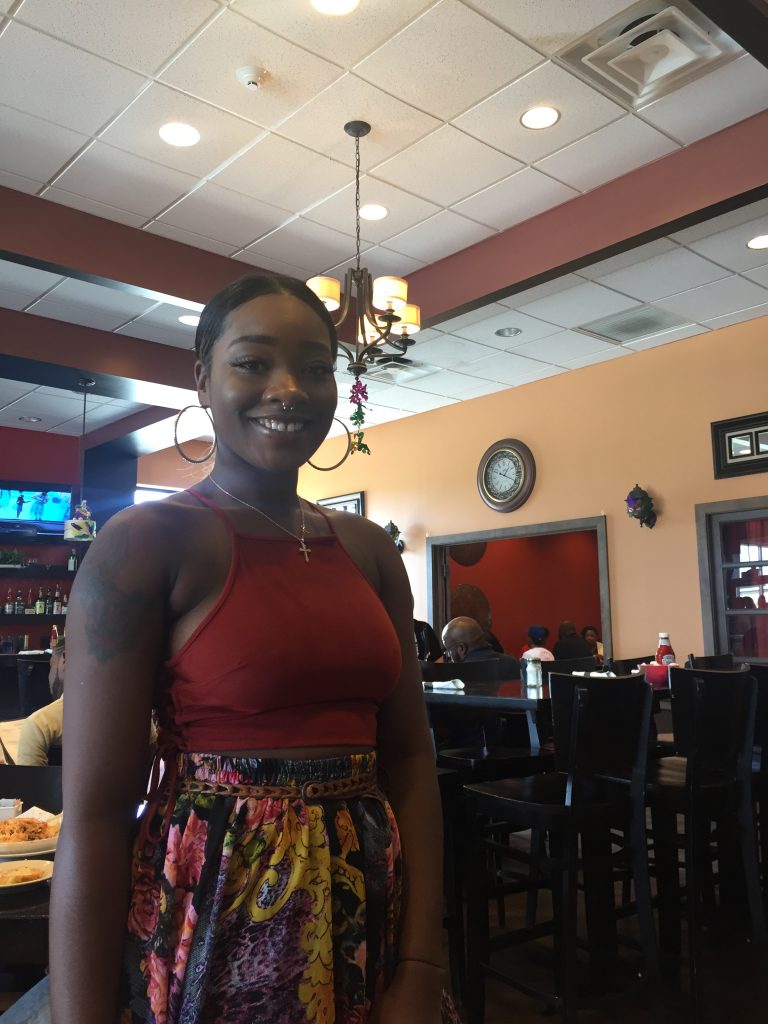 Thanks Jaylin and Malika. It was nice meeting you both.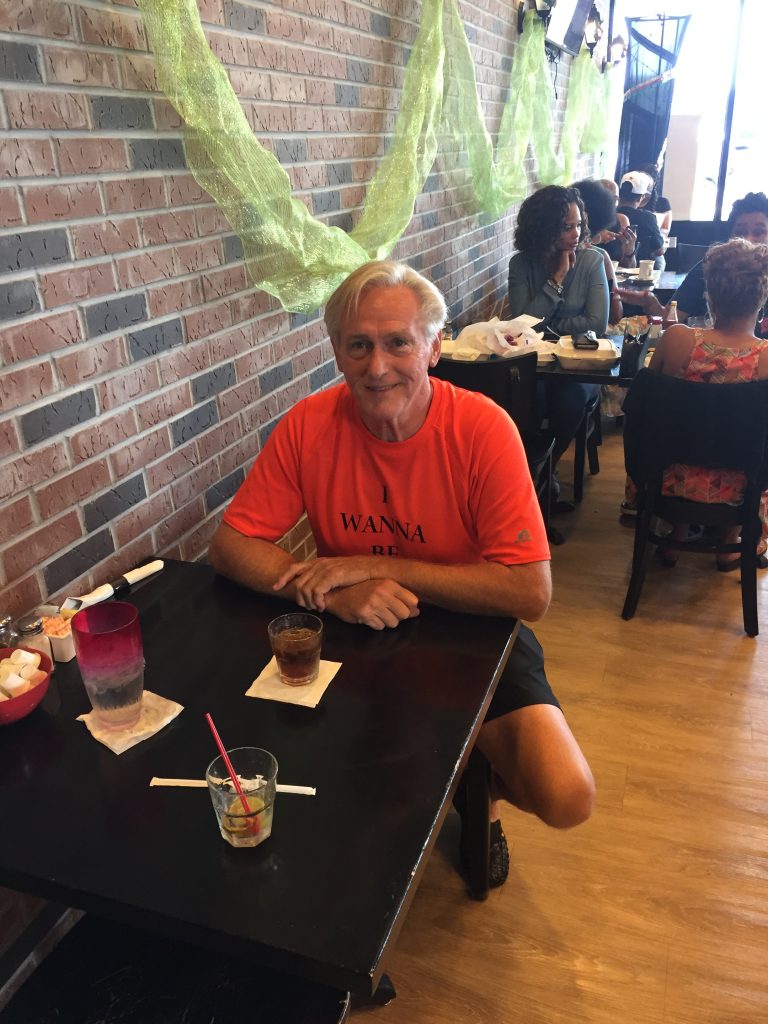 I really liked Flavor! I liked the look, the ambience, the service, the food, and the prices.
I'll go back there anytime I'm in Chicago.
When I think back on some of the best times I've ever had in life, it has always involved food and people.
After Flavor, I went to the DuSable Museum and the Faie Art Gallery and met the owner of the gallery, Faye Edwards.
She offered me a beer so we sat and talked about 30 minutes. She told me how she became interested in African Art and about some of the trips she had made to different parts of Africa to procure art pieces.
I bought a piece of cloth from her while I was there. I want to use it in a woodworking project I started before I left for Chicago. I forgot where she said the cloth was from in Africa. Anyway, it's pretty.
The Next Day, I got up early again and played basketball for about an hour and a half. The weather was perfect.
Then I went to the Little Black Pearl Art and Design Academy.
As you go in, you step right into Carver 47, the new public juice bar and experience cafe.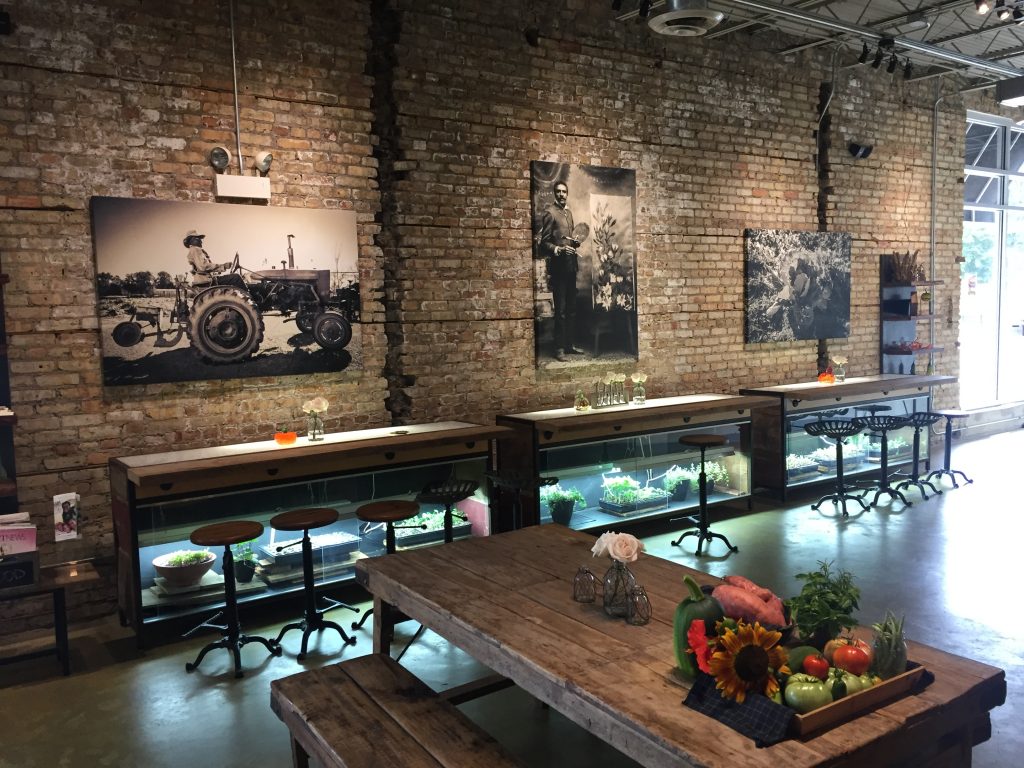 The decor is so cool. It has a good vibe there.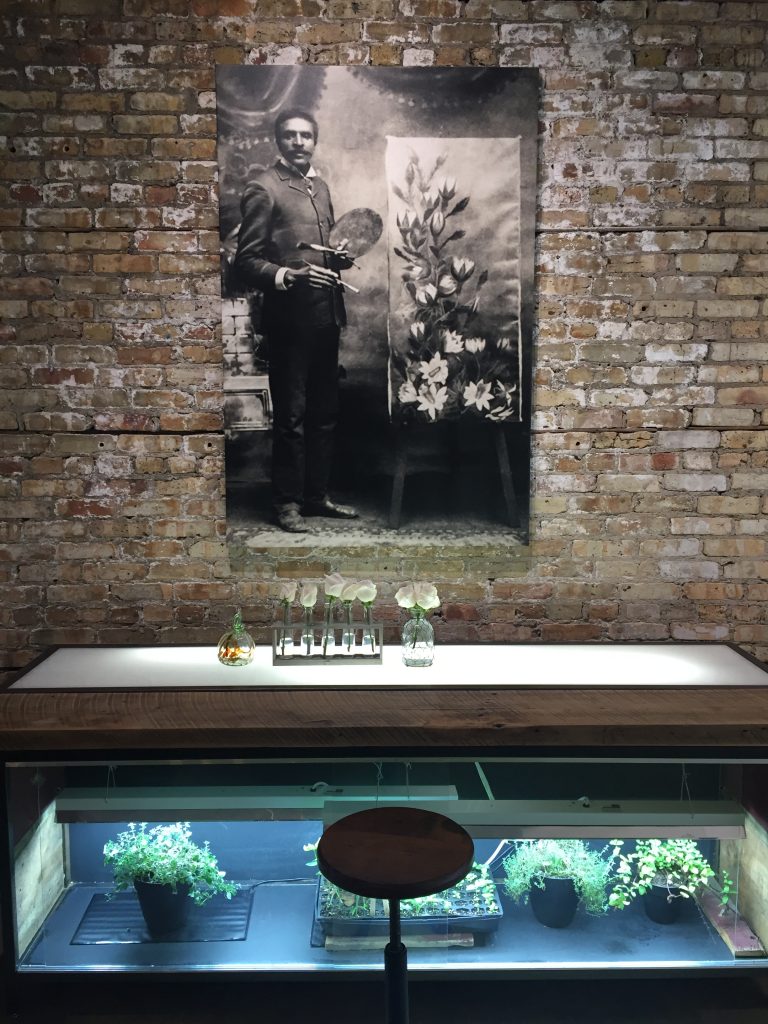 Photo of Dr. George Washington Carver, the man the cafe is named after.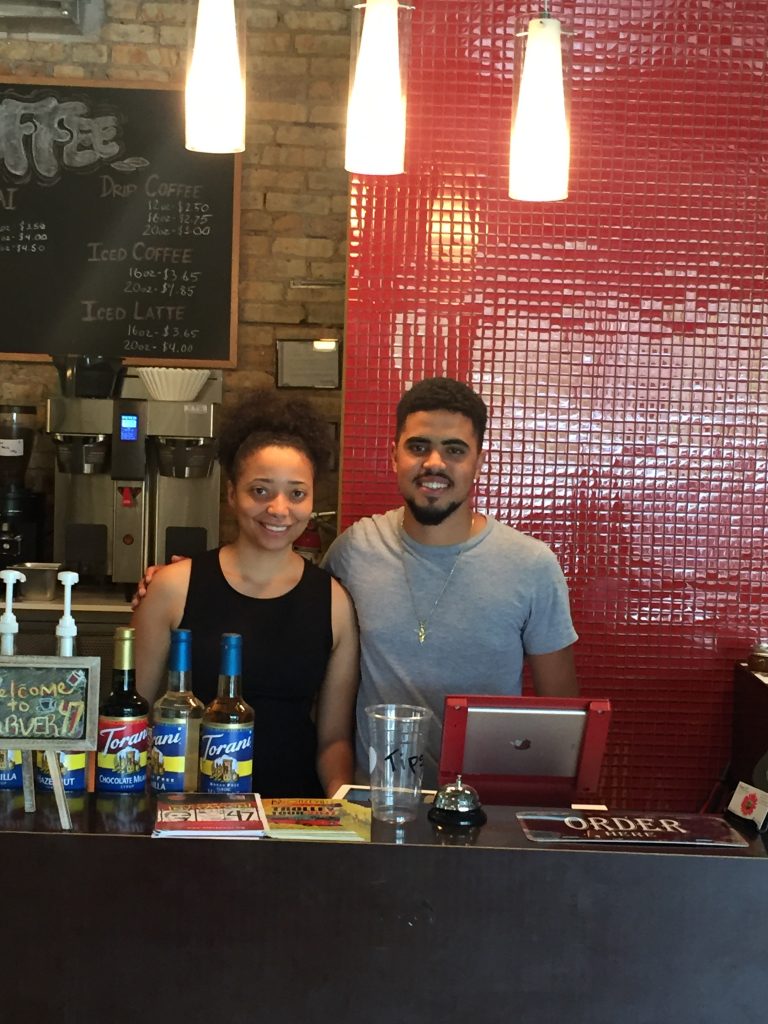 Carver 47's own………Angela, the Assistant Manager, and Kyle.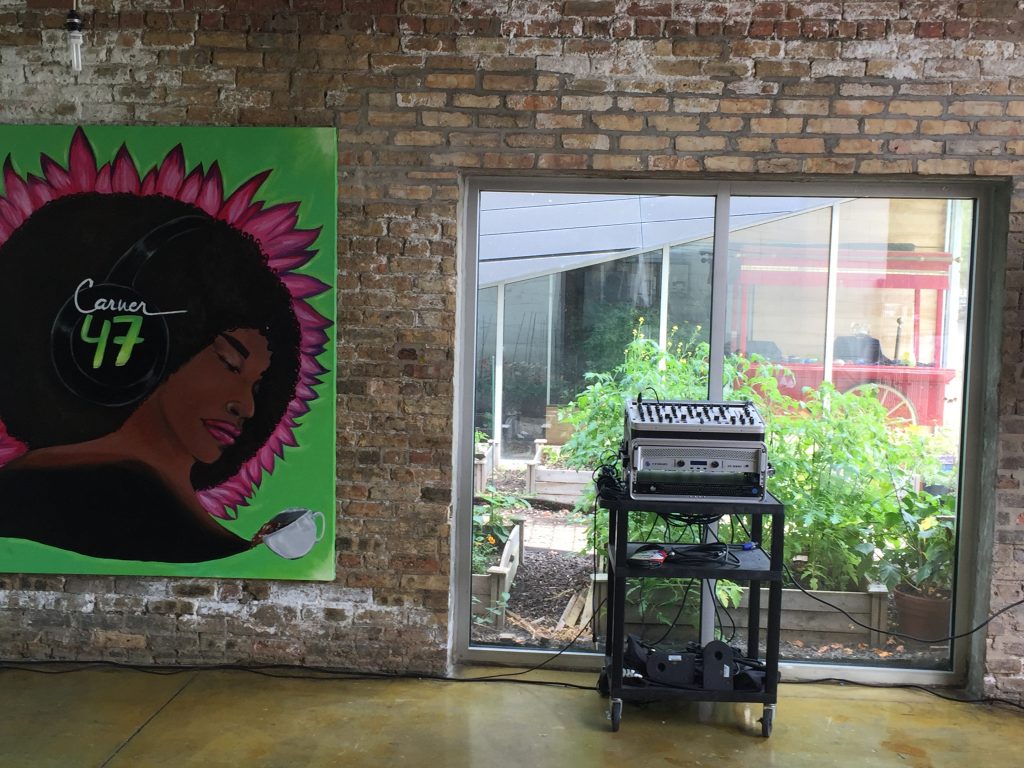 All that green marks the spot……Lizz's Happy Place. I saw the gardener, Lizz, working her botanical magic and said hello.
The juice and smoothie lists were created by Lizz. They are so delicious and nutritious. I wanted to try them all.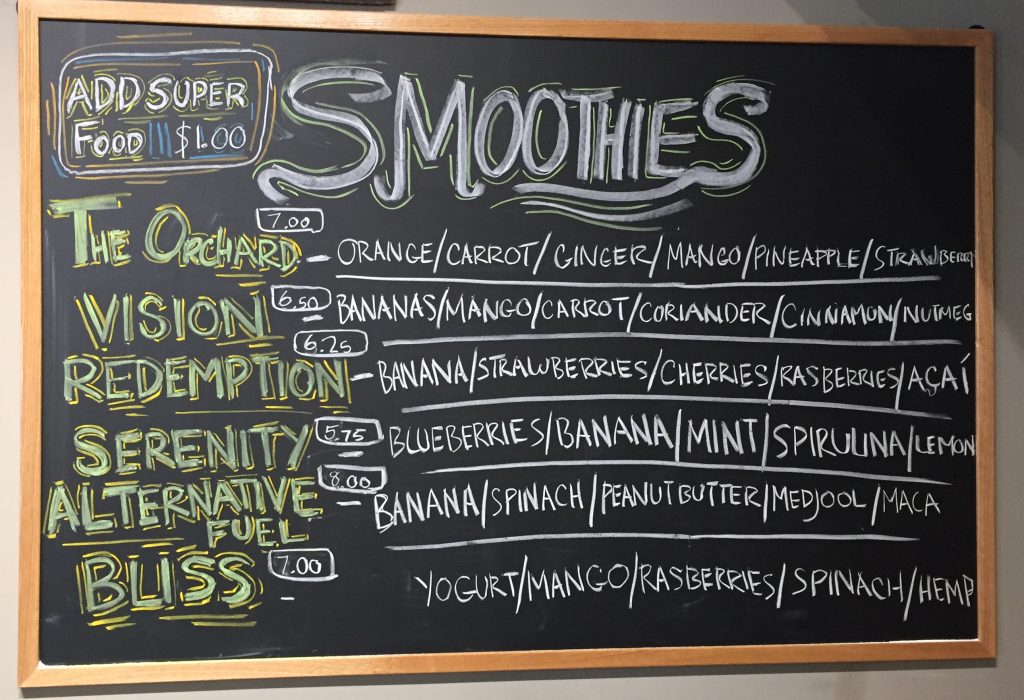 I picked a table, ordered a juice (The Sunrise), and began to work on this post.
(I guess you could say I played basketball this morning before "The Sunrise".)😁
But I began thinking that if Little Black Pearl would ask its students to be creative and produce a Juice/Smoothie Guide Book, using Lizz's recipes (above), and then market it under Lizz's name and Little Black Pearl's name, then it could be a good project to showcase the talents of the students and it could be another profit-maker for the school……I'd definitely buy it!!
(When I got back to Seattle I called Angela and suggested that she take the idea to Lizz or Monica and see what they thought but I haven't heard back from her yet.)
Anyway, I stayed at Carver 47 for about an hour until the Solar Eclipse happened. I had brought a pair of glasses with me so I shared them with four others at the cafe, taking turns looking at the eclipse.
Then I said goodbye to everyone and I drove to the airport and returned to Seattle.
I think I'll close with two screenshots I took of Lizz from one of the images playing behind her as she sang at the TRHT Show.
So beautiful and elegant, don't you think?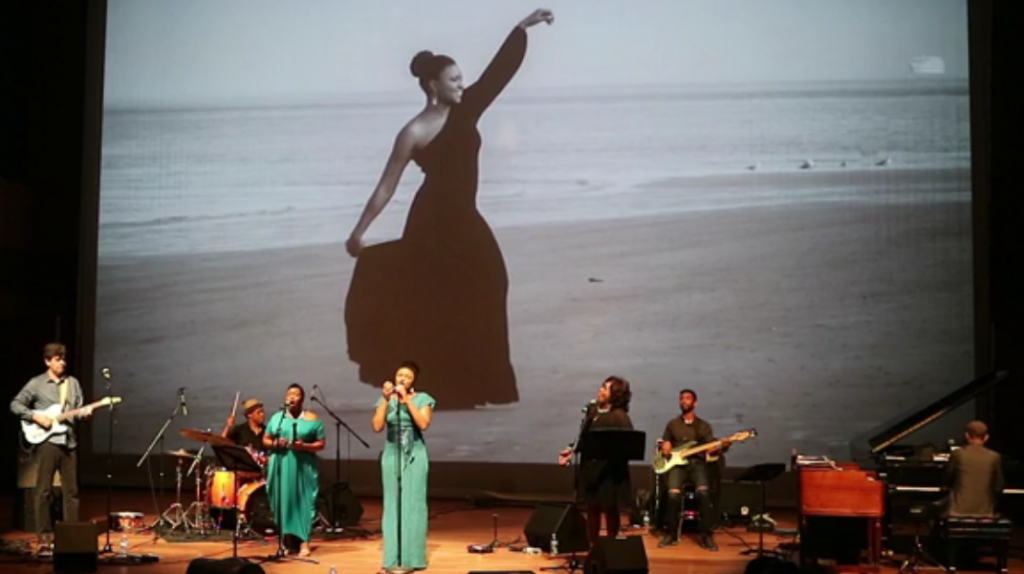 Thanks for a great show!