It's been almost three years now since I first heard Lizz singing on KIXI Radio in Seattle.
She was singing "Reaching For The Moon", an Ella Fitzgerald song.
I was captured by the first few notes she uttered so perfectly, so pristinely, so passionately, like a beautiful songbird:
🎶 "The moon and you appear to be 🎶 so near and yet so far from me 🎶….".
That's when she stole my heart.
That's when I became "heartless".   😊
Then I found a youtube video clip (the one above) of her singing, "Reaching For The Moon" (Go for the gold 🙃), in a televised program paying tribute to Ella Fitzgerald.
As the song is ending, the lights on her slowly go dim but you could still see her facial expressions.
Just before the audience clapped thunderously in approval, I could see a subtle smile appear on her face, as she relished the moment and seemed to be thinking (if the eyes really are the window to the soul), "Yes! I nailed it!…..Wait for it!…..Wait for it!" ……..Then the reassuring applause followed.
It wasn't a smug reaction out of arrogance. It was a sweet moment of joyful triumph, knowing she had done well. That endeared me even more to her.
Since that time, I have gone to many places just to hear her sing.
I've gone to Boston, Massachusetts; Austin, Texas; Tucson and Phoenix, Arizona; Asheville, North Carolina; Aspen, Colorado; Atlanta, Georgia; Seattle, Washington; and Zurich (Switzerland).
(If you would like to read about those trips, click on any of the links above.)
Triple Door
So, two days ago, on Sunday evening, I went to see and hear Lizz sing again, at the Triple Door in downtown Seattle. The Triple Door's website said she would perform as a duo. I was curious to know who would be the other half of that duo.
I should have known.
It was Kenny Banks, an extraordinary piano player and long-time friend and musical collaborator with Lizz. Usually she sings with a band, but it was just the two of them that night.
(To learn more about Kenny and his music, click on his name above. Checkout "New Start".)
I first became aware of Kenny when I went to Asheville, North Carolina, to see and hear a program called, "Old Landmarks….celebrating songs that mark a path to freedom", that Lizz put together in honor of Martin Luther King Junior's birthday.
In addition to being wildly talented, he has an animated and lovable spirit to go along with all that excellence as a musician.
When I watch him play the piano, I understand where the expression, "..tickling the ivory", comes from. His fingers fly swiftly over the whole range of the piano and barely seem to touch the keys. It's so amazing to see and hear.
This is a video clip of Lizz and Kenny performing "Walk With Me", a gospel song that Lizz likes to include in every show she does. (I apologize in advance for the abrupt ending. The camera battery died on me at that moment.)
The thing I like most about him is his stage presence and his positive interaction with Lizz as they perform together. They are very attuned to one another and were genuinely dedicated to bringing out the best in each other throughout the evening, through their mutual respect and their shared love of music and entertaining.
He engages well with the audience and embraces the spotlight on himself, but you can feel the respect, deference and support he willingly and naturally gave to Lizz throughout the entire show. And she reciprocated. It was a beautiful thing to see.
Between songs, she talked about the 17 years she and Kenny have known each other and collaborated,  musically, off and on. She recounted the early days when she worked for Geico,  "saving us 15% on our insurance bill", when all she really wanted to do was sing. Lizz is very articulate, personable, and funny. She always tells a good story, through her songs or through her words.
The Triple Door is a rather large venue but it all felt small and so intimate that night.
It reminded me of my early years when I was in Monterey, California, studying Korean to become a translator for the Air Force. I would study eight hours a day, go back to the barracks, have dinner, and study one or two hours more on my own.
Then I'd close the books, drive down the hill from the Language School to a local High School, enter a small auditorium, take an empty seat, and sit and listen to piano recitals or chamber music for an hour or so. It was a fabulous way to unwind from all that studying, although I really enjoyed every minute of the studying too! But I liked the intimate setting of those mini-music concerts.
 Morning Glory
Lizz once said in an interview that her baby name was "Morning Glory". That's what her Mom and Dad liked to call her.
One day I was thumbing through a drink book and I saw a cocktail named, "Morning Glory". So I took a picture of the recipe with my iPhone and anytime I went to see and hear Lizz sing in a venue where food and drink was being served, I'd ask if the bartender could make a Morning Glory for me. So far, none of them have heard of it so that's why I keep the recipe in my phone. I just show it to them and they make it for me.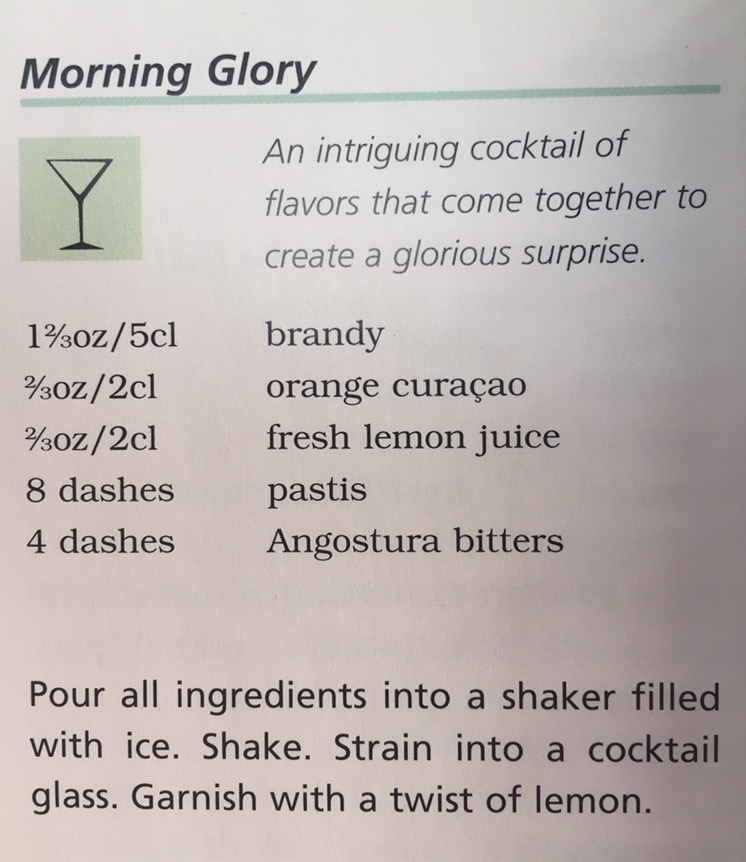 Then as I sit listening to Lizz sing, I make a toast, in spirit, to her musical genius and beautiful soul. 
No one around me knows I'm saluting her, but I know I'm doing it and it feels good and right.
So after I ordered my first drink, I noticed a special drink list laying on my table. It only had three drinks on it. But much to my surprise, the three drinks were named, "Blue Rose", "Speak Your Heart", and "A Taste Of Honey". (The first two are songs Lizz wrote herself,  while "A Taste Of Honey" is a cover she does.)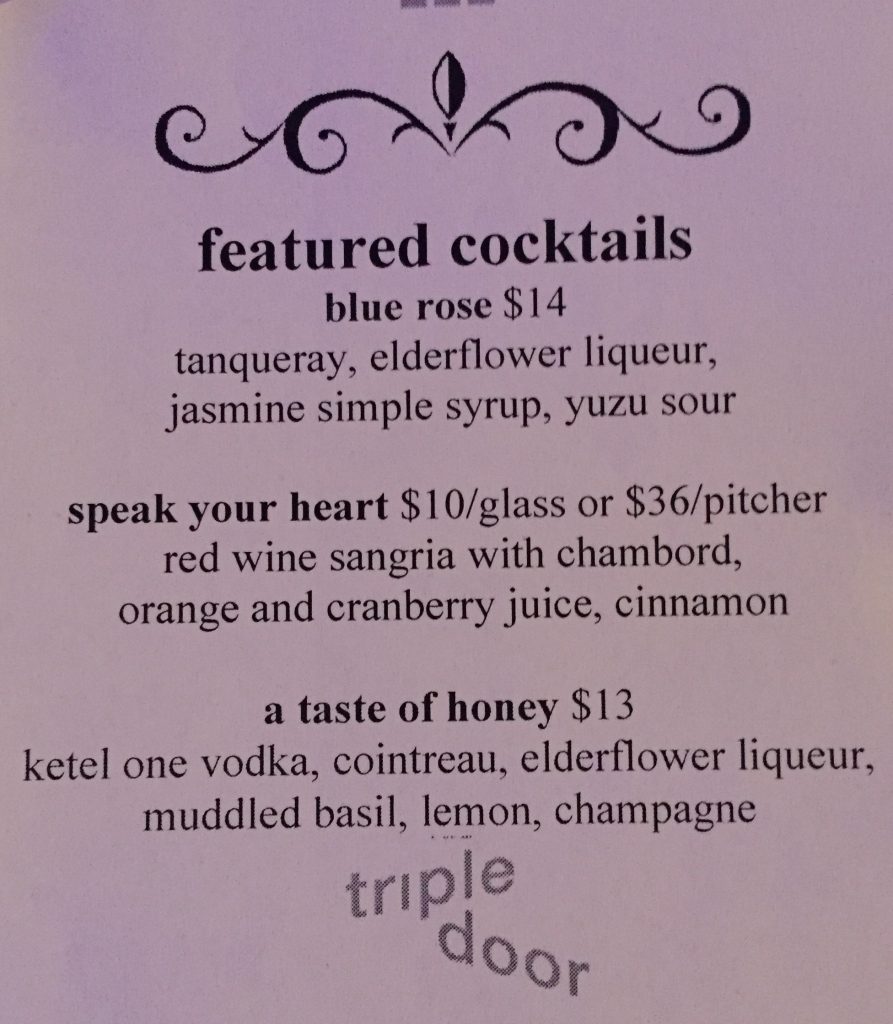 At that very moment, a waitress (not my waitress), named Noel, came over to me and asked if I needed anything. I told her I wanted another Morning Glory and mentioned my surprise at the special drink list.
I asked her whose idea it was to do that. I told her I thought it was a great idea. She said SHE came up with the idea. She thought it would be a good way to make a special connection between the artist and the audience.
So I told her about my ritual and asked her if she wanted to include Morning Glory on her list in the future. She said yes. So I wrote down the recipe and gave it to her.
It was just one of those serendipitous moments that are kind of cool when they happen.
The Show
Lizz started the show with five Ella Fitzgerald covers. Then she did a Nina Simone cover called, "Seems I'm Never Tired Of Loving You":
She sang "Old Man", a Neil Young classic which she also likes to work into her set list on every show.
Then she did "Somewhere Down The Mystic", and "Salt", two of the songs she wrote herself.
Finally for her encore song, she sang Roberta Flack's song, "The First Time Ever I Saw Your Face".
I really enjoyed the whole evening and I sat in wonder and awe at the hours and hours of practice they both must surely have spent learning the songs, individually and together, to be able to sing and play them so flawlessly and beautifully.
And her repertoire reveals her eclectic nature and amazing versatility.
I also was happy to listen to Lizz sing with just the piano accompaniment, for a change, in lieu of hearing her sing with her band.
But whether she is singing acapella ("Amazing Grace"), or with her band (scroll down to "Hit the Ground"), or just the piano ("Painted Sky"), or with an orchestra (" 'S Wonderful "), or even with just a drum (scroll way down to "Nature Boy" with River Guerguerian), her voice IS the music to me.
She is a natural phenomenon.    (I saw this picture on her FB page sometime ago. I believe she took this creative selfie. I thought it was worth sharing here.)
She is a National Treasure.
There is some element within the nature of her voice that holds me captive and has me heartless in Seattle.
I have identified that element.
Someday the Scientific World will thank me for that, after adding her to the Periodic Table of the Elements.
Her symbol will be…….LiZ2.
💖
P.S. Btw, I previously identified two other new elements: BaNa2 and CoF2E2.
One is found in tropical climates. The other is found on many street corners.  😉