To me, the winter holiday season begins on November 1 and doesn't subside until a day or two after New Year's Day.
Thanksgiving, Christmas and New Year's Eve/Day have always been about being with family and friends in the great spirit of God's love for us all.
It's the little things and the unexpected things that make this time of year so special.
Spending time with loved ones. Observing them. Finding out what's new with them. Laughing with each other. Laughing at each other. Bearing gifts. Sharing food, thoughts and things. Having time off from work to just chill. Playing in the snow (if there is any to play in). Enjoying singing or just listening to music and watching favorite movies. Cooking and eating together.
APPLE BUTTER MEMORY
My neighbors, Shawn and Jocelyn, gave me a bushel of apples from the two apple trees in their back yard.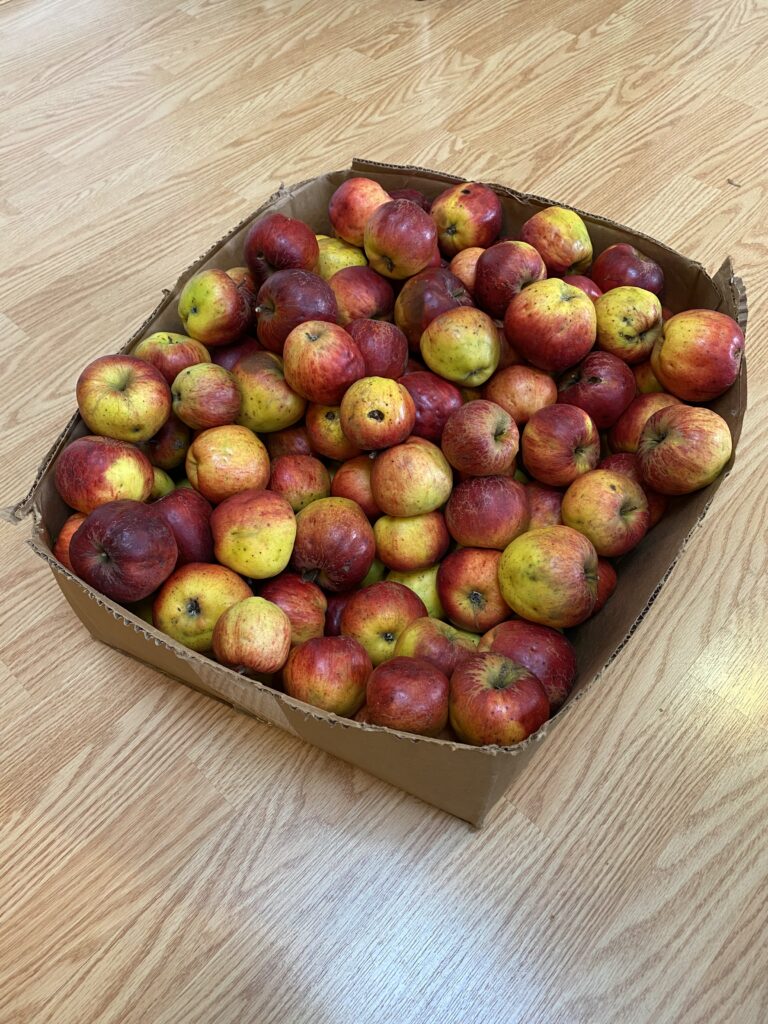 My son, Tim, is a foodie and also loves to cook.
He makes the best ever apple butter.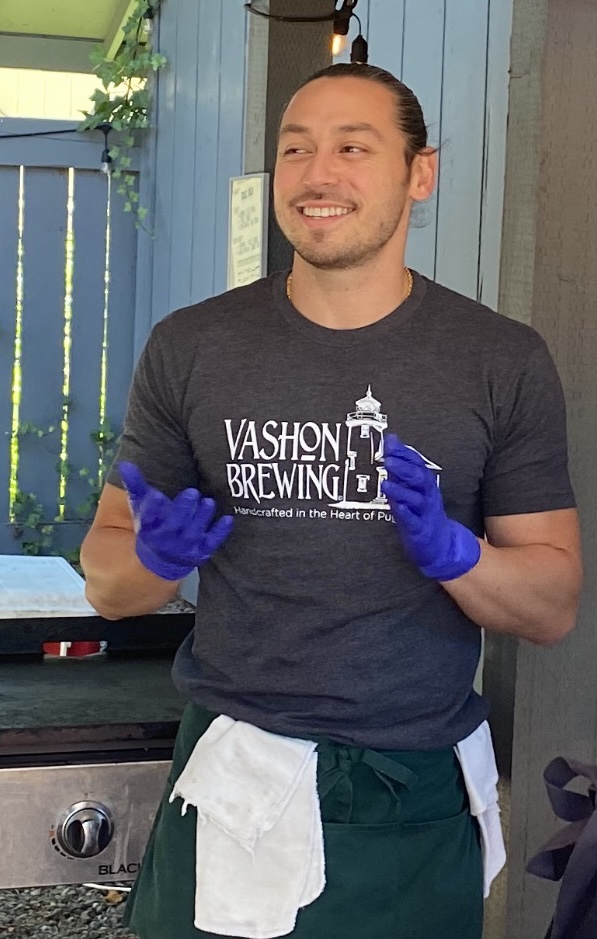 The birds and the bugs had gotten to part of the apples, but even after cutting out the bad parts….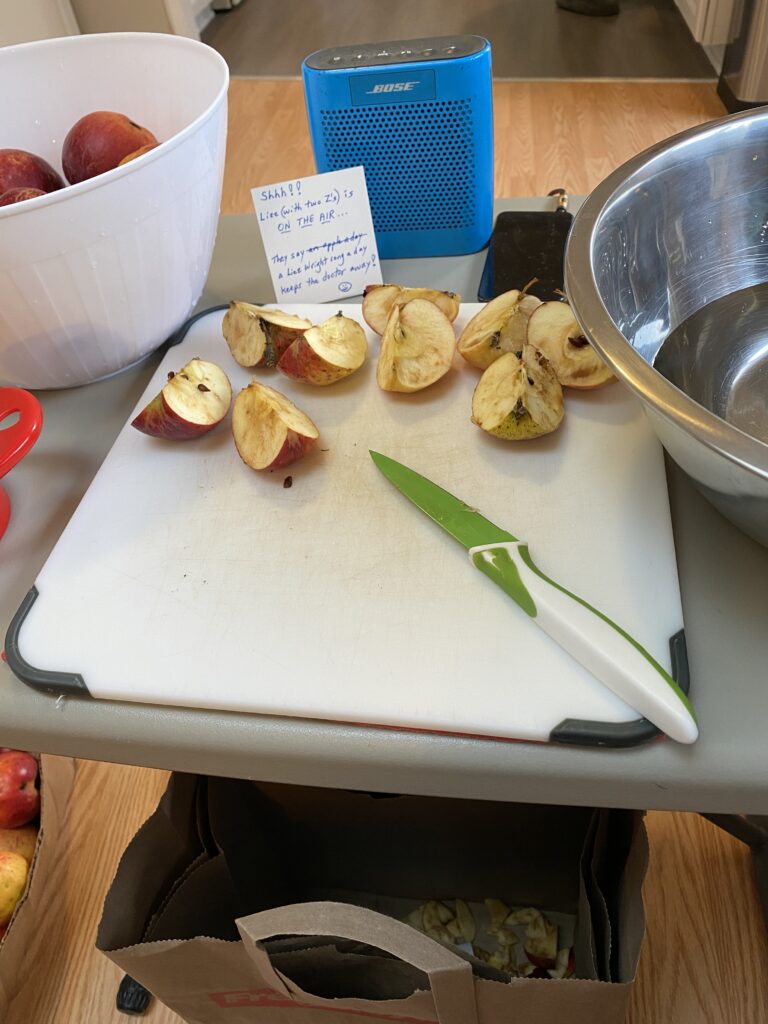 ……we still were able to yield six or seven large mason jars of apple butter, which we shared with the neighbors and family members.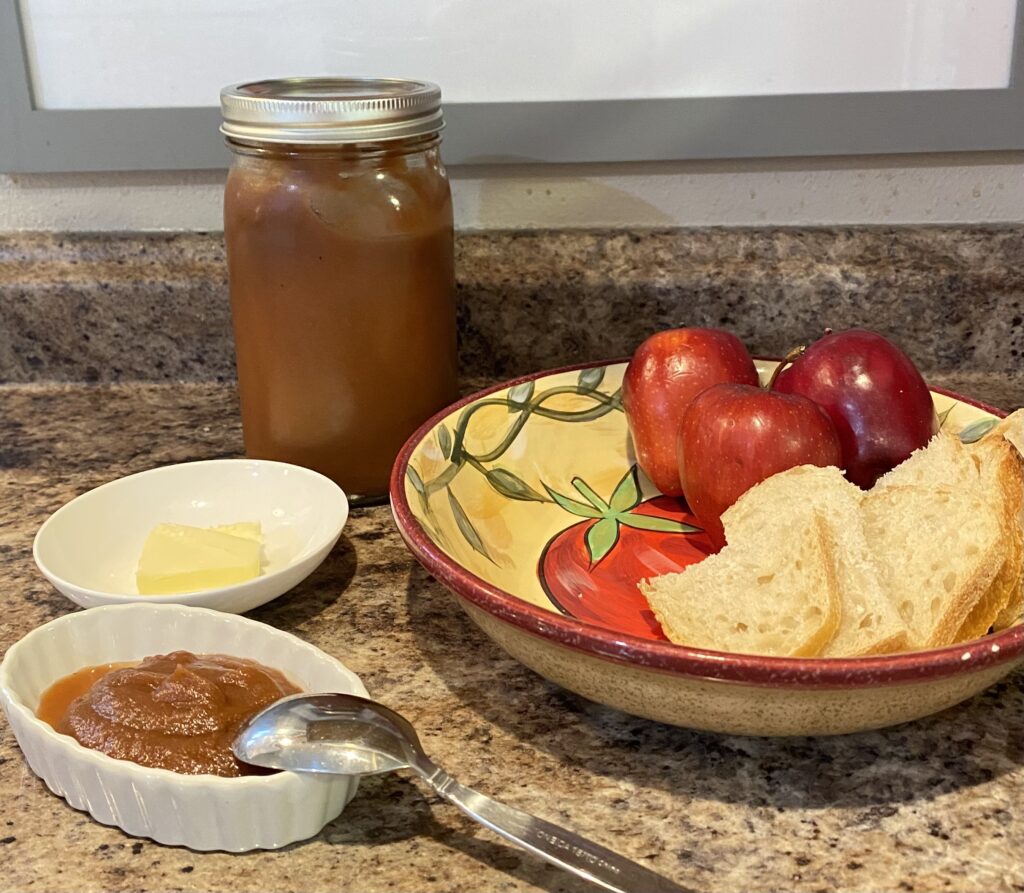 That single event ignited the Holiday spirit within me! 😄
It also reminded me of an experience I had when I was a six or seven-year old kid.
We were renting the first floor of a two-story house, from the Henderson family. A real nice family who owned the house and lived upstairs. They had a teenage daughter who played the flute. Whenever I heard her playing a song, I would stop and stand still so I could hear her play the whole song. It was hauntingly beautiful.
They also raised chickens in a chicken coup.
So one cold day (maybe late October or early November) the Henderson's asked us if we wanted to help them make apple butter in a big wooden churn outside in the back yard. I don't remember churning it myself but I watched the adults do it.
A few yards away there was another event in progress. There was a two-feet wide by two-feet tall tree trunk in the yard, which they used as a chopping block to whack off the heads of the chickens they were going to have for supper (there's just no delicate way to say that, right?)
One person held the chicken while the other person wielded the axe. (Was that nicer?) Then they would drop the chicken on the ground and proceed with the next one. In the meantime, the first chicken would get up and run around the yard, randomly bumping into things and eventually collapsing to its death.
I hid behind objects so that the chicken wouldn't run into me. Seemed like he was going about 90 miles an hour. It was all very traumatic to me. That was my first time to see anything like that.
When I got a little older, I heard the expression "….like a chicken with its head cut off!" for the first time. But every time I say or hear that expression, I automatically think back to that event.
That's my apple butter-related memory.
Big Tiger, Little Tiger
I didn't have a job in November. I was at home looking online for one. And when I wasn't looking for a job, I was trying to do a few things on my to-do list.
One of the things I wanted to do was rearrange my office. I had three desks and way too many books and other miscellaneous items I wanted to either sell, throw away or give away.
These pix show the different ways I rearranged the office, thinking each time that I had made it better than before.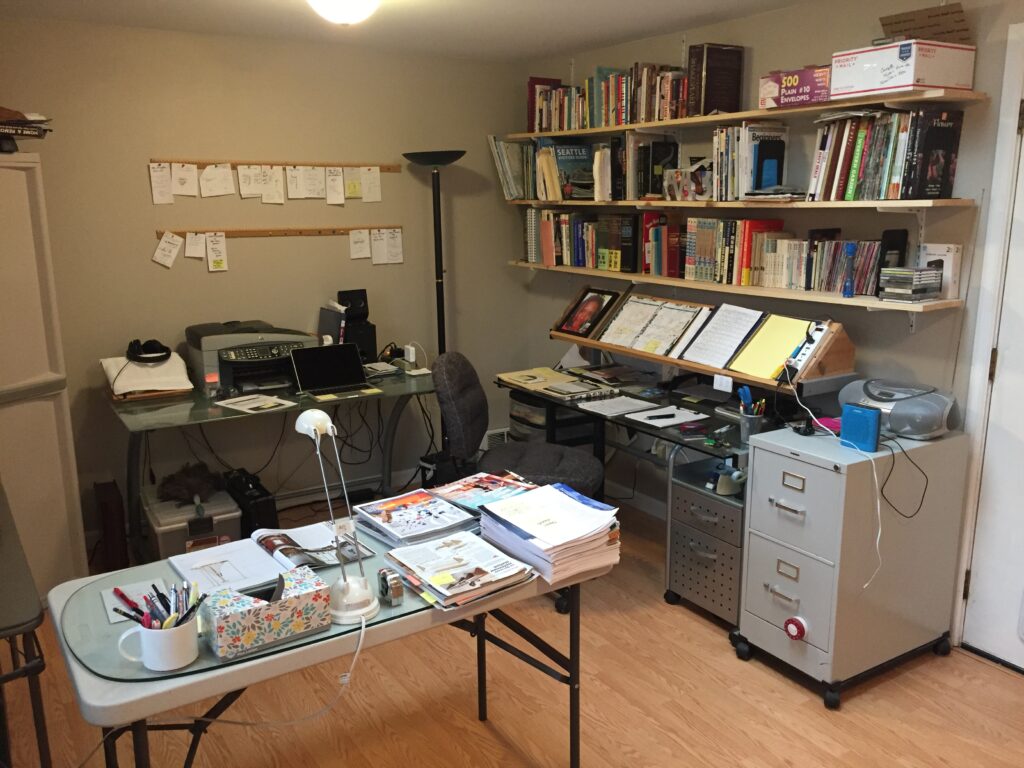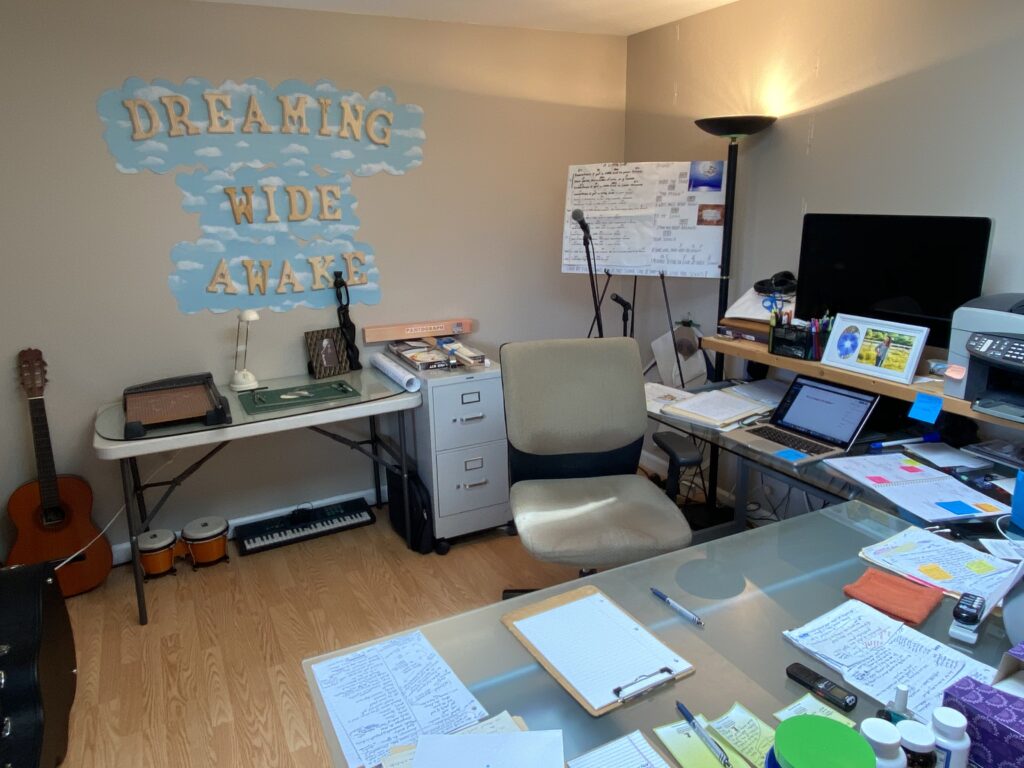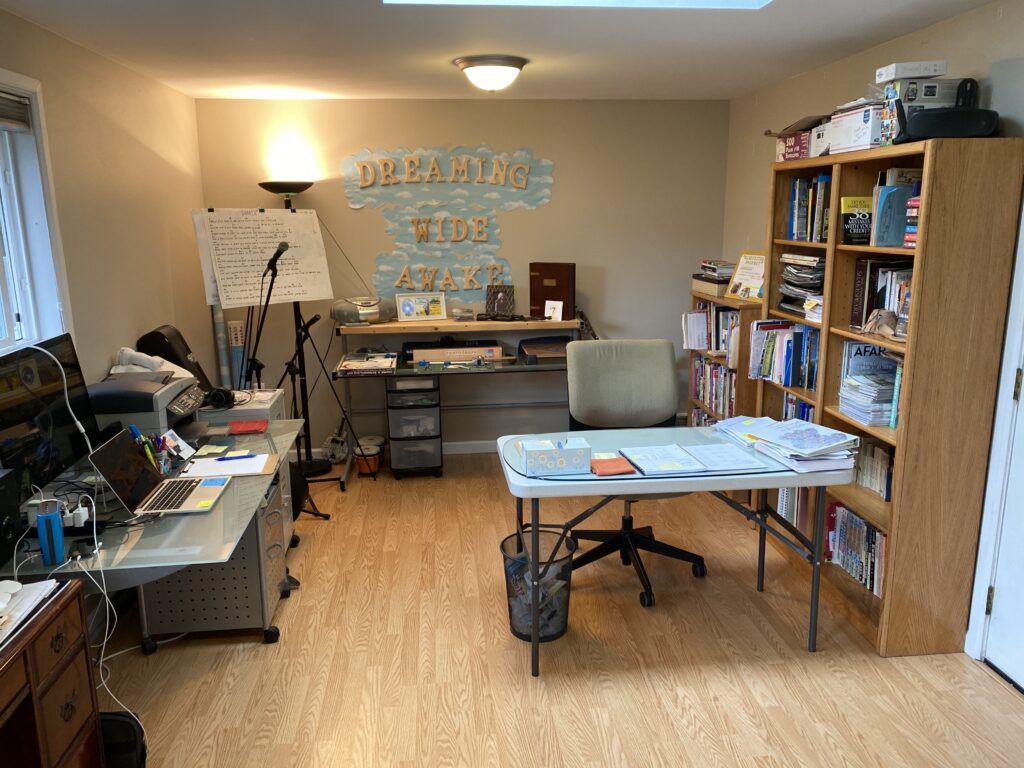 In one of the earlier arrangements, I had a wooden tiger sitting above my laptop, in front of my large monitor.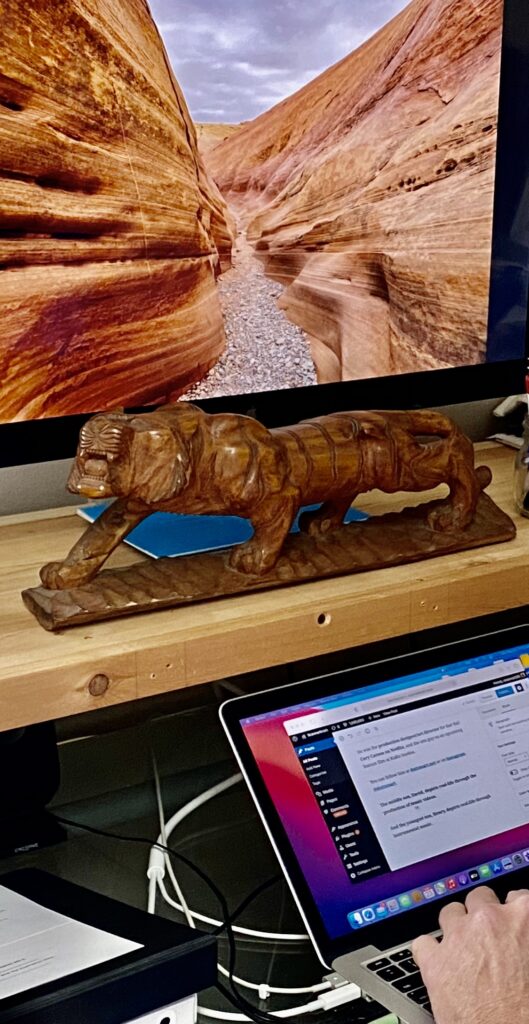 My son, Tim, and "Elvis" (that's what I teasingly call my grandkids, Evie and Ellis, when I want them both to come to me at the same time), were visiting me for a few days, and Ellis noticed the big tiger and said, "Grandpa! What's that?"
I said, "It's a tiger!"
He said, "Oh! I like it.", and then walked away.
The next day I went in to my office and sat down. This is what I found.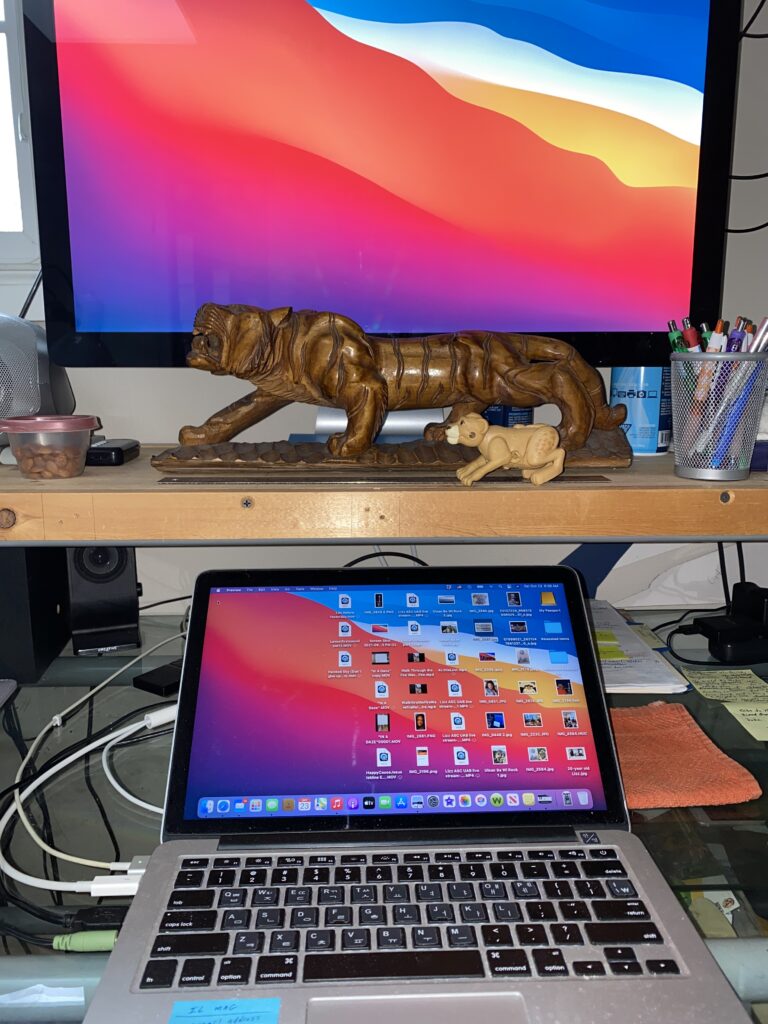 So as the day proceeded, I walked back to the bedroom to get something and I noticed Tim was exercising in the living room, doing pushups, and Ellis was on his back, taking a free ride and weighing his Dad down.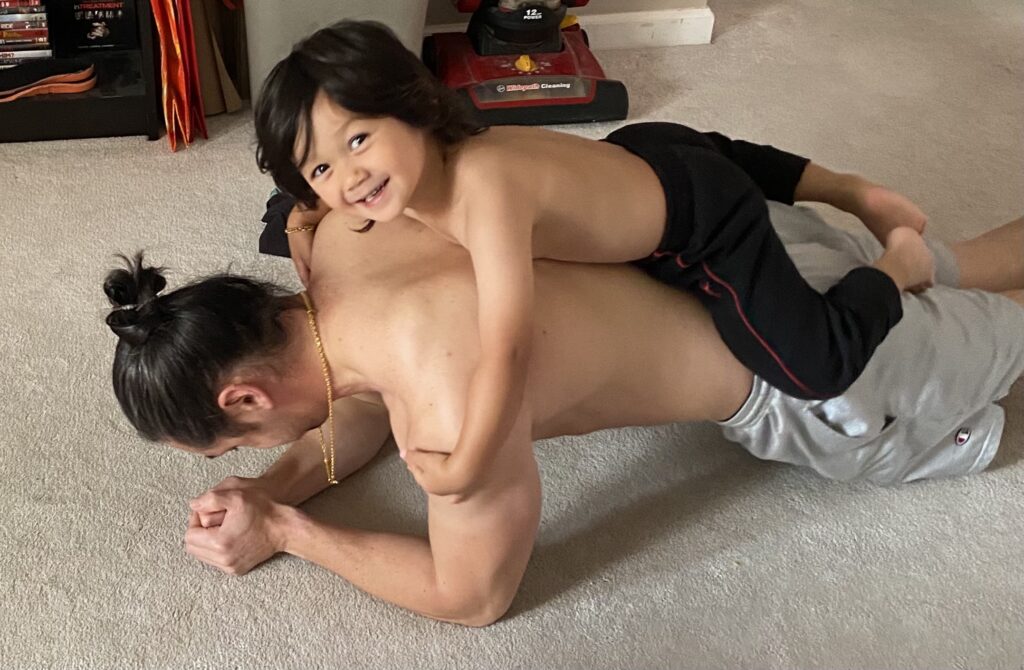 So I went back to my office and I moved the little tiger up onto the big tiger's back.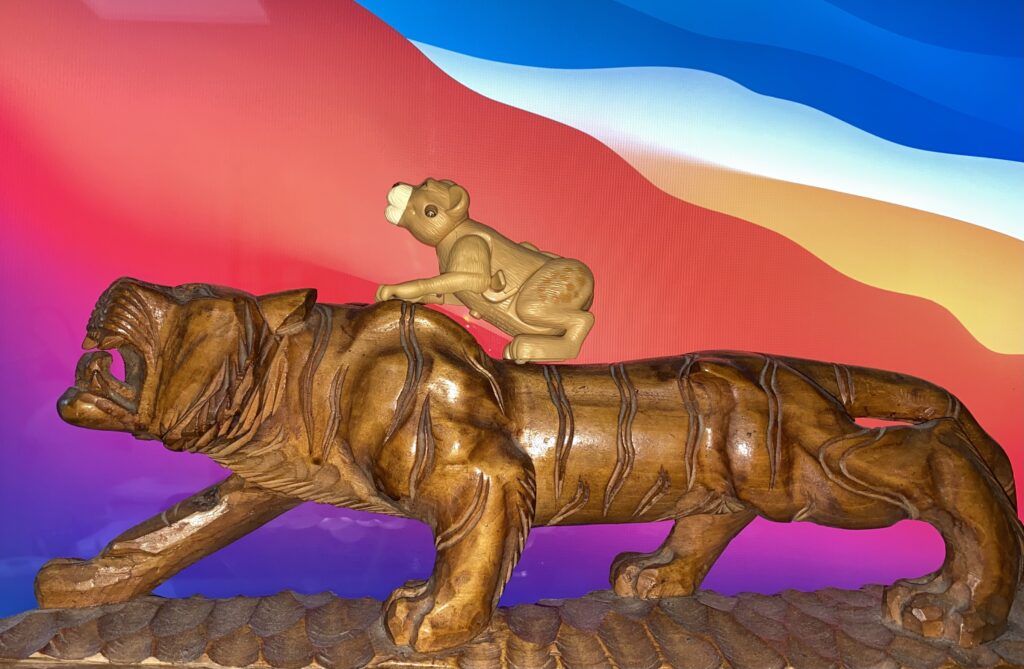 That move wasn't lost on Ellis….😃
The next day I found this addition.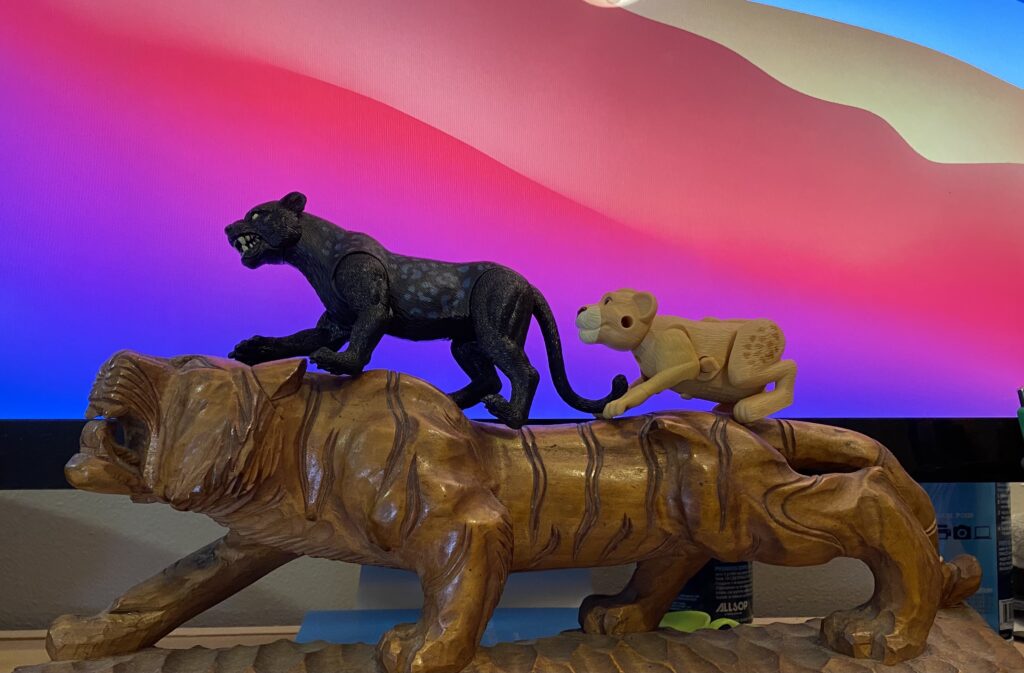 It's funny. Neither Ellis nor I said anything to each other about the actions we'd taken.
We just played the game… 😂….and then moved on.
New and Improved "Dreaming Wide Awake HQ"
So a few days later, I rearranged the office once again…..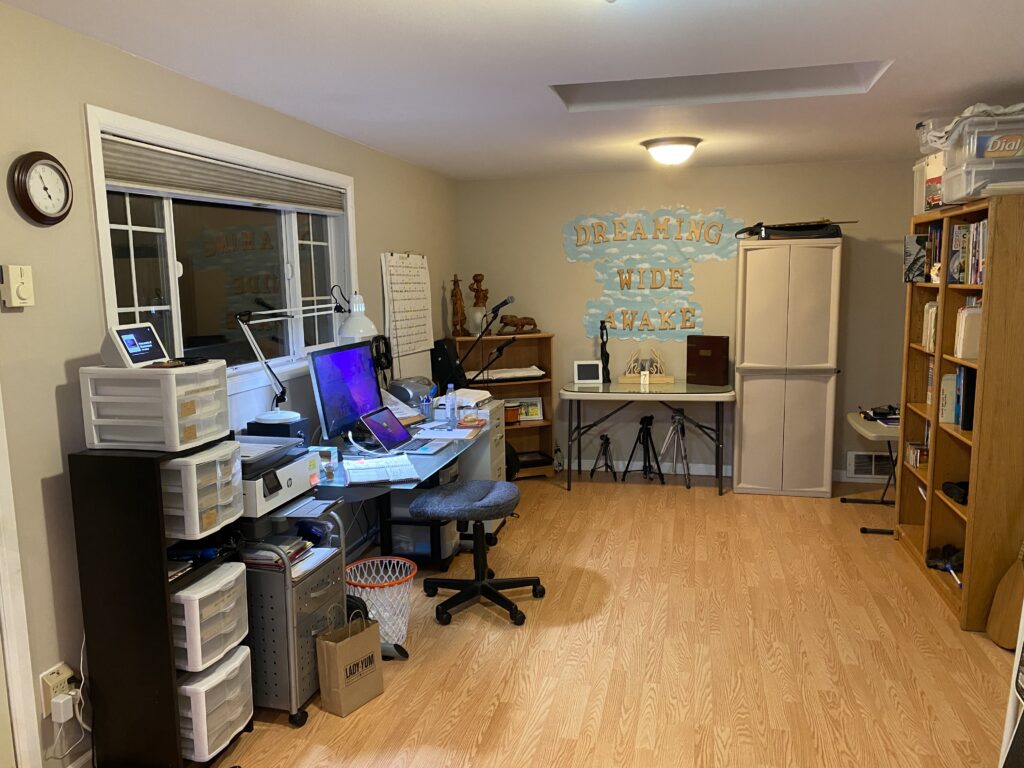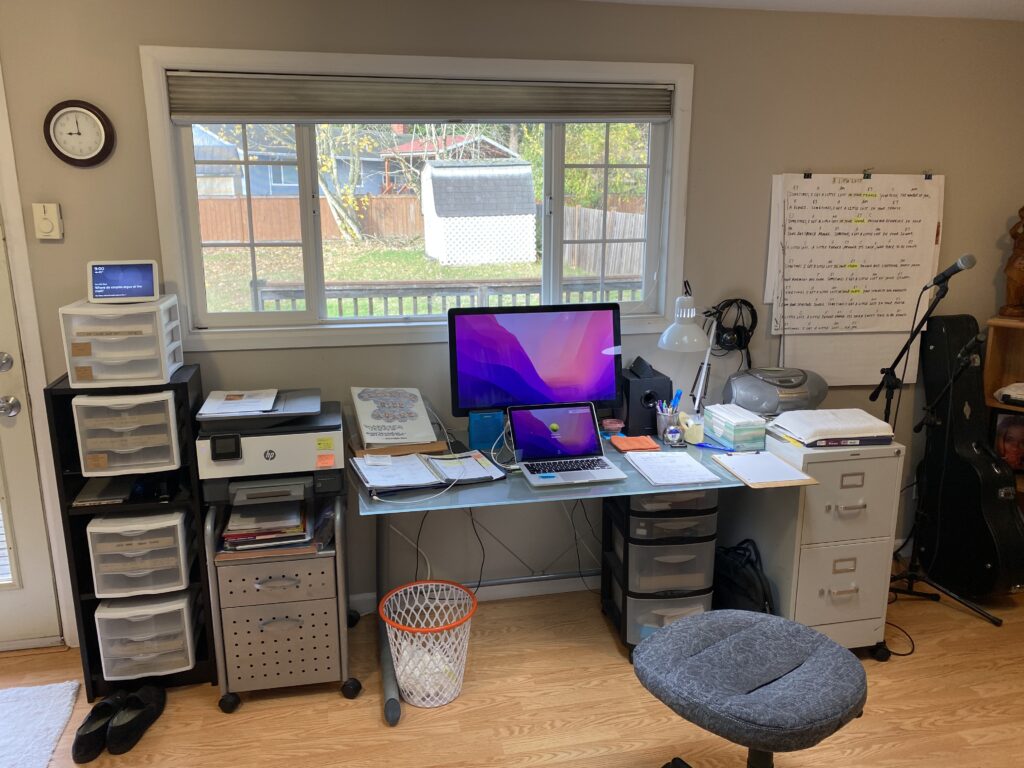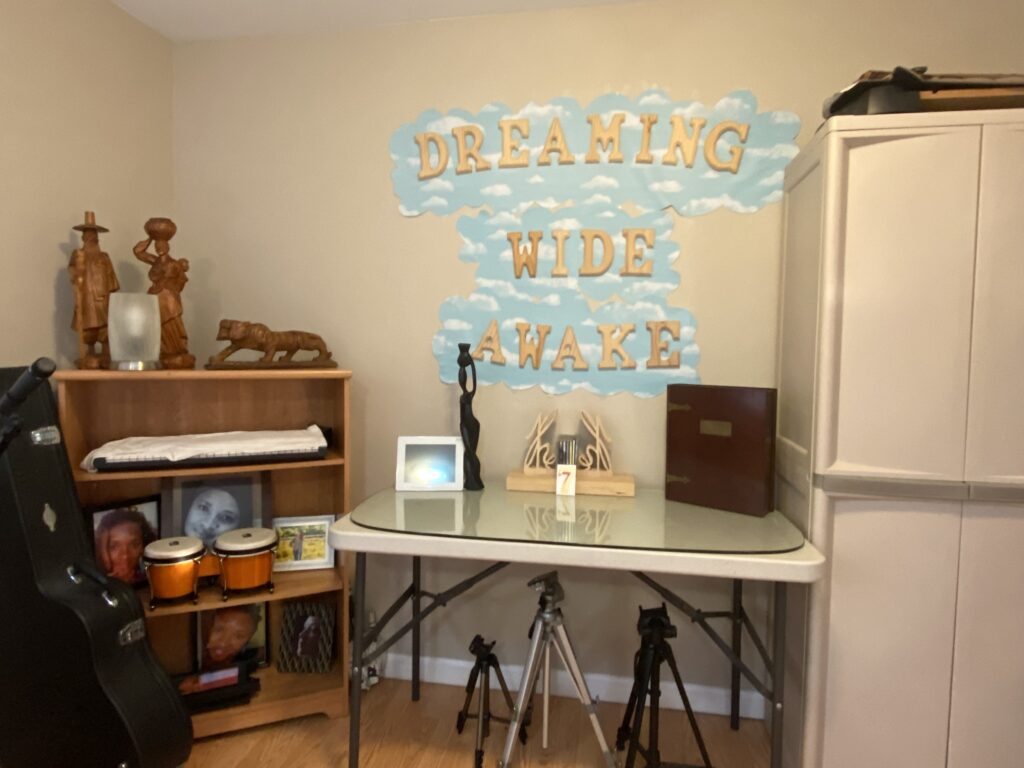 I like the arrangement better this time (until the next time I decide to rearrange it).
Then, in December, Tim and the J's bought a really nice chair for me, for my birthday, to use in my "new" space.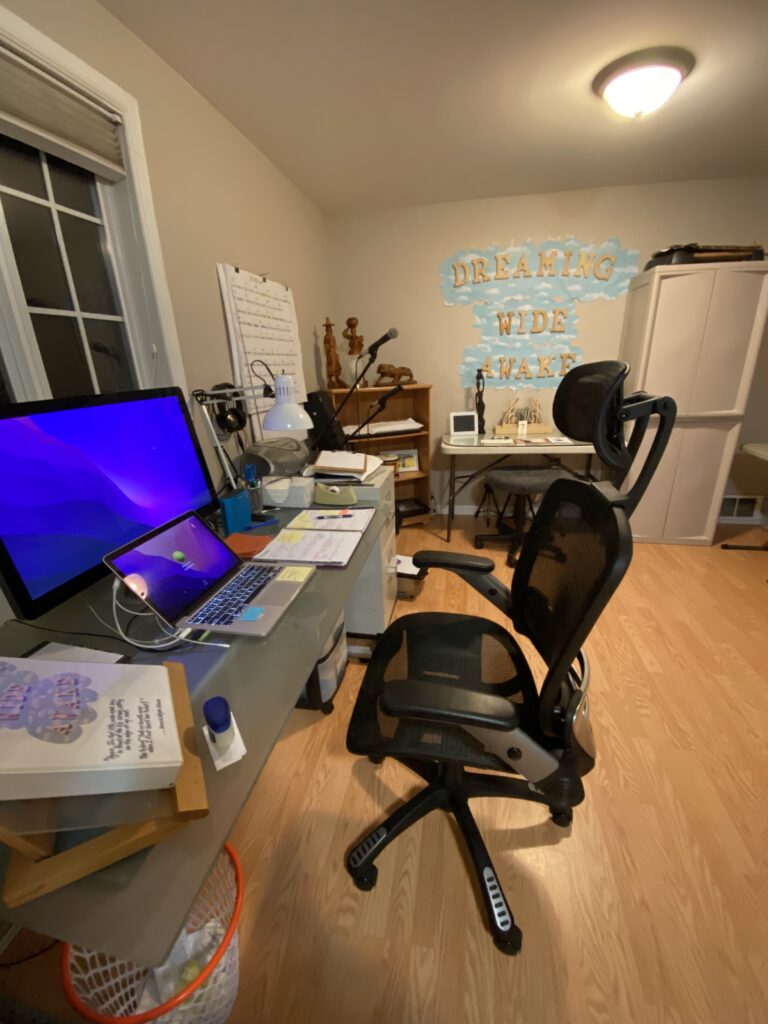 😊😊
Dilly Casserole Bread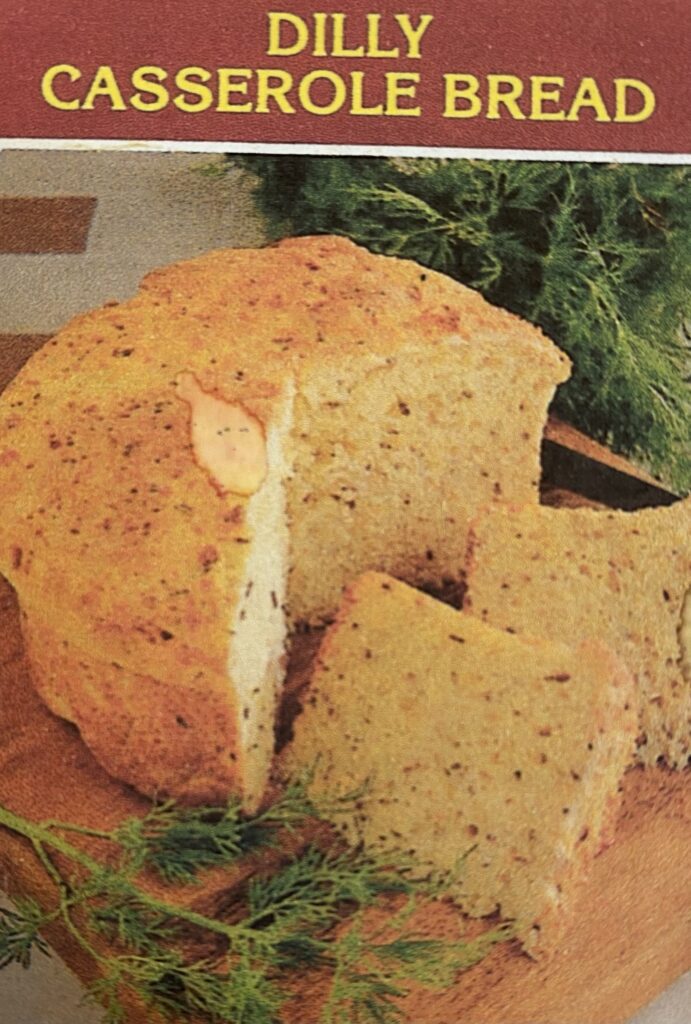 I like to bake. So every once in a while I get the urge to bake something the kids like a lot, or something new that I just want to try. Especially if the kids are here at the house with me, and it's cozy and warm inside, and I'm listening to my favorite singer's music.
So I was looking through my "keeper folder" of recipes that everyone likes and that I've carried around with me for a long time (years). Lately, I was wanting some homemade bread so I pulled out this recipe and got it going.
Here is the source and the recipe for this bread:
I like dill weed. I put it in this bread but I also use it on fried or baked fish, on fried potatoes, and on tuna noodle casserole.
Usually (you'll have to take my word for this 😊 ) I have great success with this recipe.
But as you can see, I didn't use the 8-inch round casserole dish to form the bread. I used a loaf pan. And the dough didn't rise as high as it normally does, and it wasn't as light as it usually is. I don't think I provided a warm enough condition for it to rise properly. It was a bit dense. But the flavor was there…..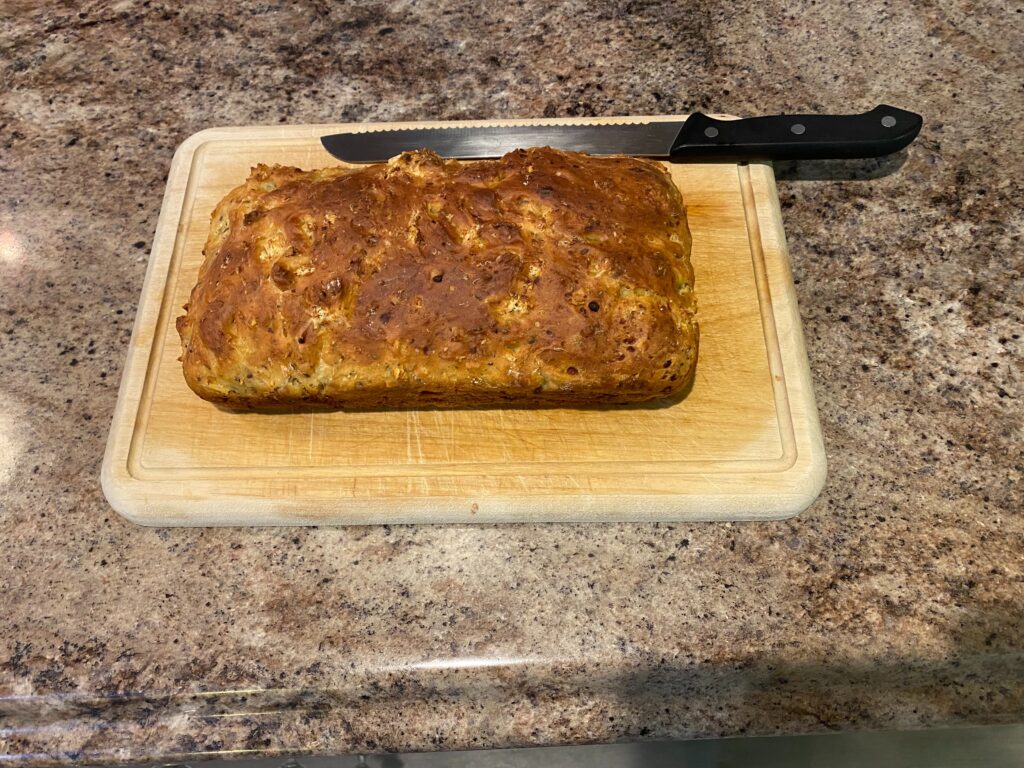 A lotta bit of butter did the trick….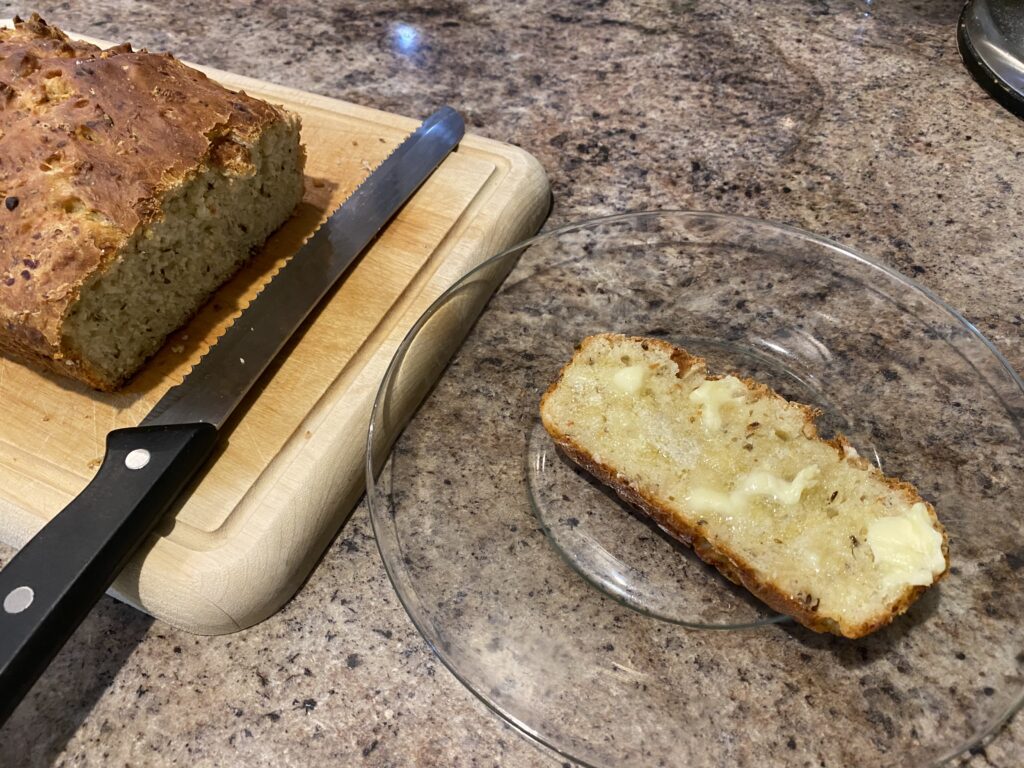 ….and some cheese…..and a little wine…..😩
Oh, and there's one other thing……"Dilly Casserole Dough" seems like such a long name for the bread!!
I just call it "Dill Dough", for short.🤭😂
Working Temporarily for UPS (United Parcel Service)
Just before Thanksgiving, I was hired as an SPVD (a seasonal personal delivery driver) by UPS. Apparently, they do this every year, in order to be able to sufficiently handle the additional influx of packages that flow through, due to the Christmas rush. SPVD's use their own cars to deliver packages to the customers.
I started working a couple days before Thanksgiving and every day after that until December 24th. I had the two holidays and Sundays off but I worked all the other days. Unfortunately, it was rainy and cold the whole month of December, here in Seattle. But I got through it and ended up with a pretty hefty chunk of change.
I don't normally talk about money but I'd like to share with you about the pay, in case you are looking for extra money next year around the holidays and there is a UPS near you. I don't know what they will be paying next year but this year was unbelievable. They paid $38/hour for regular time and $57/hour for overtime. Also any thing over 8 hours a day was considered overtime. I didn't have to accrue 40 hours before they paid overtime. In addition to that, if you worked Saturday, it was all considered overtime. They also paid 56 cents a mile for gas and the wear and tear on your car. Usually it was enough to pay for the gas I used on any day.
Isn't that extraordinary for a type of manual labor job such as that?
Plus, there is the health benefit of walking so much. I lost 15 pounds and two belt sizes during that one month of working there.
Thanksgiving and Christmas
I normally spend these two holidays with my kids and grandkids on the actual day that the Holiday falls on. But this year was different from the previous years. I was working every day and my kids had some work things going on, too, during both holidays, so we decided to have Thanksgiving and Christmas, together at the J's (Jes and Jen's Condo downtown) on Sunday, November 28th, and Sunday, December 26th, respectively.
We also decided to forgo the traditional Turkey dinner and have a super Korean meal for Thanksgiving. Jes and Tim cook Korean food so well. It always tastes just like I remember it tasting when we lived in Korea.
After Thanksgiving I worked nearly every day through December. That wasn't fun because of the cold and the rain but I just kept thinking about the money I was making. Every day was different. I worked anywhere from six to twelve and a half hours a day, depending on how many packages arrived at UPS for delivery each day. For the whole month, I grossed about $8500 and netted about $7000. My last day to work was the 24th of December, Friday.
I was (we all were) dreaming of a White Christmas here in Seattle. But snow didn't fall on Christmas Day.
But while we slept Christmas night, ten inches of snow came fluttering down all over the Seattle area and we all woke up to the cherished Winter Wonderland.
One look at that beautiful, snowy scene prompted me to saunter over to my office with a cup of coffee, quietly take in the view, and then turn on Lizz's music from a playlist I call "Freshly Fallen Snow".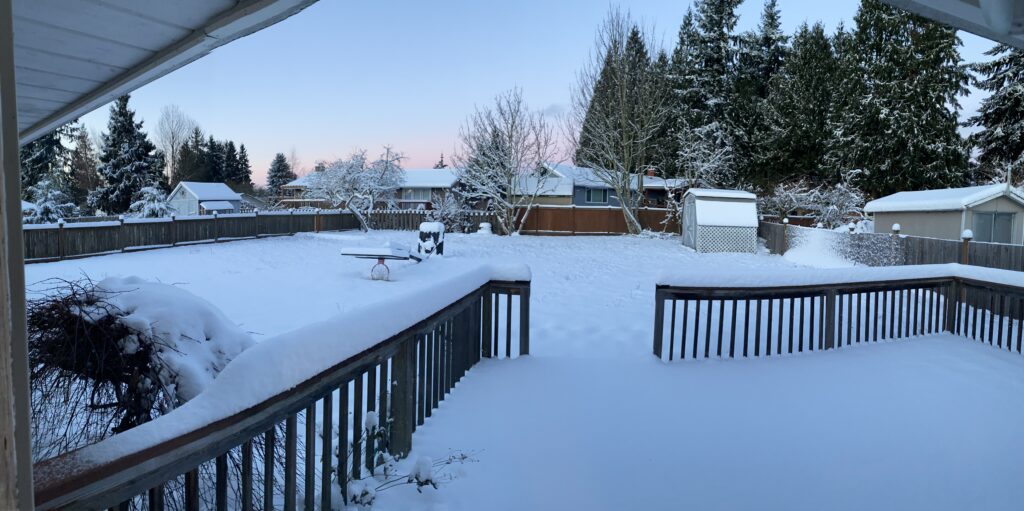 So that was Sunday, the 26th. The day we planned to get together for Christmas. But because of the snow we couldn't make it downtown to the J's condo. And the next night, another four inches of snow fell. So we weren't able to get together for Christmas until Tuesday, the 28th.
For Christmas dinner the guys roasted some prime rib to perfection, taste-wise and tenderness-wise, to go with the vegetables and the mashed potatoes and gravy, etc., etc..
We all just chilled at the J's, watched our favorite movies and "cautiously indulged" (is that an oxymoron?) in all the good food, desserts and drinks. Part of the time, the kids had fun interacting with Uncle Jesse's Oculus VR gaming system.
Plus, the high rise, where the J's condo is, has a community pool, so the kids went swimming too.
I stayed there one night but returned home the next day when the roads weren't so bad.
GIANT ICICLES FALLING
But the next day, when I woke up, would you believe I witnessed GIANT ICICLES falling from the sky and sticking in my back yard and in my deck?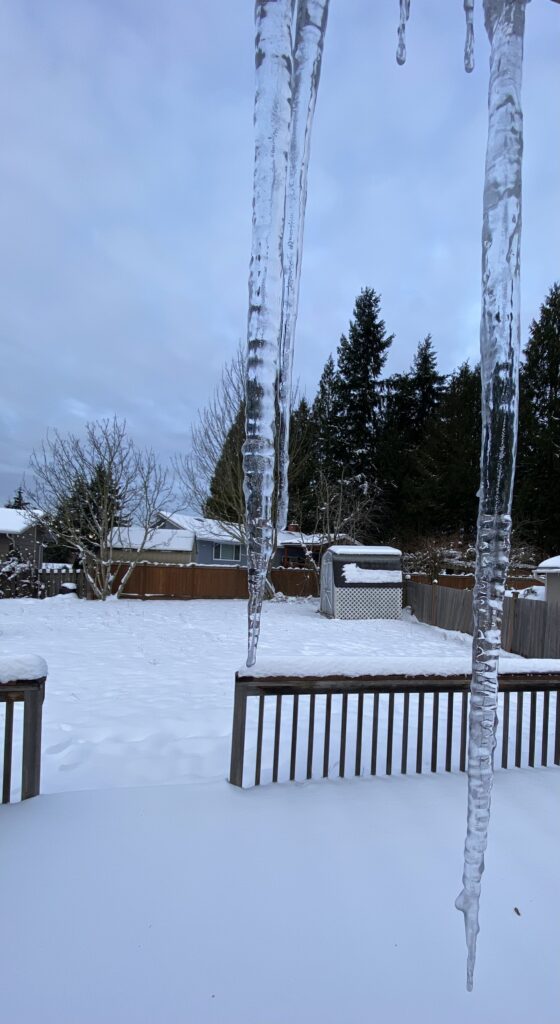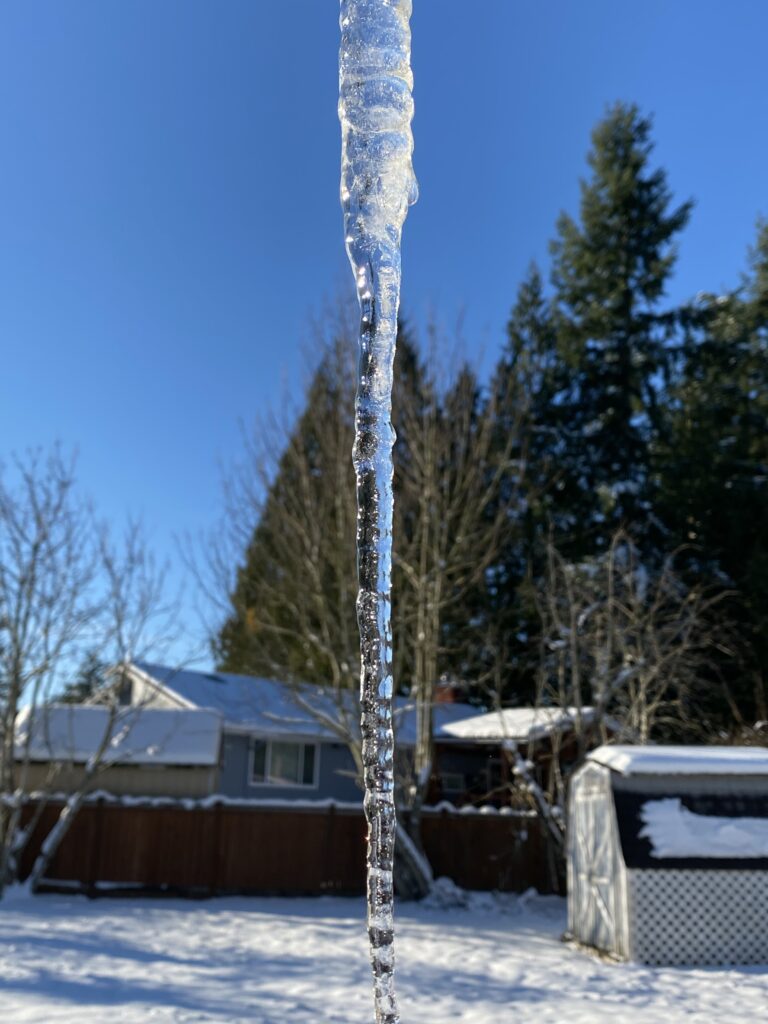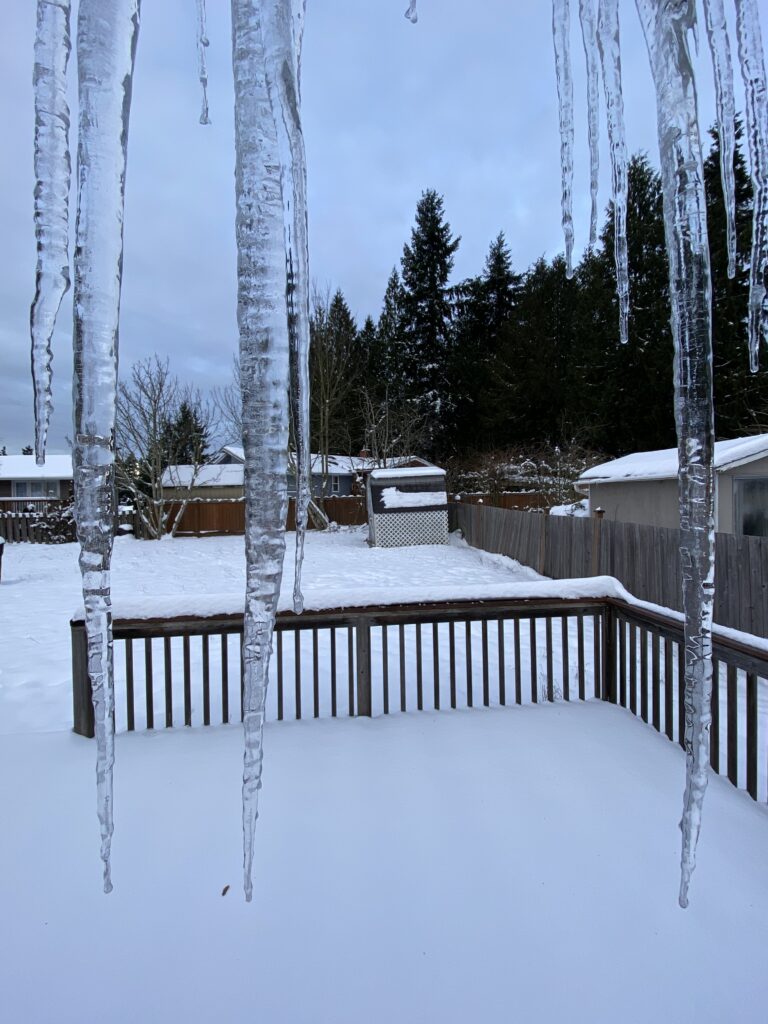 After that it snowed off and on for the rest of the next two weeks, until January 8.
By that time, we were, all, ready for it to stop snowing….😏….(never satisfied, right?)
"Gardenside Gourmet" Revisited
A week ago, after the "giant falling icicles" incident was over, and the snow melted, and things got back to normal, one day I thought about a post I did on Labor Day, September 11, 2020, called "In The Garden". in which I made some food, following Chef Lizz's (Lizz Wright, the singer) recipes from her "Gardenside Gourmet" blog she used to have a few years ago.
In that post, I mentioned that I wanted to have lunch outside by the garden, with my little Granddaughter, Evie…….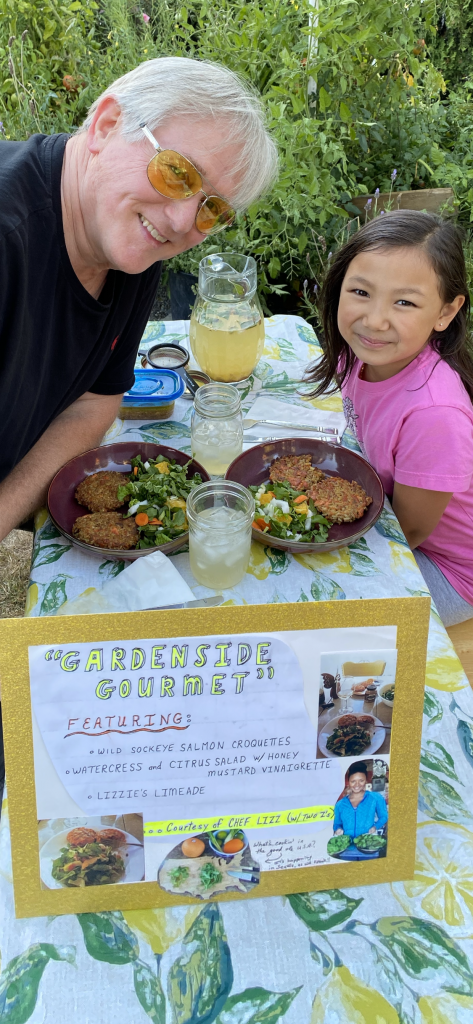 ……but I also wanted to highlight the fact that not only is Lizz a wonderful singer but she has great culinary skills as well.
At the end of that post, I mentioned that, in the future, I wanted to try out some of the other Lizz recipes that I had printed and saved from her blog. So I chose two more to include here in this post.
The first recipe is……
"Roasted Turkey Breast with Rosemary and Garlic"
In her blog, Lizz, referring to the above turkey breast recipe, said, "Today, I made something on the fly that, well, came out pretty awesome!"
When I read that, it made me want to give it a try.
So I just made it tonight for me and my son, Tim, and my two grandkids, Evie and Ellis. And I'm soooooo glad I did. The kids liked it.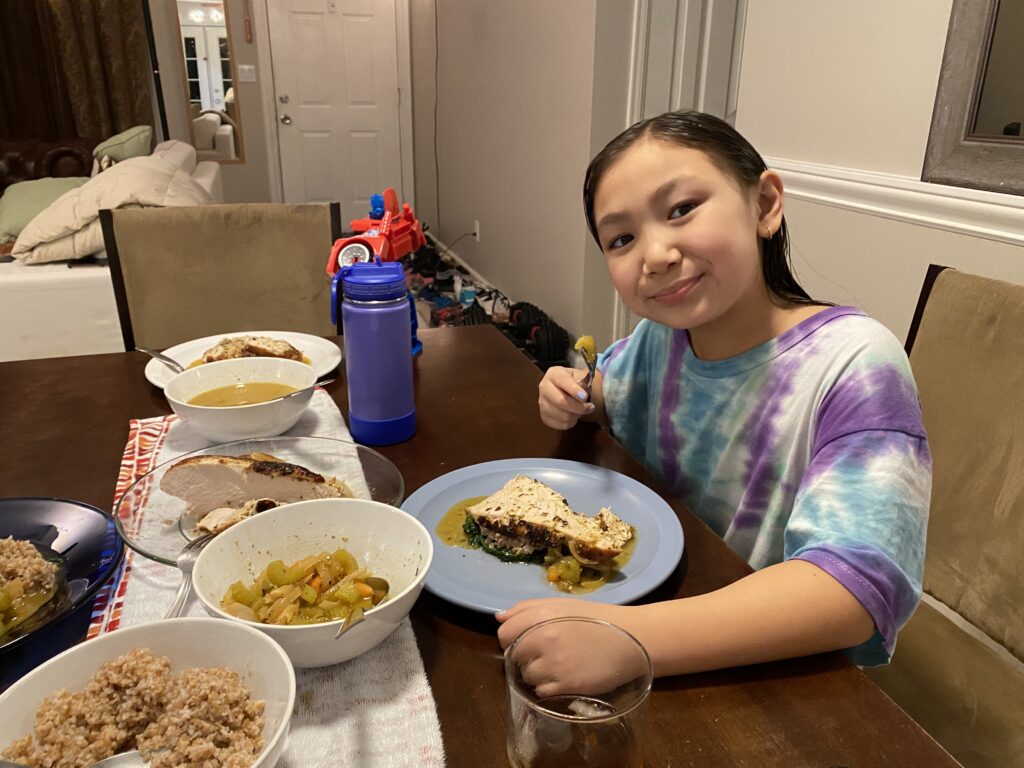 Ellis was temporarily MIA when these pix were taken. But he liked it and he ate more than Evie.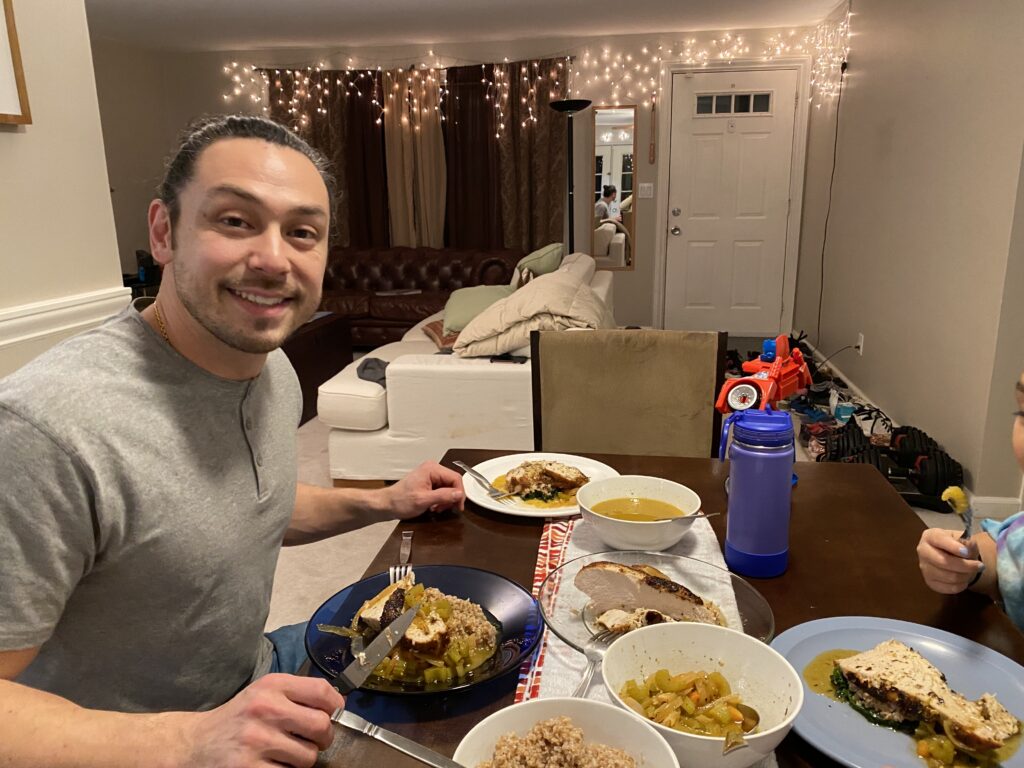 But Tim and I loved it.
What you see is a bed of mixed greens (mostly spinach), topped with bulgur, and then topped with a simple mix of vegetables, and a cut from the turkey breast placed on the tippy top of it all. Lastly, I spooned the broth (from the dutch oven I baked the turkey and vegetables in) onto the turkey and all over the bulgur and veggies.
The spice rub Lizz created to rub onto the turkey breast and the vegetables in this dish couldn't have been tastier. And the breast turned out so tender yet the vegetables were just right, not too soft or too hard.
Lizz's recipe called for millet but I couldn't find it at my regular store so I used Bulgur which I already had on hand.
Next time I'll buy some millet in advance and have it ready to use like the recipe originally calls for.
I'm going to be making this frequently and it's going into the "keeper folder"
If you are interested in this recipe, you might go to Lizz's FB page and ask her if she is sharing her recipes, or ask her if she will be publishing her own cookbook anytime soon.
The second recipe is…….
"Bear Wallow Crumble"
I picked this second recipe for a specific reason.
You know how they say, "If I'd'a known it was your birthday I'd'a baked you a cake!"?
Well, Lizz's 42nd birthday is on January 22, this month.
So if I'd'a known it was your birthday, Lizz (and I did), I'd'a baked you a Bear Wallow Crumble (and I did)!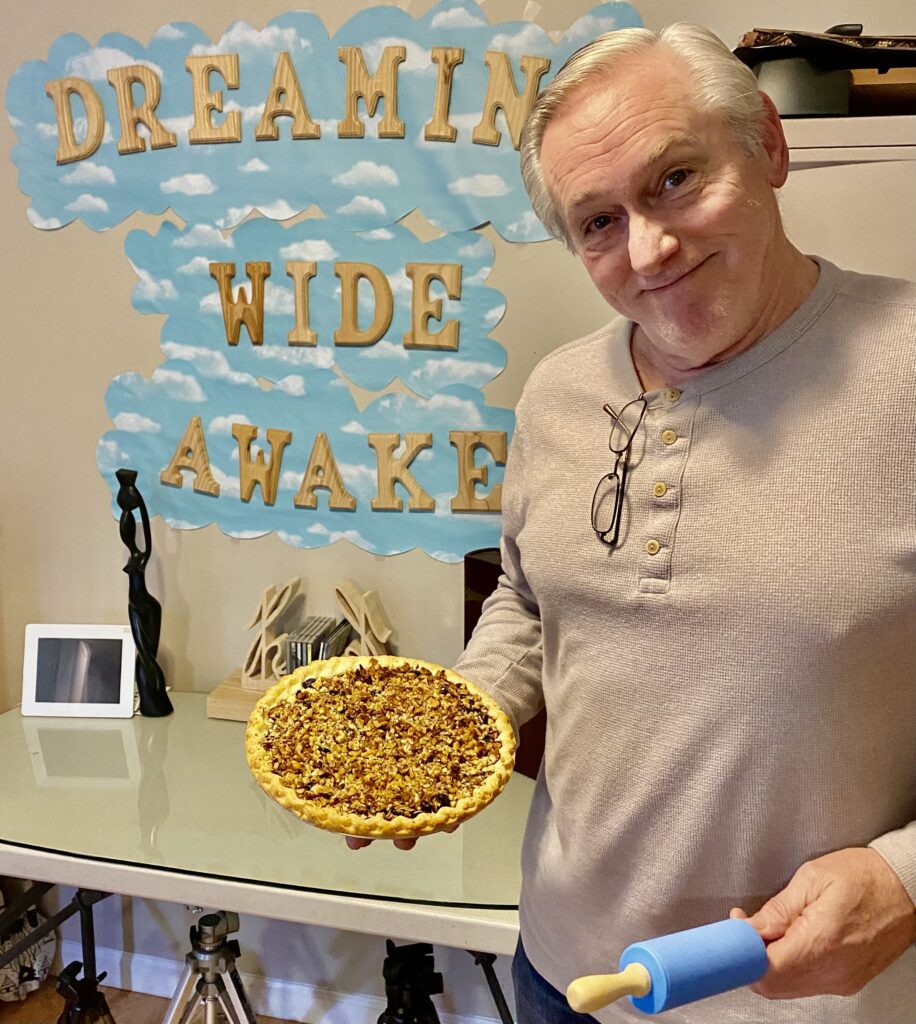 (My 4-year old grandson gave me that toy rolling pin to hold as a prop for the picture. 😊 )
I'm forever thankful for Lizz and her music, and now, her cooking! 😊
If you are reading this Lizz, I followed your Bear Wallow Crumble recipe to the letter:
I cooked the berries and added in the perfect blend of spices you created. It tasted just right! I'm not lying!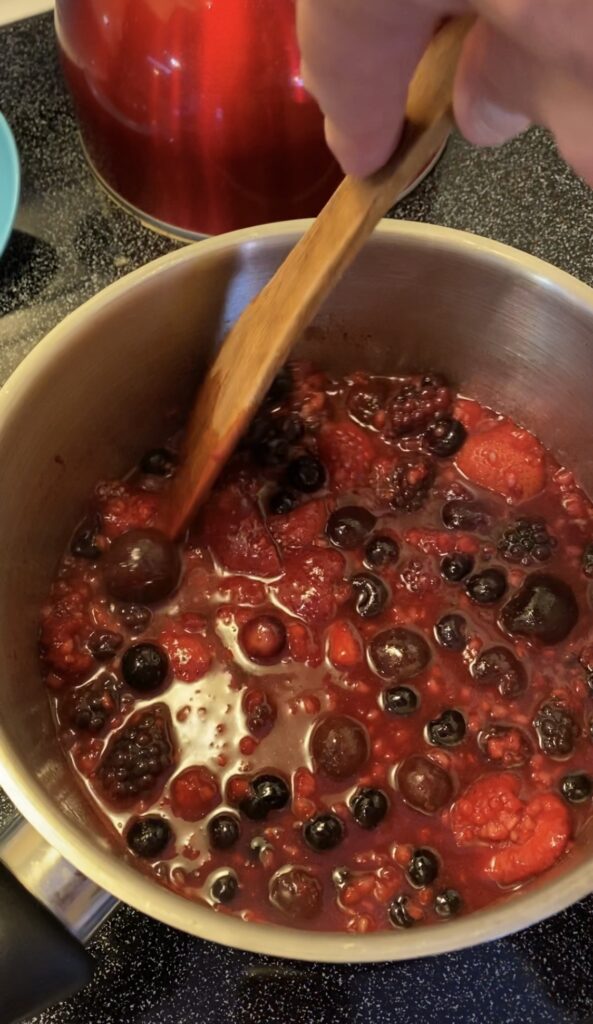 Then I separated the juice from the berries to add the tapioca into the berry juice blend…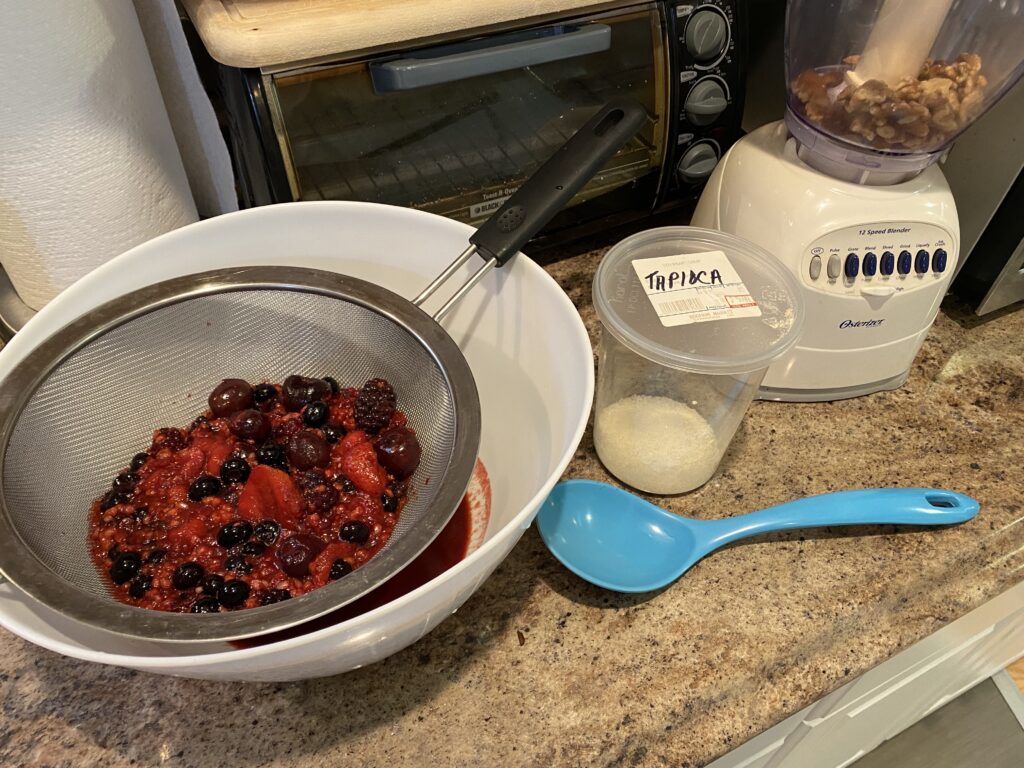 Then I combined the juice and berries and put them in the pie shell. Then added the crunchy topping and dropped little dots of butter randomly and a thin ribbon of honey all over the top.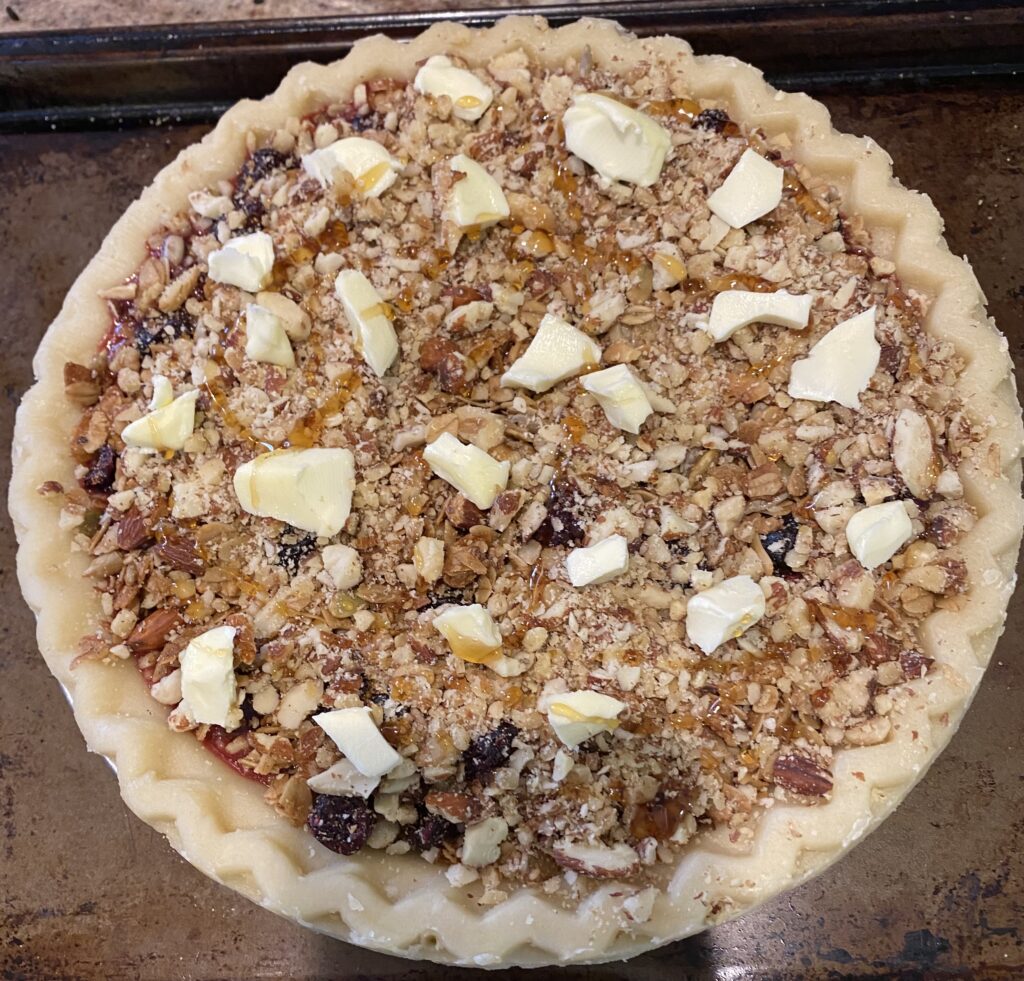 Put it in the oven for 15 minutes and…….Voila!!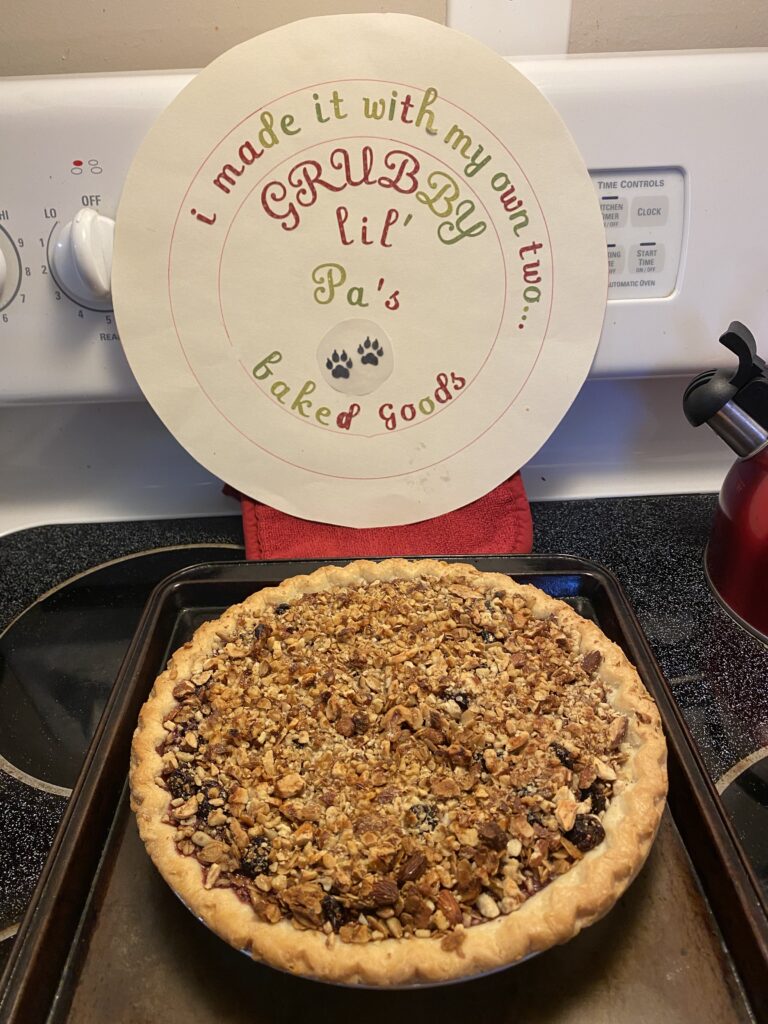 But, of course, I couldn't include the wineberries (those wild raspberries you mentioned in the recipe) from Bear Wallow and I couldn't find any whole cranberries here in the Seattle area.
In spite of that, it turned out really well. I liked it. My son, Tim, and my grandkids also liked it.
So eight thumbs up!! This is a keeper.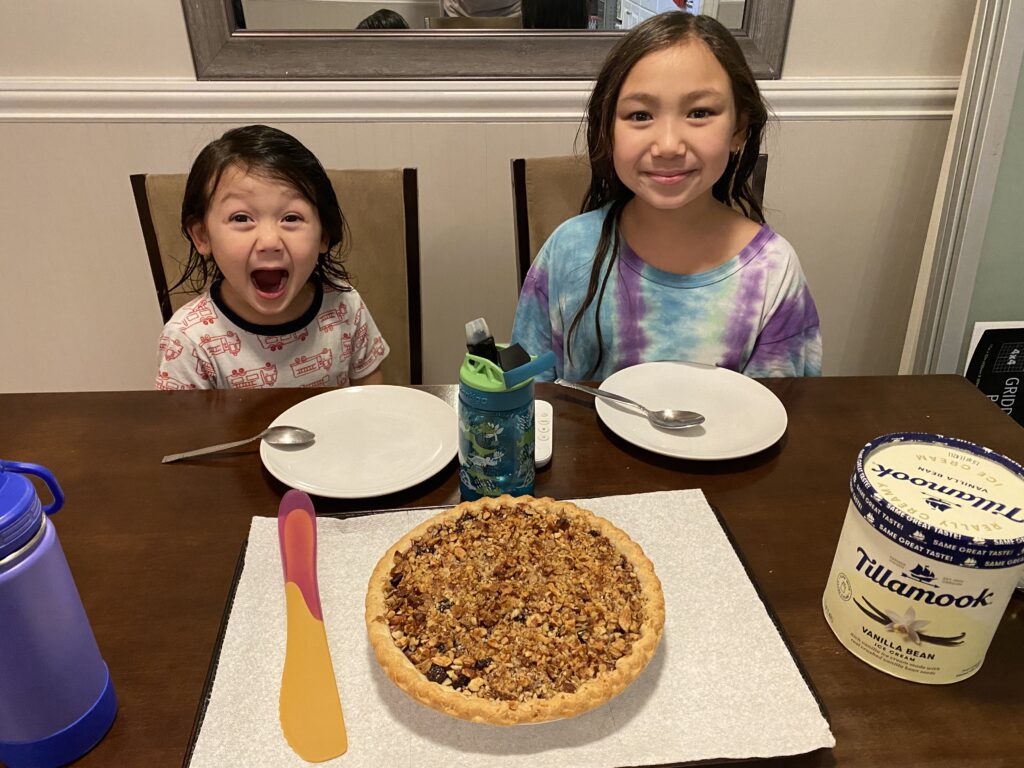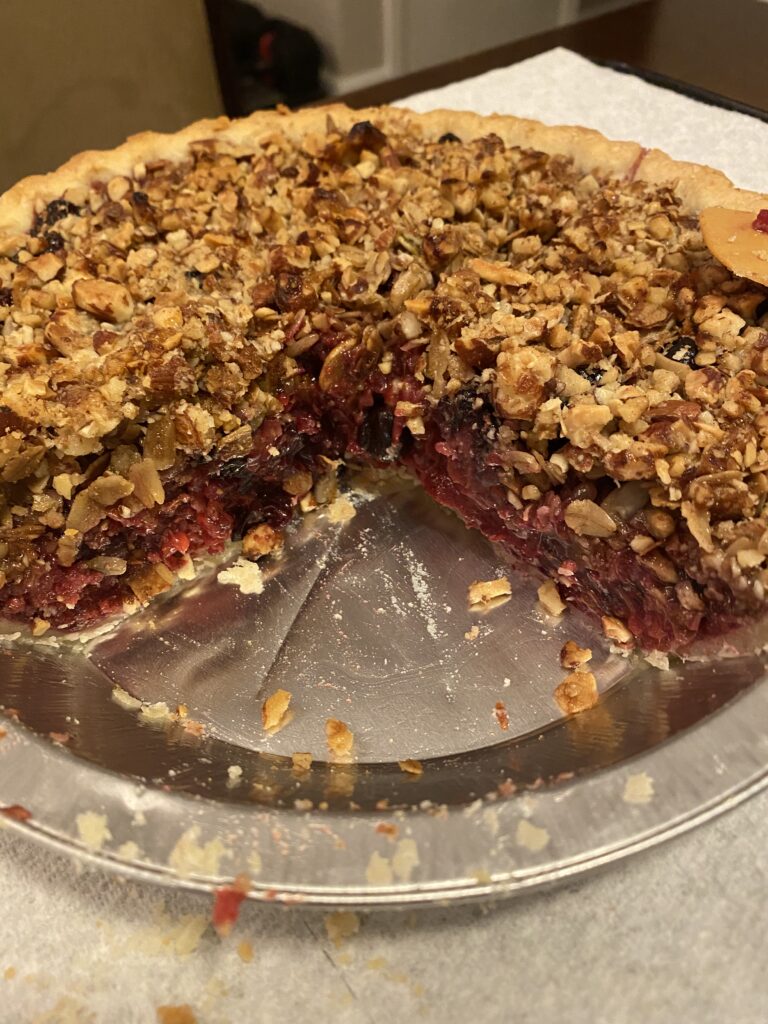 My Fervent Birthday Wish
Early in December, I was sorry to hear you (Lizz) announce on your FB page that your European tour had been temporarily postponed. I know you miss being out there singing and your fans miss being out there too, to see and hear you sing.
I also know we have to be prudent and as safe as possible in guarding against the virus, but I have always thought it was a travesty to strip people of their livelihoods in the name of safety. That was a terrible thing to do to people. It probably caused more problems for more people than the virus even affected (my opinion). It's essentially taking people's freedom away. Not allowing the people to choose, themselves, how to deal with the virus.
That's the opposite of what this country stands for.
So my fervent birthday wish for you, Lizz, is that this is corrected soon and you can get back to doing what you do so well for your fans all over the world.
I hope you have a great birthday, and Carver 47 and the Little Black Pearl continue to prosper and fulfill all yours and Monica's dreams and goals that you have set for yourselves and the conmunity around you.
The C47 interior looks beautiful, colorful and fresh, from the photos I saw on the website, and it looks like a very inviting place to eat some very awesome food.
CARVER 47
For those of you who don't know about Carver 47, I've added a link below, for you to click on, to watch a video by Lizz Wright and Monica Haslip, who sincerely and charmingly tell you all about their business.
Just click on the link (above) above and then click on "About Us". You'll find the video of Lizz and Monica there.
Also, if you are ever in Chicago, stop by Carver 47, check it all out, and support their efforts!!
Season Comes To A Dramatic Close
So as the winter holiday season came to a close, one evening I was sitting in my new chair, in my new and improved "Dreaming Wide Awake HQ", working on putting this post together…….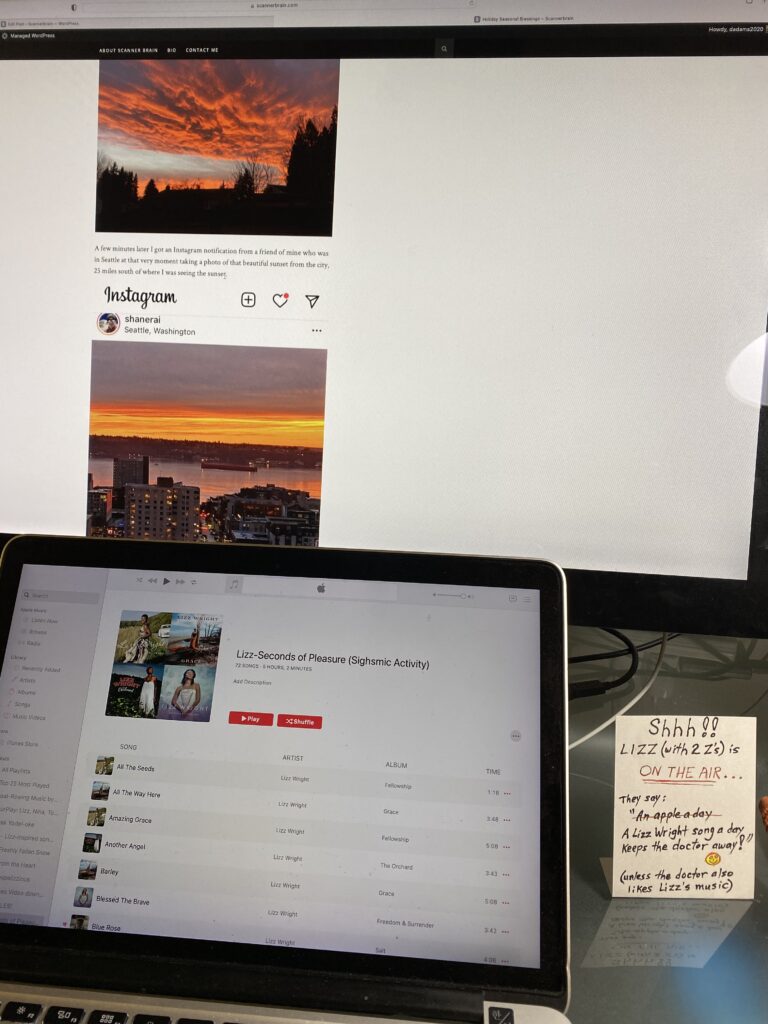 but I looked up just in time to see this beautiful and dramatic sunset. I almost missed it!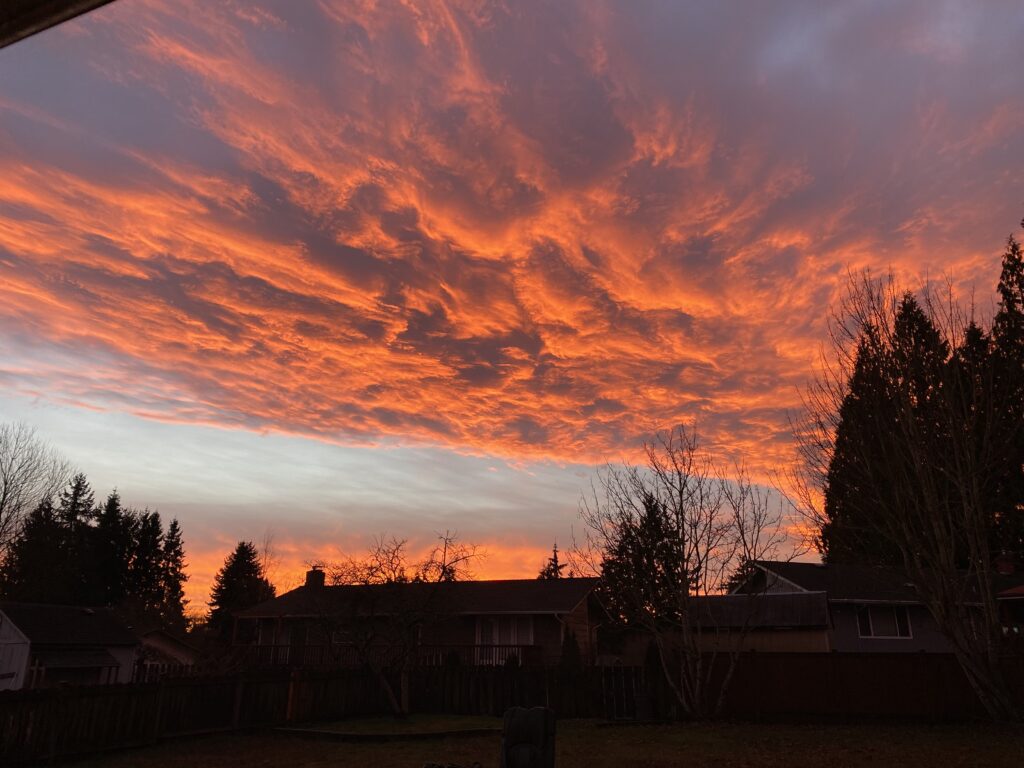 A few minutes later I got an Instagram notification from a friend of mine who was in Seattle at that very moment taking a photo of that beautiful sunset from the city, 25 miles south of where I was seeing the sunset.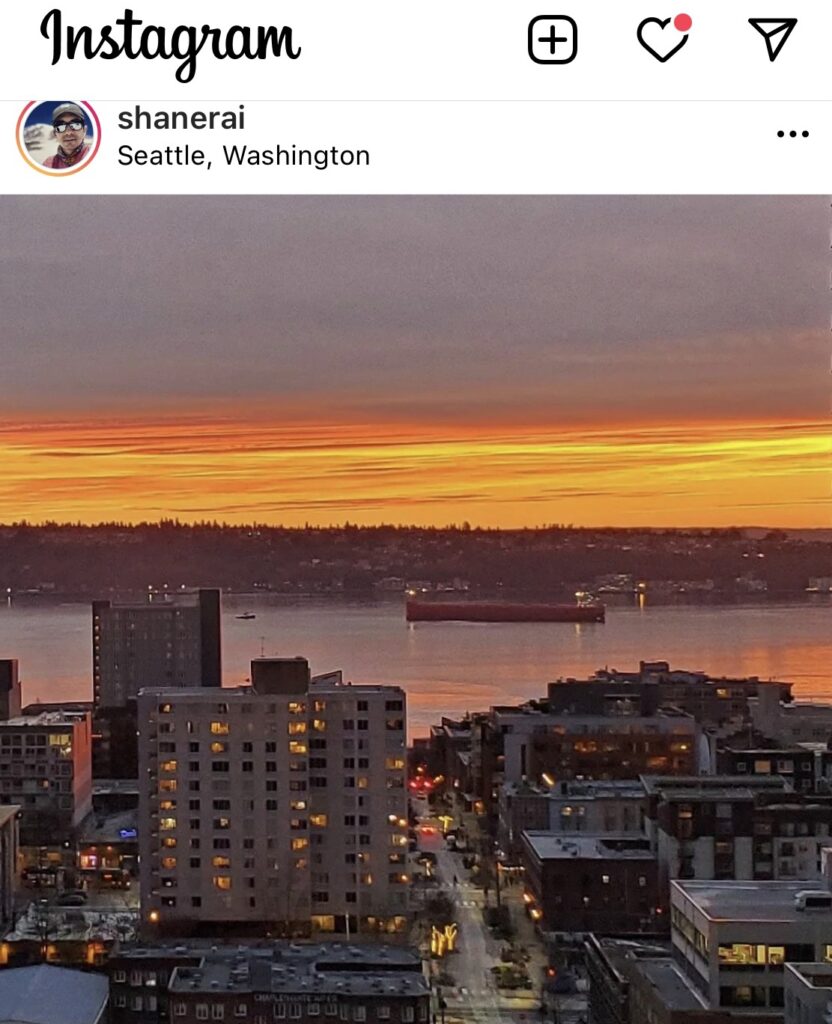 I thought it was interesting that that slender ribbon of yellow, red and orange light in Seattle was producing such a fiery, fine, brilliant sunset for me to see and enjoy from my back yard in Everett, Washington.
I hope all y'all have a Happy New Year!
I'll be talking to you soon…….