….(about my chicken and dumplings)
The other day I suddenly thought about my Grandma's chicken and dumplings.
So today I decided to make some.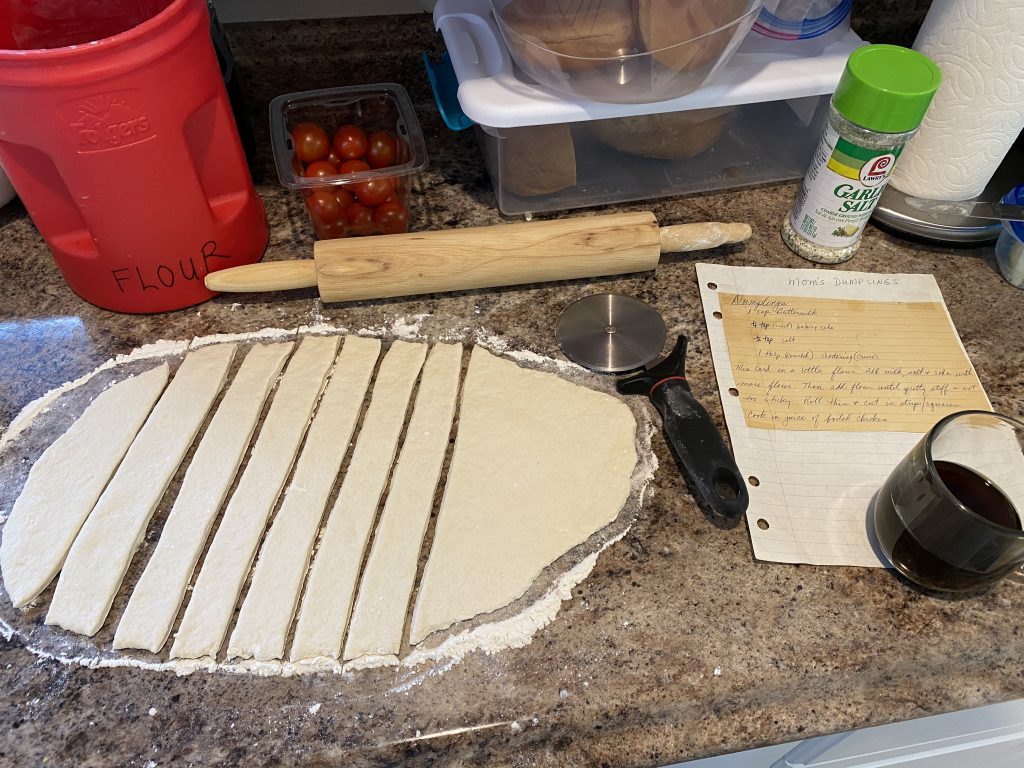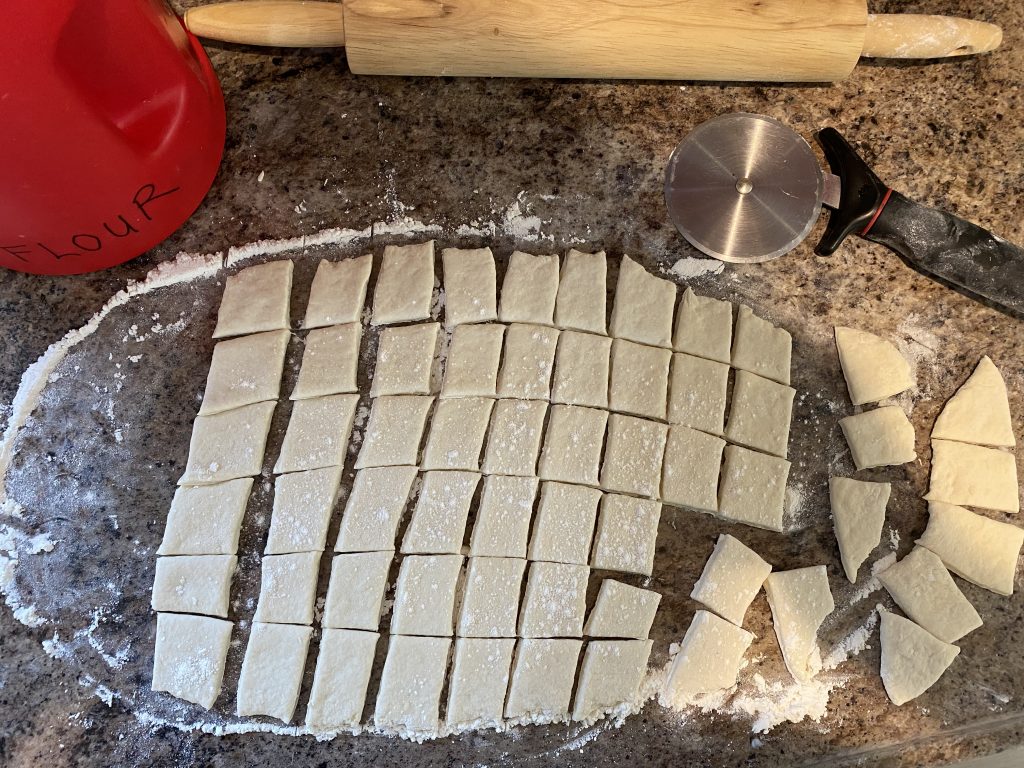 She used to make them on Sunday afternoon, when we would spend the weekend with them on their farm in St. James, Missouri.
I would always rave about those dumplin's to Grandma. She would always smile and enjoy the lavish praise, and just let me talk about her chicken and dumplings. That scene played over and over again, many many times as I was growing up in the 50's and 60's. And, of course, Grandma taught Mom how to make them.
So fast-forward to 1993. I was 43 years old, and just retired from the Air Force. I moved up to Seattle, to live there permanently, to start looking for a job and to make the transition from soldier to "sillyvilian" 😄 , again.
(When I was just getting out of the service and saying goodbye to all my co-workers, one of them wrote a little note inside a card, saying "Congratulations! Good luck on your journey" and asking me, "Where is the sillyvilian going to be living?").
So that's where that comes from.
But I couldn't get a decent-paying job in Seattle.At the time, there were so many companies down-sizing so they could avoid paying out the pensions they promised and save money for the company (Translation: save money to pay themselves bigger bonuses. Who cared about the employees? They could hire more for less money.)
Four years passed, and I got a good offer from the National Security Agency (NSA) to work for them. So I took the job and headed out from Seattle toward Maryland. That was 1997.
On the way there, I stopped by to see my Dad, Mom and Grandma. She was 92 years old and lived with my folks by that time. A couple years prior to that she had still been living alone in St. James, Missouri. She liked her independence, but she started having fainting spells occasionally and began to worry that she wasn't able to do it alone anymore. My mom and dad had always told her when she is ready to live with them she could come at anytime. So she moved in with them.
So, I was sitting quietly with Grandma, reminiscing those good ole' times on the farm, helping Grandpa with the chores, helping Grandma in her great garden (her heirloom tomatoes were the best I've ever tasted!), and the memory of how I loved her chicken and dumplings.
She smiled as she recalled how excited I would get when I realized she was making chicken and dumplings for dinner. I asked her if I could have her recipe for them. She reminded me that Mom had the recipe. Mom made them just like Grandma.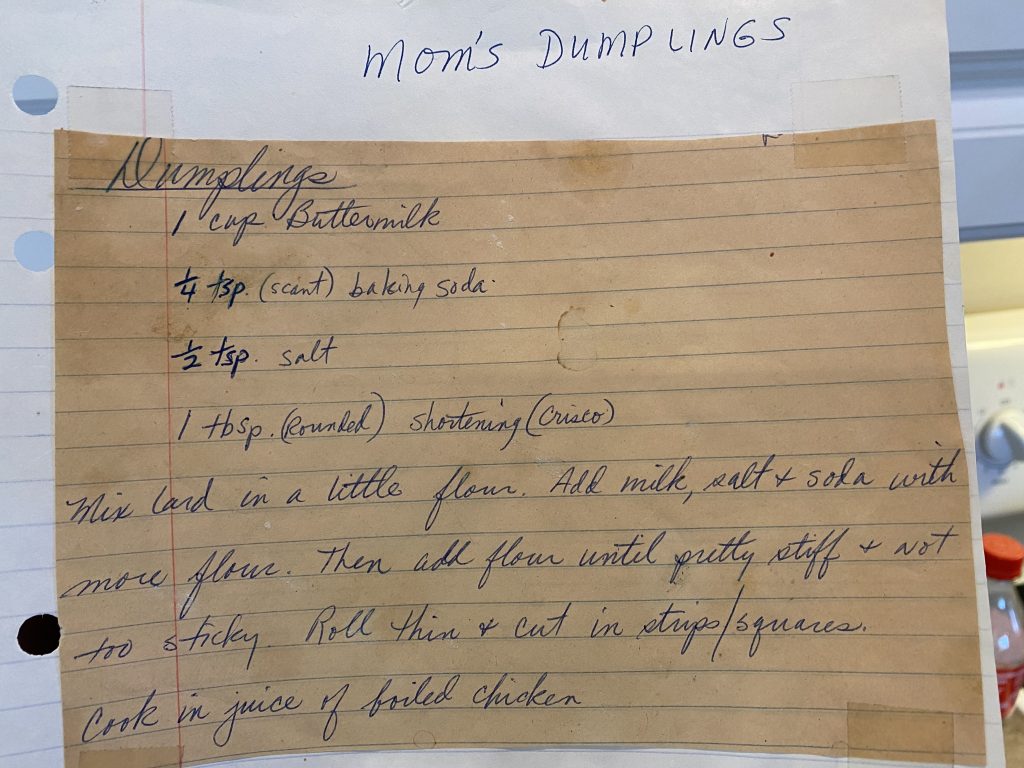 So, I got the recipe from Mom, and a few days later, I was off to NSA.
But a couple months later, Grandma passed away in her sleep.
After that, I started making those chicken and dumplings, for myself and for my kids. I think they taste as good as I remembered Grandma's and Mom's to be.
But I don't make them often. I see them as a special treat to "devour" , I mean, enjoy, occasionally. That way, they stay special, as does the memory of my Grandma and Mom.
I wish that I had had the foresight, while I was there visiting Dad, Mom and Grandma, to make the chicken and dumplings, myself, for the three of them, before I set off for my new job.
Then, I would have been able to sit back, and just let them talk about my chicken and dumplings.
While I was making chicken and dumplings, I was listening to the music of Lizz Wright, my favorite singer. The little snippet you just heard was from a very emotionally moving song she sings, called "Let Them Talk". (you can listen to the whole song, if you go to youtube and type in "Lizz Wright Let them talk").