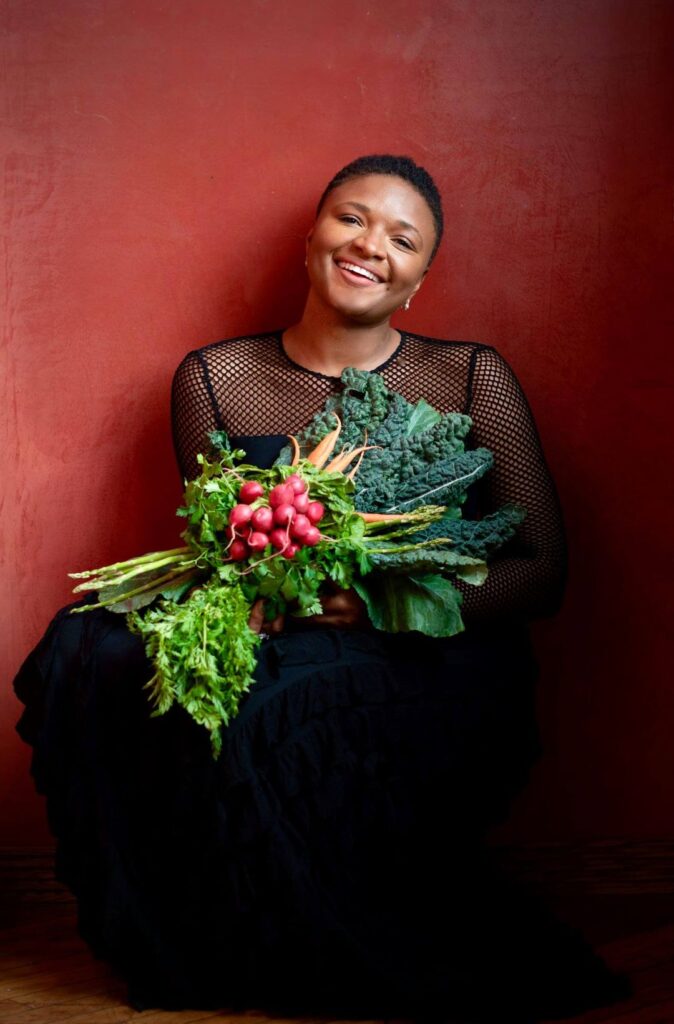 "Between the garden and the kitchen, I've always had food present alongside music, as a way to commune with others and the earth, itself."
……………..Lizz Wright
As I was writing this post, I remembered when Lizz Wright posted this (below) on her facebook page: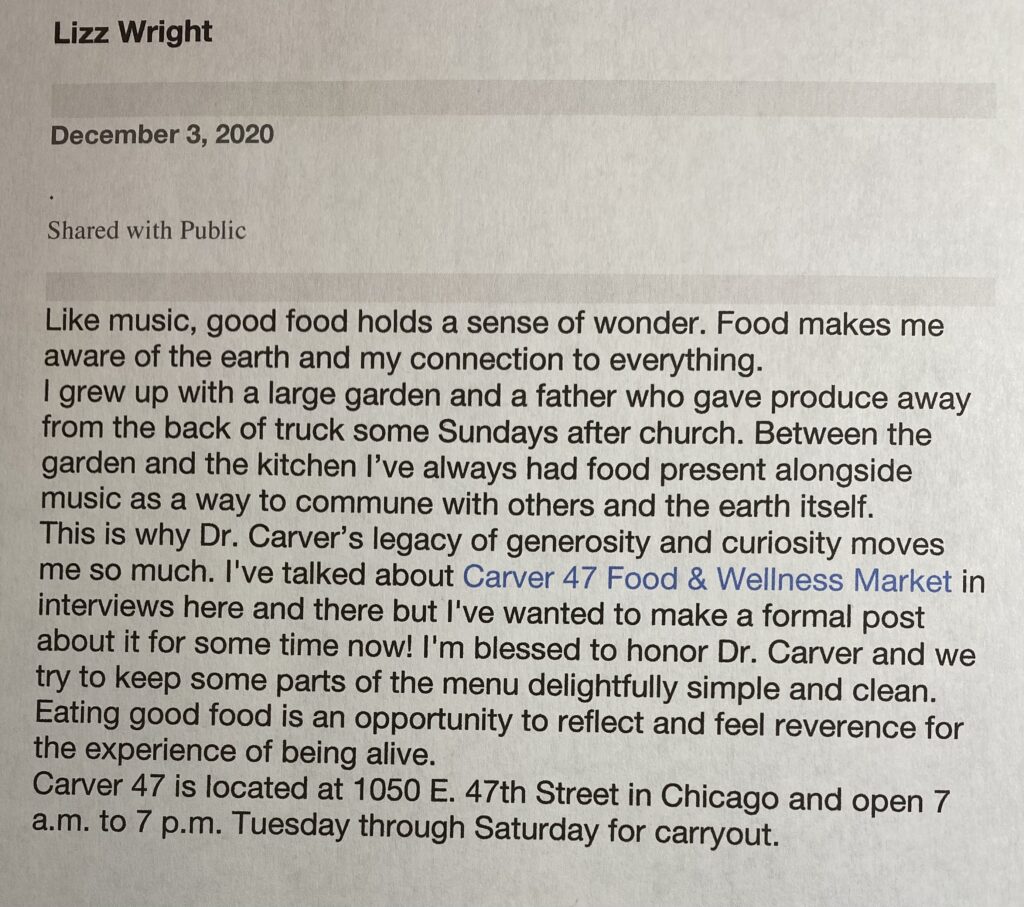 It's easy to see that connection between music and food; that sense of wonder that they both hold.
When I think of Lizz and her music and food, I experience that same sense of wonder and awe.
Not only does she sing covers uniquely and beautifully, for example……..
She writes and sings beautiful original songs, such as……
She has great culinary skills, which she uses every day in the Carver 47 Food and Wellness Market…..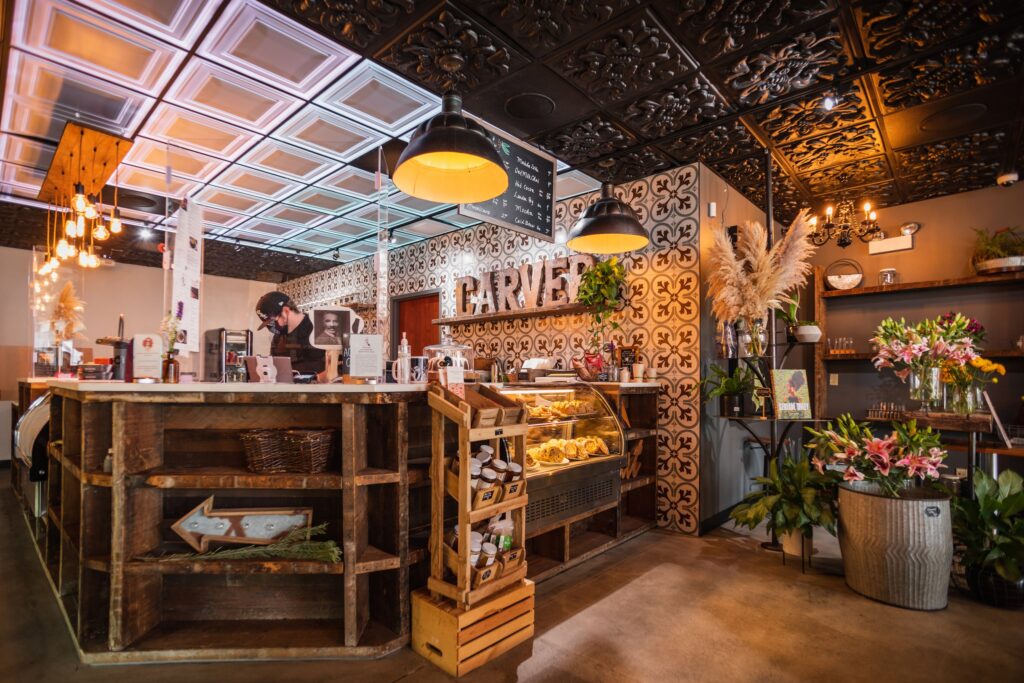 And she has a green thumb in the garden……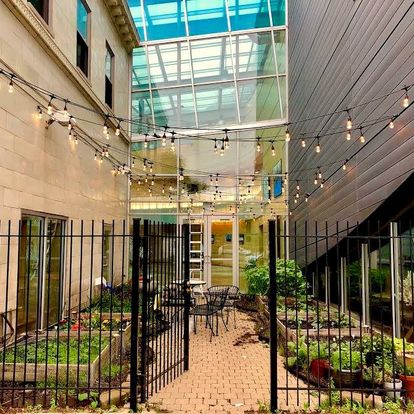 This picture was taken in Carver 47's garden space.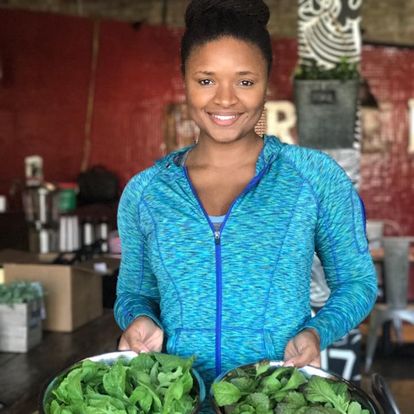 Lizz calls it her "Happy Place".
Harvesting Great Food and Music
So, she spends much of her time "CULTIVATING" beneficial and meaningful experiences for others.
The seedlings she plants and nurtures, become healthy food to share.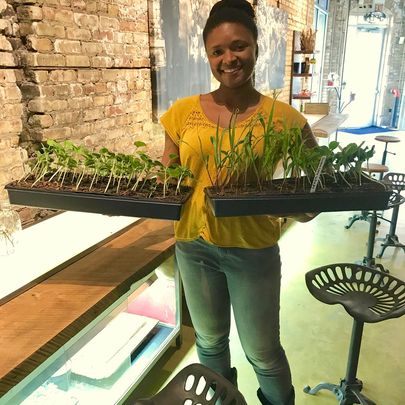 The ideas and thoughts that germinate from her spirit and soul, become music and meaning that soothes others.
She has six CD's out and the 7th one is on the way. It still requires a little more nurturing and caring by Lizz, but I believe it will be a "great addition to the harvest". I can't wait.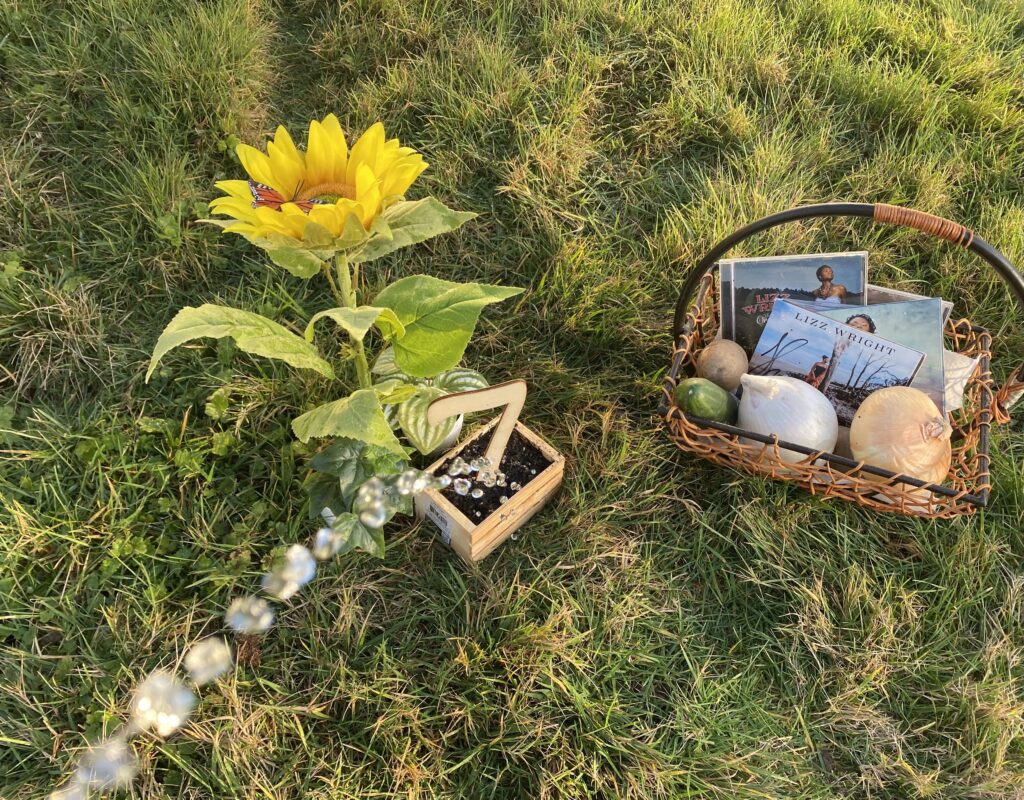 …….always happy to help! 😂
So, as I pondered all that, I suddenly conceived the phrase, "Garden of Song".
I think it aptly alludes to the food-music connection, and lauds Lizz's notable culinary and musical contributions to this world from her "Garden of Song".
It's no small thing she does!
Like food, good music nourishes and feeds you, comforts and calms you, grounds you, gives you focus and strength.
These songs (she wrote them herself) are just a "handful of seedlings" she planted and harvested, over time, in her "Garden of Song".
Feast on them!
As I stroll through her "Garden of Song", it grounds me, nurtures my spirit, feeds my soul and makes me strong.
The power of her music is what I needed all along. 😊
P. S. Except for the picture with the sunflower, I got the other pictures in this post, from Lizz's FB page. I didn't take them. I don't know who did.
P. P. S. Btw, the instant I conceived the phrase "Garden of Song"….
…I started writing this post.
…I imagined, if Lizz read this post, that she might like this theme for a CD, and she might write a few songs for it (maybe for #7). I think it fits her and could turn into a labor of love for her. (Lizz, if you see this and you do like the idea, then use it. I just thought the idea up. I don't own it.)
…and I conjured up, in my scannerbrain, a "Fantasy Garden of Song" graphic image I wanted to have drawn by a talented artist friend of mine. I wanted to use it as the feature photo at the top of this post.
However, he was too busy to do it right then and there. So I told him, whenever he finishes it, I can insert it into the post anytime.
So I went ahead and featured Lizz's photo at the top. I love that picture of her and I realized it was actually more fitting to be there, than the drawing.
……….You know! She's a beautiful singer (music), holding a "bouquet of vegetables" (food). It just "themed right" to me. 😂 Hahatie.
Oh! And that photo with the sunflower was just a teaser for the "Fantasy Garden of Song" drawing which I'll insert right below here, later on.