Yesterday
It seems like only "yesterday" (just four months ago), the Corona Virus Pandemic was thrust upon us and "our lives before yesterday" (our lives before the virus) were turned upside down.
I was furloughed from April 1 to July 1 (three months). I was hoping I wouldn't be recalled until authorities had better control of the virus so it would be safer to go back to work. But I'm back on the job and there is still no end to the virus in sight.
While I was on furlough, I received unemployment money and the extra stimulus money so I could at least pay the bills and I had a lot of time available.
I wanted to use that time wisely and make it worth while. I searched through my mental Rolodex of "things to do", and put together a prioritized, written list.
I wanted to:
exercise more
get plenty of rest
eat well-prepared meals, using fresh ingredients for life
do some scannerbrain posts I'd been thinking about for a while
reorganize my wood shop
rearrange my office and give it a name ("Dreaming Wide Awake")
explore some of my cookbooks for new and refreshing recipes I hadn't tried before (I had been eating mostly fish and veggies….you might say I was a "Vegequarian"😂).
study my iPhone guide
study Spanish
read some Korean short stories
study my camera guide
study my iMovie software on my Mac
plan for future travel
start teaching Korean to my little granddaughter, Evie
binge-watch movies on Netflix
study an online guitar course with my son, Tim
help Tim and Pauline (my daughter-in-law) refurbish one of their rental properties they were fixing up for the next tenants to move in
to read some books I had been neglecting for some time
to do a post, about Lizz, I would call "Singer For All The People"
review my "Random Ideas" folder
review my "Song Ideas" folder
review my "My Songs" folder
record some of my songs I had never recorded before
Whoa!! So many things I wanted to do! Sometimes it's maddening!
What should I do first, second, etc.. It's like getting on a horse and riding off in all directions! I know I can't do them all in three months but I wanted to do as many as I could.
This is the mindset of a scanner. Scanners love to do a variety of things that interest them. They don't care if they are an expert in any one thing. They really don't want to be stuck doing one thing. They need to constantly feed their curiosity because they like learning.
During that three months, I was able to:
reorganize my wood shop
rearrange my office and give it a name
write three posts: "Rainy Day Lovers", "It's a Choice We Make!" and "Singer For All The People"
do "Dinner and a Movie" each night (well, that's what I called it, even though it was just at home).
help Tim and Pauline (for about two to three weeks) get their rental property ready for the next renters
eat well
get plenty of rest
exercise more
review my "My Songs" folder
explore cookbooks for new recipes, new ways of cooking and preparing food
While I was thumbing through some of my old songs, in my "My Songs" folder, I saw a few that I wanted to sing and record, to include in some future post.
One of the songs was called, "Life Before Yesterday". I wrote it in my early twenties. It's about a man who worked hard to become successful but, along the way, he became an alcoholic.
I didn't drink and I was a little naive and judgmental at the time, so I thought if an alcoholic just stopped drinking, then all his problems would be solved. But we all know it's not that simple.
So as I pondered his dilemma for a while. I tried to understand what might be going through his mind.
I envisioned him sitting alone, drinking and thinking, rationalizing his choices and behavior, then feeling remorse the next moment, then denial, then self-acceptance, and then hoping for change.
"His thoughts" became the narrative of the song.
"Life Before Yesterday" (the song)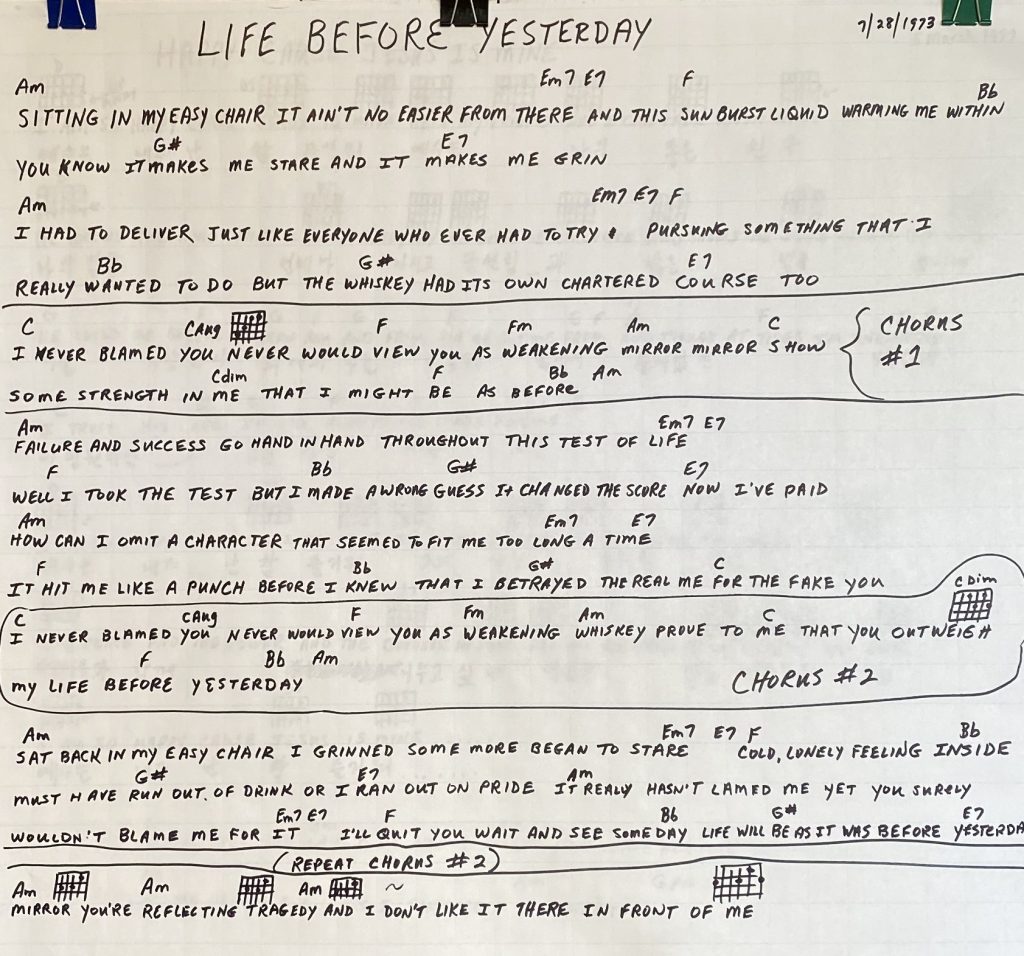 Click on the link below to hear "Life Before Yesterday"
https://www.youtube.com/watch?v=tAtWjmawnT4&feature=youtu.be
Life Before Yesterday (life before adulthood)
A couple of days ago, after I got home from work, I wanted to macerate some strawberries so I could give some to my kids and have enough left over so I could eat strawberry shortcake for the next 3-4 days.
I was standing at the sink, looking out the kitchen window, enjoying the brightness of the afternoon and the slightly cool breeze, as it ebbed and flowed through the window screen.
Normally, I'd be playing "Lizzles", a playlist I made, of all of Lizz Wright's songs. She's my favorite singer (if you're new to my site and didn't know that already).
But that afternoon, I wanted quiet, because I wanted to hear the sounds in the neighborhood around me. The dogs barking, children laughing, birds chirping, and people talking.
As I cut and cleaned the strawberries, my mind segued to my past, when I was a little boy, visiting my grandparents on the farm.
Me, standing in front of my kitchen window, reminded me of my Grandma standing in front of her kitchen window, glancing out at her garden, occasionally, as she prepared food for us.
While she made the food, she always whistled tunes beautifully just like a bird! I was just a kid in my happy little bubble.
(I could kick myself now, 'cause I didn't even think about recording her so I could listen to her anytime, always and forever.)
It's just a memory now.
I wish I could hear her once more. She defied ordinary whistling.
She warbled! It was so special to behold.
Every summer, my sister, brother and I, would spend two weeks at our Grandparent's farm in St. James, Missouri. We helped them do some of the chores.
Grandpa would feed the cows (about 200 head, maybe), feed the pigs, (about 50), cut fields of alfalfa, bale hay and store it in the barn, do necessary repairs around the farm and the house, and do the yard work, and feed the dogs. Grandpa let me drive the tractor when I was 12.
Grandma would cook, clean, sew, tend the garden, can fruits and vegetables, feed the chickens and gather their eggs, do the laundry and hang it out to dry on the line. I was scared of the chickens. They always tried to peck me. So I didn't gather eggs.
But I enjoyed helping Grandma in the garden. That's where I learned to love heirloom tomatoes and raw green beans, etc. To this day, I don't think I've had another tomato that tasted as good as Grandma's tomatoes.
During those two weeks, each Wednesday, Grandma would give herself a kitchen pass. She didn't cook supper that evening. It was break time for Grandma. Instead, she told us we could have banana splits for supper, with her homemade chocolate sauce. (I wised up! I asked Grandma for her chocolate syrup recipe and I still make it to this day.)
We loved the idea of it! It was a treat and became a tradition on the farm. (Of course, if we were hungry, she would always have something ready to pull out of the fridge and heat up.) The point was that she didn't have to make anything that night.
Grandpa died in his late 60's but Grandma lived to be 92.
So, as I was standing in front of my kitchen window, looking out the window, I thought about:
Life before yesterday (life before the Corona Virus)….the life we thought of as normal
"Life Before Yesterday" (the song)….the song I wrote about a problem some people face in life
Life before yesterday (life before adulthood)….life as a kid
I suddenly saw life within the context of a series of "yesterdays". That is, pivotal moments in our lives.
But there are two more "Life Before Yesterday"s (pivotal moments) I hope to see……
This virus clearly points out to us how equal we all are in our humanity and susceptibility to life. None of us are immune to its affects. It can kill anyone from any walk of life. We all have an equal opportunity to catch the virus and die. So no-one is superior to anyone.
Can we take this realization and apply it to life. Can we realize that we are all created equal in this life? Can we eliminate racist attitudes? Can we stop discriminating against others? Can we live and let live? Can you do you and I'll do me? Can we meet in the middle? Can we be kind to one another? Can we love and support each other through this life?
For so long now, we have espoused these lofty ideals, such as freedom and justice for all, equality, freedom of speech, the elimination of racial discrimination, etc., but we have never truly achieved them for everyone.
I hope when we get this virus under control (if we are able to do so), we can talk about Life Before Yesterday (when the Corona Virus WAS an issue).
I also hope we can revise our thinking, look into our hearts, and find the will to take the necessary actions to achieve total freedom and equality, once and for all, so we can talk about Life Before Yesterday (when the lack of freedom and justice for all WAS an issue.