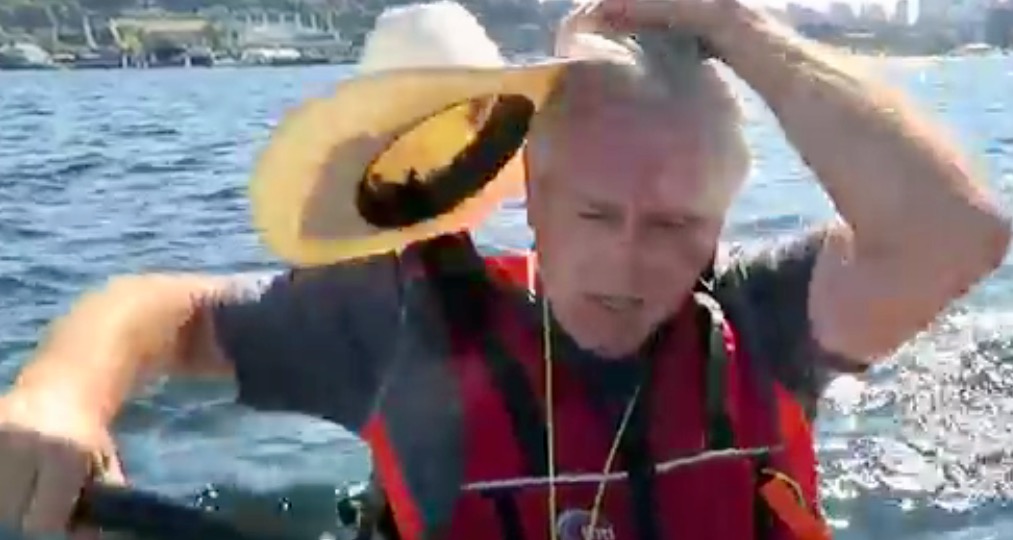 Almost lost my "spensive" hat on this adventure!
KAYAKOKE
In a previous post,  titled, "KAYAKOKE (pronounced Kayakoke)", I rowed a kayak in Lake Union, in Seattle, while singing a Stevie Ray Vaughn song called, "Texas Flood", and I deemed it to be " Kayak karaoke", and then contracted the two words to Kayakoke (pronounced "Kayak cokey").
TRIP TO SWITZERLAND
So one day as I was thinking about my upcoming trip to Switzerland, which will be my last trip for this year (2015), I  recalled a time when I was in South Korea and I occasionally went to a restaurant, in Itaewon, which was located close to Embassy housing at that time.
SWISS CHALET RESTAURANT IN SEOUL, KOREA
The restaurant was called, "The Swiss Chalet" and it was owned by a Korean man, named Mr. Kim, who I believe had been to Switzerland on several occasions, although I don't really know him or his story. But It was obvious that he held a fondness for Switzerland and its culture.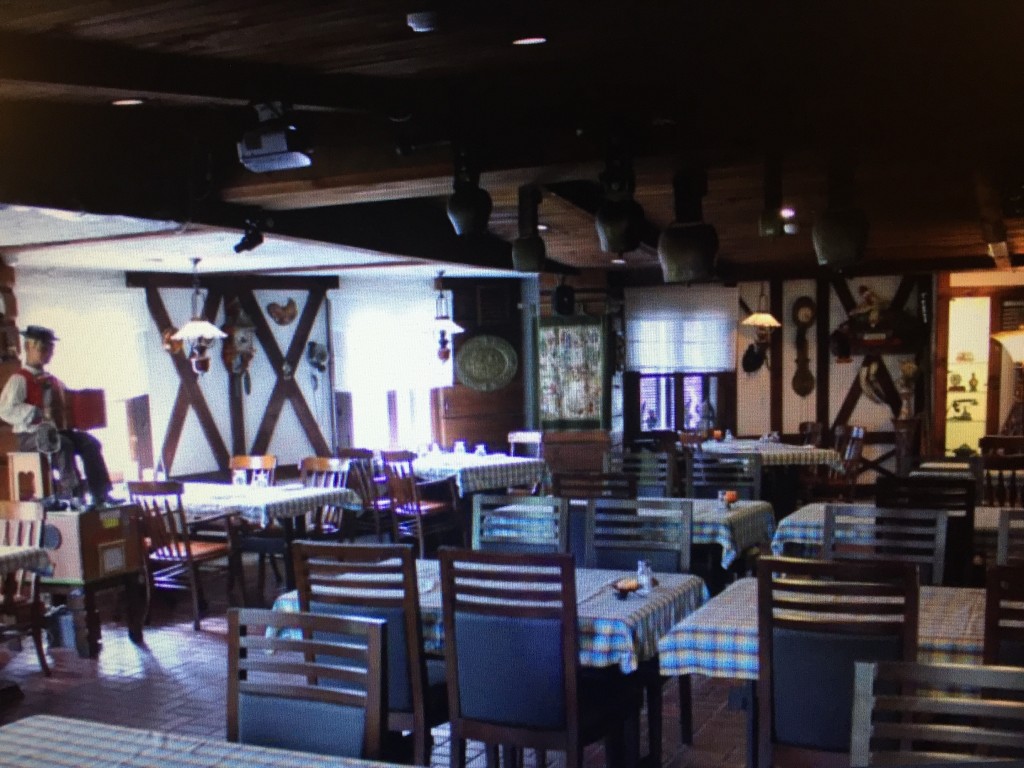 The restaurant interior decor was like the interior of a  Swiss Chalet (I suppose it was, since I've never been inside a Swiss Chalet yet).
Swiss food was served and on certain nights he would make an appearance and stroll  from table to table as he played accordion and yodeled and sang Swiss songs.  He was well known in Korea.
I always enjoyed going there and I enjoyed listening to him sing.
I was a Korean translator at the time, and I immersed myself in the language, customs, and culture of South Korea, in order to be the best translator I could be. So I could appreciate the effort Mr. Kim had put forth to bring a little bit of Switzerland to Korea.
I also had some good times musically while I was in Korea. I wrote about those times in these two posts: "A Fun Year, Musically! (Part 1)" and "A Fun Year, Musically! (Part 2)". I like to sing and listen to others sing.
So from these thoughts a new idea was spawned.
I decided I would do a follow-up to KAYAKOKE  when I got to Switzerland.  But this time it would be called, "KAYAK YODELOKE", which is short for "Kayak Yodel Karaoke".
(Yes! I'm coining a new term, again. You heard it first here, folks.)
I decided to rent a kayak and yodel as I paddle around Lake Zurich, in all its splendor and beauty.
"KAYAK YODELOKE"
But there was one little flaw in the plan.
I dIdn't know how to yodel.
Then I remembered when I was a little boy, my family would drive to the country to see my grandparents on the weekend sometimes.
And I don't know why but that was always the time my mom thought about a yodel she had learned somewhere and she would sing it in the car, for us kids, as we drove to my grandparents farm.
It got to be a tradition, on that drive to the farm, that she would sing the yodel. If she forgot to sing it on the way there, I would remind her to sing it.
(Well, I was a little bit older than this. But you knew that, right?)
So I would mimic her until I could sing the yodel she sang and that yodel stuck with me all these years. I had forgotten about it until now.
So, remembering that I could, in fact, at least sing one yodel, I thought I could do others, but I'd just need a little help.
MANUELA HORN  to the rescue!
By accident, one day, I saw an ad for Oktoberfest, which was going to be held in Puyallup, Washington. The headliner for the entertainment was Manuela Horn, dubbed as the "Yodeling Austrian Amazon", referring to her height (she's 6′ 2″)  and her charm.
She sings rock and roll songs with a twist. She adds yodeling to the songs. For example, she does KISS's song, "I Want To Rock And Roll All Night", but she changed the phrase to say, "I Want To Rock And Yodel All Night"……….and party every day…….and then she goes into a yodel.
She's a trip! She's also very interactive with her audience. She gets them up on their feet and gets them to sing along with her. You can check her out at ManuelaHorn.com.
So I went to Oktoberfest, drank a little show, and watched her beer.
After the show I got in line to take a picture with her and ask her about learning to yodel.
She told me about a CD that a friend of hers put together just for that purpose. His name is Kerry Christensen and the CD is called, "U 2 Can Yodel"
So I bought the CD online ,  followed Kerry's instruction on how to yodel, and I practiced yodeling for three days before leaving for Switzerland.
Now….. "I Two Can Yodel".
(I'm not sure if U 2 can yodel or not.)
I have been having fun with it. But some songs are much harder than others, so they require  more practice.
The CD is in a simple format and  makes it easy to learn to yodel. Kerry takes you through yodel exercises which start out easy and gradually get harder and longer.
Also Kerry sings both the male and female parts of the exercises, on the CD, enabling anyone to sing along with whichever vocal range matches theirs the best.
Each exercise you do lays the foundation for yodeling a whole song later on.
When I first heard Kerry sing the yodel phrase I would listen closely and try to write down every syllable he was yodeling so I could read it as I practiced it.
In some cases, I would transliterate the syllables into Korean, instead of English,  because it just seemed easier to remember some exercises while looking at the Korean transliteration of the syllables, rather than the English transliteration. (I guess you had to be there!)
So my "cheat sheets" would look like this:
The yodel exercises,  marked numbers 4 (above) and 10 (below),  are the ones I chose to write  in Korean, for my convenience.
After I wrote the syllables for exercises 1-4, I paused to look at the whole page. It suddenly looked like a Medical Eye Chart to me.
I imagined a nurse's assistant holding the sheet up and telling me:
 "Okay, cover your right eye and YODEL the smallest line you are able to read!"  
"Now YODEL with the left eye covered!"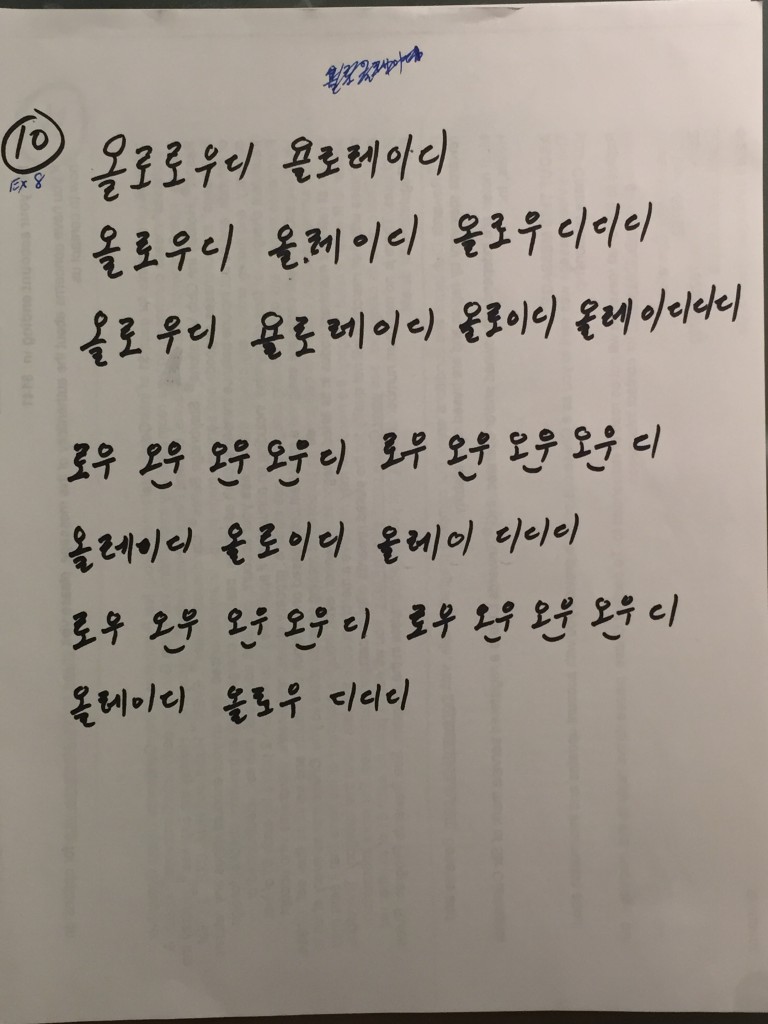 So I have gone through 14 exercises, two of which gave me a hard time. Then I picked out a song on Kerry's CD to actually yodel in the kayak as my finale, after I do all the exercises.
The song is called "HIgh Mountain Yodel". It also has one part that gave me a hard time but I like the song. I hope I'm ready to do all this by the time I get to Switzerland.
I gotta represent, right?
I don't want to row back to the pier and find out that everyone near the Lake, who could hear me,  has fled the area.
So without further "adoodle"…….." LIVE" FROM  ZURICH!!……..
….. IT'S  KAYAK YODELOKE !! ….
(….needle skipping across the record!)
But wait a minute!!
I (uncharacteristically) had written this post in advance just before I left Seattle for Zurich, anticipating that it would be no problem renting a kayak once I arrived.
Then I would make the yodel video, upload it into the post and hit the "publish" button in wordpress and it would be done before I even left Zurich.
But it didn't work out that way!!
I arrived in Zurich four days ago, on Tuesday, the 27th.
I asked many people if they knew of a place I could rent a kayak and I walked down to Lake Zurich, myself, and checked all around,  but there were none to be found.
PLAN B
So, next, I thought I could go to the Top of Zurich, a hill which commands a great view of Lake Zurich and the city of Zurich,  do the video up there and call it "Yodeloke at the Top of Zurich".
But the weather here didn't cooperate with me all week long and even though it cleared up slightly for awhile here today….
…..by the time I got up to the top of the tower on the Top of Zurich the fog started to roll in again and the sun and the view were gone.
As I was riding on the train to the Top of Zurich, I met a very nice Filipino family and a friend of theirs,  and I told them what I was about to do and they were willing to help me do the video.
It was cold, foggy and windy at the top of the tower.
But I decided to make the video anyway and be done with it.
This was my last chance to do the video overlooking Lake Zurich, before returning to the States on Monday morning, because the next day  (Sunday) I would be on a tour to Grindelwald and Interlaken all day.
The Filipino family and I got back on the train to head back to Zurich.
When I got back to the hotel I reviewed the video and knew I couldn't use it. It just wasn't right.
But I really appreciate my new Filipino friends, Mary Ann (sp?) and her brother (I think his name was Nathan),  who went above and beyond the call of duty to stand there at the top of the tower,  in the chilly, windy fog, and film me until I finished yodeling.
(So I thought to myself, "I probably shouldn't do posts in advance like that anymore. LIfe is too unpredictable.")
So I was disappointed.
First, Kayak Yodeloke was foiled.
And now, Yodeloke at the Top of Zurich was  not going to happen, either.
BUT THERE WERE PLENTY OF OTHER THINGS TO DO AND EXPERIENCE:
TOURS
I had already toured some beautiful areas near Zurich:  Engelberg, Luzern, and Bern (the Capital of Switzerland).
While I was on the small group tour to Bern, the Capital of Switzerland, I sat in the front seat and listened to our tour guide, Andy, from the "Best of Switzerland Tours",  tell us many interesting facts about Switzerland.
He was very knowledgeable and a kind and caring soul. We got to know each other a little bit.  We would talk in between the times he would speak to us about life, history and the culture of Switzerland.
Also, a "Best of Switzerland Tours" staff member, Verena, joined our tour group that day (for training purposes).
The three of us ate lunch together that day and later on I was telling them I had practiced yodeling for three days before I left Seattle to come to Switzerland.
I told them why I wanted to learn to yodel (so I could do "Kayak Yodeloke" to put into my post about my trip to Switzerland).
Then I yodeled a little bit for them. They were both surprised. Andy said he couldn't even yodel and he didn't know how I could yodel after only practicing for three days.
We were all laughing and he suddenly said, "Dennis, after we leave Bern and before we arrive at our next stop in Luzern, I'm going to give you the microphone and you can yodel for our group, okay?"
I told him I would.
The "Bern tour Yodel-oke" Incident
So on the way to Luzern, he gave me the microphone and I sang through the first 12 yodel exercises I had learned and then I asked the group to try to sing with me as I did the 12 over again.
They all made valiant attempts at it and the bus was rockin' for a while. I think it was fun for all.
When I got back to Seattle,  I got this email from Anja Wechlin, of "Best of Switzerland Tours":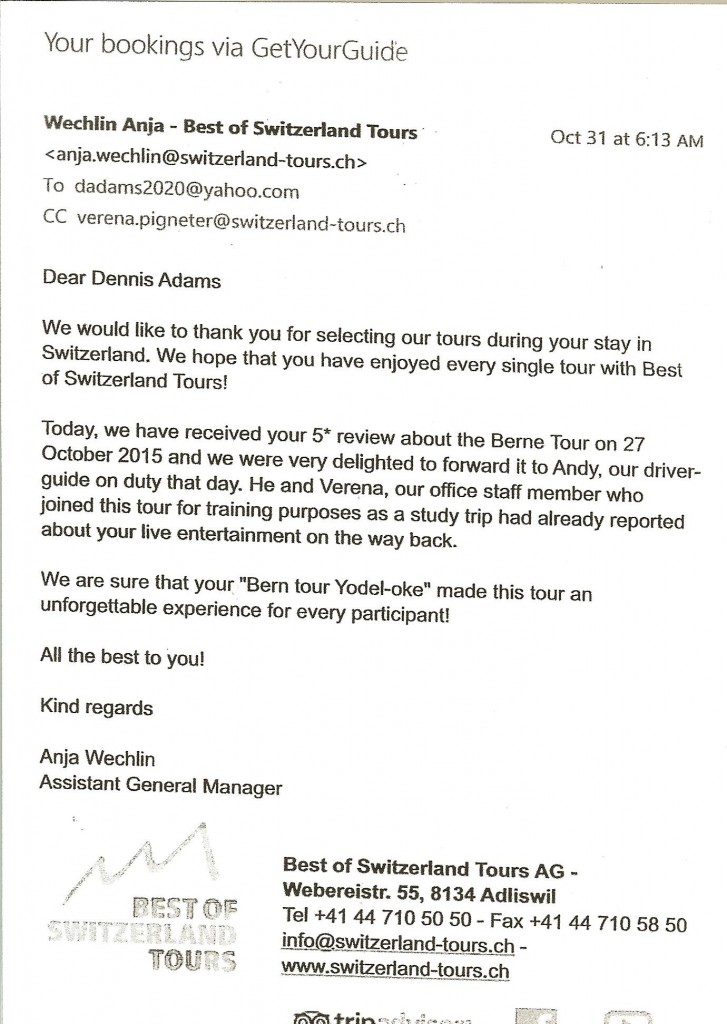 "Best of Switzerland Tours" Staffers get creative:  dub it the "Bern tour Yodel-oke".  I like it!!
I gave them a five-star rating because they deserved it. They were professional and well-organized but they also were personable and warm-hearted. I would recommend them to anyone, by the way.
JAZZNOJAZZ FESTIVAL
All my life I wanted to see Switzerland but never did.
But when I saw that Lizz was scheduled to be in Zurich in October, singing at the JazzNoJazz Festival, I thought what better time to go than when she is there. I could see and hear her sing and I could finally see Switzerland.
Then I noticed that Lisa Simone was also going to be singing there too.  So I decided to stay there during the week of the festival.
I also picked a hotel that was right in the heart of town and it was two blocks away from the festival venue and about five blocks away from the train station. Everything was conveniently located and I just walked everywhere, just like I did on the Aspen, Colorado trip (See "Aspen-Defy Ordinary").
MEETING PEOPLE
I met several nice people at the hotel and the hotel restaurant, people on tours, and people in the villages and other places where I toured.
EATING DELICIOUS SWISS DISHES
I enjoyed a variety of delicious Swiss dishes. (Say that three times fast!)
AND I PLAYED BASKETBALL OUTSIDE
……….to the Sound of Music……. Lizz Wright's new CD, "Freedom and Surrender",  at "Backeranlage Park", which was within walking distance (about 20 blocks)  from my hotel in downtown Zurich.
AIR TIME IN SWITZERLAND
Back Home Now (November 4, Wednesday):
I am also happy to say that, on the tour on Sunday to Grindelwald and Interlaken, I found the perfect setting in sunny Grindelwald to record the yodel video.
But this post is already too long and I have a  lot more to "show and tell" you about  my week in Switzerland.
So it will be in the next post and I'll call it,  "Yodeloke in Grindelwald, Switzerland". But here is a teaser for you:
One week was just too short but I saw and did a lot.
The experiences on the trip enriched my life and enlarged my view.
I love traveling but I also like a place of permanence.
It's great to be back in Seattle but it was wonderful to experience a little bit of Switzerland.
I will be going there again sometime. I'm thankful to everyone I met there who added to the enjoyment.