ASPEN-Defy Ordinary
That's a theme (courtesy of the Aspen Chamber of Commerce)  that I saw (in graphics), various places around town, that caught my attention immediately as I walked all around Aspen, Colorado, on a recent,  short,  weekend trip from Seattle.
The above photo is a view of Aspen from Smuggler's Run Overlook.
In my previous post,  "Row, row, row your own boat"…….to music by the Fabb Four" , I mentioned the phrase "excellent adventure" and encouraged you to do things you like to do, no matter how simple or grand.
Life can be very ordinary, at times, but when you do things you like to do, then you spend your days joyfully and you make memories. You defy ordinary.
I have many interests, a few of which include travel, playing basketball outside, hiking, taking pictures and video, listening to and making music, meeting people and eating healthily.
This weekend trip to Aspen encompassed all of those things.
This weekend I Defied Ordinary.
It was Sunday (Day 3 of my weekend trip) and I was scheduled to leave Aspen in the afternoon and return to Seattle. So I got up early, had breakfast at the hotel, walked to Starbucks for a " La-di-da" (a Latte) and sat outside on a bench.
I wanted to collect my thoughts about the experience I was enjoying in Aspen. I was sitting on a bench in front of Starbucks,  near the Aspen Mountain ski lift.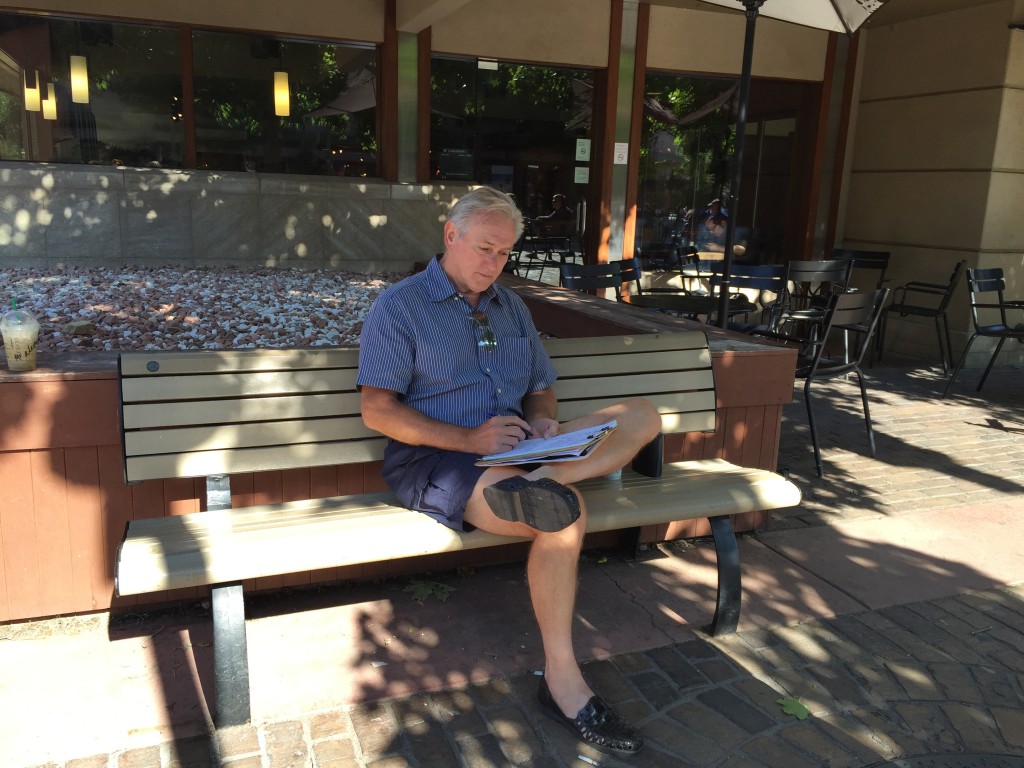 Putting my thoughts on paper (in preparation for doing this post)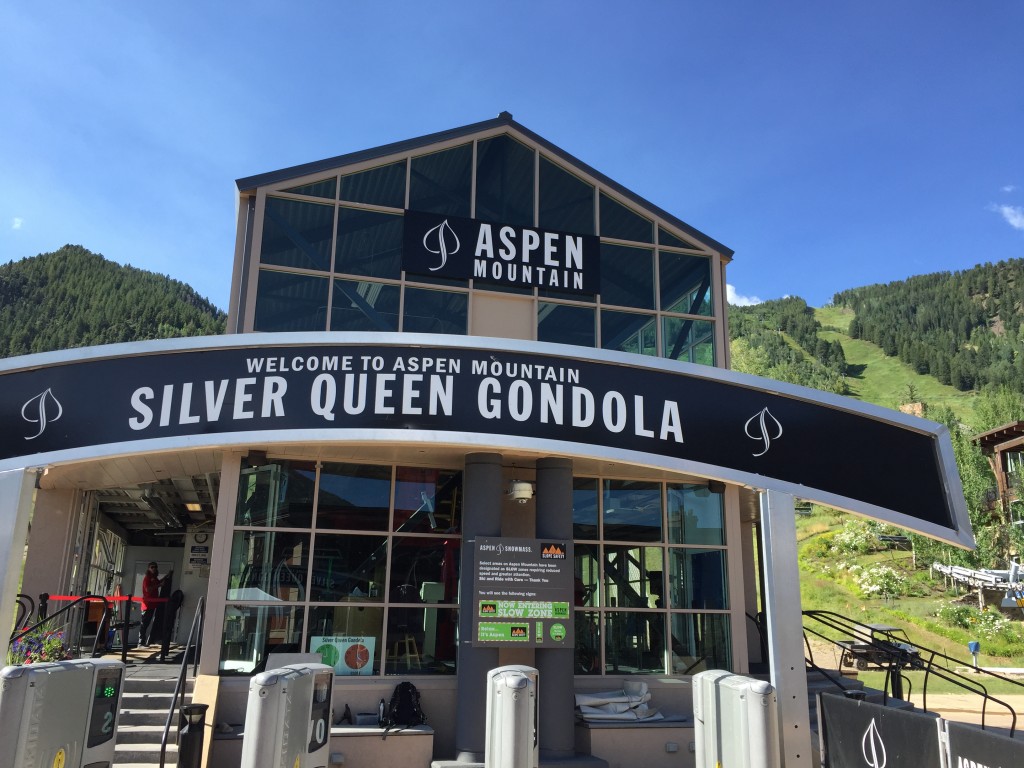 Aspen Mountain Ski Lift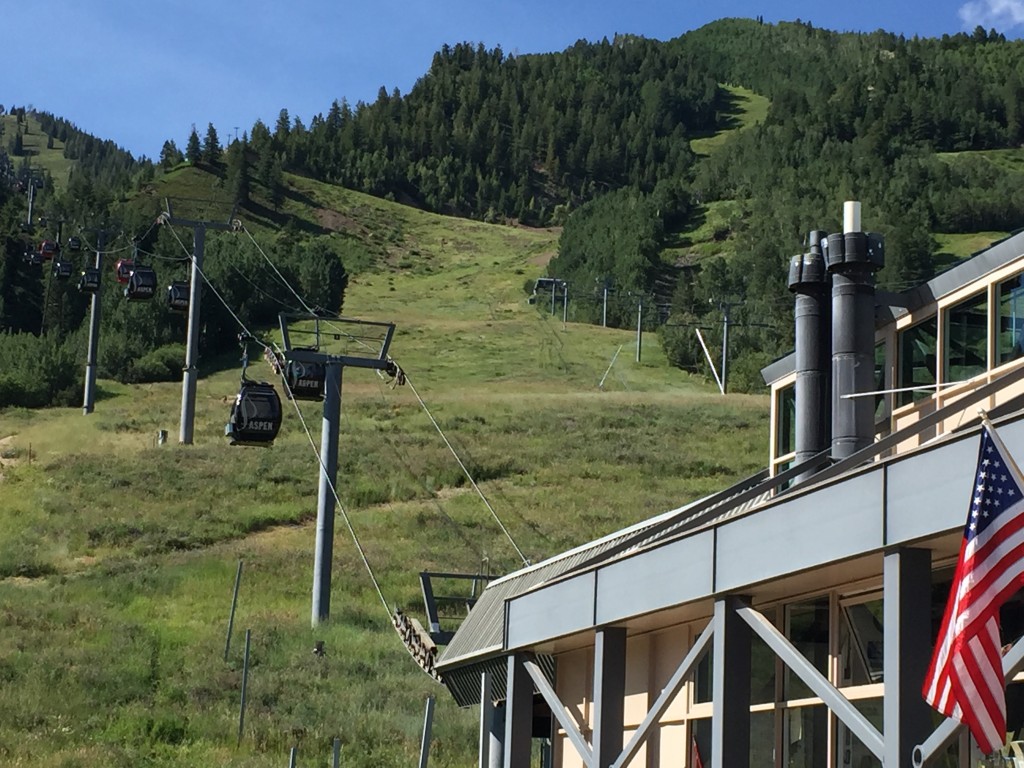 As I was sitting there, I suddenly realized I had plenty of time, before my flight back to Seattle,  to ride the lift to the top of Aspen mountain and listen to a Bluegrass band named Taarka, which was scheduled to play about noon.
So I got into the lift and during the steady ascent I took photos of the mountain but also of some hang gliders, who were hovering over the valleys on both sides of the cable  car I was in.
I have a little Bose speaker that is awesome and easy to carry around. It's like a mini-boom box, but you can easily hide it and still hear it well.
As I walked all over Aspen this weekend I quietly played songs from my iTunes playlists. (The speaker has bluetooth capability so it connects to my iPhone, onto which I downloaded my entire iTunes library.)
So sometimes I turn it on quietly so I can hear it as I walk, but noone else can hear it until they get real close to me. (Then they wonder where the music is coming from. By that time, I'm long gone.)
So I was in the cable car, taking photos of the hang gliders, and I had my music on. I was in the car alone.   Awww  🙁
Nina Simone's song, "I Got It Bad And That Ain't Good",  started to play on the lil' Bose speaker.
I looked back at the hang gliders. I admired there courage and dedication to doing what they love. They were just chillin' over the valley of Aspen mountain, fearlessly circling around and around, catching uplifting air pockets to stay up as long as they could.
Then I thought to myself, "You guys got it good and that ain't bad" either!!
After the 15-minute ride to the top,  I got out of the car and  went inside "Sundeck", to get something to drink and sit outside  on the balcony to continue to jot down my thoughts.
So my note-taking venue had suddenly transformed from a bench outside Starbucks to this bench on the balcony of Sundeck, on top of Aspen Mountain.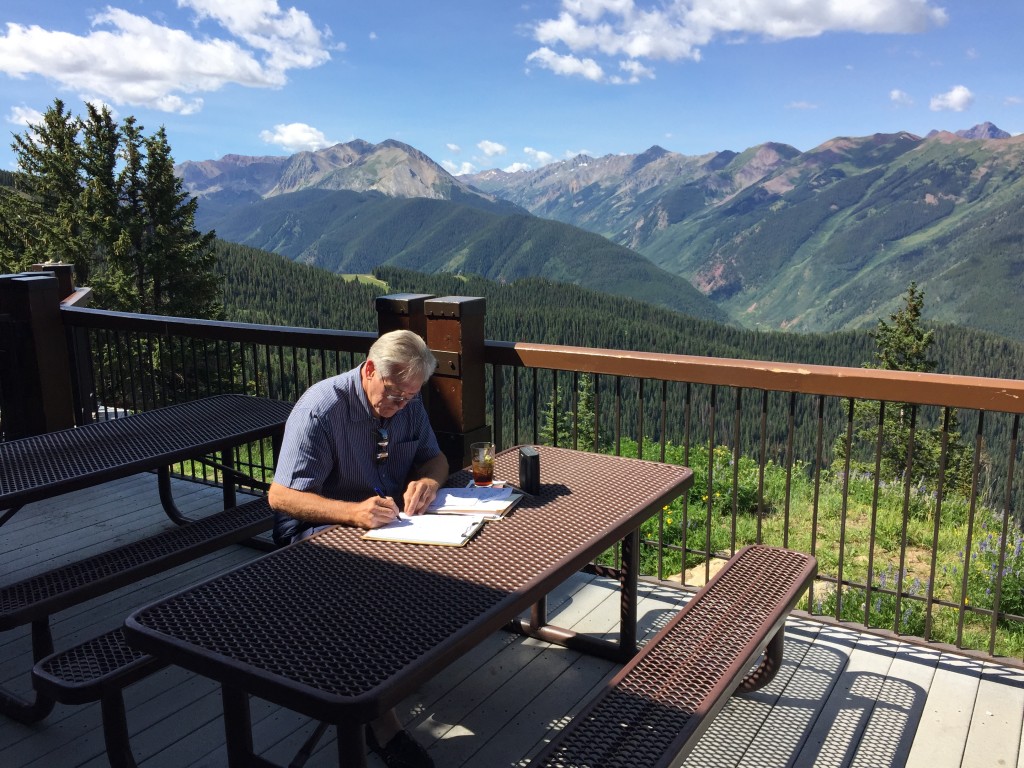 My "office" at Sundeck on Aspen Mountain
While I was sitting there, part of the workforce at Sundeck came out as a group to have lunch together. While we were all sitting there, a red fox sauntered up to the area below the balcony, looking for a few scraps of food.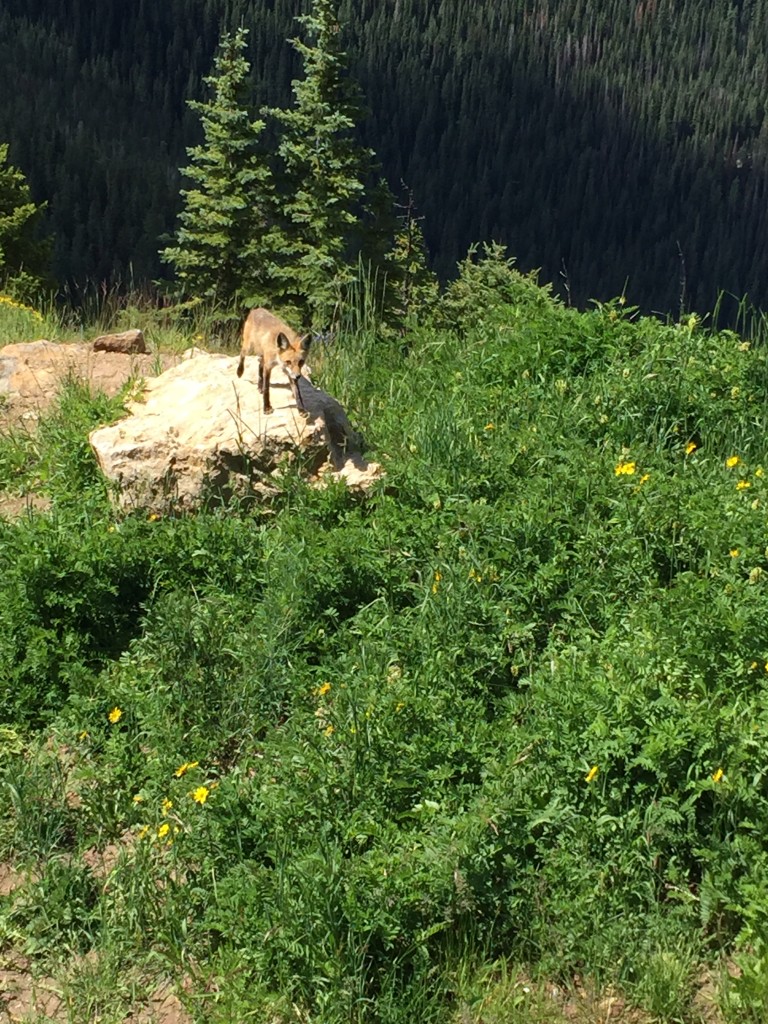 The work force called him "Foxy"
The Work Force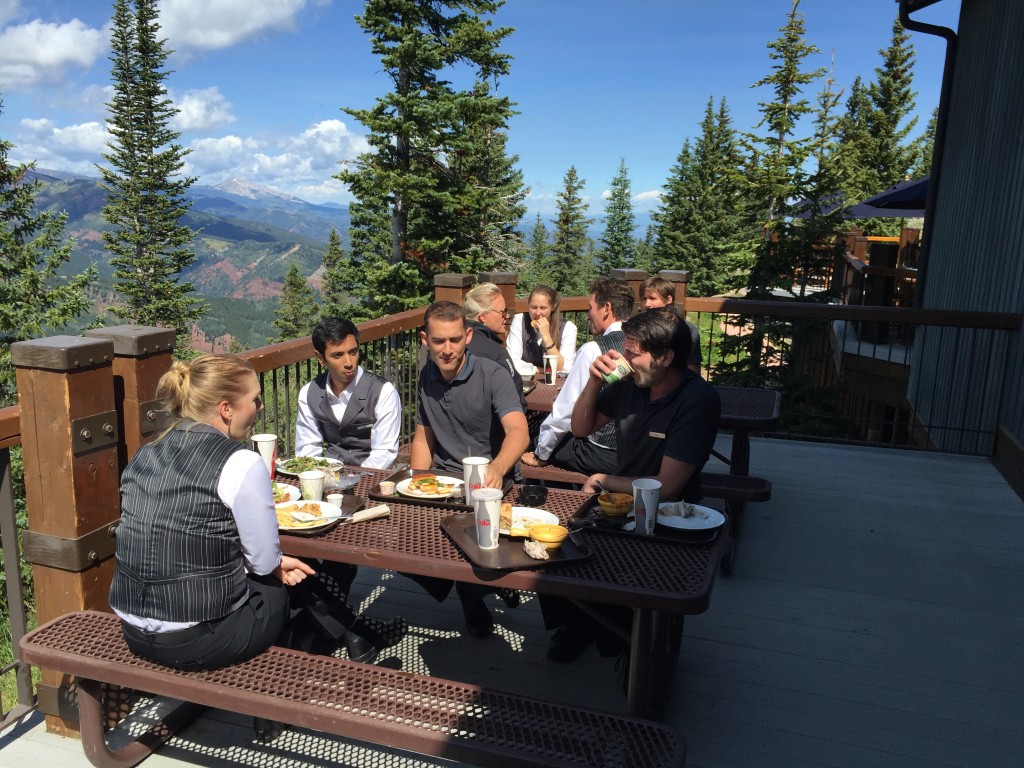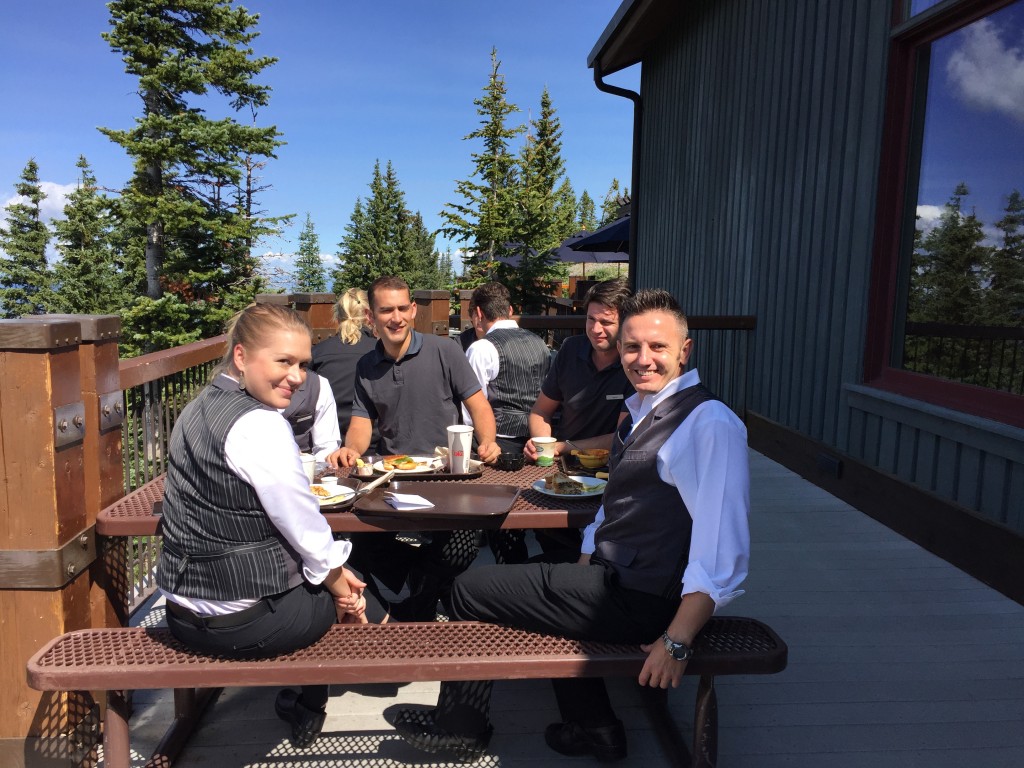 These guys were fun to talk to.
They work on top of a mountain. They commute 15 minutes in a cable car to get to work. They eat outdoors, together. They gave a red fox a pet name.They were very cordial to me.
This crew Defies Ordinary,  don't you think?
Next, I went in to Sundeck to get some Buffalo Pozole and a small loaf of multi-grain bread and butter. Then I went to the entrance where Taarka was setting up for their performance and I ate the Pozole and listened to Taarka for only a short while before I had to go back to the hotel and check out.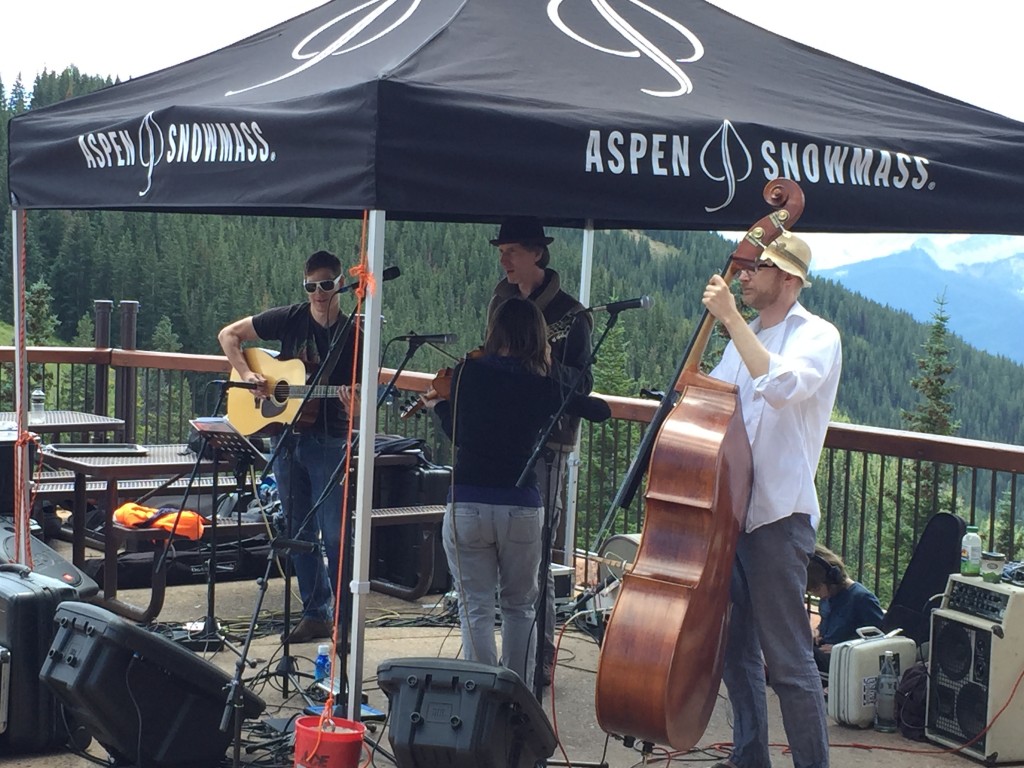 TAARKA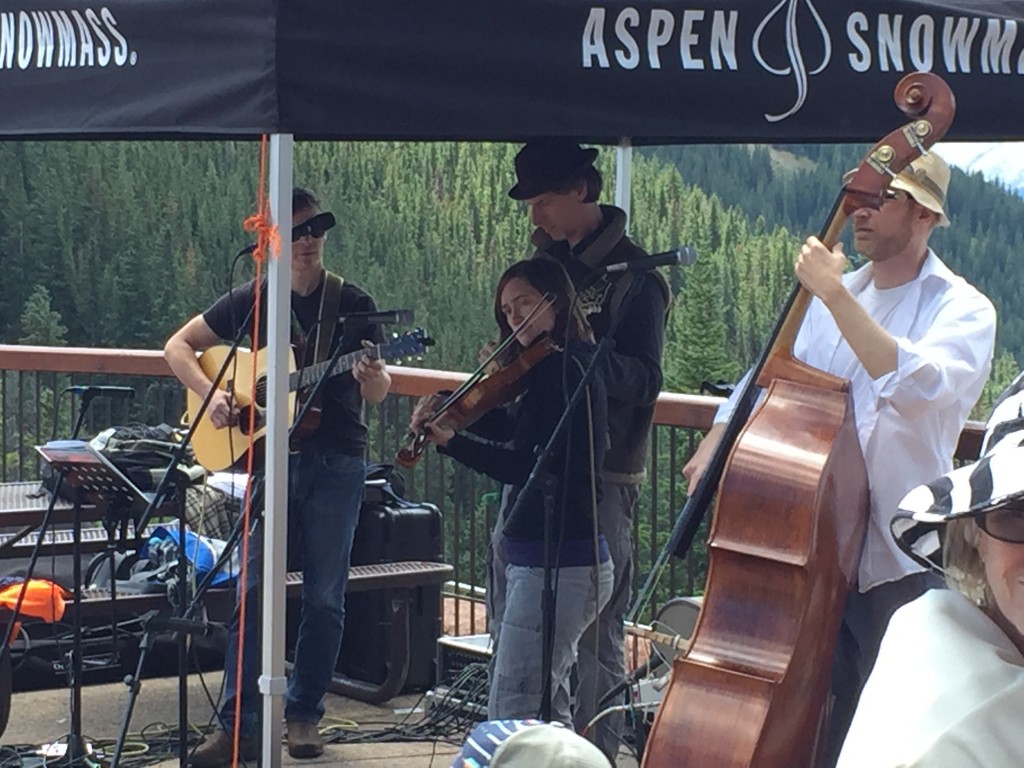 That was on Sunday, the day I left.
I haven't even talked about the first two days I was there or why I chose to go there. So I want to go back and begin with Day 1.
DAY 1
I took a redeye flight  from Seattle and arrived in Aspen at 10 a.m. on Friday morning.
I arrived at Hotel Aspen to find out that my reservation had been made for July instead of August, so I didn't have a reservation. Oops!
I made it through Expedia. I don't think I mistakenly told Expedia July, because I was making my hotel reservations at the same time that I was making my reservations to see Lizz Wright perform at the JAS Cafe on the Aspen Art Museum's rooftop venue on the same trip.  I think they simply made a mistake.
Nevertheless I should have double-checked it.  So that little mistake cost me $700. So I had to re-book for two nights in Aspen.
Luckily, I was able to stay at the hotel (Hotel Aspen) Friday night but had to move to their sister hotel (Molly Gibson) on Saturday. It was just across the street. Thanks to Lena, Kimberly, Erin ("squirrel"), Bella, Jade and Dakota, who all made my stay at both hotels a great one.
While I waited for house cleaning to get my room ready, I walked across the street to the Main Street Bakery for breakfast. I had read that it was a popular place and the food was good.
I know it doesn't look like much in this picture but it had an outdoor patio where I had a delicious omelette called "Lotsa Lox", and I asked to have creamed spinach added into it. It really hit the spot and my server, Ashley, had a cool personality.
After I ate, I walked around town to kill some time and familiarize myself with the streets  and then I got a call that my room was ready.
So I put my stuff in the room and I got dressed to play a  little basketball. There was a park right behind the hotel with a sunken basketball court where I was headed next.
I played for two hours.  Due to the elevation, I noticed a slight difference in my breathing, compared to playing in Seattle, but it didn't bother me.
But I needed a break because I wanted to play more ball at a different venue I had located when I googled the satellite image of Aspen the night before I left Seattle. There was another court near the John Denver Sanctuary.
So I walked toward that area and walked through the Hyman Avenue Mall area. It is a section of Hyman Avenue that is a cobblestone street and there are lots of shops and places to eat on both sides. It's a no-car zone.
I bellied up to an outside bar called the "Hops Culture", to rest for a while and get something cool to drink.
The first person to greet me was Christina, a vivacious, kind and helpful young lady.
She seated me and then we talked off and on, between customers, and she told me how to get to the Sanctuary. She also suggested other places I might want to go and other things I might want to do.
I learned about the Hunter Creek Loop and Smuggler Run hiking trails from her and I decided then and there to hike that trail early the next morning.
I'd like to say thanks to Christina. And while I'm at it I'd like to also thank Addy,  who works at Hops too, for the kindness she showed me as well.
After an hour or so I headed over to the second basketball court and played for about an hour.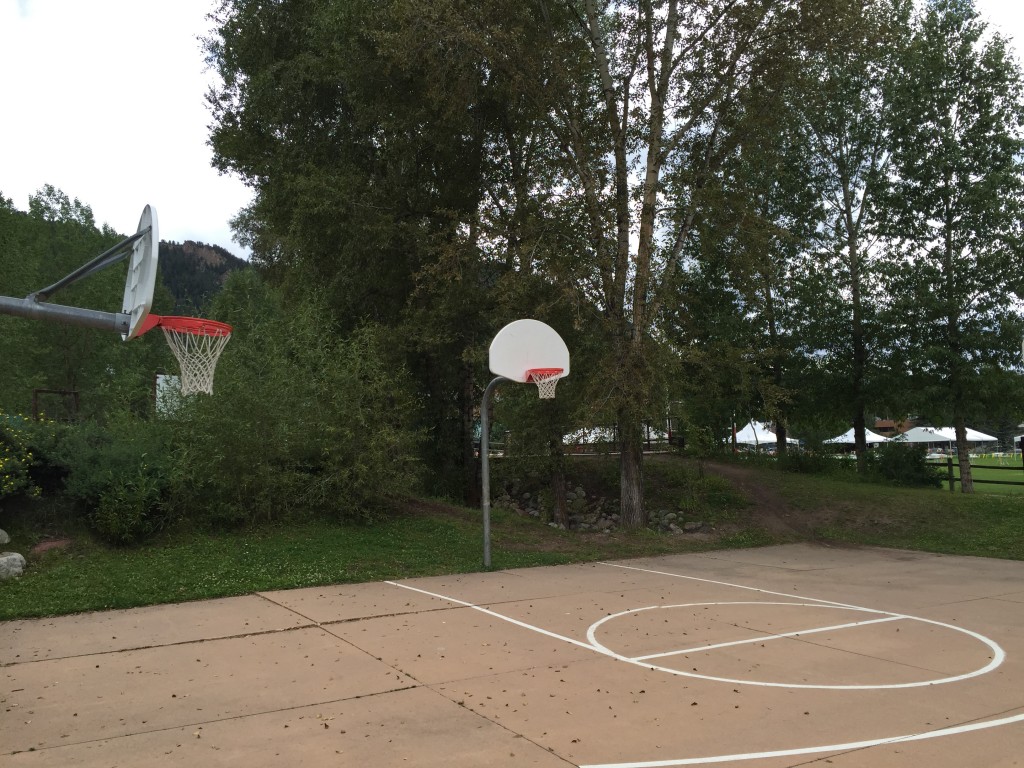 Then I returned to the hotel to get cleaned up to go out for the evening.
It was show time! The time I had been looking forward to all day.
If you have read my other posts, you would know that I'm a big fan of Lizz Wright.
I came to Aspen to see and hear her sing. She was going to be singing at the JAS Cafe (seen below)-an open-air, rooftop venue of the Aspen Art Museum.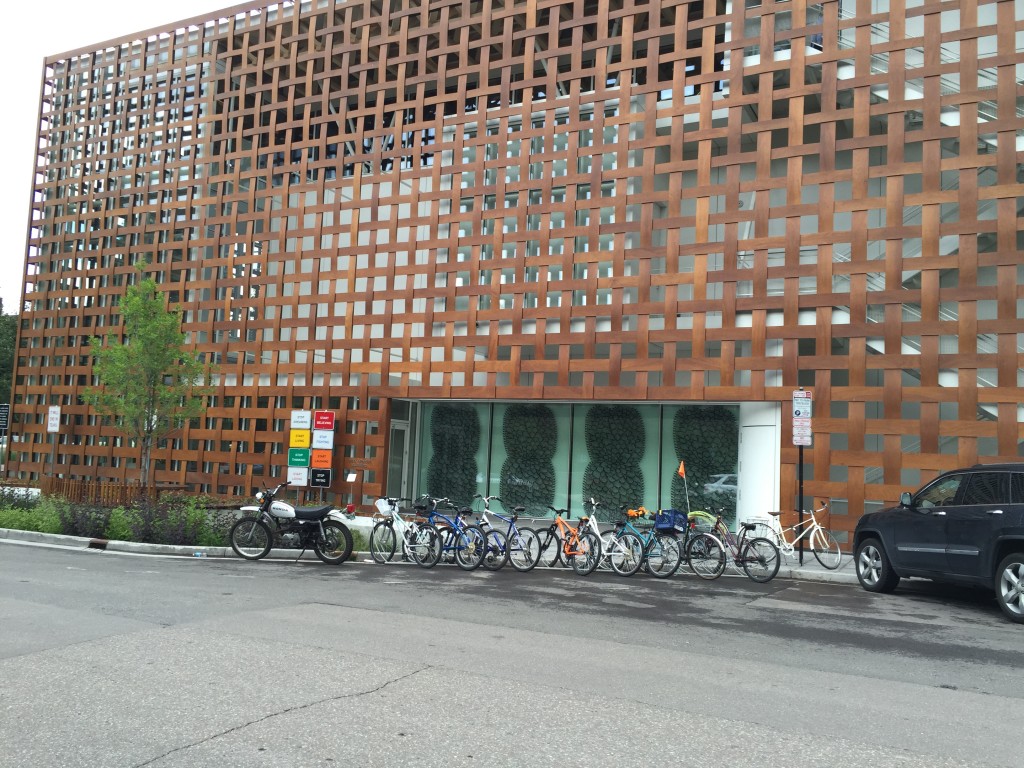 Aspen Art Museum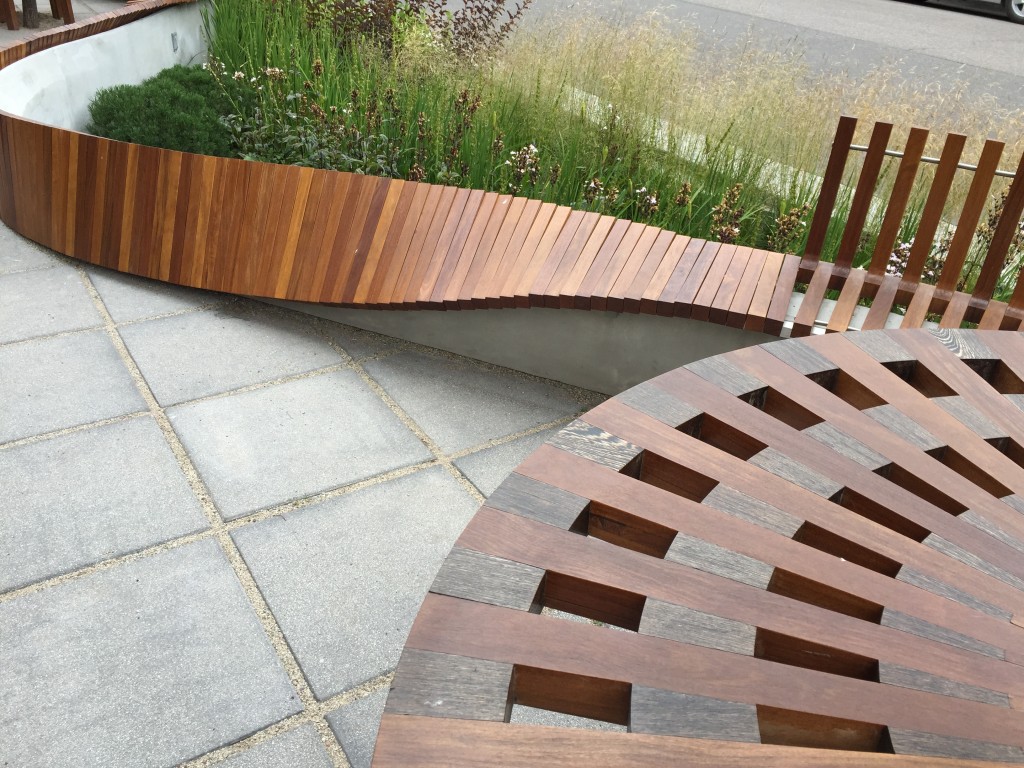 She was performing two shows each, on Friday and Saturday evenings. I had tickets for both nights.
The weather could not have been better.The venue superb. The view from the rooftop was gorgeous.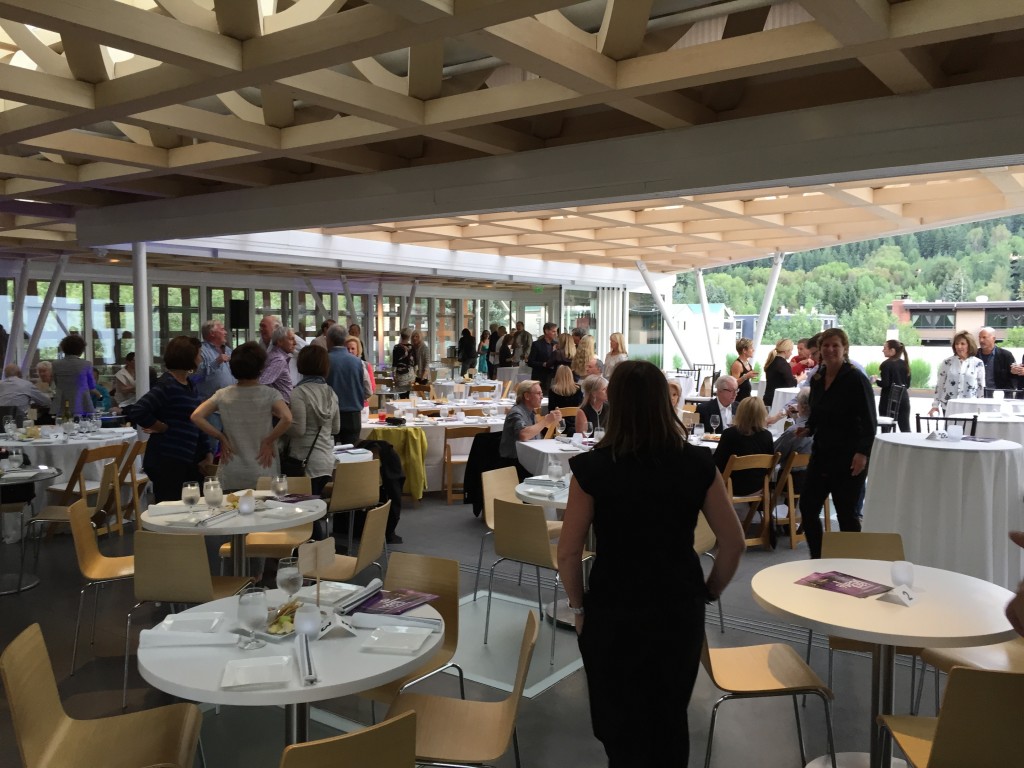 Pre-show socializing
She sang mostly songs from her previous four CD's but she also included one new one, called "River Man", which can be downloaded now or pre-ordered  and is scheduled for release on September 4 this year. Plus she did a beautiful rendition of Roberta Flack's "The First Time Ever I Saw Your Face".
I recorded videos of some of her songs to include in this post. And although the recordings could have been better (my fault) I still want to share a couple of them with you for your listening pleasure. I will get better at this.
Oh and just before she sang, "Hit The Ground", it was so sweet of her to mention that "….it's her Daddy's favorite".
She also did a song that I never heard before but it really moved me and I think it might have been called, "If You Lead Me", (but I'm not sure of that).
I'm looking forward to getting and listening to her new CD  on September 4.
Her music serves me well.
Lizz Defies Ordinary.
Lizz Defines Extraordinary.
During the show,  Nicole Giantonio  introduced herself and her husband, Jim Horowitz,  to me and welcomed me to the show. I got to know a little bit about them as we sat and talked on and off during the shows. Jim is the JAS founder/president/CEO. They were very kind, friendly and outgoing. It was so nice to meet them.
I also met two women, Judy and Marilyn, during the show who asked me to go with them to the Caribou Club after the show ended. So I did. It was short and sweet but a nice way to end the evening.
Day 2
I got a good night sleep because I had planned to get up early and have a light breakfast (a little bit of this and a little bit of that) before starting the hike up Hunter Creek Loop to Smuggler's Run Overlook and back to Aspen.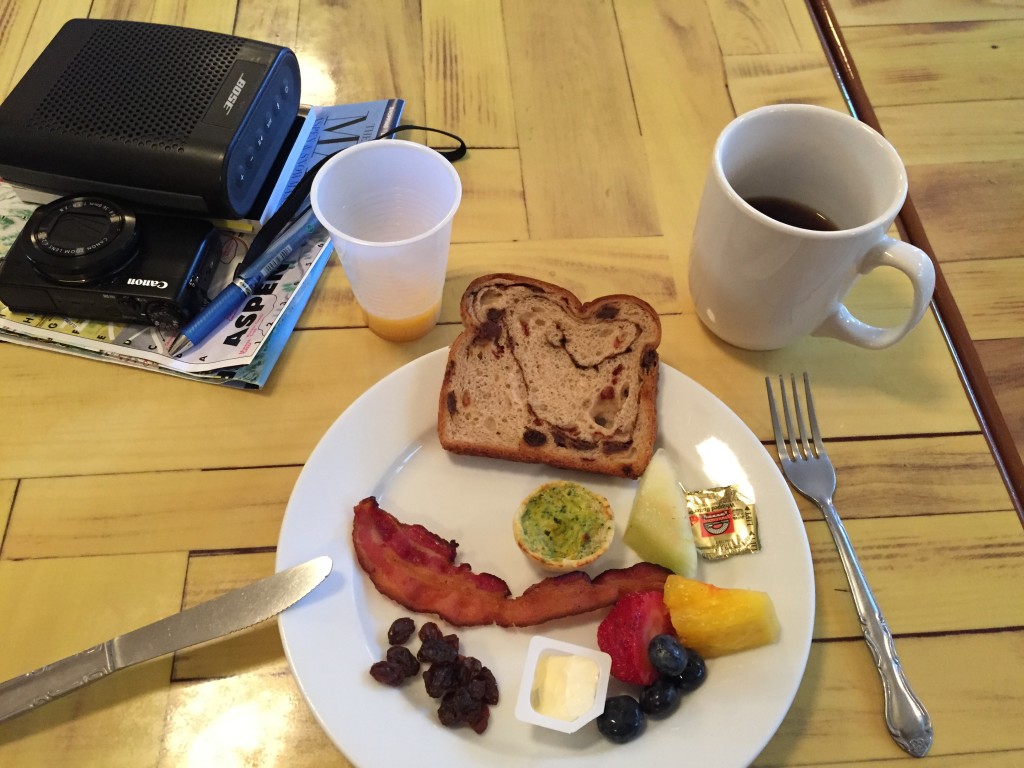 I started at the right on the green line, followed it to the red line, and  then went up and over and down to the orange line where I shot this view of Aspen (below)….
….and then continued down the orange line, which lead me back to Aspen.
A lady hiking with her family saw me standing there. She said, "Hello. Would you like me to take your picture?" I said, "Yes. I'd appreciate it."
As she was taking the picture some mountain bikers passed us on their way up Smuggler Mountain.
On my way up and down I met several people. When I was going up Hunter Creek Loop,  I met a young man who was running back down the trail I was on, and I stopped him to ask if I was going the right way, because I knew I should be winding back around to the right at some point but the trail was still taking me to the left.
He stopped and told me I was on the right path and then he showed me an iPhone App that hikers can use for this area to show their current location and the trails. You can download it from iTunes. It's called Pitkin Outside and it's by Green Info Network I told him thanks and he continued running on down the hill.
I saw a young couple hiking up and the Dad had their little 3-year old on top of his shoulders.
I saw young and old, singles and couples, families, pets, bikers, and ski enthusiasts (those who practice using their poles as they hike). I told a small group of three people, "You are going to need those poles soon. There is an avalanche just around the corner!" I think one of them believed me at first. The others just laughed.
It was nice to be out and about. Along the trail I captured some images that will always linger in my mind.
The trail varied in size and walkability but overall it was a good trail.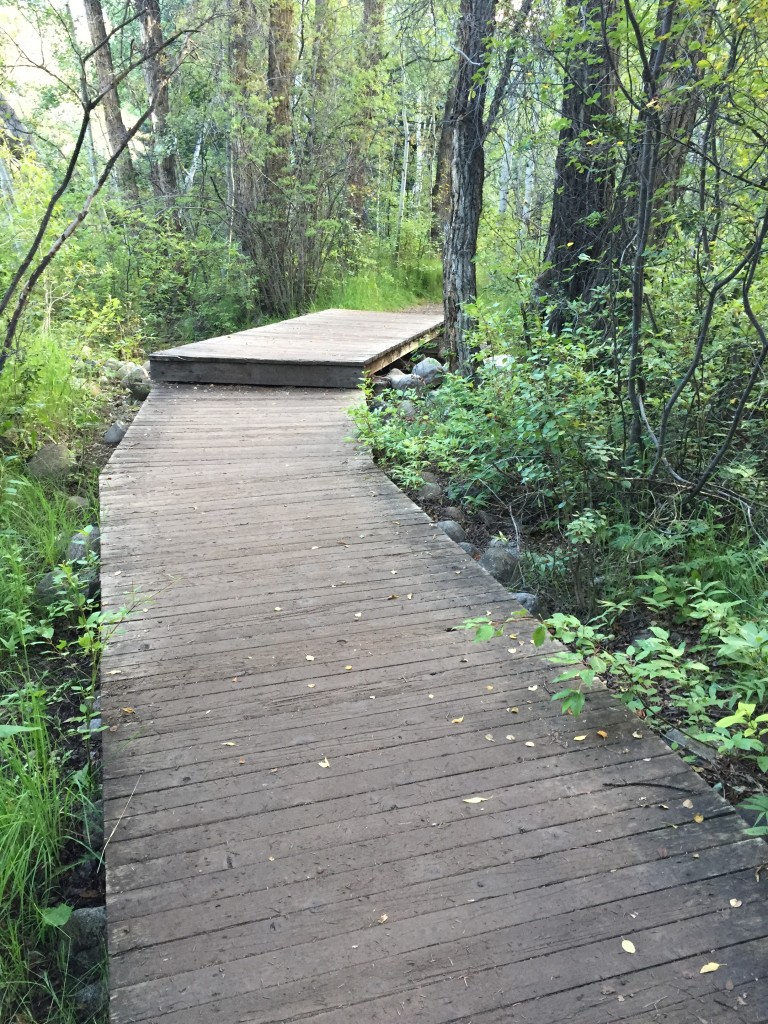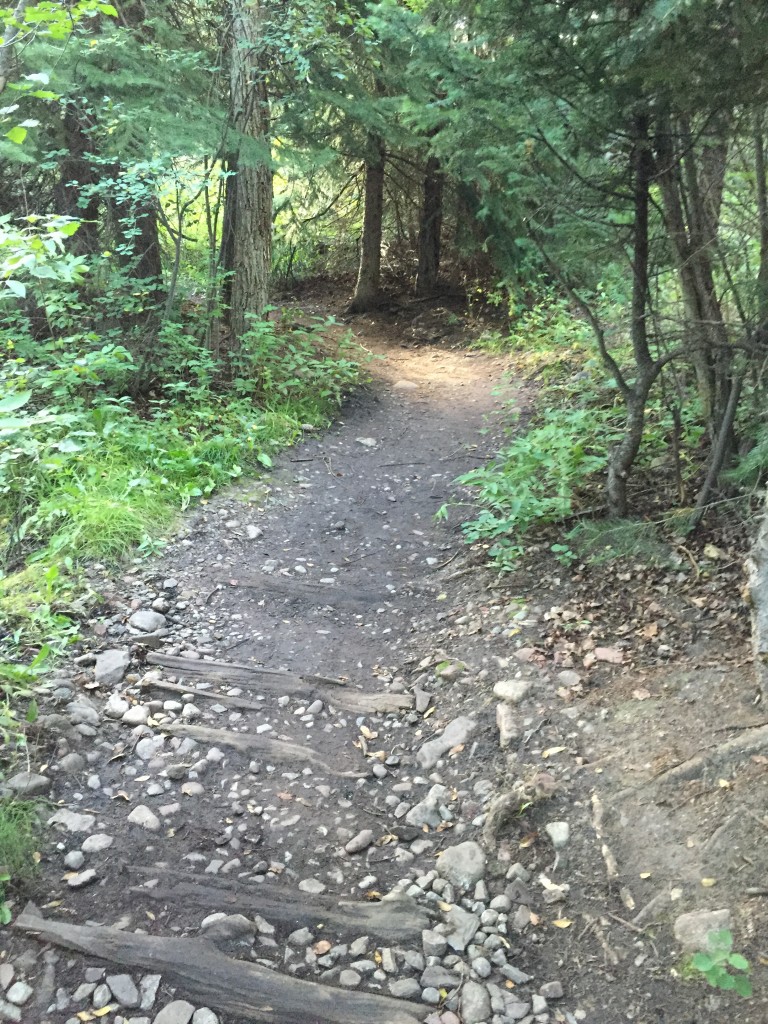 I think I was on the trail about two hours total.
As I wound my way down to Aspen I went to the City Market to get some water, fresh fruit (watermelon specifically) and some cold-pressed coffee with almond milk and headed back to the hotel.
The housekeeping crew at the hotel came down to the breakfast room where I was eating the fruit I just bought and planning  the rest of my day before going to the next Lizz show that evening.
They spread out all their lunch on the table and I offered them half of my watermelon. They gladly took it and immediately cut it into pieces so they could share with the front desk staff upstairs. I thought that was good of them to think of others. Another work force Defying Ordinary.
MAROON BELLS
Everyone I talked to said I should see Maroon Bells so that was on my agenda next.
I walked across the street from the hotel and caught a shuttle to the Highlands Center. From there I caught the shuttle that took me to Maroon Lake and Maroon Bells.
It took about a half hour to get there.This is what I saw: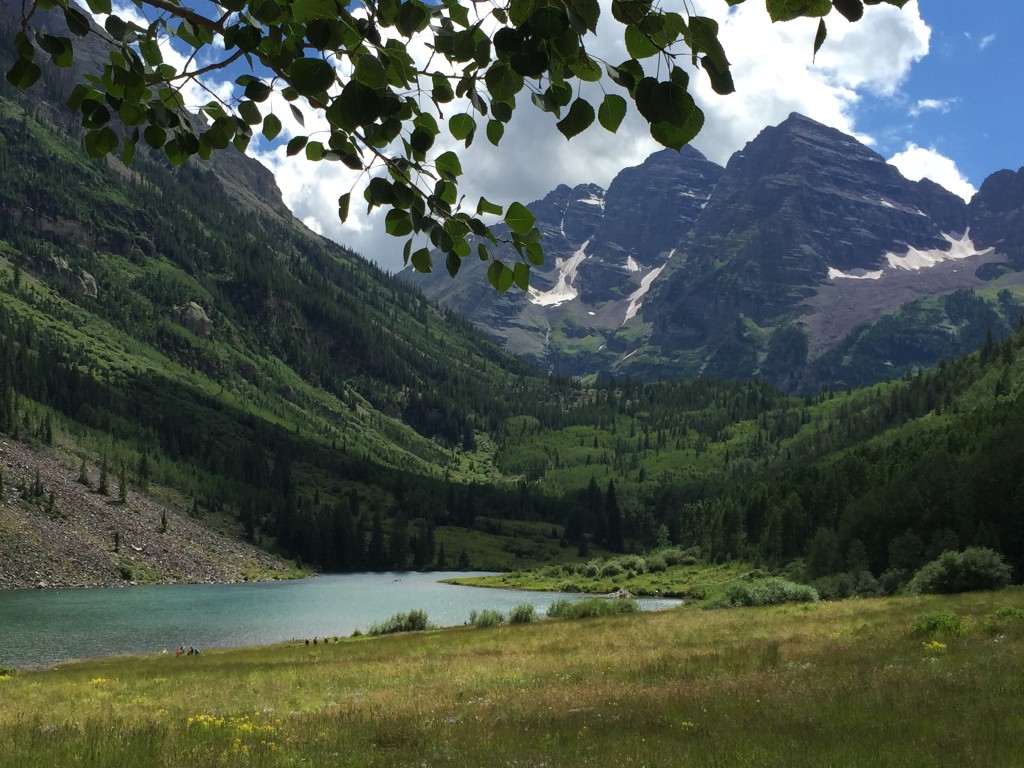 Maroon Bells and Maroon Lake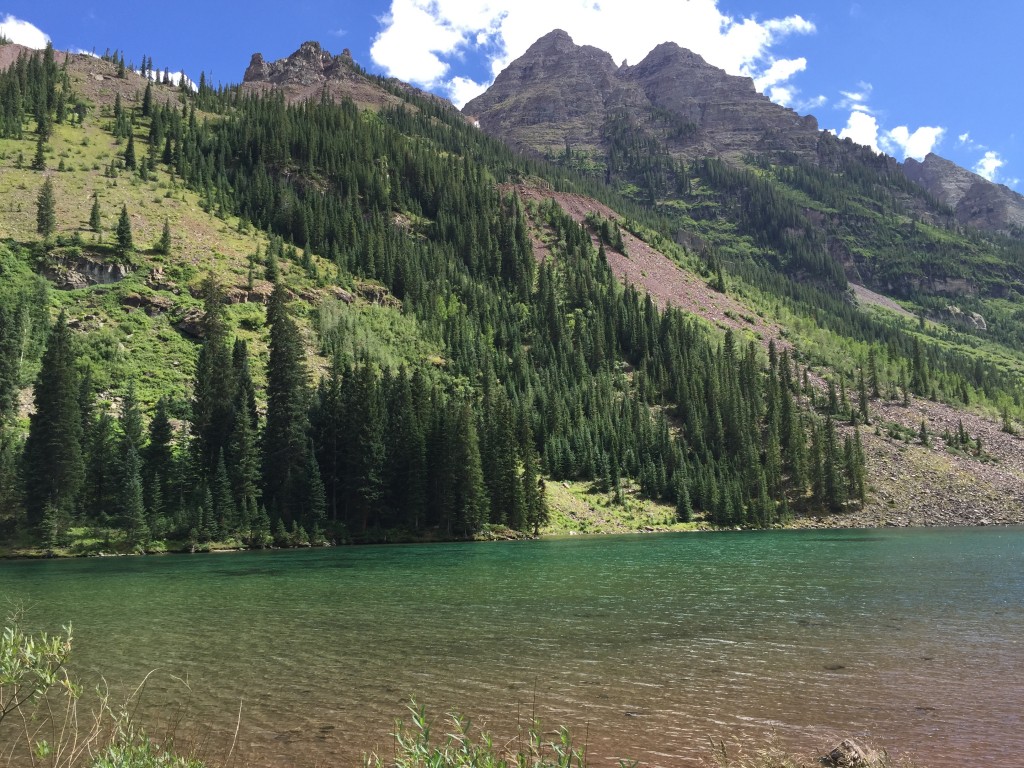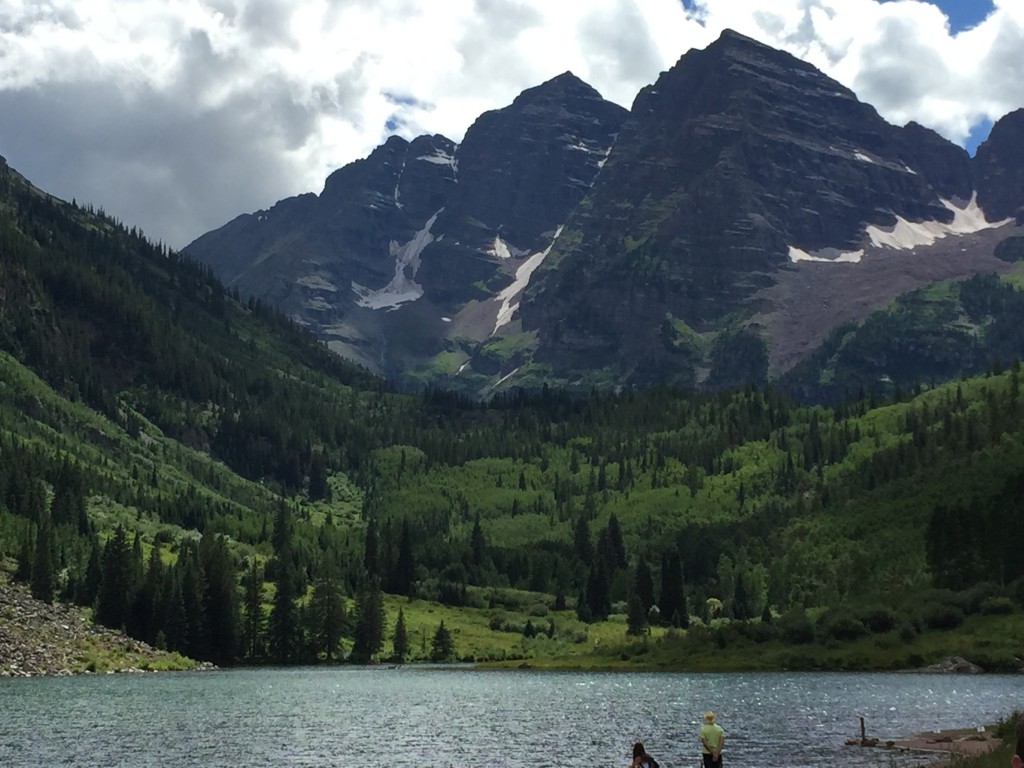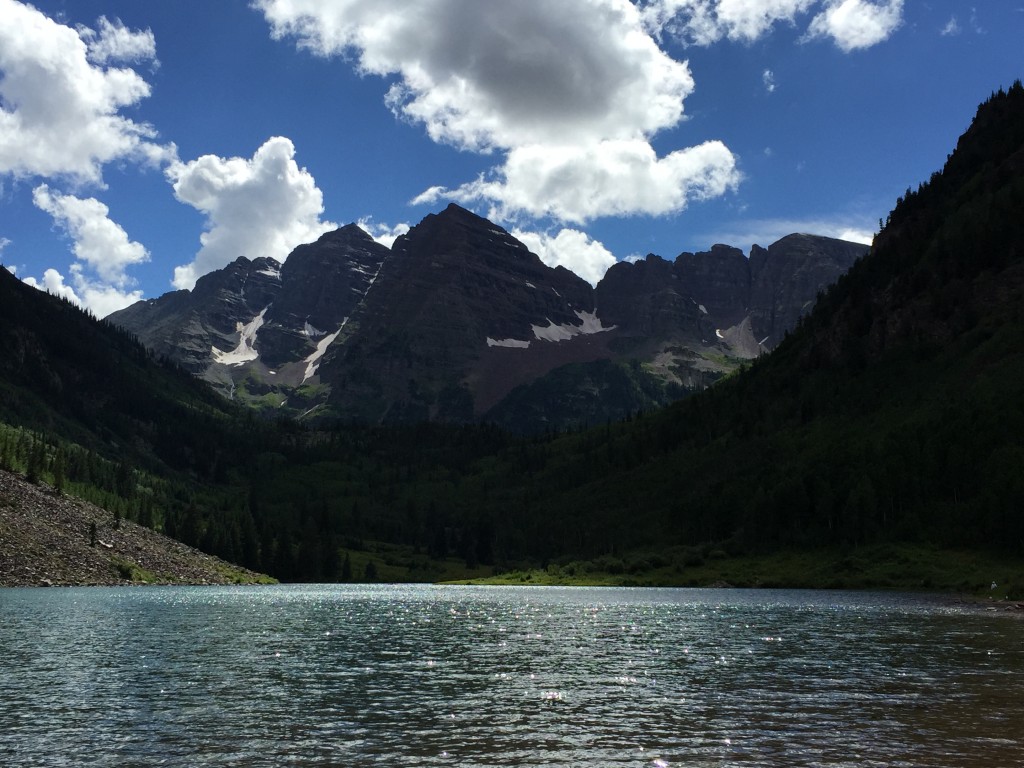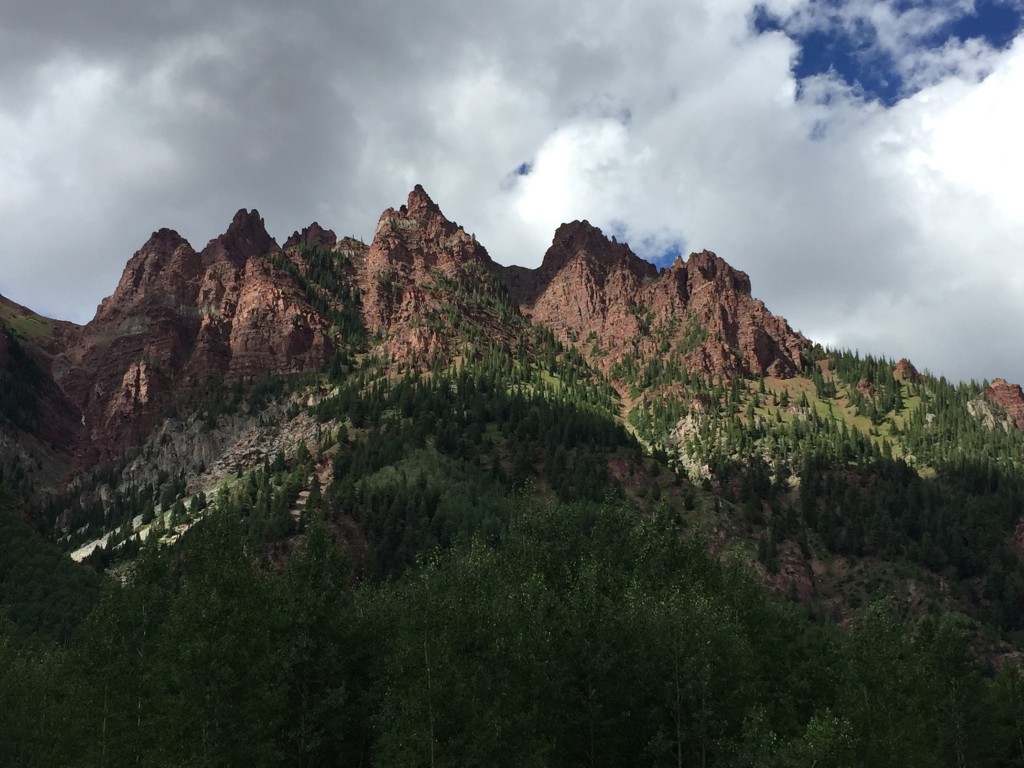 After that it was getting close to show time again!
I headed back to Aspen to get ready to watch  the next Lizz show at the JAS Cafe. Walked over to the Hops Culture to get a drink and something light to eat for the evening. I savored the deviled eggs and shrimp ceviche. Just seemed to meet my needs and hit the spot too.
I talked with Christina again and shared some of the photos I took since I arrived in Aspen. Then I said goodbye to her and headed over to the Aspen Art Museum a little early to look at the exhibitions before going upstairs to the JAS Cafe for the show.
After that, I was waiting in the lobby for the early show to end so I could go up and be seated for the second show.
The people from the early show started to filter out. I happened to meet a woman and her daughter, and another woman who was with them. We started talking about Lizz and her music and she said the three of them had driven to Aspen from Ohio to see Lizz.
Then she asked me how I knew about Lizz. I told her I first heard Lizz on the radio singing a cover of an Ella Fitzgerald tune called, "Reaching for the Moon". She said that Ella was her friend's Aunt. Then they left and I went upstairs and sat down.
Later, after the show started,  I met up with Jim and Nicole again and Jim sat with me at my table most of the evening. Nicole was across the room with a friend or two, rocking out to the glorious music of Lizz and the band.  Both he and Nicole really enjoyed them too.
Hope to see Jim and Nicole again sometime.
During one of the songs, Lizz treated us all to a quite lengthy segment of a song during which she played the Conga drums. She had been practicing! It was fun watching her play them. She's ever-evolving and diligently honing her craft.
(I'm sorry to say that the battery on my camera was too low to record more that evening, so I was unable to present her drum solo here.)
I'm looking forward to the next time she does it. I'll be ready next time, so I can share it with you here.
That brings us back to Day 3,  where I started this story.
I mentioned in the previous post that I was going to be writing about some upcoming excellent adventures. This has been one of them. There will be more. Stay tuned.
 In conclusion, Aspen is a beautiful place to visit and there are so many things to do and see there. I barely scratched the surface but the trip was very rewarding to me.
I enjoyed the things I chose to do, whether they were simple or grand,  I experienced a lot in just three days.
I also felt grateful for each encounter.
When I was boarding the plane at the  Aspen airport, I walked onto it pulling my luggage behind me with one hand and cradling the basketball under my other arm.
A lady looked up at me and said, "That's an interesting carry-on!" I beamed a smile back at her.
So my message to you is:
Go out there!
Choose your moments.
Claim your moments.
DEFY ORDINARY!