One day during winter in Seattle in 2012, I was driving from Redmond to Kenmore and it was snowing. It was a Winter Wonderland.

I was listening to the Bob Rivers Show on KJR (95.7) FM radio. It was early in the morning. As I listened to Bob, Joe, Spike and Jody humorously banter back and forth as they did, it reminded me of the jovial, good-spirited bantering that I could always count on from my family- grandparents, parents, aunts and uncles-whenever we all got together for holidays, or any occasion really. So it felt like home.
By the way, that show just recently discontinued after being on the air for 25 years. I was sorry to see it end.
But while it was still on the air, my son Tim and I,  got Backstage Guest passes to go into the studio,  and watch them "up close and personal". It was a fun experience and will always be a great memory to recount with Tim.
So as I was driving down the road in that blissful state of mind I get into,  whenever snow is falling, I recalled being in the studio with Tim, and I thought about all the energy in the studio where Bob and the gang were laughing and carrying on and I thought to myself, "That ain't work. They are having a blast, doing what they love most."  And it showed in different ways.
They all were good friends with each other, and they all were positive-minded, knowledgeable about music, personable and transparent, very gracious and accommodating to their guests, considerate, witty, honest to a fault, funny, friendly, talented, and entertaining.  I can't say enough good things about them.
So there I was driving, and remembering when Tim and I were in the studio, and thinking about all the energy in that room and I started to get an idea for a 95.7 jingle, in my head. So I wrote it in my head in about 15 minutes and then when I got home I recorded it.
At the time, they had a billboard ad campaign in progress. The theme was:
KJR 95.7 FM……….Oldies Are Back! ……….Songs from the 60's, 70's, and 80's!!……….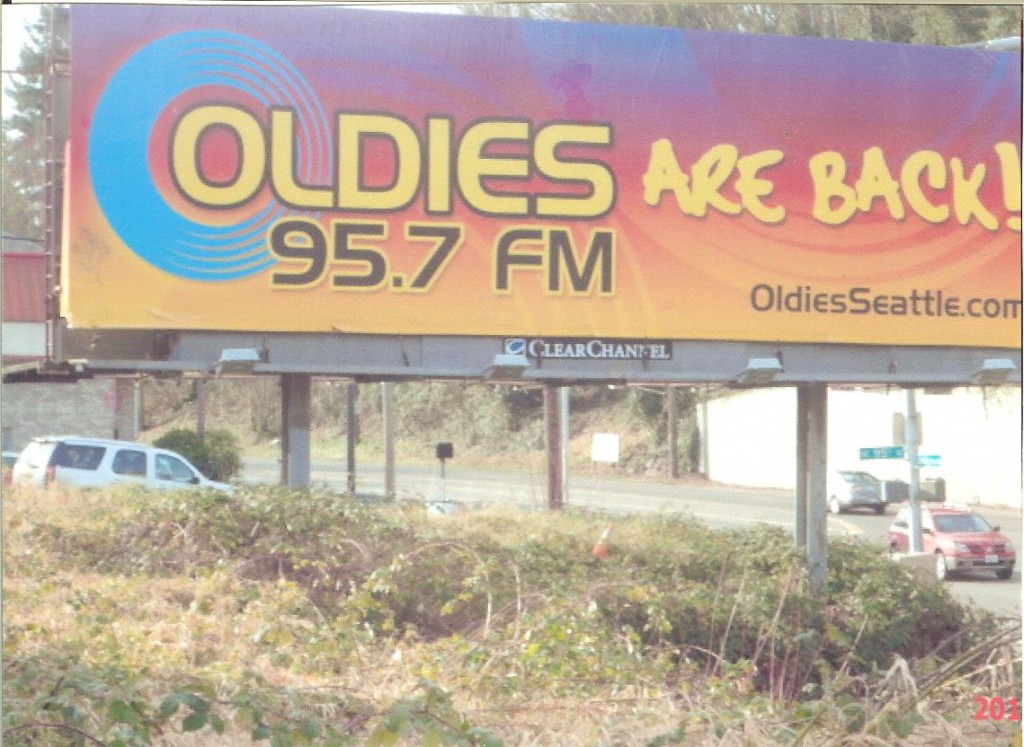 So I wrote the jingle to fit that theme. Here it is:
No one told me to do that but I thought I should do it anyway. It was fun to do.
What I get from this is that perhaps I, too, was doing what I love,  for that 15 minutes, on that beautiful snowy morning in the Northwest. I was creating something.