One night I decided to do a time line of the major events, accomplishments, and special experiences (the good and the bad) of my life. I wanted to review the pivotal moments of my life to see the overall summary it presented.
I remember details, successes and failures, down at the "ground level". But I wanted to see it from above, from the "bigger picture".
I feel like for the most part I've been "following orders", working for someone else, and helping to fulfill someone else's dream. But through it all, bits and pieces of who I really am were trying to emerge and they did from time to time. The authentic me trying to stand up and be counted and appreciated for who I am.
I may be painting a gloomy view of my past but I don't mean to. Because through it all there were many highlights. Magic moments to remember forever. Keys and clues to my real essence (or genius, as Barbara Sher calls it).
The thing is, at this time in my life, I'm not just caught up in it like I used to be. I am aware of what I can contribute. I know myself better. I have begun to really see my gifts and try to determine how best to use them. I understand I need to take charge of my life to the extent possible that anyone actually has control over their lives. (Someone once said, "Do you know how to make God laugh? You tell Him your plans.)
I also understand that my story matters as much as the next person's story.  I understand that I have to be the best person I can be and show others who that person is.
I used to be self-conscious. I knew I was good at some things that others were not good at. But I didn't want to appear cocky or self-centered so I downplayed everything I was good at. That wasn't good for me or for anyone else. It dampened my spirit and it didn't serve anyone well.
That reminds me of a 1994 Inaugural Speech by Nelson Mandela:
"Our deepest fear is not that we are inadequate. Our deepest fear is that we are powerful beyond measure. It is our light, not our darkness, that most frightens us. We ask ourselves, who am I to be brilliant, gorgeous, talented and fabulous? Actually, who are you not to be? You are a child of God. Your playing small doesn't serve this world. There's nothing enlightened about shrinking so that other people won't feel insecure around you. We were born to make manifest the glory of God that is within us; It is not just in some of us-it's in everyone! And as we let our own light shine, we unconsciously give other people permission to do the same. As we are liberated from our own fear, our presence automatically liberates others!
So, as I looked at the timeline, I saw where my compassionate and creative nature emerged on its own, in spite of my self; in spite of trying to cover it up. It would not be held down forever.
On my timeline I saw, for example, when I see someone overcome some obstacle, and  even though it's just a movie, I will tear up for that individual because I know that somewhere in real life there is someone dealing with that same obstacle and overcoming it.
Another example of that compassion and creativity emerging is in  a project I call, "Evie's Locket":
When I entered the hospital to see my brand new granddaughter about 21 months ago and I saw all the family and friends who had gathered around her………..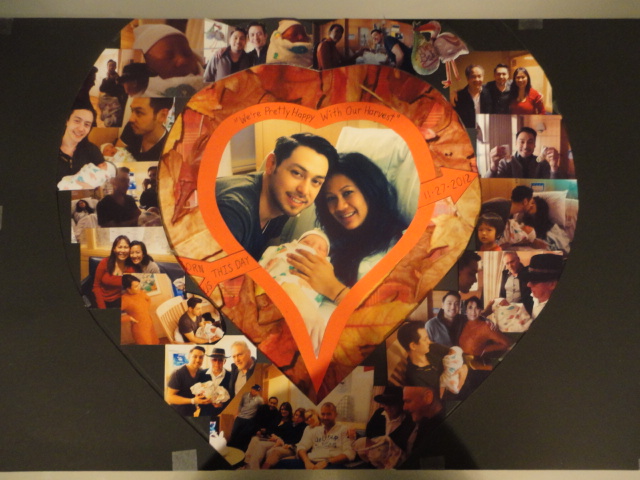 ………..it inspired me to write a lullaby for her, called "Little Bitty Pretty One" and as I thought more about Evie and that day, a whole project around the song took shape in my mind and it became a woodworking project called,  " Evie's Locket".
Since she was born on Thanksgiving Day, I used leaves in the background to show it was late Fall. Then I layered in the picture of Evie and her Mom and Dad.  And you can't see it but there will be a caption around the three of them saying, "We're pretty happy about our "Harvest". Then the next layer up, separated by lighting which highlights the New Family, is a  collage of family and friends who were there that day.
You are looking at the inside of the locket now but there are a couple more details to the project that I want to share later when it is finished.  Right now it is a work in progress.
I'll be writing a new post later to share with you the final details of the project; the final look of the project.
It will be a keepsake for Evie.
This is Evie and I, as of a couple of months ago. The picture was taken while we were all at Seafair, an annual event in Seattle.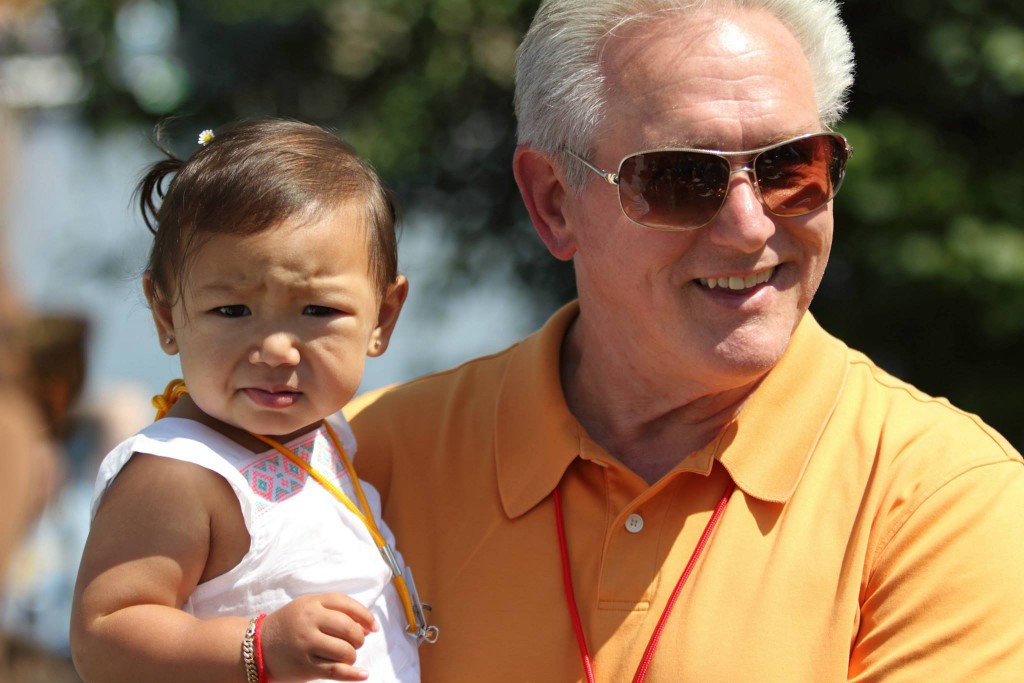 Hey Evie!…….Whatchu got on…………………………………….your mind??
"My Time Is Yours"
Then, another time,  when I was in the Seoul International Airport waiting for my flight to go back to the States after doing a tour in Korea, I was moved to write another song.
As I sat there I noticed a young couple close by and could hear them talking. He had to leave first and she would follow on to be with him at some point in the future. But I could tell they both were a little uneasy to separate. They would have rather gone at the same time, together, if they could have.
He made the comment that time would stand still for him until she arrived and he wouldn't even need to set his watch. He'd just wait until she got there and then they'd set their watches (there was a time zone difference) and start anew. Their apparent love for each other touched me. So I wrote a song, narrated from the guys point of view,  It's called "My Time Is Yours":
So to have compassion for others and to be able to create something tangible or intangible feels like a great blessing to me. These things light up my brain!
So I'd say If you are passionate about something, honor that passion, and pursue it right now in the present. Enjoy the ride! See where it takes you. Don't be worried you are not good enough and don't be afraid to let your light shine.  Jump into the fear of the unknown and be responsible for the effort, not the results. The results, whatever they may be, will come.
And by the way, all these blog posts I've done indicate I still haven't found my passion yet. So who am I to give advice?
Well I'm the one who has been saying to myself for two years now to start my web site and share. Finally, I'm doing it. So, no, I don't know where it will lead. I try not to think about the results. I try to focus on the effort.  But at least now I have stepped into that fear of not knowing the outcome and I am proceeding. I'm making progress. Check back with me in a year or so. Who knows?
Would I like to be really good at something? Yes. But until that happens,  I am grateful for all things along the way.