"Seven Days In Barcelona"
We all felt like we had just arrived in Paris and now it was time to leave. Our time, here, went too fast.
We got just a taste of the fabulous city but were unable to finish the meal.
So on this morning we were going to take a train to Barcelona.
We arrived at the Paris-Gare de Lyon,  one of the six large mainline railway stations in Paris, France. It transports about 90,000,000 passengers annually, and is one of the busiest stations in Europe.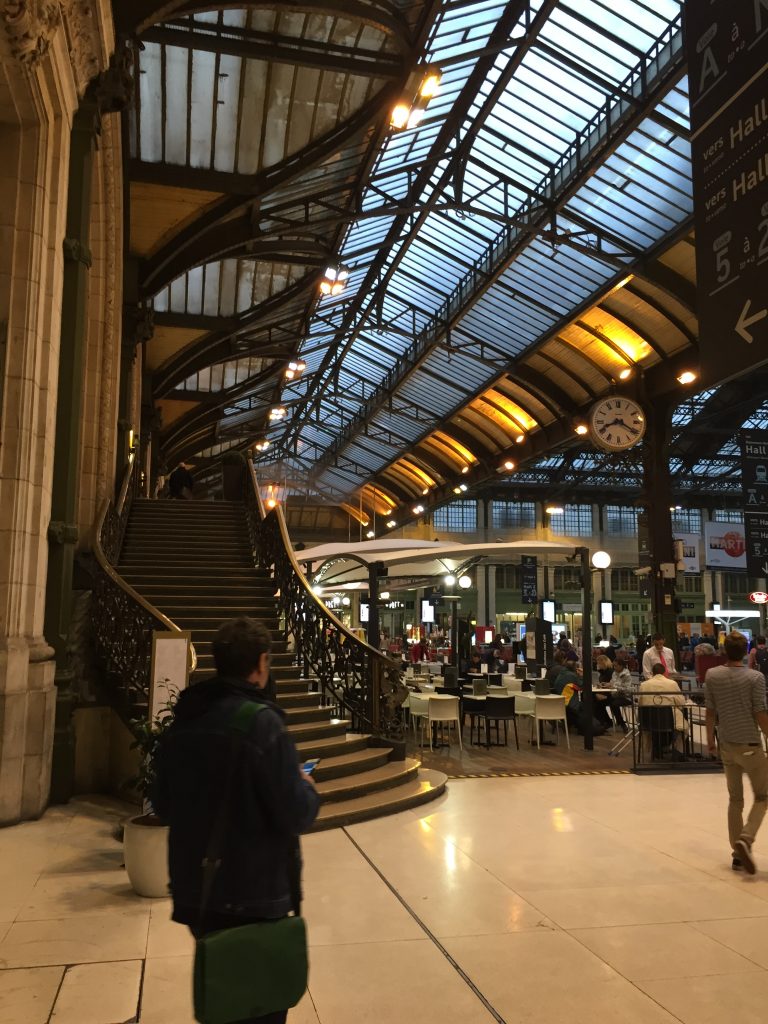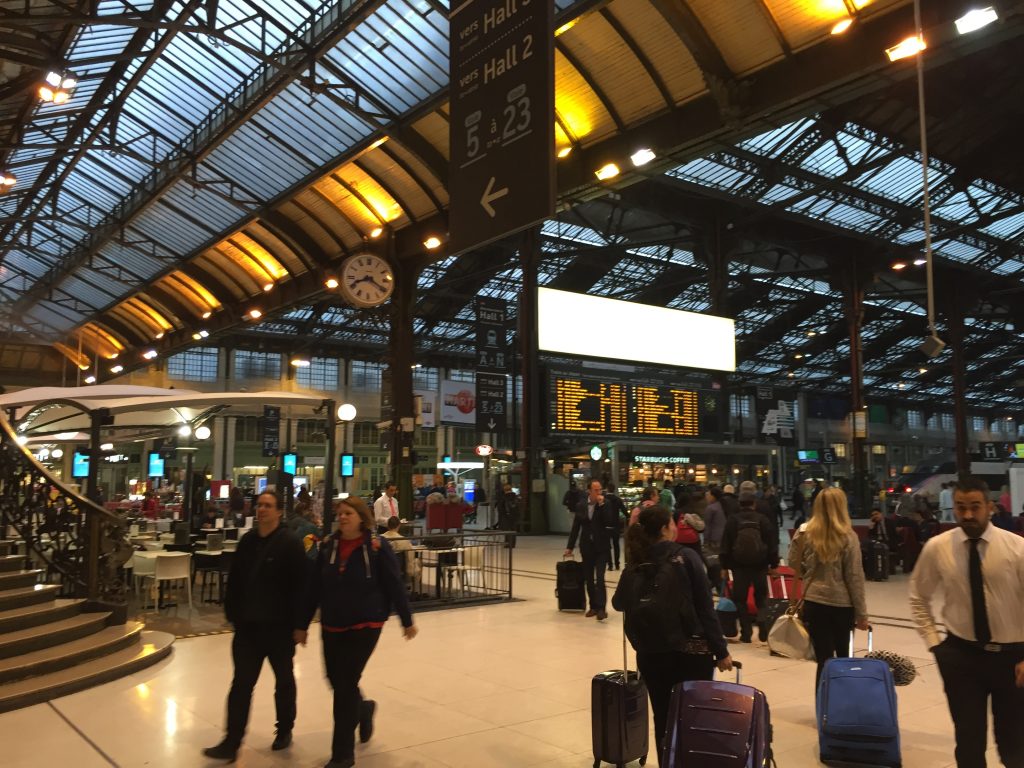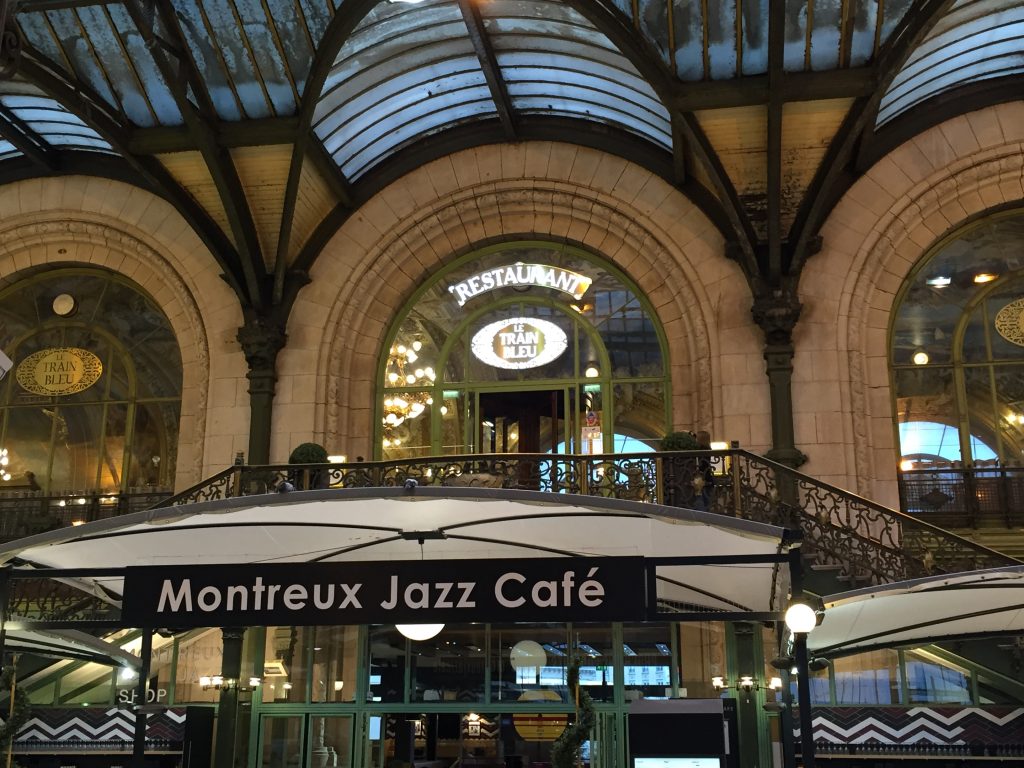 Inside the station is a restaurant called, "Le Train Bleu". We didn't eat there but I just thought it was a very ornate and beautiful interior to share.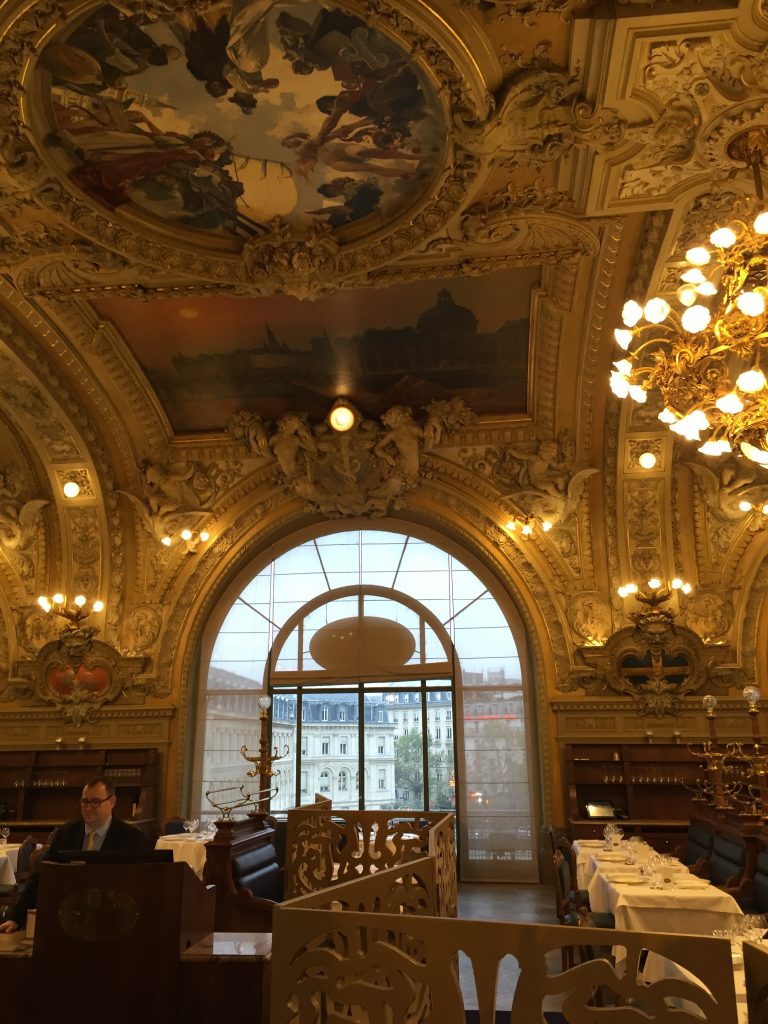 Tim, seated in the middle of the picture with the gray hat on, guards our luggage while everyone else is off doing something.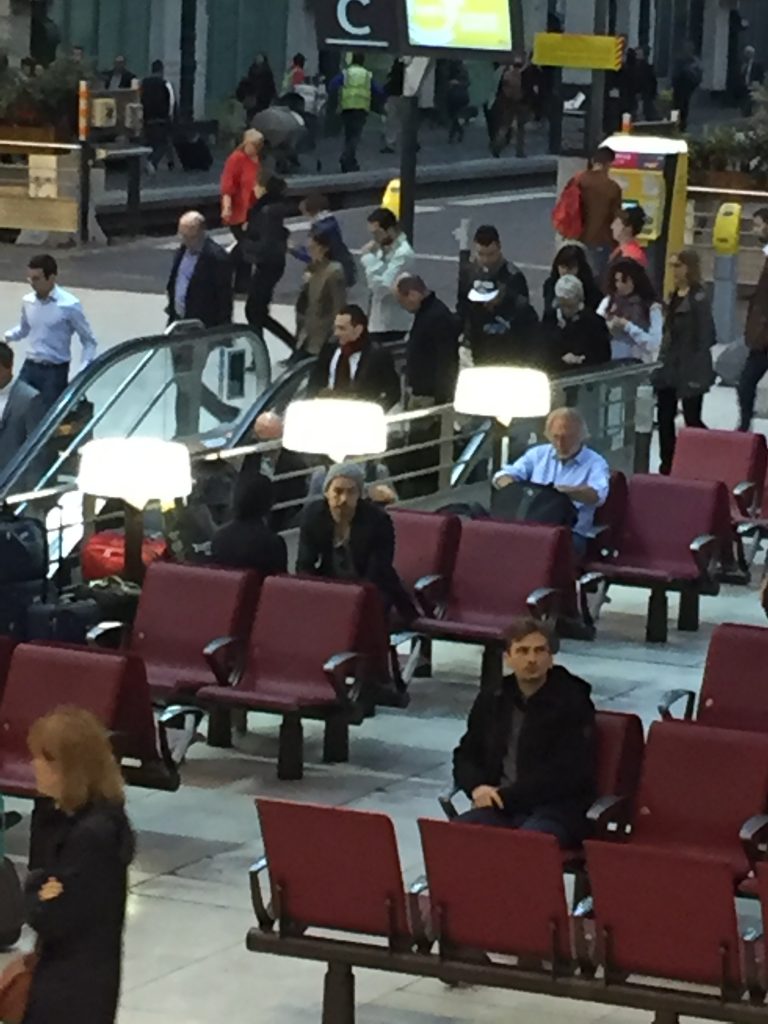 Apparently he is sad to leave Paris too and has nothing to say at the moment, if the speech bubble over his head is any indication.
(I'm kidding. Those are lamps!)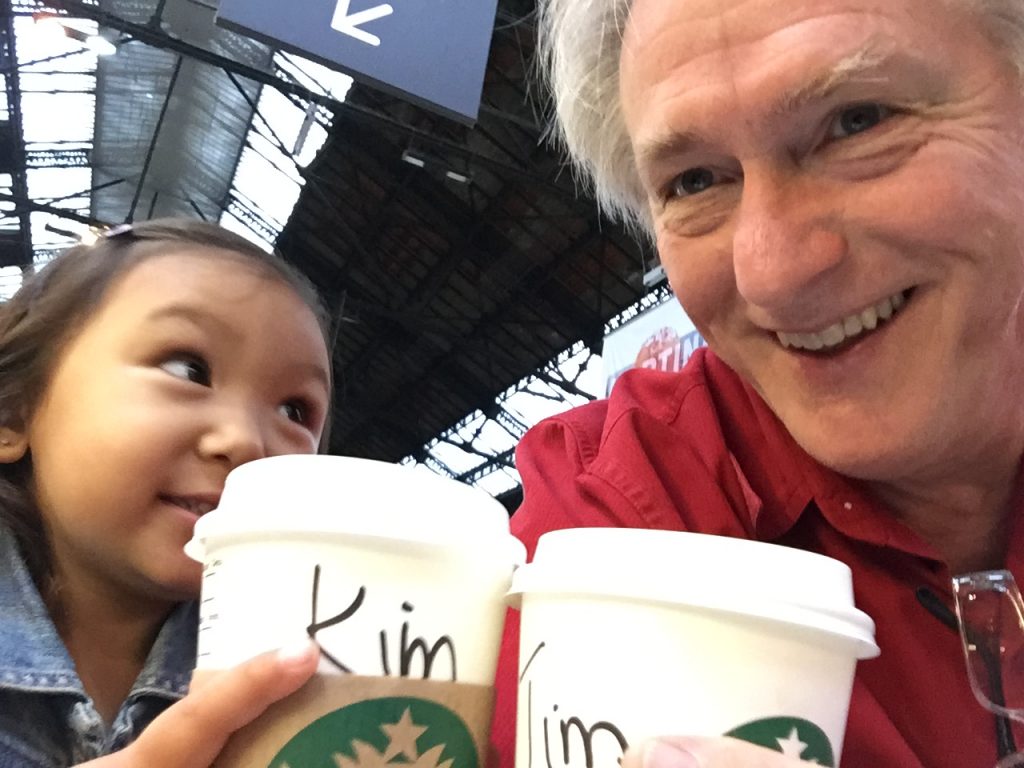 Then Evie and I got back and we were put in charge of the luggage and the coffee until Kim and Tim returned.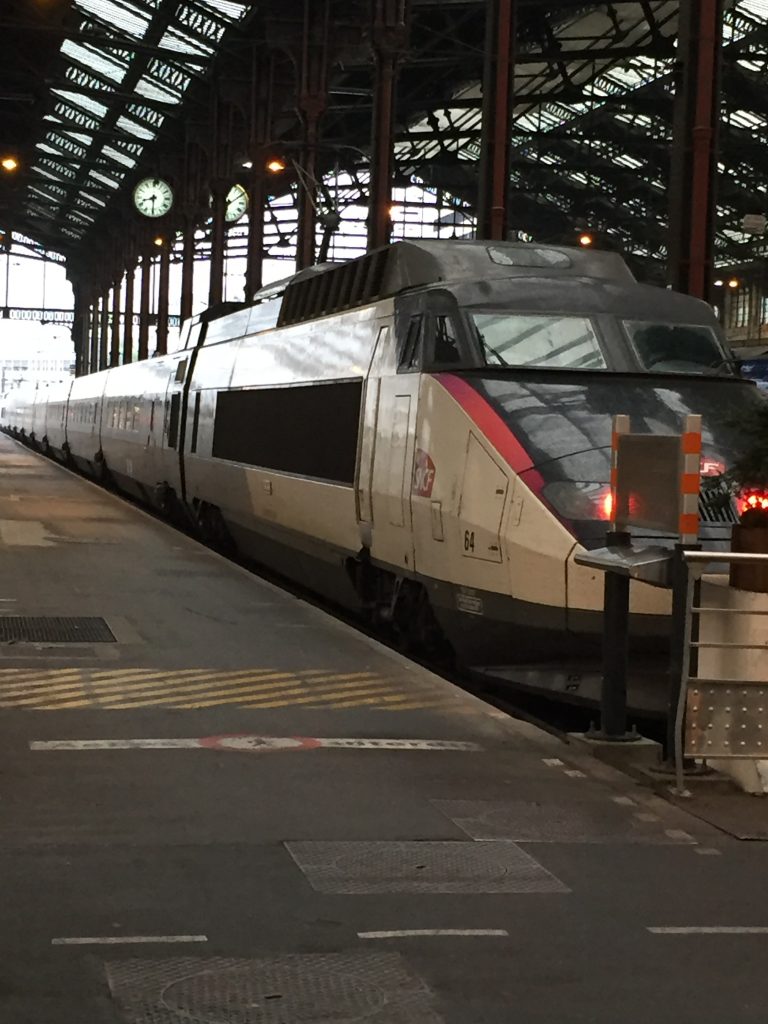 All aboard for Barcelona, a six-hour trip through the countryside.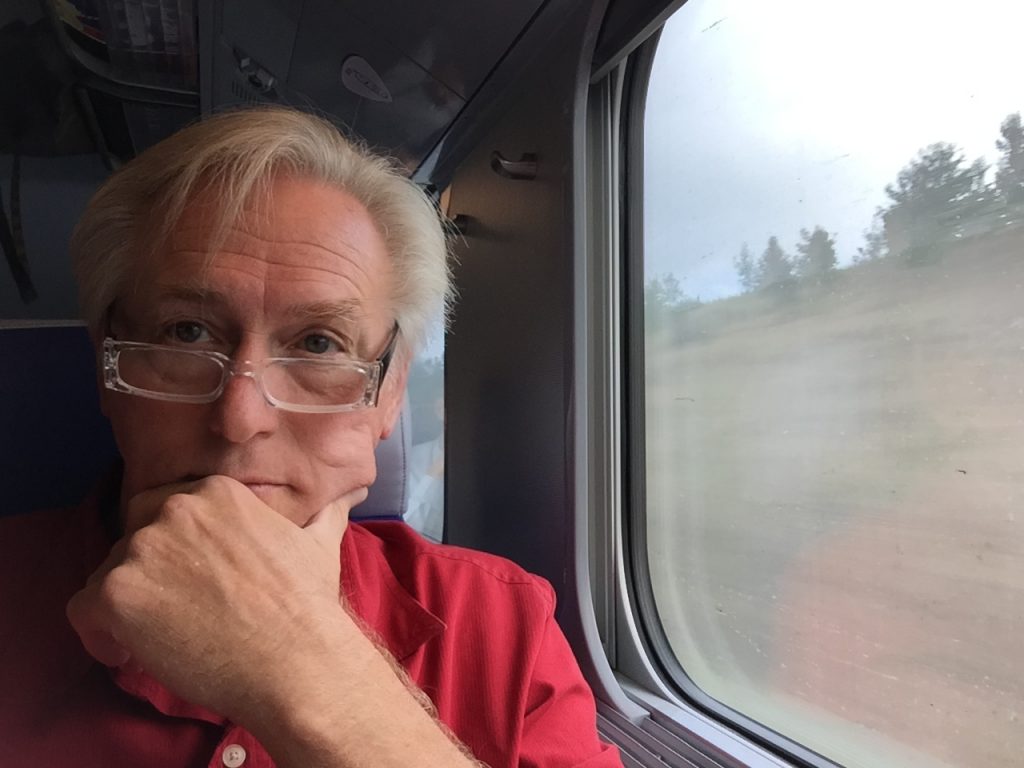 Reflecting on our time in Paris.
Monday…..Day 1
While we waited at the Barcelona Train Station for a van to pick us up and take us to the apartment which Pauline had arranged for us to stay in, Evie found her perfect perch, defying ordinary once again!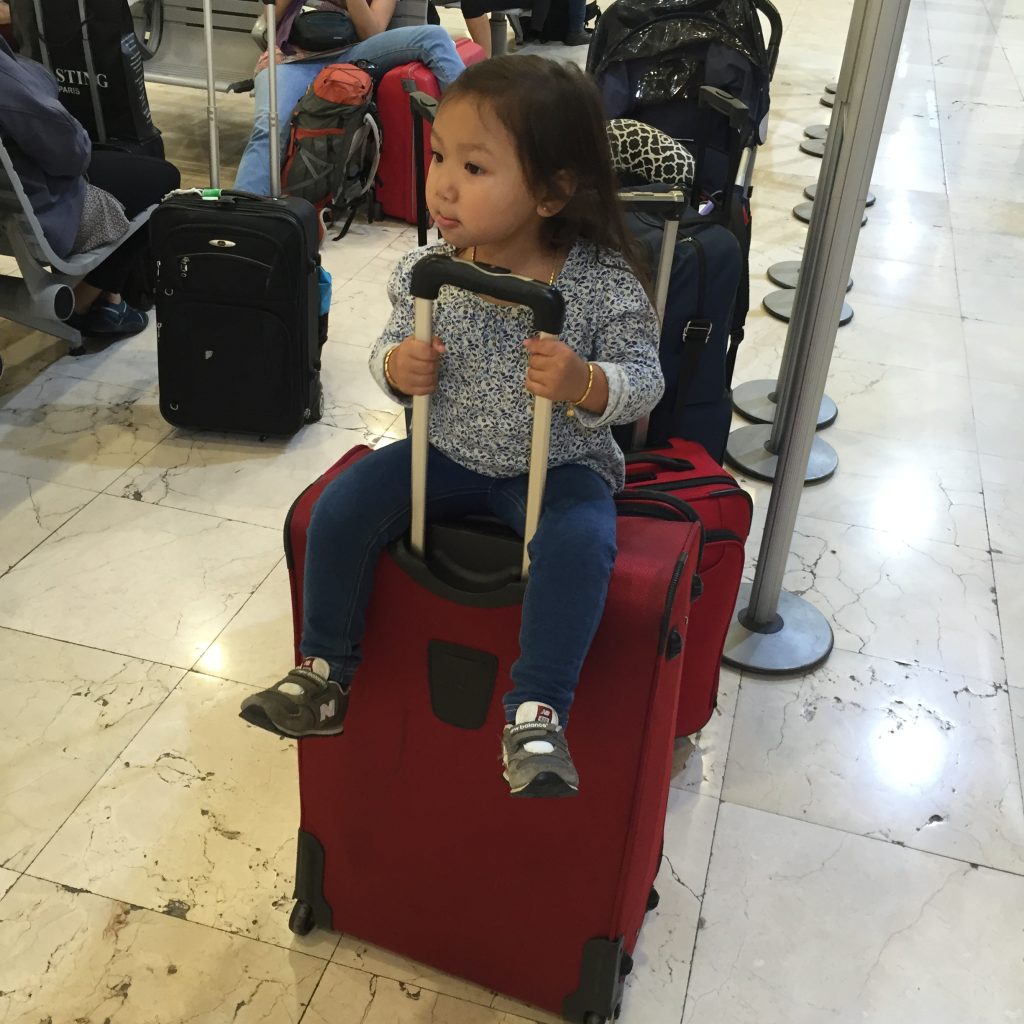 Our apartment in Barcelona was located in the Old City, just west of the touristy areas, such as the Placa de Catalunya, the Ramblas, the Barri Gotic, and the Eixample.
We could walk to each of those areas easily and quickly, but the area we stayed in had more of a "local feeling". It was clean and friendly, convenient to everything, and relatively quiet at nighttime, except for the buzz of the neighborhood.
We found stores close by, which had everything we needed. We did some touristy things in Barcelona,  but the whole seven days felt like we just lived there. I didn't feel like a tourist.
We arrived in Barcelona at about 6 p.m., met up with the lady who would take us to the apartment we rented, deluged her with some basic questions about where everything is, unpacked, and headed for the market to get something to make for the evening meal.
Tuesday…..Day 2
Pauline's Birthday!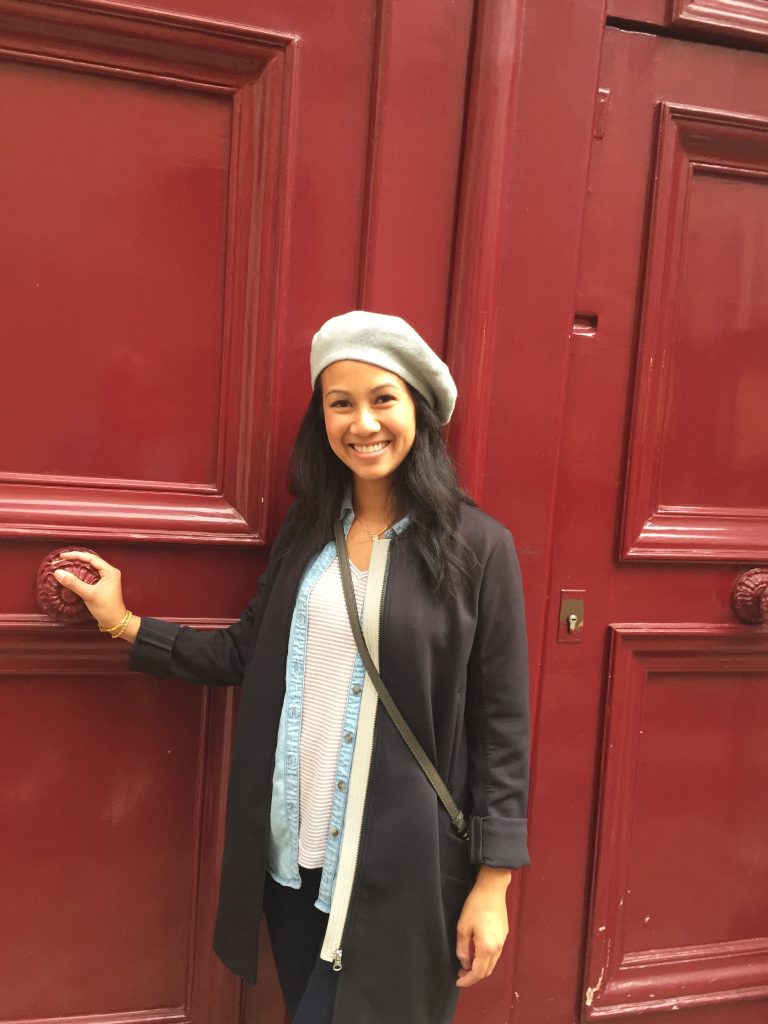 THE BIRTHDAY GIRL
Everyone went out birthday shopping for Pauline except me. I hung back to find a bakery where I could get a birthday cake for Pauline, a dry cleaners where I could drop off some clothes, and a supermarket where I could get a couple of things we still needed.
I also wanted to work on the post about our Paris adventure.
I started by going across the street to the Horno de Sta Madrona, a great bakery with a friendly atmosphere. Inside I talked to one of the owners, Maria, who is from Austria and speaks German, Spanish and Catalan, French and English. (Yeah, ONLY five languages! She's been slacking off.)
We started talking about Austria, Switzerland, Barcelona and family. I told her about my trip to Switzerland to see and hear Lizz perform, and then I yodeled for her.
She told me, "Don't quit your day job!",  and then she told me about a bakery where I might find a birthday cake for Pauline.
I soon found the "Dulcilandia", the one Maria was referring to,  but the lady inside didn't speak any English so I went out to the street and I nabbed an unwitting victim to interpret for me.
Actually, she was a good-looking, friendly young woman, named Carla, with a few tattoos,  who kindly went into the store with me and in just a few short minutes I was on my way back to the apartment with the cake for Pauline.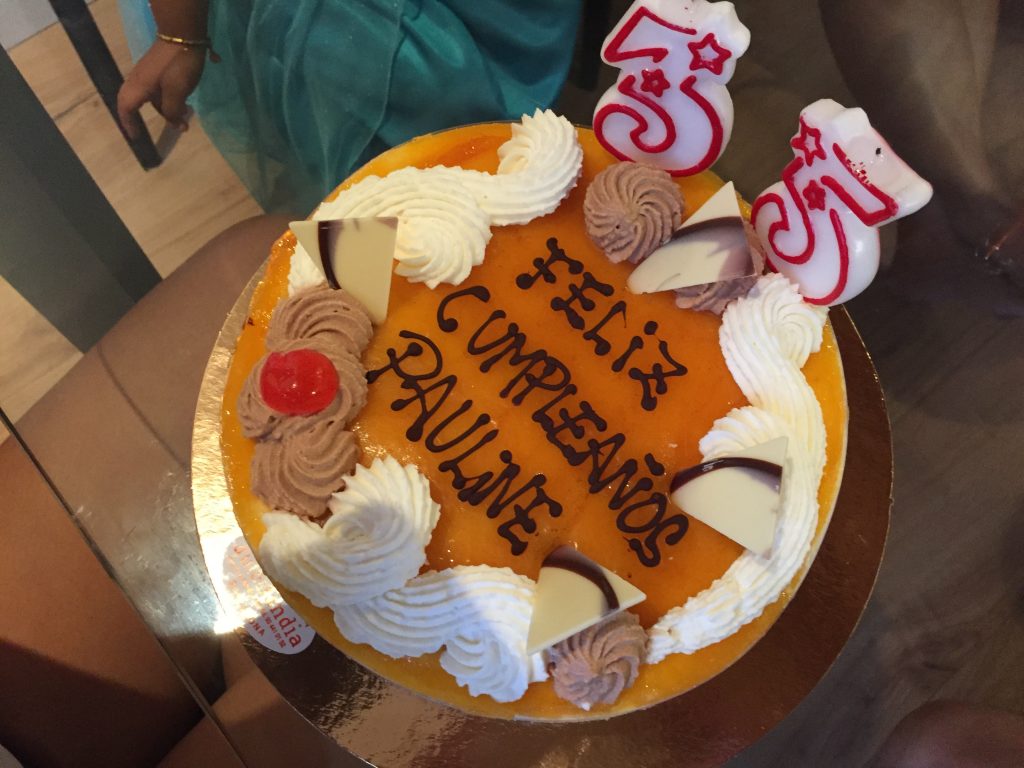 I also happened to find a dry cleaners right across from the Dulcilandia. Then I was off to the supermarket that I had passed along the way to the Ducilandia, and then back to the apartment.
We were all very happy with the choices Pauline made in apartments, both in Paris and in Barcelona. They were  like homes away from home.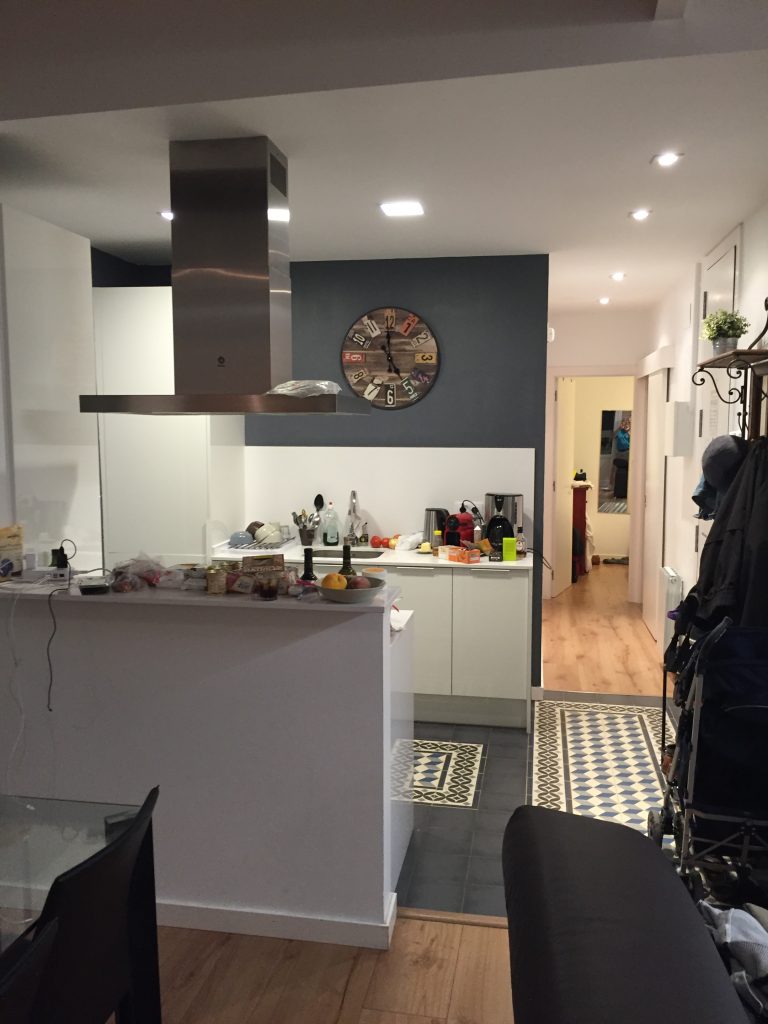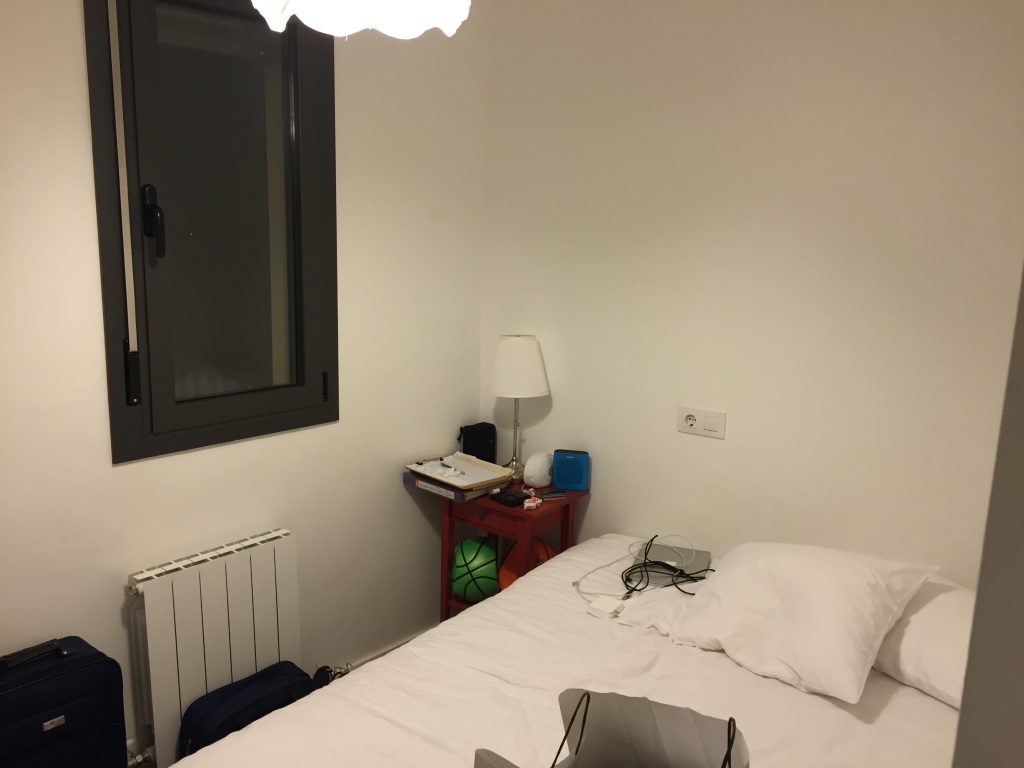 A few hours later everyone returned from shopping.  Pauline's mom started cooking a delicious Cambodian meal for the birthday girl.
Then we celebrated Pauline's birthday!!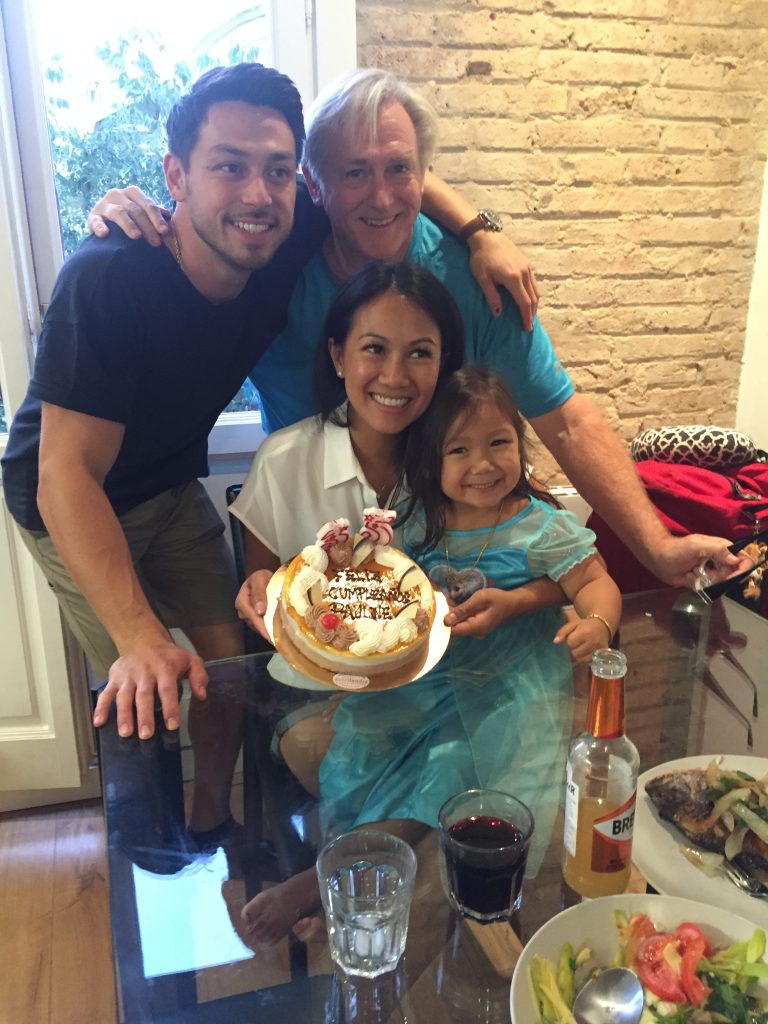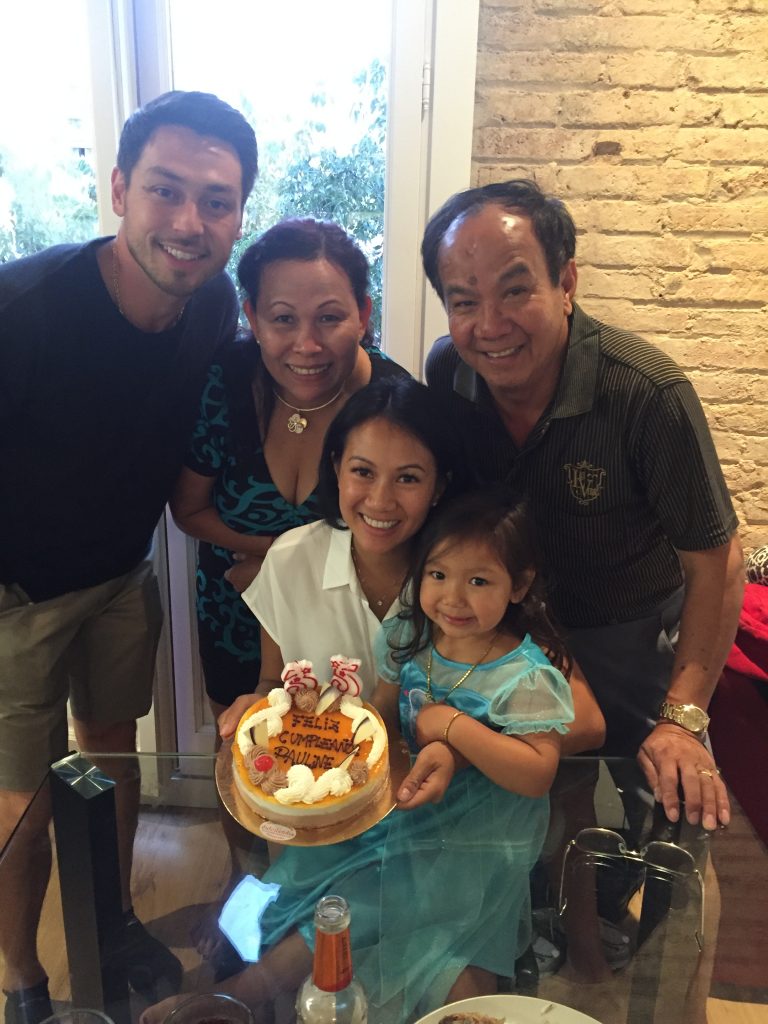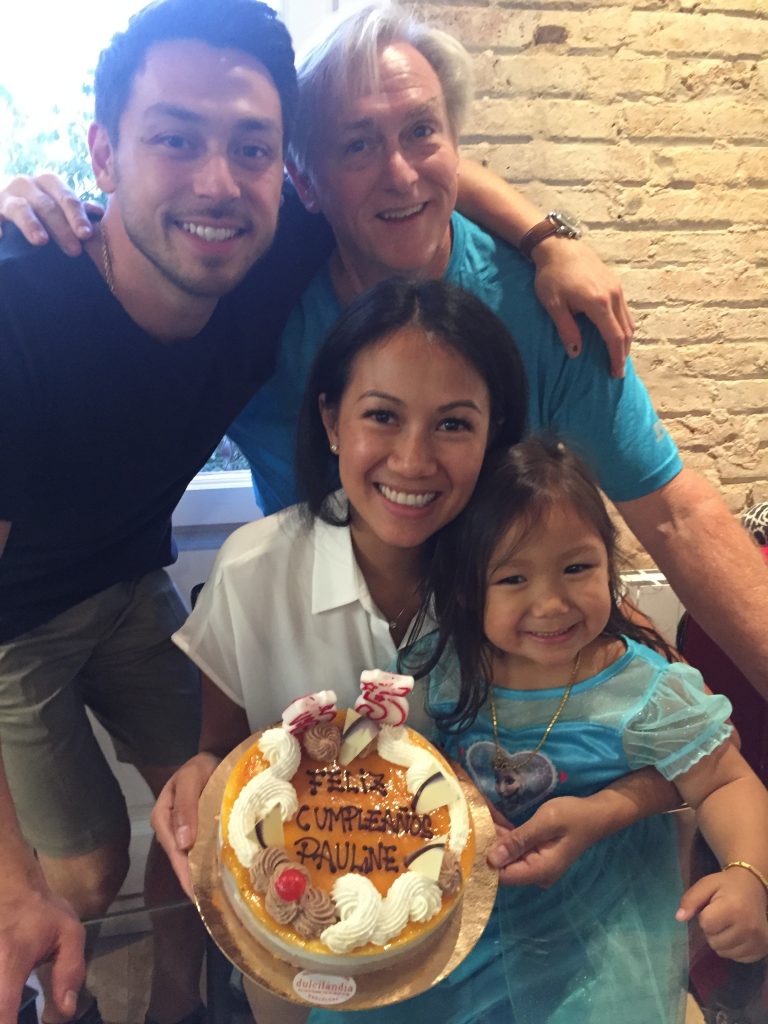 Later that evening, Tim and Pauline got ready to go to a special restaurant where Tim had made reservations, to celebrate her birthday, just the two of them.
Wednesday……Day 3
I got up early, while everyone else was sleeping, and I walked about about a mile and a half to the Parc de L'Espanya Industrial to play basketball 🏀 at a beautiful venue with a water view.
Along the way to and from the park to play basketball, I passed buildings, fountains and plazas which were originally built as part of the 1929  World Expo Fairgrounds.
Las Arenas (above) was originally a bull ring. It was turned into a shopping mall.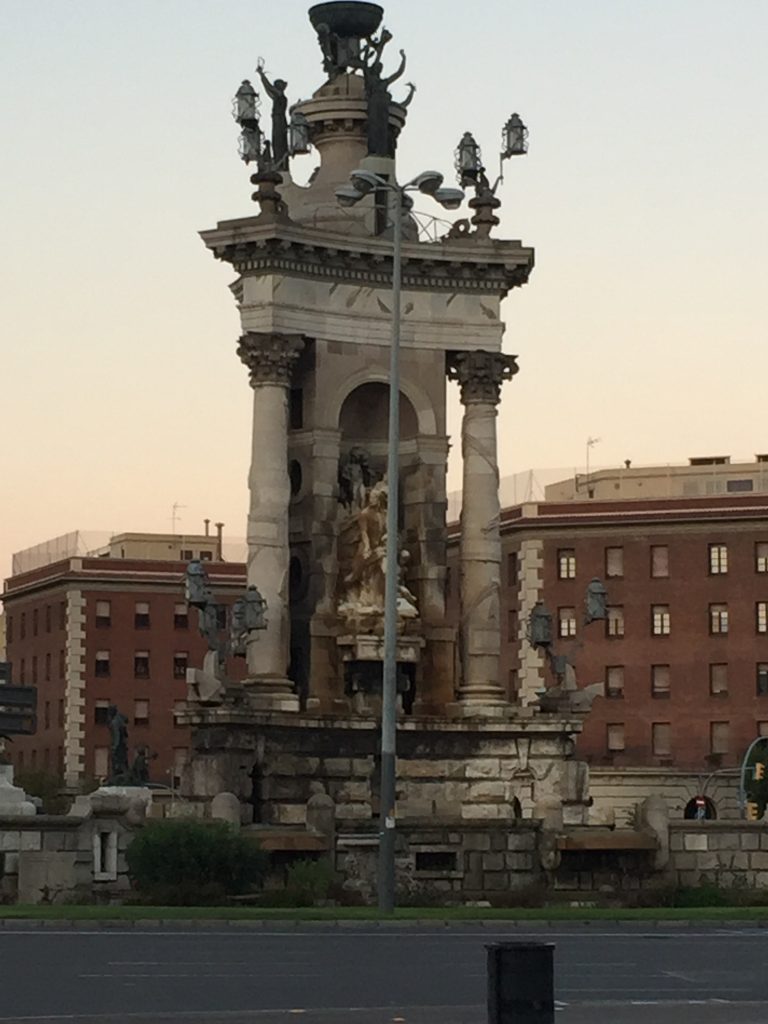 Placa d'Espanya.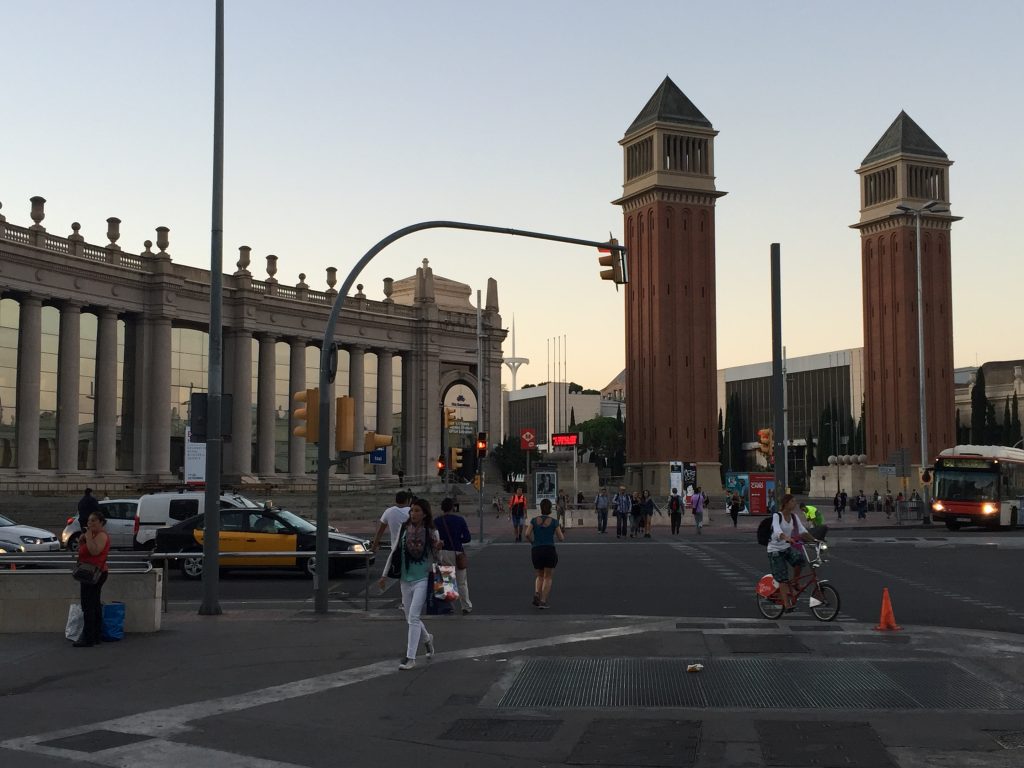 Entrance to the World Expo Fairgrounds.
The building in the center is the Catalan Art Museum, located within the World Expo Grounds, as viewed just outside the entrance to the Grounds.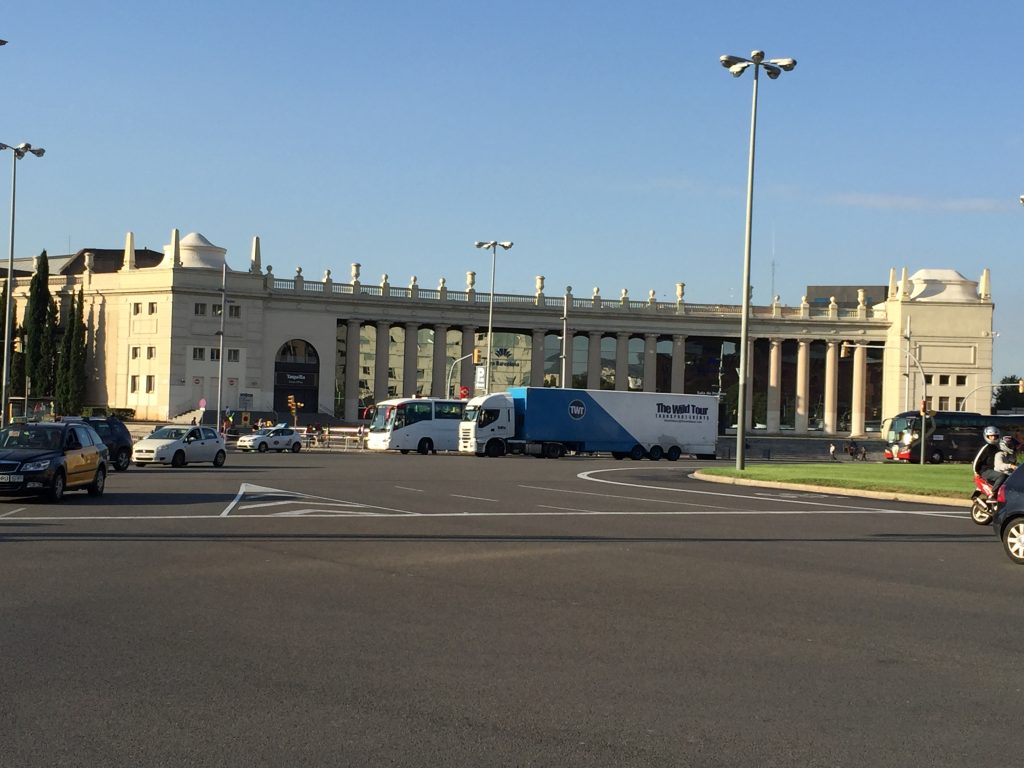 I played ball 🏀 for about an hour………
…………and then I walked along Av. del Parallel, which led back to the apartment and  continued on a gentle slope downward to Port Bell (Old Port), the waterfront on the Mediterranean Sea.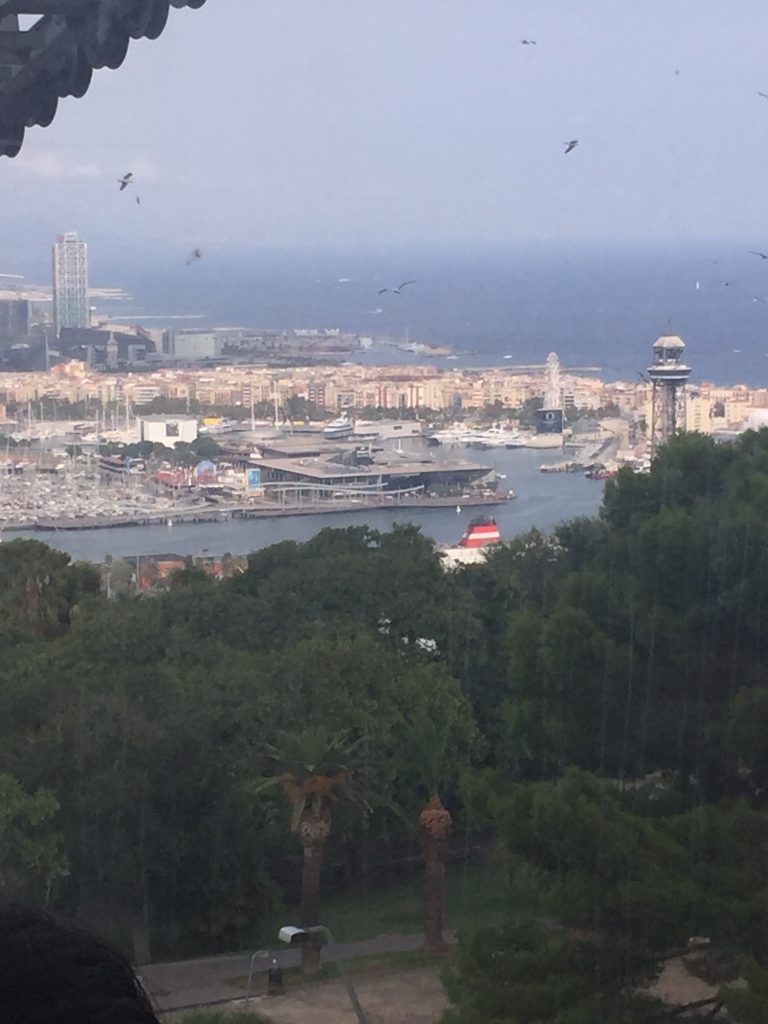 Port Bell….The center of the photo shows the Maremagnum Mall and the Aquarium.
When I got back to the apartment, breakfast was ready so I took a quick shower and ate.
Before we set out as a group that day, I went out on the balcony to the apartment to do some laundry (the washer and dryer were on the balcony).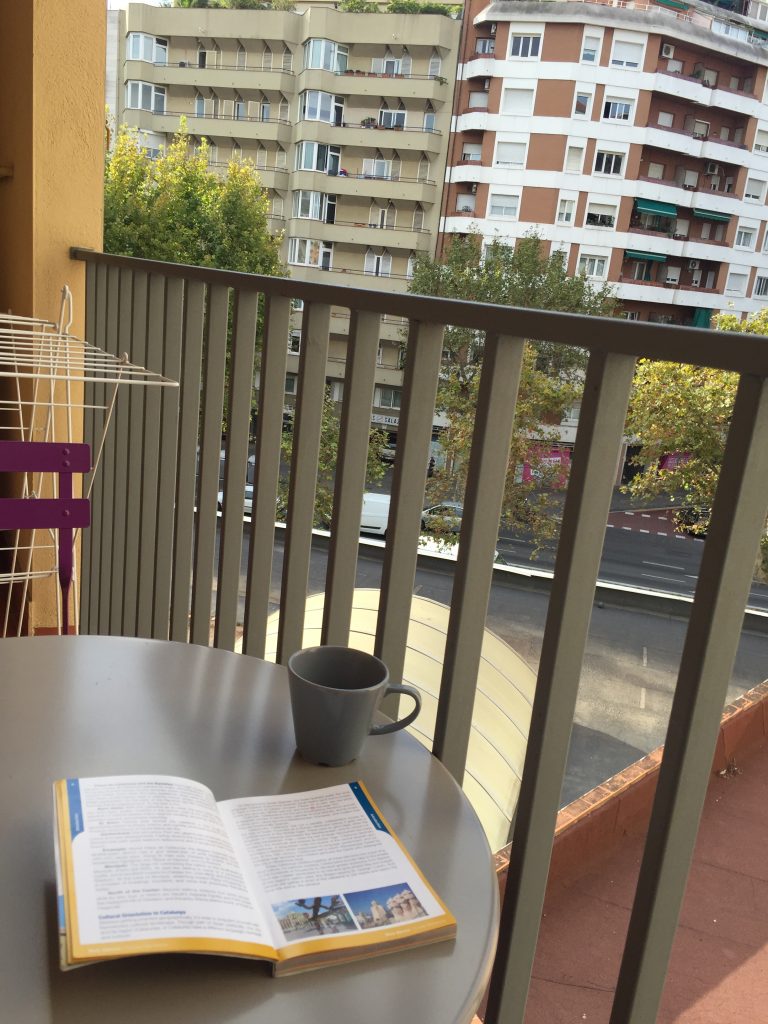 As I reviewed a Rick Steves' book on Barcelona, I heard and watched Pauline lovingly dress Evie and comb her hair, getting her ready for the day.
When Pauline had finished working her magic, Evie was feeling pretty good about herself. She came straight out to the balcony and so sweetly and innocently asked, "Grandpa, do you want to take my picture?" 
I said, "I Doooo!!"
She said, "I'll sit in this chair 'cause purple is my favorite color. Then she sat down and posed with much dignity and poise…….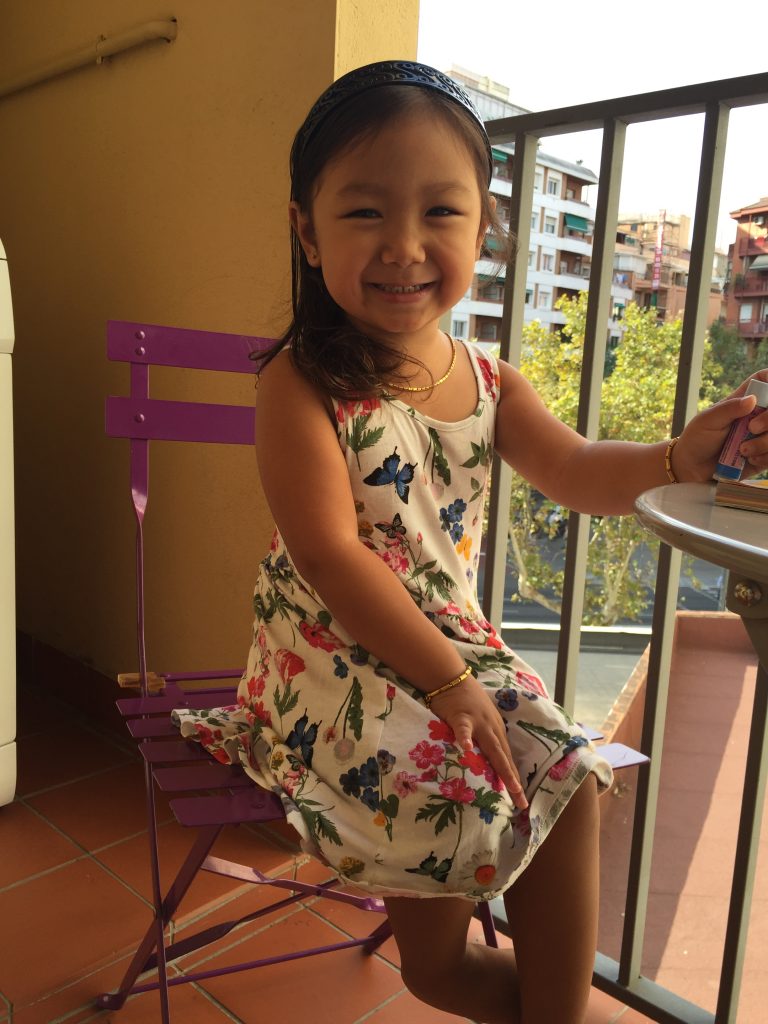 ……and then I said, "You really look nice, Evie!!"
Then she lowered her countenance slightly, as a demure expression of thanks…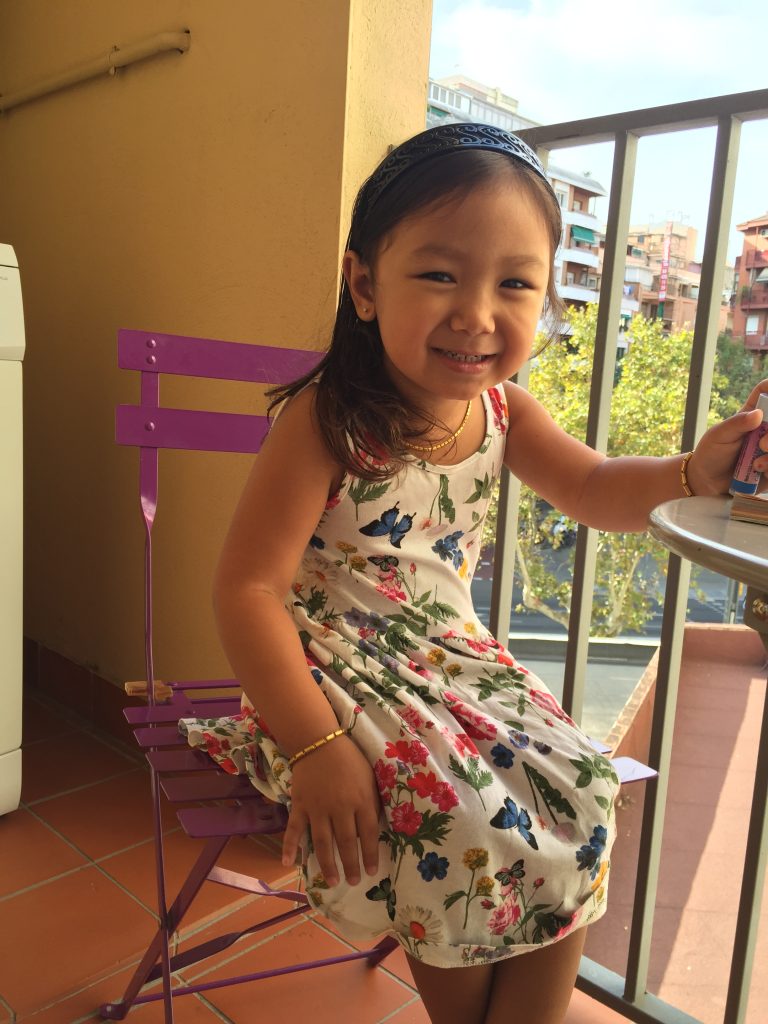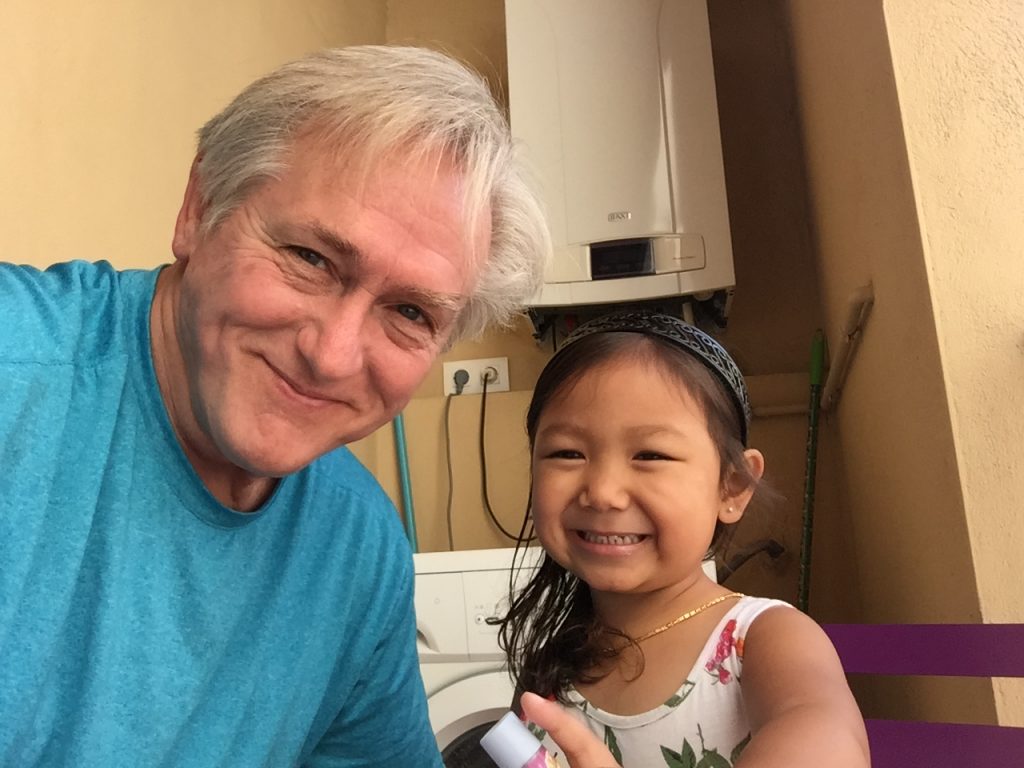 It was worth going to Barcelona just for THIS MOMENT, alone.
Around noon we headed down the Ave. del Parallel,  toward the Pier.
We passed by a grove of trees with thorns all over them, pricked our fingers and pondered what kind of trees those were……..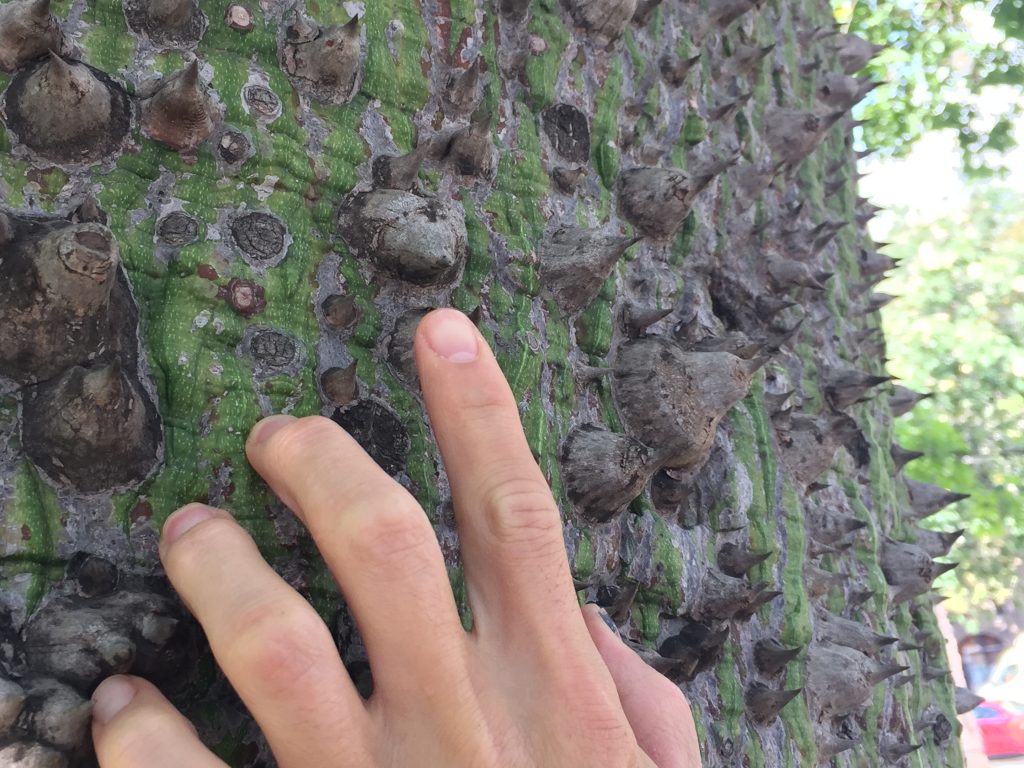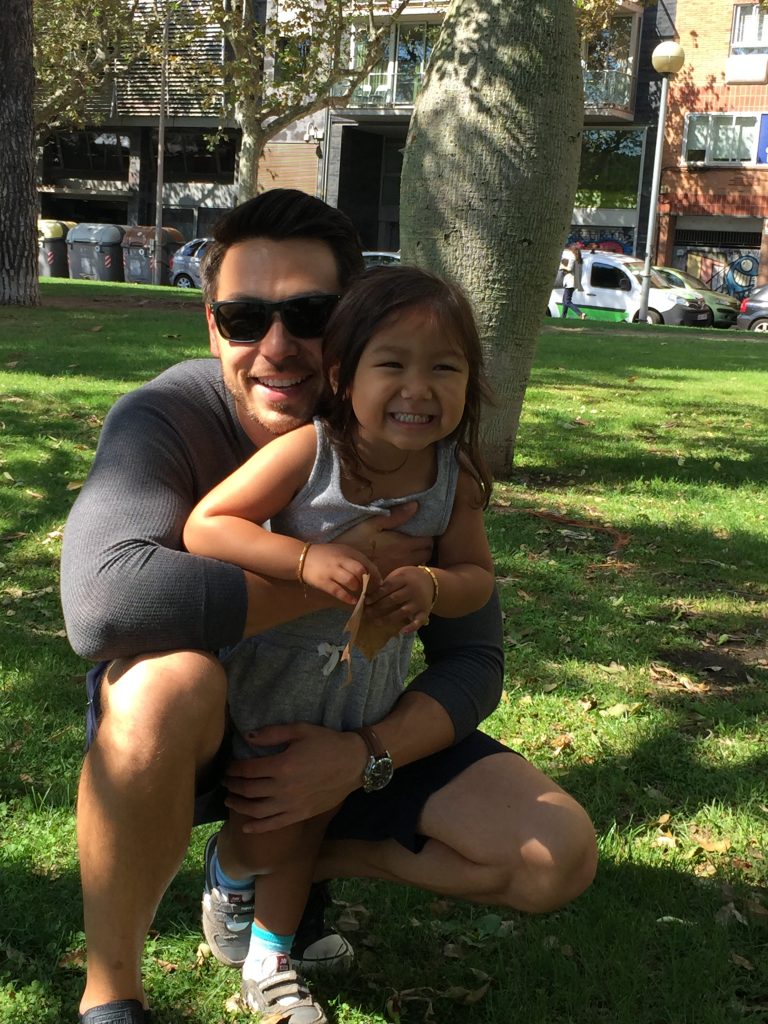 …..then selfie silliness happened……
We passed by the Maritime Museum, and the Columbus Monument……….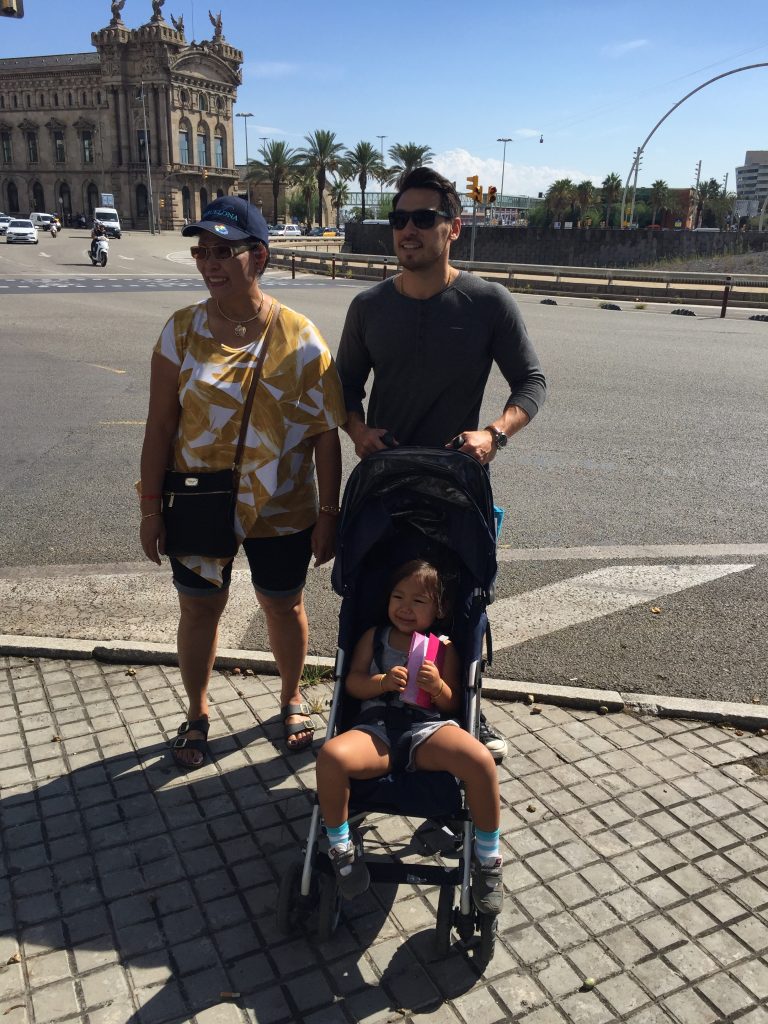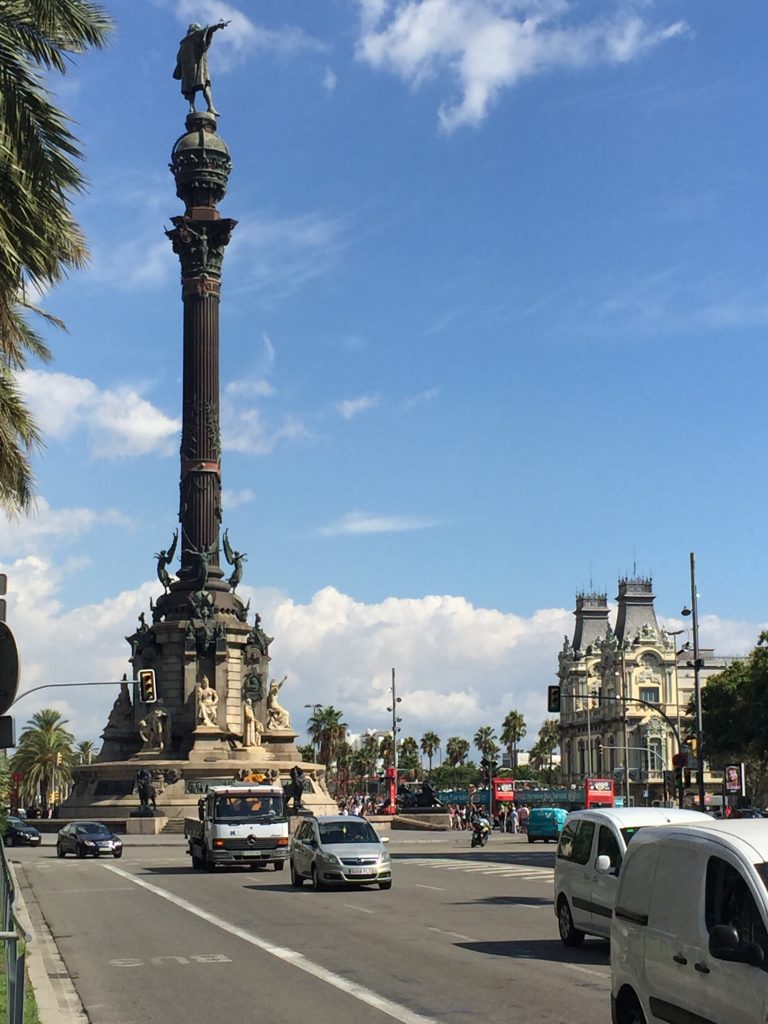 ….and finally, up to the Terraza Maremagnum, for lunch outside on the terrace with a beautiful view of the Mediterranean Sea and the harbor.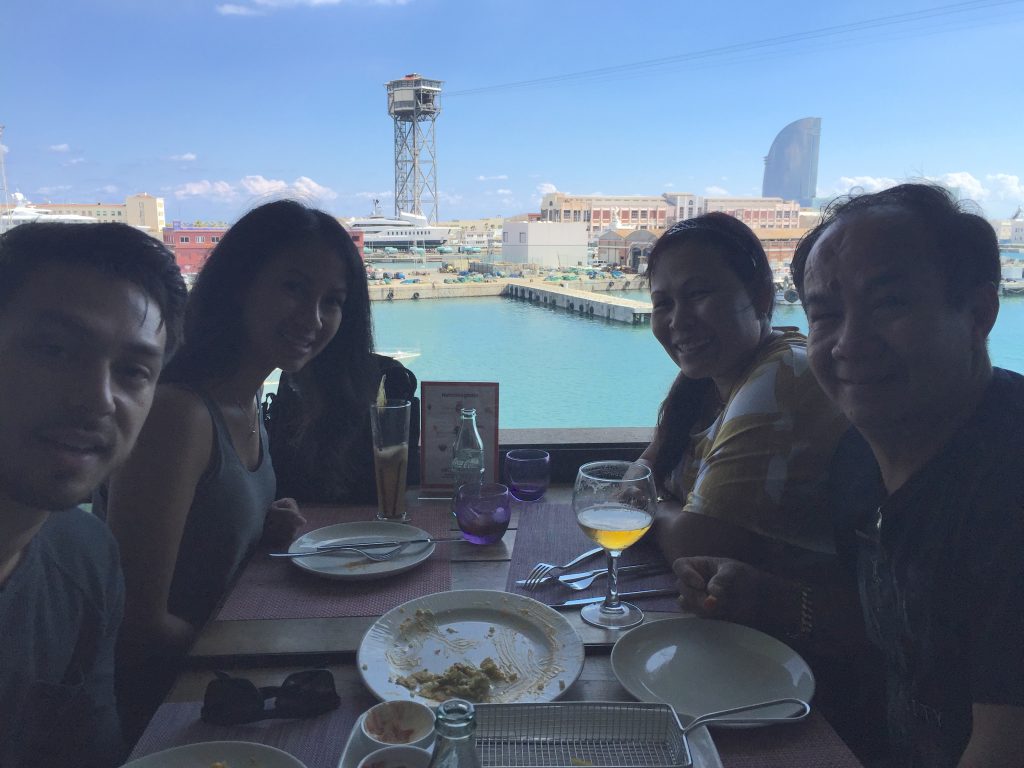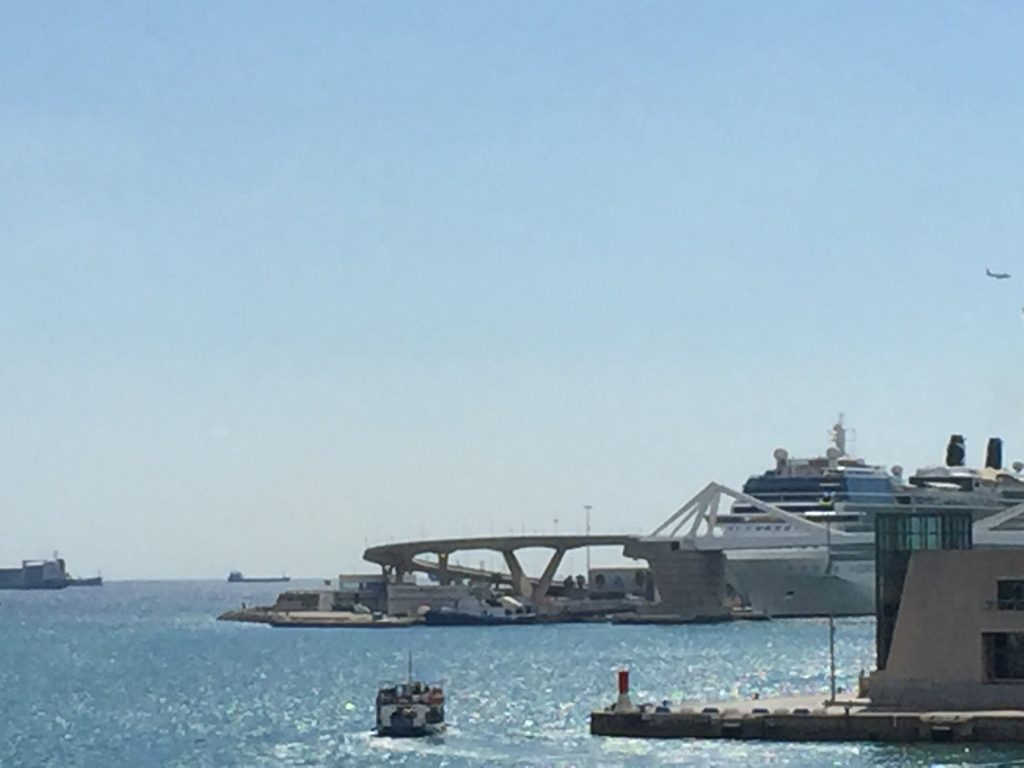 Next stop was the Aquarium, located next to the Maremagnum Mall.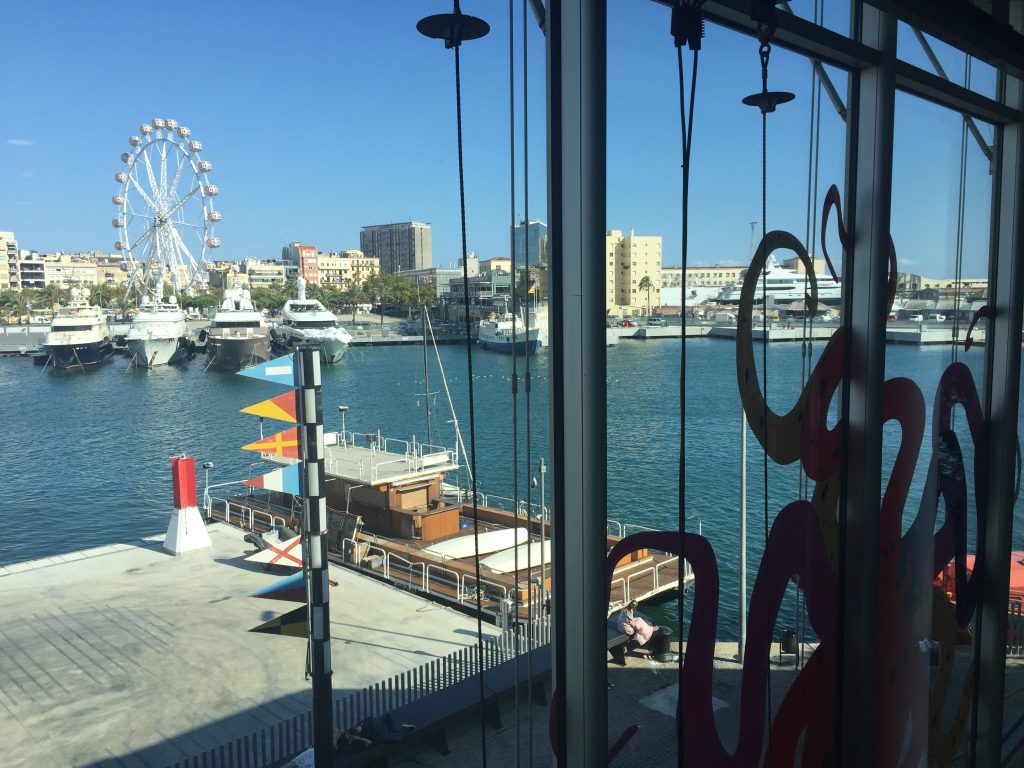 View of the harbor from inside the Aquarium.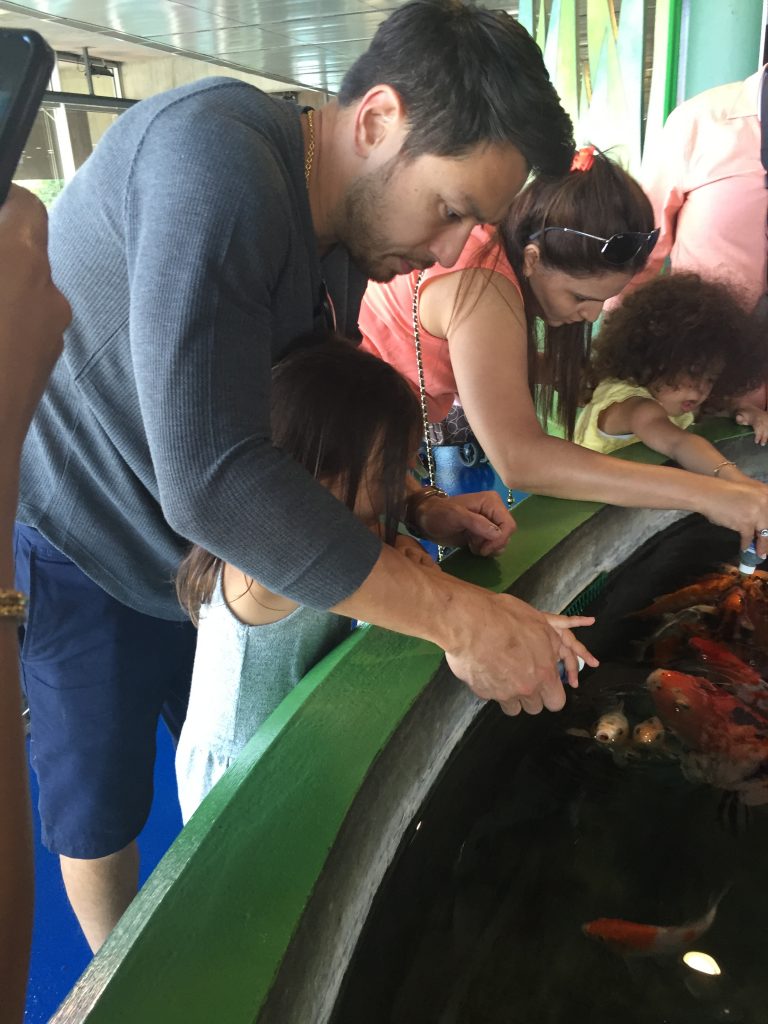 Tim helping Evie to feed the fish in the Aquarium.
CERA 23
That afternoon we went food shopping at an Asian market and as we were going back toward the apartment, we happened to pass a restaurant called Cera 23.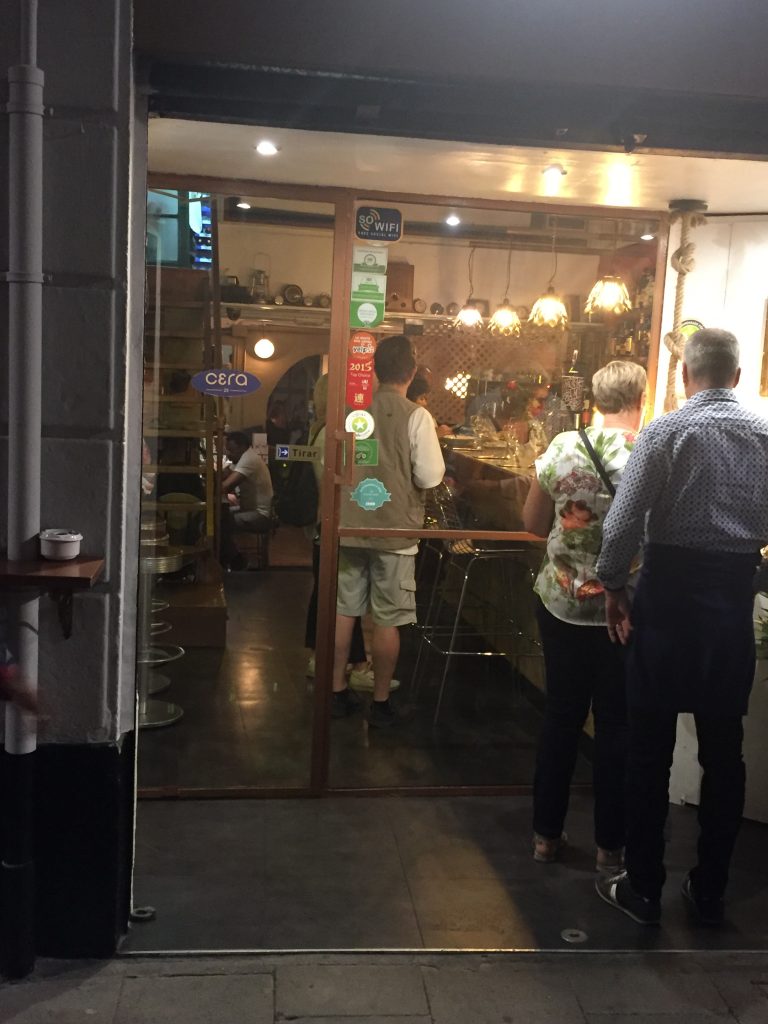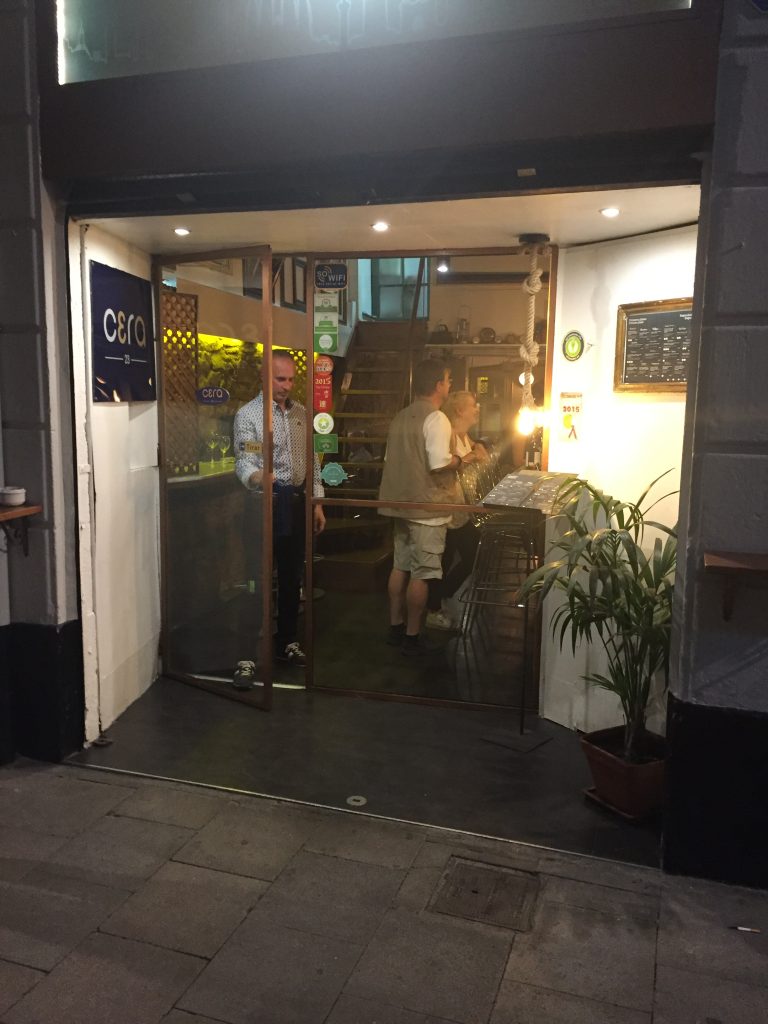 It interested us.  So we looked on Yelp and saw it had received really good reviews, so we decided to eat supper there. We were all famished.
So we went in. Went down a couple steps and through the archway…….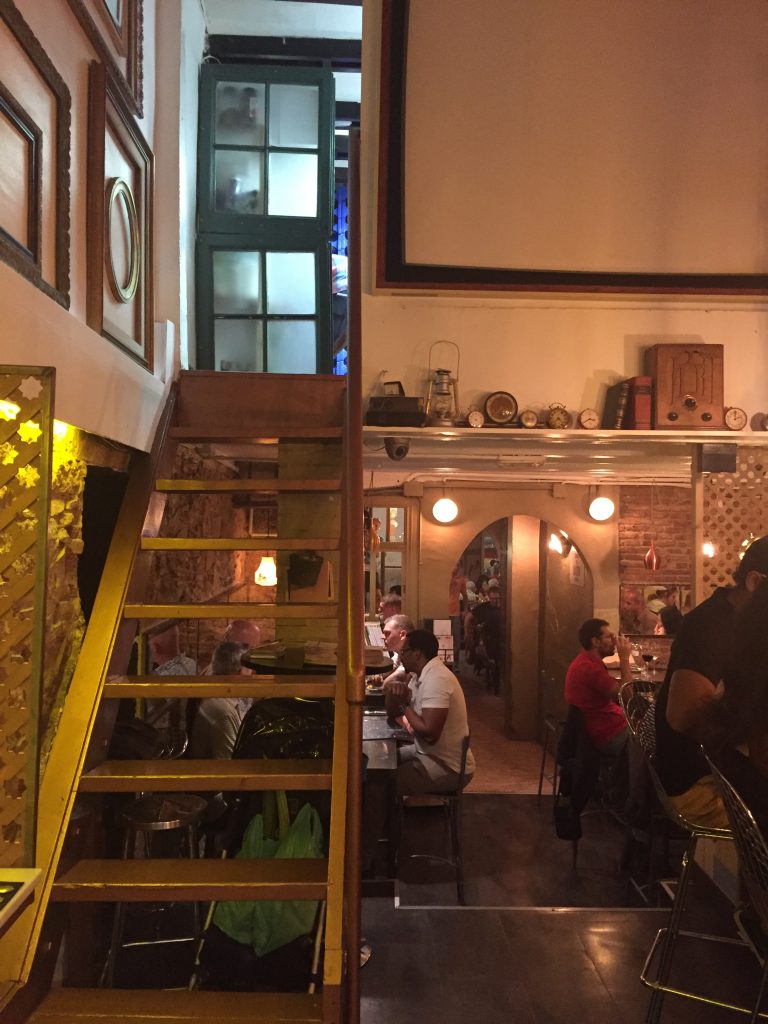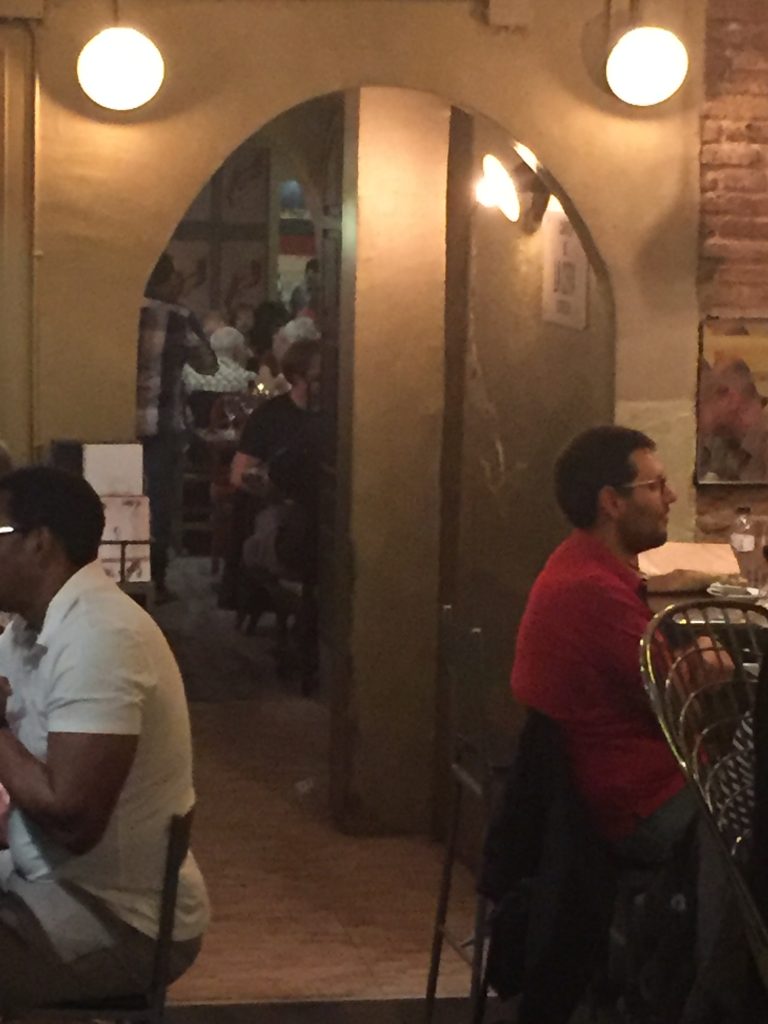 ……where we discovered there were many more tables. Stephanie, our waitress,  put a couple of tables together to fit us all in.
Stephanie and Paul helped to make it possibly the best dining experience we had while we were in Barcelona.
They described the various dishes in detail and helped us make some really great choices that night.
Each time they brought a new dish out, our eyes flew wide-opened as we  "ooh"ed and "ahh"ed about the way it looked and smelled. We were having a good time with it.
They put each entree in the middle of the table, one at a time, and all of us would take a few bites of each entree so we could see which ones we liked best. None of us did our own thing that night.
We shared everything and talked about each entree, as if we were a group of food critics from some magazine. But we weren't criticizing, we were appreciating and enjoying everything.
Stephanie, our waitress, seemed to enjoy bringing the food to us. She would pause for a moment to watch us revel over each dish.
We also caught the attention of the three chefs in the kitchen (although it doesn't look like it from this picture). They were watching us from behind the arched pass-through window and were beaming  proudly because of the way we enjoyed everything they prepared for us.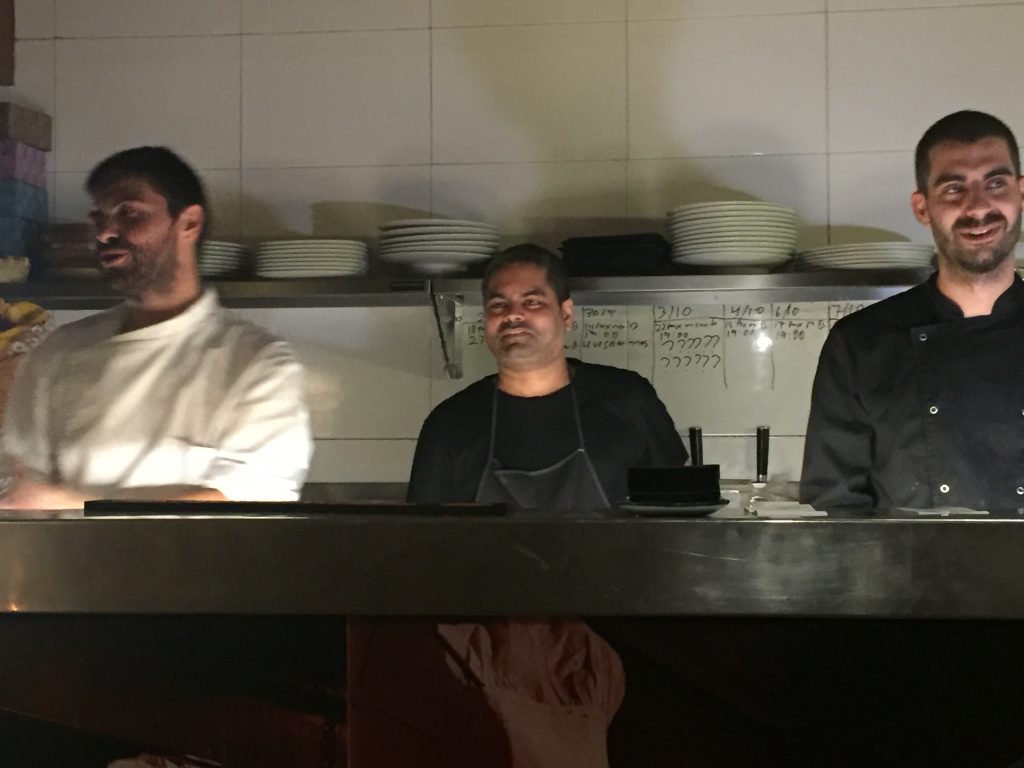 They took notice of Evie and started to blow huge soap bubbles her way. One huge bubble almost made it to Evie, and she was poised to catch it but, alas, it burst just inches beyond her.
CERA 23  was a great dining experience.
"How great was it?" you ask?
It was so great, none of us thought to take a single picture throughout the whole evening. 
As I was writing this, I called Tim to ask him if he had any pictures from that night that I could show here. He agreed with me that we were too busy having fun to think about taking any photos.
That's a first for our group. We're always taking pictures.
Does that mean we're not always having fun?  🙂
Oh! speaking of bubbles……..One day I saw a comment Lizz (with two Z's) made on her FB page about  "bubble-chasing" in Barcelona, Spain,  where she had just recently been on tour.
She posted these pictures  with her comment. (To see them, just click on the  link.)
I like how Lizz creates art through her music, her words, and her photography.
Thursday…..Day 4
I woke up before daybreak because I wanted to walk down to the waterfront a little before the sun rose. It turned out to be gorgeous that morning!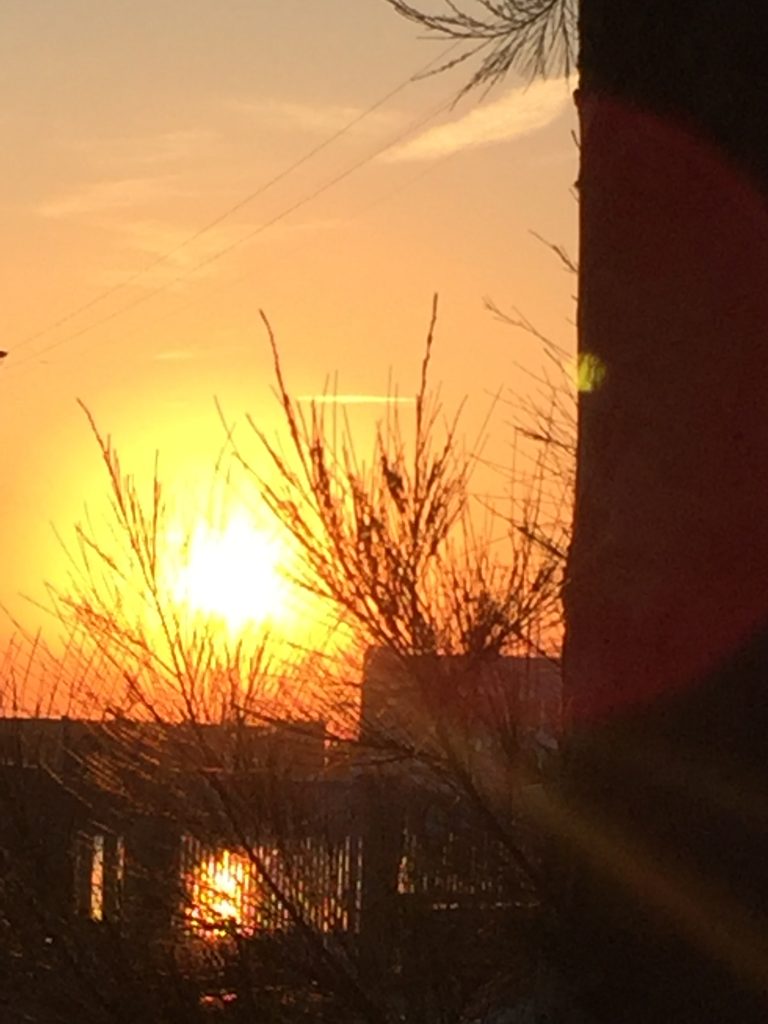 I took this shot and a few more of the harbor and the sunrise and then I headed back to the apartment to eat breakfast with everybody after they woke up.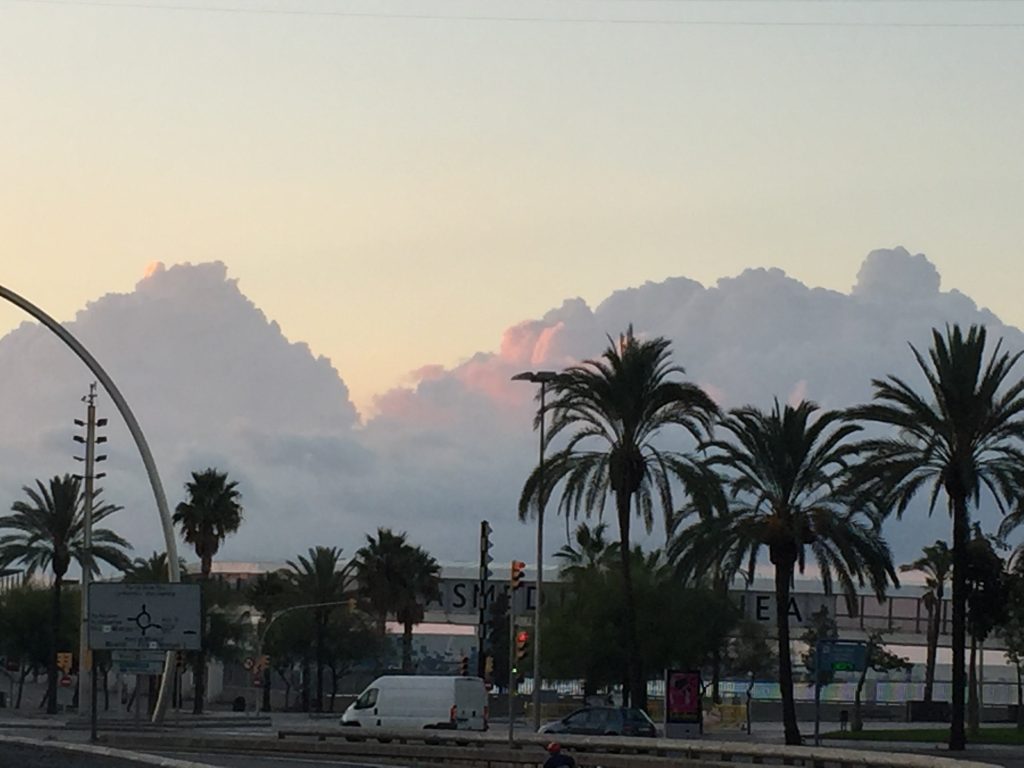 SAGRADA FAMILIA
Today we planned to see Sagrada Familia,  architect Antoni Gaudi's famous, most awe-inspiring masterpiece, a huge church which has become an icon of Barcelona.
Even though he died in 1926, others have committed their lives to continuing the work on the church, to ensure that Gaudi's vision would some day become reality.
While we were there you could see cranes and scaffolding all around the project. It is an ongoing ordeal that they hope to finish in 2026, for the 100th anniversary of Gaudi's death.
The following photos reveal the complexity of this project and why it won't be finished for a while.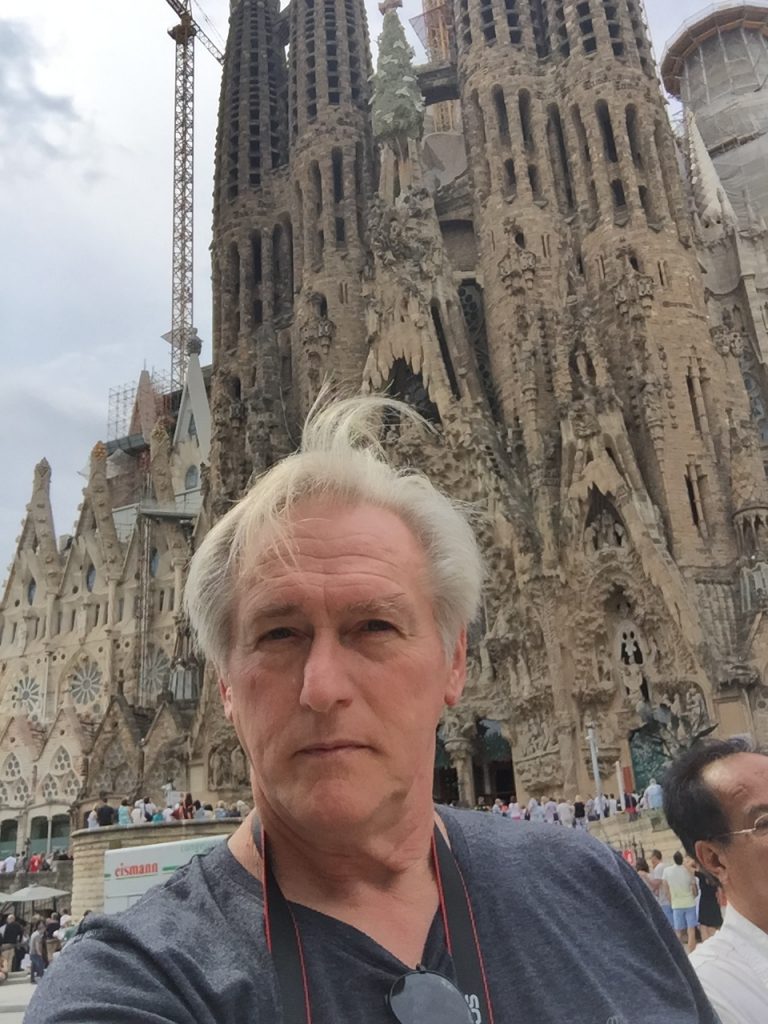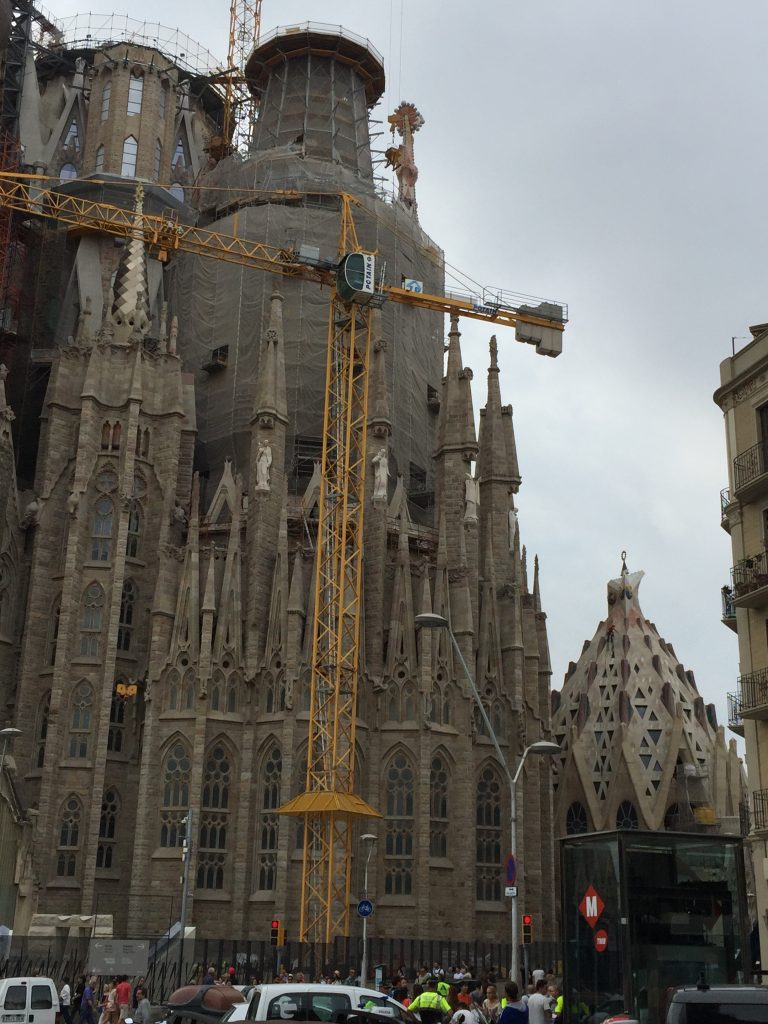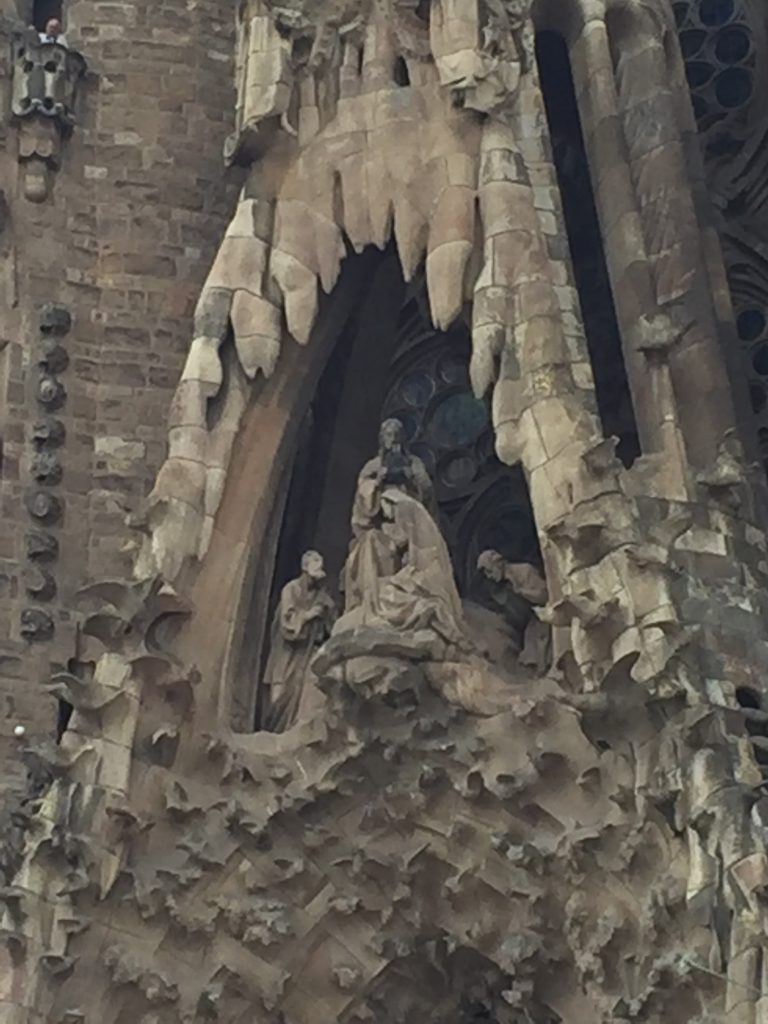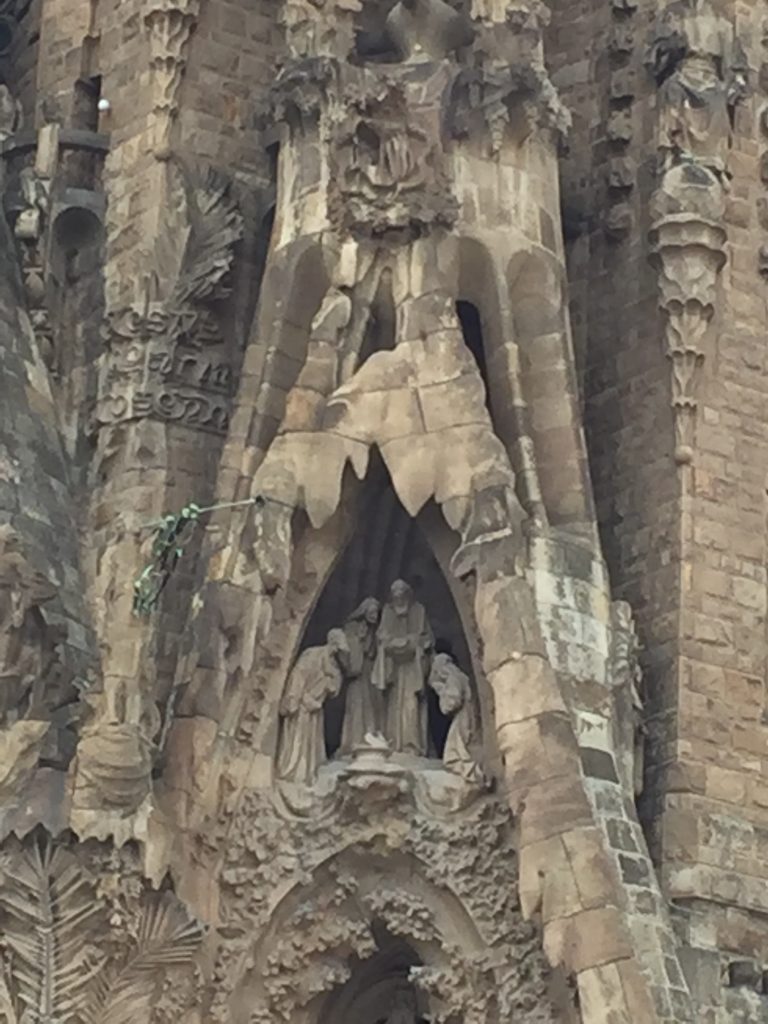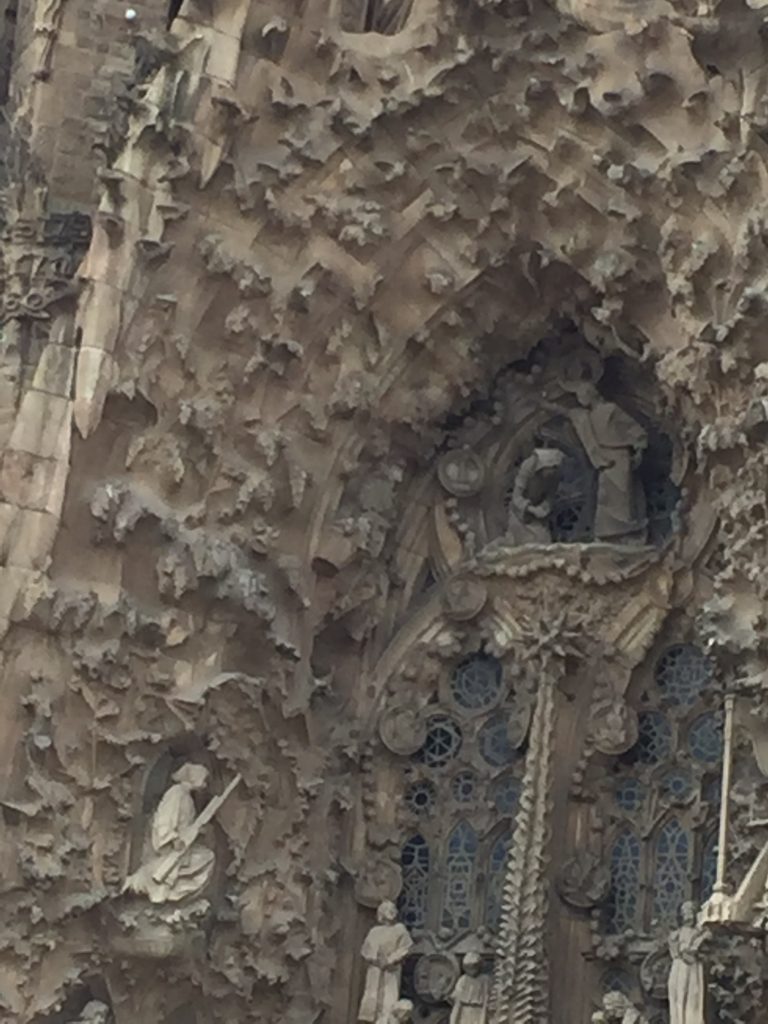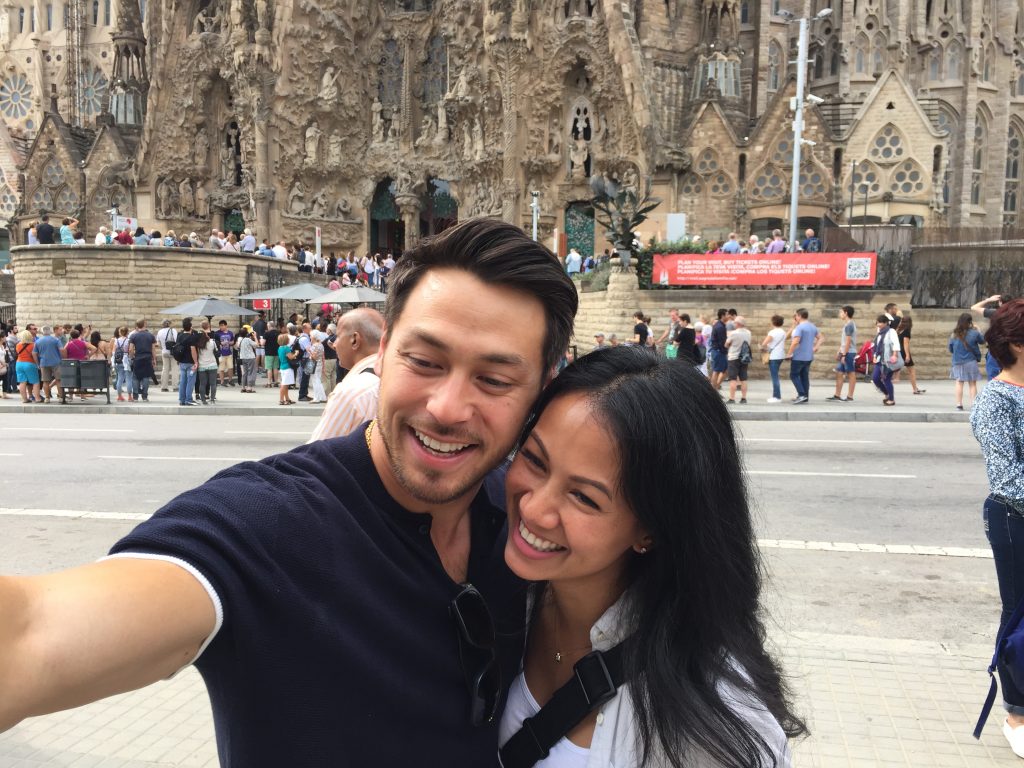 This "Selves-zies" of Tim and Pauline (that's what I call a selfie with two or more people in it) should give you some idea of the enormity and detailed exterior of the church.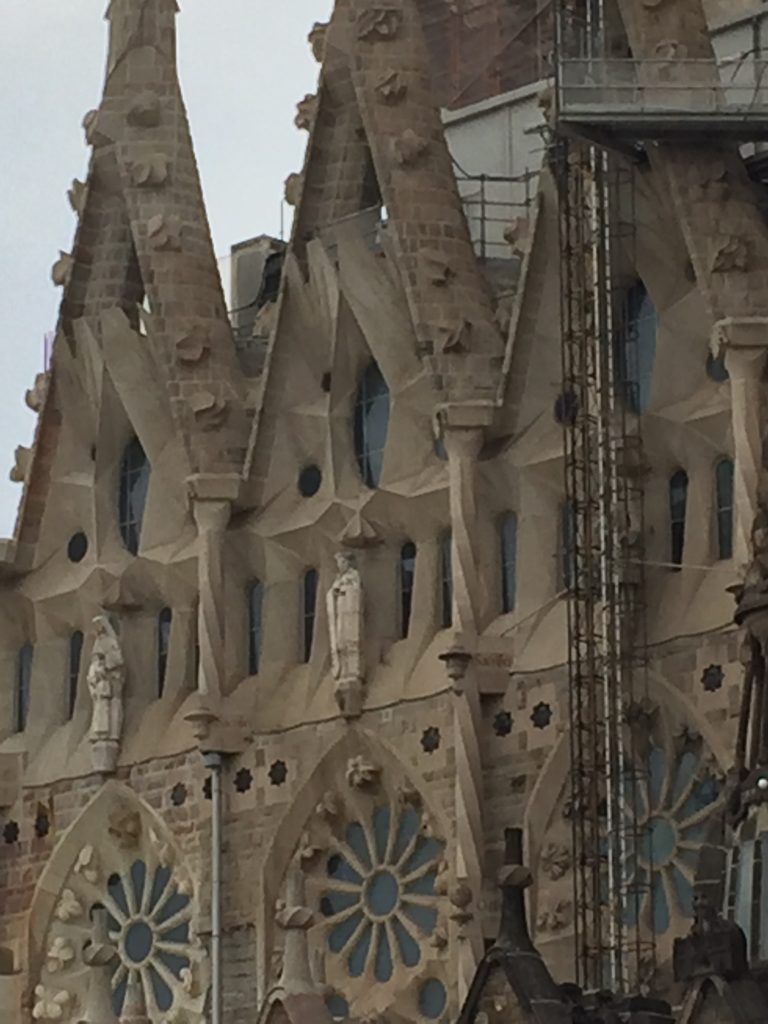 Friday……Day 5
I wanted to go down to the harbor for the sunrise once again. It was a little overcast this day but beautiful, nevertheless.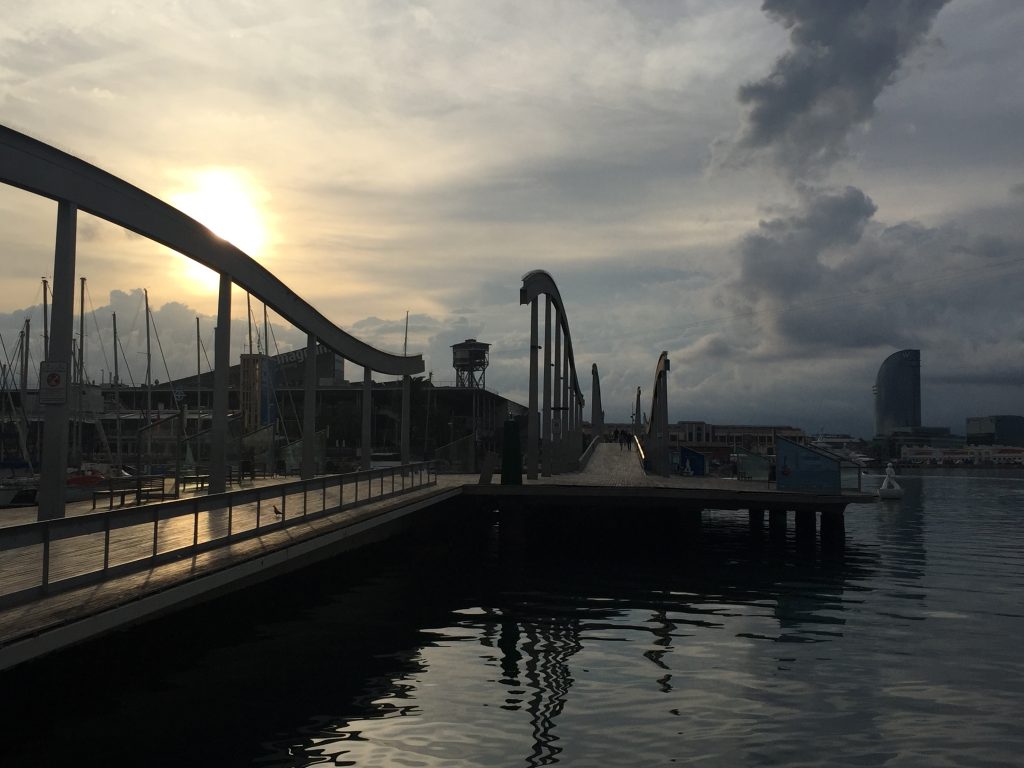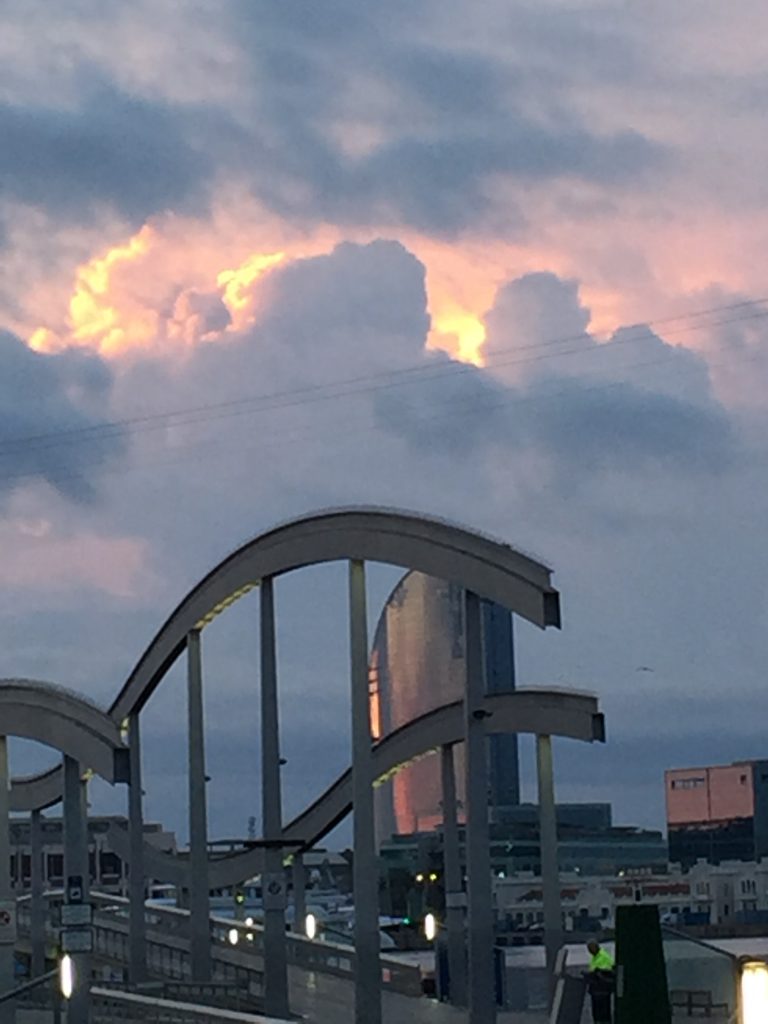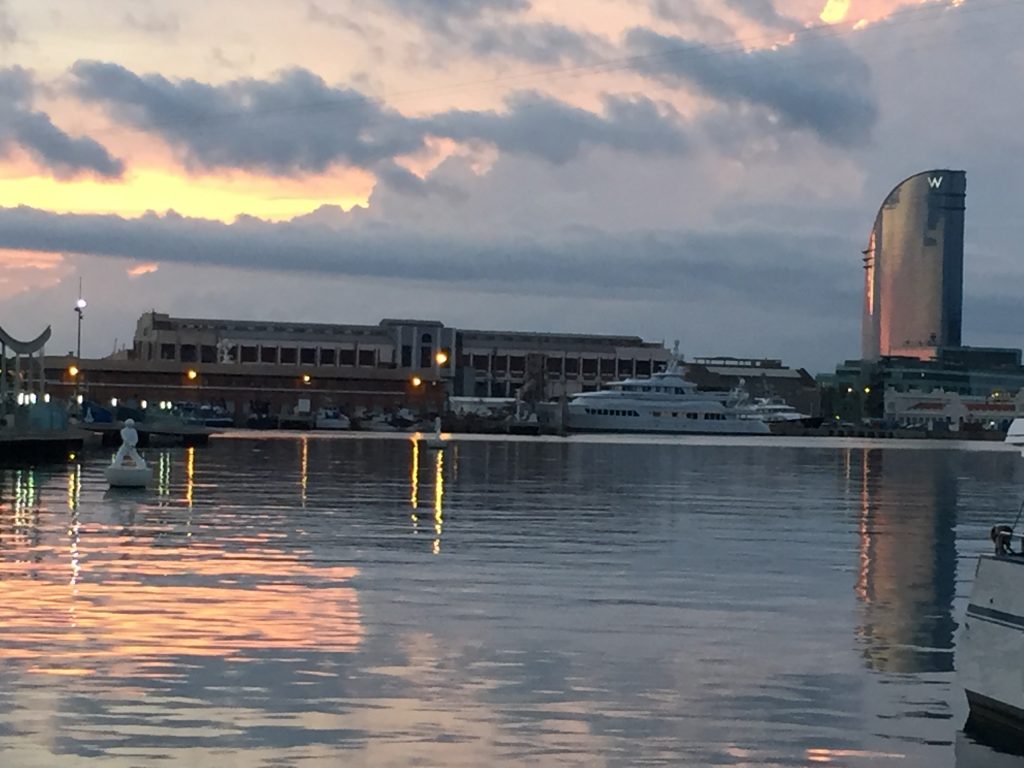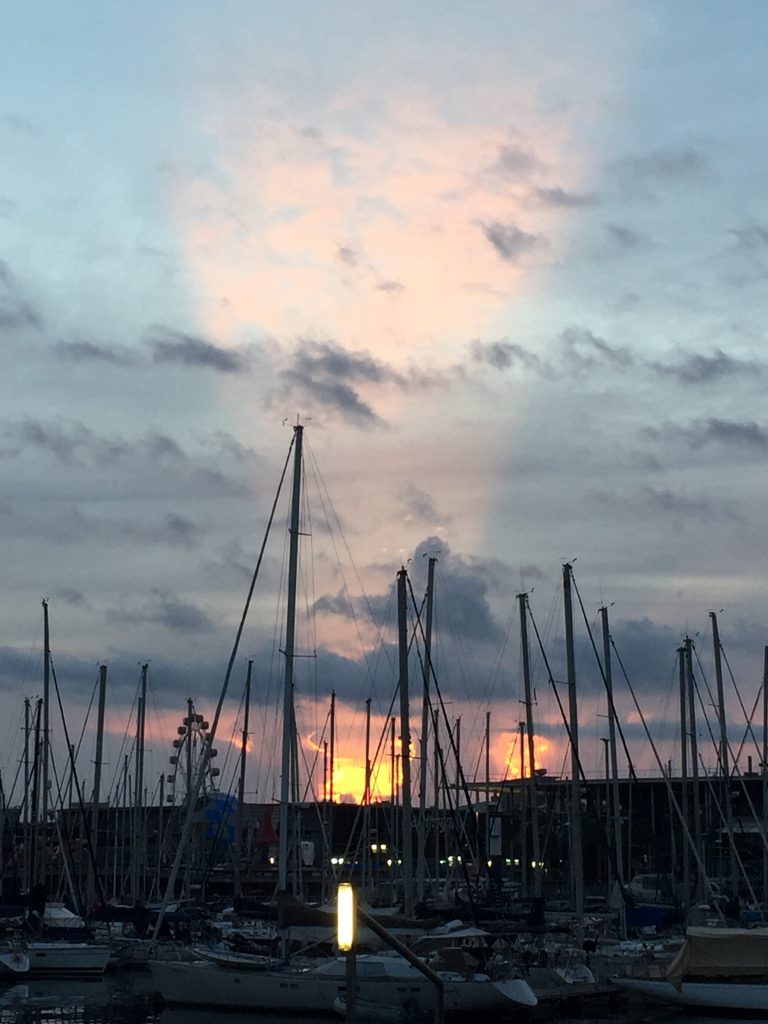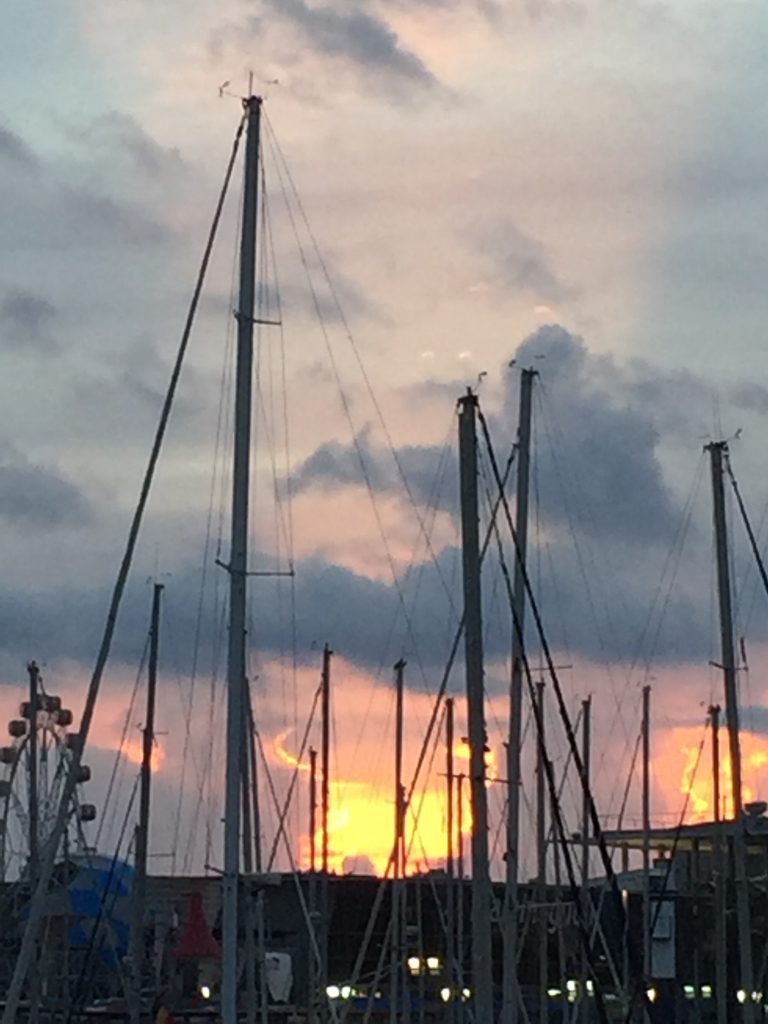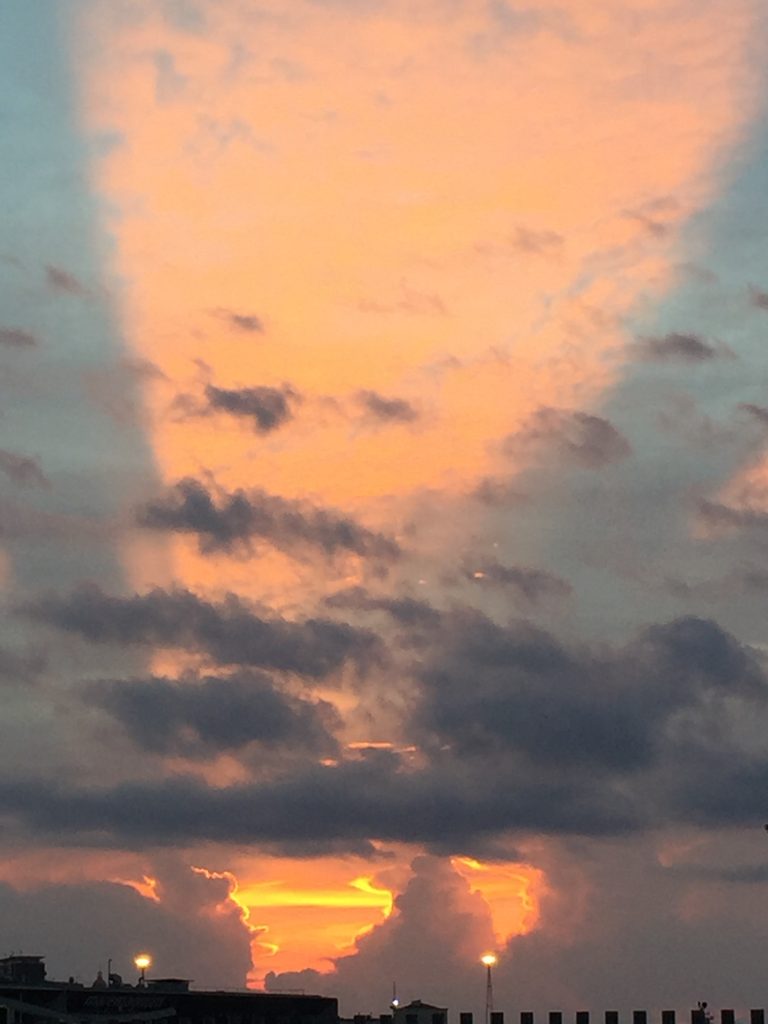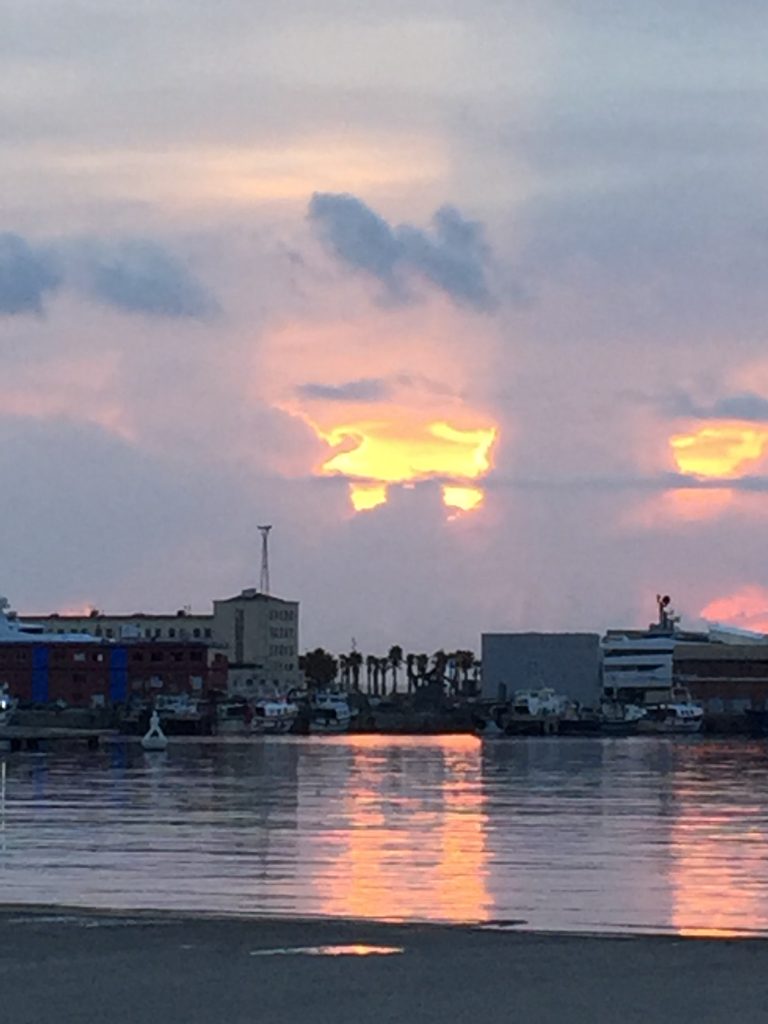 Then I left the waterfront and walked along Parallel Avenue, past our apartment, and on up to the Parc de L'Espanya Industrial to play 🏀 there once again before we left Barcelona.
The previous clip showed you the building on the south side of the basketball court but this clip shows you the water view on the north side of the court.
The camera registered on the lighting in the background, so it appears to be darker on the court than it really is.
The 🌟 "star" 🌟 of this show was really upset about it……something about "not showing him in a good light…" We had to pay him extra.
He should be grateful, right?
Just to be outside, playing basketball, in a beautiful setting, on a sunny September day, in Barcelona, Spain, with dogs barking and birds chirping, people walking and  jogging by, and Lizz singing.
It doesn't get any better than that!
By the way, the three songs in this video clip are by Lizz Wright. (I always listen to her while I play basketball.)
I should say, "I always listen to her when I do anything!"
They are, "Lean In" (Which was on President Obama's list of favorite songs this summer. She was recently invited to the White House.)  The next song is "Right Where You Are" and the last song is "River Man".
(You can find her music on Amazon and iTunes).
…………….Later that morning, we walked to the Mercado de Boqueria, and bought a few things, and then we walked all over the area east of Las Ramblas, a vibrant and pedestrian-friendly boulevard that stretches from the Placa de Catalunya, through the heart of the Old City, all the way down to the waterfront.
The area east of Las Ramblas is the old medieval quarter. It's called the Barri Gotic. We kind of followed the Barri Gotic Walk, recommended by Rick Steves, in his pocket guide to Barcelona.
It was bustling with people and activity. There were all kinds of shops, restaurants, stores, narrow winding roads running between tall buildings with wrought-iron balconies everywhere………..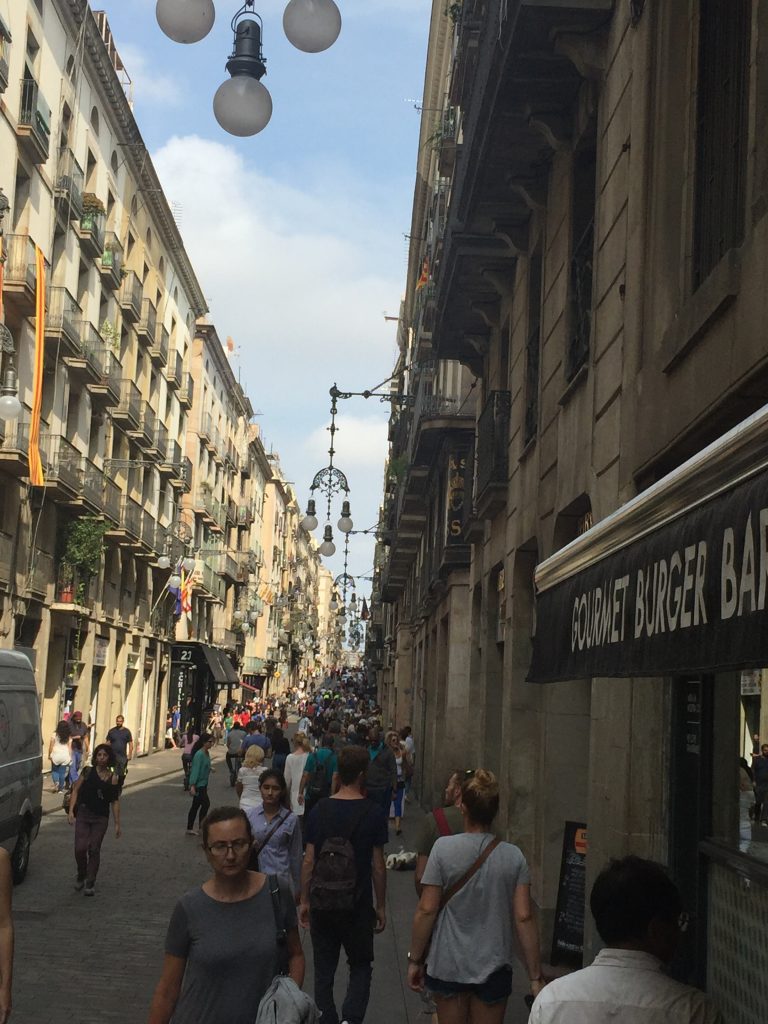 and beautiful  massive doors like this one that Evie and her Grandma Suon are standing in front of……….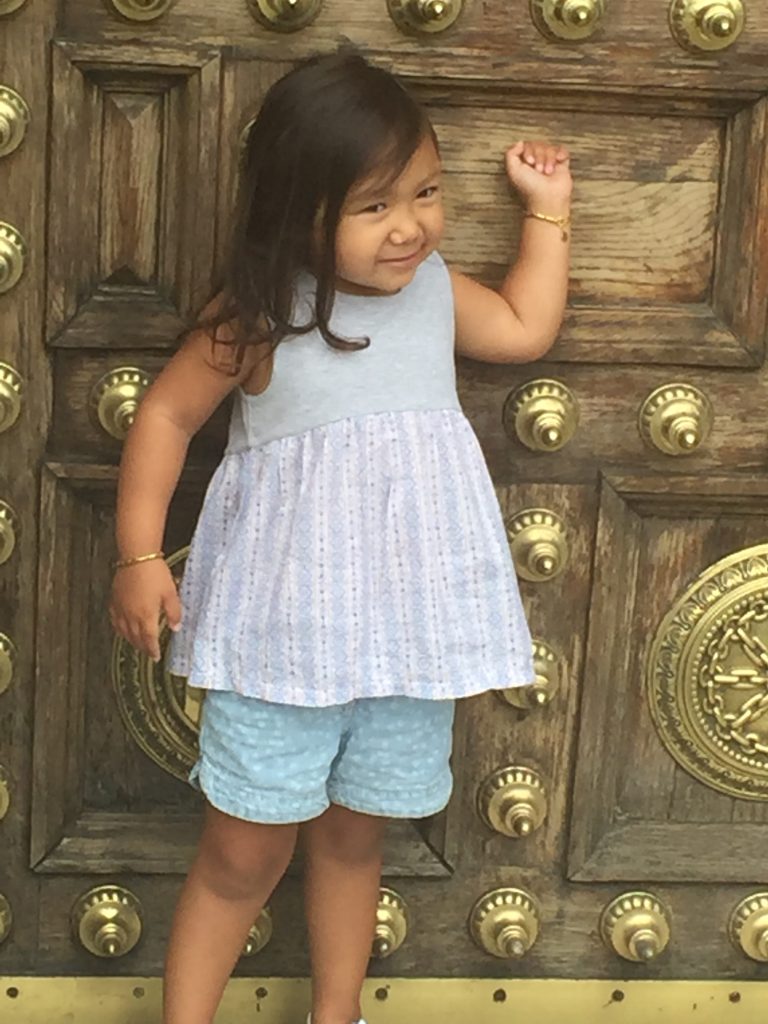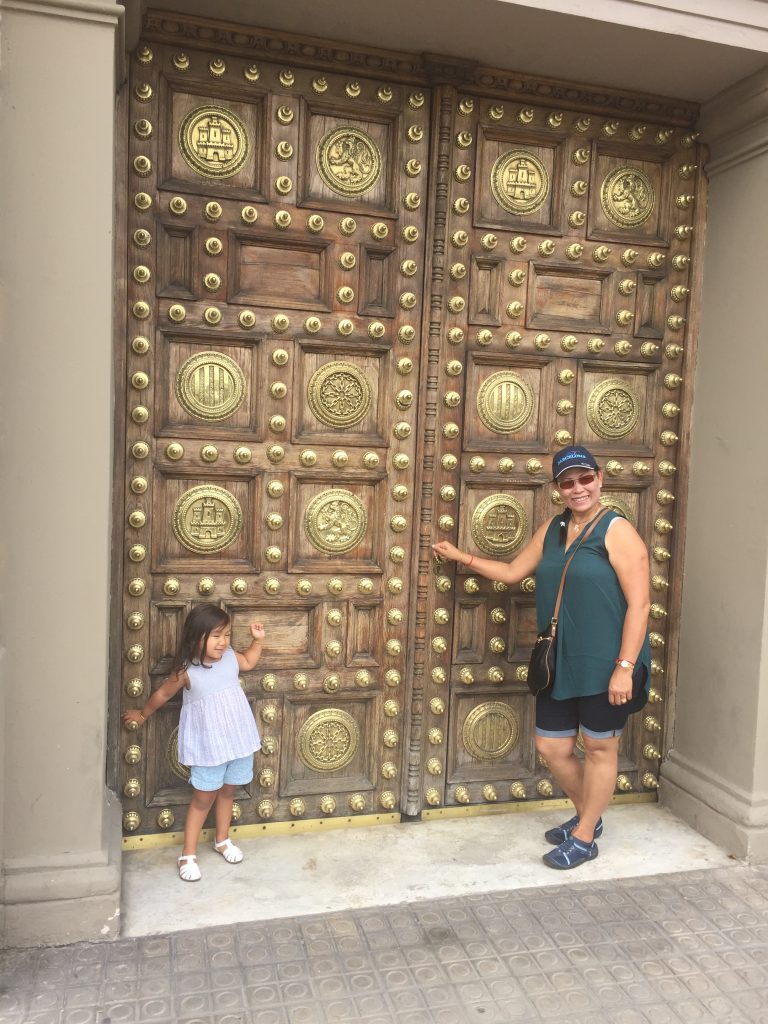 ….and then we would come upon unexpected courtyards where people were resting or getting something to eat or drink.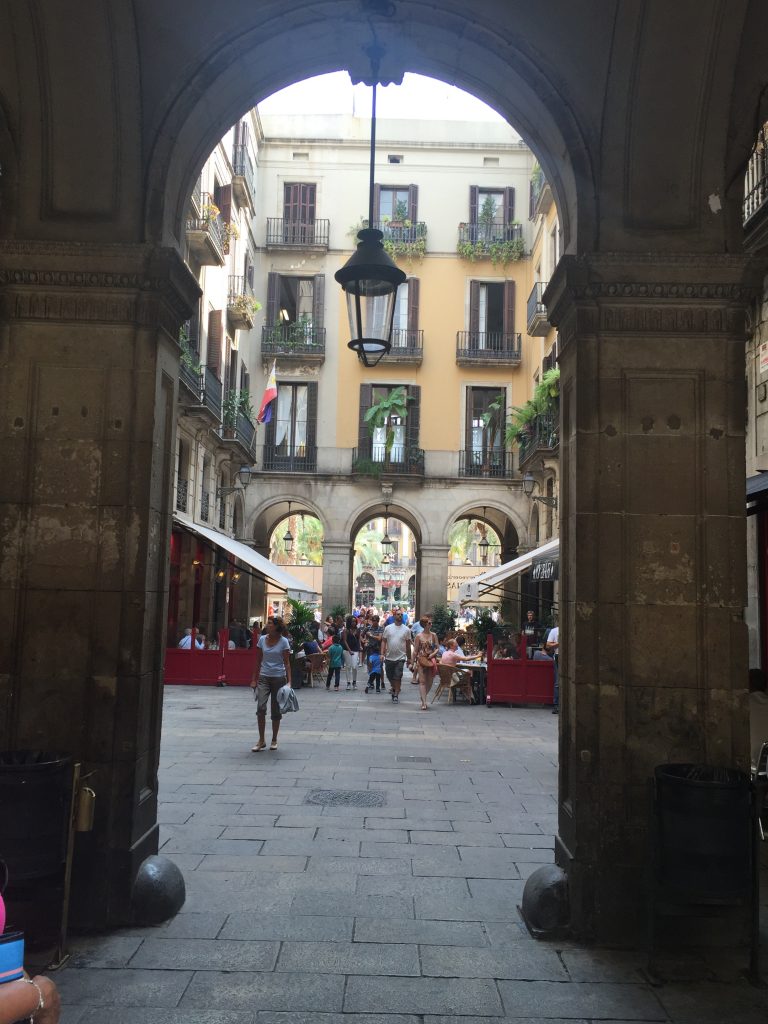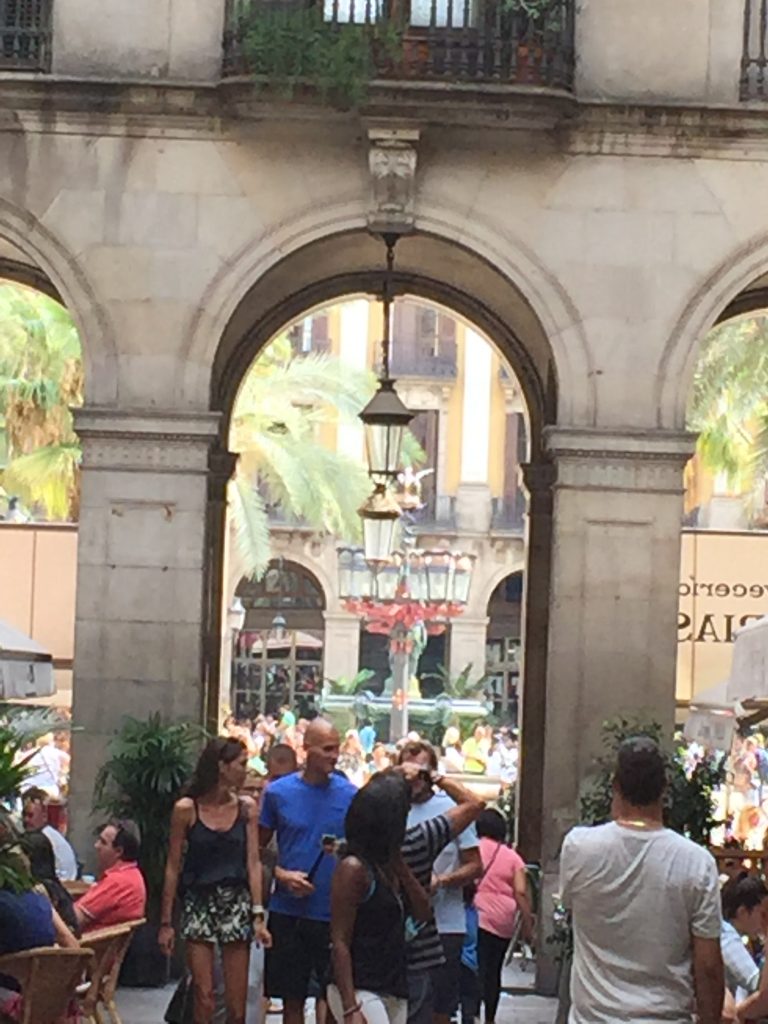 We stopped for a few minutes at Placa Nova (seen below). On the right are two ancient Roman towers. On the left is the Cathedral of Barcelona.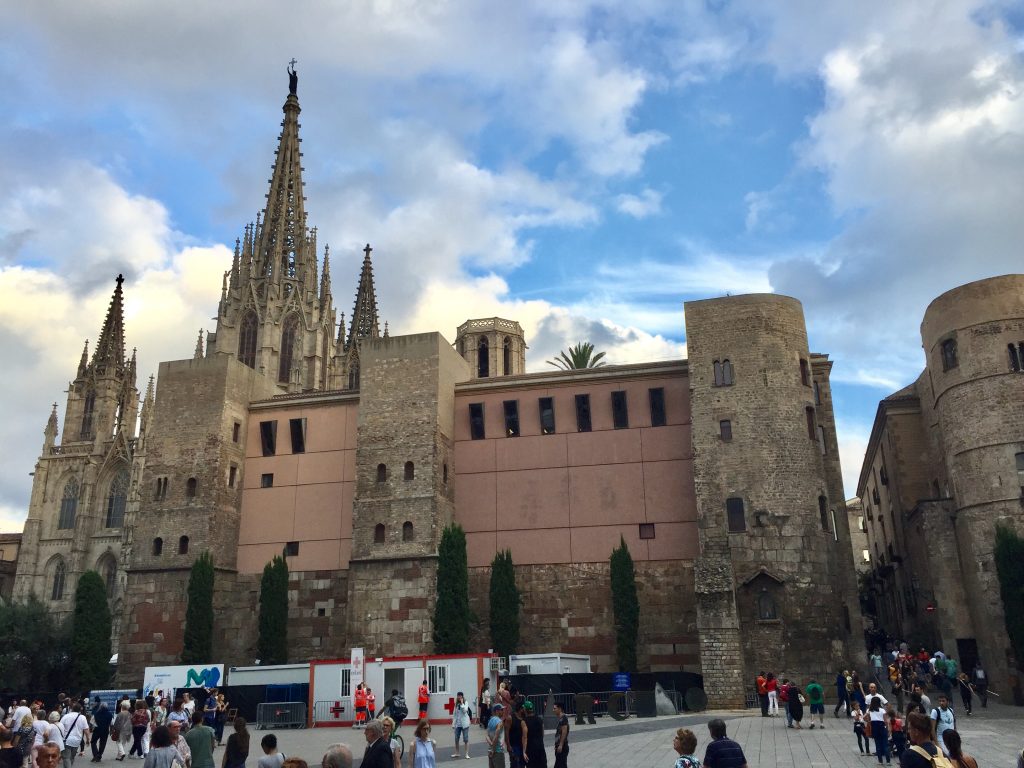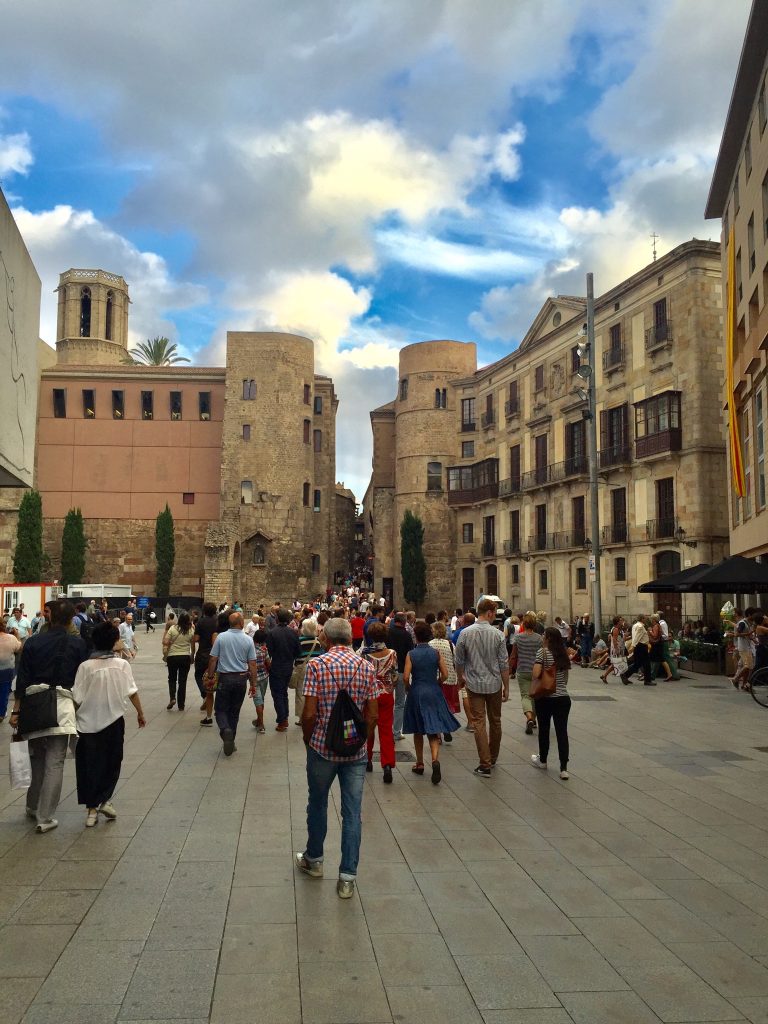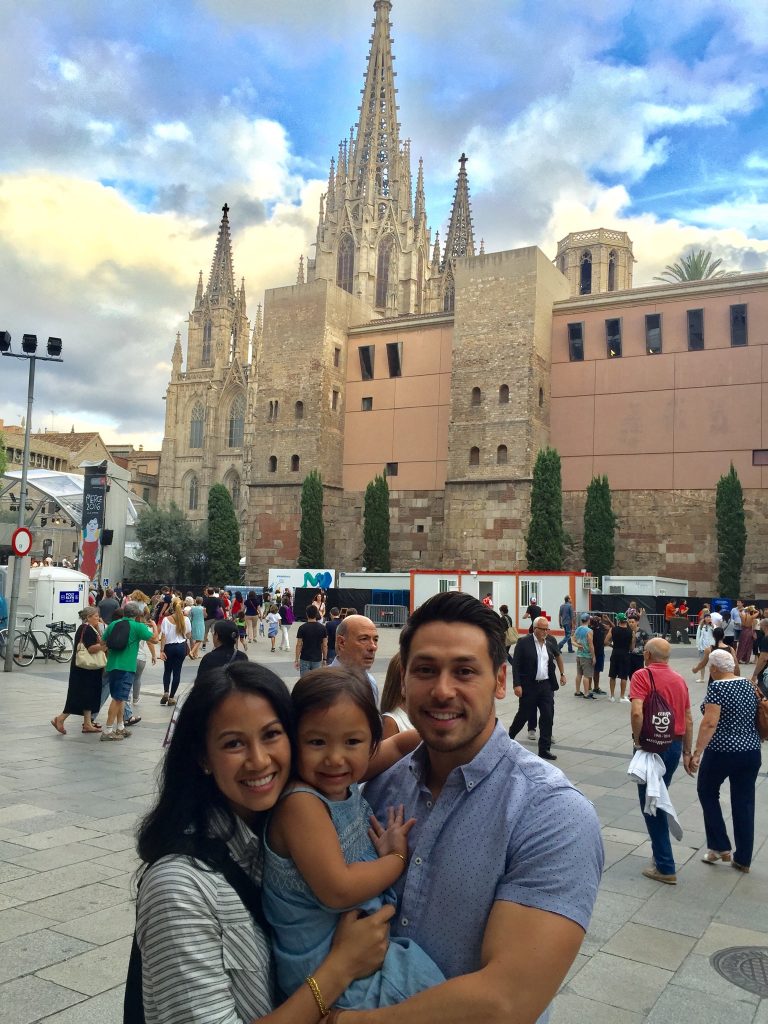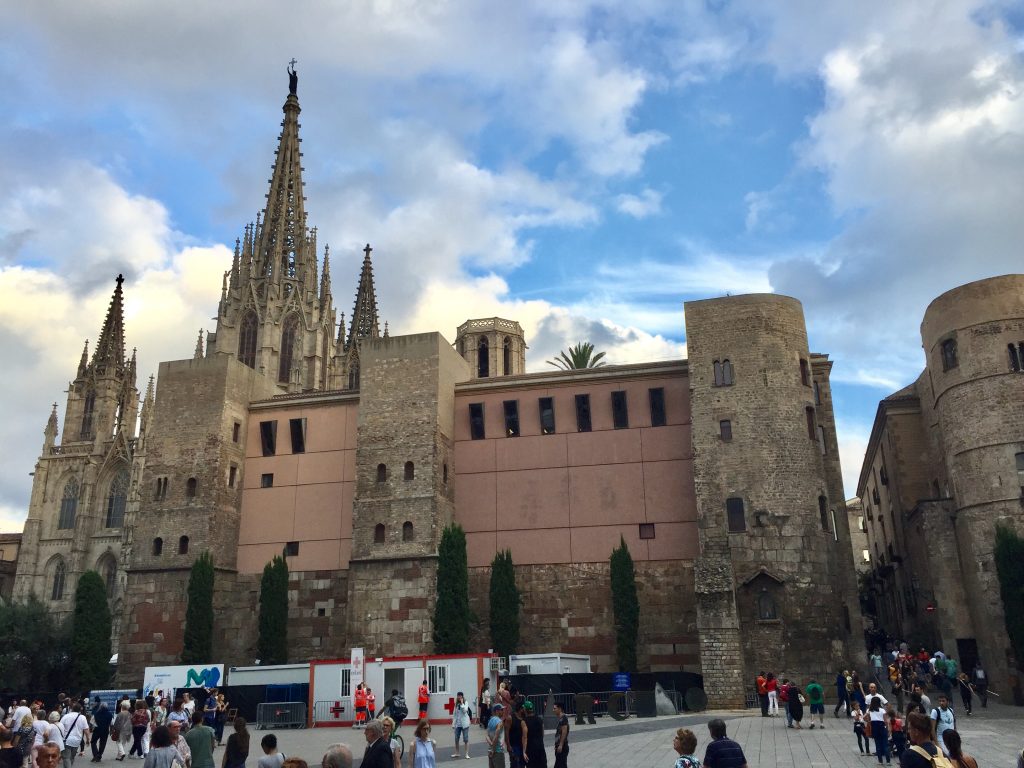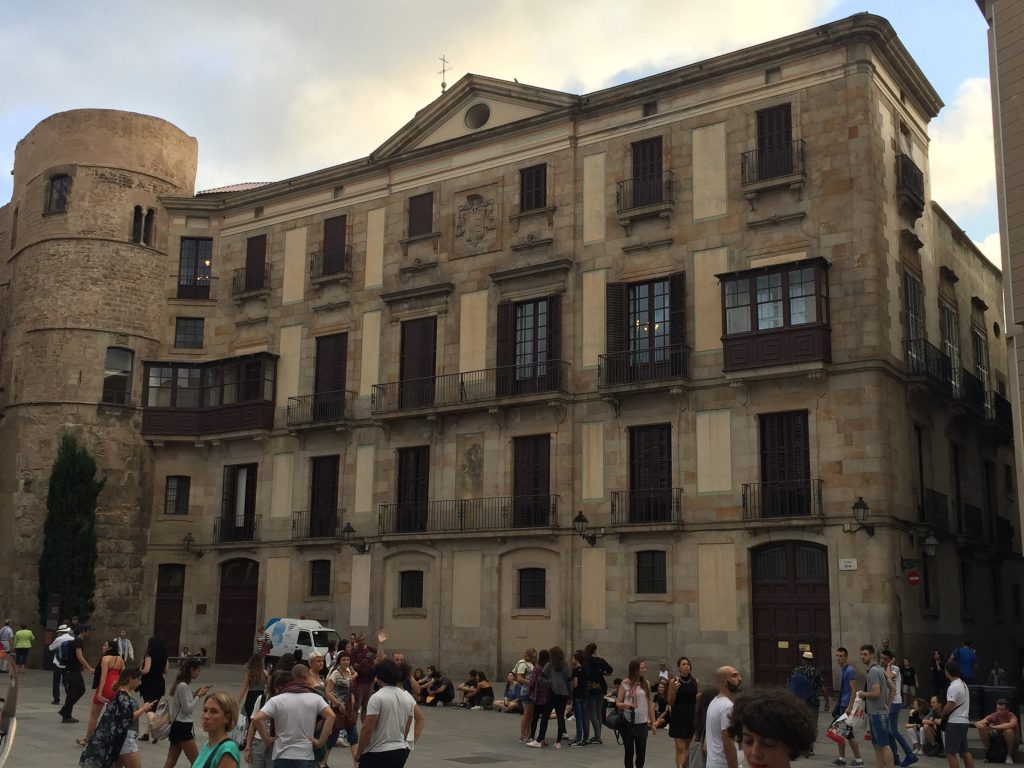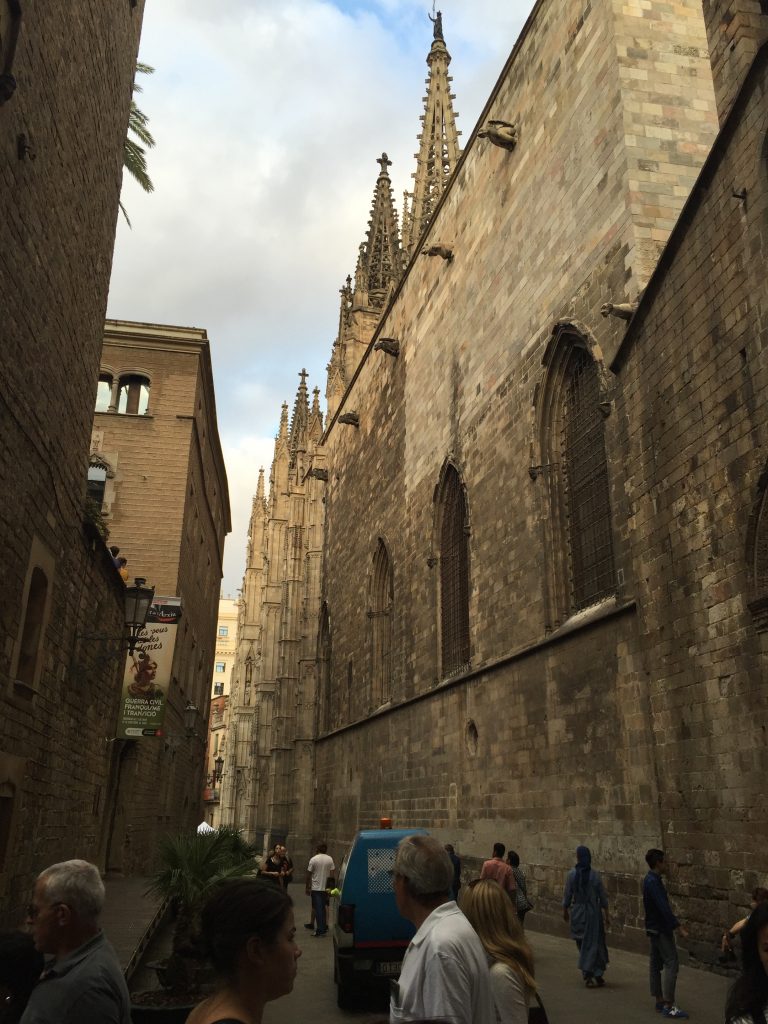 We continued on down to the waterfront…..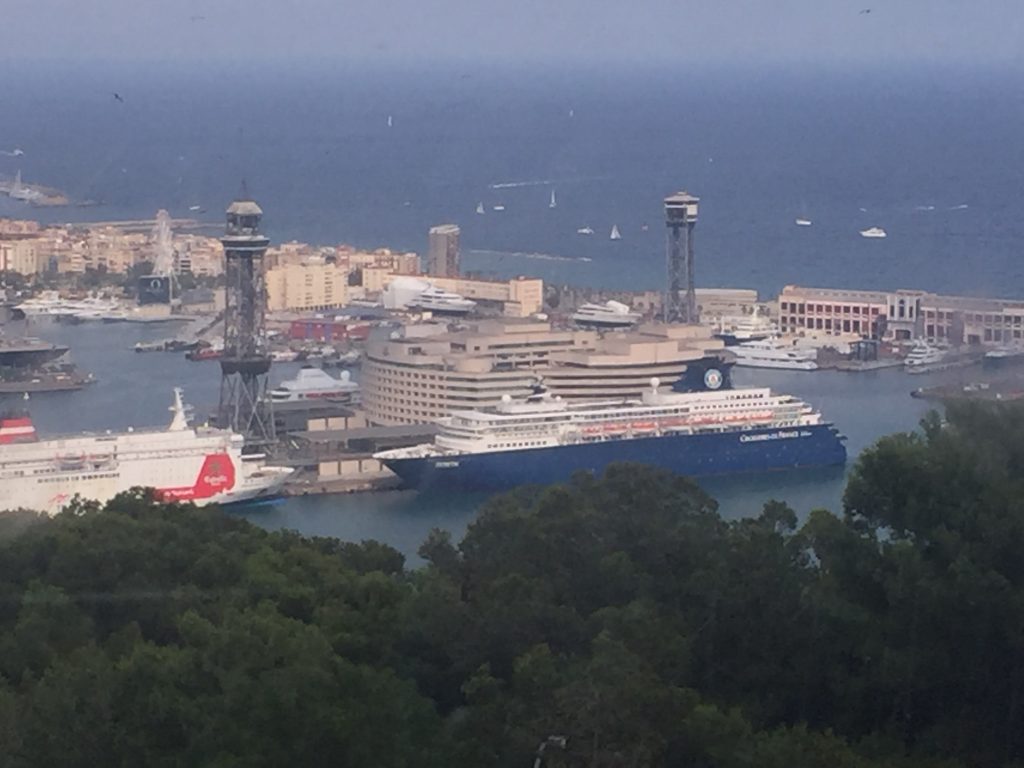 …….heading for the funicular which would take us up to a cable car….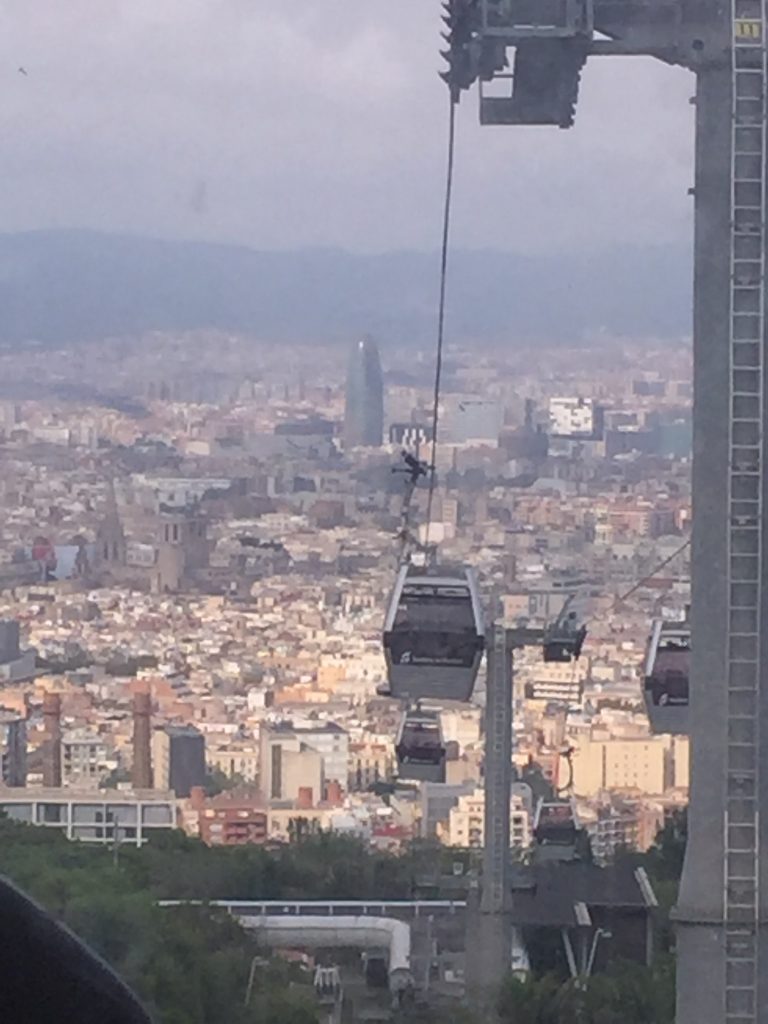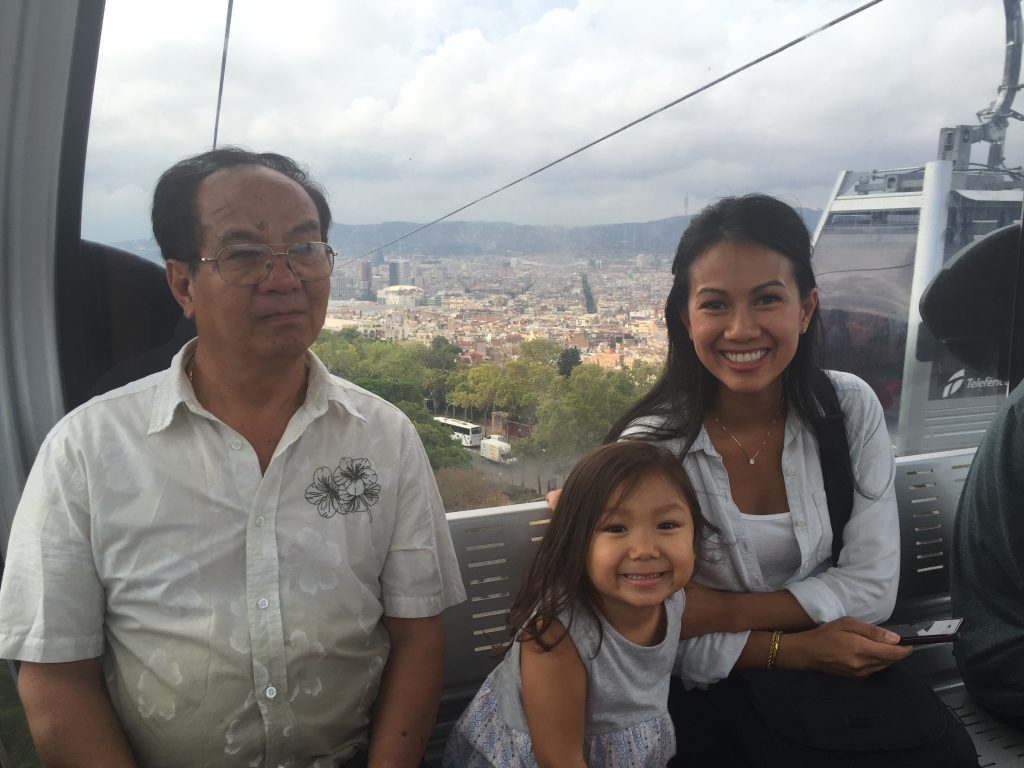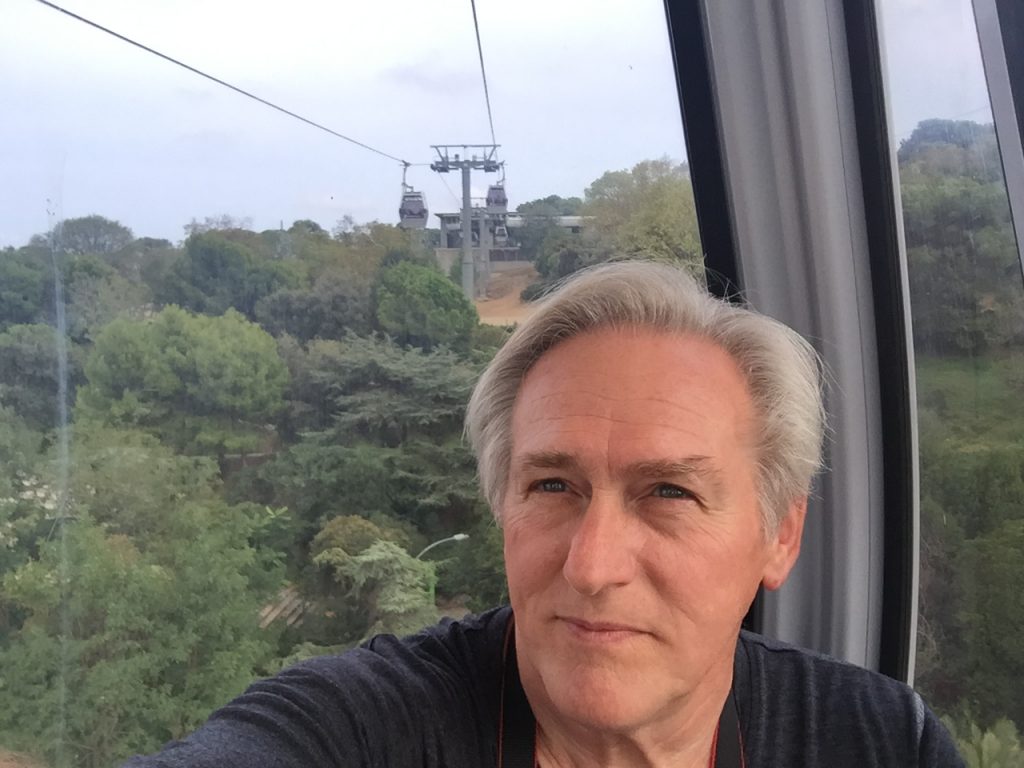 ………..that ascends and descends to and from the Parc de Montjuic.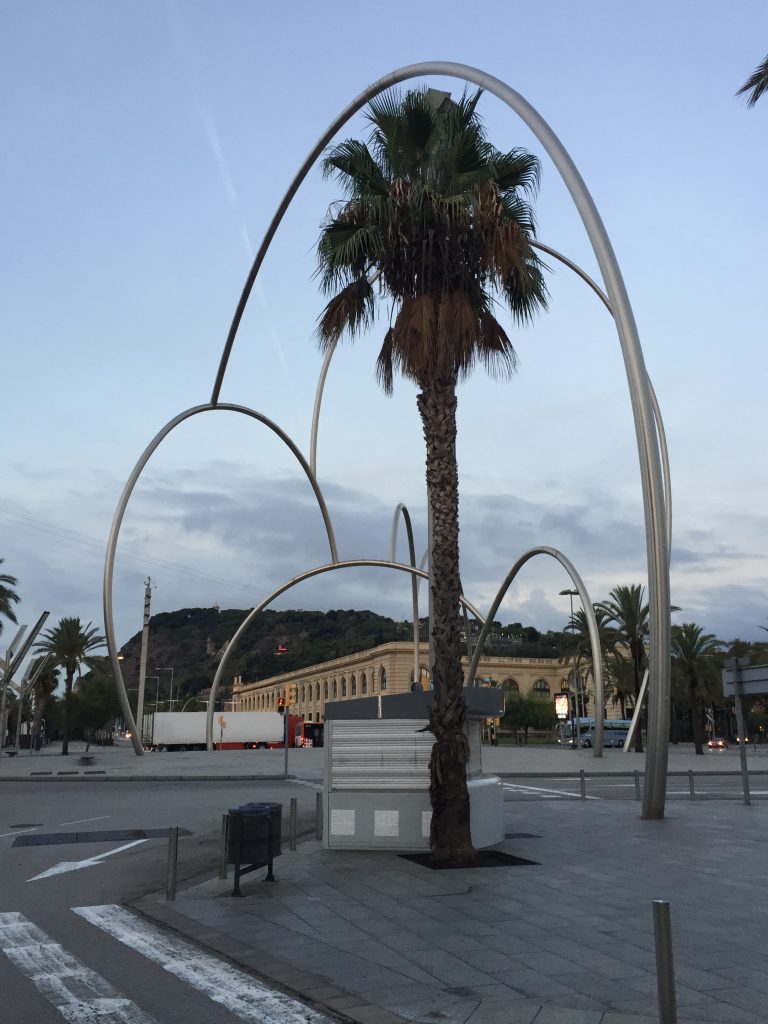 This is a photo of Montjuic (the hill seen in the background),  where we got on the cable car. The photo was taken from the harbor (Port Bell).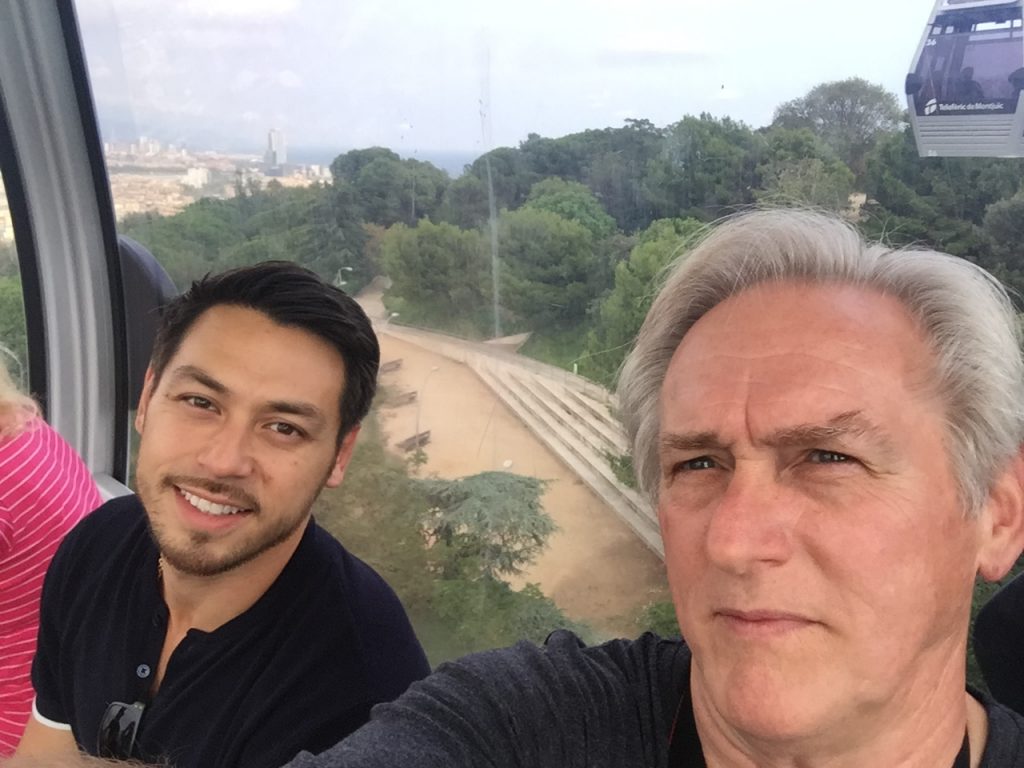 The Parc de Montjuic is a park-like setting on top of Montjuic, a large hill with a panoramic view of the harbor and the whole city.
(I see that look in your eye, Tim.  Don't laugh at me! You know I'm technologically challenged.)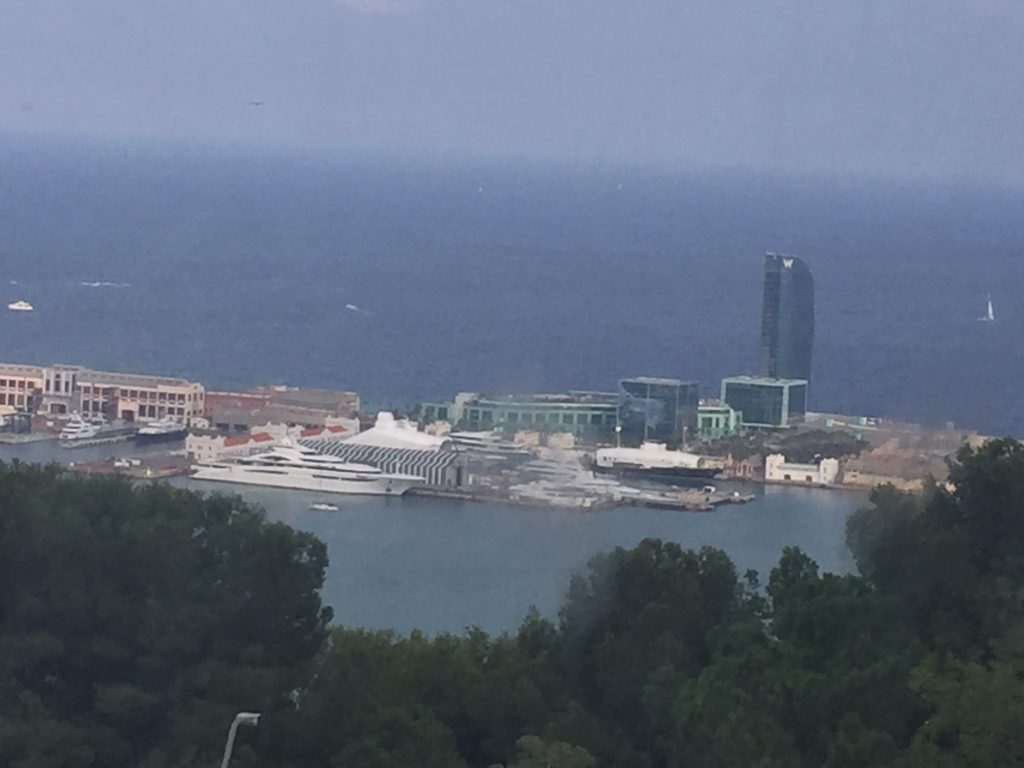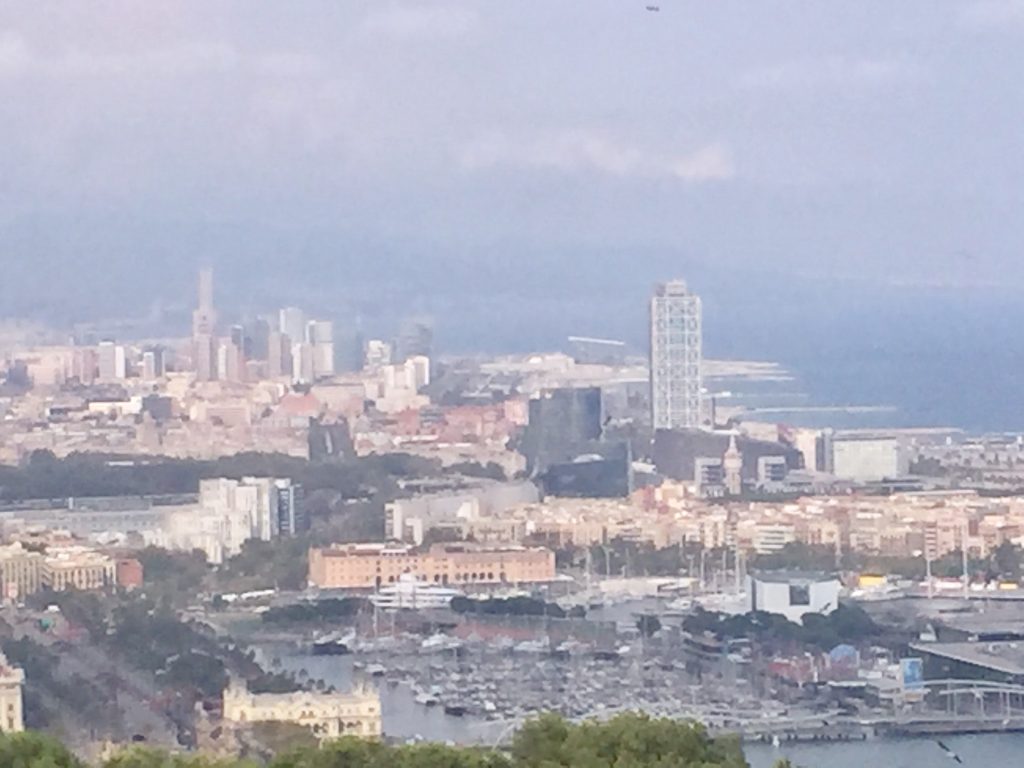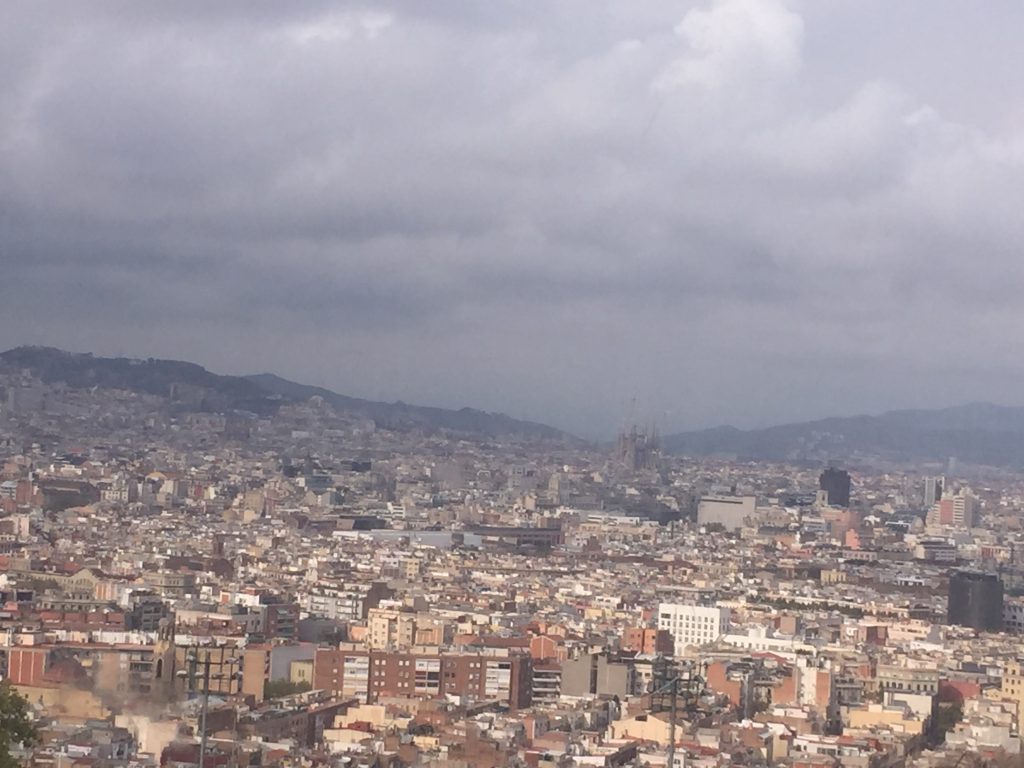 After that, all we had to do was take the funicular back down to it's starting point and then walk the rest of the way back to our apartment.
As we got closer to the apartment, and familiar streets started appearing, Evie ran over and grabbed the hand of the "tapas butler", giving us one more photo op for the day.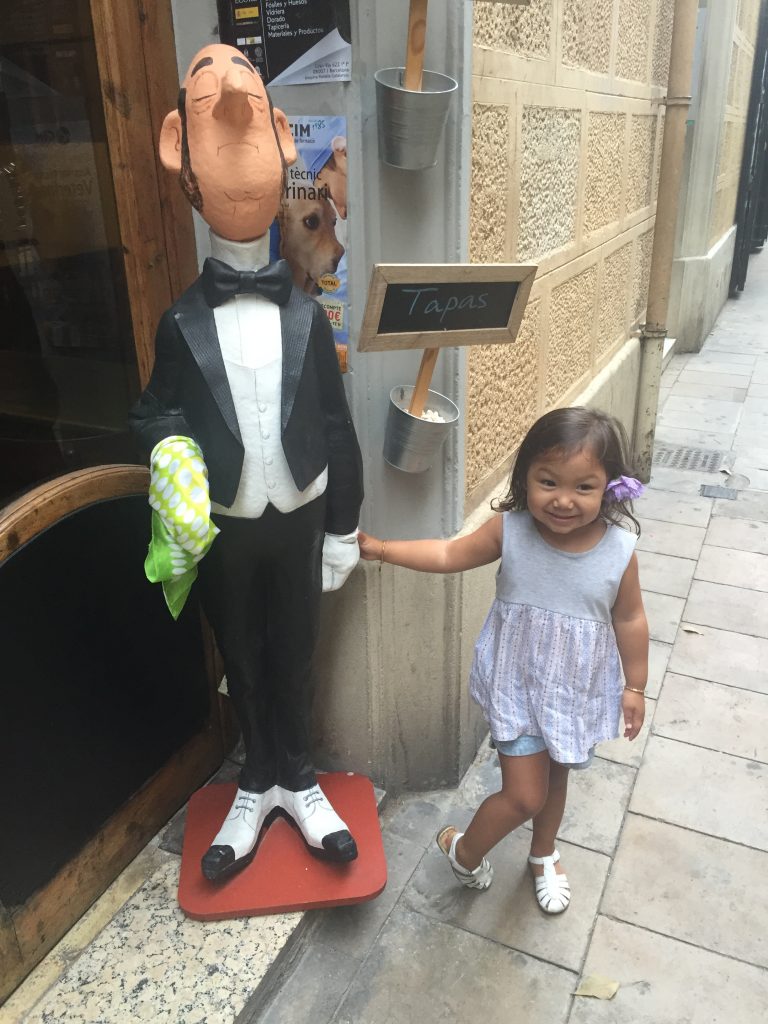 Saturday…….Day 6
Saturday we had breakfast and dinner at home.
Tim and Pauline had some errands to run. And all the stores were closed that day. So it turned out to be a day of rest and fairly uneventful.
But later that night, Tim, Pauline and I slipped out of the apartment and back to the Place de Catalunya area, to a tavern to listen to some live music for a while and then we moved on to have a late night tapas meal at a restaurant (I forgot the name) in that area too. The squid and mushrooms were especially good,  as were the desserts.
Sunday……Day 7
Last day in town!….boo hoo……:-(
We didn't have much planned for the day but we wanted to walk to town one more time and do a little shopping.
While we were there, Tim and Pauline surprised me and bought me a dark blue overcoat at the Mango store.
Monday Morning…….to the airport
Evie's Pap Kong (Grandpa Suon)  and  Makyey (Grandma Suon),  and I (Grandpa Adams),  got up very early to catch our flights back to the States.
Tim, Pauline and Evie stayed a few more days and toured the South of France and then they went back to Paris to take Evie To Disneyland.
Claiming the Moments
One day I asked Tim to tell me his thoughts about this whole trip. I asked him what he thought were the special moments that we would claim forever.
He thought about it for just a brief moment and then he rattled off this long list of moments that were imprinted in his memory:
Hugo the harpist
Squid at the Barcelona restaurant
The food at Cera 23 and the customer service
The chefs blowing bubbles to Evie
Every corner we turned in Paris was just another beautiful piece of architecture. It just didn't stop.
He liked how the shops were done. Showed shop owner's pride. They took care of their space. Presented their wares in a nice way.
The bread
People-watching while drinking coffee……..(while learning enormous amounts of wisdom from his Dad over the Cappuccino Conversations)……….those are his words, not mine
Evie's reaction to a lot of new experiences.
The excitement in her eyes and voice while riding on the cable car on Montjuic.
The energy around the marketplace. It just felt alive which made me feel the same.
I would add:
Playing basketball by the Eiffel Tower.
Language-listening while drinking coffee and while walking around.
Riding a golf cart around the grounds of the Palace of Versailles.
The Seine River dinner cruise.
Connecting with people from another country, no matter how brief it was.
Celebrating Pauline's 35th birthday in Barcelona.
There were many more moments, and I didn't get the thoughts of everyone else, but even if this was all we experienced, it was certainly worth doing.