Taking Off For A Three-Day Trip
As the plane took to the skies at 6 a.m.,  on Tuesday (Feb. 24) morning, from Seattle, Washington, I leaned forward slightly to peer out the window from my seat.
I've always liked sitting by the window, not only to transform my body into the shape of a crescent moon, but to take in the view, and try to identify familiar buildings, sites and old landmarks along the way.
I was headed to Asheville, North Carolina, for an Excellent Adventure!
I've always thought it was a very beautiful place to be. I've been through the Asheville area about four or five other times on the way to other places, but never spent any time there, until now.
One of those times was when I was about 12 years old. My parents wanted to take my maternal grandparents and us kids to see the Smoky Mountains, a familiar landmark to many,  and the most visited park in the U.S.  (A park ranger told me that while I was there this time.)
My Dad and Mom instilled the love of travel and adventure in us. I appreciate them for that.  I grew up in Arnold, Missouri, close to St. Louis. So we drove to the Smokies from St. Louis. It took awhile to get there.
When we came down from the mountains into the town, everyone in the car was hungry, but no one was as hungry as I was. I ordered three separate meals, one at a time:
Bacon, eggs, biscuits and gravy
Pancakes and sausage
Fried trout, potatoes, and eggs!
I eat to live but I also live to eat.
I have always  had a good appetite  but something about that mountain air, that morning,  made me oh sooooo hungry!!
That's probably one of the reasons I have such an affinity for Seattle as well. I think it is the mountain air.
My grandpa thought my dad shouldn't indulge me that way. But  Dad said, "Well if he can eat it, he can have it."  And I wasn't the type to become overweight because I was so active then, as I have been most all of my life. But I had never eaten three meals in one sitting before, either.
Arrival in Asheville
I had to transfer twice (SEA-DFW-CLT-AVL) to get to Asheville. When I arrived it was starting to get dark and I saw that there had been a recent snowfall. That scene below reminded me of a Thomas Kinkade painting.
The plane landed at the Asheville Regional Airport, which is in Fletcher about halfway between Asheville and Hendersonville, so it was quick and easy access to both towns.
The night before, in Seattle, I Googled things to do and see in Asheville and the surrounding area. Three things caught my attention:
The Dupont State Forest in Transylvania County, just west of and adjacent to the Asheville/Hendersonville area;
Daddy D's Suber Soulfood in Hendersonville;
and a great venue in Jackson Park, in Hendersonville, to play basketball outside. Some people like to play golf. I like basketball.
Dupont State Forest
Dupont State Forest interested me because the area in and around the park was dubbed as the "Land of 250 Waterfalls".
I know from my experience, long ago, at Yosemite National Park, hiking 15 miles to Merced Lake (shown below)
and climbing up Half Dome, during aThanksgiving weekend, that you can see some really beautiful scenes around falls where it has just snowed. (That's a much younger me on the left.) My friend, Fred Alexander,  behind the camera, had just said, "Hey guys look this way!" So we did our best not to.  Frank is in the middle and Al is on the right.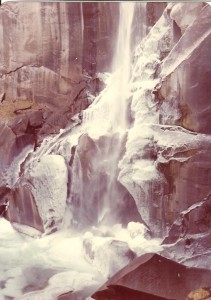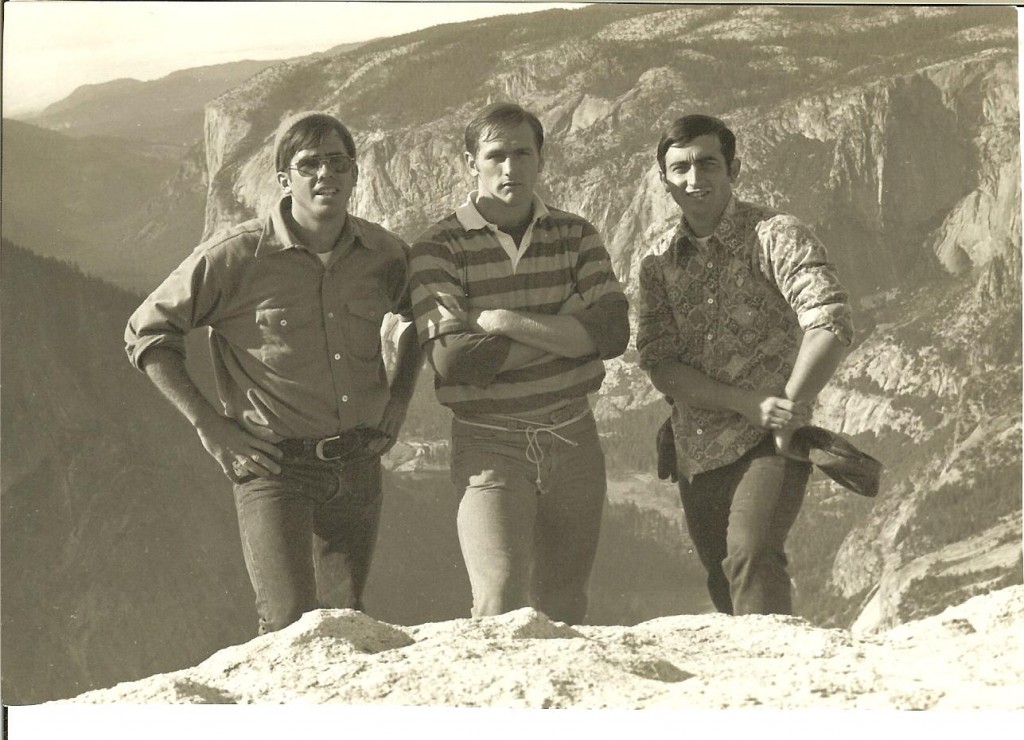 That's Fred on the right. These guys were great to hike with. They had an appreciation for nature, good health and the environment. They had good stories to tell and they were funny. Plus we were all at the the Defense Language Institute in Monterey, California, studying languages. I was studying Korean. The other guys were there for Arabic and Russian.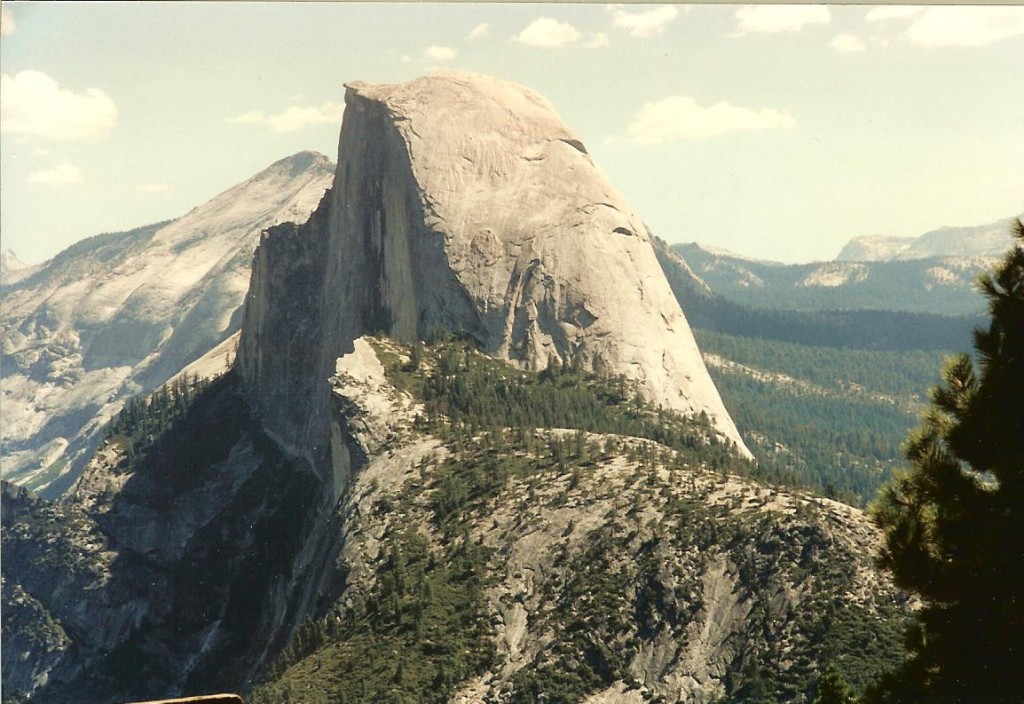 Half Dome in Yosemite National Park
In this picture of Half Dome, that little rocky point on the left, with a view straight down to the valley floor where the Hotel Ahwanee is located, is the point on which I'm sitting in the next picture (below).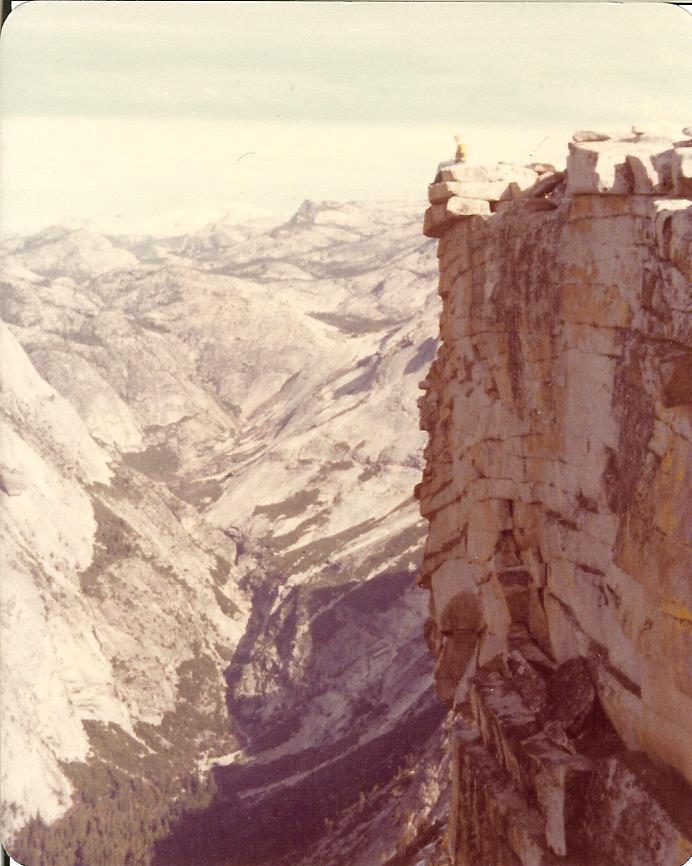 "Half-wit"   at the edge of Half Dome in Yosemite National Park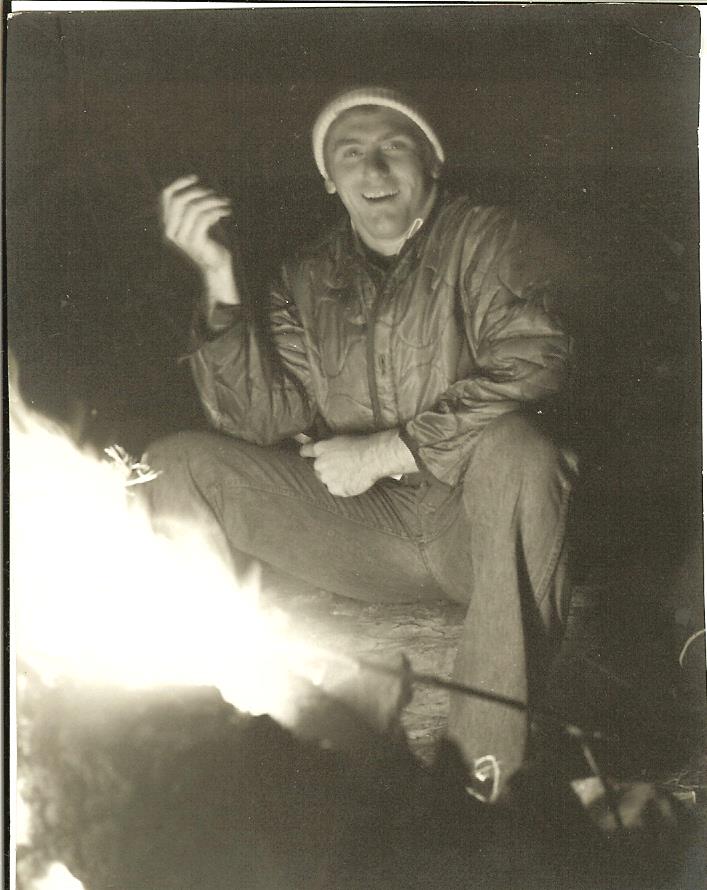 "Half-wit"  back at the campfire after the climb.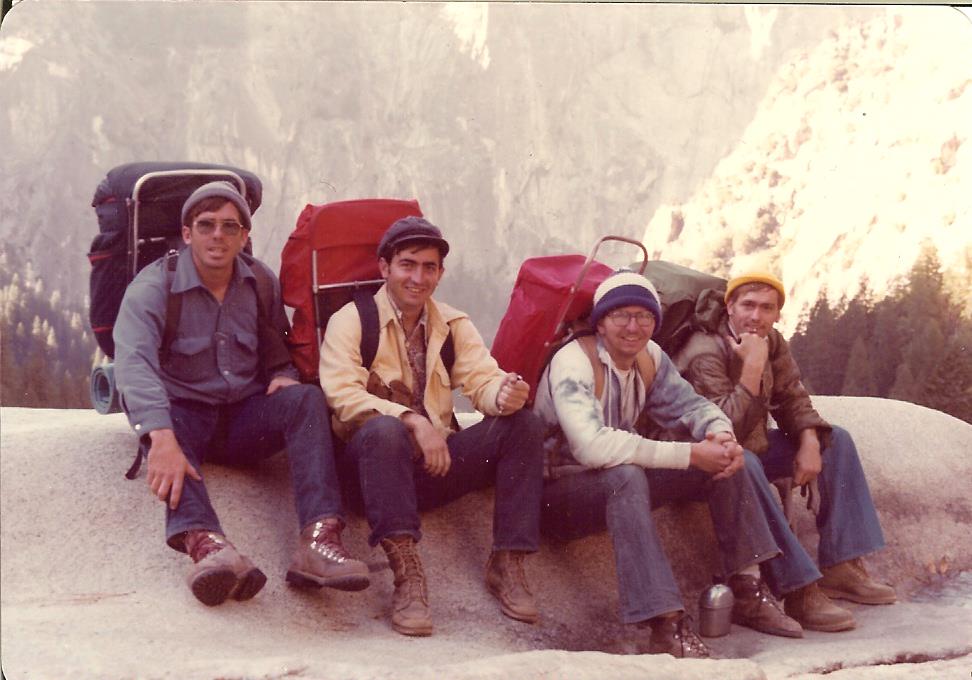 Final picture together at the trail's end before we left the park.
Getting back to the Dupont Forest……
So, I essentially had one and a half days to do things there in Asheville.
Wednesday, the first day, I headed to Dupont State Forest to see three waterfalls: Hooker Falls, Triple Falls, and High Falls. They were the closest of all the falls and since I was short on time I chose them.
I made a good choice.
The forest was quiet. The snowfall was recent and fresh (outside the trampled footpath).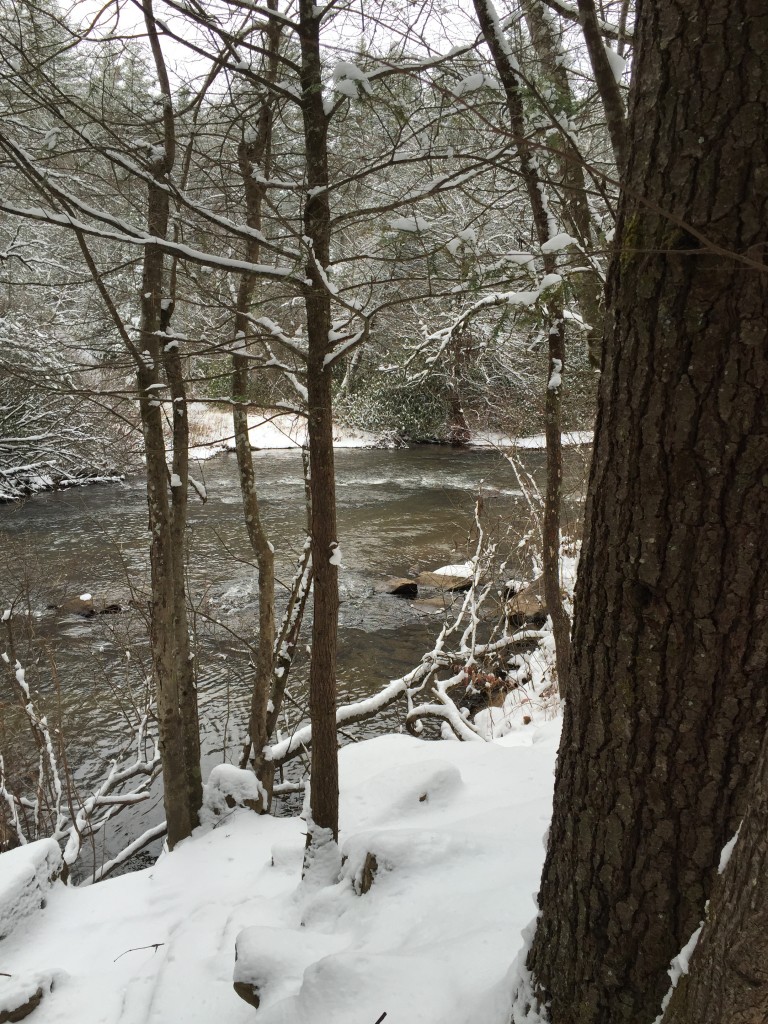 The water rushing over the rocks made its own kind of music. Birds were chirping. Occasionally, there was the sound of a small branch falling to the forest floor, off in the distance somewhere.
I only saw two or three other people while I was there but the footprints revealed there had already been several people before me,  even though I got there pretty early, about 0930 a.m. (Well, I guess that's not too early, but I did get there pretty!)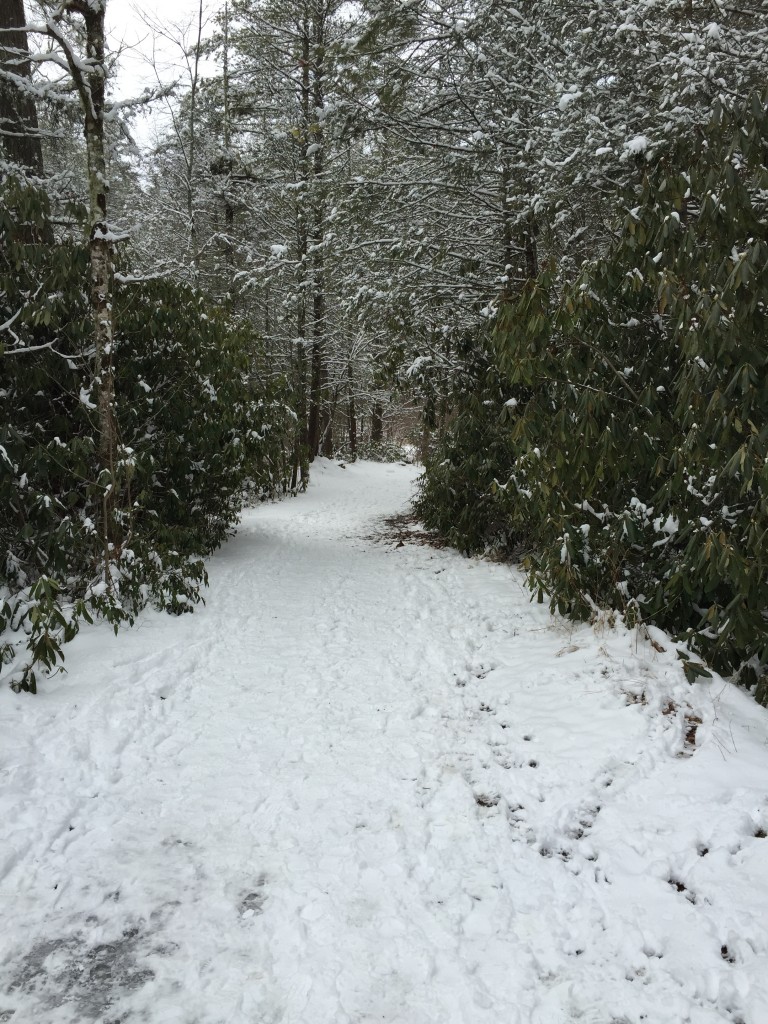 It was actually a good thing that others had created a better path for me…..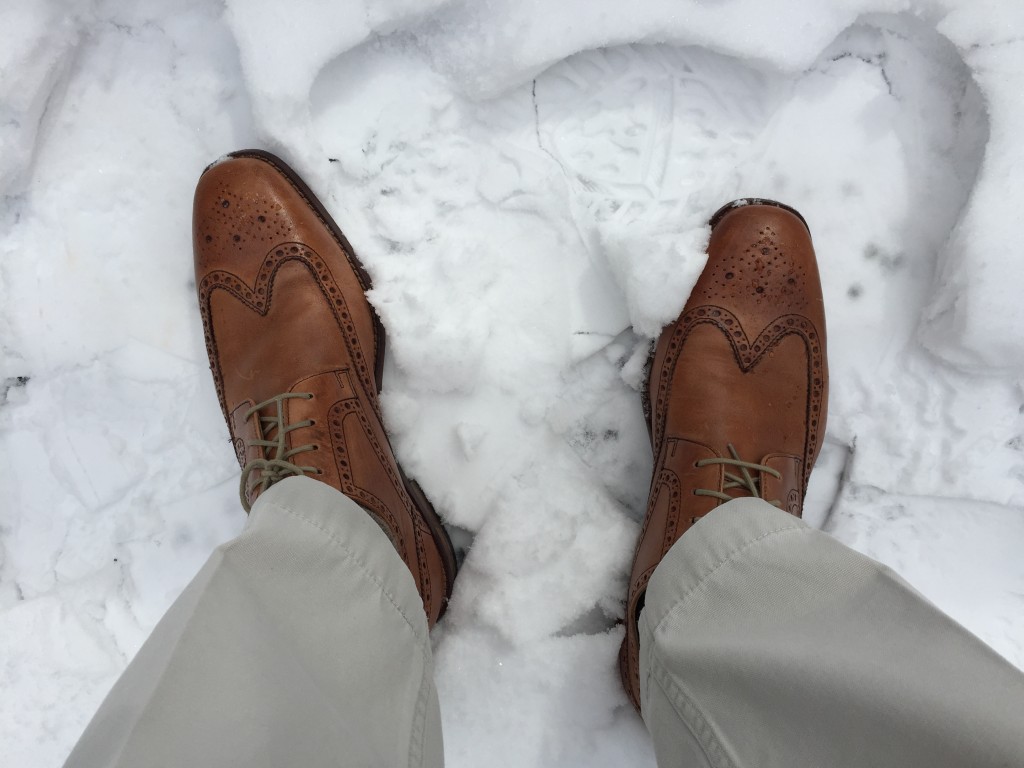 These were my hiking boots…..   
But I didn't really care.  It was so beautiful, walking along the snow-covered path.
HOOKER FALLS
My trek began here, shortly after I parked the car in the parking lot next to the trail marked by the Hooker Falls  guidepost (another landmark).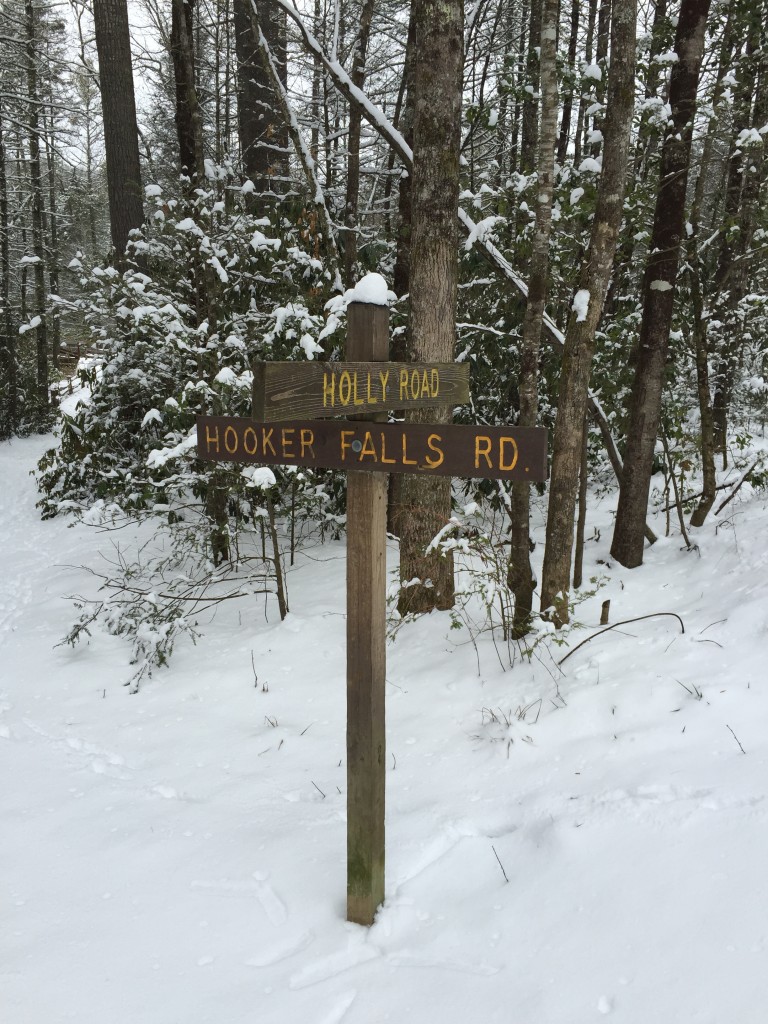 As I stepped slowly along the snowy, sylvan pathway, the rhythmic crunch underneath the soles of my shoes dominated the other sounds of the forest.
I stopped for a moment and just stood and listened. I was moved by the silence.
Then I thought of "Silence", a song written by Lizz Wright. If you haven't heard it yet, just type Youtube.com/LizzWright   into your browser and you'll be able to find the song,  among many of her other Youtube videos.
"Silence" is on her "Salt" album from 2003.
"Silence" is a beautiful, thoughtful, spirit-filled melody in which Lizz shows her reverence for and love of nature.
That morning, even Nature, itself, seemed to stop to listen to the song as I quietly played it one time on my iPhone as I walked on toward Hooker Falls.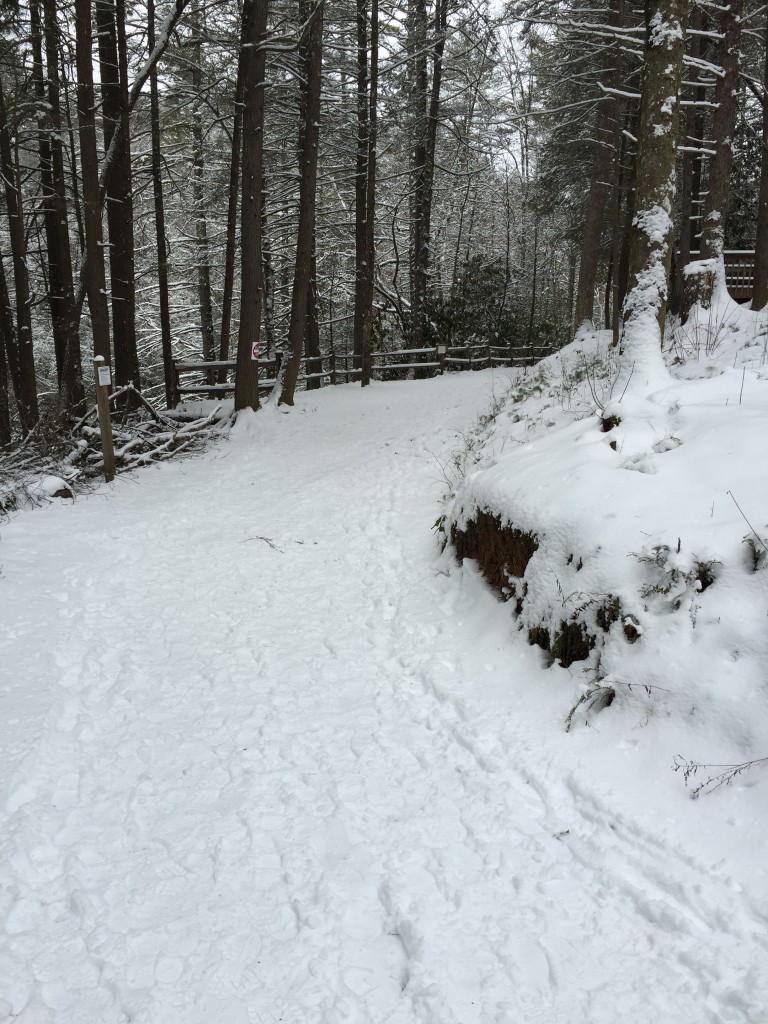 Getting closer to Hooker Falls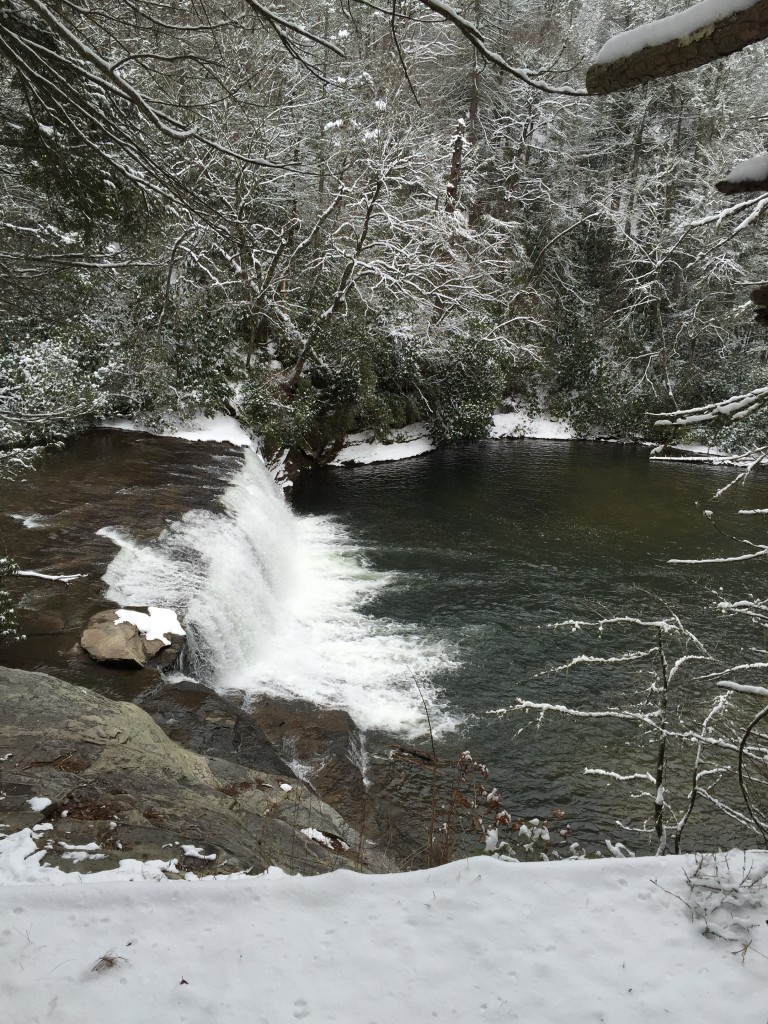 Hooker Falls from two vantage points.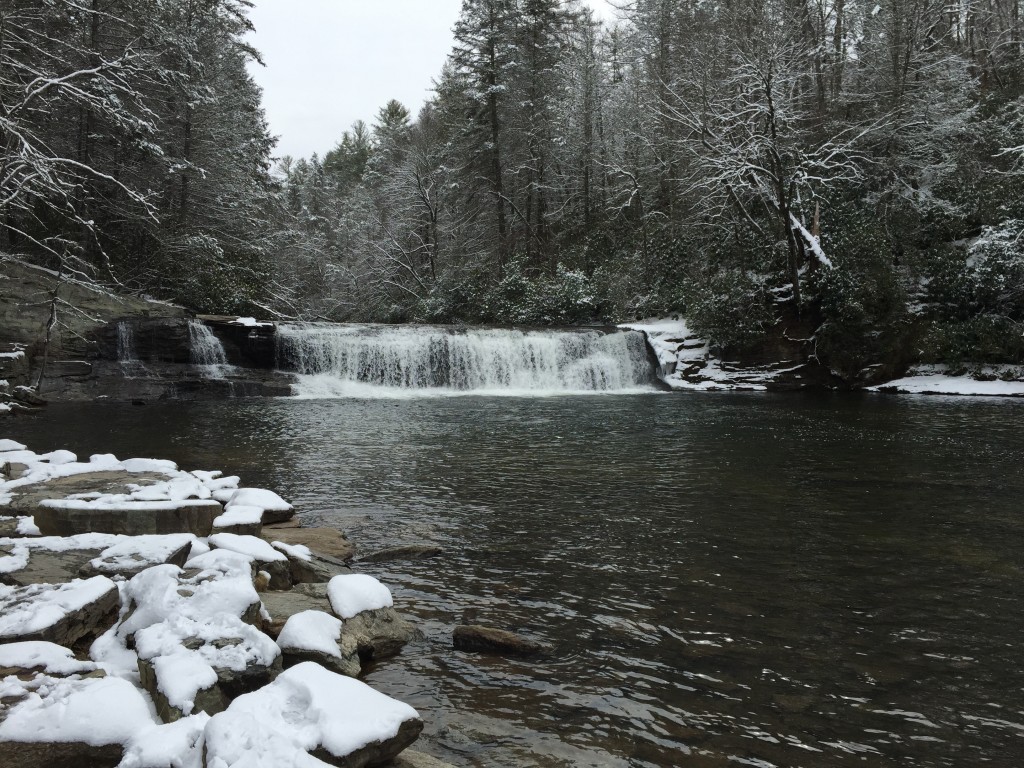 See what I mean about this being an Excellent Adventure? And that was just at the beginning of the day. There is more to come.
HIGH FALLS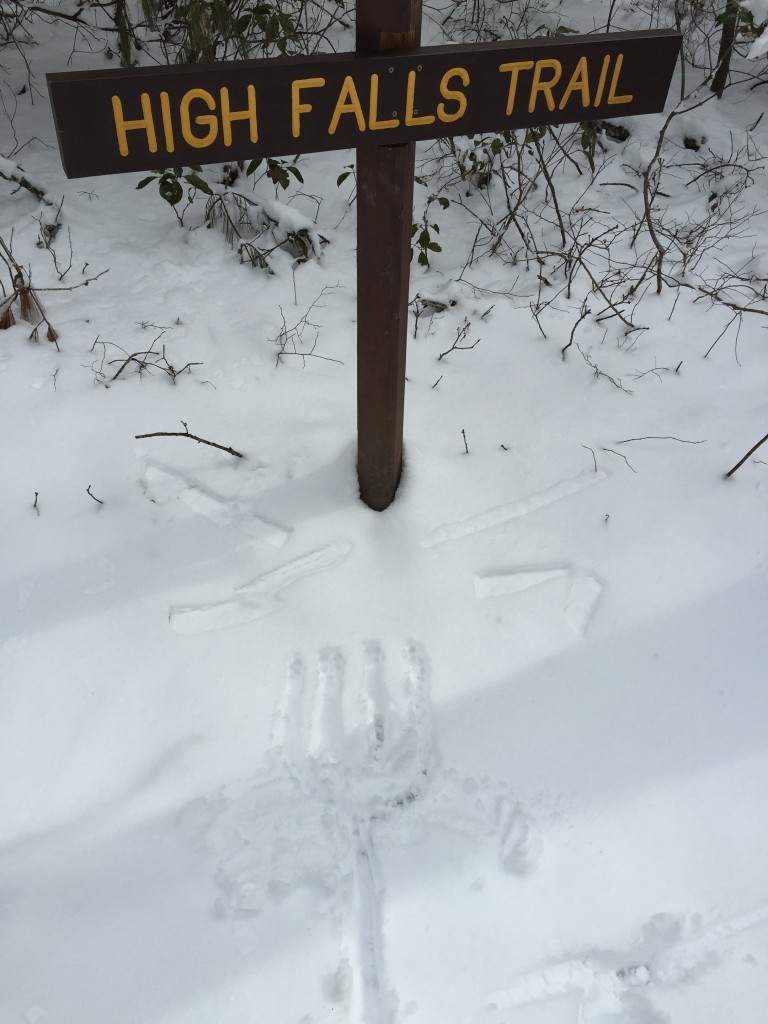 I asked a ranger which trail I should take to get to High Falls and Triple Falls.  He said, "Stay to the right when you see the fork in the road."
There wasn't one. So I just drew one  in,  like they do in the cartoons, and continued on to the right.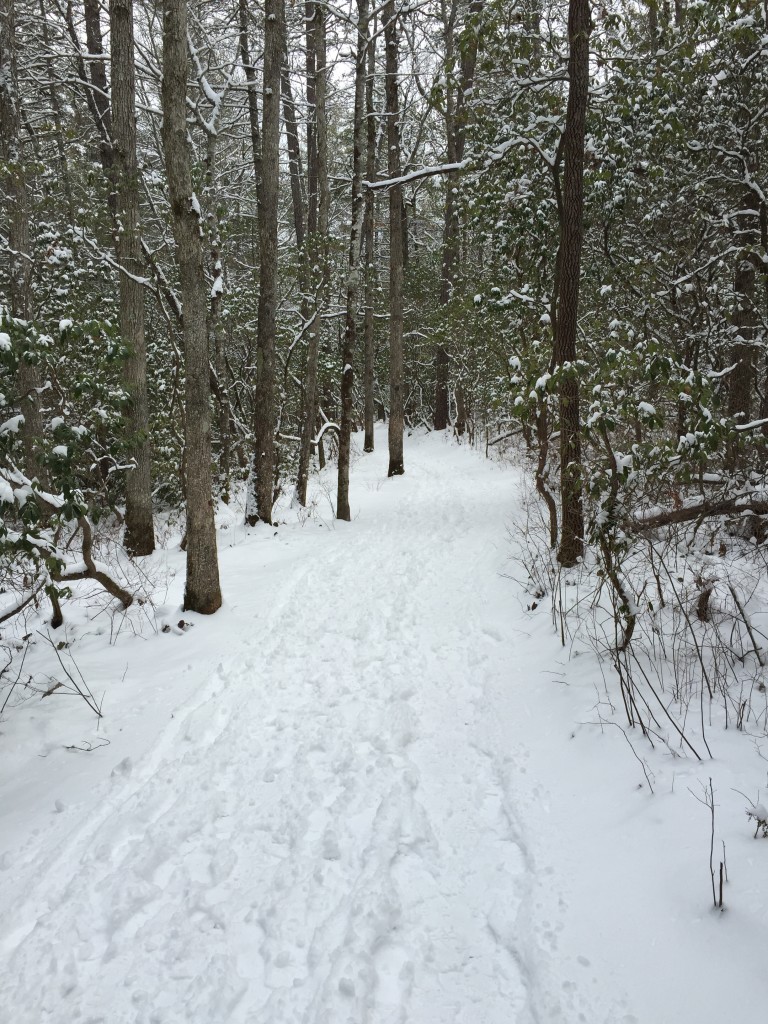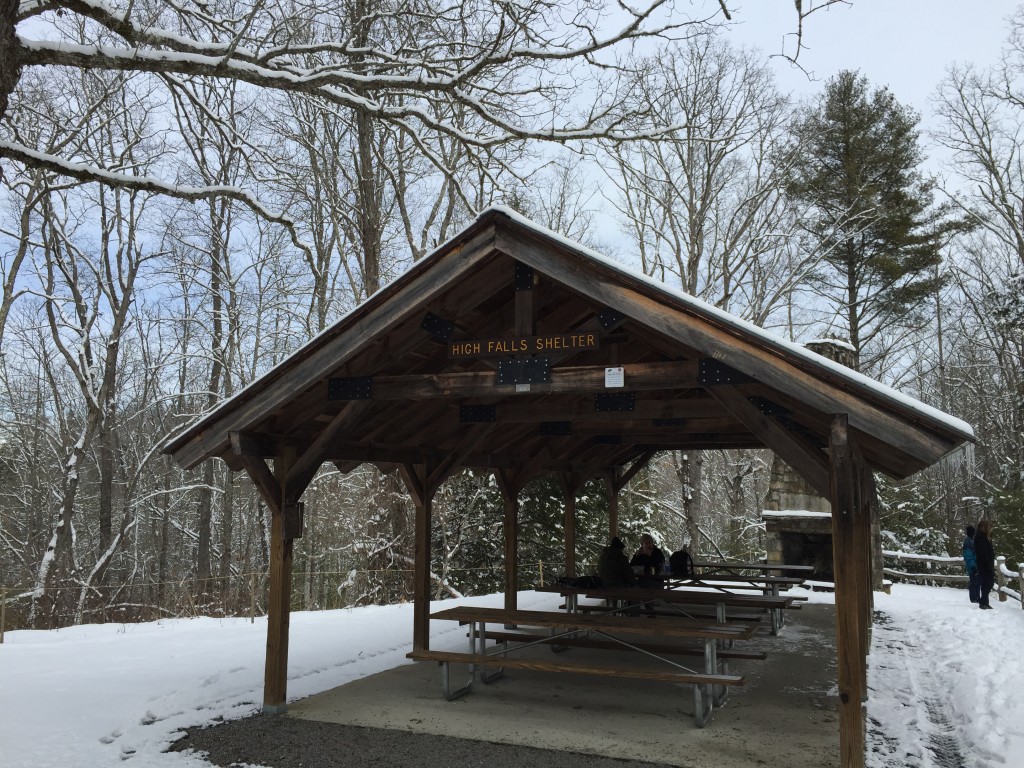 High Falls Shelter (above) and High Falls (below)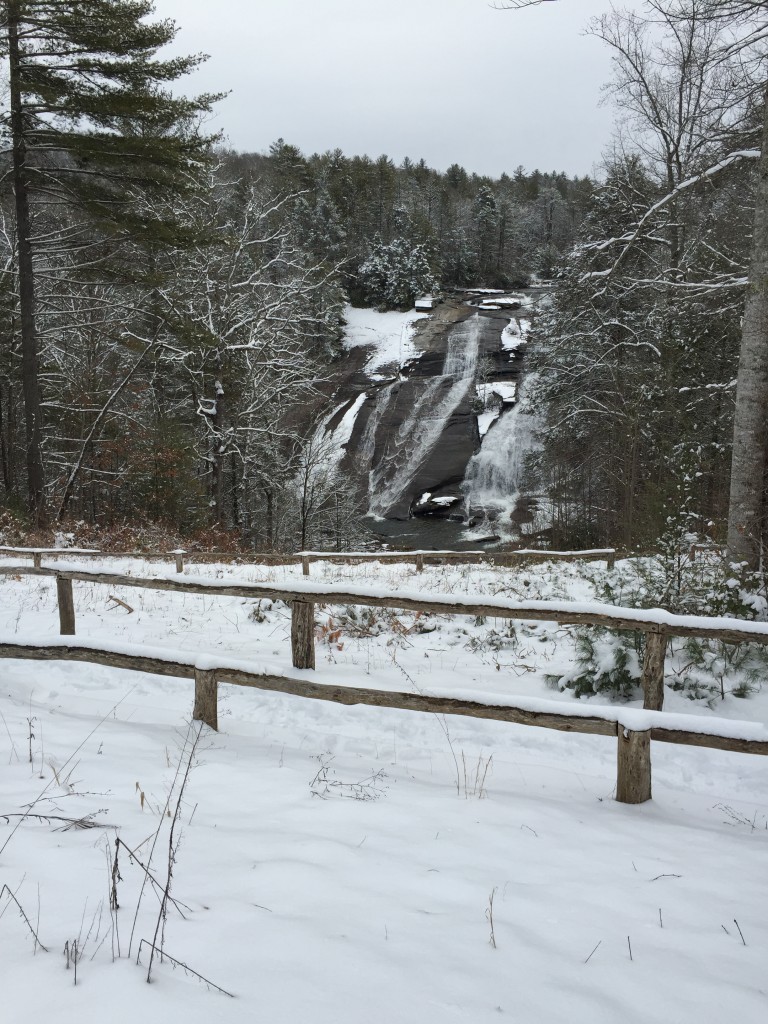 TRIPLE FALLS
I spent about three hours hiking around the three falls so I was getting a little bit cold and eager to drink something hot. So I moved on.
Daddy D's
Daddy D's Suber Soulfood…got my attention…….well,  just because I love collard greens and barbecued ribs, et cetera   (an extra portion of the et cetera on the side, please!) and because the name of the place just had a nice ring to it.
His Operating Hours sign said, "Country cookin' with a soulful taste". I considered that it just might be one of those local Old Landmarks that everyone loves to go to. You never know 'til you try it out, right?
However, I never got to go there and try the food because he wasn't opened any of the days I was in town. I'm not sure why. (Perhaps he was snowbound).
Right across the street from Daddy D's, I spotted the Hendersonville Train Depot and that instantly took me back in time.
My mom and dad would drive my sister, brother and I to my grandparents' farm to stay for a couple of weeks with them during the summer months.  It was near St. James, Missouri, about a 100 miles from Arnold, Missouri, where we grew up and about 10 miles from where I was born, in Rolla, Missouri.
It was fun for us to spend time with them on the farm and I think it probably gave Mom and Dad a little time to just be together and have a good time themselves.
But one summer, they didn't drive us to the country. They put us on a train in St. Louis and sent us steamrolling down the tracks. I think my sister was 10. I was 8. And my brother was 5. So she was in charge.
I remember the conductor checking on us frequently to make sure we were okay.
Grandpa and Grandma were standing there on the St. James Train Station platform, with big smiles on their faces, as we pulled up to the platform.
All these old landmarks remind me of many different times, people and places.
I was only able to do one out of three of those things I selected but hiking around the falls made it a memorable morning for me. But that wasn't the main reason I was there.
THE MAIN REASON FOR THE TRIP
The main reason I went to Asheville was to enjoy a celebration of some good ole'  Gospel music at the 1st Baptist Church of Asheville,  as a part of Black History month.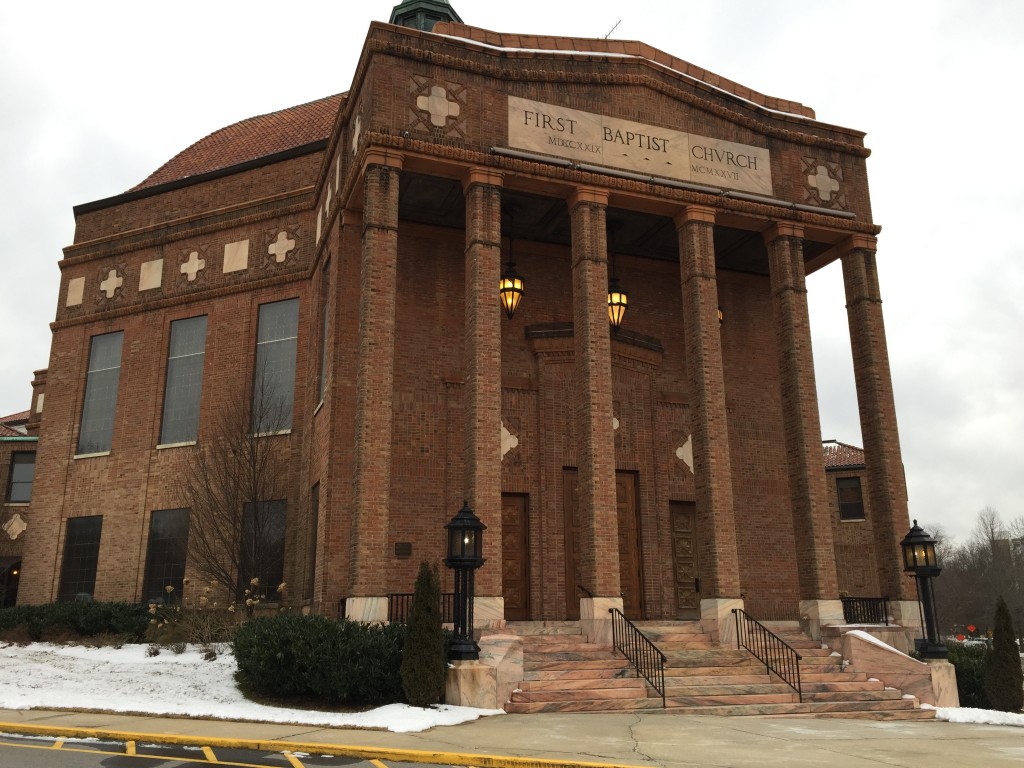 The program,  dubbed, "Old Landmarks….celebrating songs that mark a path to freedom",  was put together by Lizz Wright, my favorite singer in the Universe and beyond (I'm not playing).
She put together an extraordinary musical program for anybody who wanted to be there. It was free and open to the public.
If you were there you know what a treat it was. If not, maybe you will have another chance next year, if they should decide to repeat it. But I guarantee you won't want to miss it.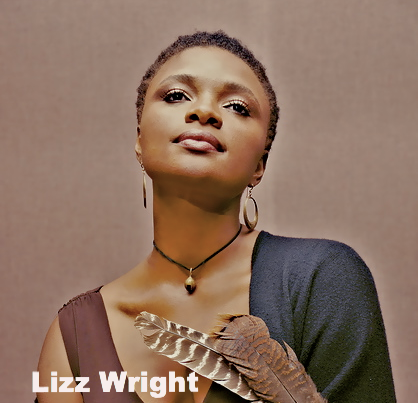 The Asheville Percussion Group, together with Kenny Banks on the piano,  set the creative tone and theme of the show as they provided rhythm and music to usher in the choir from the back of the auditorium as they came forward, singing "Freedom is Coming".
LIzz  presented a message entitled, "Sing, Then":
Later she  sang her own arrangement of "Nature Boy",  to the rhythmic accompaniment of a drum played by percussionist, River Guerguerian.
She also sang, "I Remember, I Believe", a beautiful song written by Dr. Bernice Johnson Reagon, the founder of Sweet Honey In The Rock.
The power that comes from within her, that makes her voice resonate so smoothly and deeply, still gives me the chills.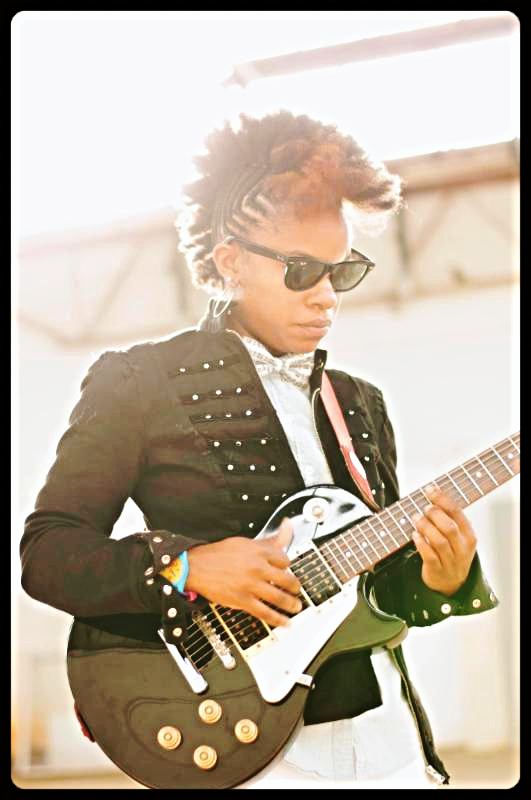 LYRIC
Lyric sang one of my favorite songs of the night, or any night, for that matter. It's a song written by Sam Cooke and covered by a great number of other singers. She sang it well and touched some hearts.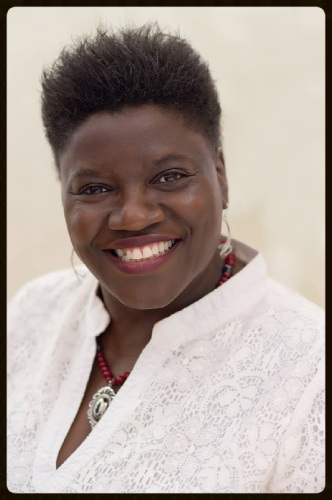 KAT WILLIAMS
Check out Kat Williams powerful,  energetic and joyous rendition of "Up Above My Head " She started out slow but got everyone clapping and moving and then she passed it off to Kenny Banks, on piano,  for a few seconds, who enhanced the vibe with his flawless, animated delivery and his charismatic personality. It was as fun as it looks. (Sorry to both of these artists, in advance,  because I inadvertently cut the video short). But you get the idea how it was rockin', I think.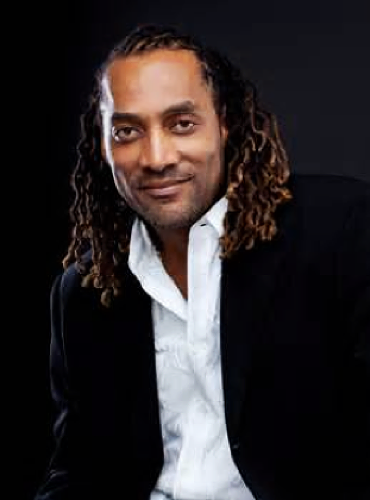 (By the way, I was originally going to just listen and enjoy the program but when the drums started beating I knew I had to video it so I whipped out my iPhone. I messed up several times but I think I got enough video to give you a good idea of what a great night of music it was. I didn't have da' best tech-nar-ah-jies…and chalk some of it up to operator error, if you must,  but the music doesn't get better than that!!)
Lizz, Lyric, Kat, and Kenny, "L2K2",  (I just made that up!) were the featured artists but there were also others who shared inspiring messages of hope, peace,  love and freedom, in between the musical segments.
They spoke about what the songs that mark a path to freedom means  to them, and reminded us that we all share a common path to freedom and are blessed to celebrate our diversity through rhythm and song.
It was the kind of night where you just wanted  to stand up, clap your hands and sing along. And we had several opportunities to do just that.
It was the kind of night you just didn't want to end. It was a joyous, emotionally-moving and fun-filled evening of musical splendor.
And it was the kind of night where we are reminded that all people are given gifts and talents at birth to be developed, and  deserve to be treated equally and to live fully as human beings, to fulfill their own individual and collective destinies.
I spoke earlier of landmarks such as the Smoky Mountains, Daddy D's, the Train Station, Half Dome, and signposts guiding me along the snowy path.
But landmarks also refer to events that mark an important stage of development or a turning point in history, such as Abraham Lincoln abolishing slavery.
Landmarks are concepts that are deemed as significant and worth preserving.
In the spiritual realm, old landmarks are those doctrines and concepts  that help us to comrehend our vast inheritance in Christ.
The music that night in Asheville featured Old Landmarks-wonderful songs of prayer, faith, resistance and hope-which will continue to educate, inspire and change the world.
I really enjoyed the evening!
It reminded me of Revival Week at the Baptist church I went to as a little boy growing up.
I remember being so anxious to hear the specially-invited  groups which came to our church that week (especially the ones who sang 4-part harmony).
I would listen carefully until I figured out who was singing each part. I was just fascinated by them.
When I walked out of the church that evening in Asheville,  it was snowing. It snowed through the night, leaving about six or seven inches on the ground. I wondered if my flight back to Seattle would be cancelled.
I bought a bottle of wine that night before I got snowed in. Sitting back in my hotel room,  having a glass (or two), I gratefully recounted the day's adventure I had just experienced.  I felt like singing.
I thought of an old Korean song that I instantly liked the first time I heard it playing in Korea during my first visit to Korea long ago (I was 25 years old at the time).
I lived in Korea for 12 years and this was the first Korean song I learned to sing. I decided to share this with you (even with all my flaws, I know) just because it's the way my Excellent Adventure in Asheville came to a close.
I'd like to thank Lizz and all of the other people who put so much time and effort into making it such a great evening for the rest of us. I'll always remember it.
I made it back to Seattle the next day, as scheduled. But I wasn't really ready to leave yet. This visit went too fast!
 P. S. I heard someone say that this show would be put on the 1st Baptist Church's website. So check it out sometime if you have the inkling.