In the previous post, "WEEPLESS IN SEATTLE……but still bummed out about it, nevertheless", I mentioned I was working a lot of overtime trying to pay off the debt I incurred from unexpected and excessive car repair expenses, and to replace the things that were stolen from my house.
So for the past several months (from May to the present), I have been working almost 60 hours a week.  I haven't had a lot of free time,  like I used to,  prior to all of this happening.
So it seemed like Summer just flew right past me and things weren't going exactly the way I wanted them to. It kind of threw my rhythm off.
I wasn't able to travel at all,  so I wasn't able to see and hear Lizz Wright sing. For those of you who are new to my website, I am a big fan of Lizz.
(Click on the link to find out more about her.  It'll take you to her Facebook page. She keeps her followers well informed.)
She's a phenomenon! "Top Billing" hailed her VOICE as "a natural wonder of the world!"
I haven't been to one of her shows since February, 2016. (I wrote about that show in a previous blog called, "Weekend In Atlanta, Georgia").
That's a very looooong time to me. Since then she's been around the world and back, twice,  on tour. And she is in the middle of her third trip around Europe as I write this . I miss her and I miss traveling.
So, one day, in the latter part of August,  I was driving around Seattle and I suddenly noticed vestiges of Fall beginning. There were beautiful colors everywhere and some leaves had already fallen.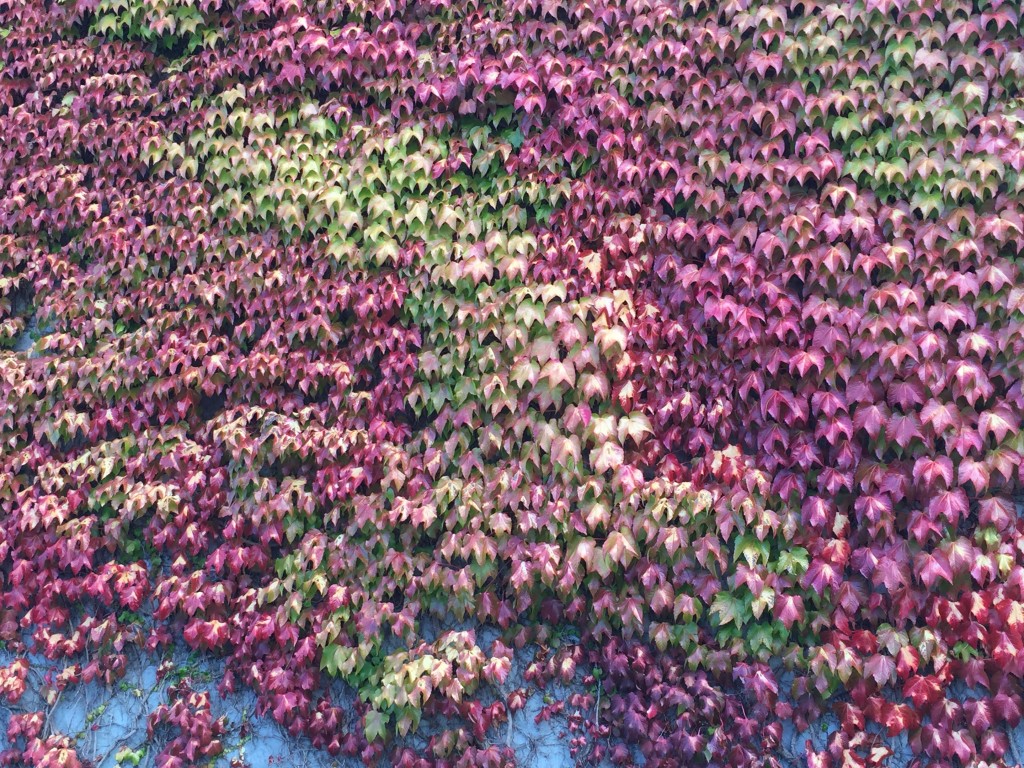 A week or so before that, Seattle was in its two weeks of hot weather (85-90) that usually occur in August and signal the end of Summer.
But it had cooled down to a comfortable  temperature (I think in the 70's), and I suddenly realized Summer was almost over and Fall had snuck up on me.
I think it's because I was preoccupied with work and focused on making money to accelerate payments  to get out of debt as quickly as possible. I wasn't ready for Summer to end just yet. I felt cheated somehow.
But whenever I feel that things don't seem to be  going "right", I look at what I have and I think gratefully about all of it, great or small.  It helps me to refocus on  the abundance in my life, not the things that are missing.  And  it reaffirms the faith I always have that things will work out for the best.
At that moment I felt grateful for my good health.
So, as I recounted those glorious Summer days  that we always seem to have and enjoy here in Seattle,  I realized I had at least one day off each week (seeing the glass as half-full, right?) and I started  remembering how well I spent a lot of that free time doing a variety of things.
Most of the time I spent it with my "Big Kids":
Jes and Jen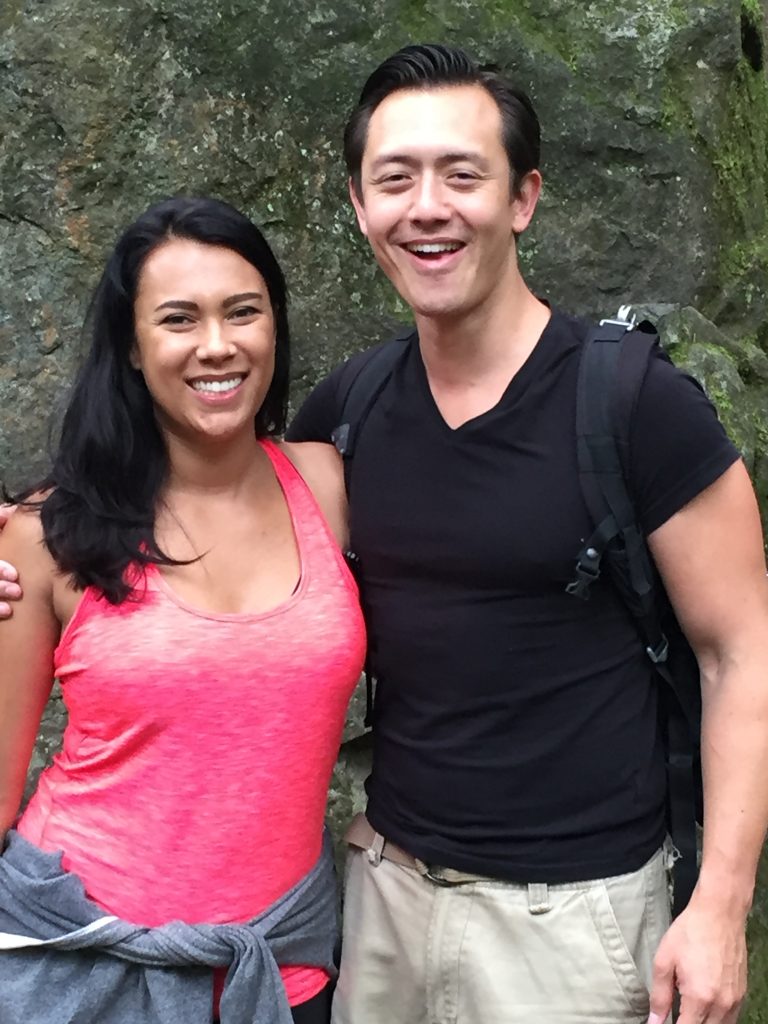 Tim and Pauline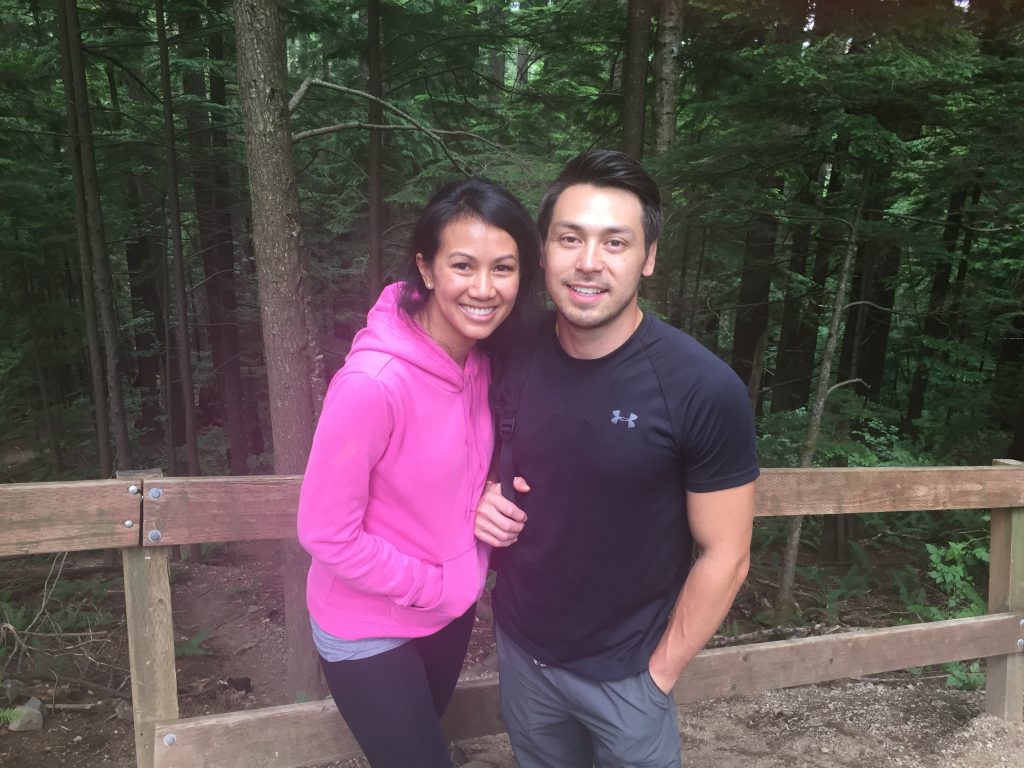 And one "Tiny Kid";
Evie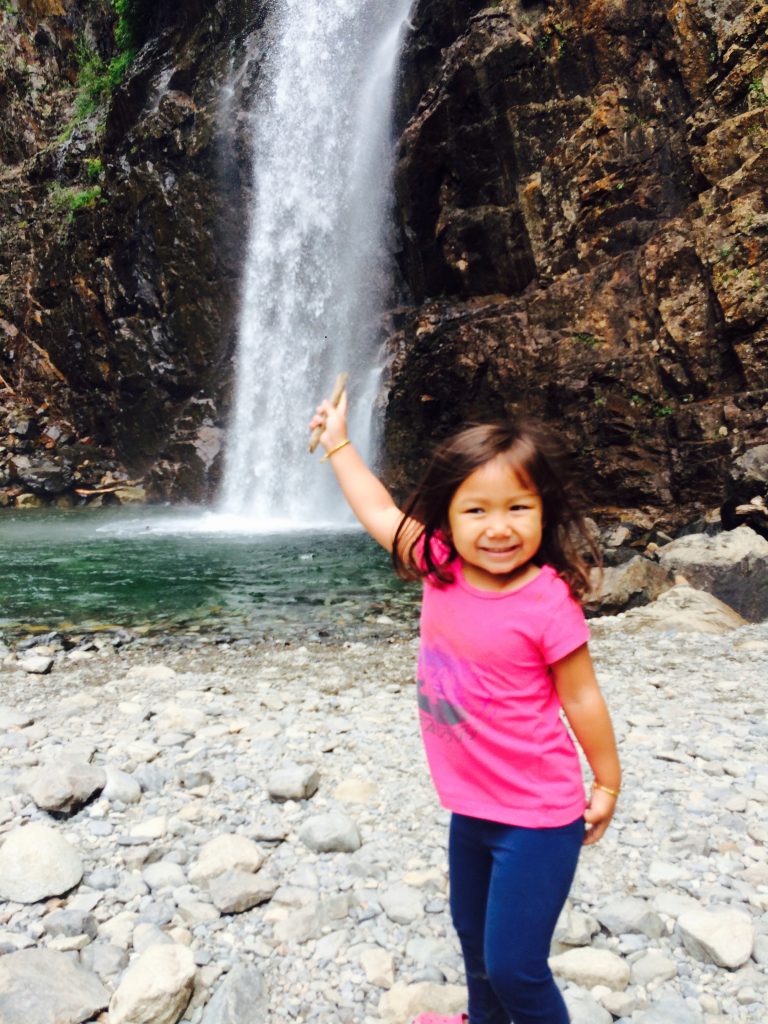 (my 3-year old granddaughter)
and a few other family members and friends, at various venues in and around Seattle.
My kids have YTD……..(Youthful Tendency Disorder)  🙂
They work hard and play hard.
They are creative, active and just simply fun to be with. I like doing things with them.
So there were many moments to claim this past summer.
MOMENTS TO CLAIM
Some moments were  planned events like boating, rafting and hiking.
But there were also moments that were unplanned,  little surprises that occurred along the way.
All moments, planned or unplanned,  added up to a fun and  memorable summer.
Flaming Geyser State Park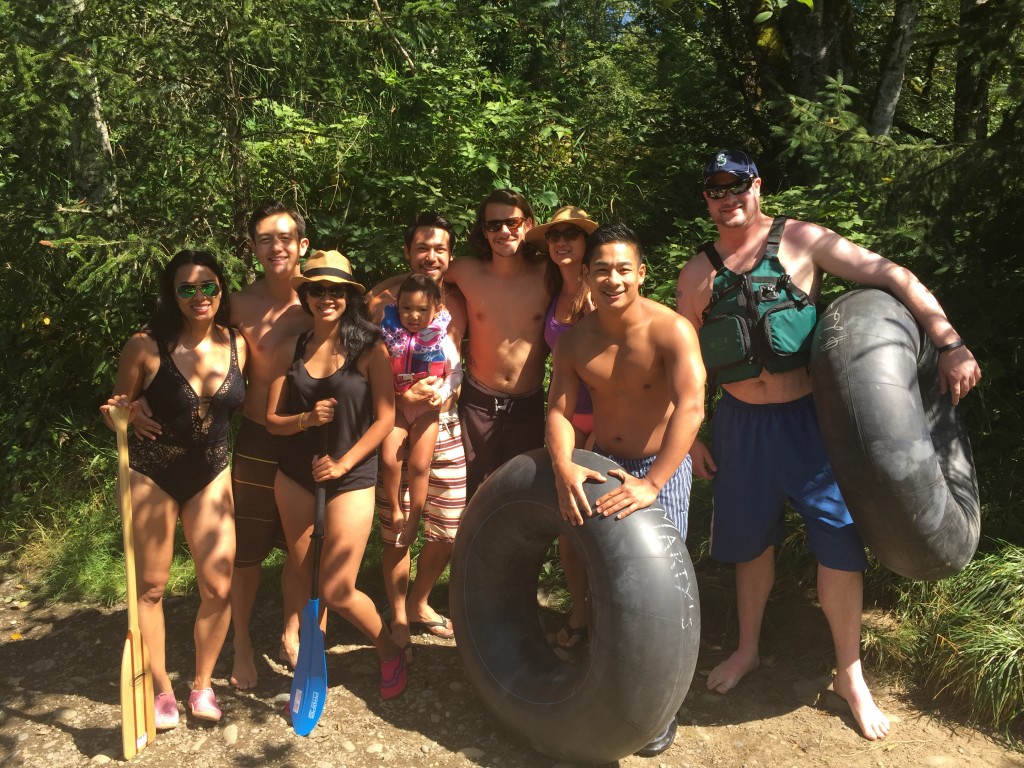 We staked our claim at one of the pavilions, arranged the food and drink around the tables, and then half of the group put their butts in their boats and their boats in the water (Green River).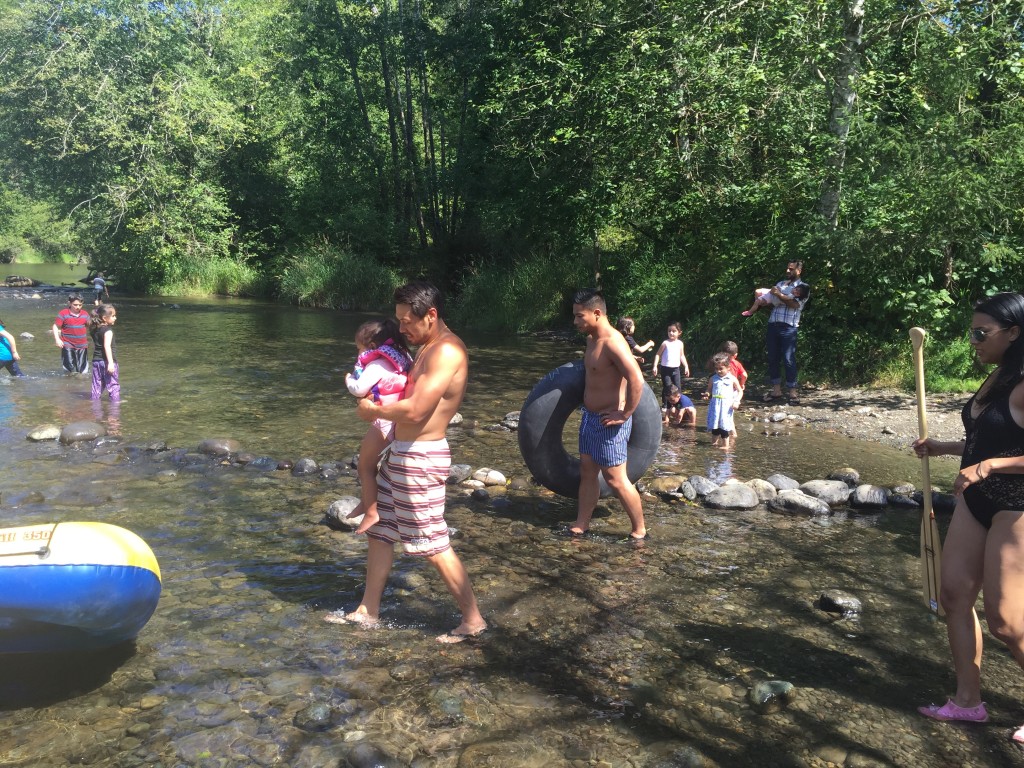 Tim and Evie.  She loves being in the water.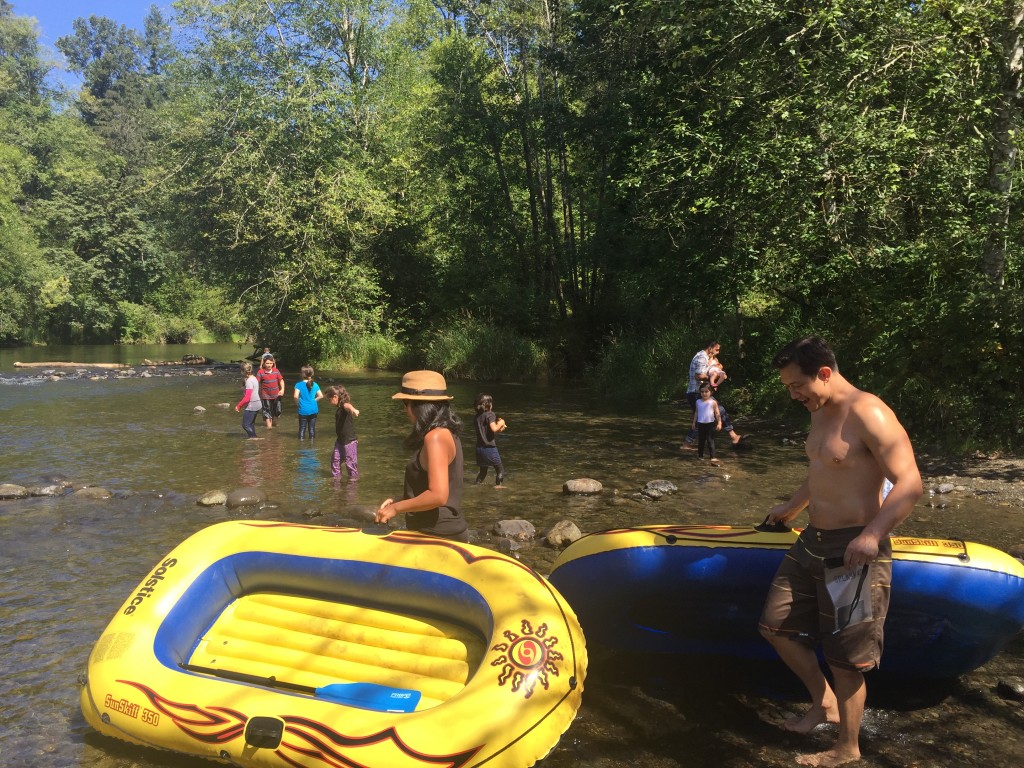 Pauline and Jes.
The rest of the group got the food cooking and everything prepared and when the first group called to be picked up, a couple of people went to get them.
Then the second group floated down the river and the rest of the group ate and kept everything cooking and warm for the second group's return.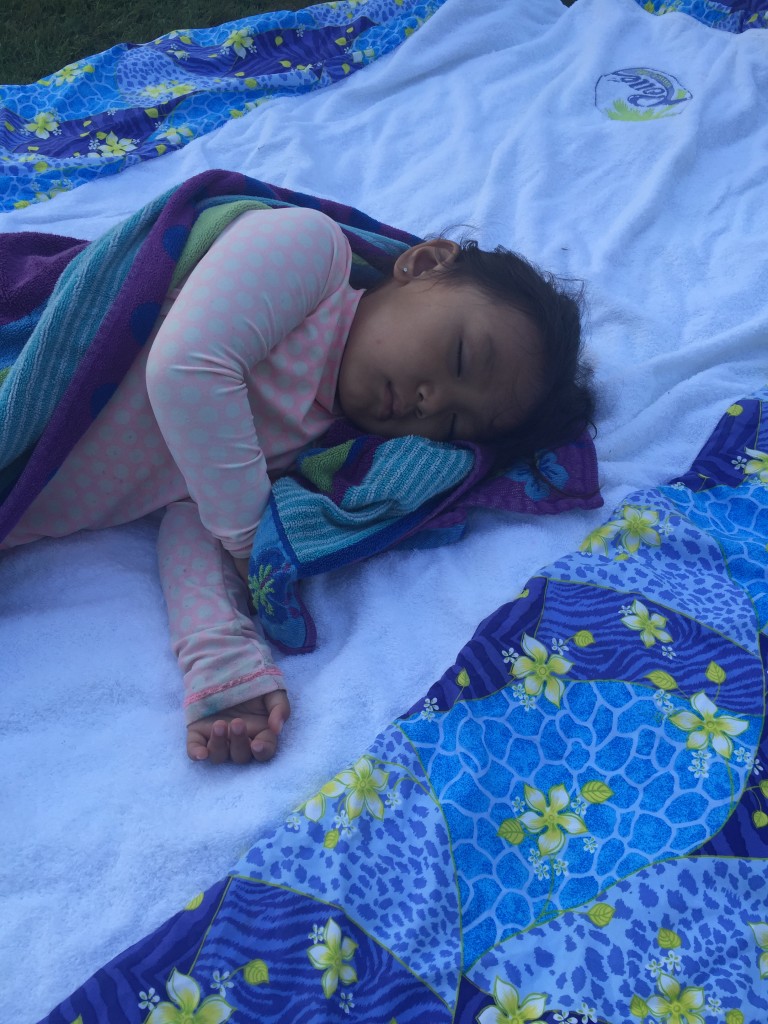 Evie, napping in the park at the end of the day.
A little later, after loading up the cars, we pulled away from the site and were starting to exit the park when the kids' car in front of mine  suddenly pulled over to the side of the road.
My son, Tim, jumped out of the car and ran over to an apple tree. They had spotted the tree and wanted to pick some apples to take home.
The tree was a very tall, mature tree and the apples were out of reach.
So I jumped out of the car, ran over to Tim, squatted down and told Tim to hop on my shoulders and I would lift him up to the branches. Tim exclaimed, "Dad, you're stronger than you think you are!"
I laughed and thought to myself, "No, Tim, I'm stronger than YOU  think I am."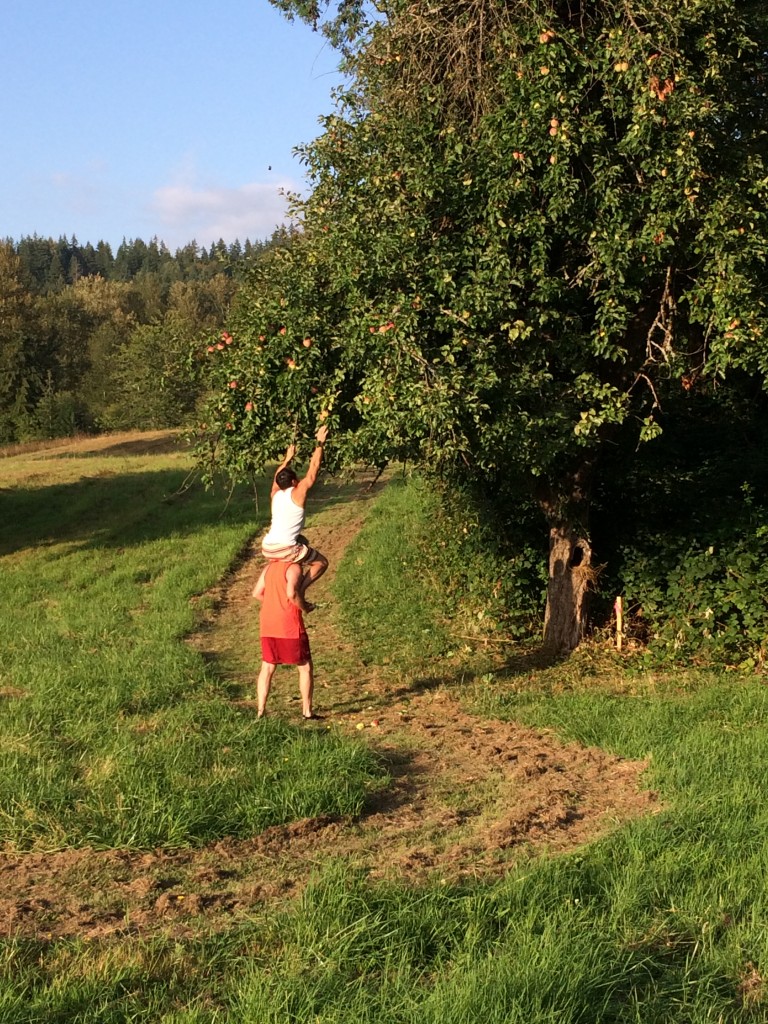 Next thing we knew, Pauline had jumped out of the car and was standing there taking our picture.
Such fun!!
Meadowdale Beach Park in Edmonds
We went on a 3-mile hike which leads down to the water's edge of Puget Sound.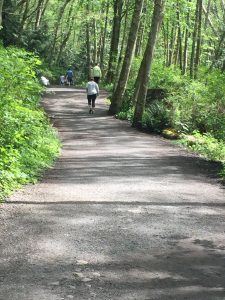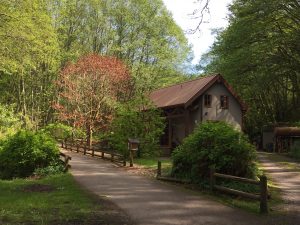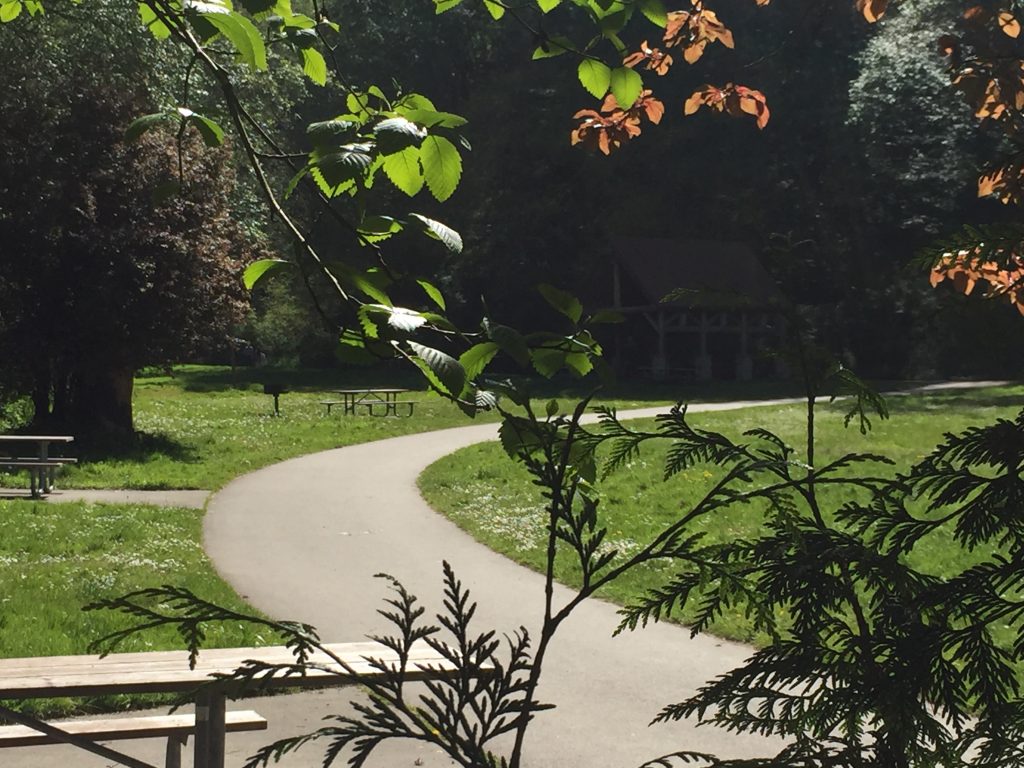 When you get to the end of the trail you walk through a small tunnel underneath a train track to get to the beach with a view of the Olympic mountain range in the distance.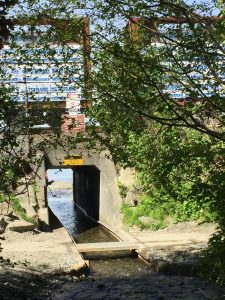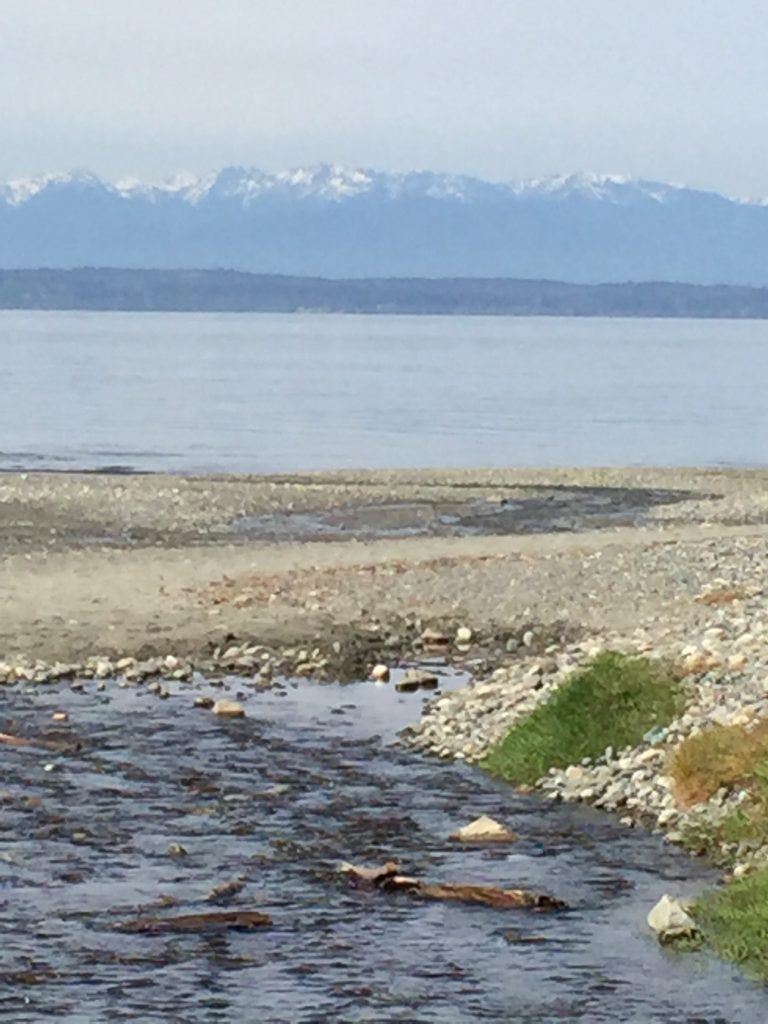 It was a fairly easy hike. Even little Evie  walked almost the whole three miles.
But on the way back up she got a lift on her Dad's shoulders part of the way.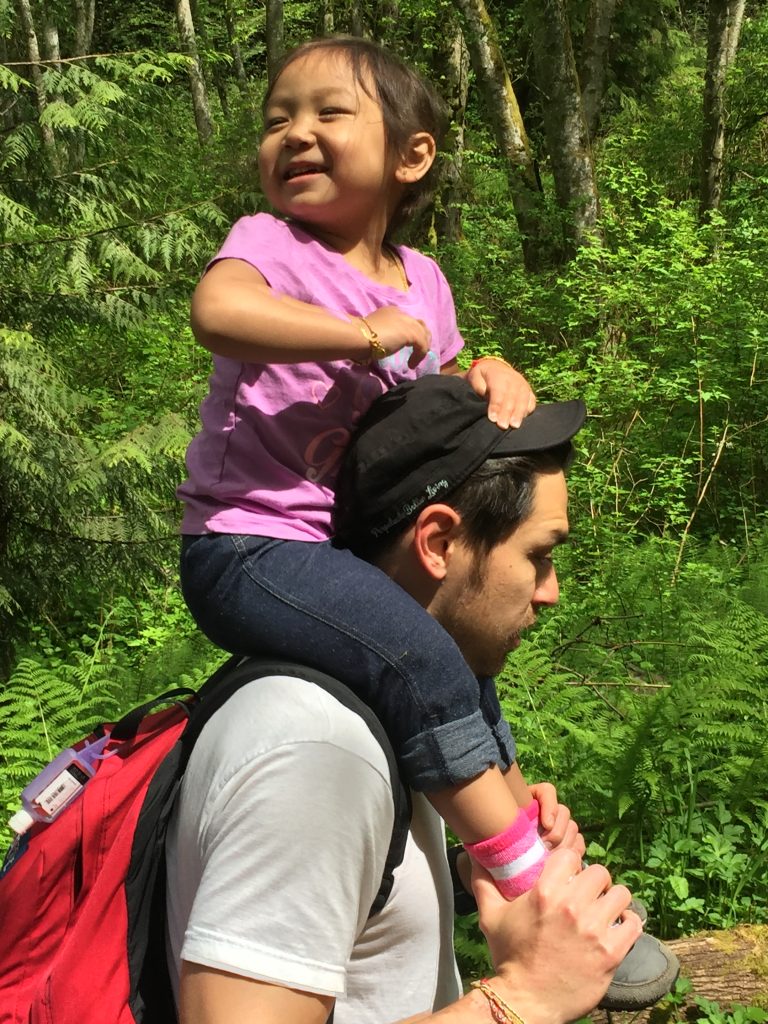 Twin River Falls Park in North Bend
We also went on a hike up to Twin River Falls.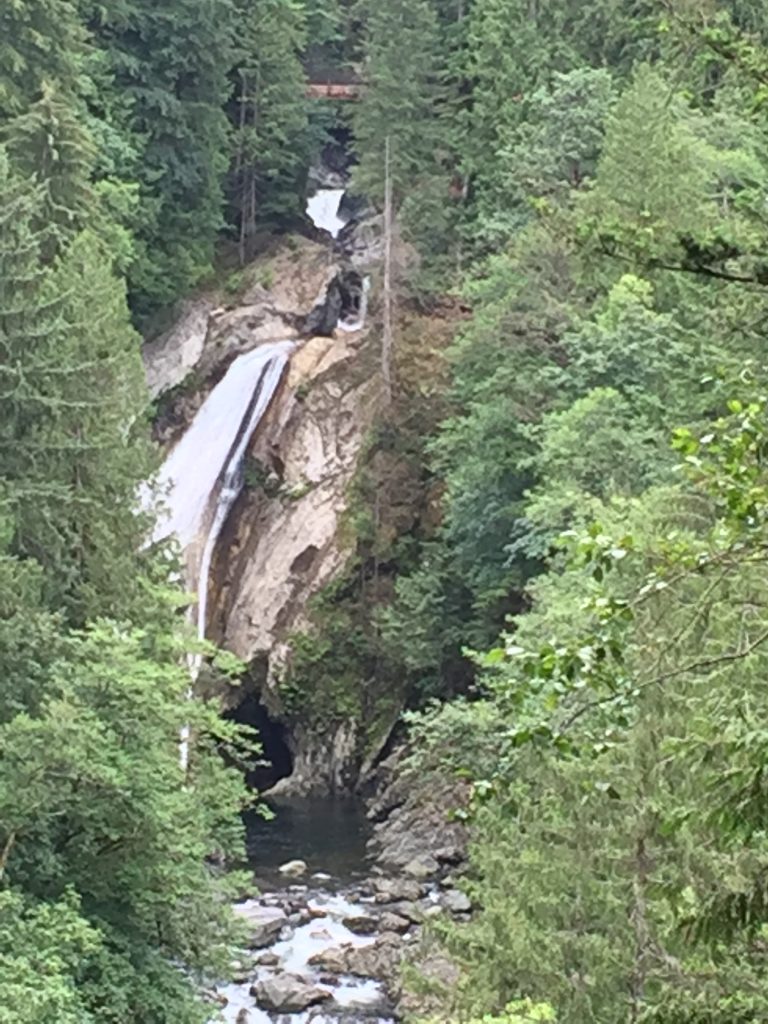 The goal was to hike up to the bridge you can see vaguely at the top of the photo.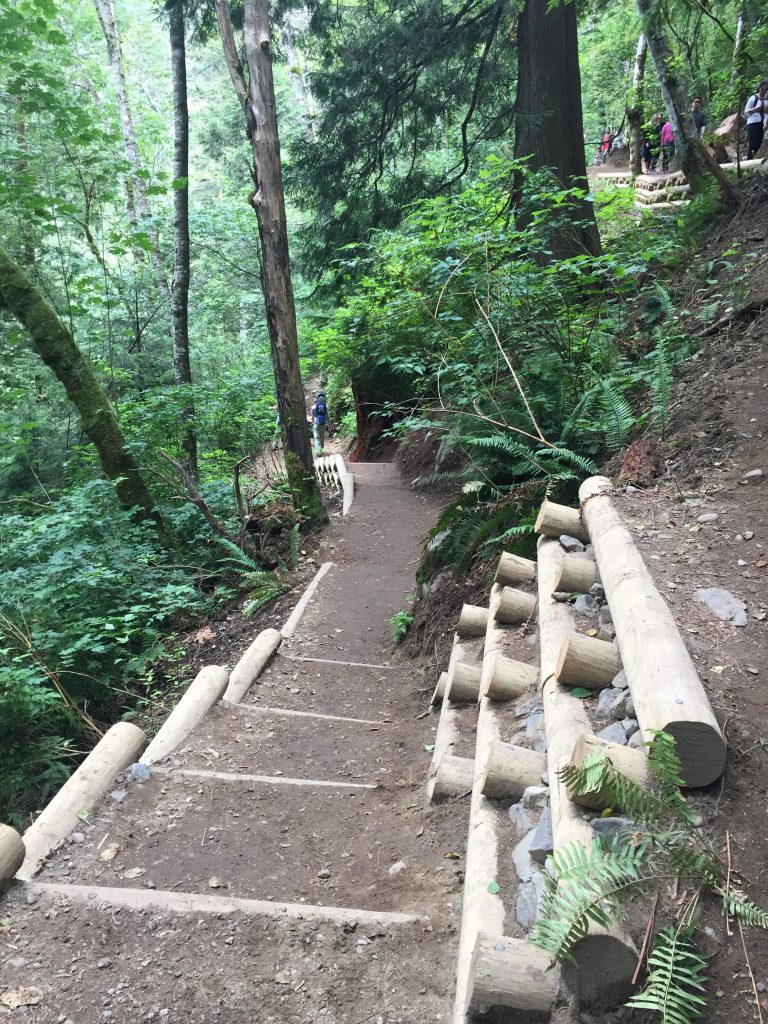 Evie got a lift from Dad again with Uncle Jesse walking behind her,  creating monster spiders on her butt.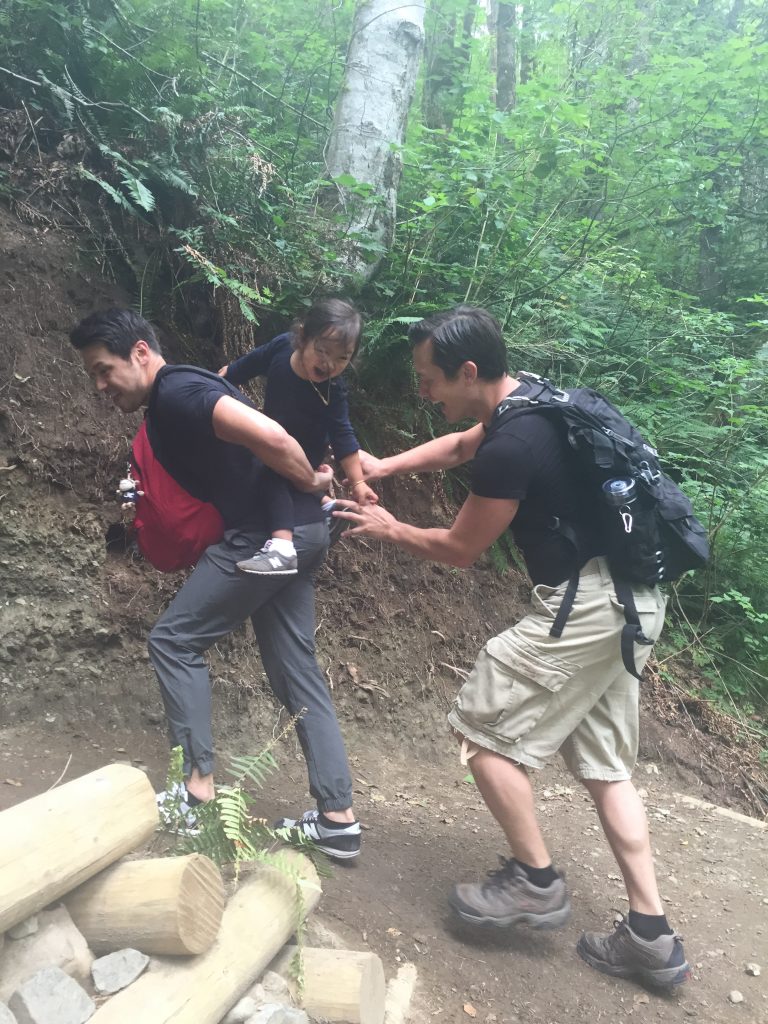 Here are a few highlights from the walk that day.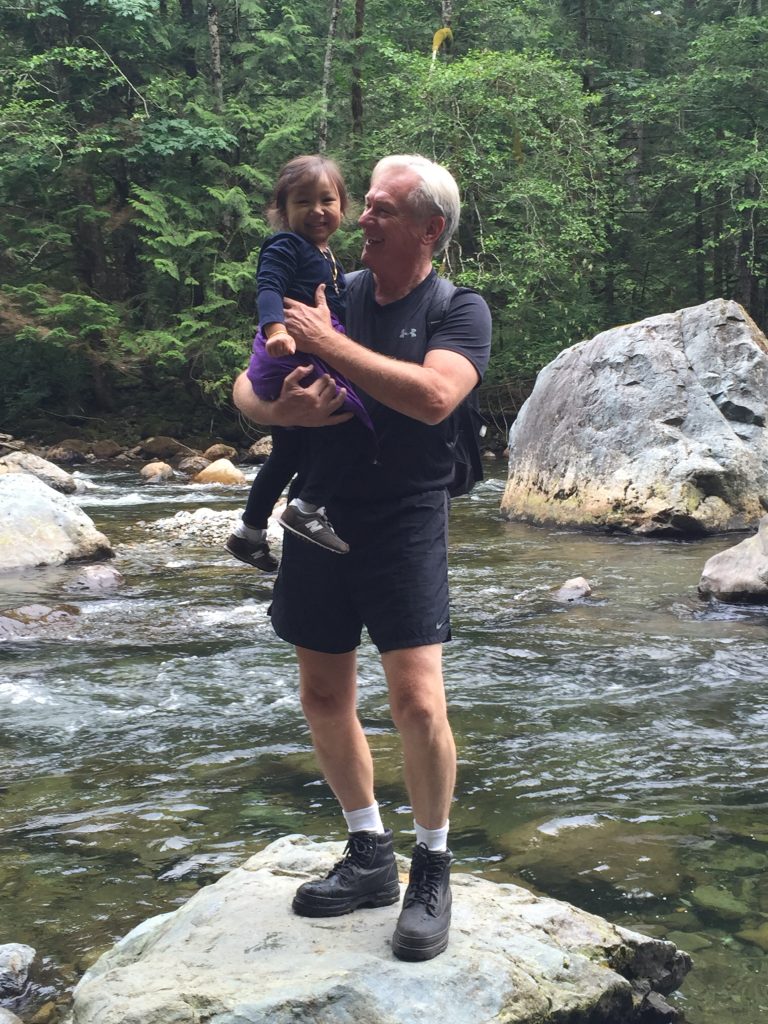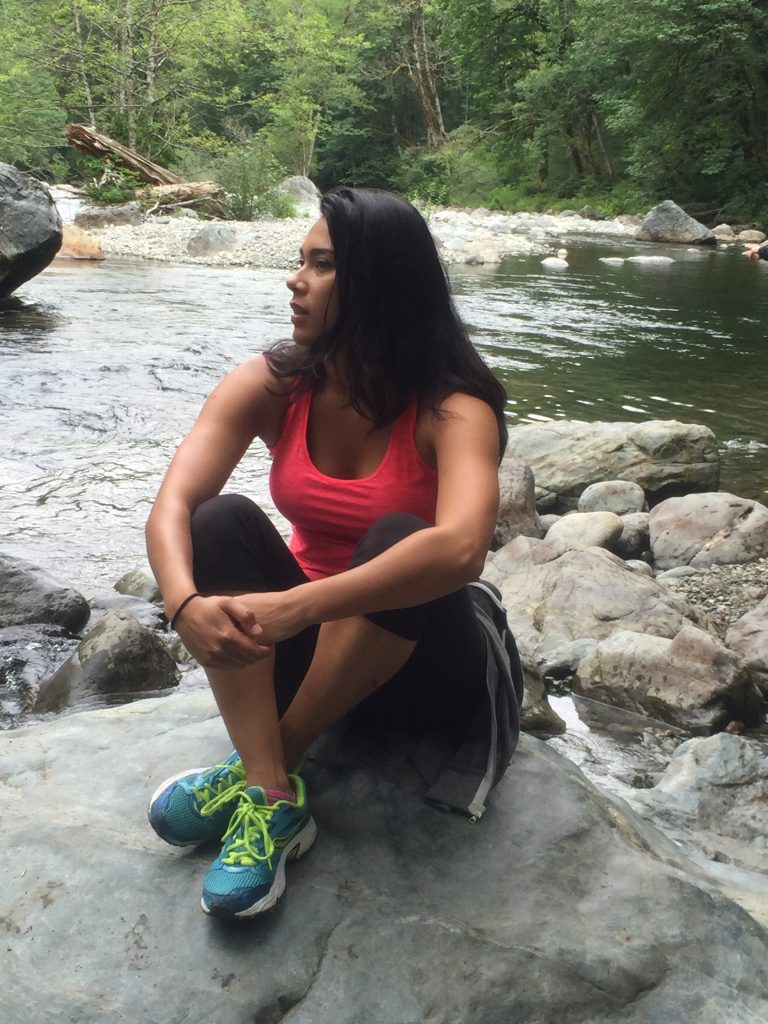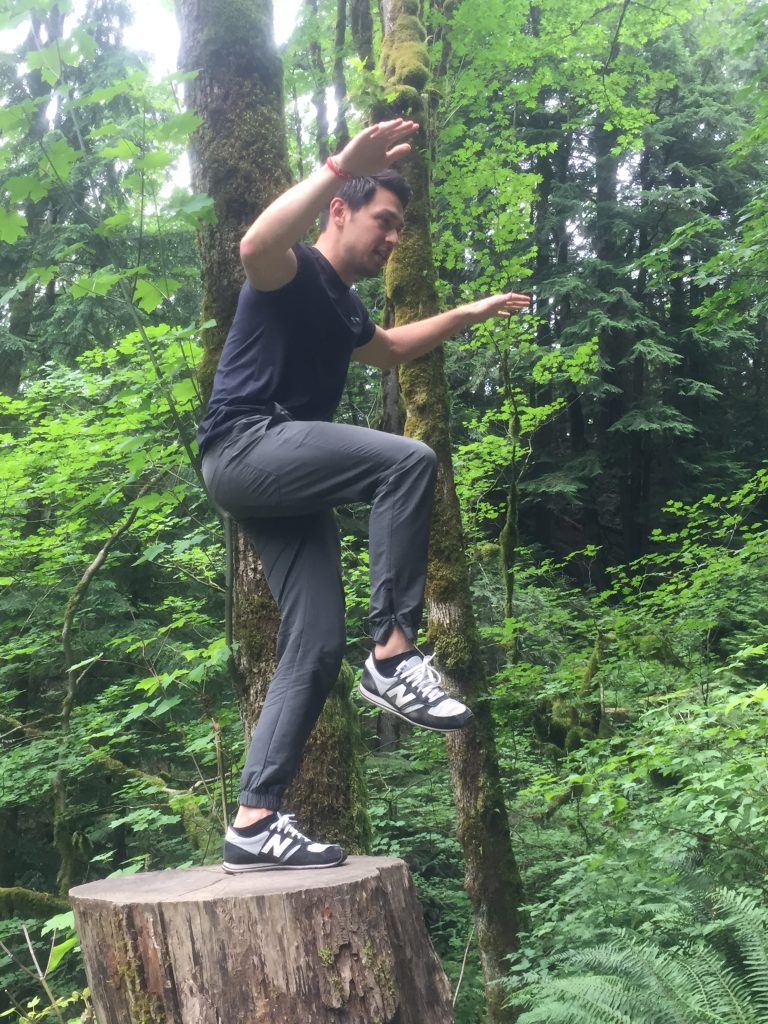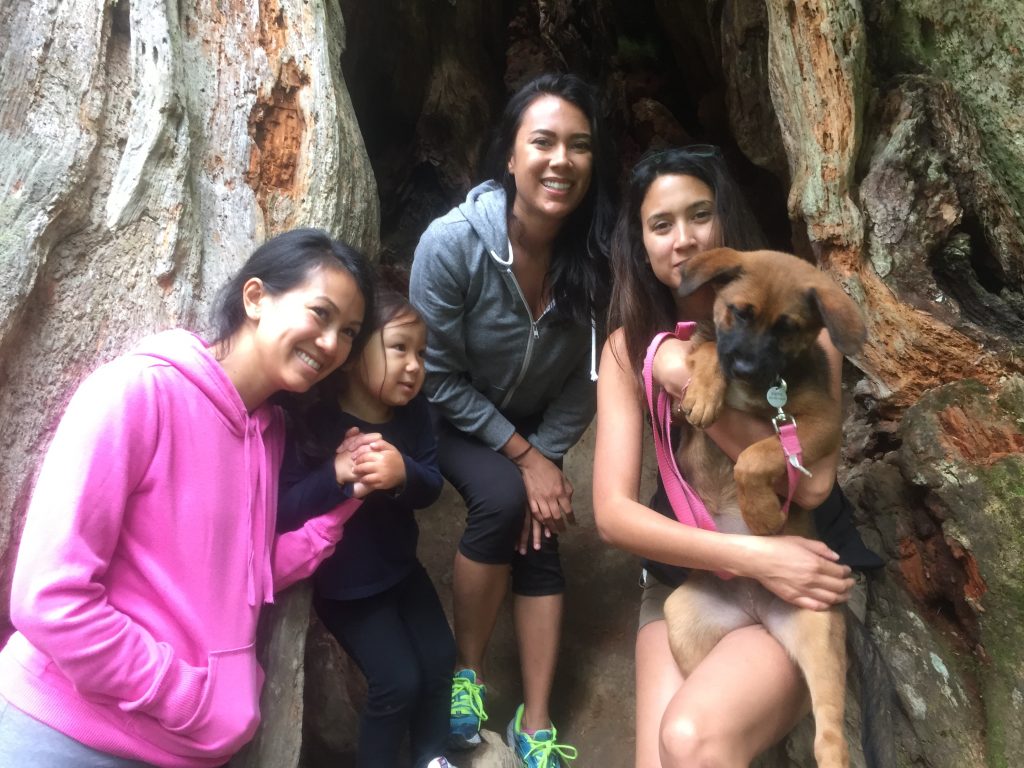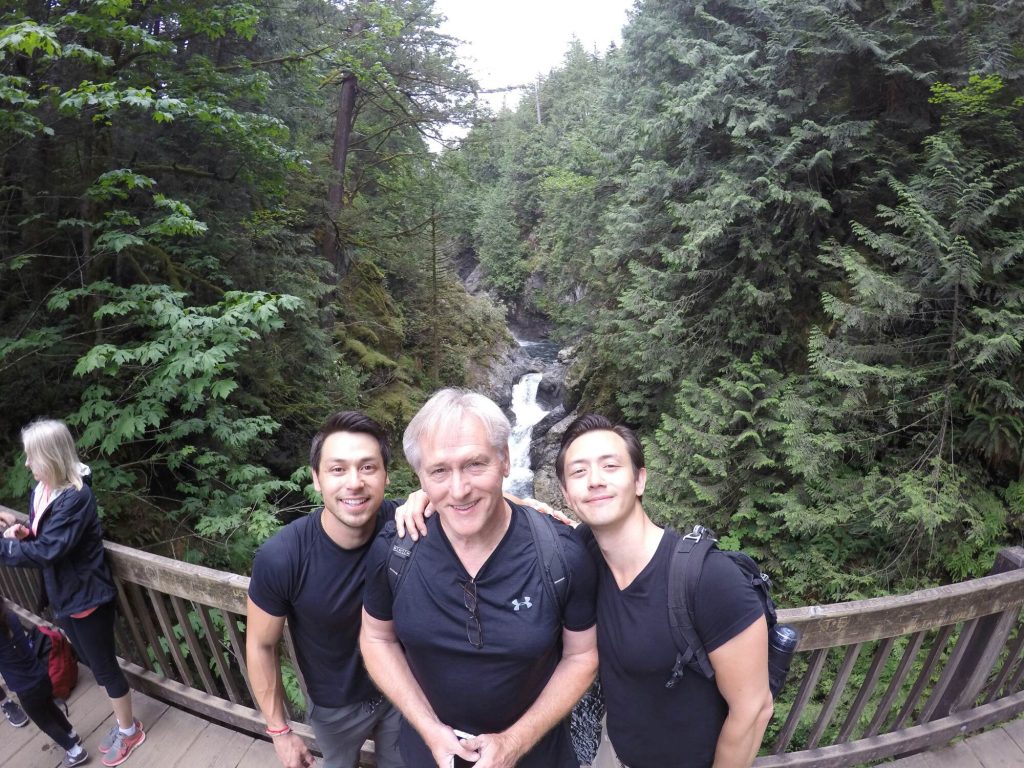 Lake Union to Yarrow Bay
Then there were the "Family Food Fests" at the J's and the Suon's house…….
Sometimes (if I'm real nice), my daughters-in-law, Pauline and Jen, surprise me and fix my favorite Korean soups, Ddok guk and Mi yok guk.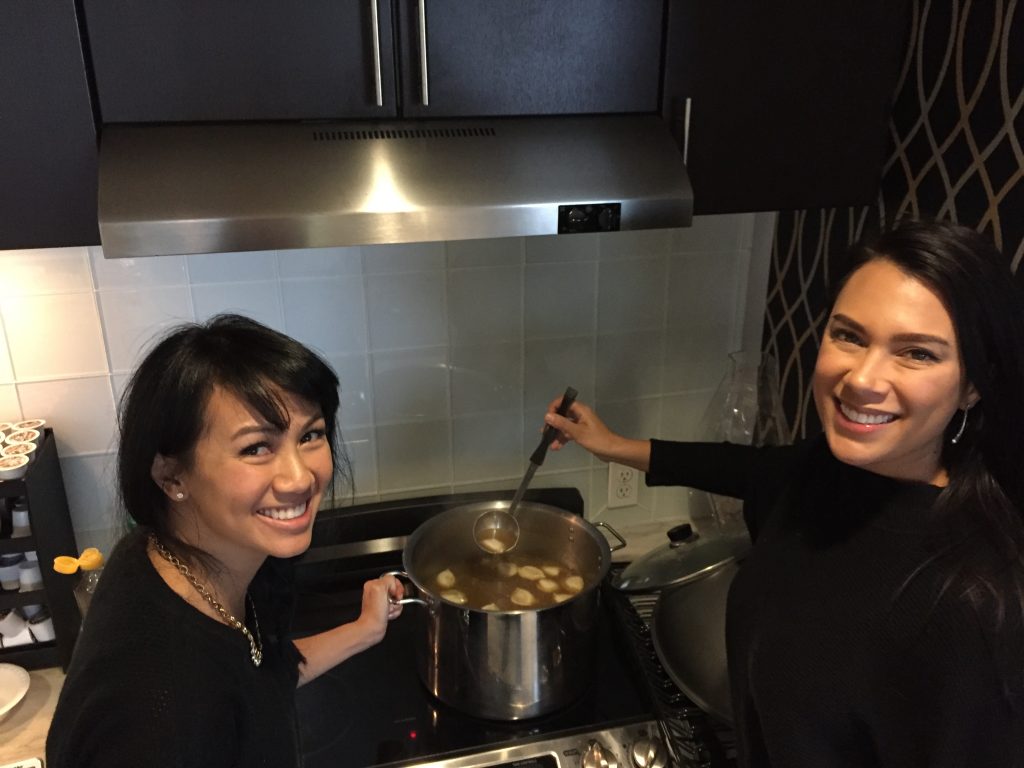 Then there is the  occasional night out at the movies……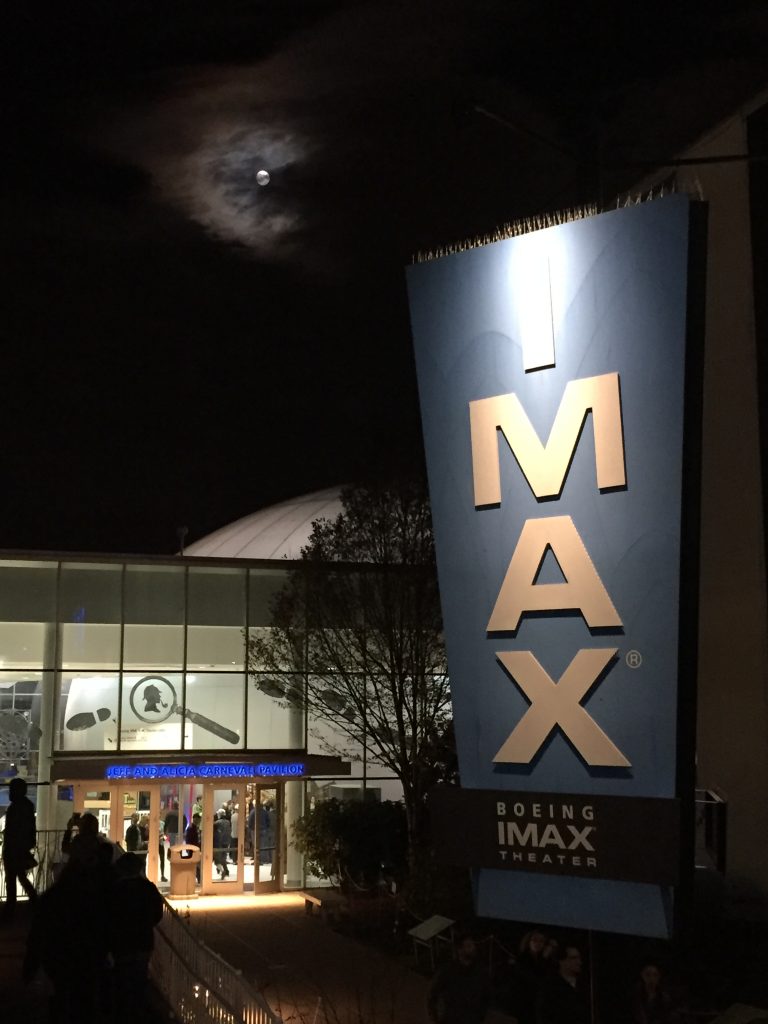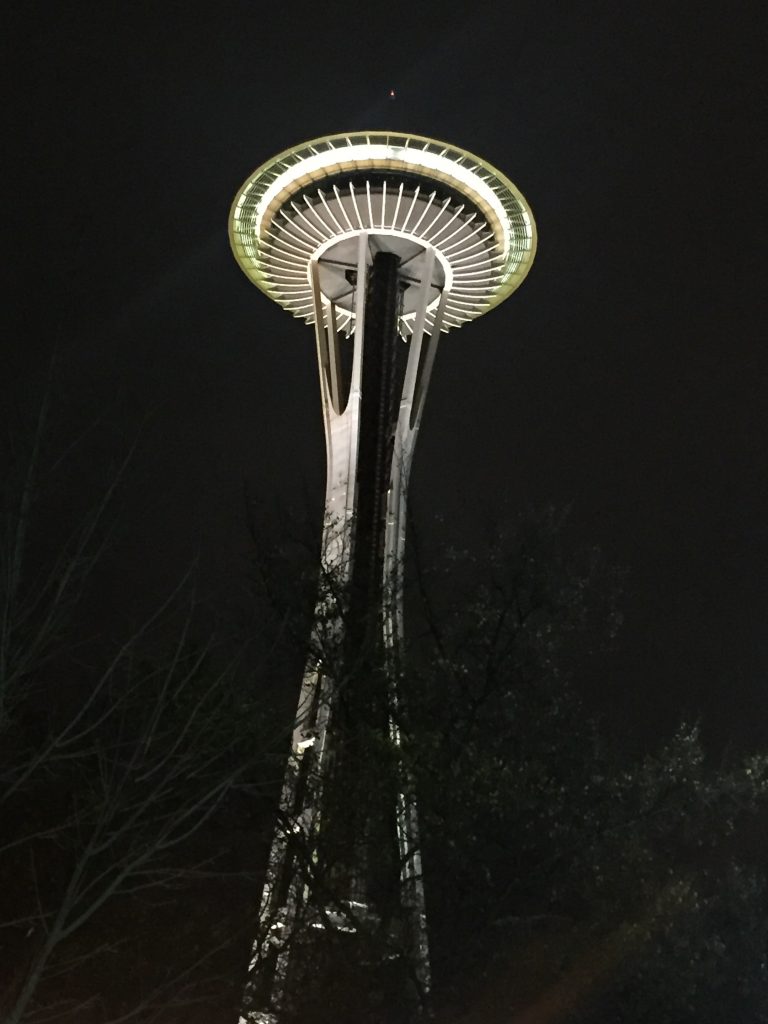 And if that wasn't enough……..
There Were Little Surprises Along The Way
The little surprises were things that I noticed during the summer usually when I was by myself.  For one reason or another, they caught my attention.
One evening I went downtown to see Gregory Porter's show at the Moore Theater. I had only seen him once on a youtube video, doing a duet with Lizz, of a song I don't recall off hand.
I was eager to hear him do a whole show and some of the songs from the new album he had just released, called, "Take me to the Alley".
He also had sung another duet with Lizz on her latest album, called "Freedom and Surrender".
The song they did together on her CD was "Right Where You Are", a song Lizz co-wrote together with J. D. Souther and Larry Klein.
I was secretly hoping that Lizz would walk on stage in a surprise cameo appearance and sing, "Right Where You Are", with Gregory, as a part of his set that night.
I really enjoyed listening to Gregory that night.
Kandice Springs opened for him. She was a delight to listen to also.
And she happened to sing two songs that night which were two of my favorite songs that Lizz sings currently in her shows:
"The Nearness Of You" (which Lizz recently performed at the Apollo Theater in New York, as a part of a tribute to Ella Fitzgerald), as a part of the program, "100 Years Of Jazz History", that is in progress all over the U.S. now.
And Roberta Flack's, "The First Time Ever I Saw Your Face".
Then there were the radio and magazine interviews of Lizz.
She speaks sincerely and succinctly. She's very articulate and speaks in unique and interesting phrases.
You also can see her creativity in the words to the songs that she writes herself. I mentioned it in a previous blog called, "Weekend in Atlanta, Georgia".
(By the way, Lizz just uploaded a video clip of herself, on her Facebook page,   singing "The Nearness Of You" .  At the end of the song, she speaks about Ella Fitzgerald.
As I listened to her shower Ella with kind and sincere words, I thought to myself, "Yeah, that's all true but I could say all those things about you too, Lizz…………….
……….I just couldn't say it so Ella-quently!"    🙂
But don't take my word for it. Click on the link above and listen to her and you'll see what I mean.
I so appreciate her for giving all of us fans a heads up on where she'll be singing, or where we can observe upcoming interviews of her, but also for the thoughtful missives that she shares frequently  on the page.  
They light up a window into her beautiful spirit.
You can quote me on that.   🙂
Just follow her on FB and you'll see what I mean.
Playing basketball outside is not a little surprise, but it is something thing I never get tired of doing.  No matter what's going on in my life,  I always find time to go out and play for an hour or so.
Locally, I have some favorite courts to play on.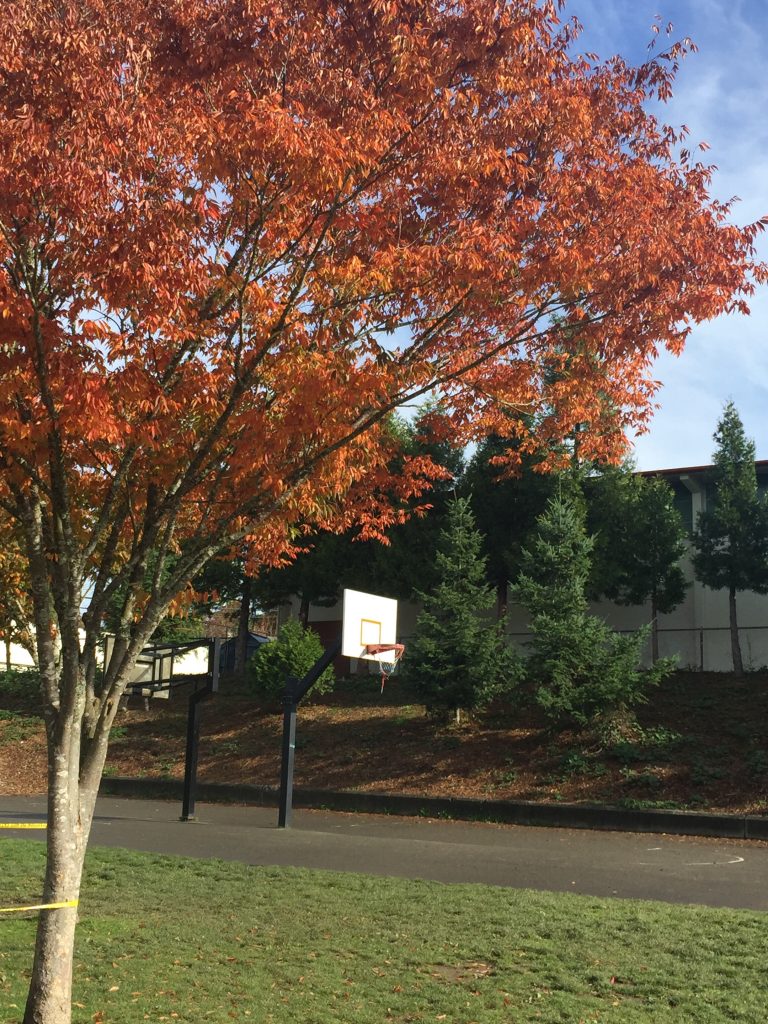 This is closest to my house. Only eight blocks away.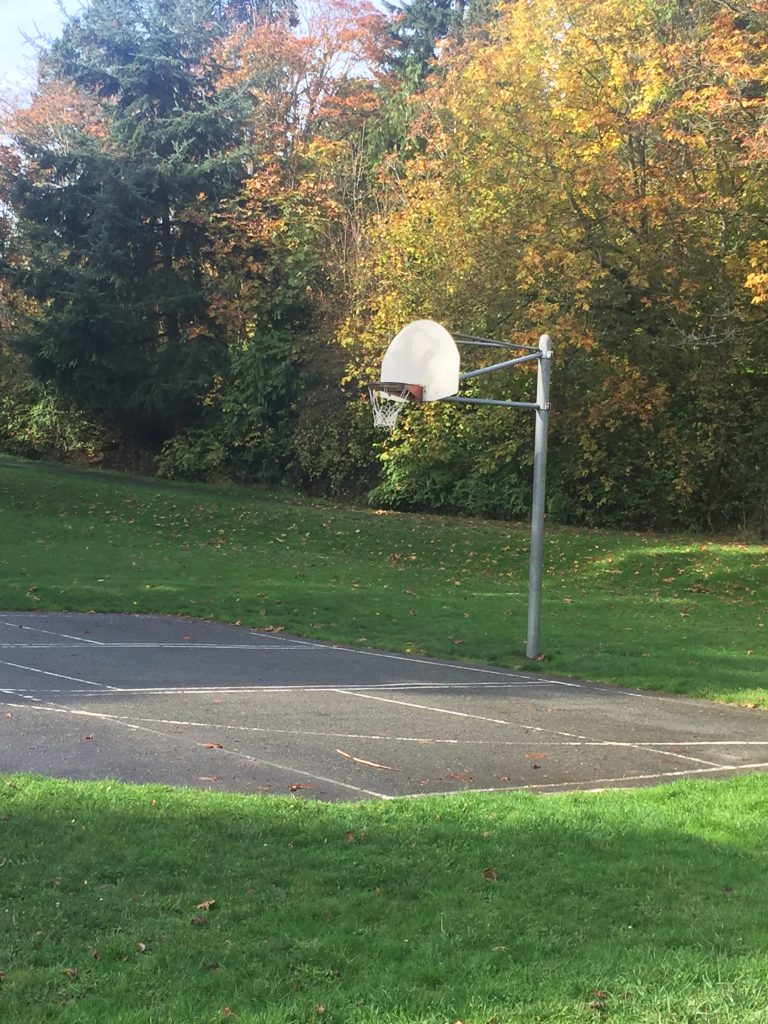 This one is in Mathews Beach State Park, which sits at the edge of Lake Washington.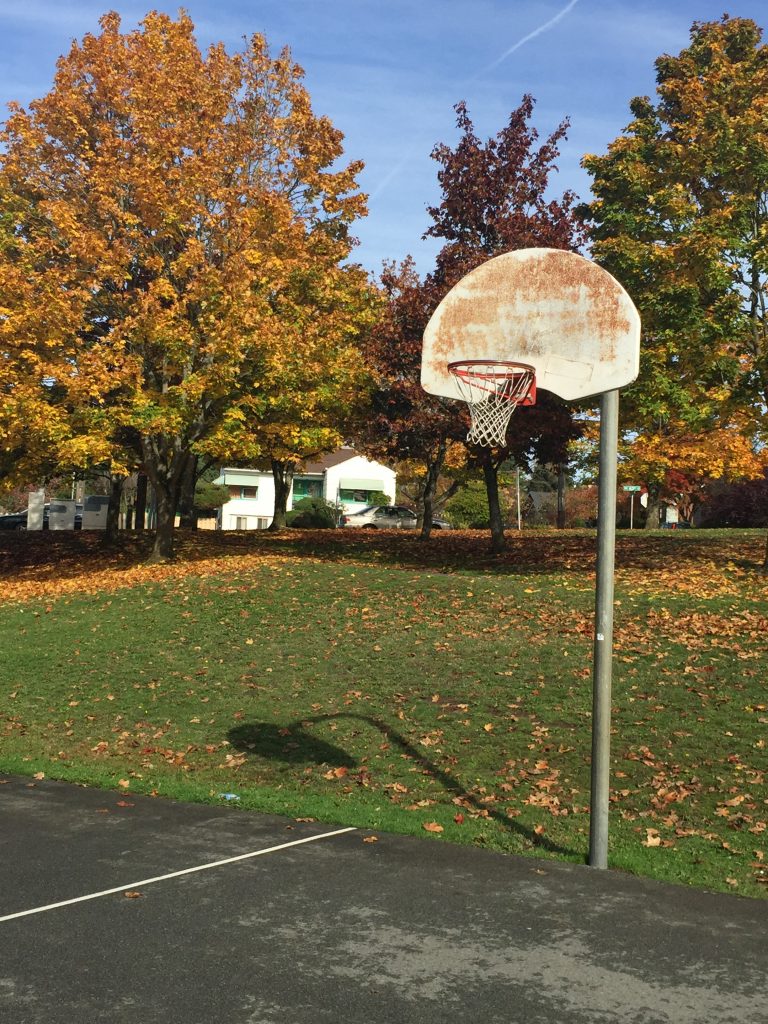 This is in a small beautiful park near the UDUB area.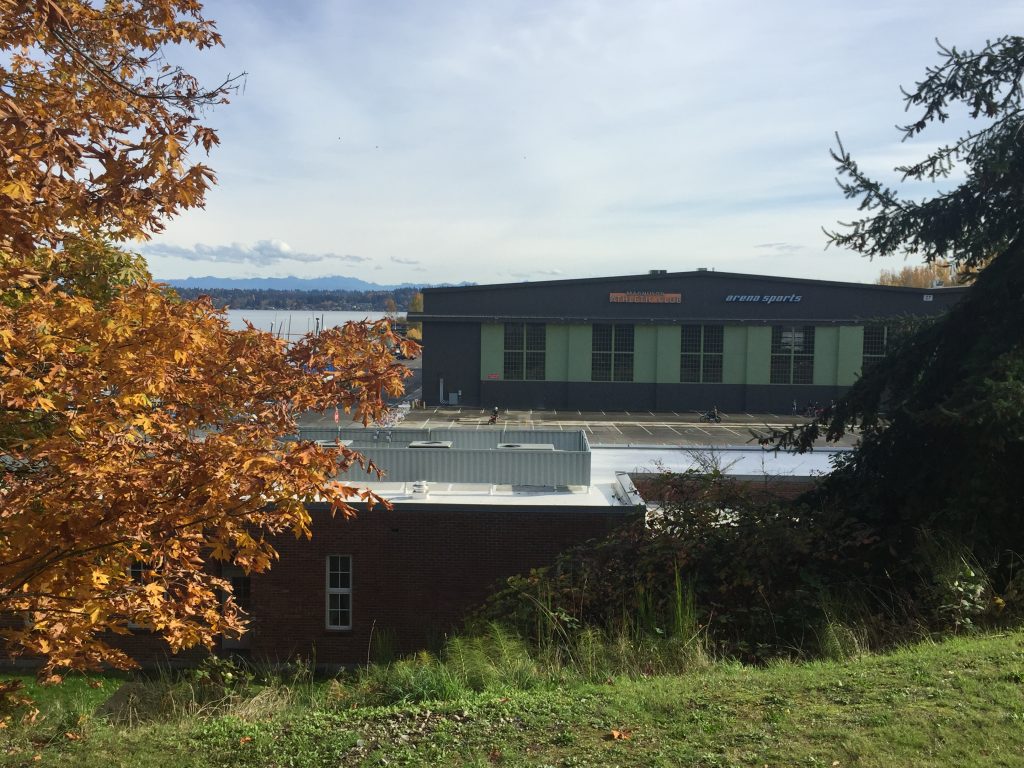 Then, when the weather is gray, wet or cold, I play at the Magnuson Athletic Club, which is located at the edge of Lake Washington. It used to be an airplane hangar for the Navy but it was converted into this athletic club.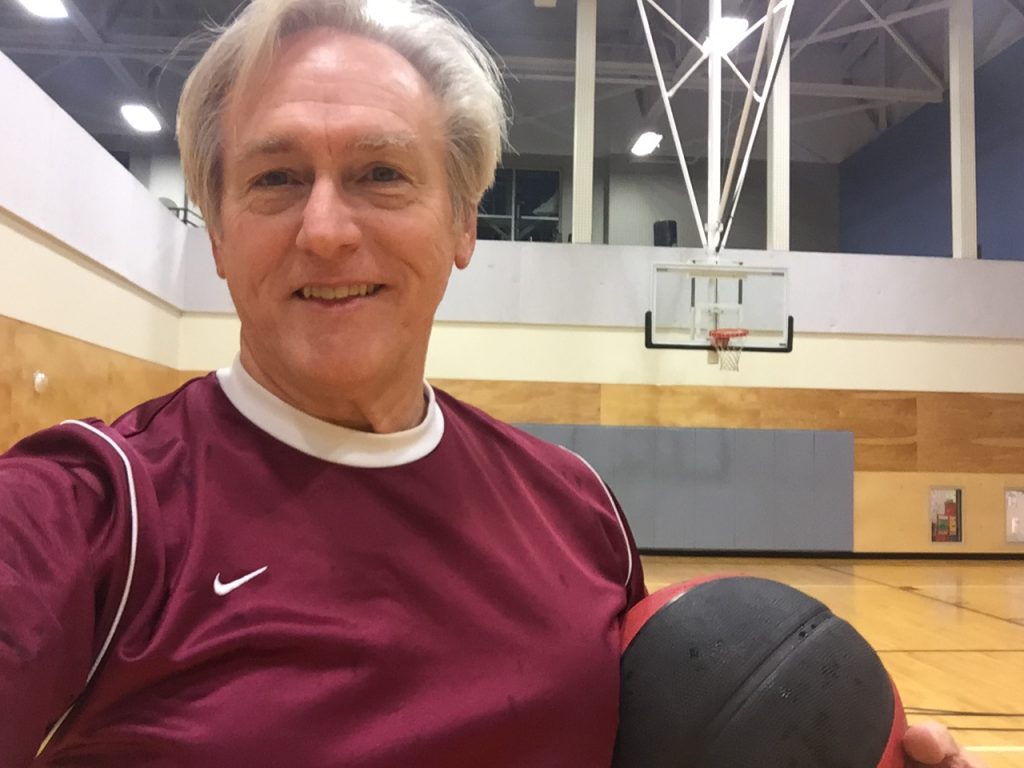 There are other courts, but I find myself rotating among these four most of the time.
During the past year and a half, I took a basketball on the road with me everywhere I went, so I could play basketball outside anytime.  It is one way I nurture and restore myself physically and mentally.
Normally, I don't collect things. But I made one exception.
Check out my basketball collection: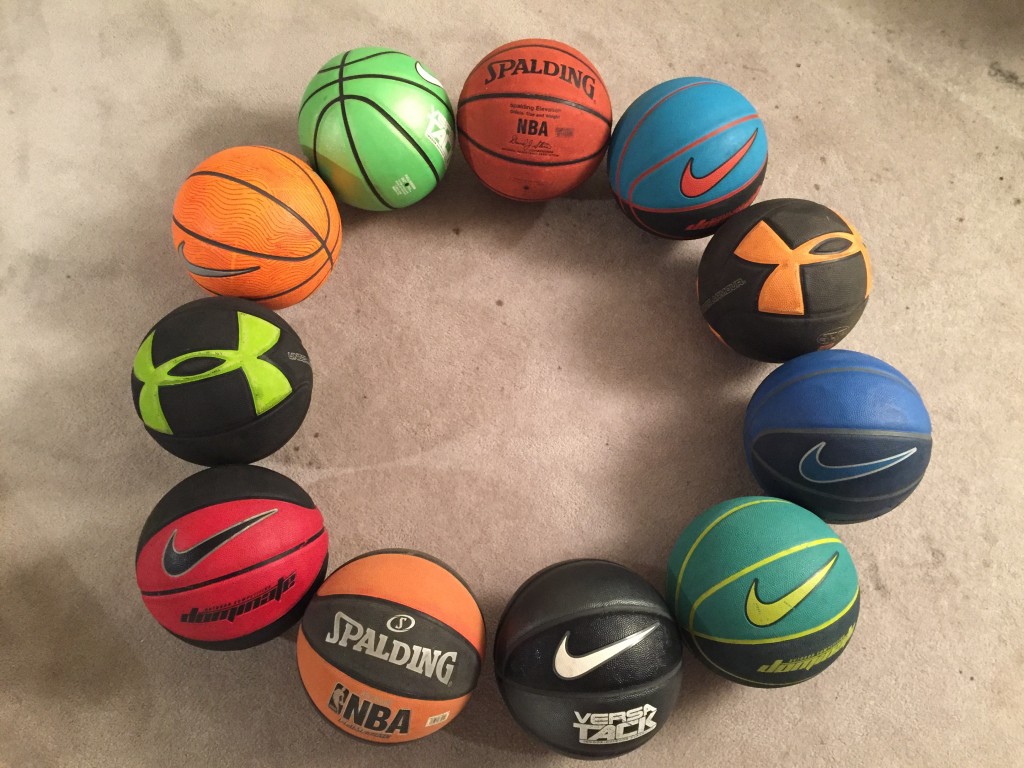 I know, right?  So many colors!  Who knew??
I'll play basketball anytime….just put a ring on it!😁
This reminds me of a basketball-related comment, that Lizz left on her Facebook page a little while back.
She was commenting about how she had enjoyed performing for the communities of Ridgefield, Connecticut, and Rochester and Saratoga, New York.
She also mentioned that she loved how Ridgefield had a basketball court right outside the theater.
She was talking smack to the boys in the band….about playing basketball…..and I quote:
"I got to settle some very important matters with the brothers before the gig..LOL"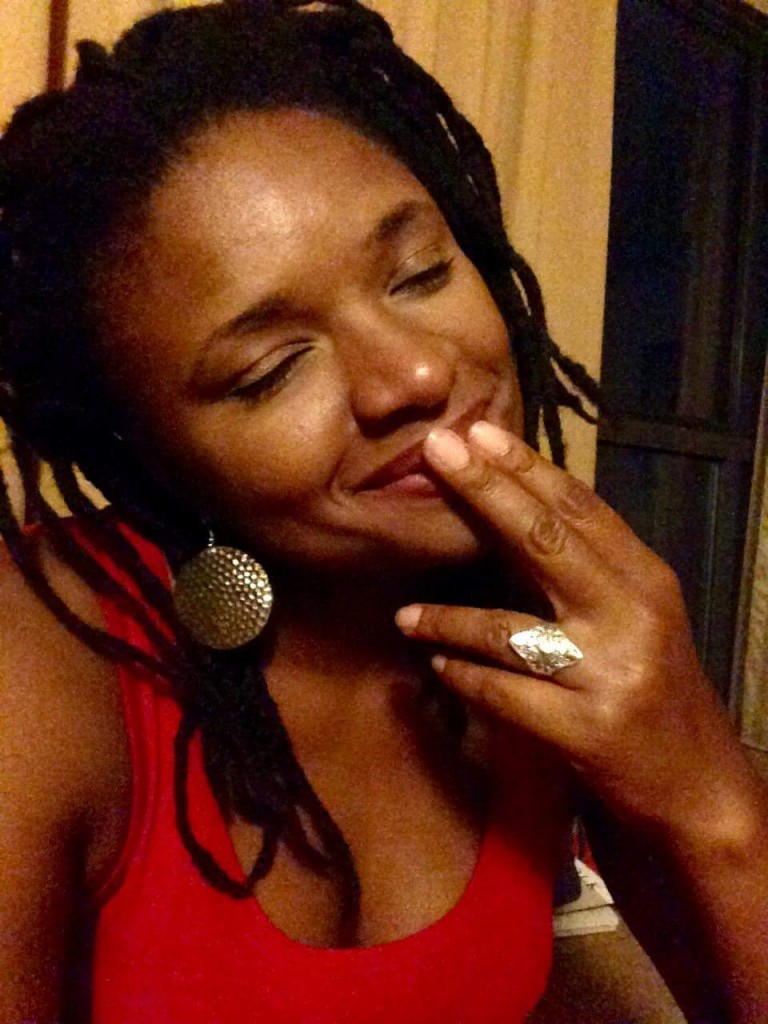 This photo accompanied the comment on Facebook.
It cracked me up.
She looks so sure that she settled some important matters!
Her comment also surprised me because I didn't know she liked basketball and  it turns out she's pretty good (according to her version).    🙂
But I think I'd  like to hear the brothers' side of the story.
It might go something like this:
"Yeah, well she's pretty good and all, but, you know, we were playing her soft….her being the "boss" and all. We had to think about job security. You know what I'm saying?"
Or not!?!
How would I know? I wasn't there and she didn't challenge ME to a shooting match. LOL.
Hmmm. But I digress…….
MORE LITTLE SURPRISES
There  were other little unexpected surprises that occurred randomly throughout the summer which added to the mix.
"EVANGELIZZING"
At one point, when my Jaguar kept breaking down about every two weeks, I drove around in a loaner car that the shop let me use while they worked on my car.
It was an older model Subaru station wagon. WooHoo! Nothing much to look at but I was grateful they let me use it.
One day I was stopped at a red light waiting for it to change to green,  when a black SUV cadillac pulled up beside me.
I was listening to Lizz singing, "Here and Now", from her latest CD, "Freedom and Surrender", when I heard a voice say, "Hey you got it going on! Who's that singing?"
There were three good-looking, middle-aged (about 36 years old)  black women, in the SUV.
(I'm just kidding about the 36,  Lizz , if you happen to see this.)
Lizz is 36 years old and a couple of months ago she jokingly commented on FB about suddenly being aware that she was the oldest one on the stage.
Anyway, hearing the ladies asking me who was singing,  was my cue to do a little "Evangelizzing".
For the next three red lights, I told the ladies who Lizz was,  the name of the song, and how to find her music. Oh!…and how to spell her name…..I always tell people it's L-I-Z-Z, with two Z's and it's W-R-I-G-H-T.  Then I went straight and they turned right.
In another similar instance, I was outside at a Starbucks, having a cup of coffee and there was a lady nearby sitting in a wheelchair.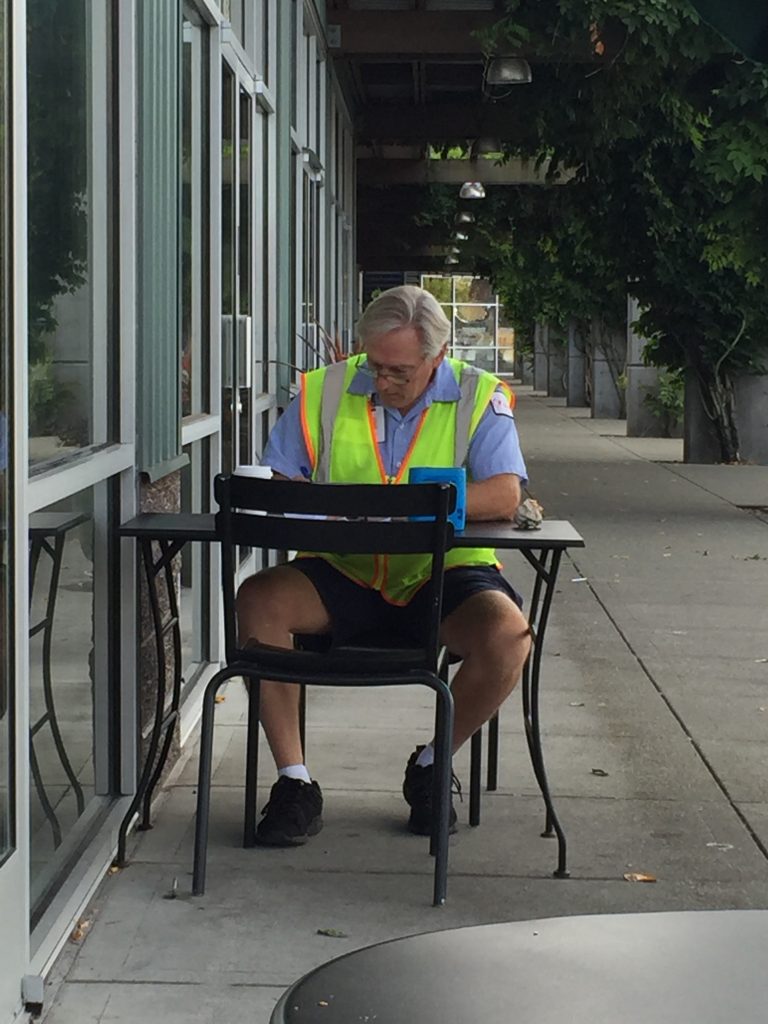 I had my little boom box on, but it was way down low,  so as not to impose on anyone around me. I was playing my playlist of songs that Lizz wrote herself.
The lady in the wheelchair had been listening for a while,  and then all at once, she quietly asked me, "Who is singing?".
I  told her it was Lizz (with two Z's).
After a brief pause, she softly responded:
"I'm in a wheelchair and my son is also in a wheelchair and he is way worse off than I am……but when I listen to that lady sing, somehow I feel like everything is going to be alright."
That touched me…..
P. S.   I posted this blog last night. Then this morning when I visited  Lizz's Facebook page, she had put together another thoughtful missive.  (Click on the link above and then click on the photo of Lizz with the red roses.)
She said, "Music is a sacred space, something made and shared between the listeners and the artists, the way love is sparked and fueled between souls. In this respect there is no entertainer."
As I read Lizz's  words, I thought about the lady in the wheelchair and "the peaceful  place she went to temporarily",  as she was listening to Lizz sing that day. I couldn't think of a better example than that to represent the "sacred space" Lizz  was referring to.
P. P. S. I just had to add this little note about a show I saw last night that serves as yet another example of the great surprises life can shower upon you. (I realize this is November and it's not a "Summer Moment", but it WAS a great moment in my life!)
Last night, I went to see Dorrance Dance with Toshi Reagon and BIGLovely in "The Blues Project".
For a while now I've been curious to see Toshi. I learned about her from Lizz. Lizz sings one of Toshi's songs, "Freedom", on Lizz's most recent CD, "Freedom and Surrender".
I didn't know what to expect so I just sat there, right in front of the stage,  eager for the experience to begin.
(I was disappointed that they didn't allow us to do photos or videos. I like to add them here with the story.) But nevertheless……………
Toshi did not disappoint.
It was an enthusiastic collaboration of music, story-telling and tap dancing. To me, it was enlightening, inspiring, and joyous. I couldn't stop smiling and admiring the rhythm and the energy of the tap dancers but I was also moved by the rhythms and the energy of the  music Toshi had written for the project. I like her style of singing and her voice. I am now a fan of Toshi's. If you ever get a chance to see her, GO!   🙂