Sunday At The J's
Hi again!
The Season of Gratitude is upon us. This whole month, including Thanksgiving, Christmas and New Year's, always prompts me to think more about what I'm grateful for.
But it's really important to me to be grateful every moment of the year and find ways to give.
There is probably no one who can actually do that perfectly but it's definitely worth the effort.  It's the key to being happy in this life.
I have a lot to be grateful for and happy about:  my three boys, their "better-halves", and my three grandkids, just for starters.
There is Jes and Jen (the J's):
Then there is Tim, Pauline and Evie: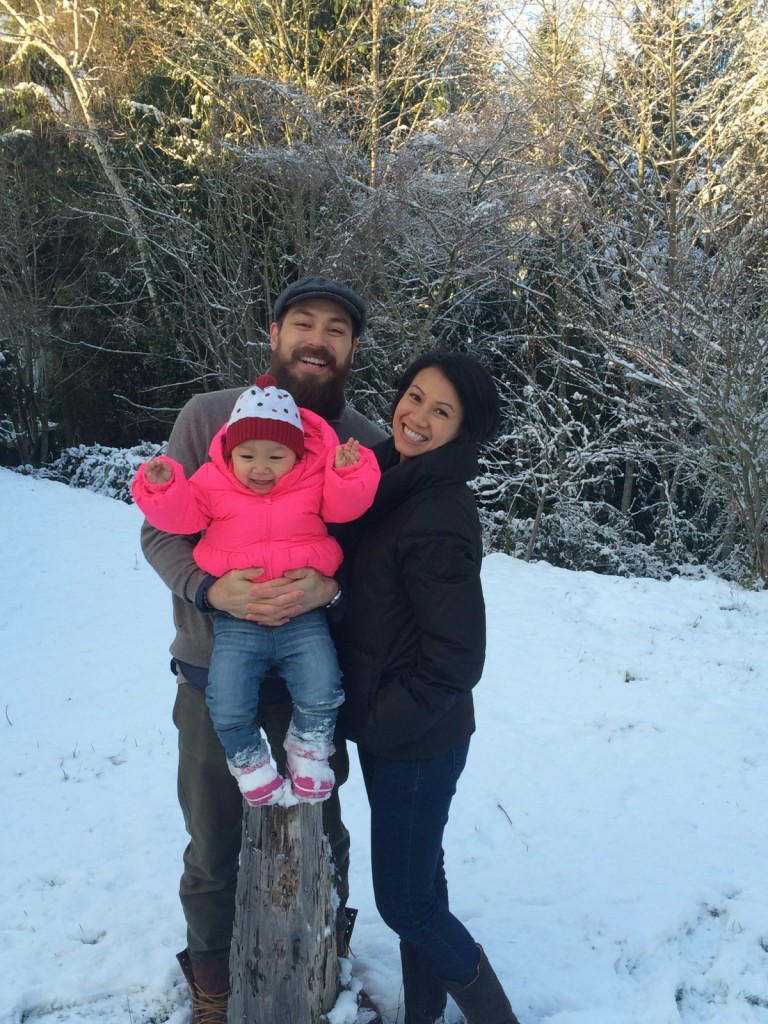 Tim, Pauline and Evie (first snow in 2014 )
These two families live here in Seattle near me. So I get to see them frequently.
But my other son, Eric, and his wife Angie, and my two grandkids, Tara and Thad, live in Missouri, so I don't see them very often.
Thad, Angie, Eric and Tara: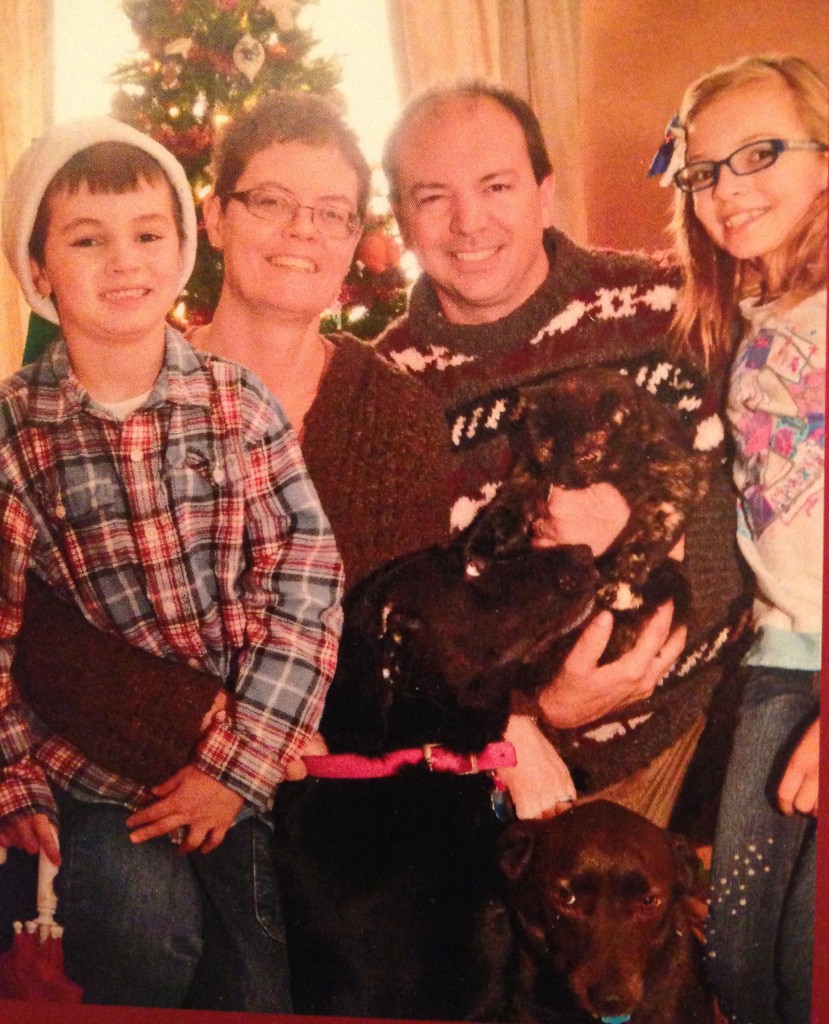 A few weeks ago, Jen and Jes moved into a new place. It's a high-rise apartment in downtown Seattle with a view of Lake Union.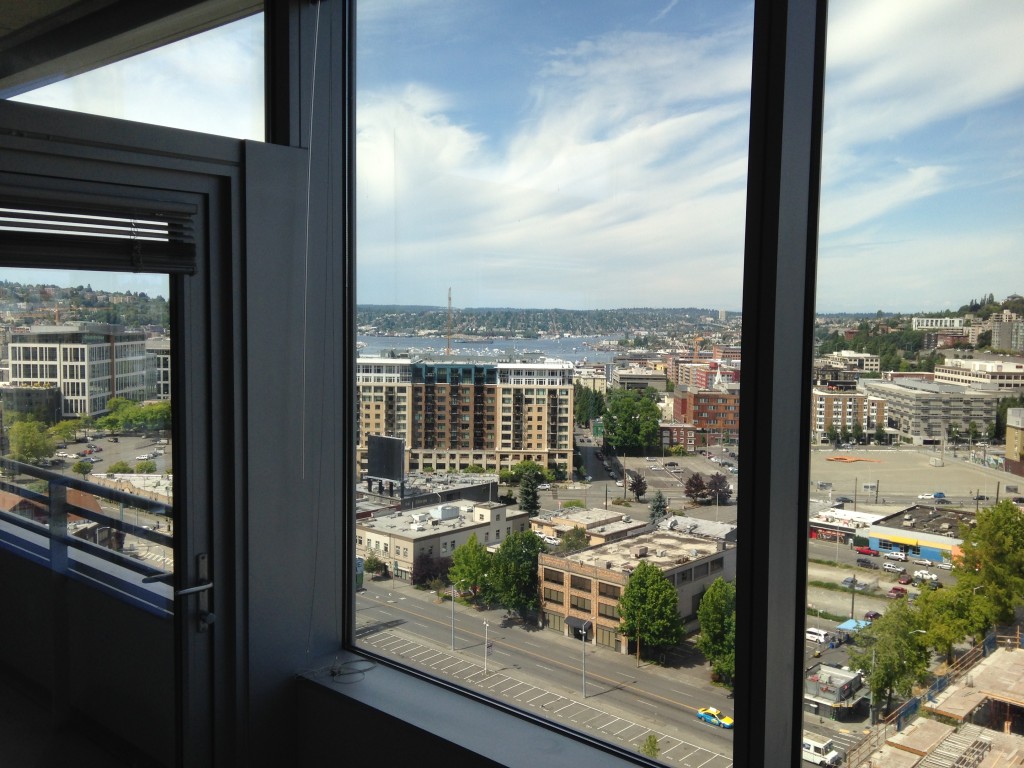 You can't dive straight into Lake Union from their 18-story apartment but mentally I've done it several times. (I'm grateful for my imagination).
The J's work hard all week long (as do my other kids)  and Sunday is usually a good day for rest. So (to ensure that they didn't get too much rest) I started going over their on Sundays with a short list of computer-related problems I encountered during my week so I could have Jes help me out with them. Tim, Pauline, and Evie were usually there too so it was a good way to see everybody and get my questions answered too.
So then I thought, "They all work hard. If I made dinner on Sunday that would give them all a kitchen pass. Everybody could recharge and I could become a better cook and sharpen up on my computer skills. It was a win-win situation which I began to dub as "Sunday At The J's". So it has come to pass. We have done it now 4-5 Sundays in a row.
Except for the weekend that I went to Madison,Wisconsin, to see Lizz Wright perform as part of Terri Lyne Carrington's "Mosaic Project", which included a group of wildly-talented jazz musicians. See below: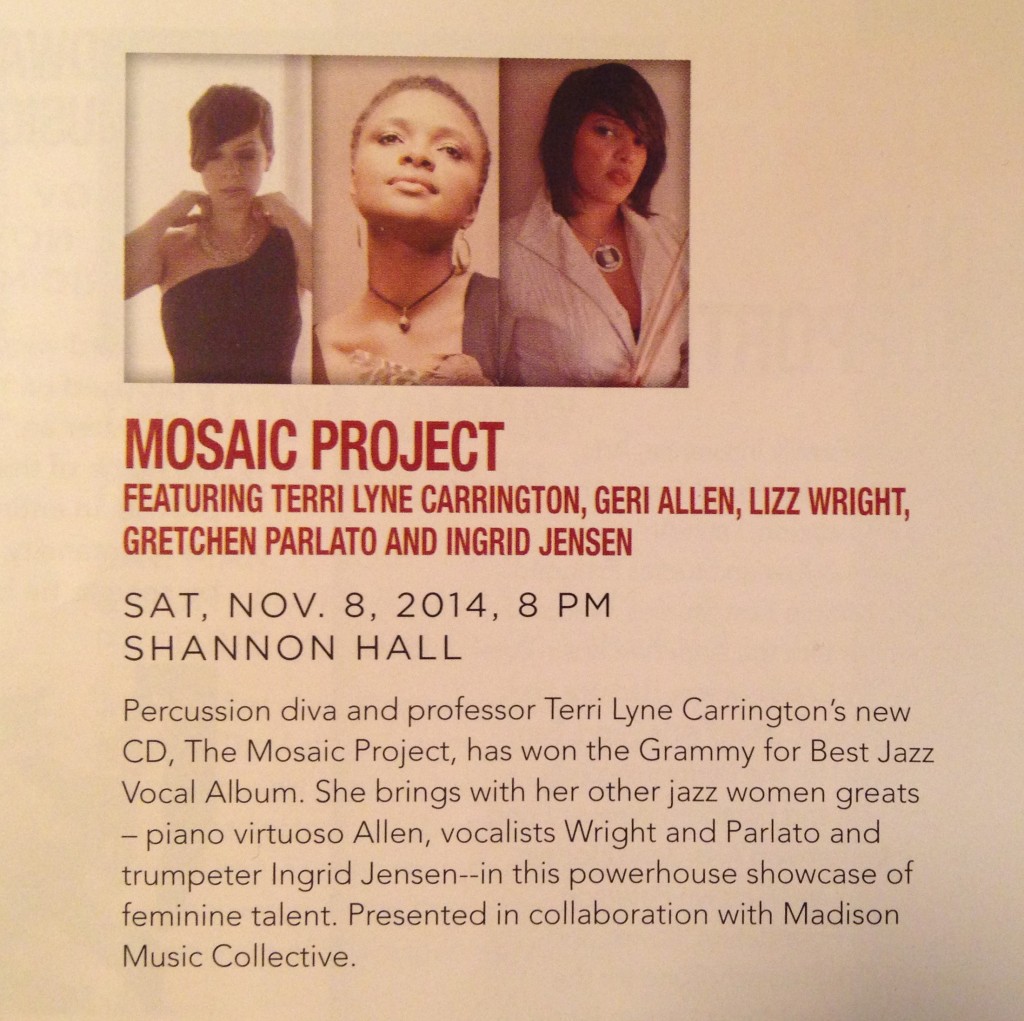 (More on my trip to Madison later).
Last Sunday no one was interested in eating anymore turkey so I changed it up. I fixed lasagna with butternut squash and kale in it. I added a side of brussel sprouts with parmesan  cheese, pine nuts and seared scallops, and some Texas toast. For dessert, I made an apple and dried-fruit spice pie with a lattice top and a vanilla pudding with vanilla wafers. I'm grateful to be able to cook for them and that they appreciate it and are all very good eaters. We like to eat healthily and a lot of the men in the Adams family like to cook. Jes and Tim come up with some fabulous presentations. We like to turn everyday meals into "dining with style". It's healthy and fun too.
I find this new food consciousness-in which we all are learning so much about super foods, nutrition, and eating healthily- to be very stimulating. Good health is our most important asset. I'm grateful for good health.
Tim just called and asked me to come over and eat with him and Pauline and Evie. He's making a three-cheese lasagna with spinach in it. This is going to be good! (To be continued)…….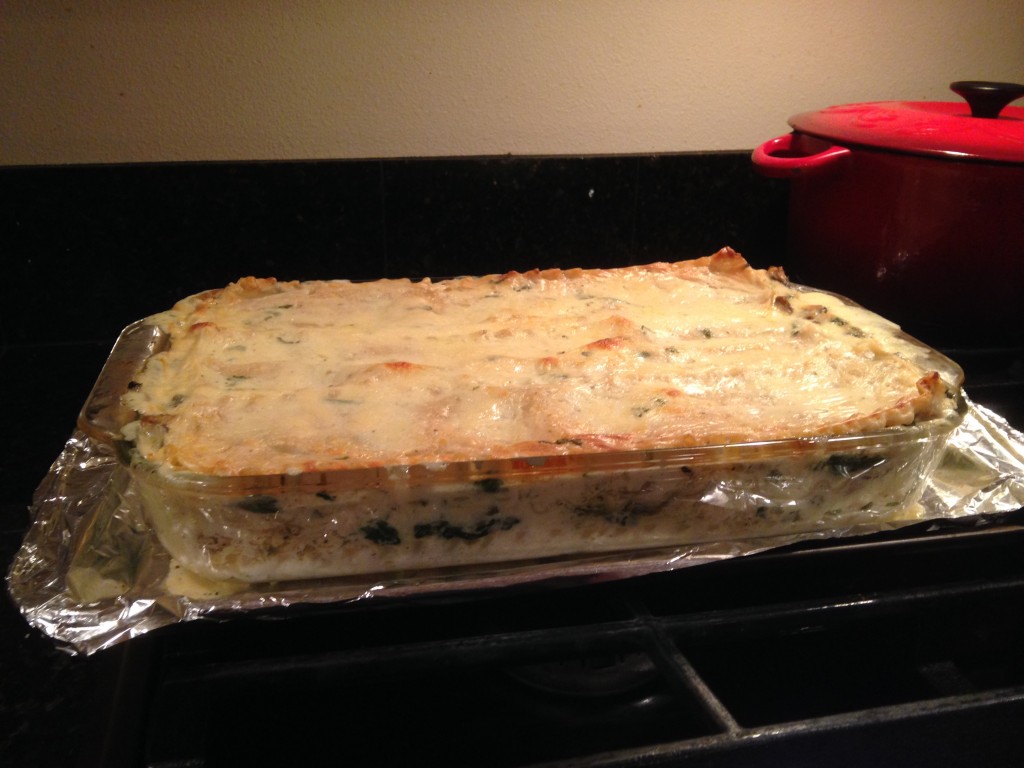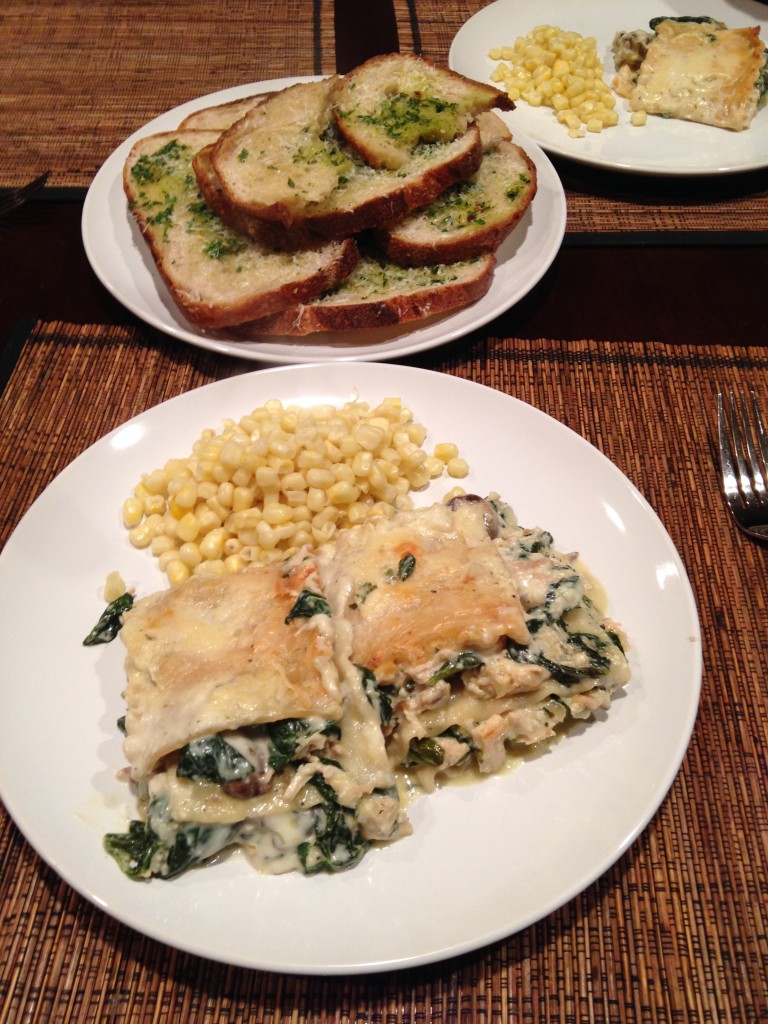 The lasagna was great. I'm thankful for Tim, Pauline, and Evie and the time shared with them and the way they love and care for Evie, my cute little granddaughter.
Today is December 10th and it is my birthday! But I'll be celebrating it with my son, Jesse, on the 13th, this Saturday. (His birthday is the 19th). He and Jen have rendered it as "Jesse's Totally Classy and 100% Respectable Birthday Party".  The invitation goes on to say, "We're really excited to see everyone on Saturday in their cocktail attire (or nipple tassels!)" That's totally respectable, right? They're funny. I'm grateful for their sense of humor.
My trip to Madison, Wisconsin to see Lizz Wright!
I started this web site around the end of August this year. Just about three months ago. At that time, I had just become aware of a singer named Lizz Wright.  I wrote a couple of posts about her and mentioned I was going to Madison, Wisconsin, to see her perform as part of the Mosaic Project. I was so inspired by her sound and her sensibility that I wrote a song about her called, "Lizz Wright: The Sweet Honey In The Rock".
Before I left Seattle for that weekend jaunt to see her, I prepared a copy of the song, on CD, to give her if I happened to be able to actually meet her. I wasn't sure if I would be able to even meet or talk to her.
But I'm am happy to say that I did have the opportunity to meet her and talk to her briefly and give her the CD and I took a picture with her.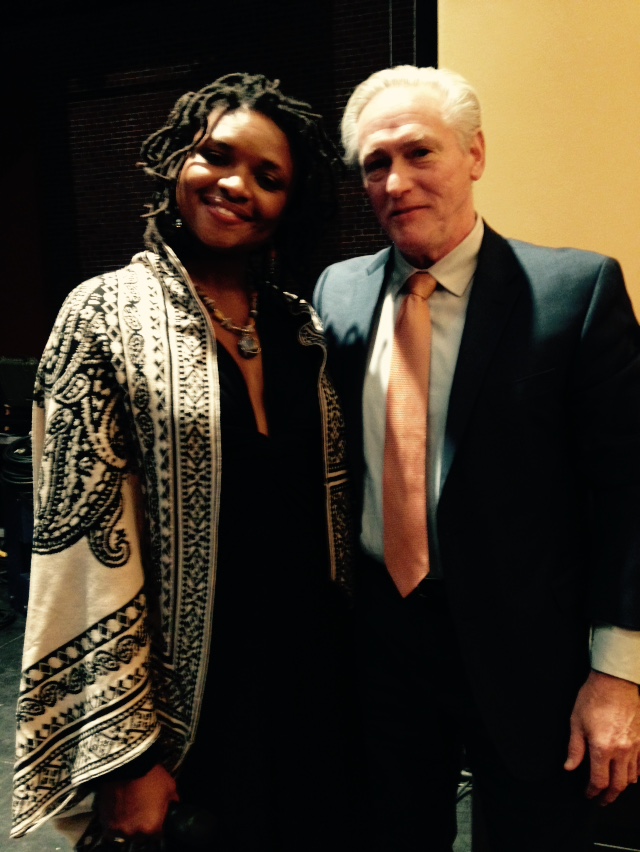 I really enjoyed  listening to the very talented jazz musicians and singers play and sing together as a group,  but it was also nice to hear each of them as they were individually showcased during each of the songs. Of course, I was especially happy to hear Lizz sing, up close and personal. I had a front row seat right in the middle.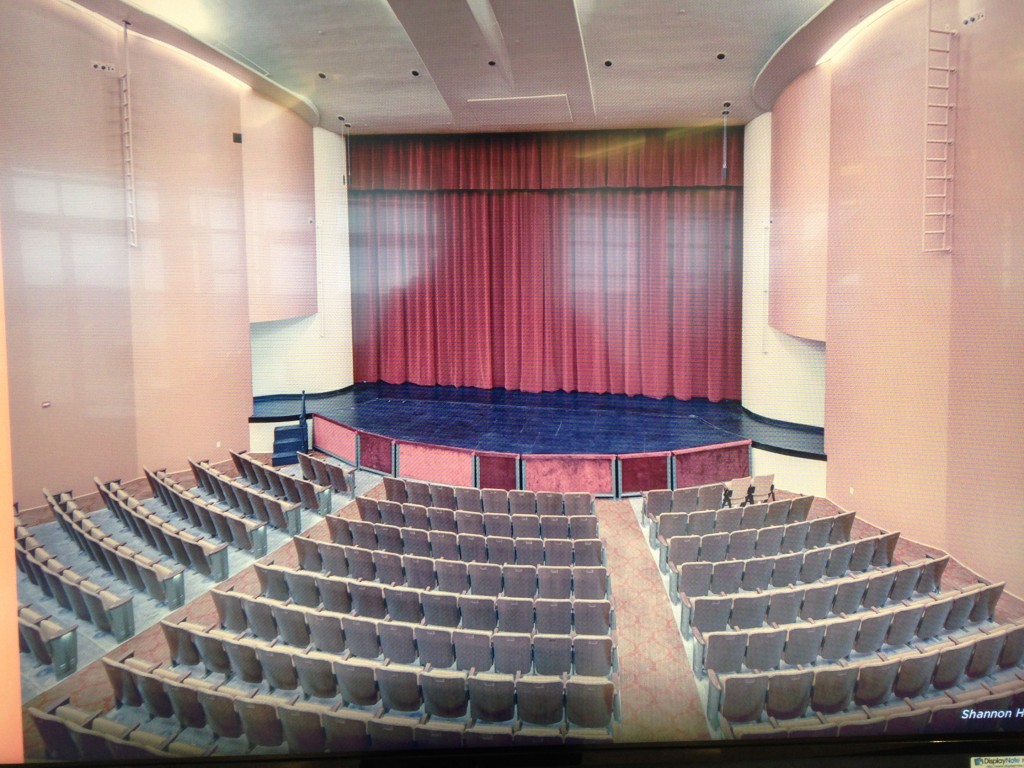 The venue (Shannon Hall in the Wisconsin Union Theater) had just been newly refurbished and it is located right at the edge of Lake Mendota, a beautiful area for such a theater.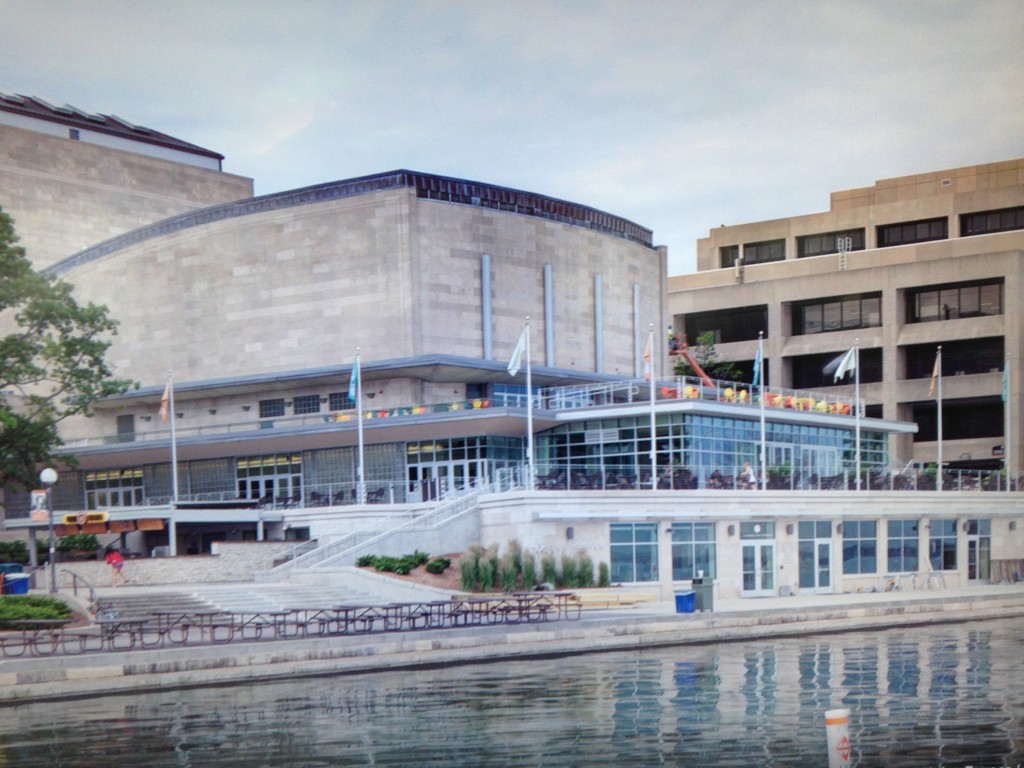 This is a picture of the theater (probably taken in the summer) from a brochure I got. When I was there on November 8, it was a little cold and overcast. But not too cold to get out and walk all around Madison, the Capital of Wisconsin.
My hotel was two blocks East  of the theater and about .6 miles West of the Capitol. Madison is situated on an Isthmus between Lake Mindota (to the North) and Lake Minona (to the South). It's a beautiful city and a place I'd like to visit again sometime.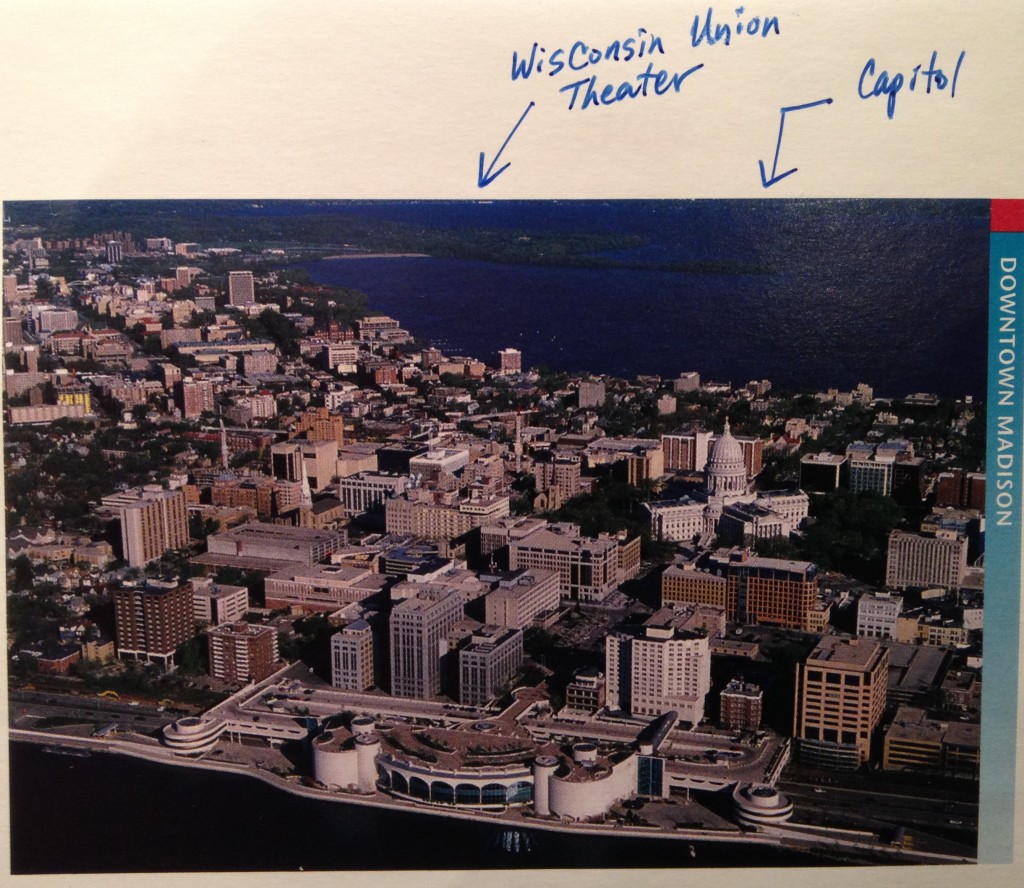 I got up early on Saturday, the day of the concert, and I walked around Madison to get a feel for the place. As I walked to the Capitol
there were a lot of runners passing by me on their way to participate in a marathon that morning.
I was on my way to the Farmer's Market that winds all around the sidewalk of the Capitol square. I bought some honey,  five different kinds of popcorn, and some cheese to take back with me to give to the J's and to PET (Pauline, Evie and Tim).  I actually forgot the cheese when I left the hotel. I left it in the refrigerator.
Later, I had lunch at the Graze, a popular restaurant right across the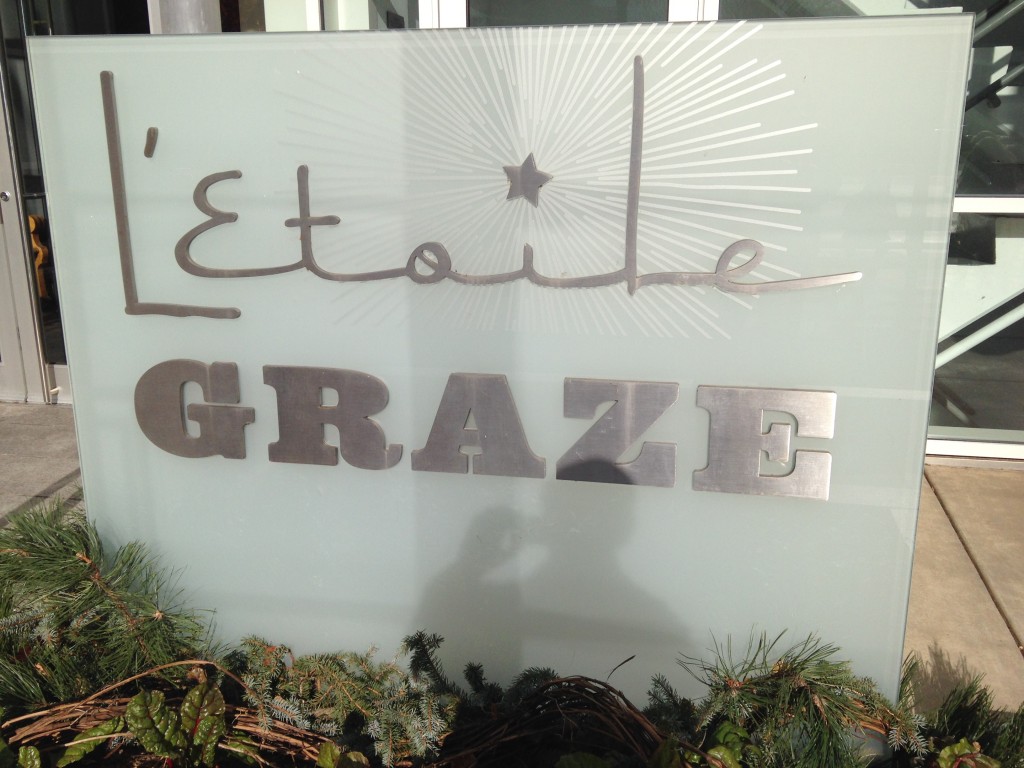 street from the Capitol.  The food and the service was great.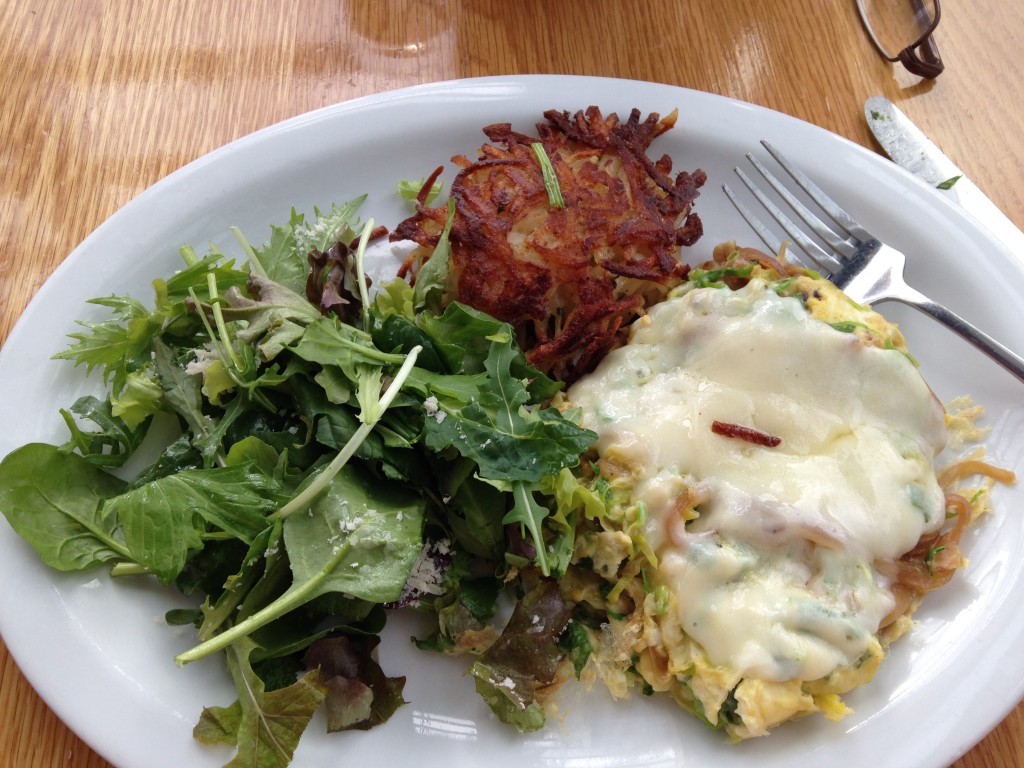 The view of the Capitol from my table was pretty cool too.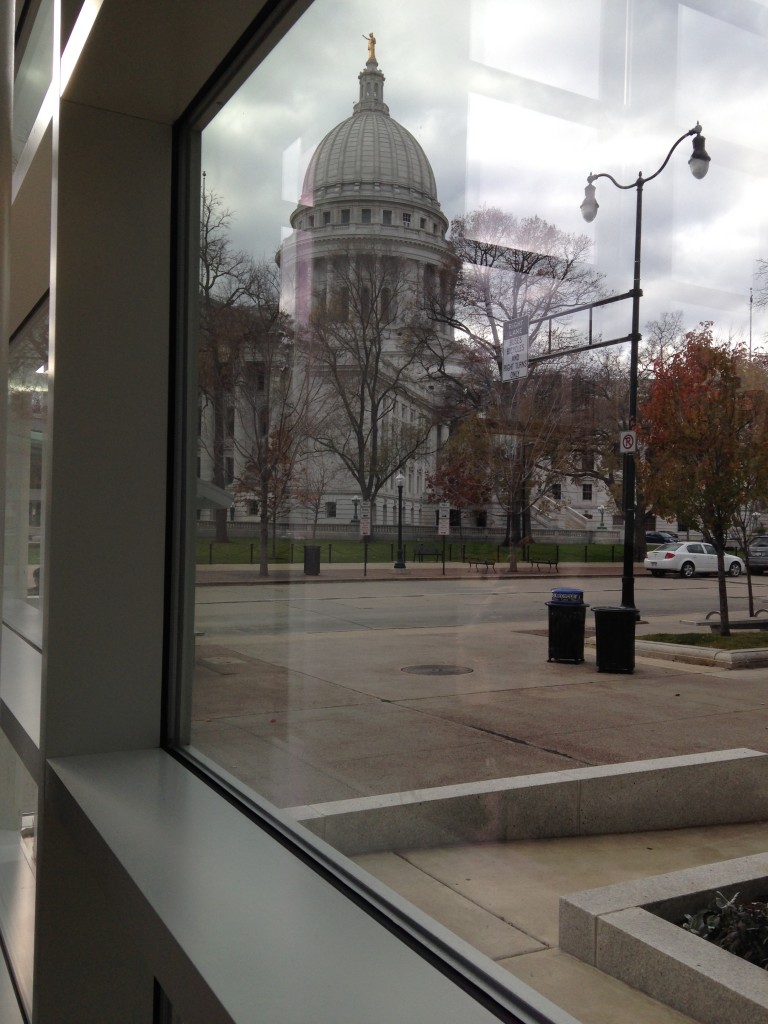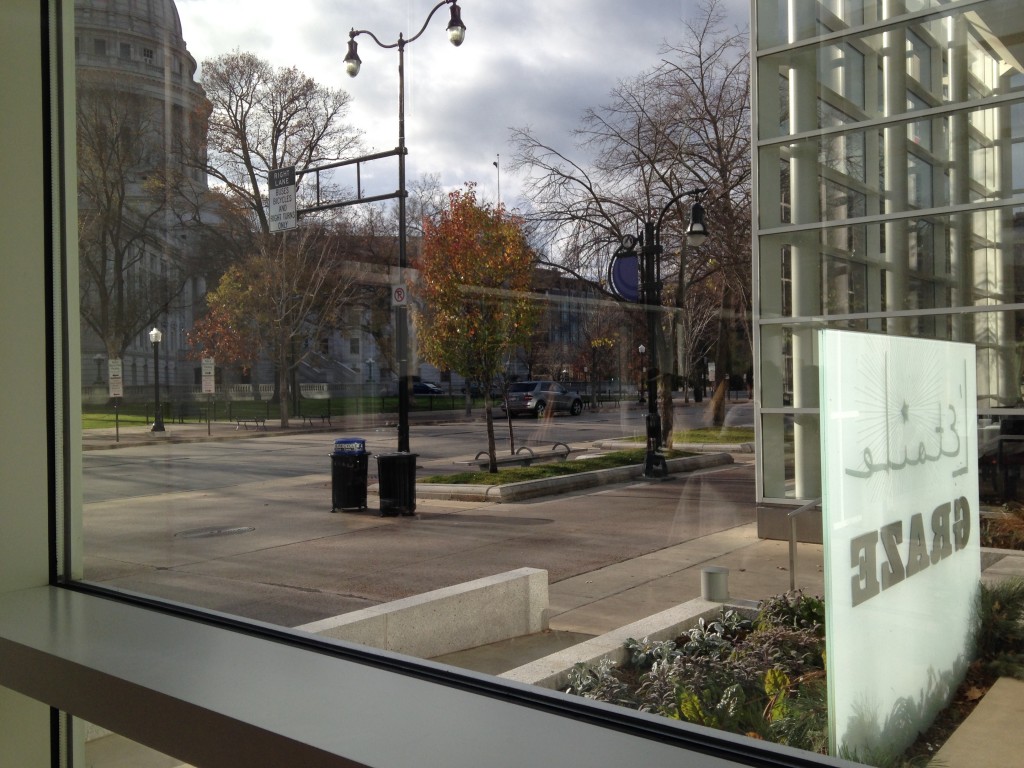 But that is not even the best part of the day!
After I finished eating, I was walking back to my hotel and as I approached an intersection, I saw Lizz crossing the street and heading toward the same corner I was heading toward.
She was walking with Rachel, the pianist of the group playing at the concert that night.
So I called out to Lizz and she and Rachel stopped to talk to me for  a couple of minutes, at which time I told Lizz about the song I wrote about her and the CD I wanted to give her.
She was very kind and gracious and told me to come to the stage after the show so I could give it to her.  I did and that is when I took the picture with her.
I am grateful for Lizz and I am grateful for the opportunity to meet her that day. Not once, but twice!
Oh and before I left for Seattle to go to Madison, I google-mapped Madison to look for an outdoor basketball court, where I could play basketball while I was there and I found an awesome place to play.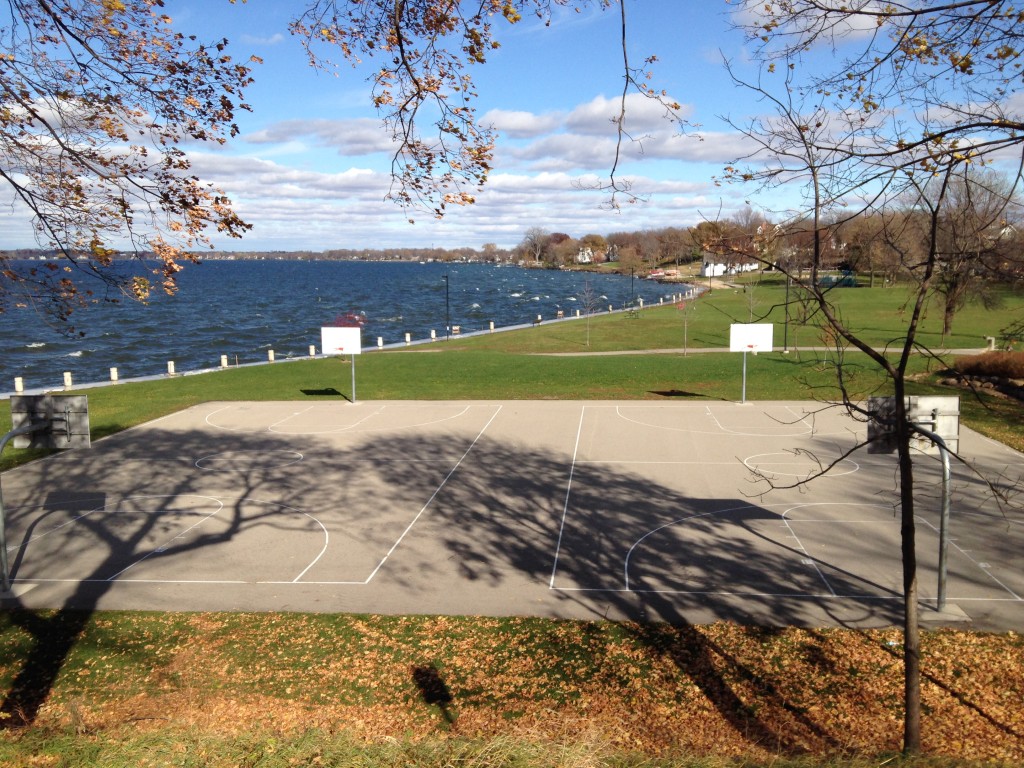 It was about a half a mile from my hotel, just a few short blocks. But it was just too windy to play that day. Is that an awesome venue to play basketball, or what?
I'm grateful I was able to travel to Madison and experience all the things I experienced. That weekend I realized how much I like to travel and I'm going to make it a higher priority from now on.
Here is a parting shot of the Capitol that I took early in the morning just before I (left my cheese in the hotel refrigerator) and headed for the airport to return to Seattle.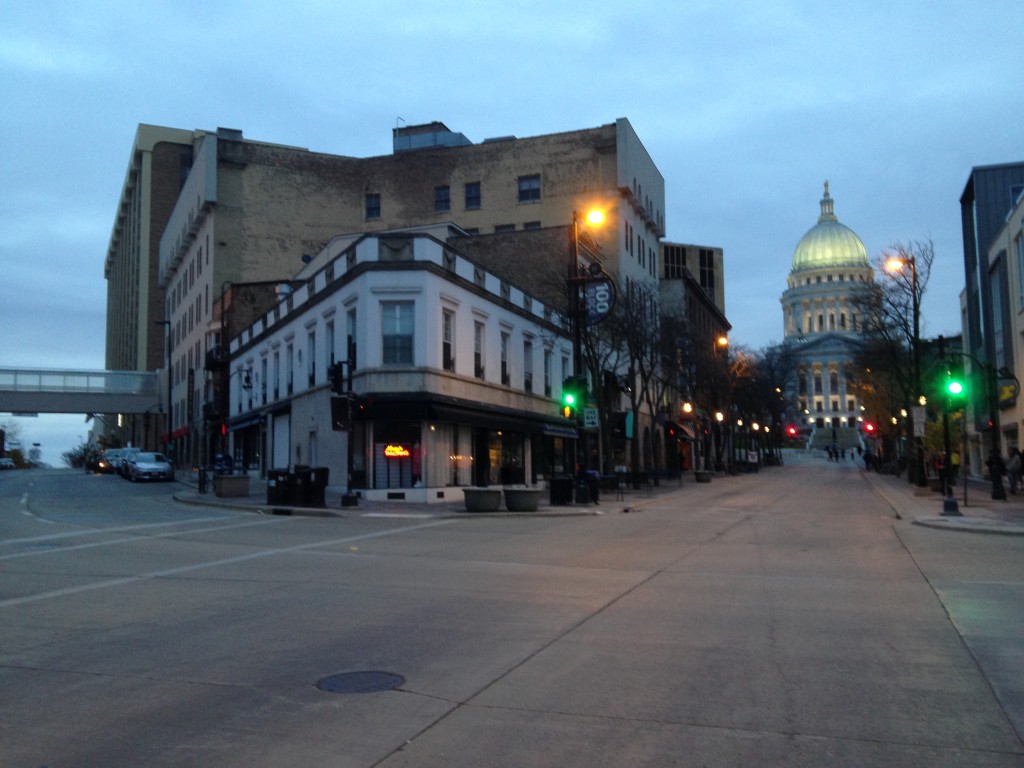 It's the intersection where I serendipitously ran into Lizz and Rachel the day before, on the afternoon of the concert.
There are so many things in this life to be grateful for if you just look for them.