The picture above, is a picture I took at the Rialto Center for the Arts, in downtown Atlanta, Georgia, this past April 29, of  Sona Jobarteh, a musician and singer from The Gambia in West Africa.
She plays the Kora, a 21-string instrument, and she sings while she plays.
That's so amazing to me that she can do that. It's like rubbing your belly at the same time you're patting your head, only 1000x harder, I surmise. Don't you agree?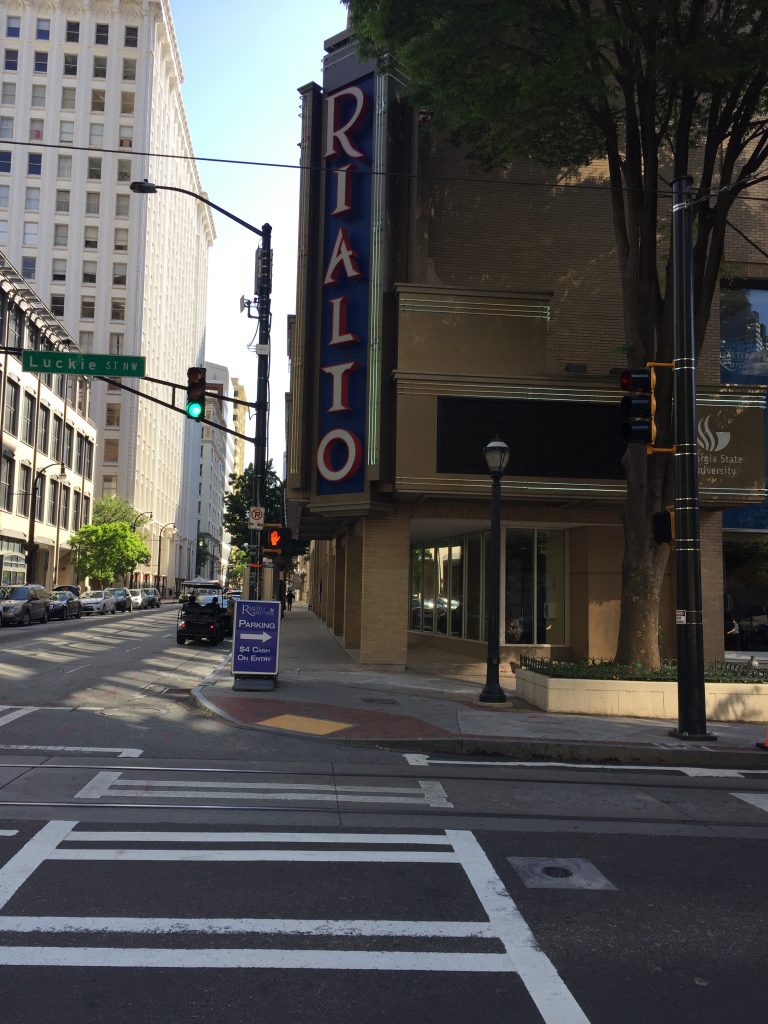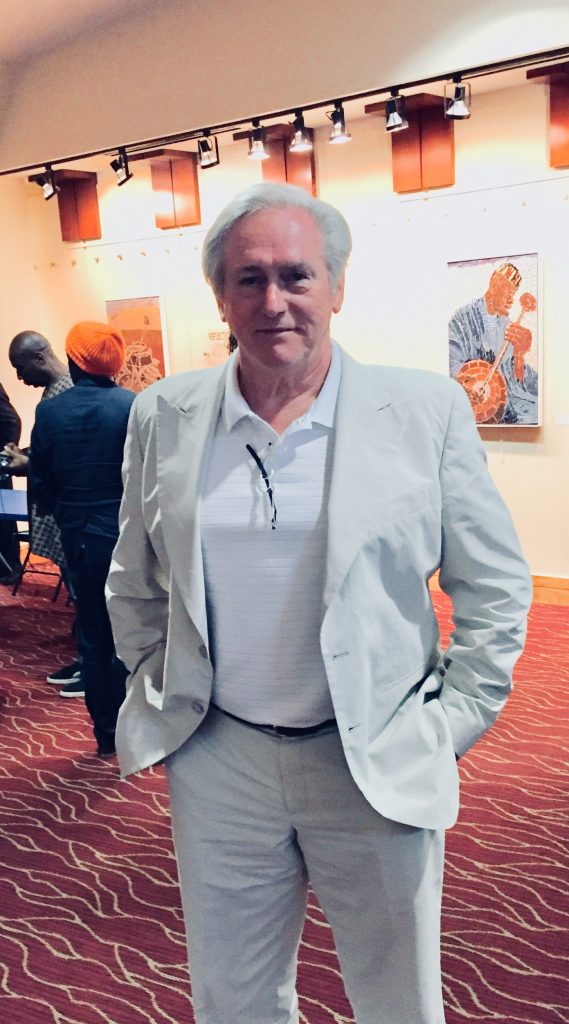 I'm inside the Center lobby, waiting for the doors to open so we can all be seated.
I first heard about Sona Jobarteh from a friend of mine who is also Gambian. Her name is Isatou Jallow.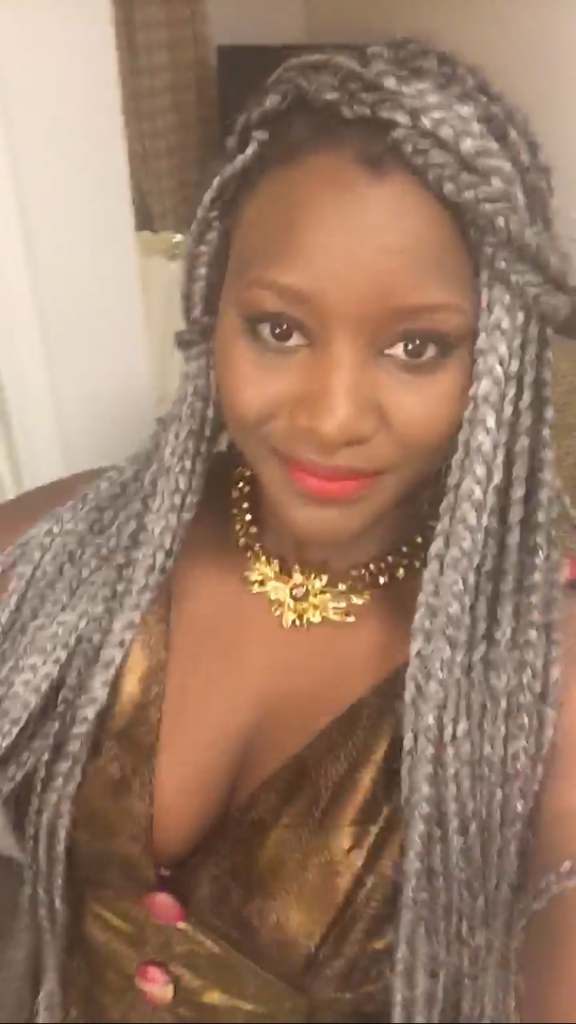 Isatou is an amazing person in her own right. She was born with lymphedema. Because of this she has suffered much pain, adversity, ridicule, prejudice, and discrimination from others, through no fault of her own.
When I first met her, I sensed something special about her. We started talking and we got to know each other over time. I learned how resourceful, resilient, determined, driven and goal-oriented she was. All that adversity had just made her stronger and increased her desire to overcome her disabilities and  do something worthwhile and meaningful wth her life.
A documentary about her was made last year. To see it, click on the following link, littlerebelfilm.com.
Nothing will stop her from accomplishing her goals. I believe in her and I believe she will make great contributions to society in general, and she will affect great changes in The Gambia, for people with disabilities.
She has a law degree from the University of Morocco, that she earned, in French, and this past summer she graduated from the University of Washington in Seattle with another law degree.
She recently was accepted into the PhD in law program at the University of Washington school of law, which she'll be starting in September this year.
She knows I like music and she knows how I have traveled frequently to see and hear Lizz Wright whenever I can.
So one day, last summer, she told me to check out Sona Jobarteh on youtube. So I did. (The song in this youtube video, Jarabi, which means "love", is the song Sona started the show with in Atlanta last week.)
I liked Sona's music and I thought I'd like to see her perform live one day.
So I kept checking her schedule and finally she was scheduled to come to the States. She performs all over the world.
As I was planning my trip to Europe, to be there April 5-14, to see and hear Lizz in Paris, Budapest, Vienna, and Zurich, I also arranged to see Sona and the Band in Atlanta three weeks after I would be getting back from Europe.
Actually I was busy planning quite a few things during the months preceding the trip to Europe.
I had front row tickets to see Lizz in Paris, Budapest, Vienna, and Zurich, from April 5-14.
Front row tickets to see Sona and the Band in Atlanta on April 29.
Front row tickets to see Angelique Kidjo, who was coming to Seattle on May 2nd.
Front row tickets to see Lizz in San Francisco on May 12 and 13.
Front row tickets to see J.D. Souther on July 21st at the Triple Door in Seattle.
Anyway, back to Sona.
Sona was scheduled to perform in Louisiana at a festival; in Berklee College of Music, in Boston; and at the Rialto Center for the Arts in Atlanta, Georgia.
I don't like to go to big festivals. And the show at Berklee was a kind of recital for students who had received instruction on the Kora from Sona for a week. I wanted to see Sona and her band. So, of the three venues, Atlanta was the obvious choice for me.
So I booked a room at the Marriott Residence Inn on Peachtree Street in downtown Atlanta, and I couldn't have picked a more convenient place.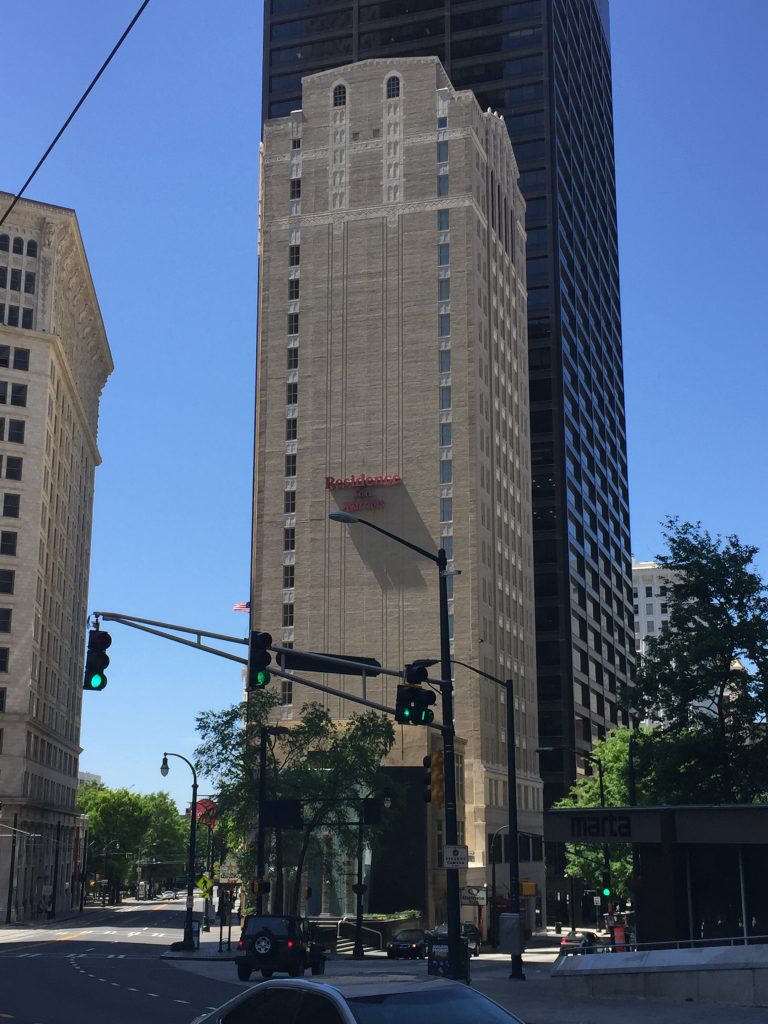 I arrived late afternoon on Saturday, the 28th of April, and by the time I checked into the hotel and unpacked, it was time for dinner.
One block up the street there was a place called "Sweet Georgia's Juke Joint".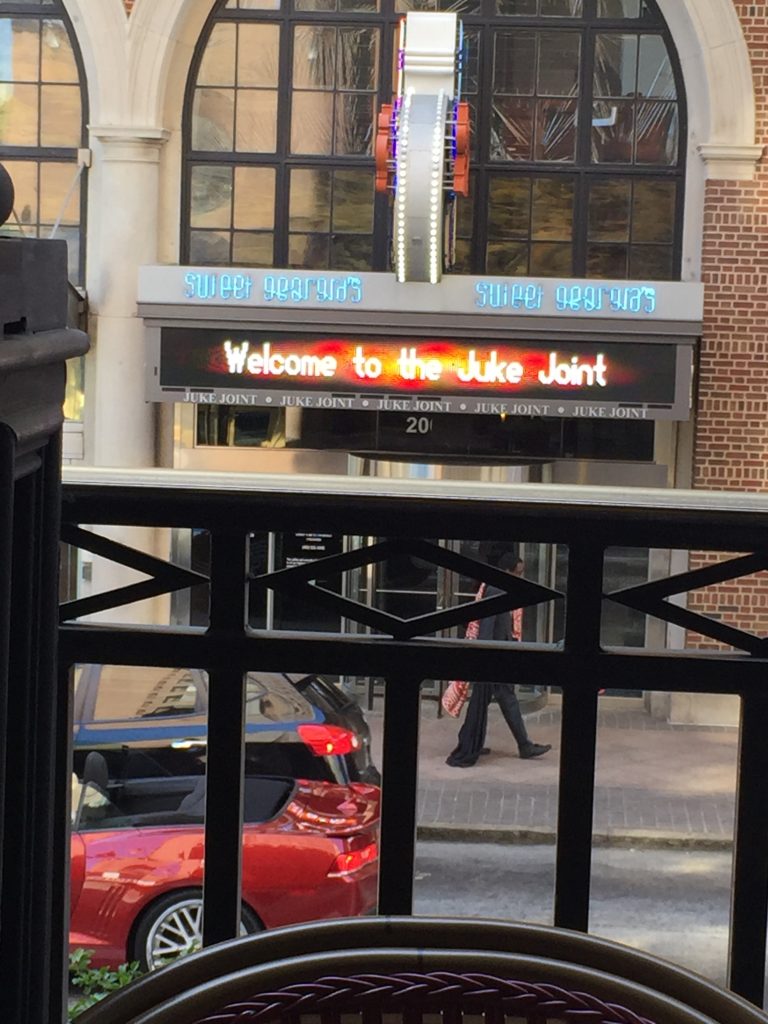 The Assistant Manager at my hotel recommended it so I went in and ordered up a mess of greens, some shrimp and grits, and some green fried tomatoes. It was so delicious and on top of that there was a good band playing live.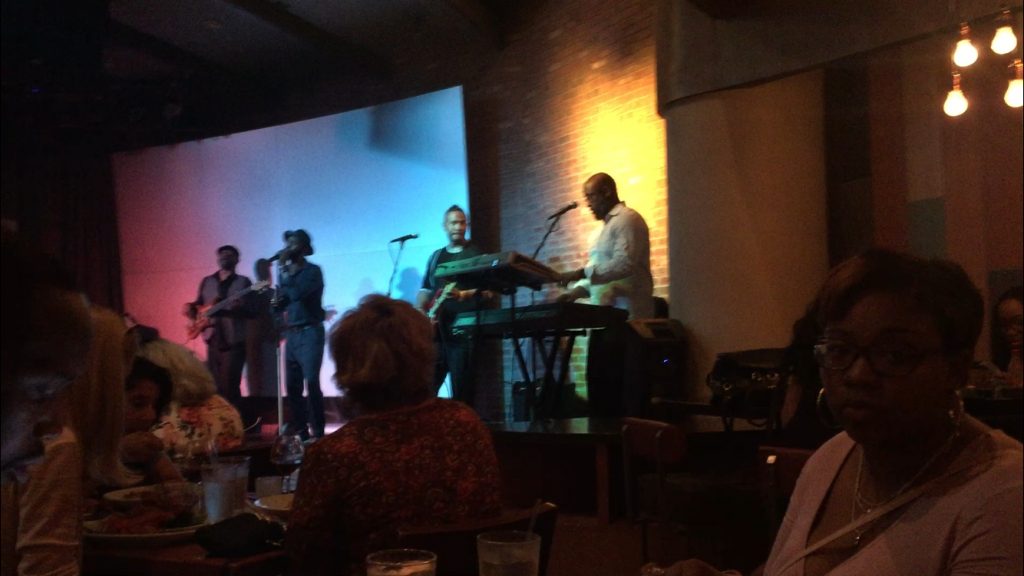 They have live bands 7 days a week there.
The portions were large so I ended up taking half of the food in a container to my hotel and I ate the leftover the next day for lunch.
The next morning I got up, went downstairs to have breakfast, and as I was eating I spotted a cozy little nook by a pretend fireplace,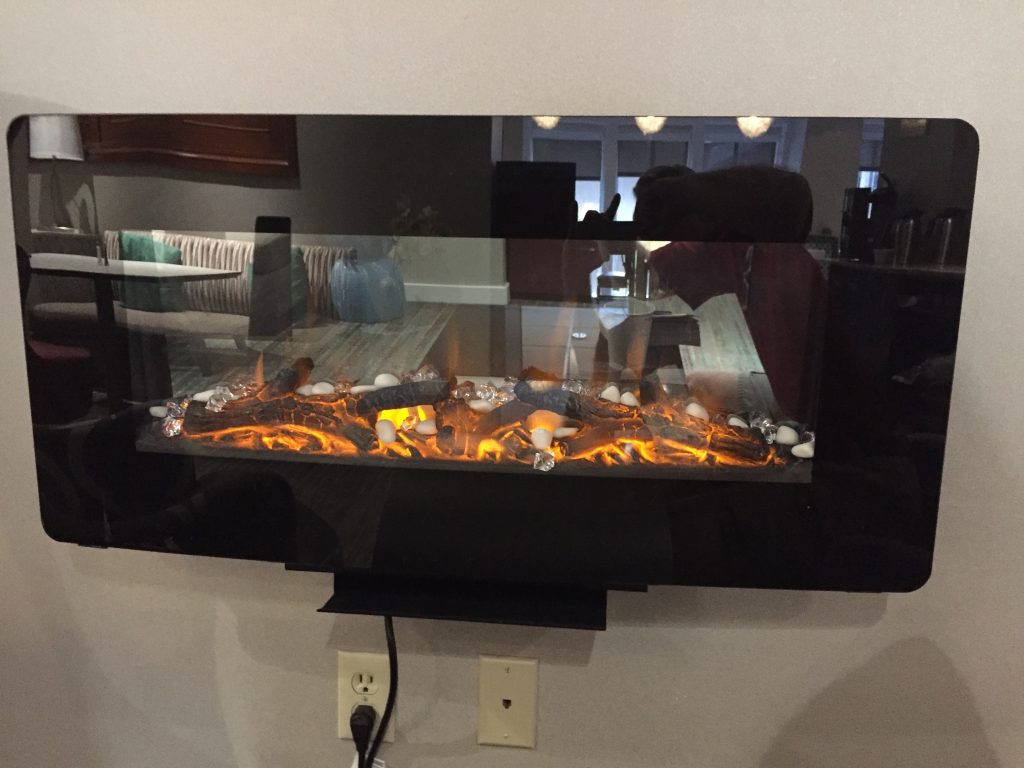 where I decided I'd have coffee and continue reading a Beverly Jenkins' romance novel I had already started and brought with me, called "Sexy/Dangerous". Then I'd start my day!
Cheryl, one of the ladies who had prepared all the food for breakfast that day, was passing by checking to see if the hotel guests needed anything else. She paused and said, "Oh, I see you like to read too!"
A conversation ensued and she told me about the streetcar that does a loop around town and has several stop-offs where you can tour some great places.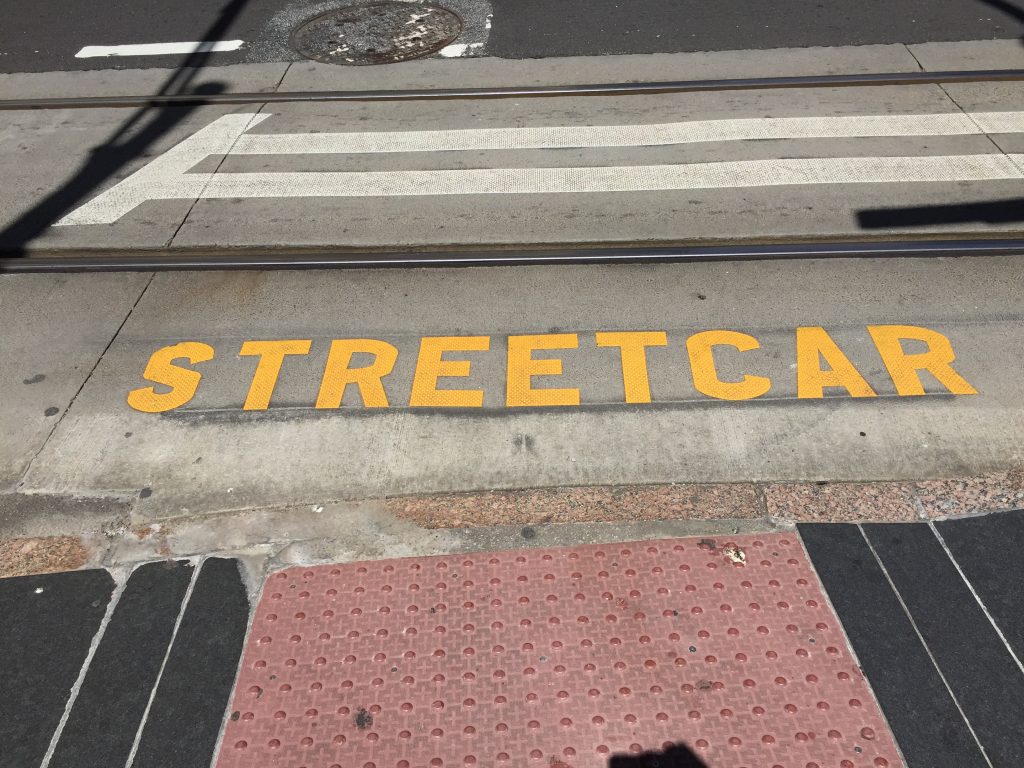 She told me about the Martin Luther King Jr. Center, the Historic Ebeneezer Baptist Church, the home where Martin Luther King Jr. grew up, the Botanical Gardens, the Aquarium, et cetera.
One of the streetcar stops was the Edgewood stop. Two blocks south of that stop was a park (Rawson-Washington Park) with a couple basketball goals which I found on google maps before I left Seattle. I wanted to play there when I got to Atlanta.
Then just two stops further was the Martin Luther King Jr. Center.
So I bought an all-day pass for $3.00 which allowed me to hop-on and hop-off all day long as many times as I wanted to.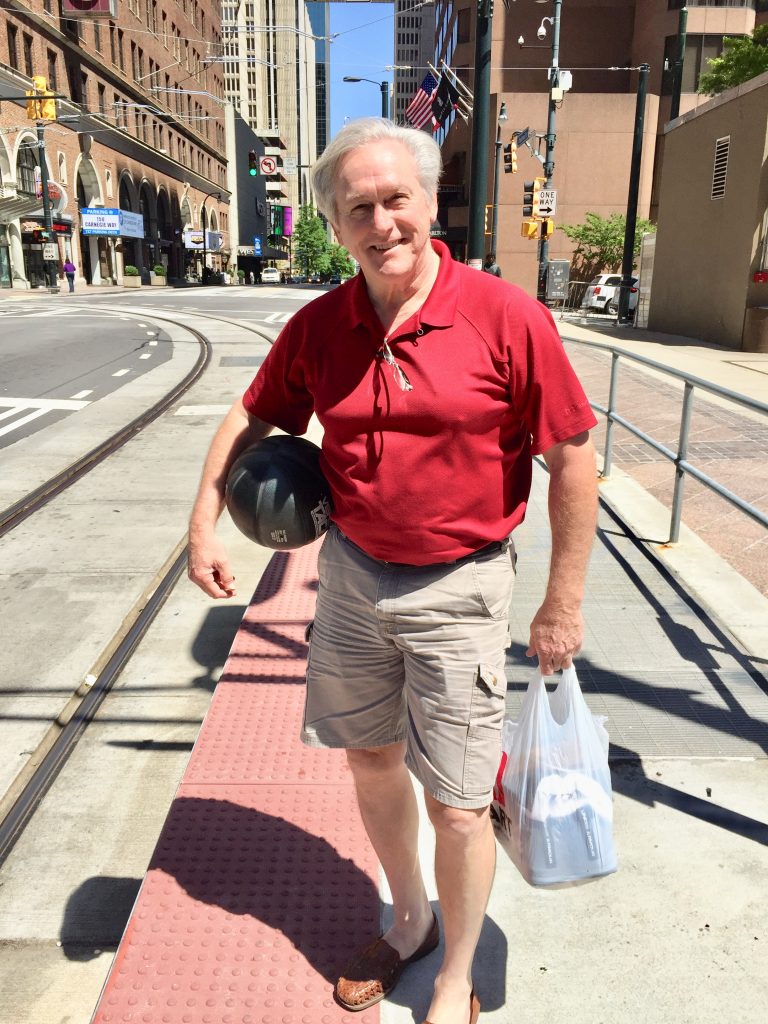 The streetcar stopped right across the street from the Marriott, where I was staying, so I wore my BB clothes under my street clothes and carried the basketball and my tennis shoes in a bag. Then I hopped onto the streetcar. Hopped off at Edgewater and walked to the park to play basketball for a couple of hours. Got back on the train and headed for the MLK Jr. Center, where I changed back into my street clothes. Then I looked around the site.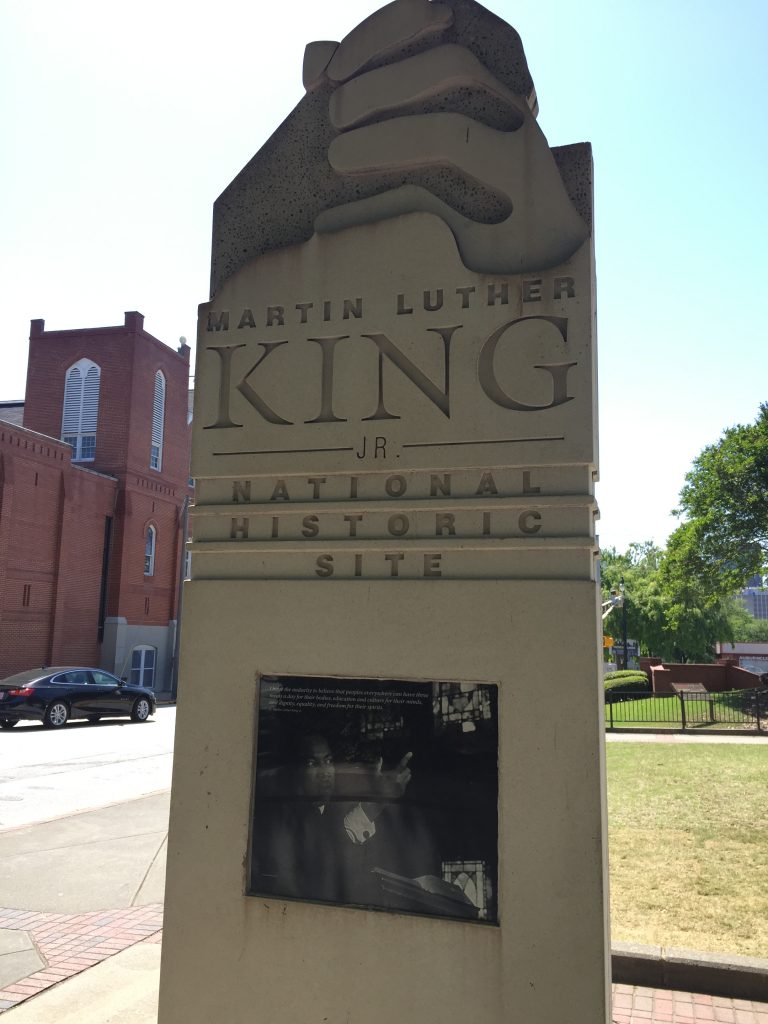 The Ebeneezer Baptist church partially appears on the left.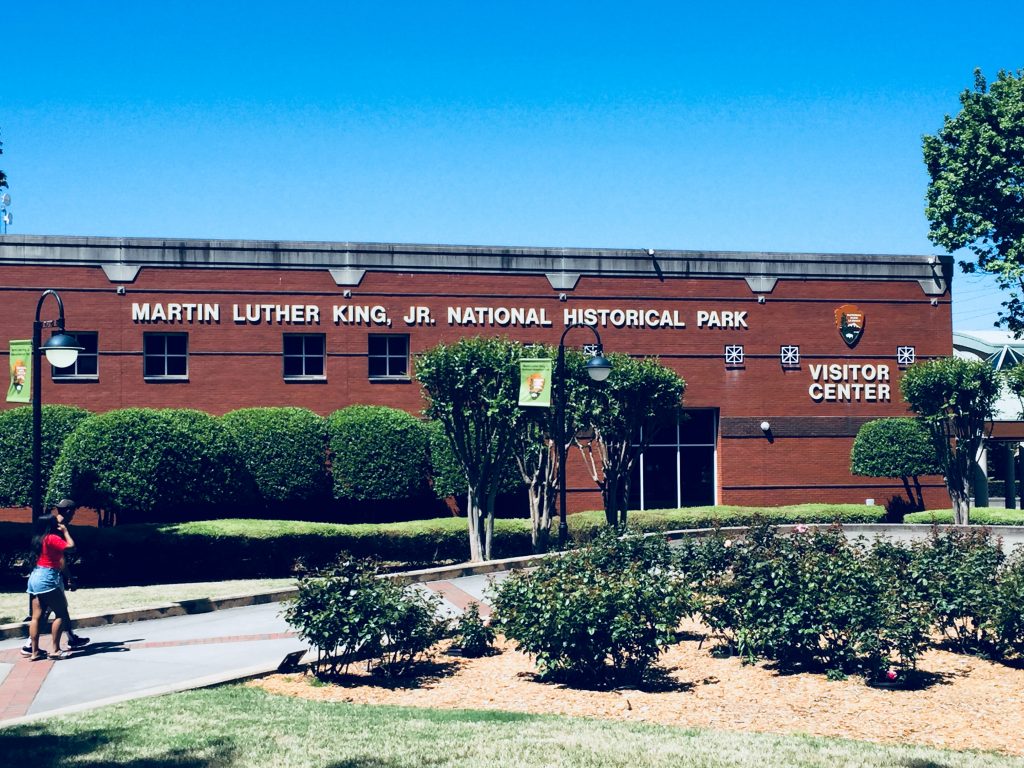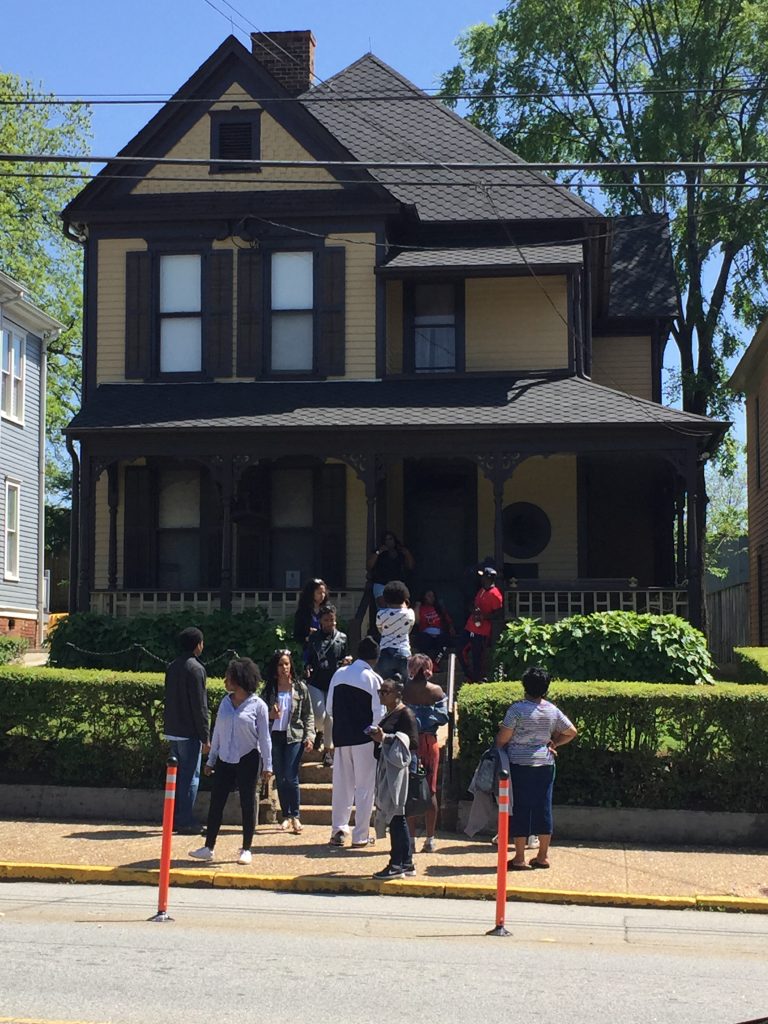 The house pictured above is where MLK Jr. grew up.
While I was at the Historic Site, I needed a little packet of kleenexes and a pad of paper and pen. I looked around and found a small Mom and Pop convenience store opened.
When I went in, I met Ben and Tonya (Pop and Mom). I really enjoyed talking to them. So much so that I forgot to take a picture of them to include here. Ben was an addict for 17 years and he slept on the streets in this neighborhood before he turned his life around. He wrote a book to tell his story and he speaks all over the place to teach others and to give them hope.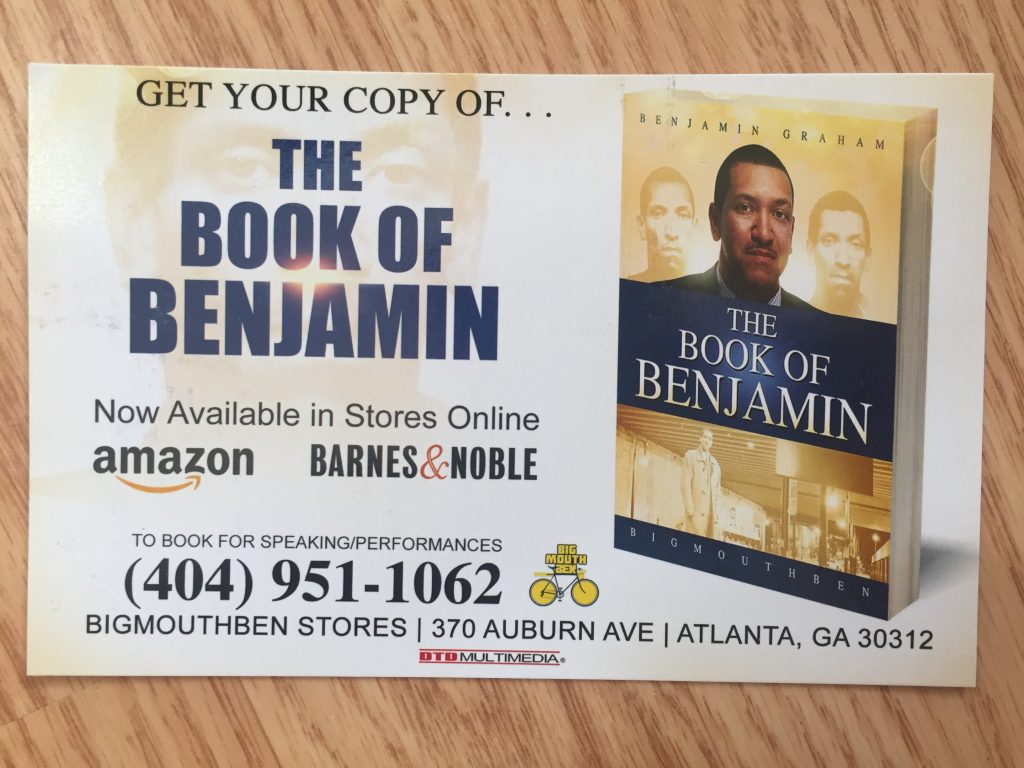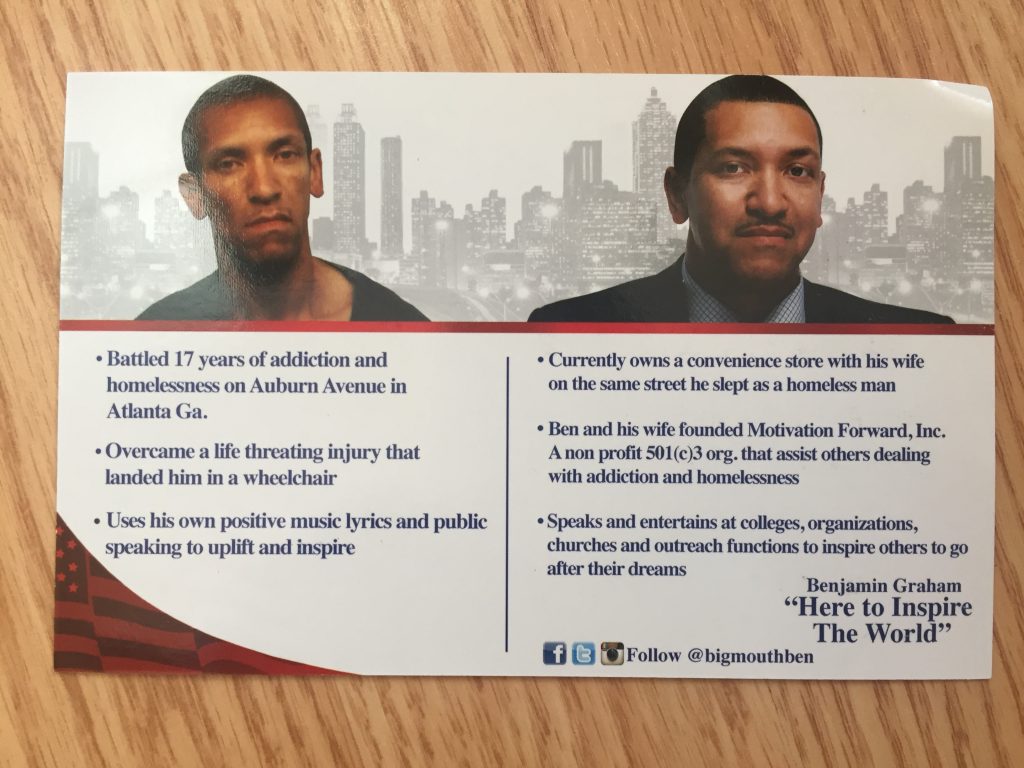 After that I didn't have much time left before Sona's show was to begin. So I hopped on the streetcar and headed back to the hotel to eat those leftovers and get ready for the show.
As I was enjoying the streetcar ride back to the hotel, I thought about a 1947 play, written by playwright Tennessee Williams, called "A Streetcar Named Desire".
Then I thought about how I suddenly had the urge to just ride the streetcar around town after Cheryl mentioned it to me.
Then I thought to myself, "Today's play" shall be dubbed…."A Desire Named Streetcar".
Urge….Desire……get it?
(I'm sure there is a joke in there somewhere. I just couldn't quite pull it out!)😕
Sona has one CD called, "Fasiya", for which she wrote all the songs.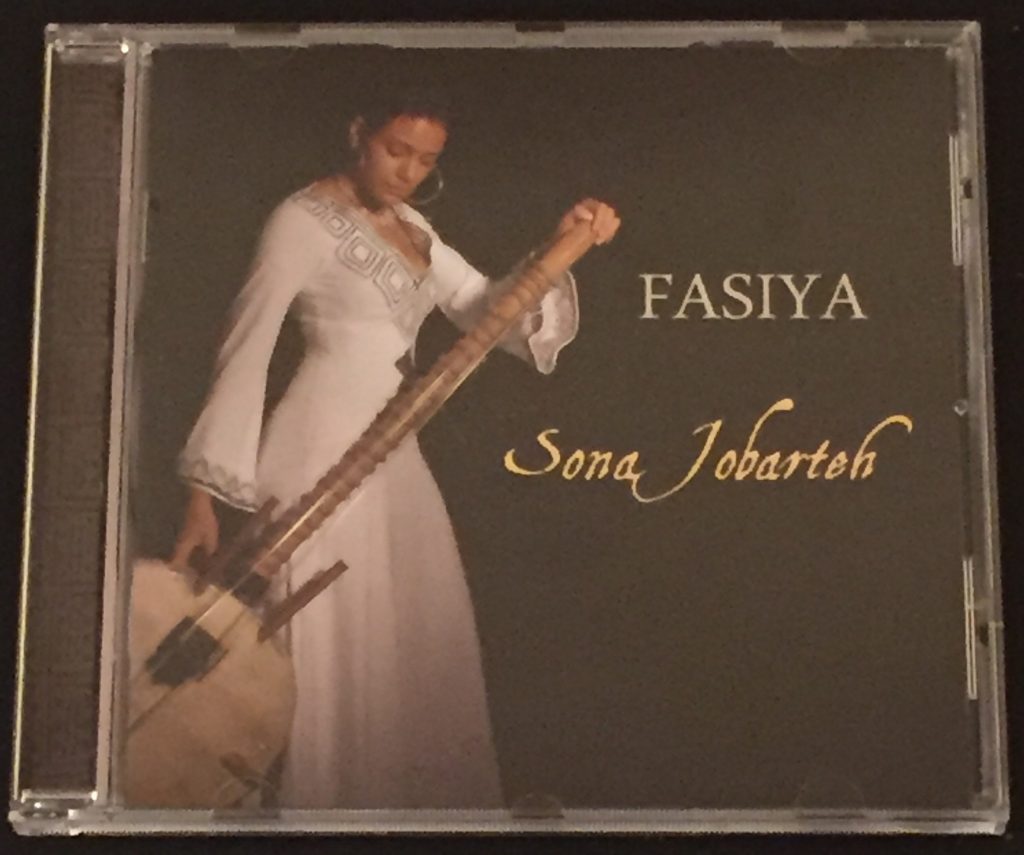 And she has another CD called, "Motherland", which is a soundtrack she wrote for a motion picture about Africa, called "Motherland", a new genre in African cinema.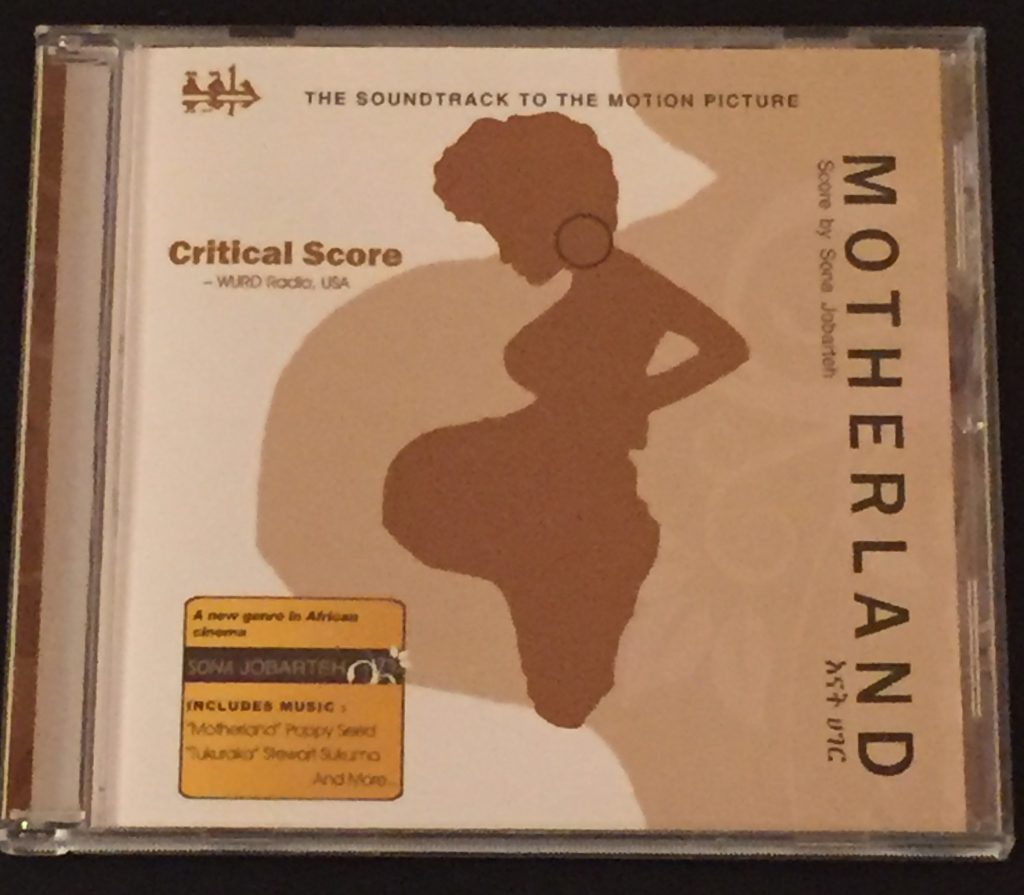 I think that graphic is so cool!….all the way down to the belly button!!
(You don't see it at first, right?)
If you are interested in the CD's or DVD, just click on the link at the top of the page, on Sona Jobarteh.  It will take you to the website. I just checked and I don't see the Motherland anywhere so if you are interested in that you should contact their customer service department and they will tell you how you can download it for about $10.00, I think. The last time I talked to them they said they don't sell hard copies, only downloads.
The following is a video I took of Sona and the Band at the Rialto Center for the Arts.
I really enjoyed listening to Sona and the band. They are all excellent musicians and seem to love every minute of it. If you get the chance, go see them.
Someday I will see them playing in The Gambia.
After the show, I stepped outside to discover the night was still young.
It was a beautiful evening. About 70 degrees.
I was hungry and I knew I wanted to go to The Atlanta Grill for dinner that night (Sunday) because I had to leave at 3 a.m. the next morning to catch my flight which would get me back to Seattle just in time to go to work on Monday morning around noon.
The Atlanta Grill is the restaurant in the Ritz Carlton Hotel, right across the street from the Juke Joint.  It has outdoor seating on a second floor balcony overlooking the street. I have always liked eating outside.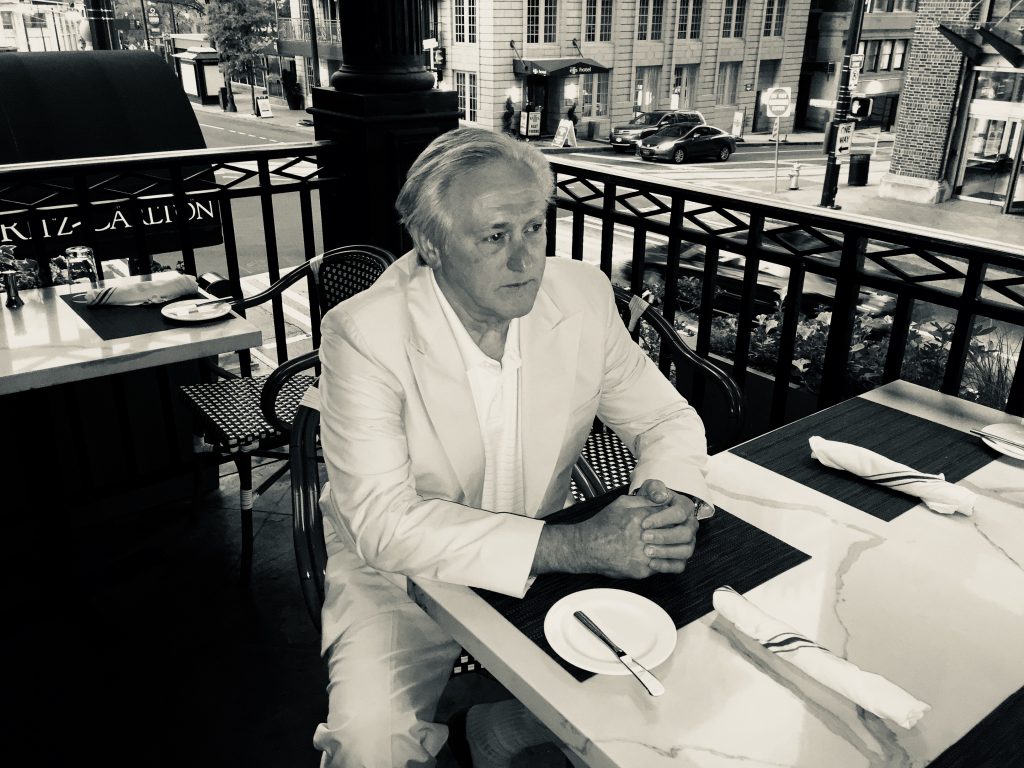 This time I ordered very simply. I asked for a filet mignon, some mac 'n cheese, and a Jameson Lime.
That combination just seemed to hit the spot!
Or maybe it was just the Southern Night.😀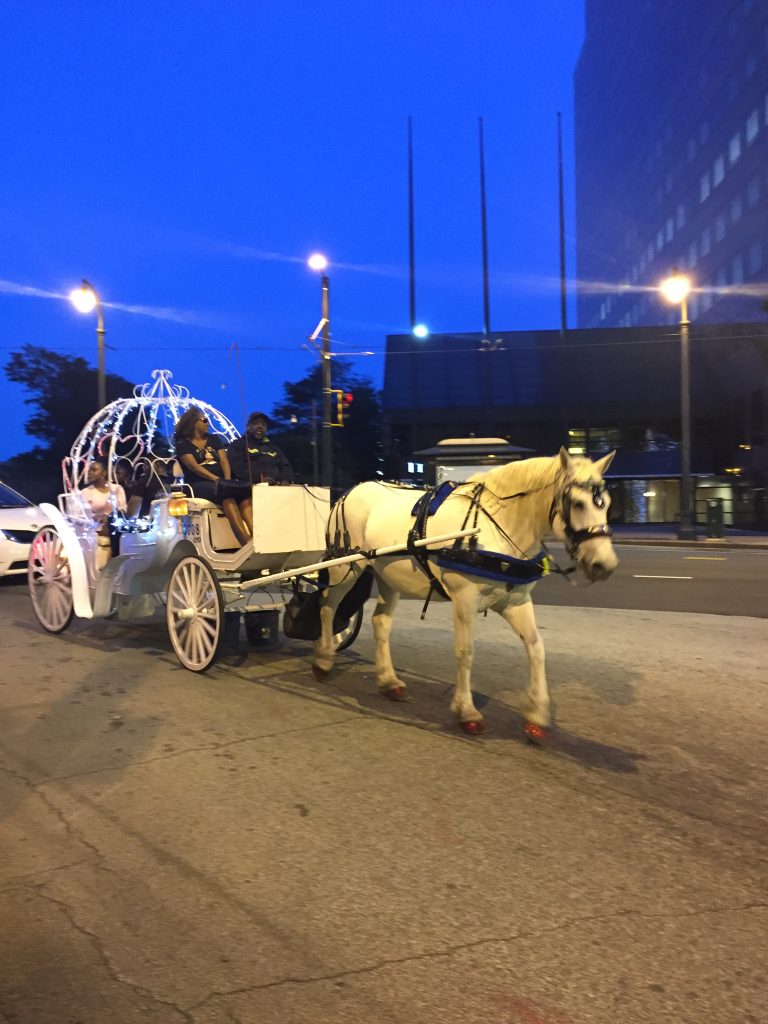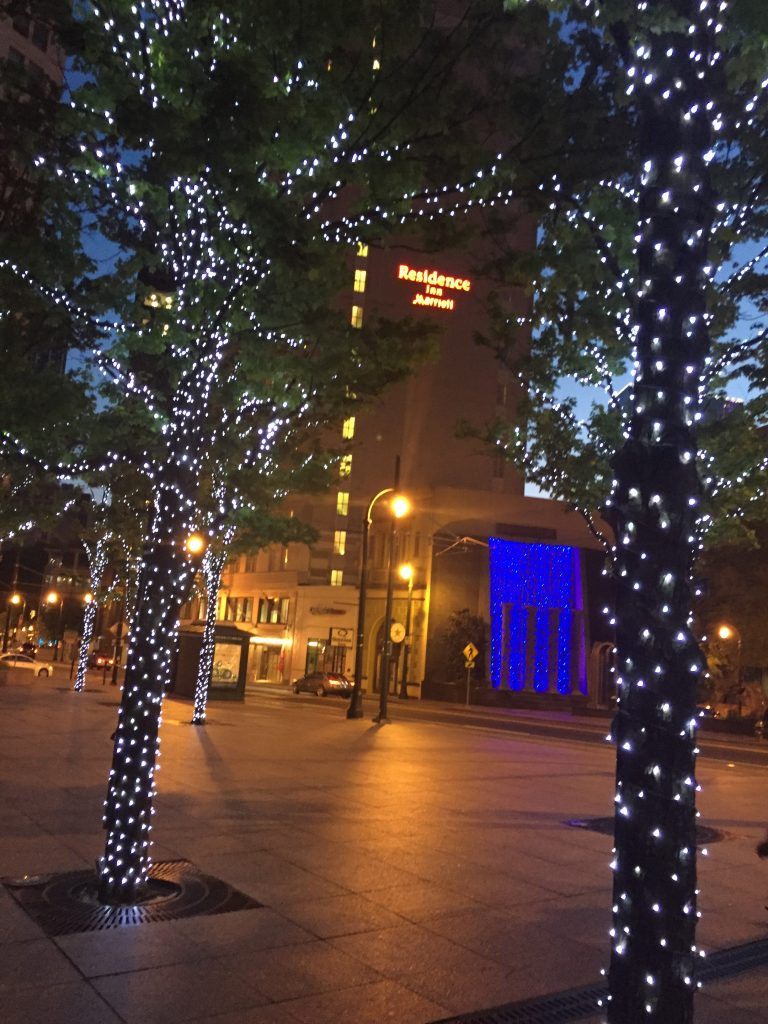 Alison Krauss is going to close out this post with her song called, "Oh, Atlanta". (Just go for the gold)
P.S. After listening to Alison, I thought I'd like to hear Lizz sing a duet with her. I don't think Lizz has done a bluegrass song yet, even though she is so eclectic and can sing any genre equally well. Plus, I'd like to hear Lizz sing another song, besides "Hey, Mann!", which includes the "beautiful whinings" (that's what I call it) of a steel guitar. I love "Hey Mann" and I've loved the steel and slide guitar sounds since I was 6 years old.
I remember when I was about 6, my family would occasionally drive on Friday night to the country, to spend the weekend with my country grandparents. (Actually, my whole family was from the country but one set of grandparents moved to the city (St. Louis), while the other set of grandparents stayed on the farm in St. James, Missouri. So as we headed to the country, Dad would put country music on the radio and we would all whine about it and say, "Dad, play rock and roll!" He always would acquiesce and play rock and roll, because he knew we would soon fall fast asleep in the car and he could change the station to country after we were asleep. Then, when we were almost to the farm, we would run out of black top pavement and the road would turn to gravel and be noisy and bumpy for the next mile and a half. We would get to a part of the road where there was an elbow turn and it was so rough I would always wake up and it seemed like Loretta Lynn and the beautiful whinings of a steel guitar were always on the radio when I woke up. I thought her voice was so cool and I liked the way she sang. I think that's where my love of country music and the steel guitar began. But I didn't tell Dad that until years later. I didn't even realize it myself at the time. I just knew I liked Loretta Lynn's voice and the steel guitar. It stayed with me.