With as many songs that have been written throughout the ages, and with only 5, 6, 7, 8, or 12 notes in a scale, depending on which scale you're using, you'd think that at some point, we'd run out of combinations of notes to make a new and unique song.
But everyday we hear new ones. And the songs are as unique as each of the people who wrote them. It seems like the possibilities are endless. I think that's amazing!
Certain songs tug at your heart strings even though they can be totally different styles.
Others don't affect you at all.
And some are really annoying.
But it's all subjective. Songs I like may be boring to you and vice versa.
South Korea (1981-1986)
When I lived in Korea (during the Paleolithic Era….well it seems so long ago and yet it seems like yesterday, too), I listened to the radio a lot. Certain Korean songs I heard, just seemed to "jump out at me" and I liked them immediately. I would ask someone the name of the song and I'd rush right down to the local music store to find the "Hit Parade" (Korean version of it) which had the Korean lyrics and guitar chords in it so I could start learning the song.
One station I listened to, produced a one-hour program dedicated to French songs only. Koreans identify with all things French. So that station filled a need.
One day I heard, "Ballade por Adeline", for the first time and it tugged at my heart strings. It's a beautiful song, probably enjoyed by most people, not just me. I don't know if there are any words to it. I've only heard it as an instrumental.
Paris-2016
In September, 2016, I was in Paris with my kids.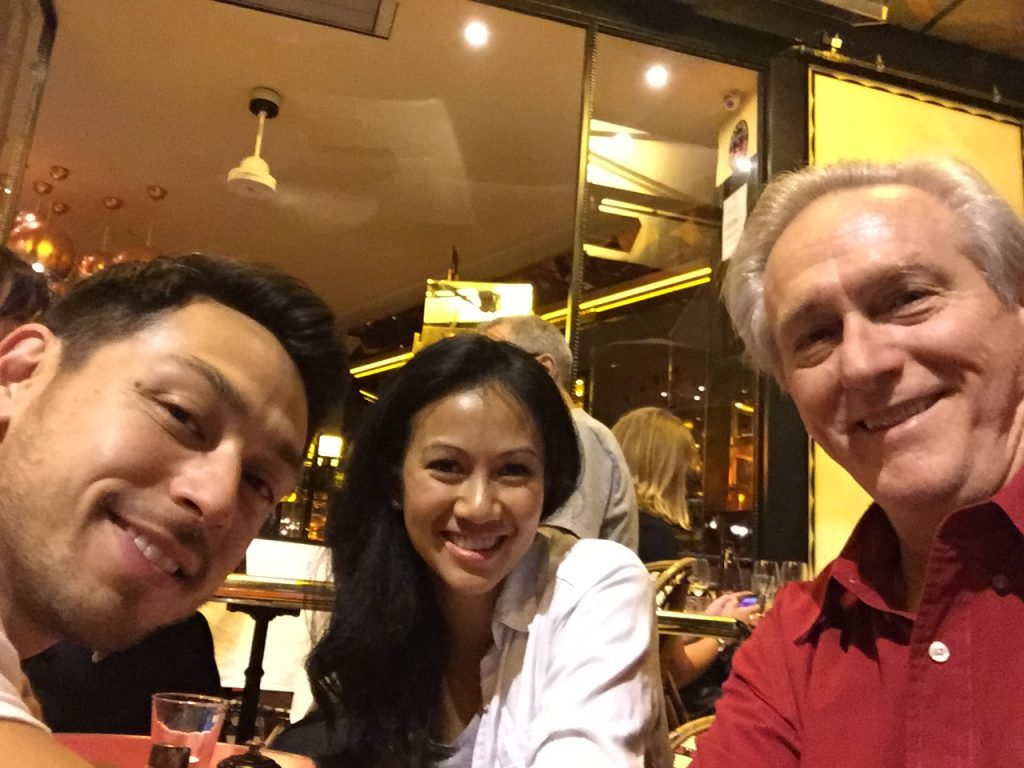 My son, Tim, and my daughter-in-law, Pauline, and I were ascending a steep hill, named Montmartre (or Mountain of Martyrs), to take a closer look at the the Basilica of the Sacred Heart of Paris (seen in the picture below), commonly known as Sacré-Cœur Basilica and often simply Sacré-Cœur, and to view all of Paris from the top of the hill.
Montmartre is primarily known for its artistic history, the white-domed Basilica of the Sacré-Cœur on its summit, and as a nightclub district.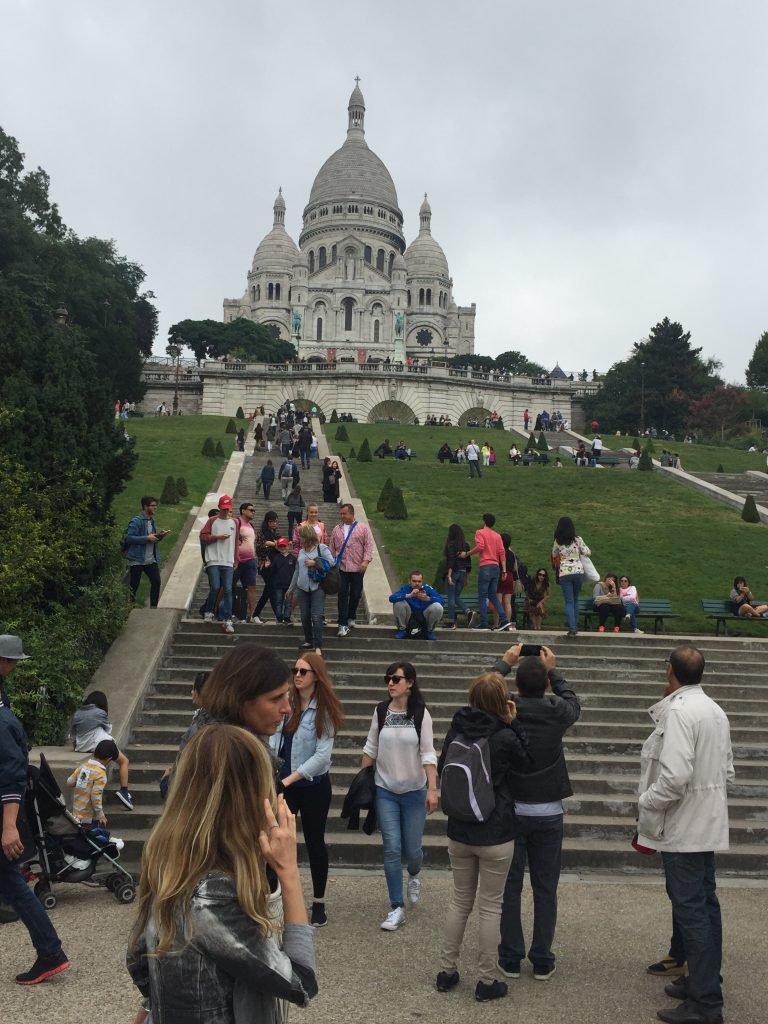 As we neared the summit, I heard and recognized "Ballade por Adeline" being played on a harp.
I hadn't heard the song for a long time so I hastened my pace toward the sound and told the kids, "Try to keep up, don't you?".
I know what you're thinking. You think I should have said, "won't you?", right? Well, you're right. But sometimes I mismatch my verbs on purpose for the fun of it. I learned that from some of my English students (when I was in Korea) who were just beginning to learn English and sometimes got confused. It was so cute I couldn't help but adopt it into my everyday conversations once in a while. I'm not judging. I've been there. I probably did the same many times when I was first learning Korean. Maybe I still do 😩.
I walked over to the guy playing the harp ( his name is Hugo) and sat down on the steps nearby to listen and watch his fingers glide across the strings.
If you'd like to listen to the song, click on his name, Hugo, above, and when you get to "Paris and Barcelona, Part 2", scroll quickly all the way to the bottom. Click on the triangle.
He plays the song so beautifully.
It was obvious to me that "Ballade por Adeline" tugged at Hugo's Harp strings 😃heart strings  just as they did mine.
Paris-2018
Then on April 7th of this year, I was in Paris again. But this time I had come by myself to see and hear Lizz Wright perform songs from her amazing "Grace" CD, on her 2018 European tour to promote the CD.
The venue was at a small, intimate Jazz Club called, "New Morning".
Before I left Seattle to go to Europe, I asked my neighbor, Sandy, to print another shirt for me to wear at the concert as a show of solidarity and to promote Lizz's new CD on the streets.
I think Lizz just sizzles on her new CD. (That's not to say that she doesn't sizzle on her other CD's. She does. But I'm only talking about this new CD right now.)
So, voila!….
The back seeks attention: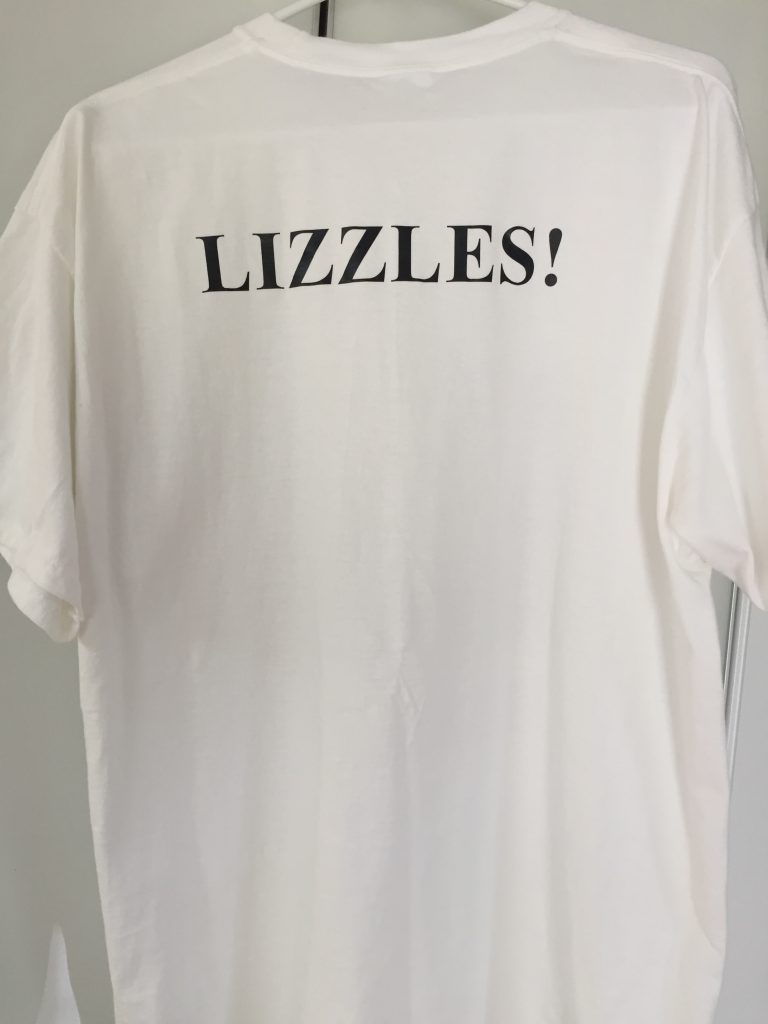 The front provides recognition: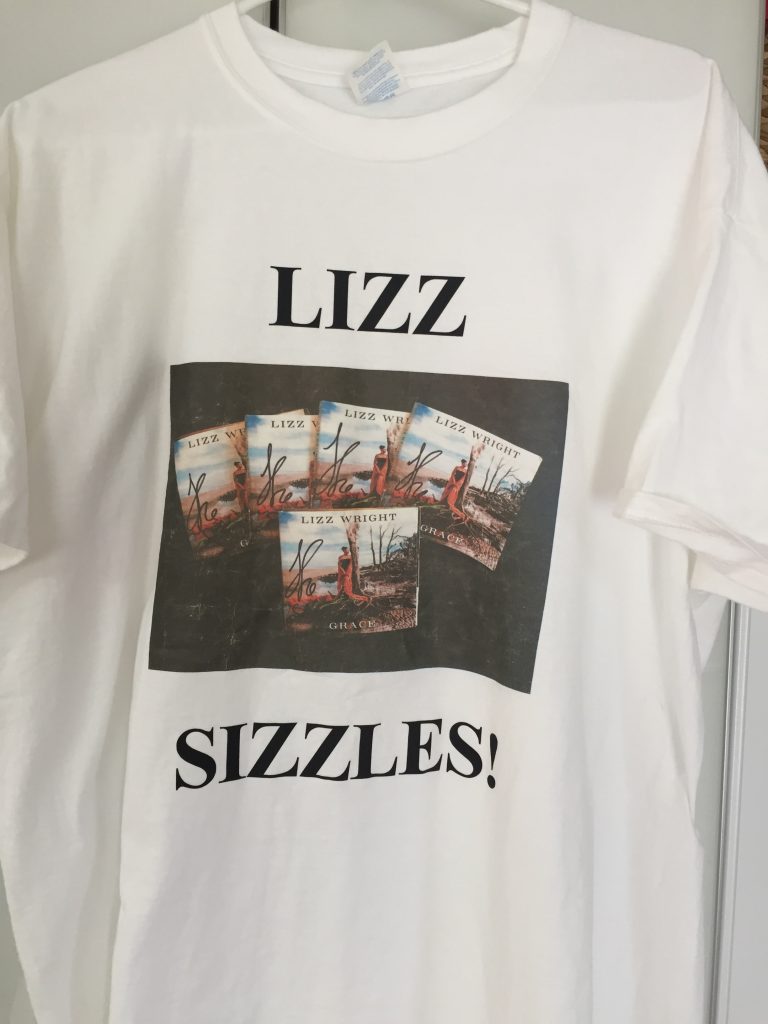 I wore this to "New Morning" Jazz Club and while I was standing outside in the queue, waiting to go in, I got several favorable chuckles and comments about the shirt.
Then that made me think I'd like to make a new playlist of Lizz's songs called, "Lizzles", which I like to listen to while I'm "bask'ing 🏀 in the sun".
To make the judges' (a totally biased panel of 1) cut and be on the Lizzles playlist, three requirements had to be met:
(1)  I had to like the song itself.
(2)  I had to like the way she sang the song.
(3)  The song had to tug at my heart strings.
Since I love all of the songs she sings and I really like the way she sings each and every song, number three would be the "determinator".
There are certain songs of hers that just really touch me. Those all made the Lizzles list. I made the list when I got back from Europe.
Vienna-2018

 
Three days later, I was in Vienna, Austria. I got up one morning about 6 a.m. and put my Lizzles shirt on. I walked across the street from my hotel and into the park to play basketball to the sound of Lizz's new CD, "Grace".
I was really outa sorts at that time so my game was way off. I missed so many shots that I'd recommend not watching the video.
But I inserted the video (below) anyway because playing basketball is a part of every trip I take. I want to remember that I played basketball in Vienna, Austria.
That's a cool memory to harbor. It too tugs at my heart strings.